Federal Cartridge has been producing ammunition for 98 years. The company is known for outstanding quality but gained particular fame among match competitors and big-game hunters with its Premium line of ammunition introduced in 1977. It featured purpose-specific bullets from Nosler and Sierra but was eventually expanded to include bullets from Trophy Bonded, Swift, Woodleigh, Barnes, etc. New for 2020, Federal has developed a new bullet known as Terminal Ascent that is the result of considerable experience in manufacturing bullets and top-quality ammunition, but also includes extensive research and development combined with state-of-art testing and technology.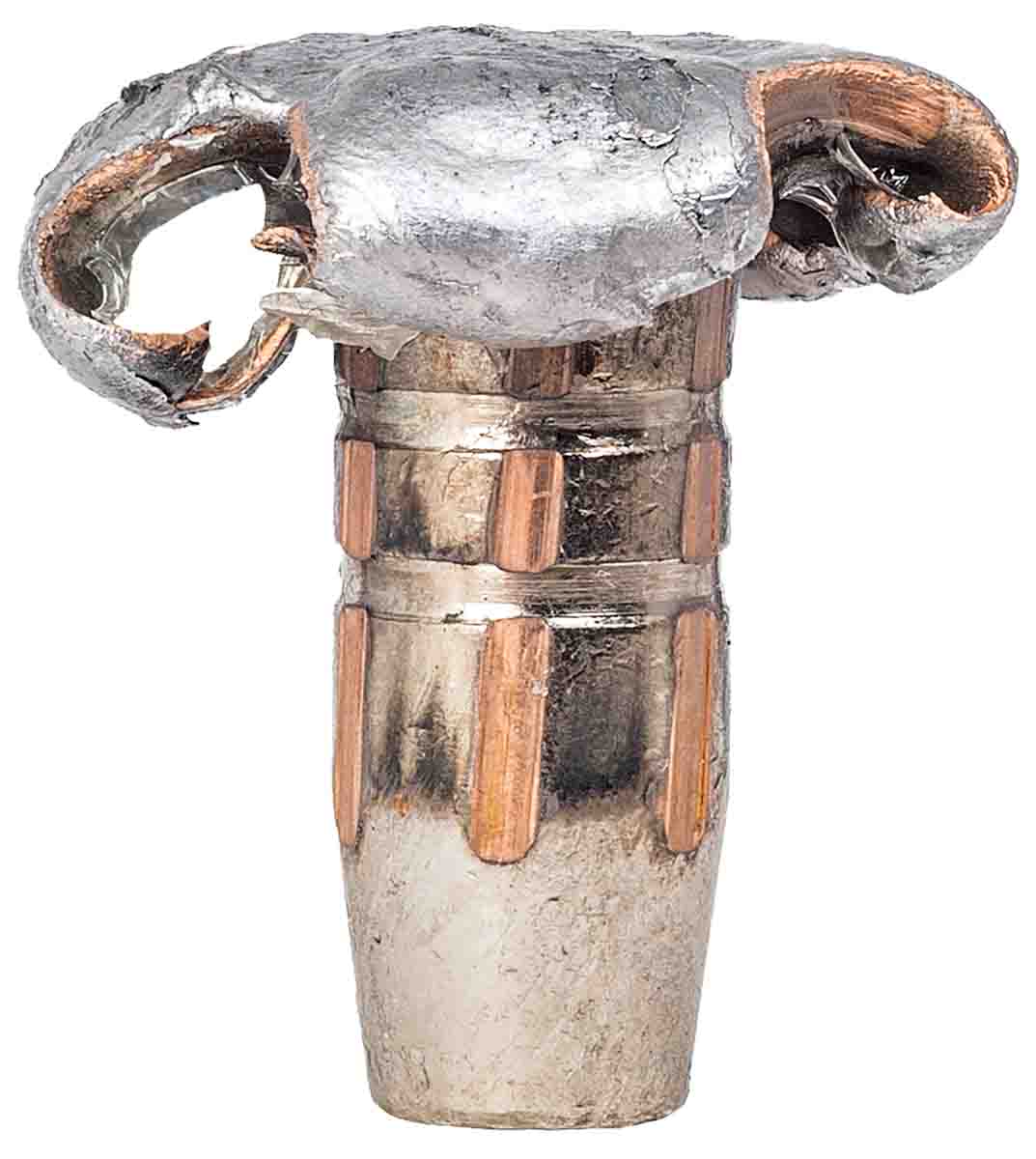 It is a remarkable bullet that is tough enough to reliably take a large Alaskan brown bear at close range, but it also offers an incredibly high ballistic coefficient (BC), low drag, accuracy and reliable expansion at low velocities. It is designed to be a contender for the elusive all-purpose, do-everything bullet. The Terminal Ascent is as timely and important as when Federal introduced its Premium ammunition 43 years ago. It will be available in the spring of 2020 and initially offered in 11 Premium factory loads, but it will also be available as a component to handloaders. As of this writing, no factory loads were available; however, I was provided pre-production bullets that are identical to production component bullets that will begin shipping around April/May 2020.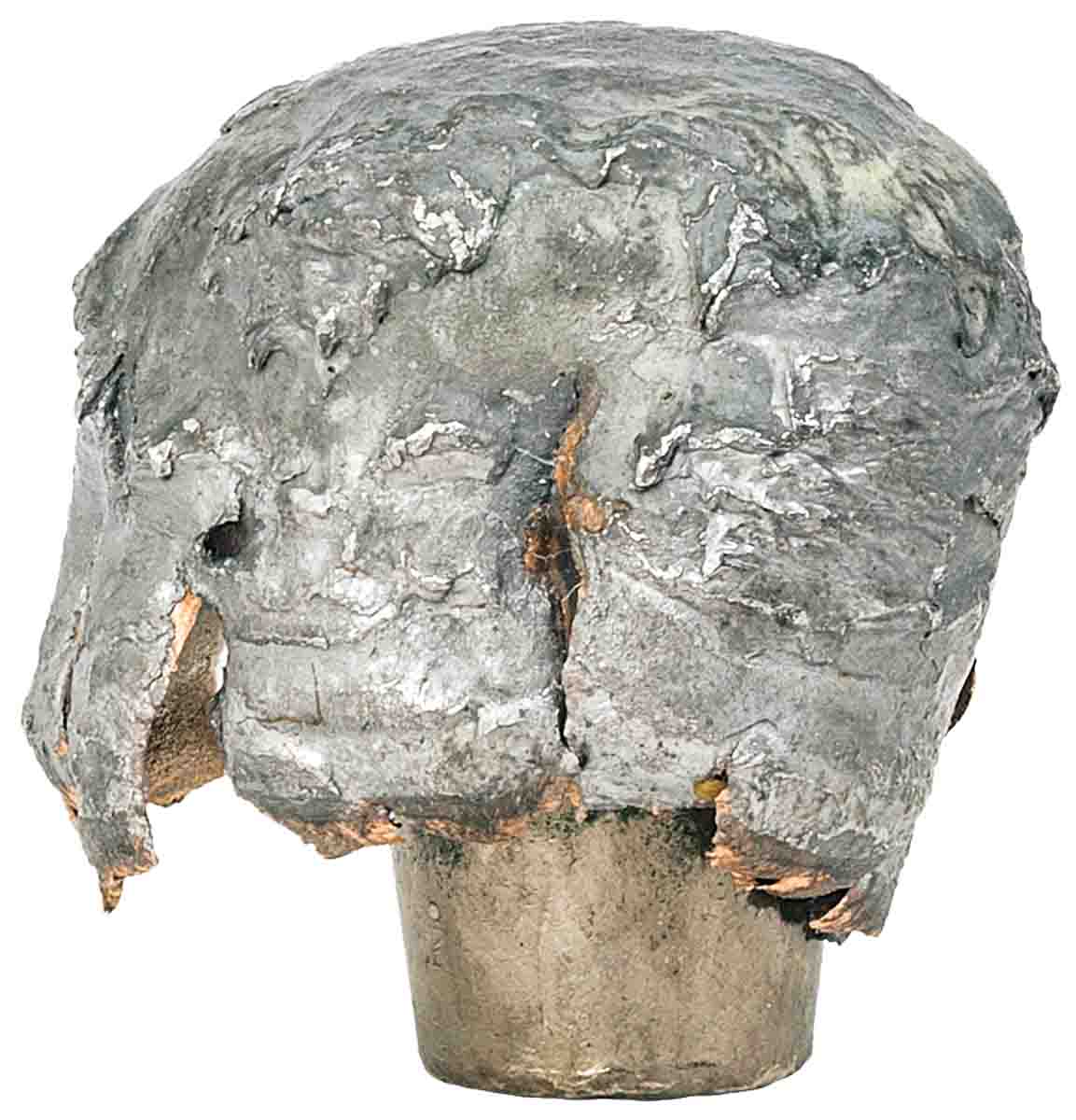 Back in the mid-1990s, I was assigned to review hunting bullets (for a different magazine) that were readily available in the U.S. Testing was extensive and included long-range performance, BC, expansion and penetration. Considering the volume of my experiments and limited space in a magazine article, all the test results could not be published. But in thumbing through my old notes and comparing those bullets with the latest offerings from Hornady, Nosler and others, it is remarkable how far hunting bullet technology has advanced, particularly in regard to virtues such as close-range controlled expansion and deep penetration, superior accuracy, low drag and high BCs for high downrange velocity retention and reliable expansion at comparatively low impact velocities.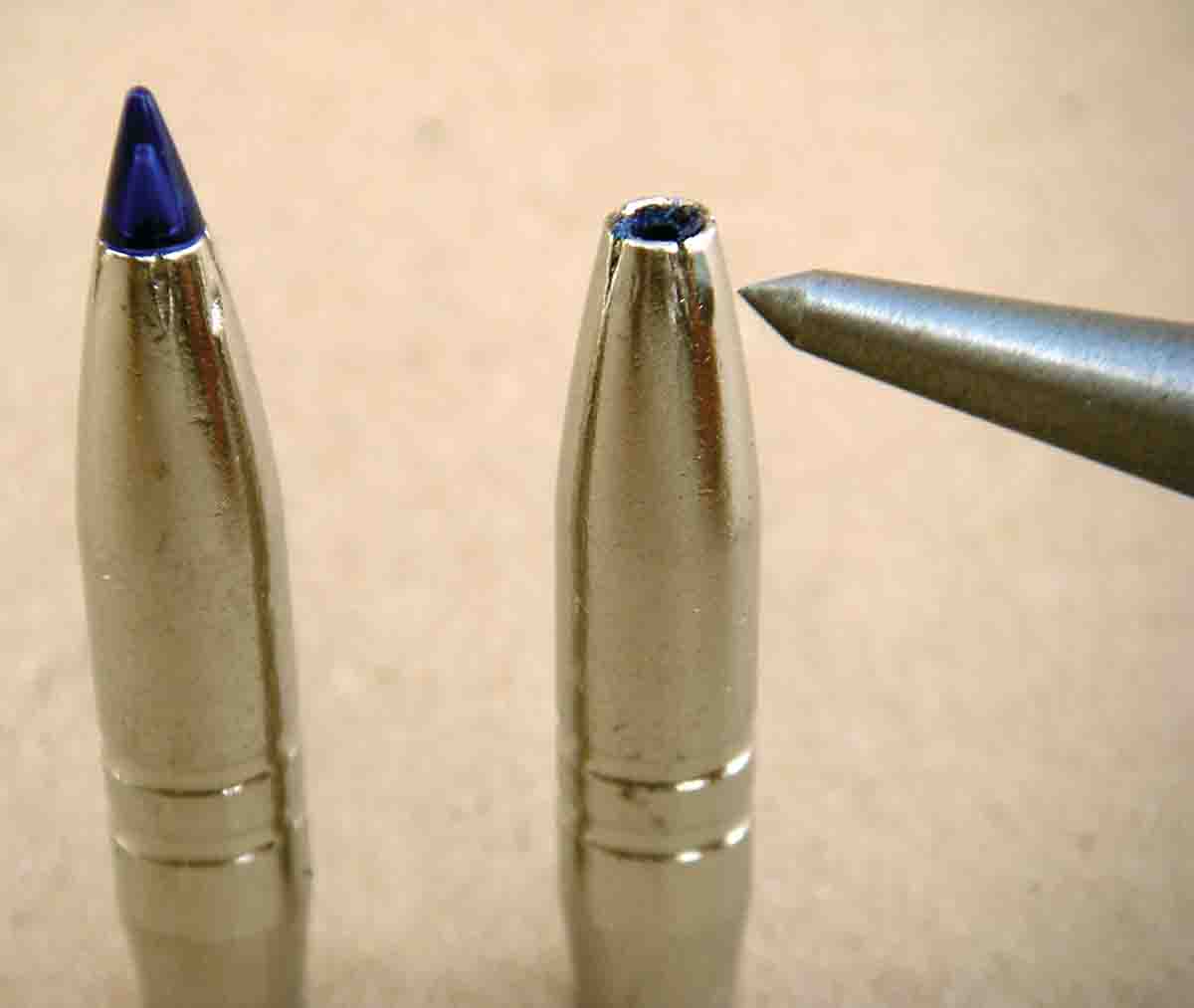 Federal's new Terminal Ascent is advanced in every aspect of bullet performance and will have a broad appeal to big-game hunters. The "roots" of the Terminal Ascent dates back to the 1980s, when Jack Carter developed Trophy Bonded Bear Claw bullets and later, the solid Sledgehammer version. Carter was an IBM executive and loved hunting in Africa, especially the heavier game. As the story goes, he shot a Cape buffalo seven times with his .375 H&H Magnum, which failed to kill it. The "buff" was then shot another seven times with a .458 Winchester Magnum before it finally expired. He only had to ponder that experience a few minutes to determine hunters needed a better bullet and set out to design his own bonded bullets.
Carter admitted inspiration from bullet designer and manufacturer Bill Steigers of Bitterroot Bonded Core Bullets, but further improved the design. While he went through a series of design changes and even processes to "weld" or bond the pure lead core with a pure copper jacket, he ultimately manufactured a bullet that produced reliable, controlled expansion, deep penetration and high weight retention. Production was underway by 1988.
While hunting Texas whitetails with Jack Carter during the 1990s and trying out his latest bullet caliber, he discussed several design technicalities with me. He never intended it to be a long-range deer bullet, but was focused on perfect performance "typically within 200 to 300 yards," the distance that the vast majority of game is taken. He wanted reliable expansion, high weight retention (usually around 95 percent), straight penetration and bone breaking qualities, but cared little about a high BC. The Bear Claw proved to be a great hunting bullet, especially for larger species that are almost always taken at closer distances. However, by today's standards it had certain shortcomings that included less than perfect accuracy, comparatively low BCs, and due to its pure copper jacket it sometimes produced more barrel fouling than desired.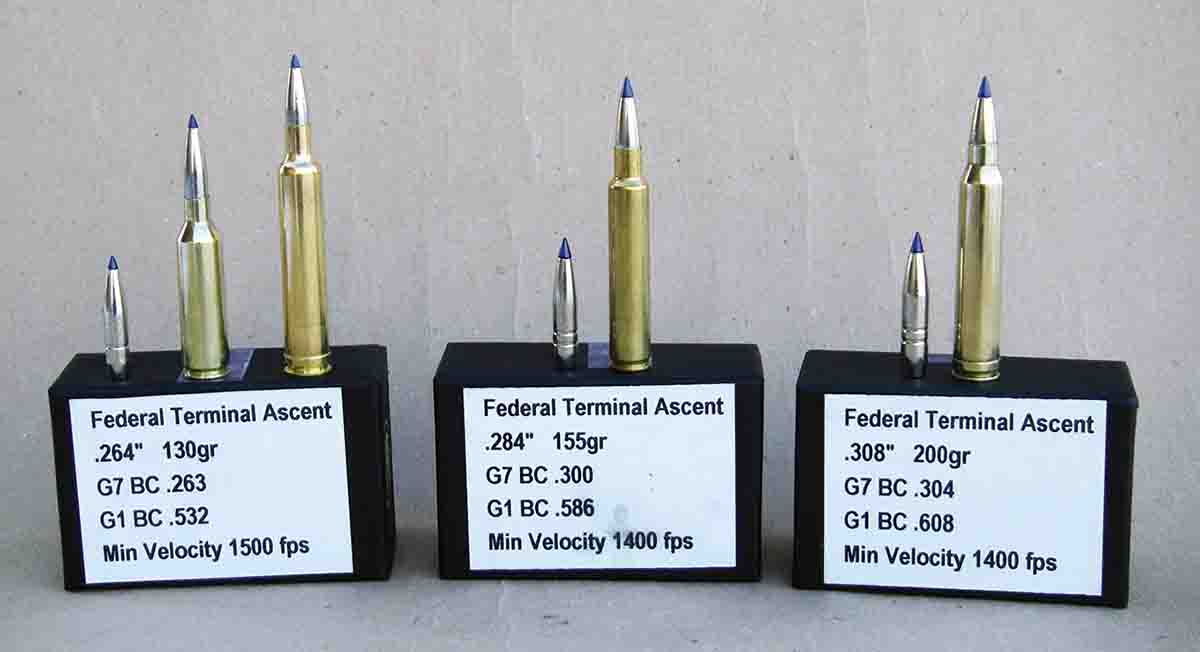 By 1992 Federal Cartridge added Trophy Bonded Bear Claw and Sledgehammer bullets to its Premium line of ammunition, which became popular. The volume was simply too much for Carter to produce, so by 1993 an agreement was struck with ATK Ammunition Systems (known today as Vista Outdoor) to manufacturer Trophy Bonded bullets for its own use, with operations set up at Federal Cartridge. Demand soared. However, loading large quantities of the pure copper jacketed bullet created problems on the high-speed ammunition machines. As a result, the jacket formula was charged (or hardened) with zinc being added. This changed the performance of the bullet, as jackets were known to break up and occasionally failed to produce previously established penetration.
Production was moved to Speer Bullets in Lewiston, Idaho, which uses extensive bonding equipment and advanced manufacturing technology, but that move was short-lived and production was soon moved back to the Federal facility in Anoka, Minnesota.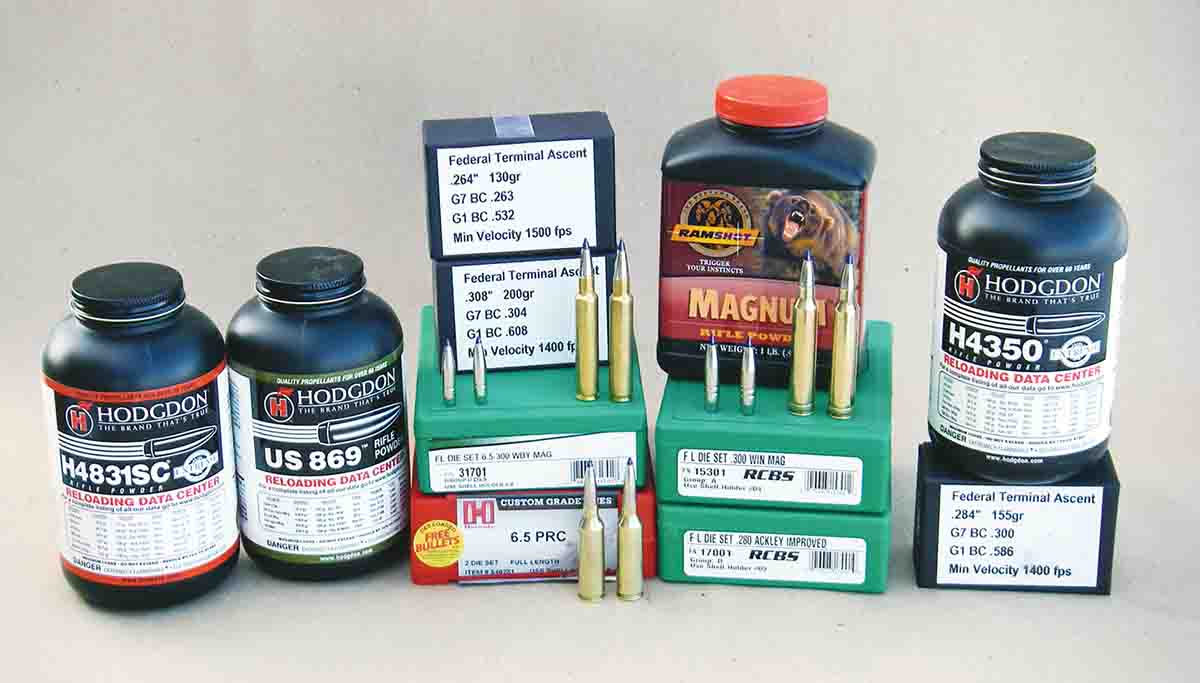 By 1999, Federal set out to substantially improve the product. Changes included the addition of circumferential rings to reduce pressure and fouling, technical changes to the profile along with a polymer tip to increase the BC. A gilded jacket and nickel-plating served to further reduce fouling. In several ways, the new Trophy Bonded Tip bullet was a substantial improvement over the original bullet and yielded around 90 percent weight retention in common ballistic gelatins. In the past 20 years, however, hunting bullet competition has become fierce, and with trends toward longer and longer shots it was clearly time for another update, which brings us to the Terminal Ascent, or from here forward, Ascent.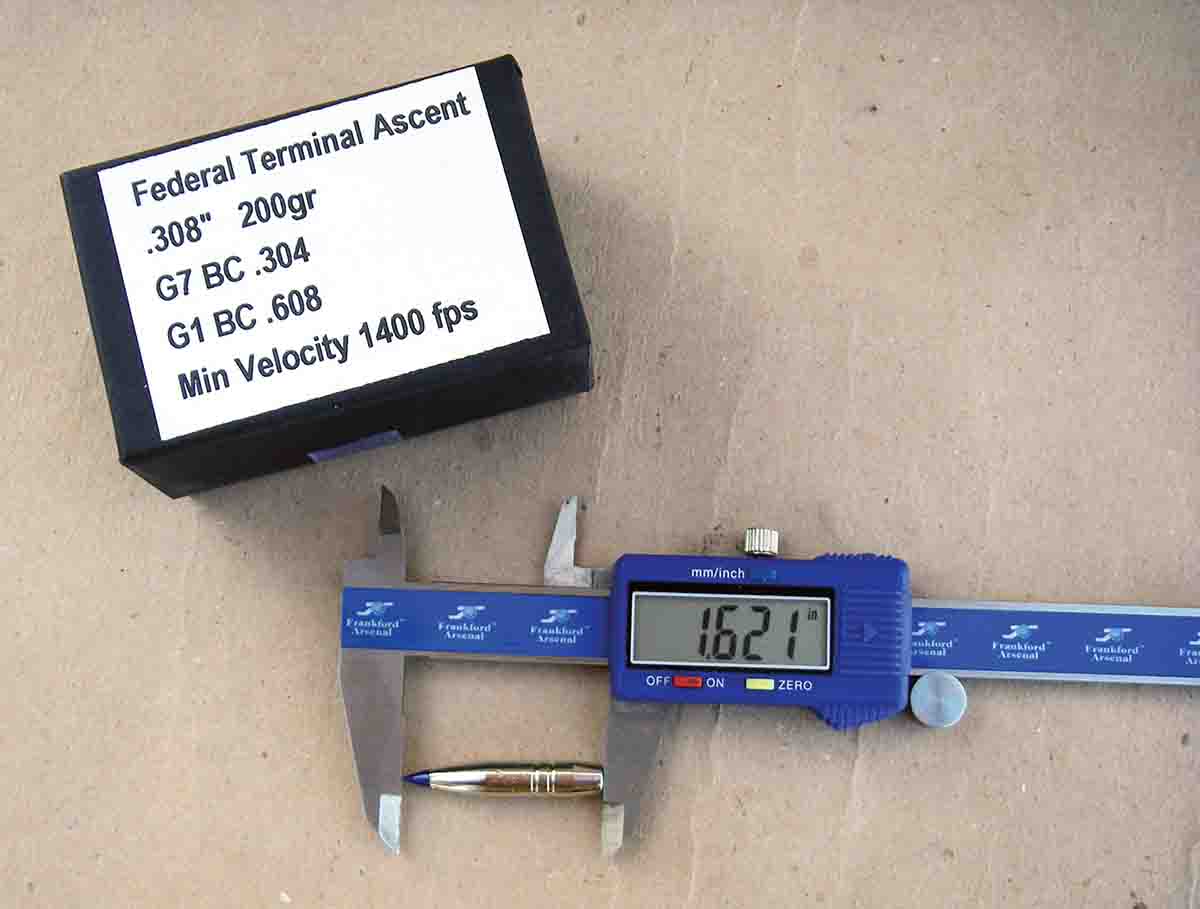 The Ascent features a solid shank with a lead core positioned in the front of the bullet as was originally found on Trophy Bonded Bear Claw bullets. This is an especially important aspect of the design. First, expansion is controlled by the tapered jacket thickness while the lead core remains bonded with the jacket for high weight retention. After the forward lead core expands, the solid copper shank performs its role of acting like a solid bullet to assure penetration is deep. But here is where the design becomes much more interesting and goes back to the principles that Carter discovered. Since copper weighs less than lead, the forward half of the bullet weighs more than the copper solid shank. This weight-forward feature serves to keep the bullet traveling, or penetrating, in a straight path after impact. Many other spitzer bullets with especially long ogives and full-length lead cores tend to have a center of gravity that is more to the rear, which is further compounded after expansion. In other words, they can tumble or "lay down" after impact, resulting in reduced penetration and a less than perfectly straight penetration path. This explains why so many old roundnose bullet designs, with their center of gravity being close to the center of the bullet, gave such reliable in-line penetration. On the contrary, many "match" spitzer designs with a lead core will turn around or tumble after impact and exit with the base forward.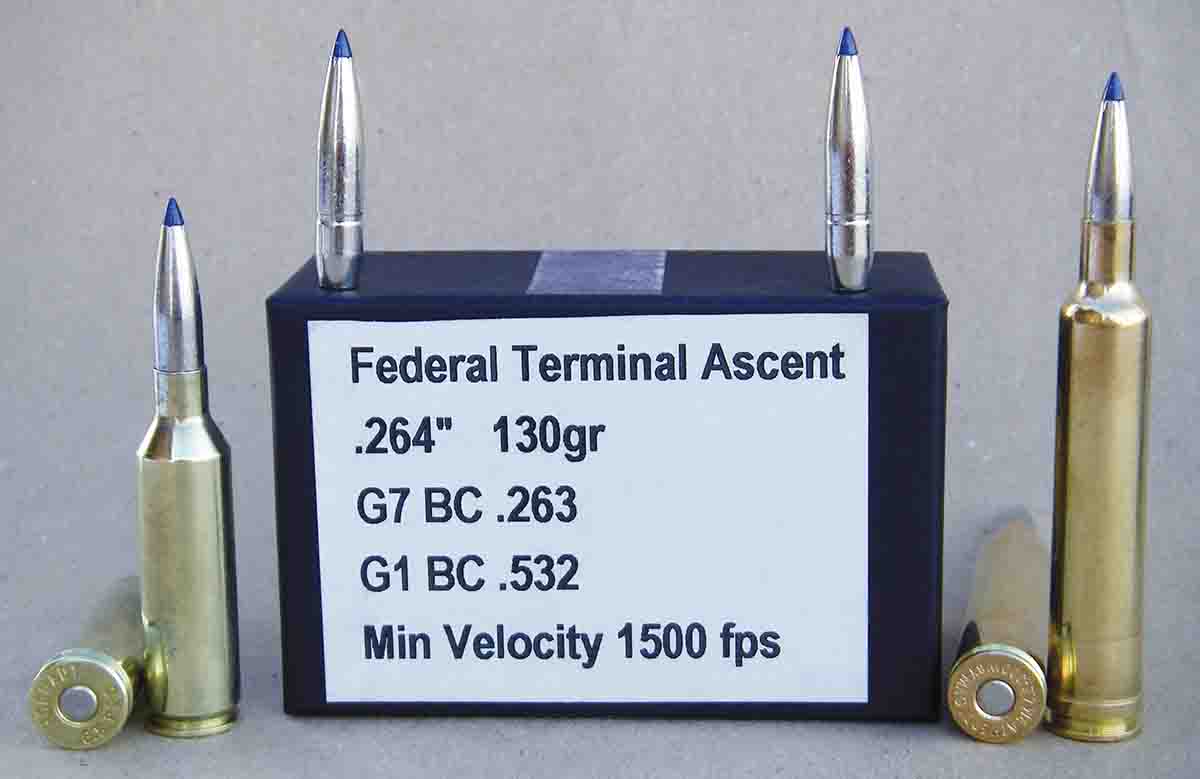 The Ascent has also received a new, highly scientific profile with a secant ogive and a long 7½-degree boattail that is optimized for maximum BC and stability. As will be discussed momentarily, G1 BC is unusually high.
The Ascent features circumferential rings that Federal refers to as AccuChannel. With most competing bullets that feature rings, the rings are cut (or formed) with near 90-degree walls. Generally speaking, each ring reduces the bullet's BC by about five percent. The sharp angle on the forward (or upper) wall of a ring is not a problem; however, the rear edge, or wall, has proven to create drag, the cause of the reduced BC. Using computational fluid dynamics to determine the least drag, Federal placed a substantially sloped angle on the edge of the ring's rear wall that results in a very minimal affect on BC. Furthermore, instead of featuring two or three rings, Ascent bullets are cut with just one or two rings strategically placed to have the least impact on BC while keeping the bullet in balance. Incidentally, circumferential rings primarily serve to reduce pressures and barrel fouling. The Ascent also features full nickel-plating to further reduce fouling, corrosion, etc., but also results in a distinguished appearance.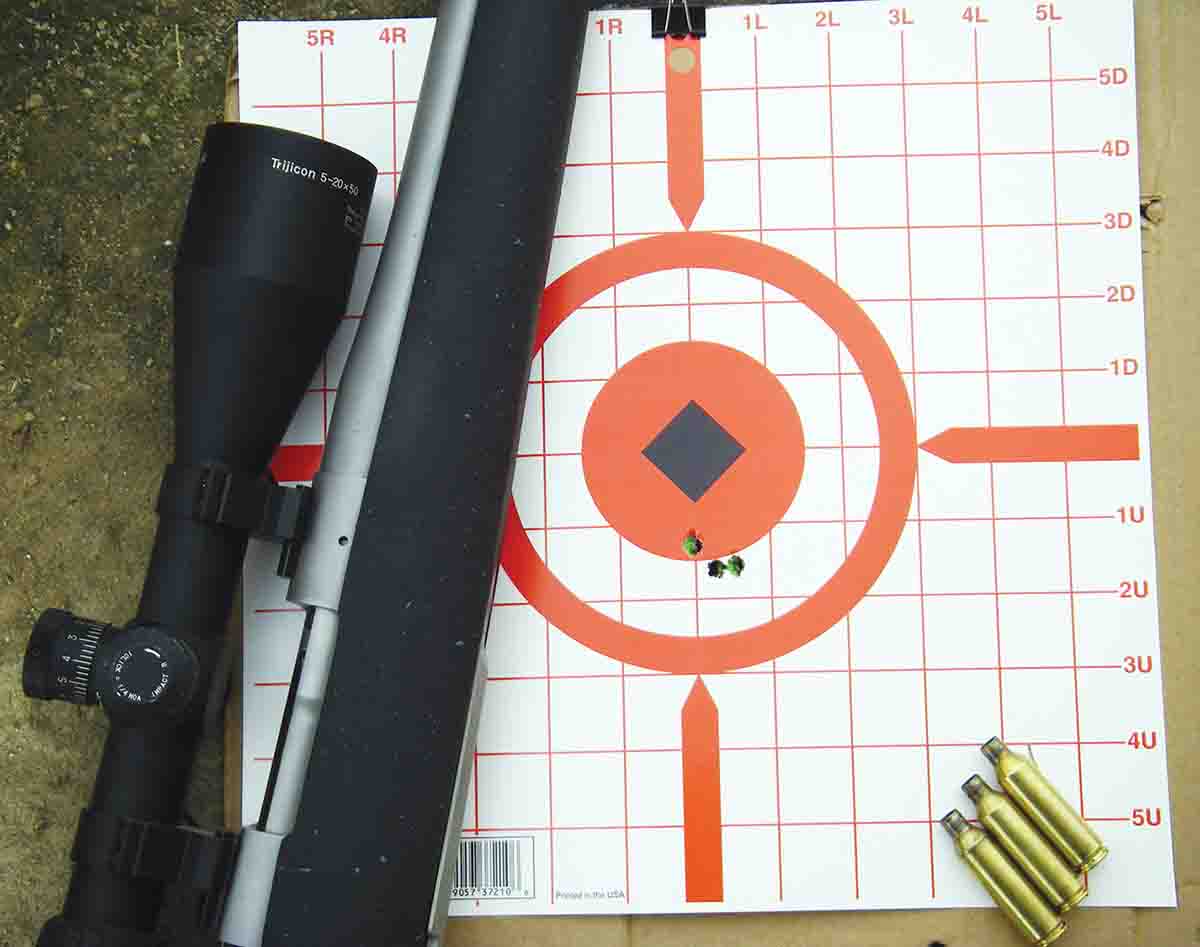 Another Ascent feature is a new patented Slipstream polymer tip. It is uniquely constructed of high tech polymer, the same material used on the Bear Claw Tip bullet. However, it features a hollow center or core (not to be confused with hollowpoint). During development of the Ascent, it was discovered that by drilling a hole through the center of a solid polymer tip, test mediums entered into the tip and served to facilitate expansion of the bullet's hollow cavity, even at extremely low-impact velocities.
Further testing revealed that rather than having a polymer tip with a hollowpoint that would increase drag and reduce BC, if the tip was fully closed to achieve minimum drag and a high BC, but featured a hollow core, the tip would break off during impact and the hollow core would take on medium and serve to facilitate expansion at very low velocities, the same as if the tip was fully hollow. Incidentally, the Slipstream tip has a glass transition temperature of 434 degrees Fahrenheit, which when using Doppler radar shows no evidence of deformation during flight, even when fired from high velocity cartridges at long range.
The Ascent features a generous hollowpoint, the sides of the bullet around the tip are externally skived and the jacket is tapered, all of which serves to facilitate reliable expansion.
Historically, measuring a bullets BC has been somewhat subjective, but most advancing bullet and ammunition companies have begun using highly accurate Doppler radar, the method employed by Federal to test the Ascent. As such, there is very little to dispute as to a bullets actual BC. The sample bullets I received included a 130-grain .264-inch/6.5mm, a 155-grain .284-inch/7mm and a 200-grain .308-inch version. The .264 130 grain has a G1 BC of .532 and a minimum expansion velocity of 1,500 fps. This particular bullet has just one circumferential ring while the 7mm and .30 caliber feature two rings. The 7mm offers a G1 BC of .586 while the .308 has an incredible .608 BC. Both are rated at 1,400 fps minimum expansion velocity.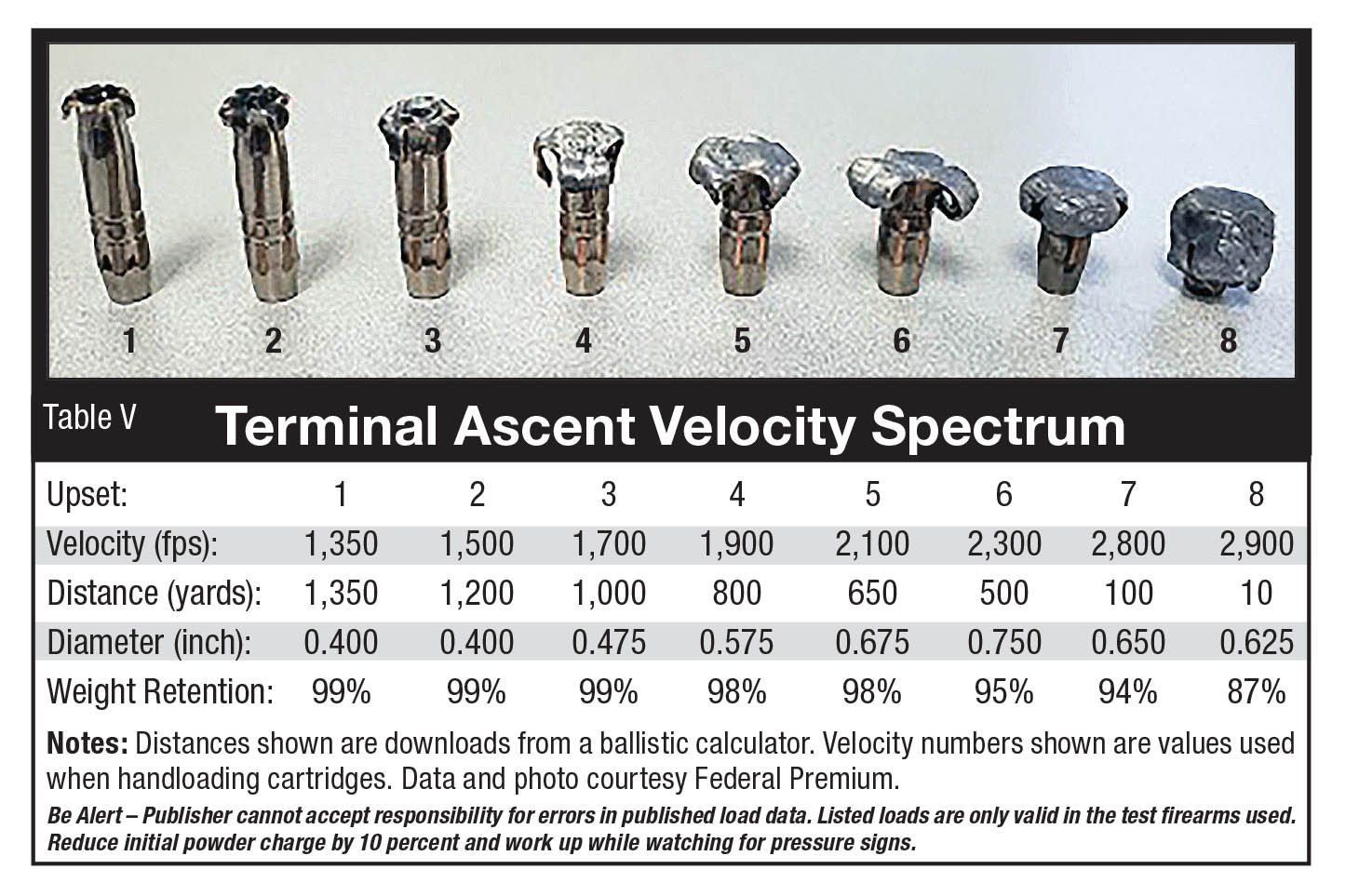 To evaluate the sample bullets, I considered using highly accurate custom built rifles; however, it would be more interesting to use production rifles that had previously proven to be accurate, as these are the type of rifles that will fire millions of cartridges on ranges and in the field in pursuit of game.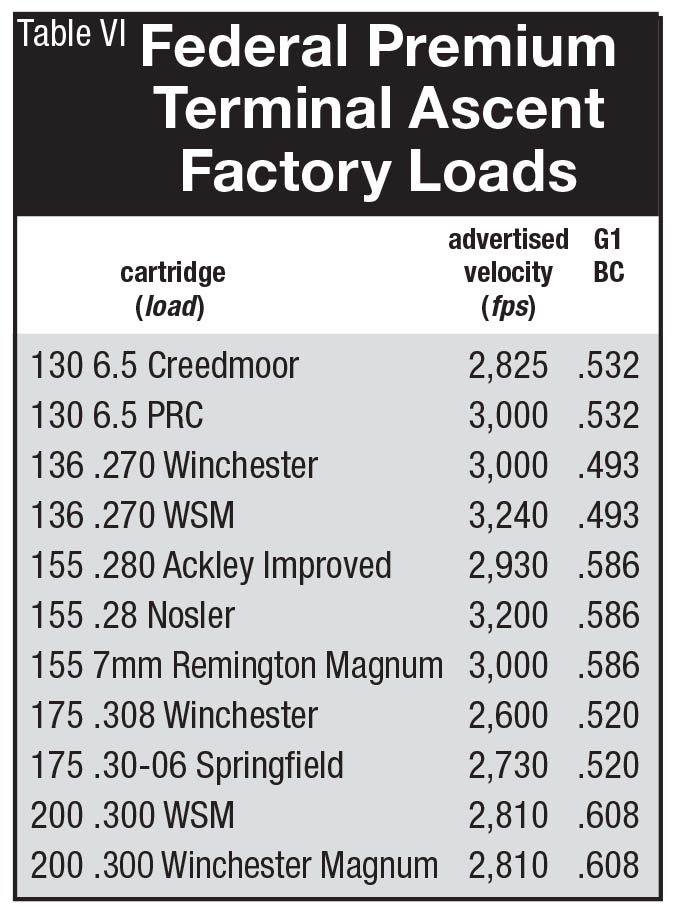 First up was a Montana Rifle X3 6.5 PRC. Starting with Hornady cases, CCI BR-2 primers and 62.0 grains of Ramshot Magnum powder, velocity was 3,002 fps. Working up to 65.0 grains, velocity was 3,133 fps and extreme spread was just 5 fps. In spite of Idaho winter weather with wind and snow, the Montana Rifle placed four shots into .679 inch at 100 yards, with subsequent groups bringing the three group average to .726 inch. It is reasonable to expect that with better weather and additional load development, particularly experimenting with bullet seating depth, accuracy would be further improved.
I was curious how the .264-inch/6.5mm Ascent would perform in a Weatherby Mark V 6.5-300 Weatherby Magnum. While I was able to achieve sub-minute of angle (MOA) groups, I could not do so at velocities approaching 3,600 fps; rather, best accuracy was obtained with loads that reached around 3,100 to no more 3,400 fps. It is my belief this has more to do with the rifle than the bullet, which is based on additional testing that is best discussed another day.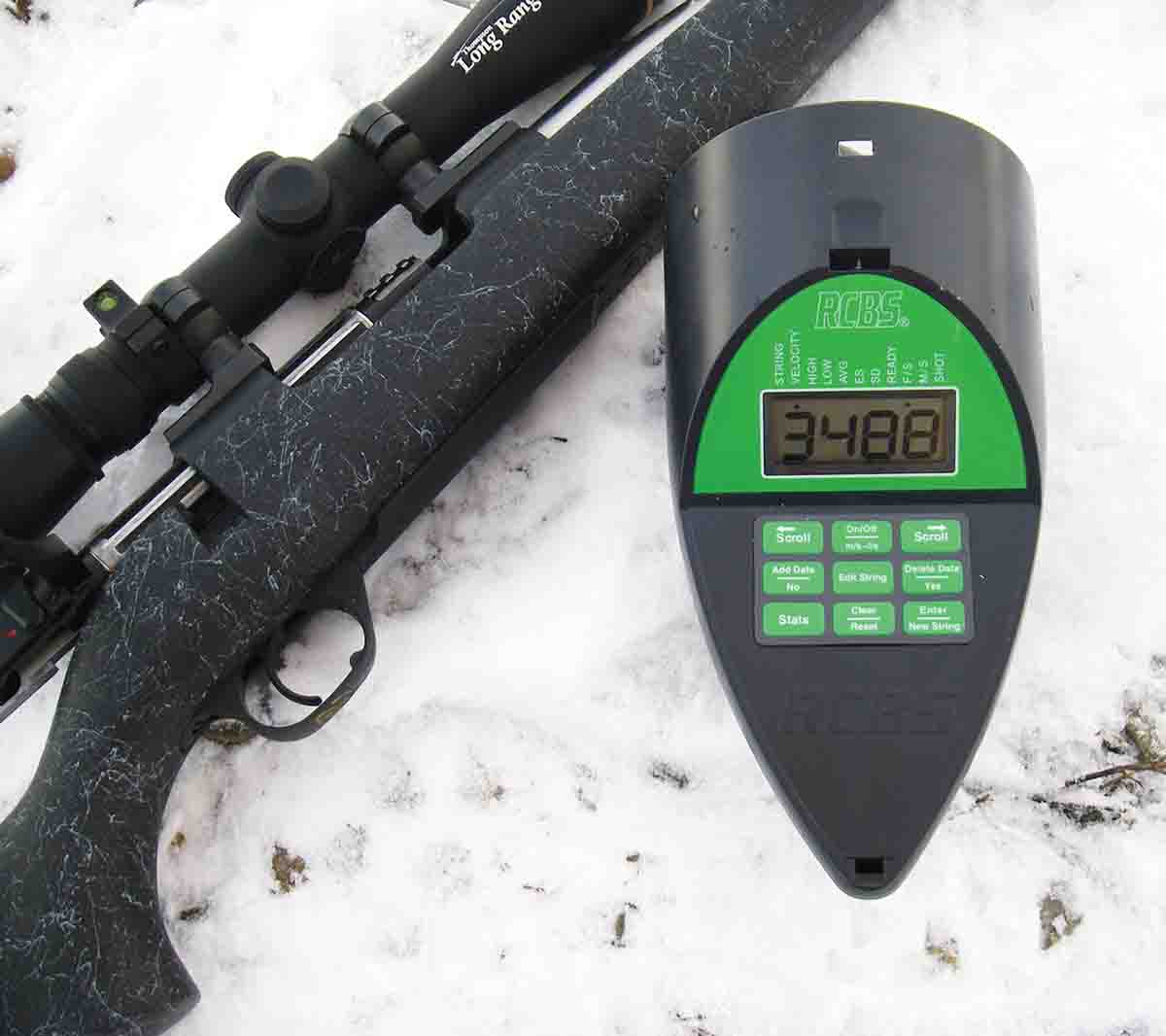 To check the 155-grain 7mm Ascent bullets, a Kimber 84L .280 Ackley Improved was selected. In spite of its comparatively lightweight barrel (.560-inch outside diameter at the muzzle), it will shoot well, but velocities and bullet seating depth must generally be tuned to achieve top accuracy. While there are powders that will give higher velocities, Hodgdon H-4350 has always been a good choice for attaining accuracy. Using Nosler Custom cases, CCI BR-2 primers and 52.0 grains of powder produced 2,713 fps while 54.0 grains reached 2,809 fps. Using the latter load, four-shot groups settled into .837, .892 and .910 inch, respectively, for an average of .880 inch.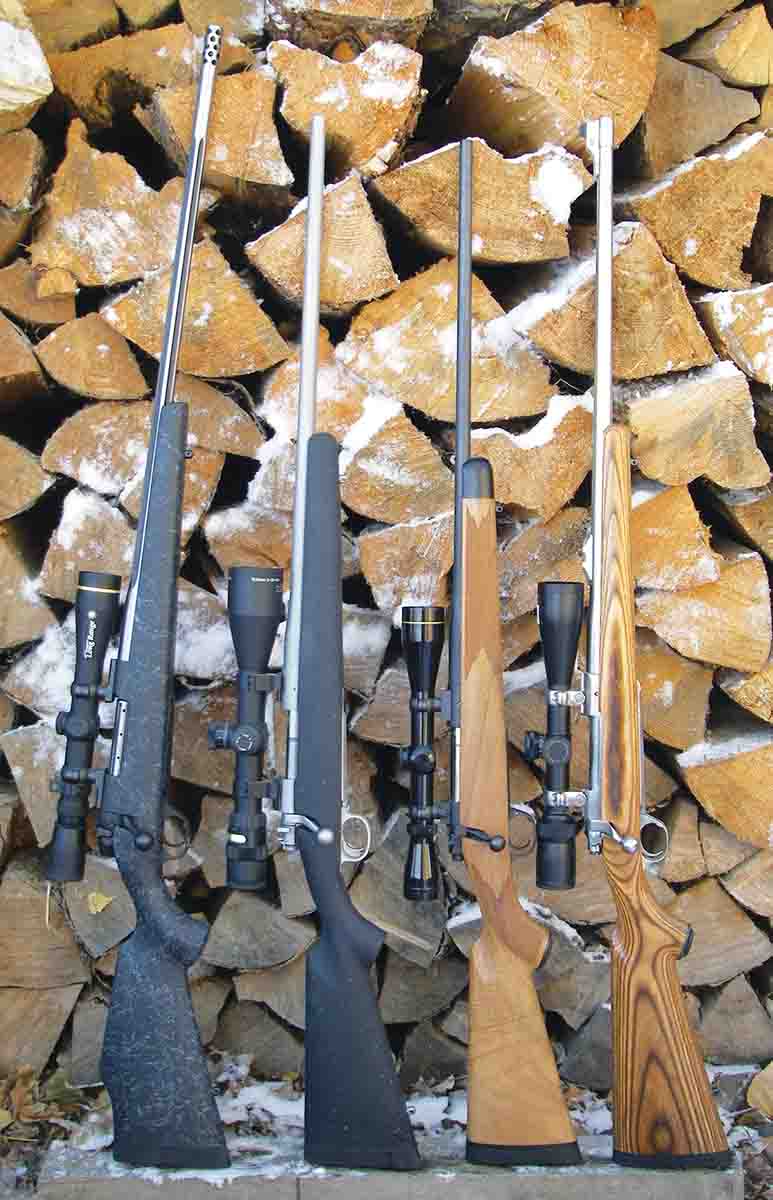 While the .30-caliber 200-grain Ascent will prove useful in many cartridges, it seems especially well suited to the .300 Winchester Magnum, with a Ruger M77 Mark II All-Weather rifle used here. While there are many excellent new powders with burn rates that are ideal for the.300 Winchester, Hodgdon H-4831SC is a proven standby. Using Winchester Super-X cases and Federal 215 Gold Medal primers, 72.0 grains reached 2,841 fps while a near maximum load of 74.5 grains reached 2,912 fps. After initial load development, accuracy was checked. As the first round was chambered, I wondered if my rifle choice was wise. More specifically, it has cycled thousands of rounds and there were concerns as to how much its barrel has worn. Those concerns were unnecessary as the first group measured just .557 inch. The next two groups, measuring .741 and .688 inch, respectively, brought the average group size to .662 inch.
The Ascent will be available in select factory Federal Premium ammunition by spring in popular calibers, including the 6.5 Creedmoor, 6.5 PRC, .270 Winchester, .270 Winchester Short Magnum (WSM), .280 Ackley Improved, .28 Nosler, 7mm Remington Magnum, .308 Winchester, .30-06, .300 WSM and .300 Winchester Magnum (see accompanying table). Other calibers, cartridges and bullet weights will be added at a later date. Federal is known as a respected ammunition company; however, it is jumping into the component bullet business in big way, and the Ascent is sure to become highly popular. It is a top contender for the difficult role of a "do-it-all" expanding bullet.