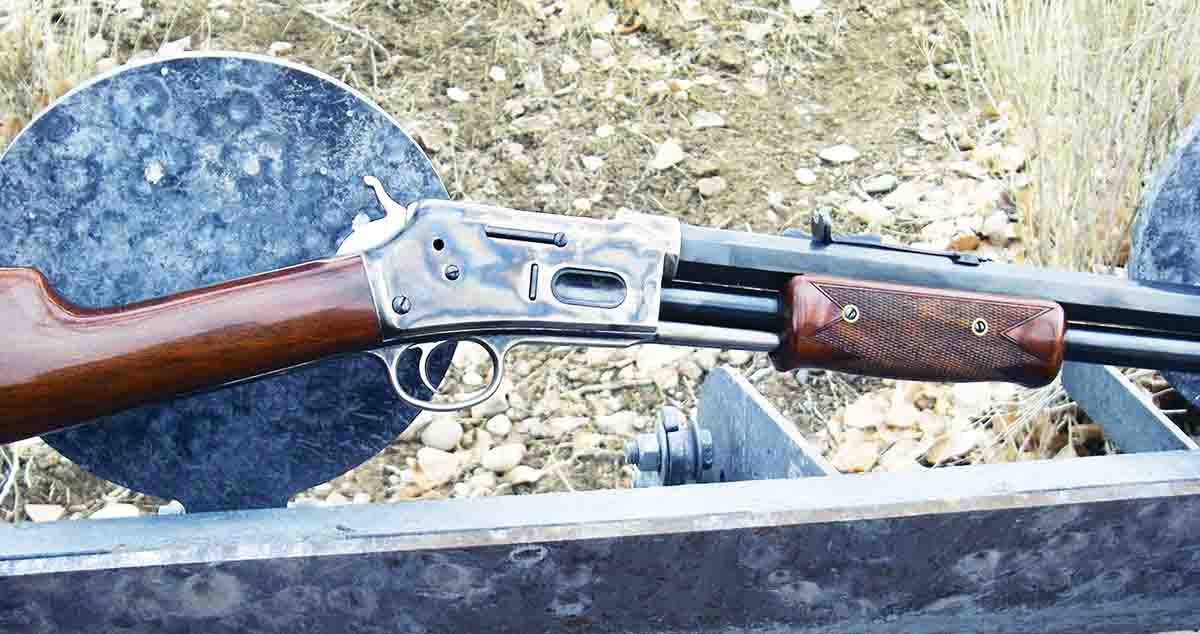 From 1884 through 1904, Colt's Patent Fire Arms Manufacturing Company produced a unique slide-action rifle (aka trombone or pump action) known as Colt's Lightning Magazine Rifle (CLMR). It was offered in three frame sizes, including "Small" for the .22 Short, "Medium" for the .32-20, .38-40 and .44-40 Winchester cartridges and "Large" for the more potent .38-56 WCF, .40-60 Marlin, .45-60 WCF, .45-85 Marlin and .50-95 Express cartridges.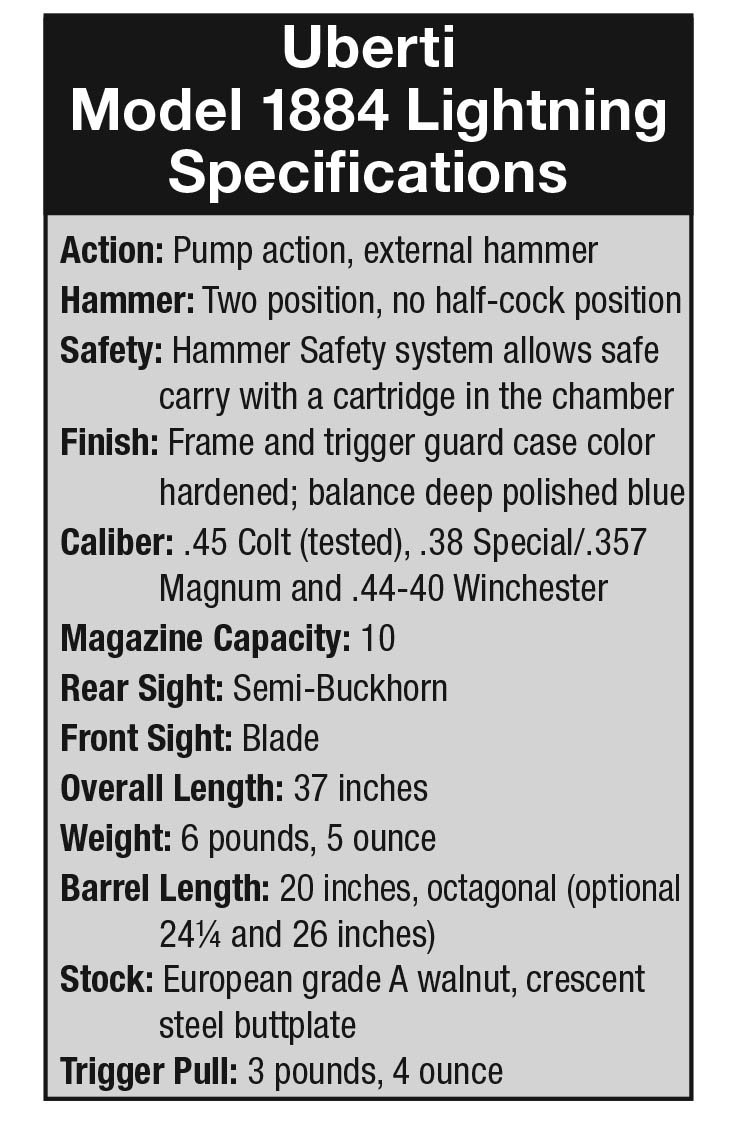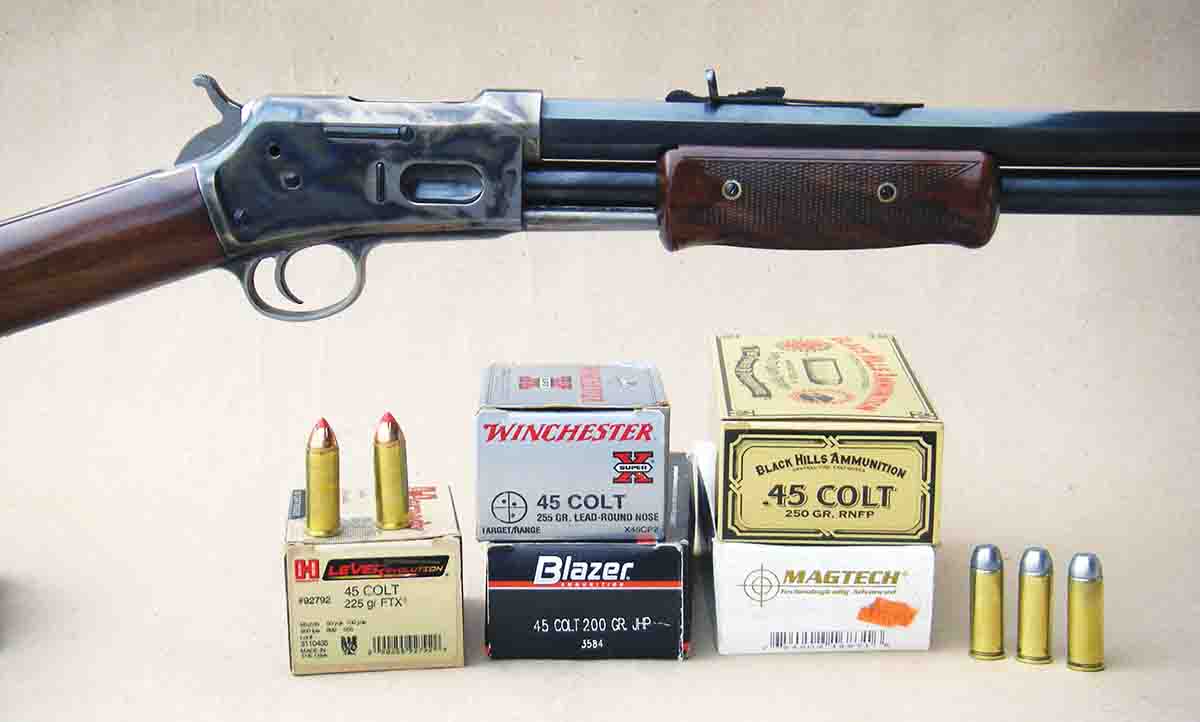 The CLMR was advertised as the "Only 'LIGHTNING' known to strike twice in the same place," and "Nothing is faster than LIGHTNING." In spite of fierce competition from lever-action rifles produced primarily by Winchester and Marlin, the Colt CLMR became popular, with nearly 190,000 units being produced in its comparatively short 20-year life span. The influence of the Colt Lightning must have been substantial, as noted firearms designer John Browning patented various slide-action rifles and shotguns after the CLMR was introduced, and they were ultimately manufactured by the Winchester Repeating Arms Company as the Models 1890, 1893, 1897 (aka 97), 1906, 62, etc. Remington and other American companies also played a significant role in developing both rimfire and centerfire pump-action rifles that became popular.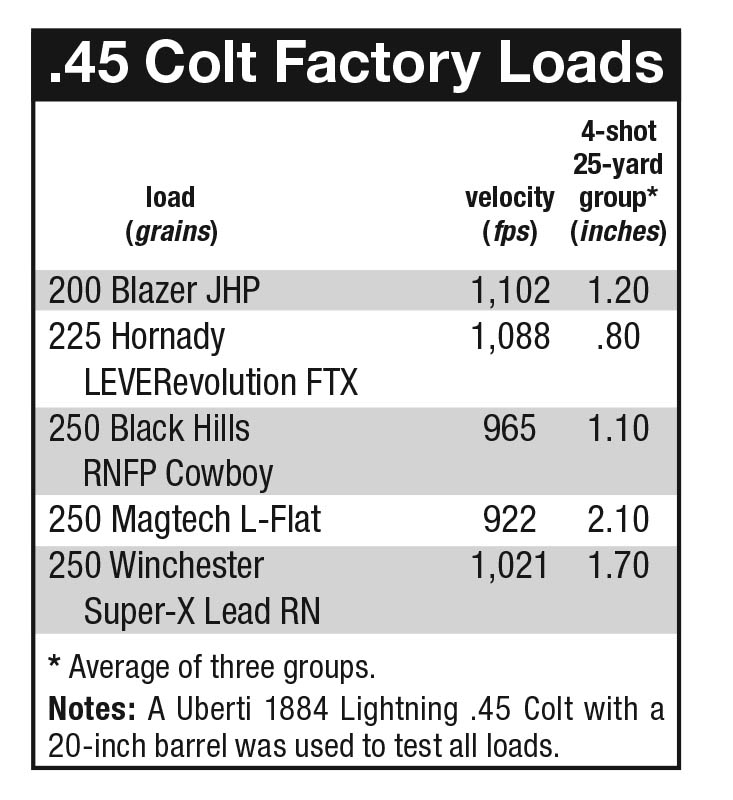 Uberti is an Italian manufacturer that has been producing replica firearms since 1959. Its quality has steadily increased, and today the company has earned a reputation for quality guns at reasonable prices. For the purposes of this review, a Model 1884 Lightning "Medium Frame" chambered in .45 Colt was selected. The sample rifle features a 20-inch octagonal barrel, but it is also available with 24¼- and 26-inch barrel lengths. In addition to being chambered in .45 Colt, it is offered in .38 Special/.357 Magnum and .44-40 Winchester.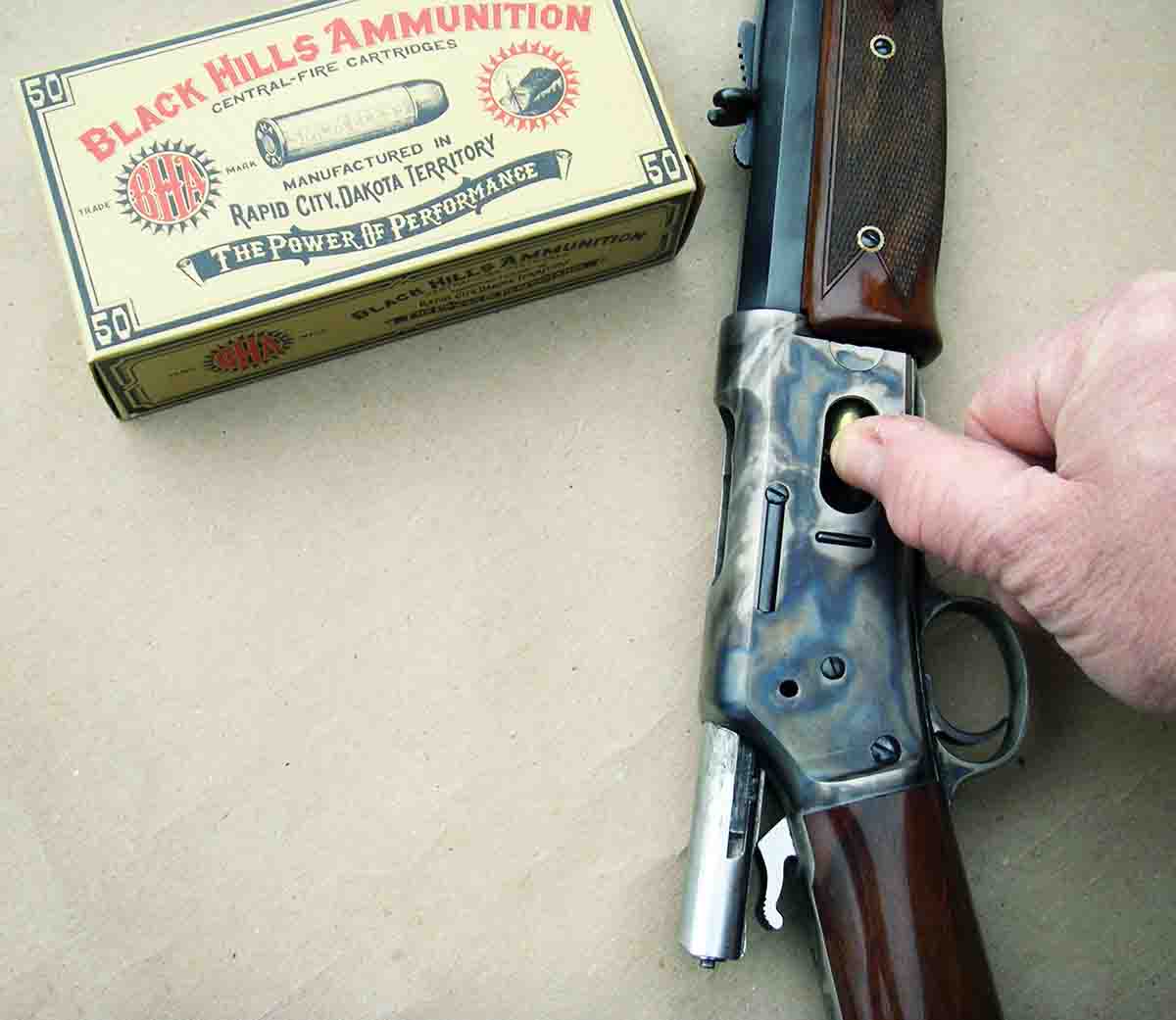 The buttstock, constructed of attractive European grade A walnut, features a crescent steel rifle-style buttplate while the forearm handle is trim and short, just like original Colts. Some literature refers to the sample gun as a "Carbine." However, with a crescent buttplate and a magazine tube that is attached via a dovetail to the bottom of the barrel (without barrel bands), it is really a "short rifle."
First impressions of the Uberti Lightning are positive. It is handsome and beautifully-machined, polished and finished. The receiver and trigger guard are case colored, with the latter being rounded and gracefully shaped. (Incidentally, most original Colt CLMRs featured a fully-blued finish with a case-colored hammer; however, a case-colored frame was optional.) The hammer is similar to the original and is knurled. Rifles produced by Colt prior to mid-1887 featured a dust cover while subsequent rifles did not. The Uberti is patterned after later guns without a dust cover. The action works smoothly and the trigger pull broke crisply at 3 pounds, 4 ounces.
While the basic lock work remains patterned after the original Colt Lightning, there is one notable departure. Rather than the hammer featuring three positions, including the forward (or down), half-cock or safety position, and full-cock or "ready-to-fire" position, the Uberti features what it calls a "Hammer Safety" system that only has two positions, forward and full-cock. I won't go into great detail, but with the hammer in the forward position an automatic safety permits a cartridge to be carried safely in the chamber. This is actually a good design, as it works smoothly and doesn't require an abnormally heavy mainspring to achieve reliable ignition, such as found on rebounding firing pins with select leverguns. The hammer function performs normally in every other way. It should be noted that unlike original CLMRs, the Uberti cannot be slam-fired (wherein the shooter simply holds the trigger back and cycles the action to make the rifle fire . . . generally inaccurately). Incidentally, the action can be opened with the hammer at the full-cock position.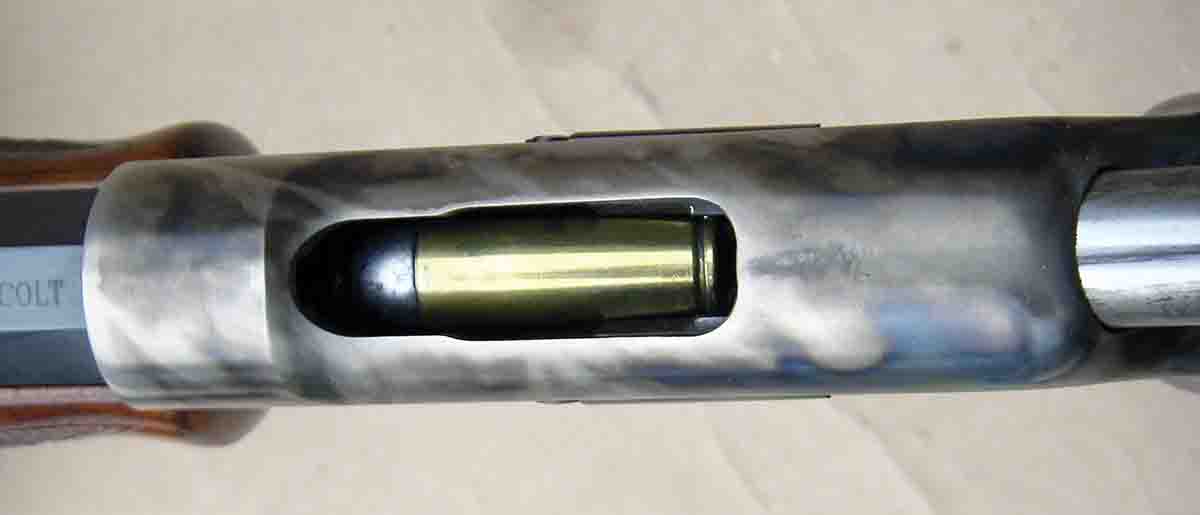 Just like the original the action must be open to allow cartridges to be inserted through the loading gate and into the magazine. Some riflemen have experienced a minor problem when inserting cartridges through the loading gate, where upon the magazine tube spring and follower pushes them back under the loading gate and they must be pushed forward to clear the action. While it is easy to clear the action using a thin screwdriver or blade, if cartridges are pushed correctly through the loading gate the above scenario will not occur. It seems that this issue is most common with guns chambered in .38/.357 Magnum. To date, more than 600 rounds have been fired through the sample rifle and this problem has never occurred – I even tried to make it occur!
Feeding and function was positive when the action was worked rather softly or robustly. Cases ejected almost straight up in the air, but usually landed just a foot or two behind the shooter.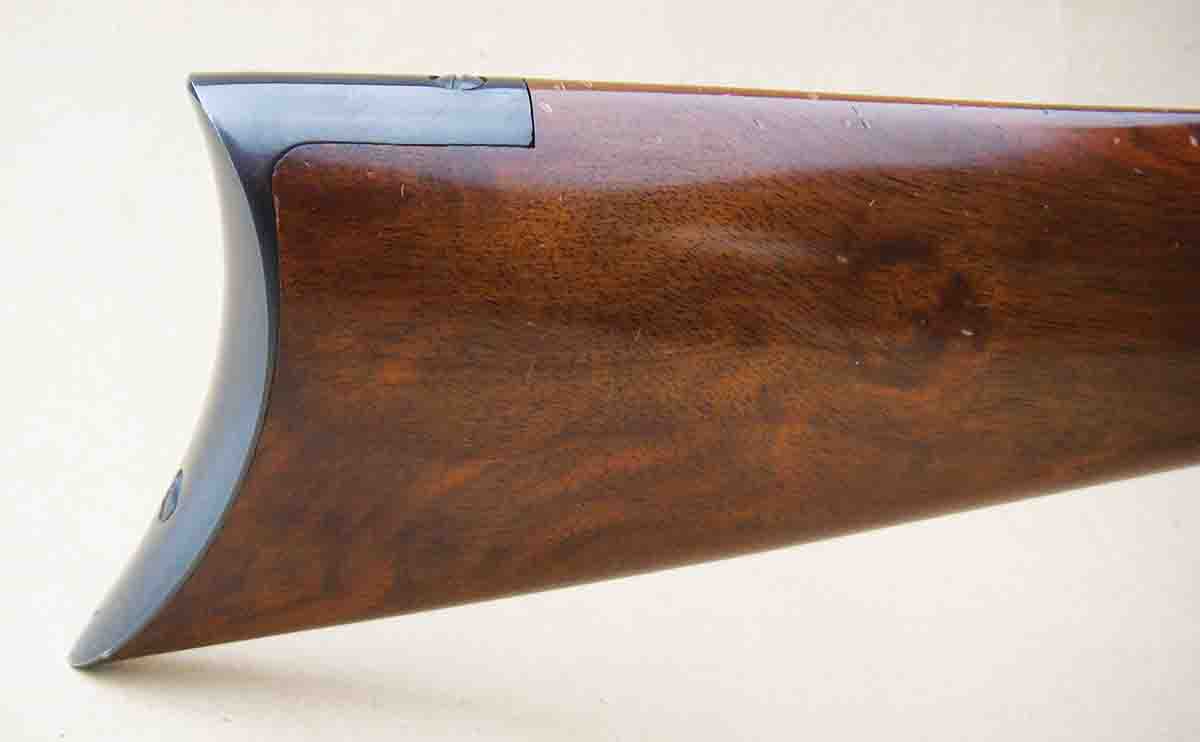 The only minor problem occurred when using Hornady LEVERevolution 225-grain FTX loads. This cartridge slightly exceeds SAAMI overall length specifications at 1.653 inches, while SAAMI lists 1.600 inches maximum. The cartridges fed fine; however, after loading the magazine the action had to be racked twice to get the first cartridge picked up and chambered.
Several hundred rounds were fired before accuracy tests were conducted. Like most barrels, a break-in period usually helps accuracy. As can be seen in the accompanying table, loads from Black Hills Ammunition and Hornady produced three, four-shot groups at 25 yards that averaged 1.10 inches and .80 inch, respectively.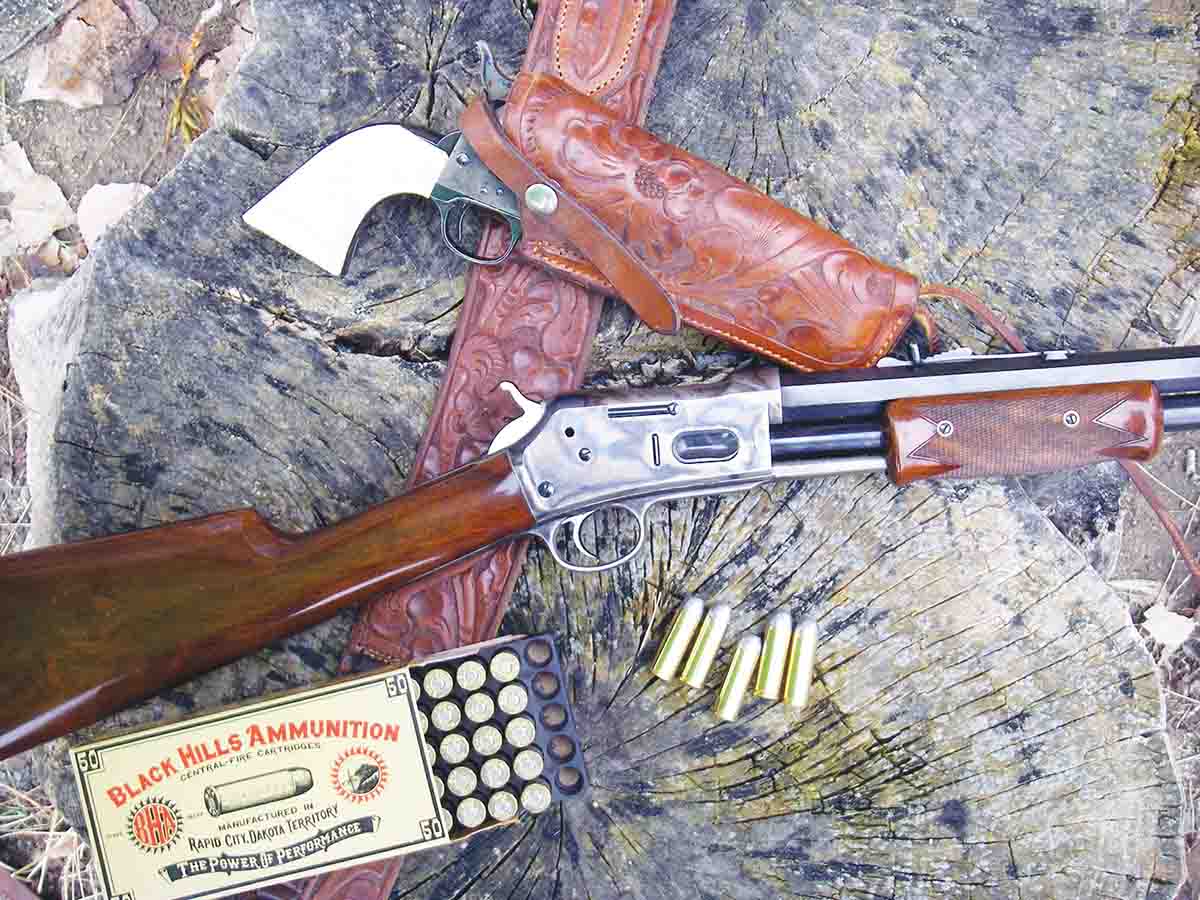 Moving out to 50 yards, the Hornady LEVERevolution FTX 225-grain load recorded one group that measured 1.70 inches, which is darn good with semi-Buckhorn sights. When performing this type of accuracy testing using iron sights, I find that a large target with a white backing helps to center the front sight precisely in the rear sight notch. For a center aiming point, a 4- to 5-inch black diamond with one-inch white center is preferred. A couple of other shooting tips include placing the offhand on the sandbags (do not let the rifle touch the sandbags) and do not pull back on the forearm. Rather, just hold it firmly and duplicate the hold with each shot.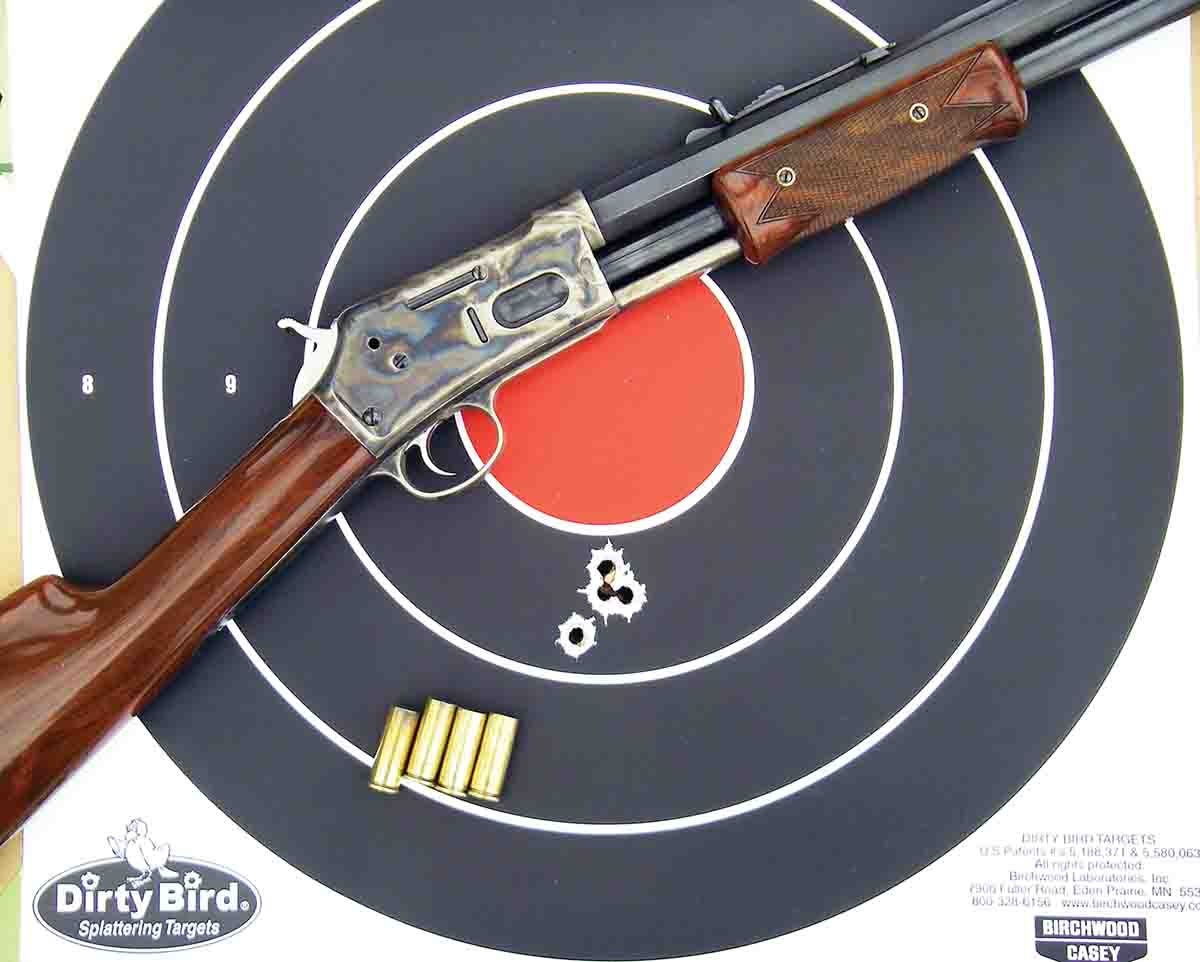 One handload was also tried, which consisted of 260-grain cast bullets from Lyman mould 454190 (alloyed at 13 Brinell hardness number and sized .452 inch) pushed with 7.1 grains of Accurate No. 2 powder assembled in Starline cases and capped with a CCI 300 primer for 1,062 fps. At 50 yards this load regularly grouped into 1.5 to 2 inches.
I found the Uberti Lightning carbine handsome, fun, accurate and reliable, and with just a bit of tuning up my pump-action shooting skills it could "run" the steel plates on my pistol range incredibly fast. While slide-action rifles only enjoy limited success among modern shooters, for those that grew up in the era when good quality pump-action .22s were widely popular, such as the Winchester Models 1906, 62 and 61, Remington Models 12 and 121, etc., the Uberti will bring back memories and may seem like an old friend. For those that enjoy frontier history but want a modern rifle, it will fill that role beautifully. Considering its overall quality, fit, finish and detailed machine work, and street prices running around $1,169, the Uberti 1884 Lightning is especially appealing.