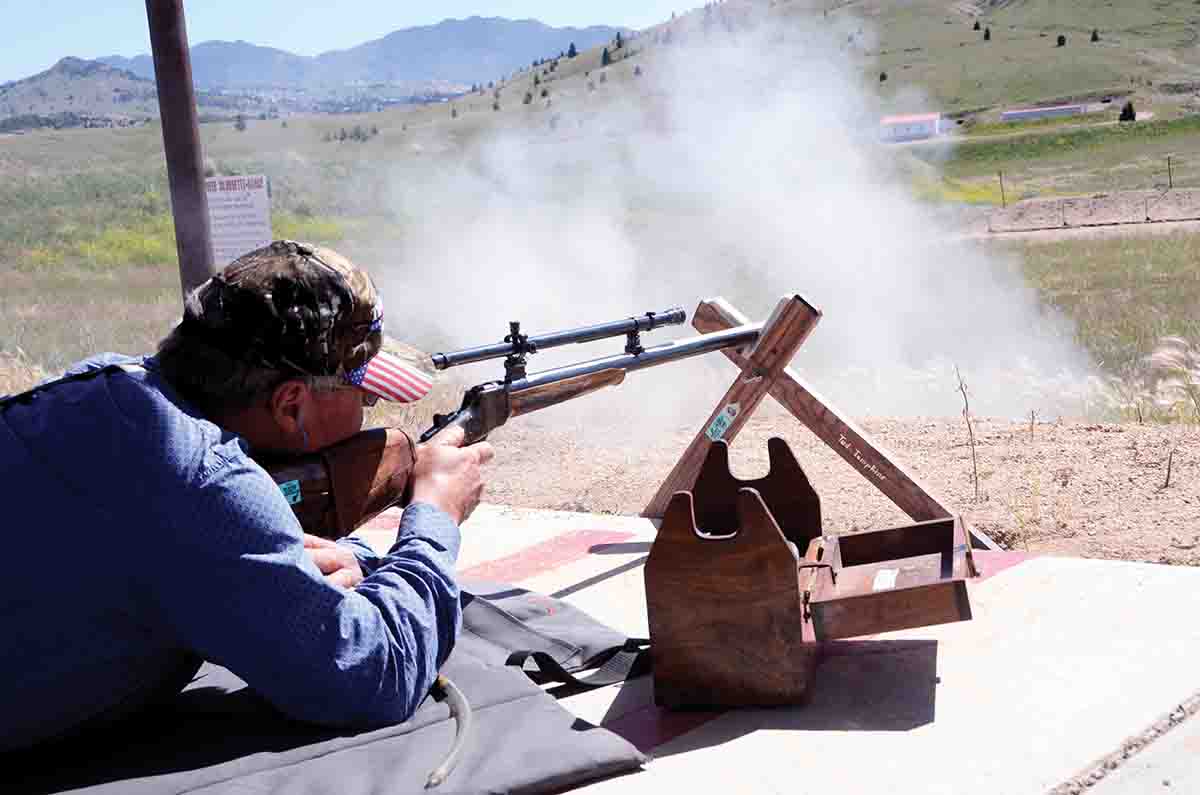 It seems that in the single-shot arena, High Walls come and High Walls go. By High Wall, I mean originals and replicas of the rifle Winchester Repeating Arms officially called the "Single Shot" or "Model 1885 Single Shot." Along the way, the generic term High Wall was applied, evidently to differentiate between Winchester's two versions of the same basic action. One had high side walls which were trimmed down to give a low side wall model. It seems that the "low" version was chambered for smaller cartridges while the high version was made for every sort. Winchester's Single Shot was chambered for around 80 different cartridges.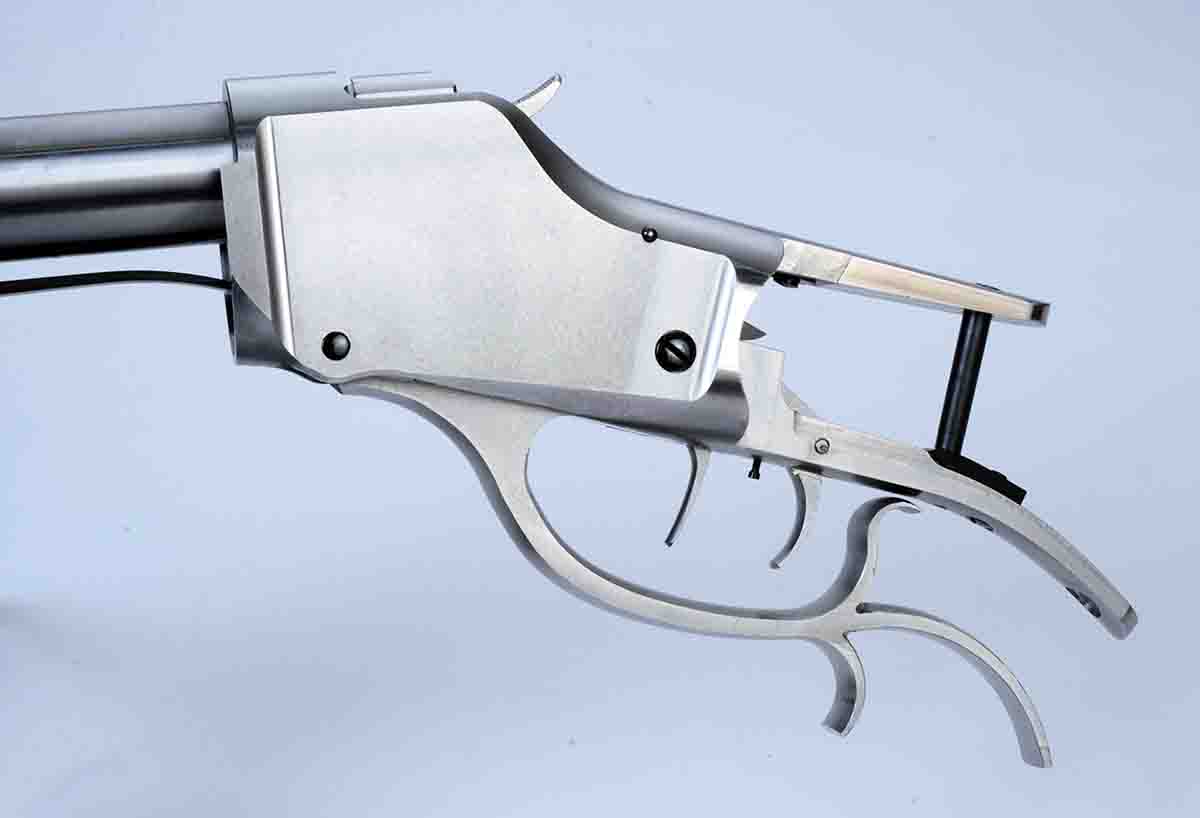 If an award could be presented for the rifle offered in the most shapes, sizes, calibers, configurations and variations, it would have to be Winchester's Model 1885. Author John Campbell in his excellent book
THE WINCHESTER SINGLE SHOT
gives the following information. Model 1885s were made as rimfires, centerfires, military training rifles, military-style muskets, small-game hunting rifles, large-game hunting rifles, ordinary target rifles and specialized Schüetzen-style target rifles. Some were actually made as shotguns. Initial High Wall cartridge offerings were all black powder, later ones were high-pressure smokeless rounds as hot as the .30-06. Cartridge selection for which they were chambered ranged from .22 Short Rimfire to the .50-140 with a 3¼-inch case, plus some rare, one only, special orders. There is rumor of an '85 High Wall being made for a .70-150 WCF round, but some collectors think perhaps that was only an advertising gimmick.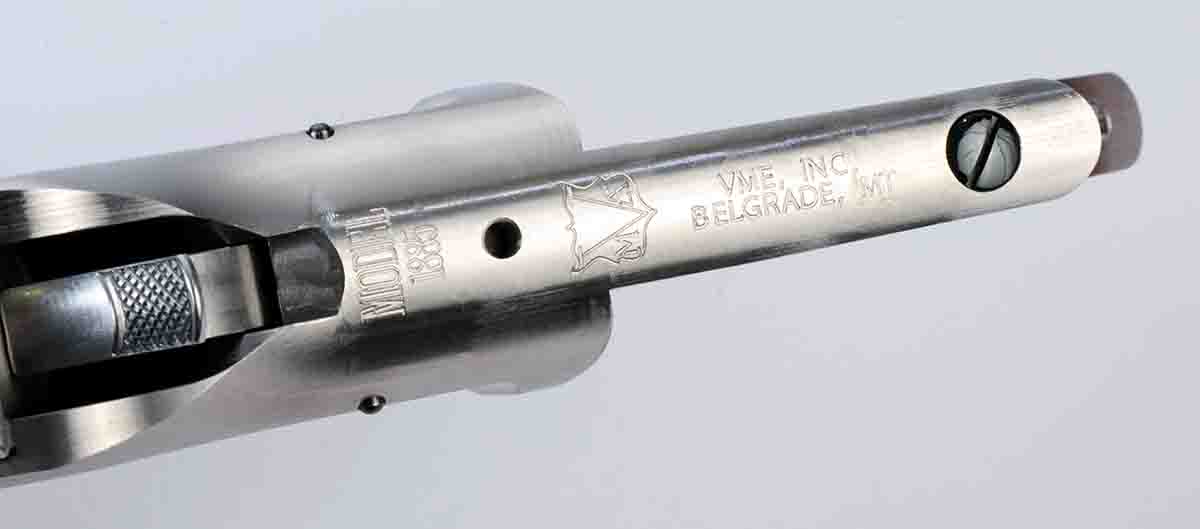 Again, the following information was found in Campbell's book. Standard barrel lengths offered in Model 1885s ranged from 15 inches to 30 inches, but special order barrels to 36 inches were made. Also standard, depending upon chambering, were the No. 1 and No. 3 weight barrels. A .32-caliber No. 1 barreled Winchester single shot would weigh from 7½ to 8 pounds. The same configuration of .32 caliber rifle with a No. 3 weight barrel would weigh 81⁄2 to 10 pounds. However, barrels of No. 2, No. 4 and No. 5 weights were available on special order as well as some even lighter. According to an 1891 Winchester catalog, a No. 4 barrel cost an additional $2 and a No. 5 weight was $10 extra. A target-style rifle with a No. 4 weight barrel would weigh about 101⁄2 to 11 pounds and one with a No. 5 barrel would take a scale up to 12 pounds. Of course, these comparisons are only valid if all other factors are equal.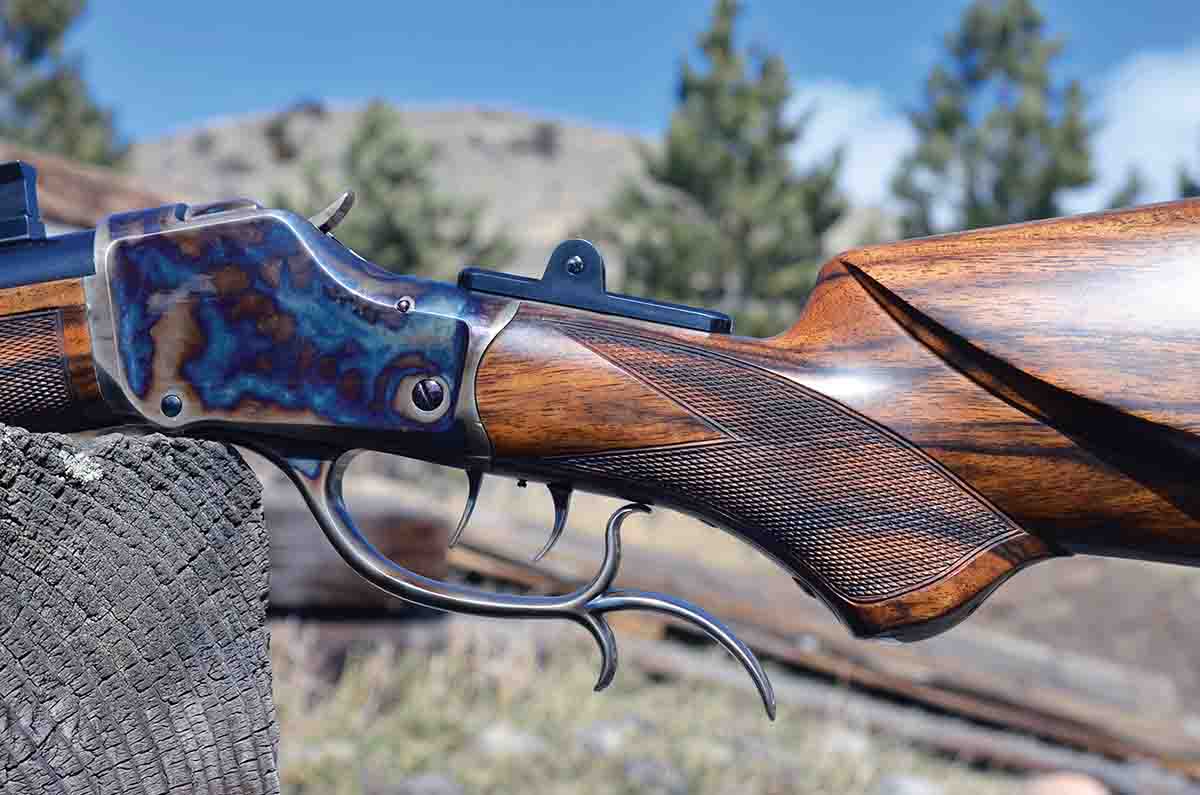 For almost all standard Model 1885s, barrel shape was full octagonal. Half-round barrels could be had on special order and military-style muskets or .22 training rifles all had round barrels. This detail is interesting. With .32, .38 and .44 WCF calibers, standard barrel offerings came in either 15- or 28-inch lengths. The .32 WCF had a 1:20 rifling twist but .32 and .44 WCFs had 1:36 rifling. Speaking of rifling twists, Winchester must have done considerable testing to arrive at its twist rates. Again referring to Campbell's book, Winchester Model 1885s in .25-35 WCF had a 1:8 twist, and the .45-70 Gov't had a 1:22 twist and Winchester's .50-110 Express had a 1:54 twist.
According to THE WINCHESTER SINGLE-SHOT book, John M. Browning began working on a refinement to existing single-shot rifles in 1878 and received a patent for them in October 1879. This all took place in the Browning Brothers Gun Shop located in Logan, Utah. In the early 1880s, Winchester officials became aware of the Browning Model 1878 and quickly moved to obtain the rights to it, along with the services of John Moses himself. Winchester's factory first shipped the new single shots in late 1885 and continued to do so for about 35 years to the tune of between 139,000/140,000. So many original Winchester High Walls have been altered, torn apart, repurposed, remodeled or restored, that very high prices are now put on unmodified rifles.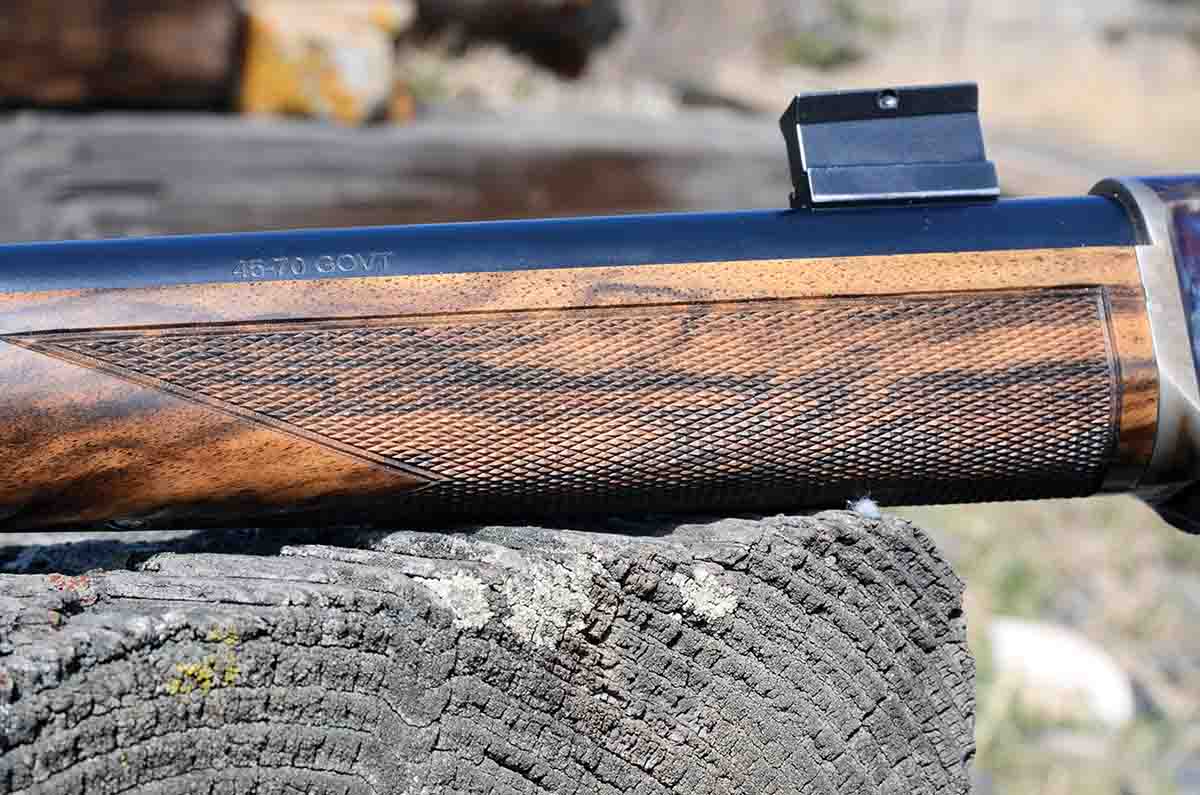 Winchester single shots were a falling block-style with exposed hammers, and trigger guards also serve as levers. Lowering the lever likewise lowered the breechblock and ejected any fired cartridge in the chamber. When a fresh round was chambered, raising the lever brought the breechblock into firing position. Early High Walls were perceived as having an advantage to other falling blocks of the era in that their hammers went to full cock as the breechblock closed. Thusly, the rifle was ready for immediate firing. Later, probably when the Model 1885 became perceived more as a target rifle than a hunting arm, the mechanism was changed to the hammer only coming to half cock when the breechblock was raised. Then the hammer had to be brought to full cock manually.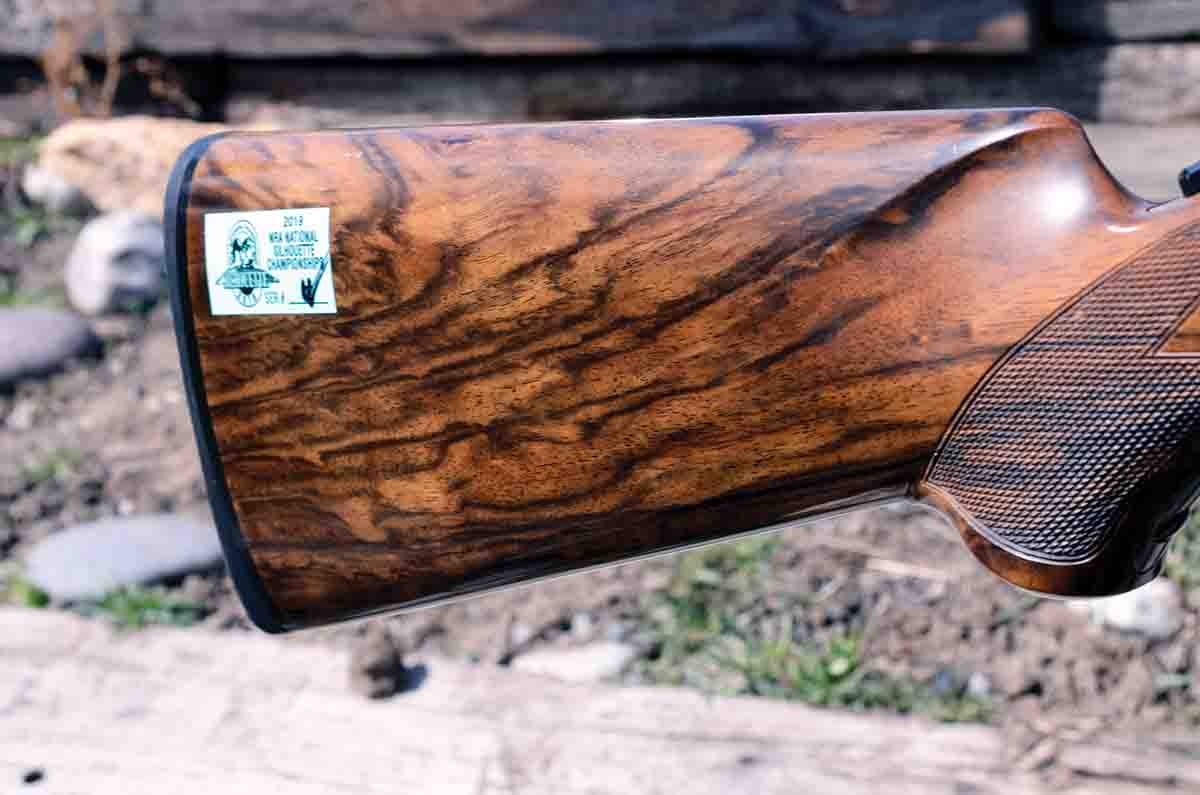 As with other vintage-type single-shot rifles, the high value of originals has led to replicas being produced. That's what was meant in the opening paragraph about High Walls coming and going. In our modern time, various permutations of "high wall" replicas have appeared and then disappeared. In the 50 years I've been a single-shot rifleman, Browning has had Model 1878s and 1885s made in Japan. Another maker of modern High Wall replicas was a company called Meacham Tool & Hardware in Peck, Idaho. Its recreations were high-quality custom rifles, with quite a few seen on silhouette ranges. Then, the Ballard Rifle Company of Cody, Wyoming, began making High Walls around the turn of the century, again as high quality custom rifles. Both Meacham and Cody High Walls are gone now. To the best of my knowledge, the only completed rifles based on the Winchester Model 1885 High Wall still being made in America are those coming from the C. Sharps Arms facility in Big Timber, Montana. To be sure, the Italians are also sending complete High Wall replicas here.
However, for anyone who would like to recreate a Model 1885 in any of the fashions Winchester offered originally, there is an option. Montana Vintage Arms of Belgrade, Montana, primarily known for its fine quality, vintage-style metallic sights and vintage-style long tube telescopes, offers ready to use Model 1885 actions.
These actions are 99 percent finished and are completely functional with triggers, extractors and the upper tang drilled and tapped for metallic sight mounting. These actions are cut from solid billets of HR8620 steel. Although shipped to customers in the white, they actually need no hardening. They can be polished to the customer's satisfaction when blued or color-case hardened. It should be noted here that MVA's High Wall actions are not look-alikes. They were reverse engineered from original Winchester single-shot receivers and parts are available for shooters who might need to replace something broken or lost on their vintage High Walls. MVA also can supply breechblocks for both centerfire or rimfire and actions suited to flat or coil springs. MVA actions can be used to duplicate any rifle style made by Winchester with its single shots. Well, it can if the customer has a talented and knowledgeable gunsmith to perform the work.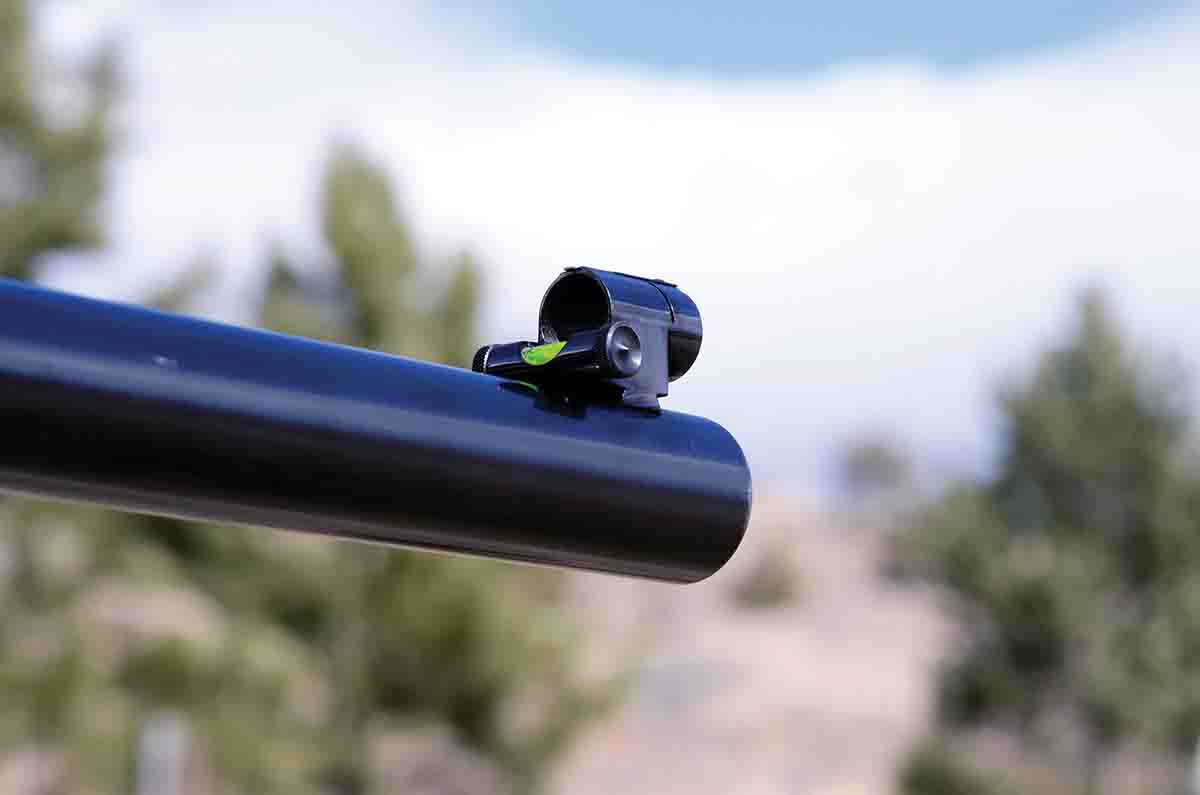 Many times in my writing, I've mentioned my BPCR Silhouette shooting and traveling partner, Ted Tompkins of Big Arm, Montana. As might be expected, during our 30 or so road trips around the west to attend events, we have had many interesting conversations, including debates such as Ted saying the twenty-first-century started in the year 2000, while I of course, know that it actually began with the year 2001.
Another hotly debated topic has been our competition rifles. Ted calls my rolling blocks "Mexican army rifles." I call his High Walls "gentlemen's Sunday afternoon beer drinking rifles." I'm not sure Mexico ever issued a rolling block to its armies, although rifles chambered for .43 Spanish served all over South America. What I do know is that a few hundred late 1800s/early 1900s city dwellers boarded their street cars with cased High Wall rifles of puny power to visit Schüetzen ranges. In between flinging cast bullets at paper targets, they refreshed themselves with beer, because Schüetzen competition originated in Germany.
Ted owns several Schüetzen High Walls, but finally with the help of MVA, he has built a High Wall rifle I admire. Ted started this project with an MVA action complete with double-set triggers in a curved lower tang for a pistol grip stock. Single triggers are also available with both pistol grip and straight grip lower tangs.
Wanting to have a show piece rifle as well as a competitive one, Ted acquired an exquisite piece of English Walnut from Silver City, New Mexico, gunsmith Curt Hardcastle. It had already been cut with a stock duplicator but was unfinished. He bought a Kreiger barrel with a rifling twist of 1:16. It was shaped to full round, tapering from 1.25 inches at the breech to 1 inch at the muzzle with a length of 32 inches. The same now-retired gunsmith who shaped the barrel also chambered it for .45-70, fitted it to the MVA action, cut a front metallic sight dovetail and drilled and tapped scope mount screw holes. It weighs just 12 pounds with a MVA 101 Vernier tang sight used in iron sight silhouette events.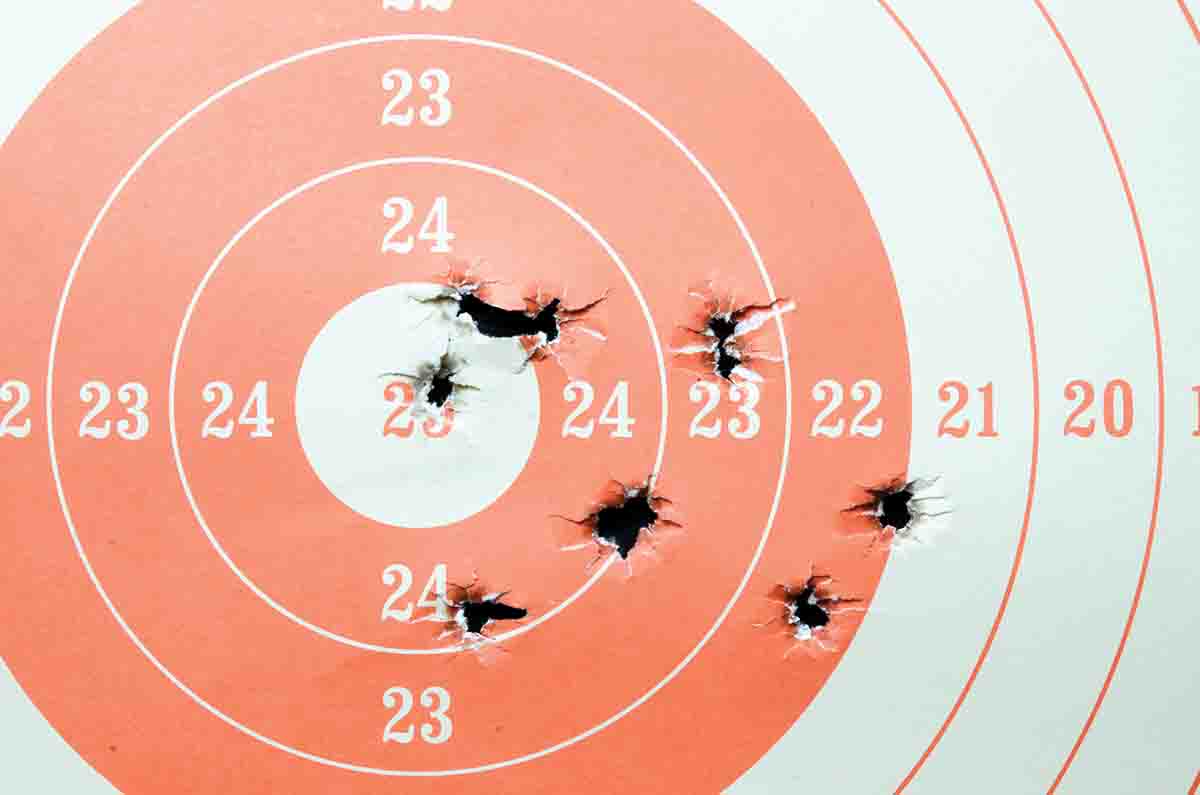 Next, Ted pulled the barrel and shipped the complete action to Doug Turnbull for color case-hardening. When the action and trigger bar were returned to Ted, those parts along with the barrel and stock wood were sent to Gene Gordener (Gordener Custom Guns) of Kalispell, Montana. Gordener finished and fitted the stock, including the ebony inset in the forearm schnabble and .25-inch thick rubber Decelerator recoil pad. It was also blued in Gordener's shop. Checkering was done by John Reese Checkering & Engraving of Polson, Montana. I always kid Ted about having "gorilla arms" and the 15-inch length of pull of his MVA High Wall proves it.
For iron sights, Ted uses an MVA No. 101 Soule-style Vernier tang sight and spirit level No. 113 front. Like most of us older gents, he has also evolved into shooting in the scoped BPCR Silhouette category most often. For this, he uses an MVA A-10x scope of 23-inch length. He has won numerous state and local events with this .45-70, topping it off by winning the Southeast Regional (scoped) Championship in 2019 located near Gainesville, Georgia.
Now this part is likely to horrify regular Rifle readers. Prior to my badgering Ted to shoot a 200-yard, 10-shot group for photographing, he had never launched a single round at a paper target with his MVA High Wall .45-70. The one shown measures 27⁄8 inches at its widest. About 15 years ago, he asked me what I recommended for a .45-70 BPCR Silhouette load using a 540-grain Creedmoor-style bullet. I said to try 60 grains of Swiss 1½ Fg black powder in Starline brass and seat the bullet to give an overall length of 2.90 inches. Along with my tips, he favors Federal 210 Gold Match Large Rifle primers, 1:20 tin-to-lead alloy and DGL Lubricant. With that load in other .45-70 rifles, he has won a couple of Montana state championships. He said he sees no reason to experiment. In fact, his "load testing" such as it was with the MVA High Wall consisted of shooting it at BPCR Silhouette events. Ted doesn't own a chronograph, but from experience I'd rate his load as giving about 1,150 to 1,200 fps.
Montana Vintage Arms has done single-shot riflemen a great favor. Not only with its finely-machined High and Low Wall Model 1885 actions, but also by supplying a source for spare parts for original Winchester '85 restorations. Its metallic sights and telescopes make it possible to get the most precision possible from vintage and replica single shots.