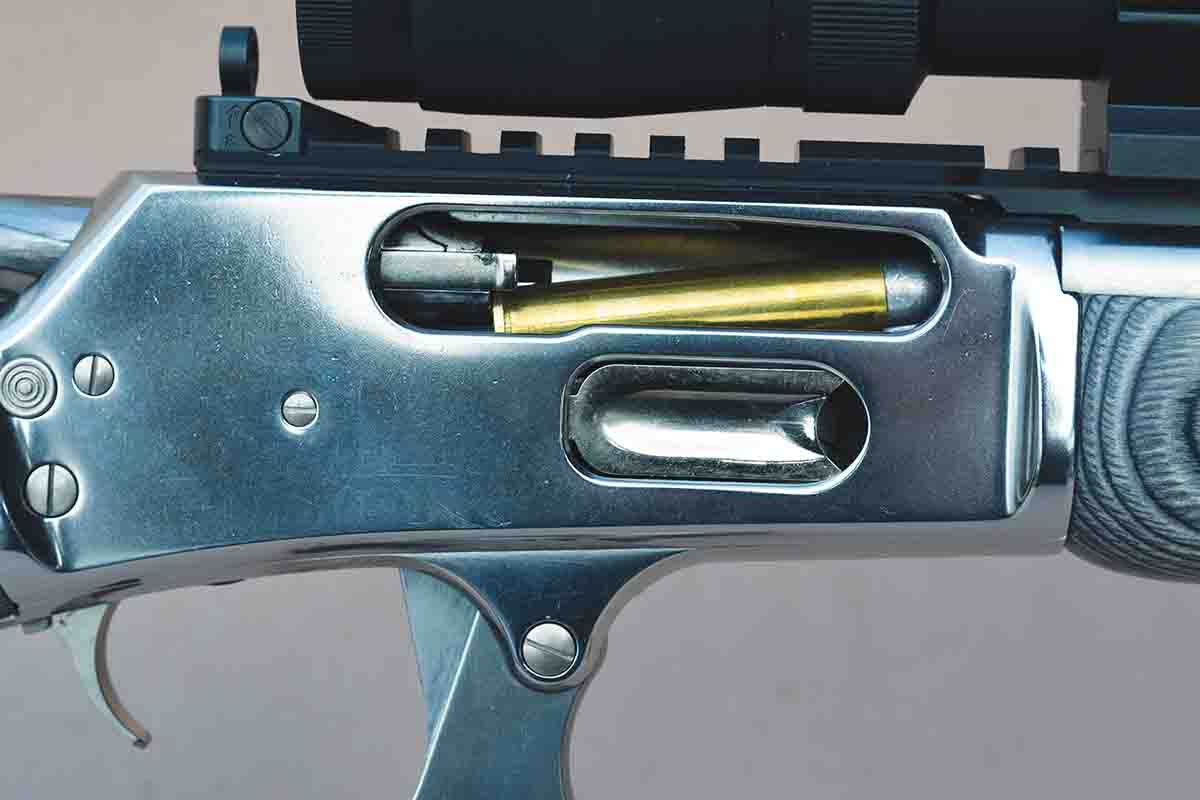 Although I make a living shooting, testing and evaluating a variety of firearms, it's not often that I have the opportunity to write about a company and its guns that are historical and truly special to me, such as Marlin and its outstanding leverguns. Marlin guns were used by my ancestors dating back to at least the 1880s on the Arizona frontier. It seemed natural that as I grew up, I would be shooting vintage Model 97s and 39s, various Model 1894s, 1893s, 336s and 1895s. As an adult, habits are hard to break and Marlin rifles have been carried countless miles in the field.
My children were introduced to various Marlin .22, .357 Magnum and .45 Colt leverguns at young ages and still use them. Unfortunately, the past few years have been a rather rocky road for Marlin, but it is now owned by Ruger, with production underway in Mayodan, North Carolina. Since acquiring Marlin in the fall of 2020, Ruger engineers have reestablished the legendary and proven lever-action design, while production versions boast of what may be the best rifle produced with the Marlin name in many, many years, but I am getting ahead of myself. To understand the significance of the latest Ruger produced Marlin rifles, let's look briefly at the company history.
Marlin's roots date back to at least 1870, when John Mahlon Marlin first hung his trade sign over his gun shop and began building firearms. While his first guns were primarily purse pistols, derringers, double-action revolvers and rifles, he soon began designing a lever-action rifle to compete directly with Winchester. The Marlin Model 1881 lever action chambered in .45-70 Government (and other cartridges) was significant, as Winchester had been unable to chamber a lever action for that important military cartridge. While the Model 1881 was accurate, generally reliable and enjoyed strong sales, Marlin soon began working to develop an even better lever-action rifle that resulted in the Model 1888 (for .44-40 length cartridges). But it was the Model 1889 (also for .44-40 length cartridges) that was especially important to the company, as it is the same basic design that has been used in almost all Marlin leverguns to date. It was also known as "The New Safety Repeating Rifle" that featured a forged receiver, side ejection, side loading and a solid top receiver. The action was compact, lightweight, featured the short throw leveraction principle, was much stronger than competing rifles and proved very reliable. The action was essentially closed, which served to keep the elements out to further enhance reliability. Least important, it was very handsome and eye-appealing.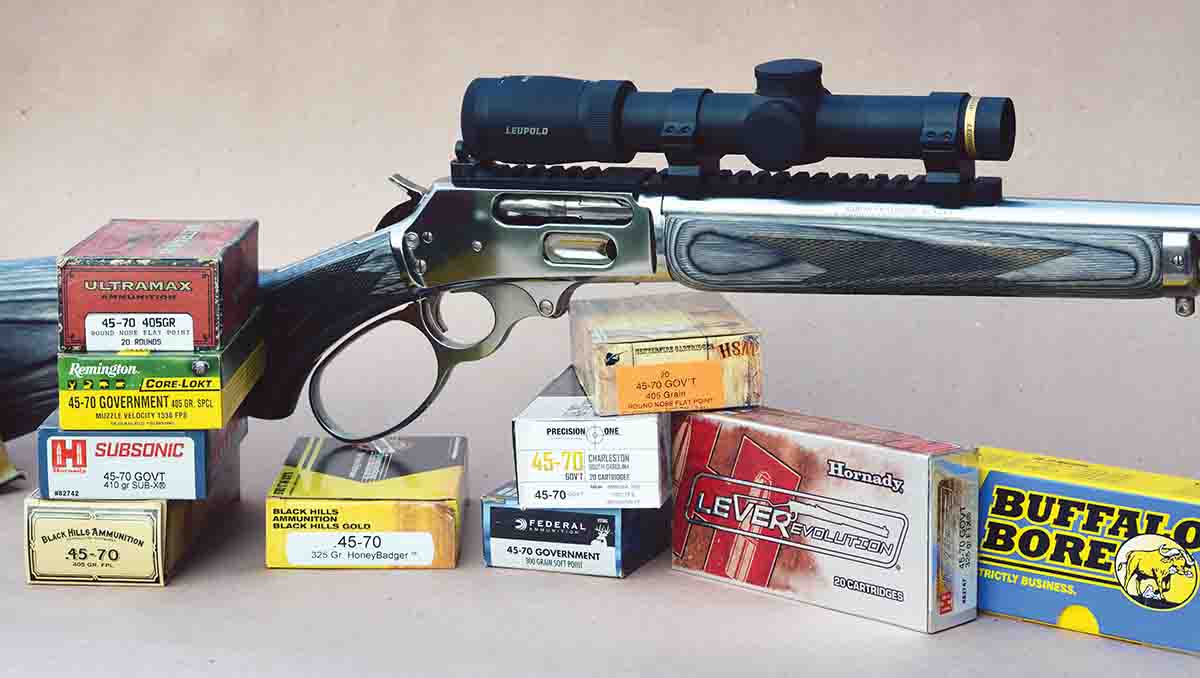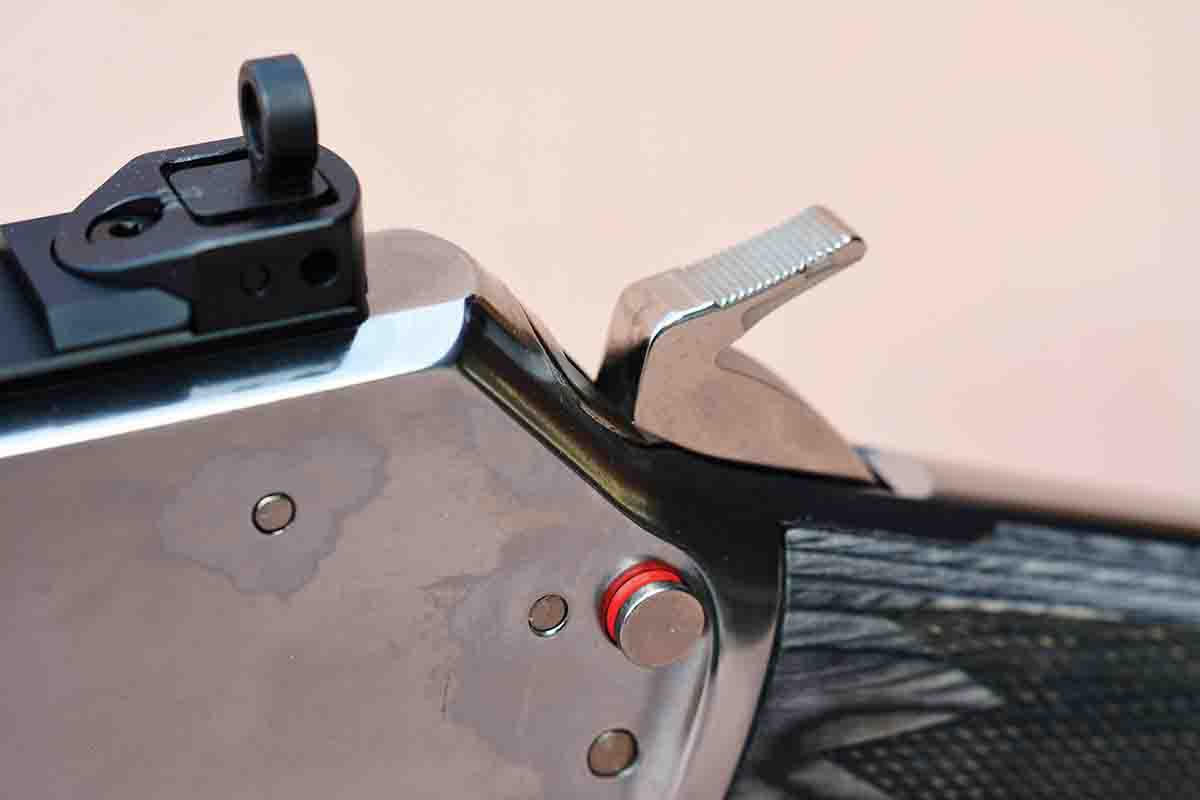 The Model 1893 was based on the Model 1889 design, but lengthened to accommodate the .38-55 WCF, .30-30 WCF and similar length cartridges. It became the Model 93, 36 and in 1948, the 336 (with the most notable change to that model being a round bolt to increase strength) which has been a staple in the company product line. The Model 1894 was a slightly improved version of the Model 1889, and likewise housed .44-40 length cartridges. The Model 1895 was essentially an enlarged Model 1893 and easily housed the .45-70 Government and other popular levergun cartridges up to the .45-90 Express.
Like most U.S. companies, the Great Depression caused serious financial difficulties and Marlin was forced to discontinue many models to survive, but during the post-World War II era, it emerged strong and innovative, and by the 1970s and 1980s it became the largest producer of leverguns for good reason. In short, Marlin continually improved the product and offered new calibers and variations that appealed to a broad shooter base. Furthermore, unlike the competition, it kept quality and reliability high by continuing to use forged receivers and major working parts such as levers, bolts, locking lugs, etc. The design was robust and quality was excellent, even on value-priced guns. As business soared, Marlin continued to branch out into variations that were especially appealing to shooters, and over the next few decades, sold every gun it could build. Notable recent offerings in the Models 1894, 336 and 1895 includes Cowboy, Cowboy Carbine, Cowboy Competition, Guide Gun, Outfitter, SBL, 308MX, 338MX and many others that remain in high demand. Incidentally, after World War II, Marlin began offering Micro-Groove rifling that proved to be an accurate rifling system with many advantages; however, as demands changed, Marlin again began offering the deep-cut, Ballard-style rifling that has been especially popular with cast bullet shooters.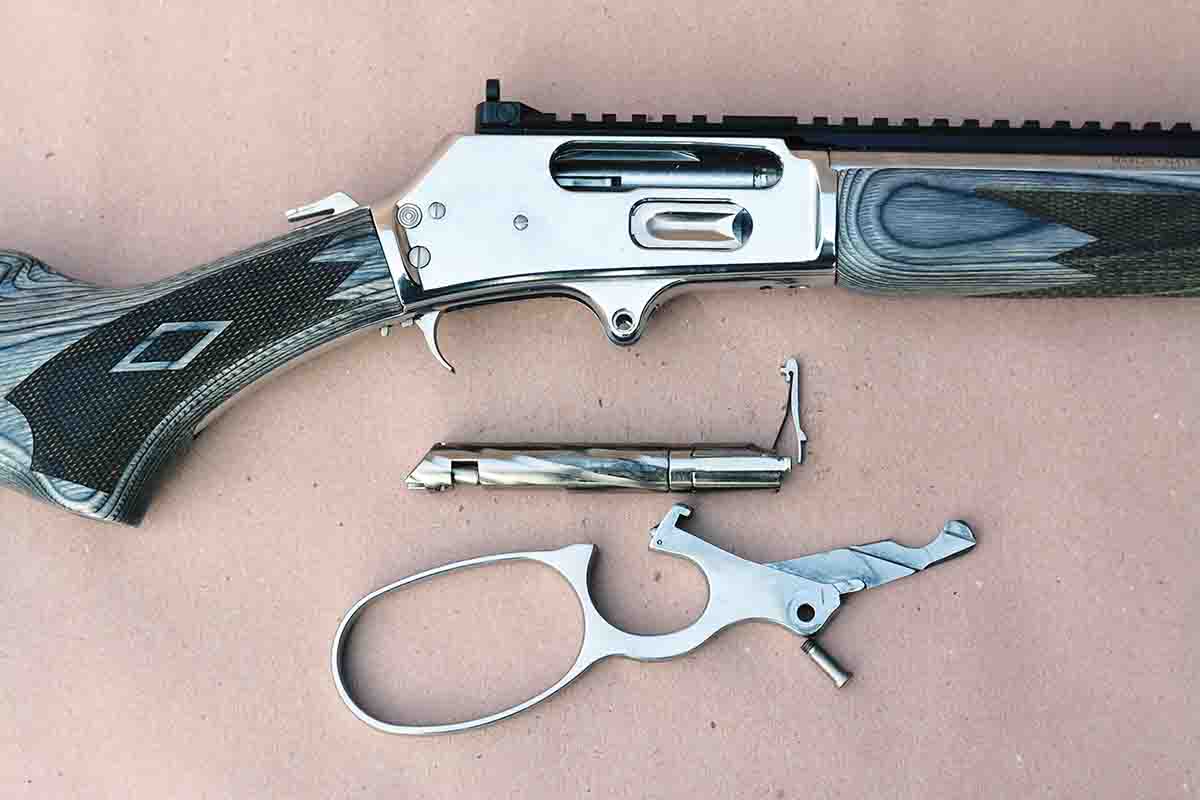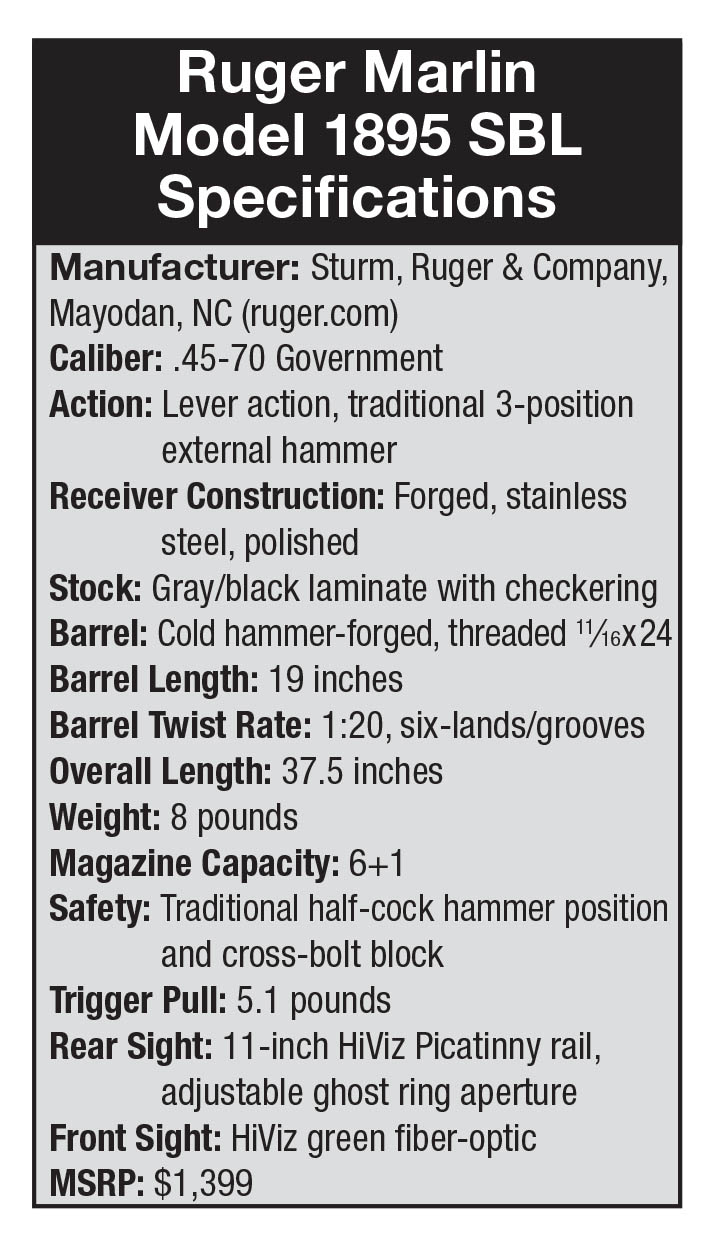 In January 2008, the Remington Outdoor Company (aka the Freedom Group, Cerberus) acquired the Marlin Firearms Company, which had been a family-owned business (Frank Kenna and descendants) since 1924. While the new owners invested deeply with the intention to improve and modernize this remarkable company, they made one major mistake; in an effort to increase efficiency, during 2010 they moved the company from New Haven, Connecticut, to Ilion, New York, to be manufactured within the huge Remington Arms plant. Only a handful of employees made the move, so the know-how and tweaking that was necessary to make guns work perfectly was lost. Blueprints were outdated and did not correspond with modern CNC tooling. Essentially, it had to start all over with new employees, engineers, new tooling, etc. I worked closely with company personnel, offering insight into technical aspects and areas that really needed to be improved, as well as input for new models that would be in high demand. While improvement was steady, corporate "white shirt-types" stifled the process. Nonetheless, Marlin eventually began producing good rifles and became very successful. In fact, they carried Remington Arms financially as that company failed to produce quality guns and struggled to make ends meet!
Tragically, the Freedom Group that also owned DPMS, Bushmaster, Dakota Arms, Barnes Bullets and many others declared bankruptcy in July 2020, with Ruger purchasing Marlin shortly afterward. This was a match made in heaven and I knew that it would only be a matter of time for savvy Ruger engineers to take the Marlin design and make it more or less perfect once again!
Soon after the bankruptcy, the Ilion plant was closed, and with the humidity associated with a New England fall, tooling, parts, barrels and receivers began to quickly rust and deteriorate. By the time Ruger moved the company to Mayodan, North Carolina, much of the tooling and some parts were unusable. Ruger engineers immediately began drawing new blueprints and engineering production processes that better fit within that company's highly efficient manufacturing techniques and methodology, which has been a huge undertaking. As the work progressed, I was periodically forwarded blueprints, proposed changes, etc. for input. It quickly became clear that Ruger was taking its latest acquisition to new levels of quality and reliability and I anxiously waited for the announcement indicating production was underway.

In the fall of 2021, Eric Lundgren forwarded a pre-production Model 1895 SBL chambered for the .45-70 Government, which he referenced as a "jury rifle." In other words, he wanted my raw, no-holds-barred opinion. If I wanted to see changes or improvements, he really wanted to hear them prior to the gun going into production. He assured me that the culture at Ruger is very positive and that they will immediately make the necessary changes to make this the best rifle possible. In other words, the corporate red tape that had previously stifled Marlin was gone! Incidentally, the Model 1895 SBL has been in continual demand since it was originally introduced in 2009, so it seemed like the perfect gun to launch the new Marlin rifle. I was told that it has "starred" in a movie that helped make it popular, but most importantly, it has found great favor among hunters, guides, shooters and those that need a short, compact, fast-handling, big-bore repeater.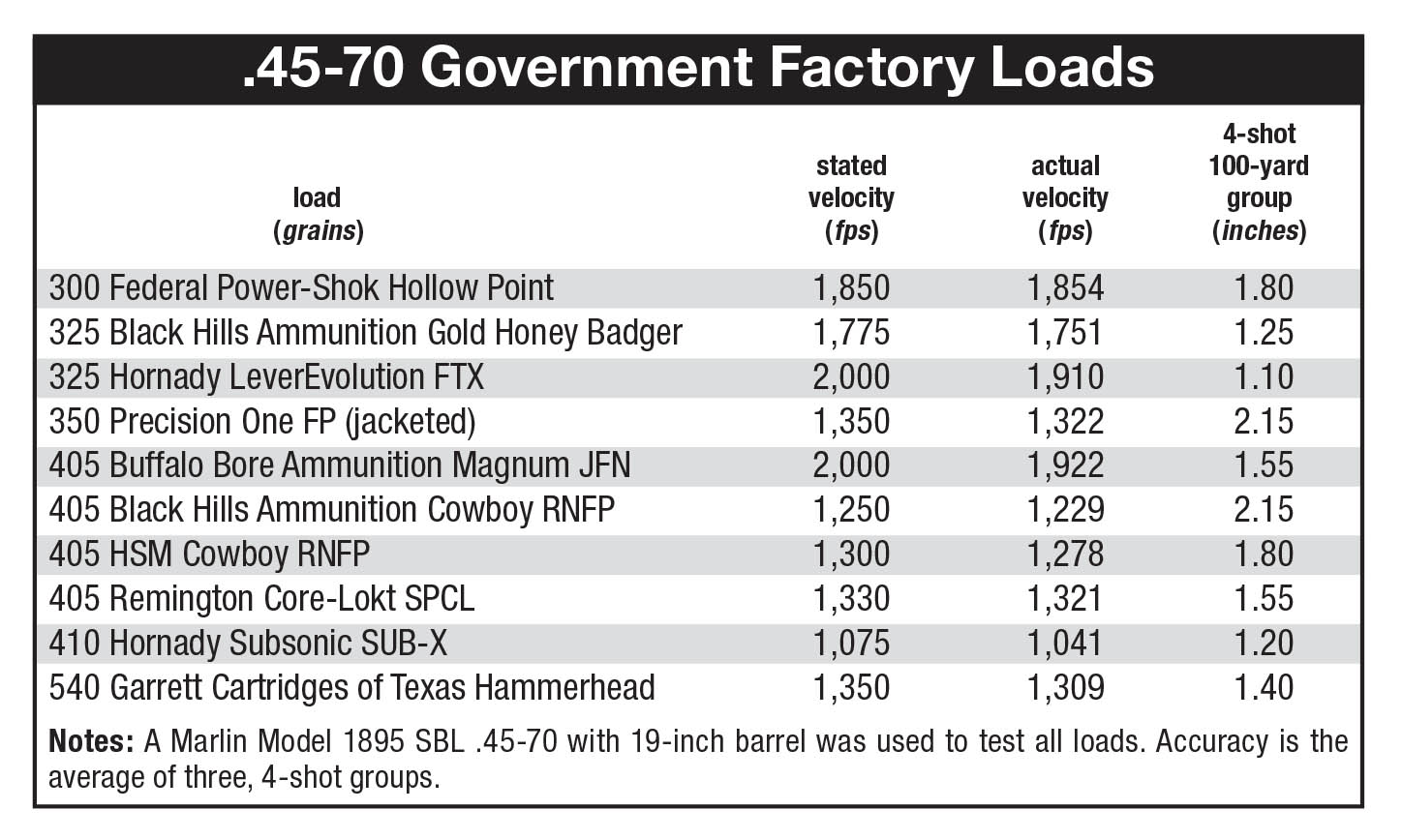 The same as all Marlin Model 1895s built since 1972, the new rifle is based on the 336 action; however, there are necessary internal changes to accommodate the .45-70 cartridge. This is important, but the receiver, trigger plate, hammer, locking bolt and lever are all forgings, the same as previous Marlin rifles over the past 140 years! Essentially, this results in compressed steel that is strong and delivers proven durability. Incidentally, some of the early Ruger-Marlin .45-70 rifles have been test-fired with up to 10,000 rounds and are still working like a Swiss watch and without appreciable wear.
My initial impressions of the new rifle were very positive. It is well-made; machining is excellent, the action worked especially smoothly while the timing is perfect. Out of curiosity, I compared the new 1895 SBL to a pre-production "JM" prototype Model 1895 GS that dates back to 2008, but had its name changed to SBL with its introduction in 2009. The new version is very close to the original but has been improved in critical areas that serve to enhance feeding and overall function. Externally, the X-S Sights Lever Rail and white stripe front sight have been replaced with an 11-inch HiViz rail that features an adjustable ghost ring aperture rear sight with a Picatinny rail to accommodate most accessories, while the front sight features a green fiber-optic. The gray laminated stock, offers high strength and durability, features a similar checkering pattern, but now features the famous Marlin logo on the pistol grip and a black rubber recoil pad with "MARLIN" embedded. The famous Marlin "bullseye," is located on the bottom of the stock, which first appeared 100 years ago. Rather than featuring elongated bolt flutes, the new SBL bolt body features spiral flutes for distinction, but it may also help reduce friction. To stay in pace with modern shooters, the 19-inch barrel is threaded (11⁄16x24) to accommodate accessories such as a muzzle brake or suppressor. One notable internal change includes the six lands/grooves barrel rifling that has been changed from cut rifling to cold hammer-forged, while the twist rate remains the same 1:20. Both cut and hammer-forged rifling offer certain advantages. However, Ruger barrels have been very good and they shoot very well. Incidentally, many sources suggest that a hammer-forged barrel will offer a longer life. The new rifle serial numbers will begin with "RM," indicating "Ruger Marlin."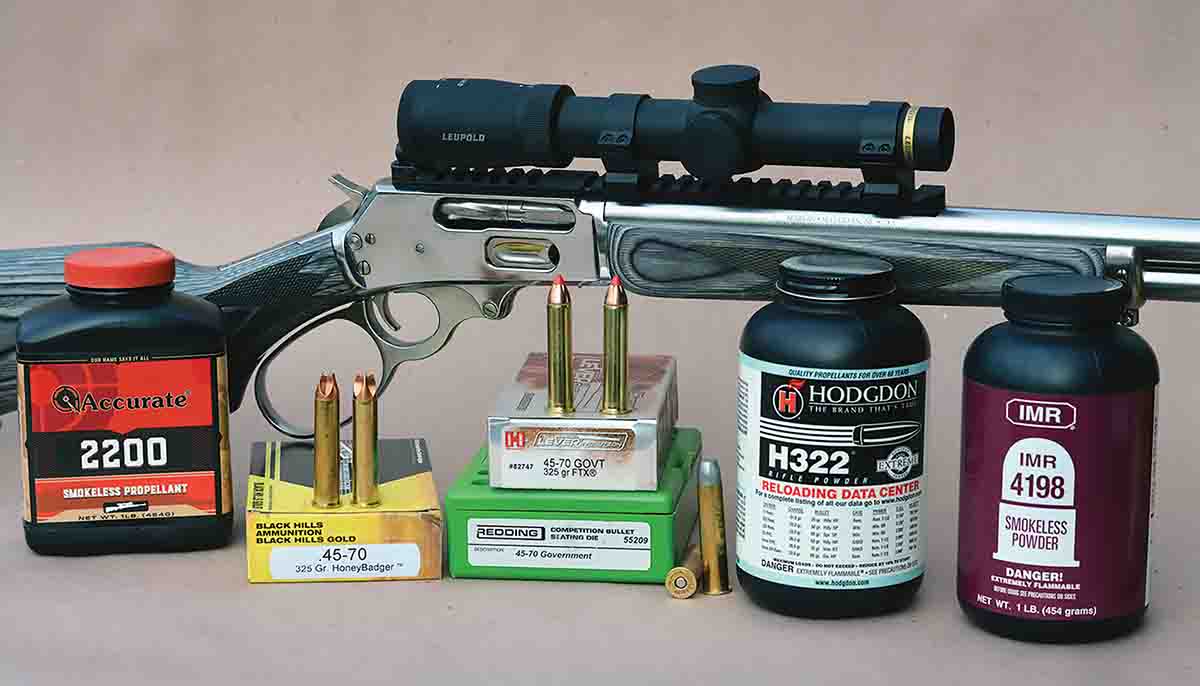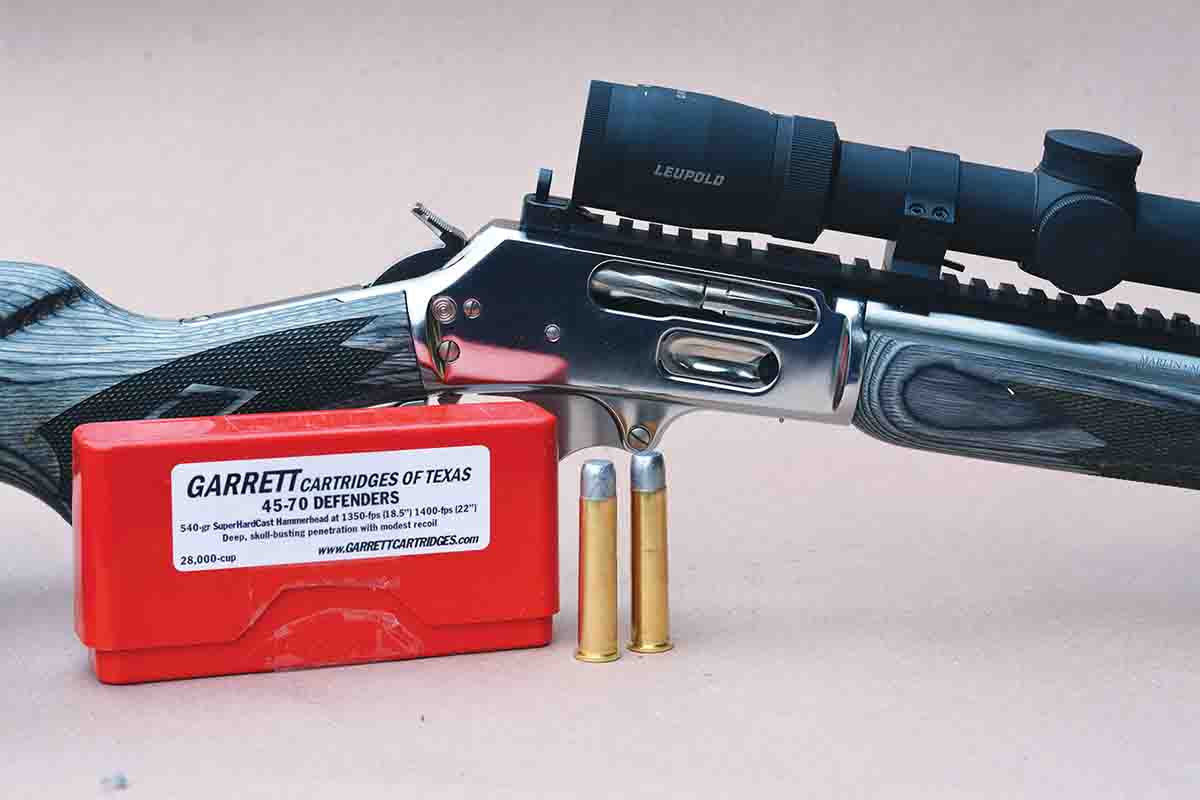 I did suggest some very small, internal changes (that have already been incorporated into all production rifles) and are not necessary to mention here. Overall, this jury rifle worked absolutely flawlessly. For example, 11 different factory loads with bullet weights ranging from 300 to 540 grains (cast and jacketed) were used. The bullet nose profile and length varied, which can challenge leverguns to feed properly, but this new Marlin fed, fired and ejected all loads as slickly as a Swiss watch. Incidentally, the chamber leade is correct to correspond with all bullet nose lengths and profiles that are within the Sporting Arms and Ammunition Manufacturers' Institute (SAAMI) specifications.
For accuracy testing, a Leu-pold VX-5HD 1-5x 24mm scope with a 30mm maintube was installed. This is an excellent general-purpose scope for this rifle and cartridge combination. The low power aids with close range, fast target acquisition and offers a wide field of view. Hunters and shooters will especially appreciate the mil-spec, tough construction, illuminated reticle, fast-focus eyepiece, fully-coated bright optics, click adjustments and compact profile. It was mounted in Leupold QRW rings that allow scope removal without tools and offer instant access to the open sights.
Accuracy testing commenced from a bench with sandbag rests, but rather than resting the forearm directly on the bags, my left hand firmly gripped the forearm and was placed between it and the sandbags. This method helps prevent the bounce that often occurs with big-bore leverguns that are rested directly on sandbags and can cause shots to string vertically.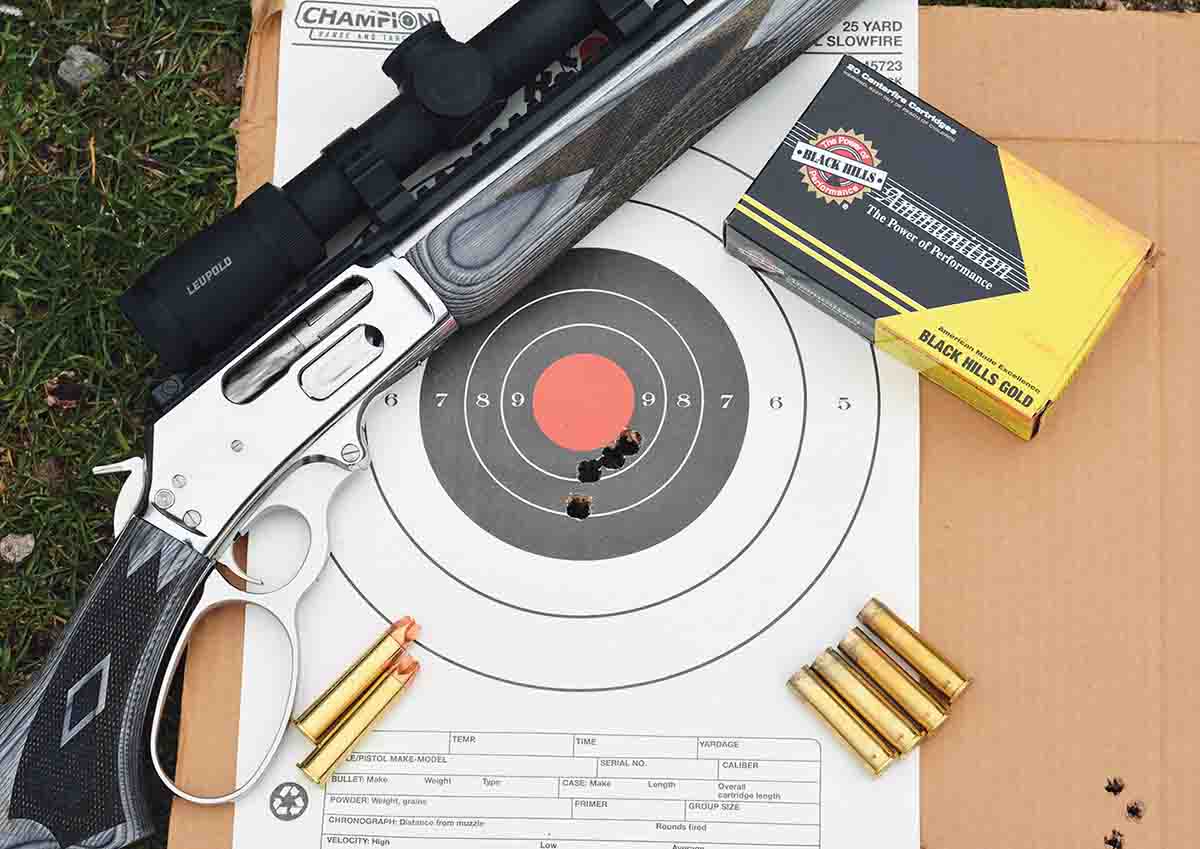 Incidentally, no barrel break-in was conducted. However, accuracy testing began after firing about 200 rounds, with the barrel being thoroughly cleaned (for the first time) at this point. As can be seen in the accompanying table, overall factory load performance was very good, with most groups measuring 1.10 to 1.50 inches (the average of three, four-shot groups fired at 100 yards). Notable loads included the Black Hills Ammunition 325-grain Gold Honey Badger, Hornady LeverEvolution 325-grain FTX, Buffalo Bore Magnum 405-grain JFN, Hornady 410-grain SUB-X and Garrett Cartridges' 540-grain Hammerhead that each produced groups under 1.50 inches.
Just three handloads were tried that included 42 grains of IMR-4198 powder with the 400-grain Speer JSP bullet for just under 1,700 feet per second (fps), with three, four-shot groups averaging just over 1.25 inches. Switching to 42 grains of Accurate A-2200 powder, 420-grain cast bullets from RCBS mould 45-405-FN recorded 1,580 fps and groups average 1.40 inches. Finally, the 430-grain Oregon Trail True Shot FP w/gc bullet was pushed to 1,855 fps using 50 grains of Hodgdon H-322 powder and recorded an average group size just under 1.75 inches. (All handloads were assembled in Starline cases and primed with CCI BR-2 primers. These loads are only suitable for use in strong rifles, such as the new Marlin Model 1895 SBL.)
In discussing future Marlin rifles with Product Manager Eric Lundgren, many variations will be coming within the next year. These will include the Models 1894, 336 and 1895 in both stainless and blue steel versions. For riflemen who appreciate a more traditional levergun, the Cowboy models with octagonal barrels are already underway. Incidentally, I have worked for over three decades to get Marlin to offer a .44 Magnum with a 1:20 barrel twist, which will finally occur with new production rifles! For shooters who want lever loop size options, to be interchanged for different purposes or hand sizes, these will become available on the Ruger website.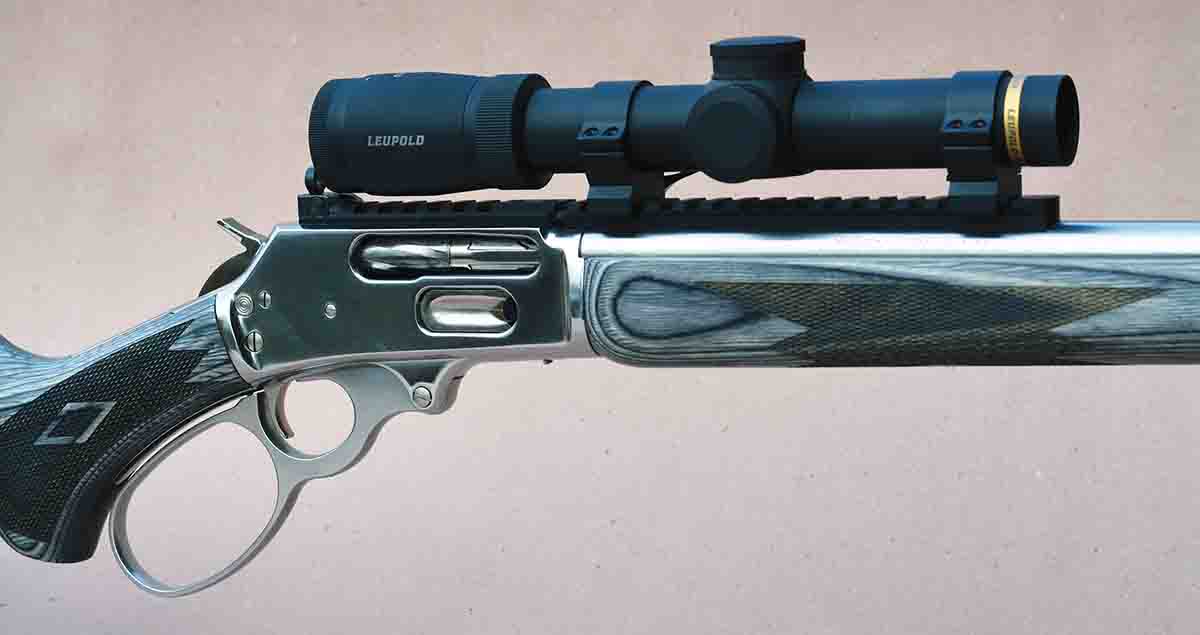 All in all, more than 700 rounds of factory ammunition and handloads were fired through the new Marlin Model 1895 SBL. It worked flawlessly, was accurate and in my humble opinion, is much better than comparable models produced for many years. Clearly, Ruger is the best thing that has happened to Marlin since Frank Kenna purchased the company and assets nearly a century ago. With many more models scheduled for production over the next year, the future is very bright for this iconic 152-year-old company. Personally, I am excited!