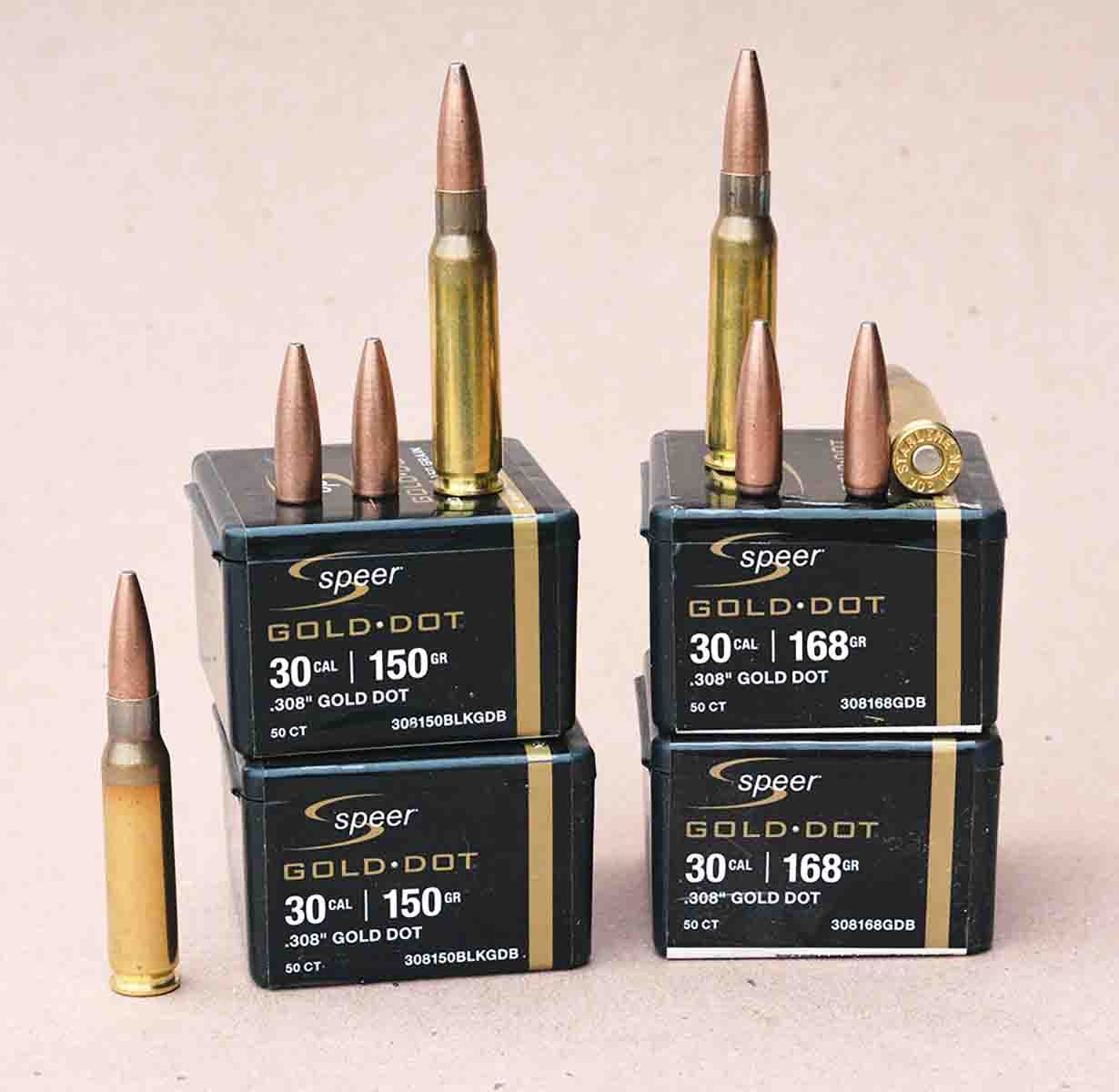 More than 30 years ago, Speer Bullets began intense research to advance its bullet plating process that electro-chemically attaches (electrodepositing) pure copper molecules one at a time to a lead core, commonly referred to as bonding. Speer's production capacity is huge and the process is very precise and impressive.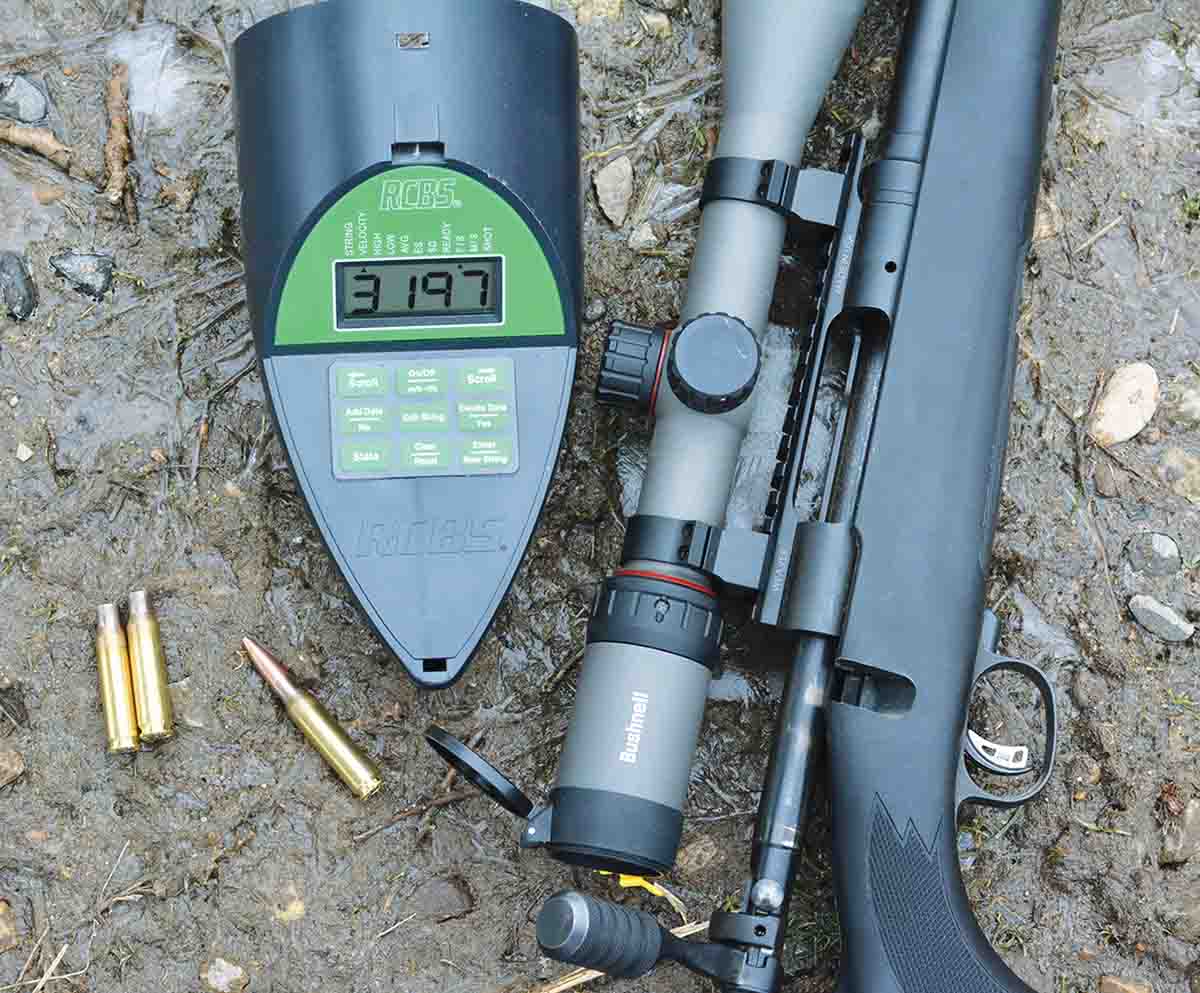 Initially, bullet offerings were designed for handguns and included FMJ (aka TMJ) designs, but soon the product line was expanded to include the remarkable Gold Dot HP bullets that offered truly advanced terminal performance, accuracy, etc. These have become popular as a personal defense bullet, received high marks with law enforcement and FBI protocol and have earned an excellent reputation among handgun hunters (currently known as DeepCurl in appropriate calibers). This bonding technology was soon offered with select rifle bullets, such as the short period when Speer produced the Trophy Bonded line of bullets, and others. More recently, Speer has introduced Gold Dot rifle bullets. While they were initially offered in .22 caliber, specifically for defense applications in AR-15-pattern rifles (chambered in .223 Remington and 5.56 NATO cartridges), Speer has introduced additional calibers, including 6.5mm, .270 (.277), .308 and .310 inch. For this column, the hugely popular .30-caliber, 150- and 168-grain bullets were selected, which are versatile and will become popular for use in service rifles for defense purposes, but are also certain to appeal to hunters using more traditional bolt-action rifles and cartridges.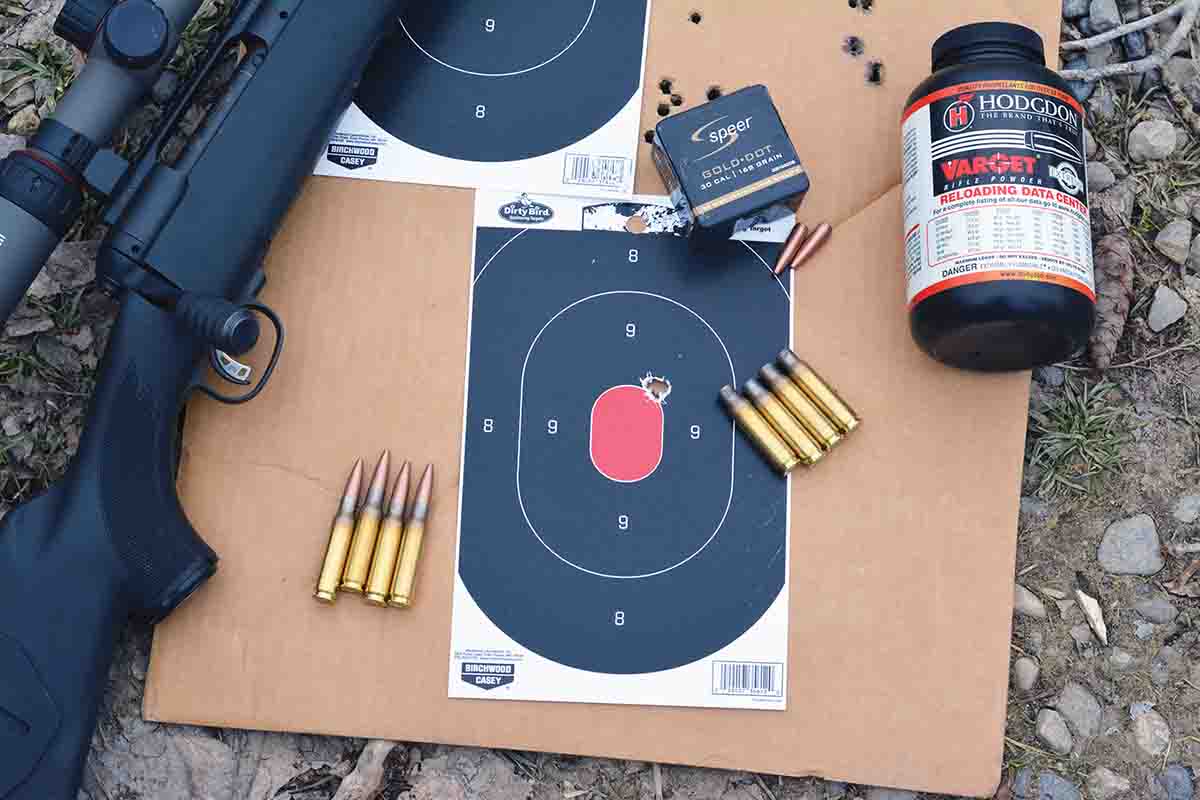 Recent trends have been toward ultra long-range rifles and cartridges, with purpose specific bullets usually featuring heavy-for-caliber, low drag and high ballistic coefficient (BC) for shooting at extreme distances, which are virtues that the Speer Gold Dot does not offer. However, the vast majority of game is taken well under 200 yards and certainly under 400 yards. Within those distances, bullets with ultra-high BCs offer little advantage over the more traditional design of the Speer Gold Dot that is technically a semi-spitzer with lead exposed at the tip. Rather, the Gold Dot offers reliable and rapid expansion, nearly 100 percent weight retention and respectable penetration. My initial testing in several mediums (at .308 Winchester velocities) suggests that it is going to be an excellent choice for deer hunters, especially those that hunt in the woods, or in areas where shots are not at extreme distances.
Speer lists the 150-grain Gold Dot with a .503 BC, while the 168- grain version is rated at .572. For people shooting the .300 Blackout, there is a 150-grain Gold Dot (flatbase with slight hollowbase) designed specifically for that cartridge and has a BC of .463. Personally, I suspect that those figures might be a bit high, but at the distances that these bullets are designed to be used, small changes in BC calculations will prove unimportant.
Space will not allow a detailed discussion of the production process and forming of each bullet, but in that process the bullet nose is skived, or pleated internally, which serves to facilitate reliable expansion. Even when bullets are examined under high magnification, these skives cannot be seen from the outside of the bullet, rather, they are internal. One advantage of this design feature when used in service rifles, or modern sporting rifles is that there is no plastic tip to dislodge that can potentially cause the action to freeze-up or jam.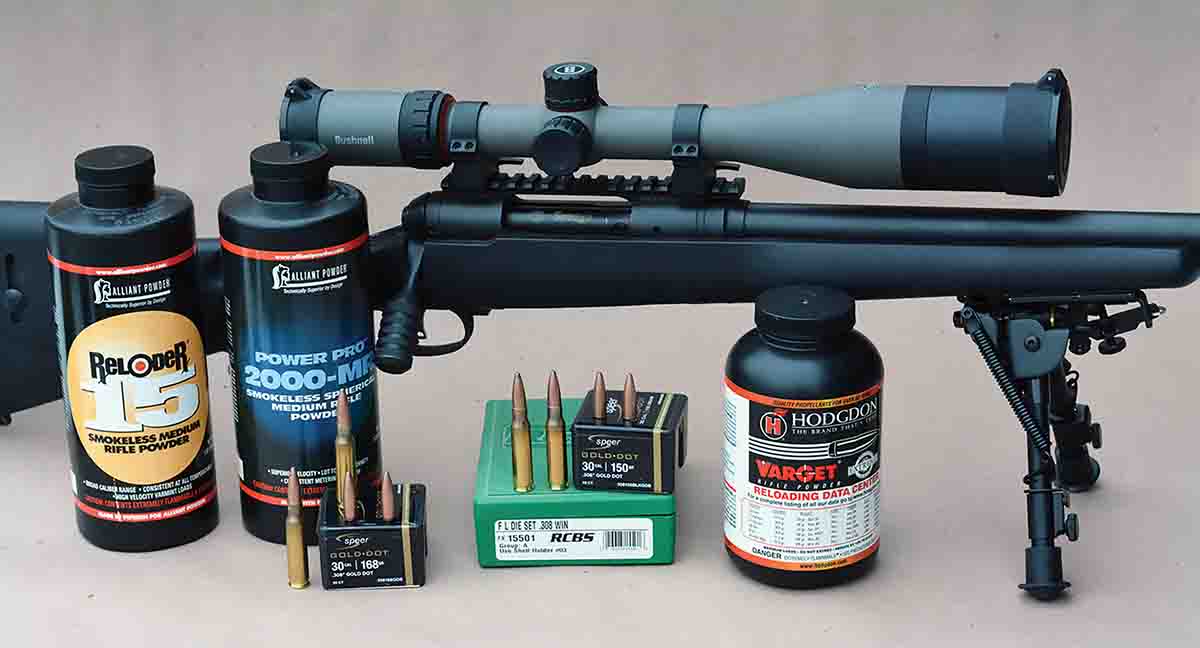 The Gold Dot jacket is pure copper, and as such, is a bit more prone to sticking or gumming up in the bore when compared to more conventional cup-and-core bullets with gilding metal (which serves to reduce fouling). To reduce bore fouling, Speer uses a boron nitride coating that can be felt when handling bullets. In other words, they are slippery to the touch. This effectively reduces bore fouling and serves to reduce large pressure changes from shot to shot.
To evaluate accuracy of the Speer Gold Dot rifle bullets, a Savage Model 10 with a 24-inch, heavy barrel (.840 inch at the muzzle) with 5R rifling and chambered in .308 Winchester was selected. It was topped with a Bushnell Nitro 30mm 6-24x variable scope and has produced many groups (fired at 100 yards) that measure less than .250 inch. Rather than seating bullets out and finding the accuracy "sweet spot" in the test rifle, all handloads were seated with an overall length of 2.800 inches, which is within the Sporting Arms and Ammunition Manufacturers' Institute (SAAMI) specifications and the length that Speer lists them at for use in service rifles such as variants of the AR-10. Three powders were selected, including Alliant Power Pro 2000-MR, Reloder 15 and Hodgdon Varget. The latter two were selected based on their match proven accuracy, while Power Pro 2000-MR powder was selected based on its ability to produce top velocities in the .308 Winchester.
All handloads used to evaluate accuracy were assembled in new, fully-prepared NoslerCustom cases, while loads used to verify velocities were assembled in new Starline cases. Cases were primed using CCI BR-2 primers, while all powder charges were weighed.
Testing commenced at 100 yards with the aid of a bench and sandbag rests. The groups listed are the average of three groups of four shots each. The worst "average" groups measured 1.05 inches and consisted of the 150- grain bullet pushed to 3,144 fps using 52 grains of Power Pro 2000-MR powder. The best "average" group was obtained with the 168-grain Gold Dot bullet pushed to 2,830 fps using 45.5 grains of Hodgdon Varget powder, which measured (rounded) .70 inch. By today's standards of super accurate long-range match bullets, the above groups are not really outstanding. However, they are certainly good enough for any practical application that the Gold Dot was designed to do.
Throughout the shooting sessions (from the bench and chronographing), the rifle's barrel was never cleaned, it was only cleaned after all the shooting. While there was evidence of copper fouling, it was rather modest. The clear, boron nitride coating works very well and will probably help this bullet become popular with higher volume shooters, or those that just don't want to clean their gun very often.
Speer justifiably wants to establish the Gold Dot as a premium bullet for "personal protection" and "self-defense," which is a purpose that it is very capable of. It also boasts of a modest price, respectable accuracy and is a promising bullet for hunting game. Clearly, it has the potential to become widely popular with modern shooters.