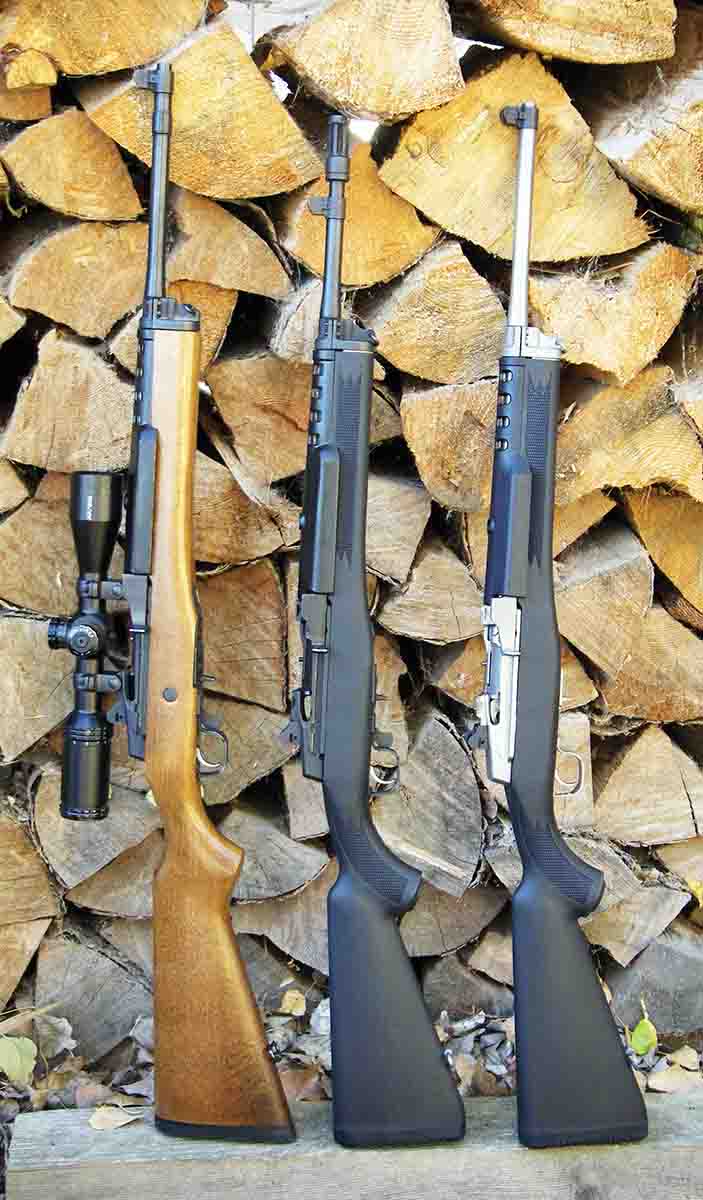 Development of the Ruger Mini-14 began in 1967, three years after the official U.S. adoption of the M16 service rifle, but it wasn't until 1971 that prototypes were built and tested. Production began in 1974, and the new rifle quickly gained popularity among sportsman, law enforcement and recreational shooters. It even caught the attention of U.S. military brass, particularly those who had battle experience with the M1 Garand and M14 service rifles. In the past 45 years the Mini-14 has undergone several design changes and improvements, which combined with tightened quality control has resulted in notably improved accuracy. Additionally, submodels and new calibers have been introduced to broaden its appeal.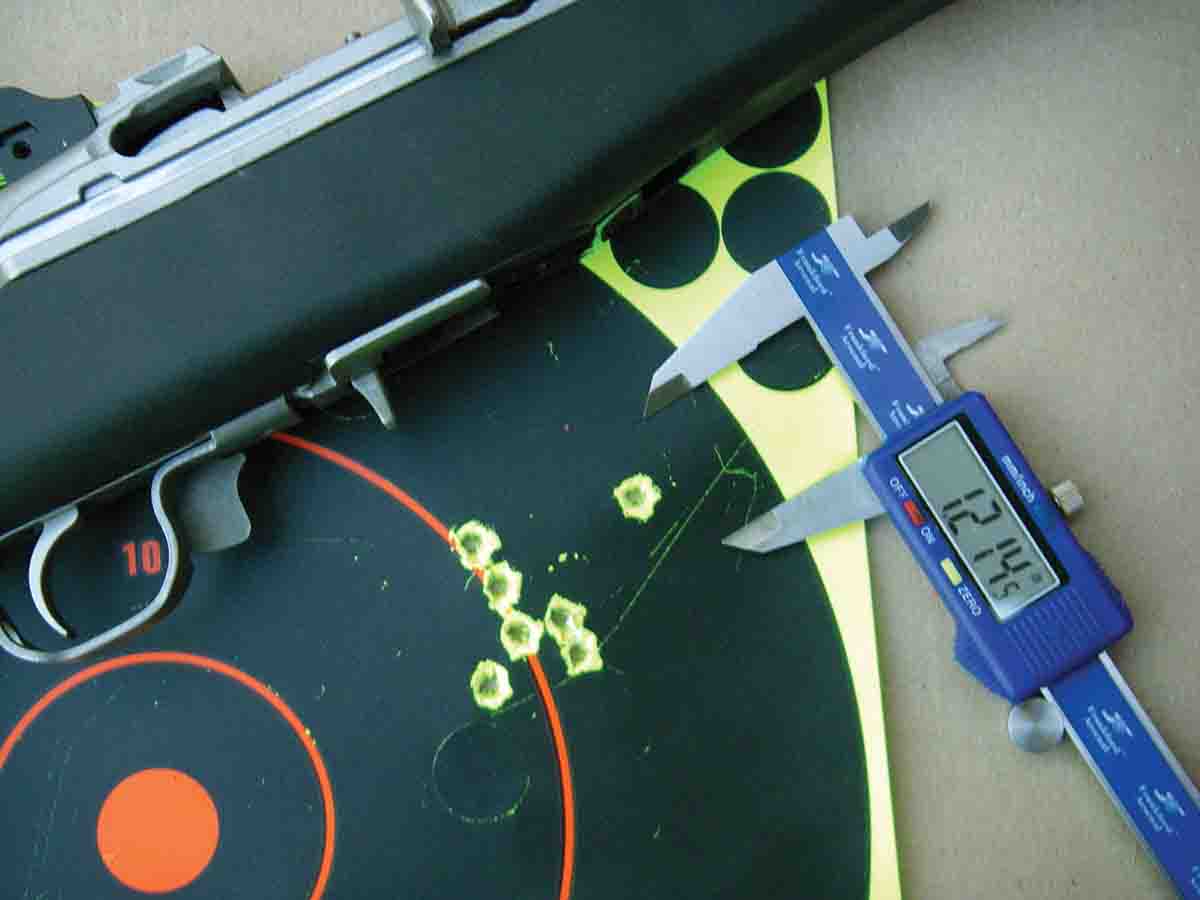 The Mini-14 action is similar to the M14; however, there are significant design changes. The breech bolt locking principles and appearance are based on the M1 Garand design but scaled down to correspond with the .223 Remington/5.56 NATO cartridges. The receiver is investment cast, heat-treated and has proven to be especially durable. It contains a fixed piston gas system with a self-cleaning moving cylinder that effectively sweeps residue and unburned powder out with each shot. The firing pin retracts as the locking lugs begin to unlock. The trigger unit and detachable magazine design resemble that of the M14 rifle and share a similar takedown procedure that only takes a few seconds, without tools, is simple and allows easy cleaning.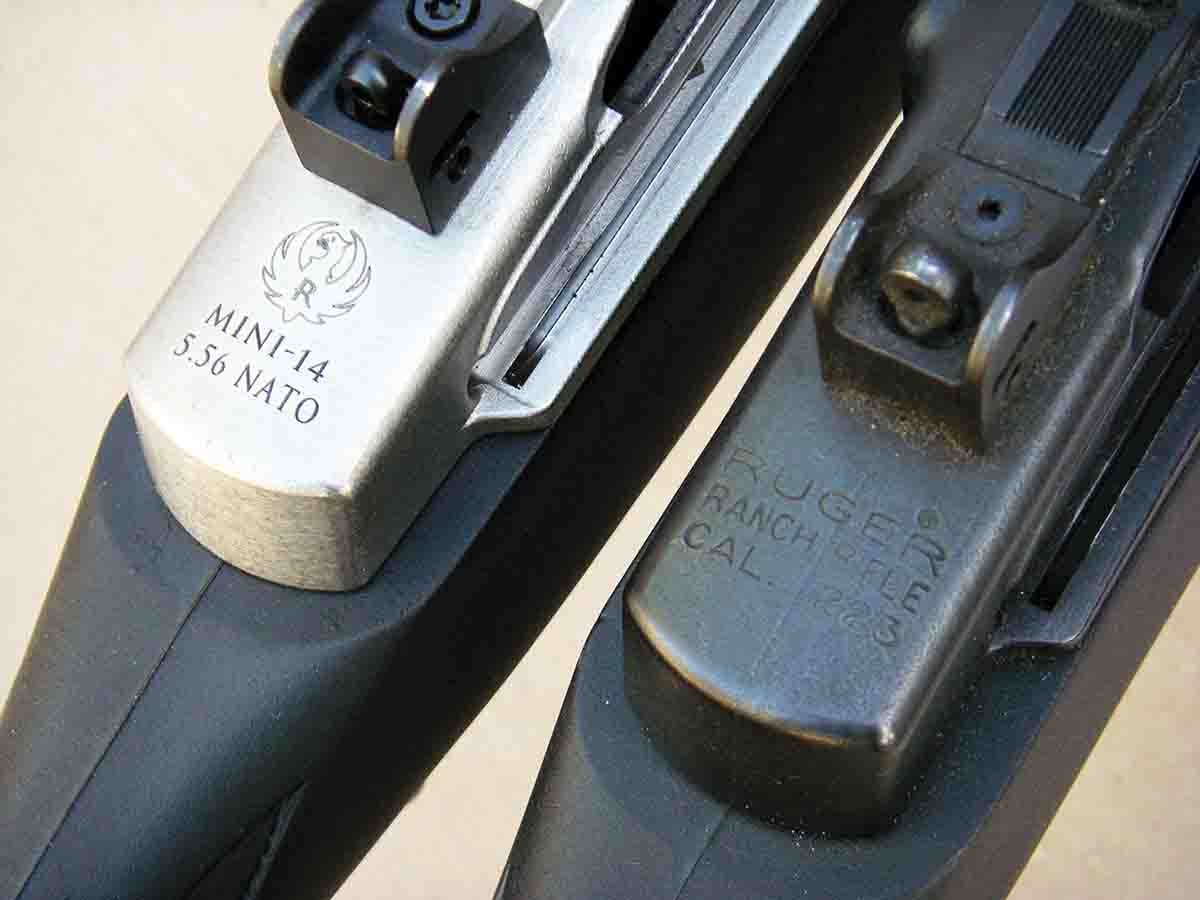 While space will not allow a detailed discussion of the Mini-14 design departures from the M14, suffice to say it is much more than a scaled down version. Rather, it has many improved features, including the important elimination of slam-fires. However, due to the overall function, it will feel more or less identical to the average shooter.
The original Mini-14 series had some shortcomings that are important to mention briefly in an effort to show how current variants are greatly improved. These comments are geared toward pre-Ranch Rifles produced from 1974 through 1982.
First, they were not really suitable for mounting a scope. Even if an aftermarket mount was installed, the Mini-14's gas system would destroy a quality scope within a few dozen rounds, or sooner. The aperture rear sight was less than ideal while the front sight was "unprotected." For several reasons, their accuracy was rather poor, with many rifles only producing groups of 4 to 5 inches at 75 yards; however most would stay within 3 inches with select loads.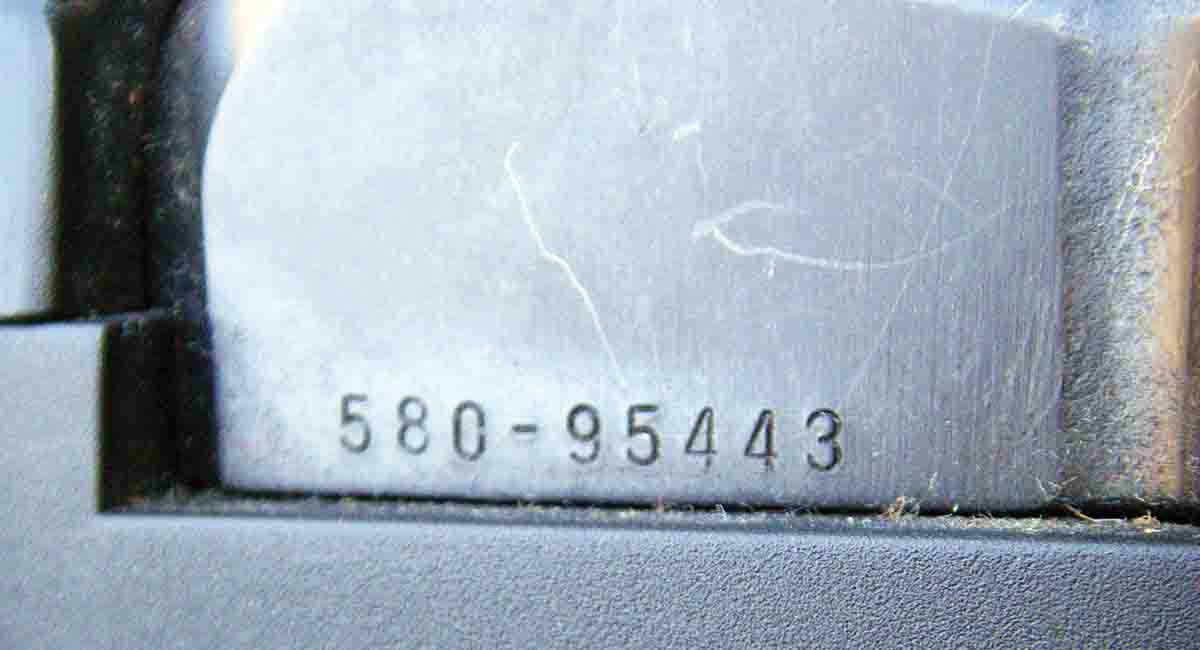 The first major improvement came around 1982 with the introduction of the Ruger Ranch Rifle that was based on the Mini-14. A folding aperture "ghost" style rear sight appeared and the receiver was modified to accept Ruger's rugged integral steel rings (included with the rifle) to readily permit scope mounting. The gas system was also changed to feature a recoil buffer system to prevent damage to scopes. The ejection system was also reengineered to eject fired cases out the side to better accommodate scope mounting.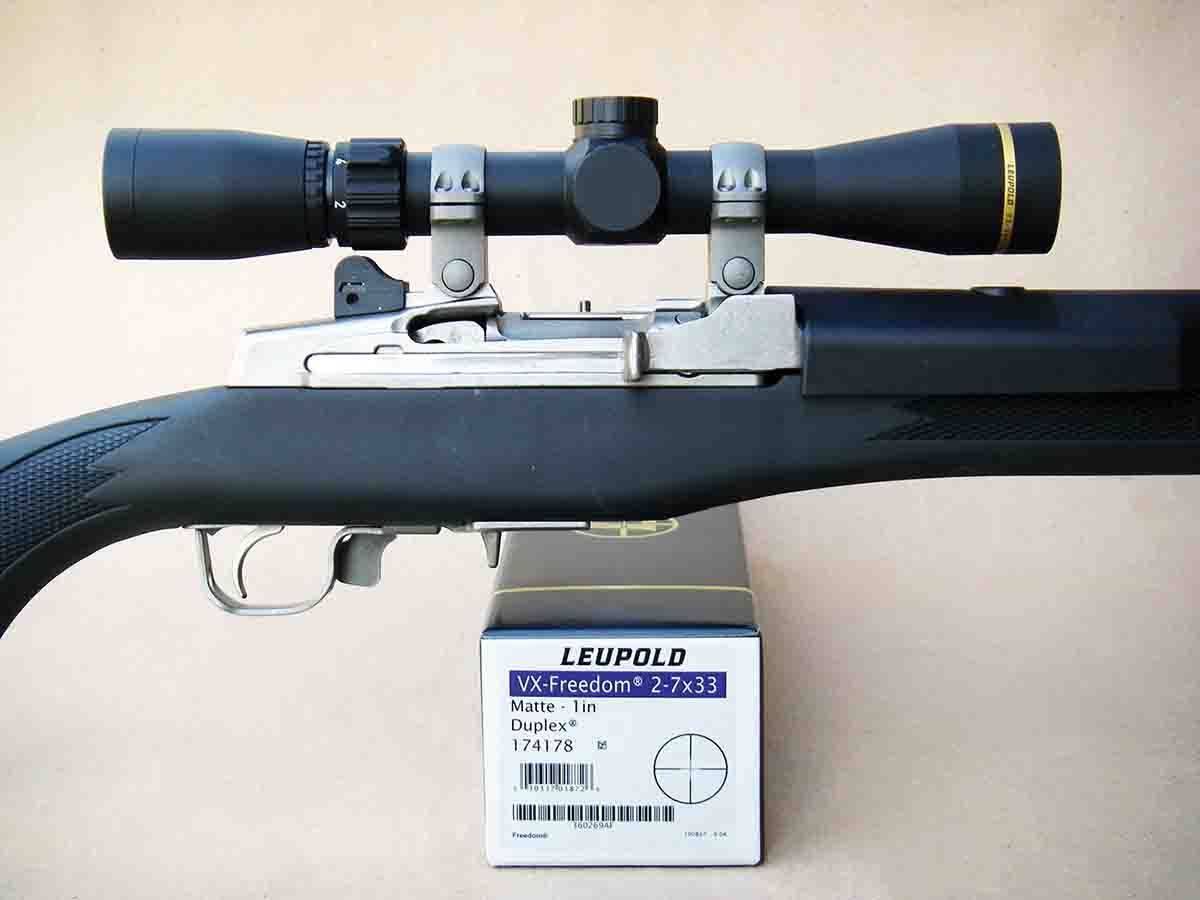 The next major change occurred in 2003 when Ruger made a significant overhaul to the Mini-14 product lineup. These changes began with serial prefix 580; the updated rifles began to ship around 2005. The overall styling was improved, including the stock; however, there was a great emphasis to increase quality while developing new manufacturing methods to help keep production costs down. The sights were improved to feature a non-folding aperture rear and wing-protected front sight blade mounted in a barrel band. The single largest emphasis was to improve accuracy.
While there were several small technical changes that have helped to improve accuracy, by 2007 the barrels of standard models were increased to .530 inch diameter at the muzzle for improved rigidity. Ruger also introduced specialty models including a Tactical version with a flash suppressor; Tactical with a flash suppressor and folding stock; Target Rifle with a Hogue stock and harmonic barrel tuner; Target with harmonic tuner and thumbhole stock (recently discontinued) and many other variants.
While stainless steel versions have become widely popular, the traditional blue finish with a hardwood stock is still offered and sells very well. When fitted with a five-round magazine, its appearance is comparatively streamlined when compared to other rifles, and neither does it appear "military," not that I have a problem with that.
One major factor that robbed accuracy from rifles produced between 1974 and 1989 was the barrels. During this era, Ruger relied on multiple suppliers for barrel stock, some of which did not offer the desired quality. By 1990 Ruger began in-house manufacturing of hammer-forged barrels and quality has steadily improved. Today, Ruger operates many cold hammer-forge barrel manufacturing machines, and quality is generally good. The "cold" process serves to prevent warping during the forming process. Several sources also indicate that hammer-forged barrels offer longer life. Manufacturing its own barrels has also served to help Ruger keep production costs within check.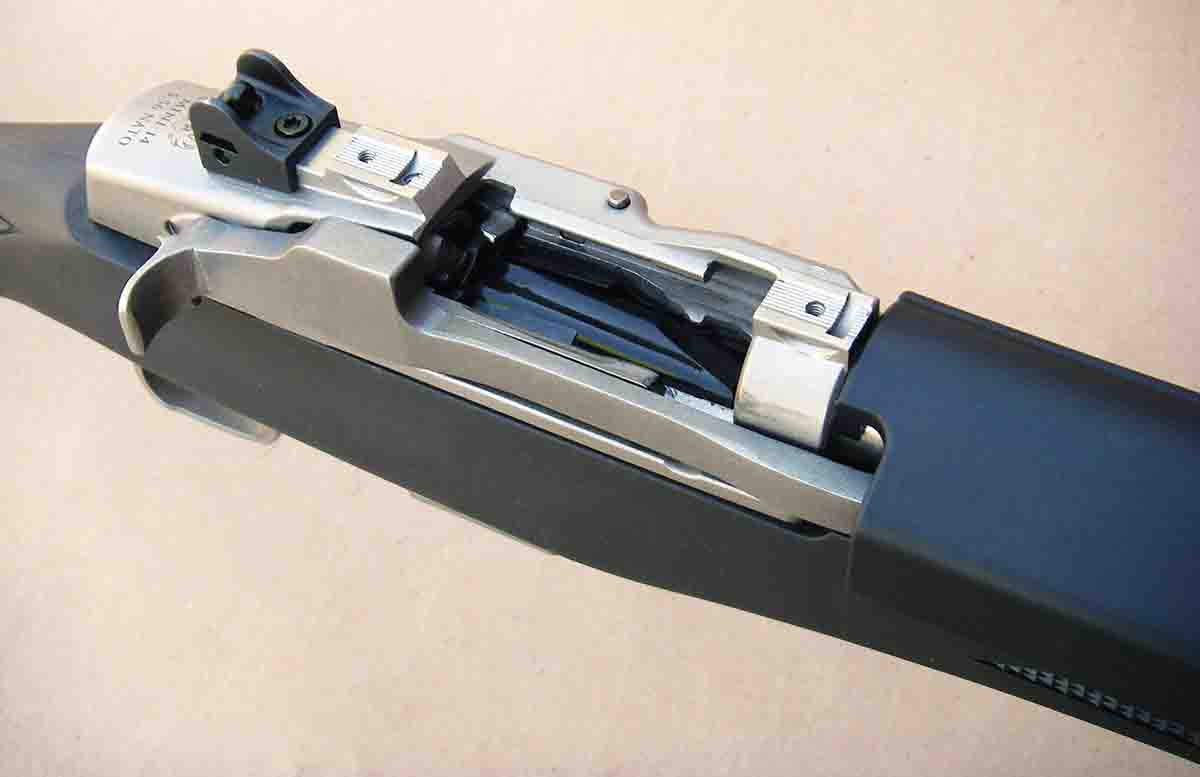 It is noteworthy that Mini-14 barrel twist rates have varied over the past 46 years. All have featured six grooves with a right hand twist. From 1974 through 1989 a 1:10 twist was used. From 1990 through mid-1994 a 1:7 twist became standard. From mid-1994 to date, a 1:9 twist has been standard. The 1:9 will generally stabilize bullets from 40 through 75 grains and is a versatile, all around choice.
I have owned and fired dozens of Mini-14s over the past 40-plus years. As indicated, early versions lacked accuracy, but guns produced since 1990 are notably improved. However, these produced since 2005 will generally hold at least a 2-inch group at 100 yards with respectable ammunition. Rifles produced since 2007, with their heavier barrel profile, are the best ones yet. I have fired more than a half dozen and each rifle has proven to be capable of grouping within 2 inches. With premium ammunition they will often group around 1.5 inches. This is comparable with most entry level AR-15 rifles that are similarly priced. While Mini-14s are not generally used as a match or competition rifle, for their intended purpose they certainly produce adequate accuracy.

Today the market is dominated by AR-pattern rifles. Certainly their service record has helped to launch their popularity on the civilian market. However, on their own merits they are popular for action competitions, long-range matches, hunting and in police circles but are also often purchased for home or property protection. They offer certain advantages that include a nearly endless list of custom accessories including triggers, sights, stocks, gas systems, a variety of barrel lengths and twist rates for ideal bullet stabilization and respectable accuracy. Magazines readily drop out with the push of a button for quick reloads (an important factor for military and action competition shooters). AR prices range from modest to several thousand dollars.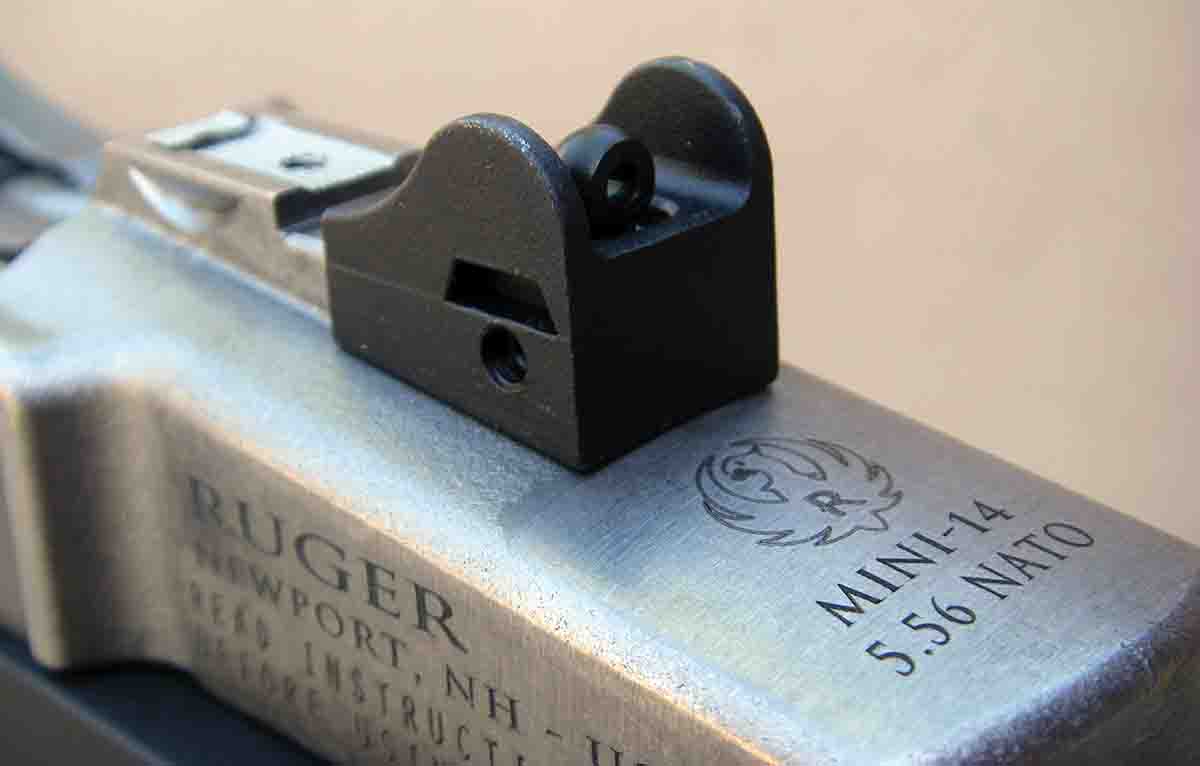 While I won't get into a comparison of the AR versus Mini-14, an "apples to oranges" comparison, depending on how it will be used there are features of the Mini-14 that are advantageous. Its profile is more streamlined and notably less bulky, which allows it to fit into a common scabbard more readily. As indicated, its profile appears less "tactical" and draws less attention (especially the wood stock version with a five-round magazine). For enthusiasts who shoot more traditional sporting rifles, it will feel familiar to handle and shoot offhand or off the bench. The comparatively open action is easier for many beginning shooters to understand and operate. The slide handle is easy to pull back to allow the bolt to drop and chamber a cartridge.
The Mini-14 positively chambers cartridges, which eliminates the need for a forward assist. The safety is ambidextrous, is positioned on the forward edge of the trigger guard and is simply pulled back to engage. Pushing it forward moves it into the "off" position. This safety arrangement is positive, natural and fast to operate.
For people who live in humid or wet climates or may expose the gun to salt water, stainless steel offers a notable corrosion resistant advantage (although if neglected it can rust). The Mini-14 features robust steel magazines with 5- and 20-round versions as standard. Ten- and 30-round magazines are currently available factory direct.
If left loaded for extended periods of time, the steel magazines will not bulge or warp at the mouth as many AR polymer magazines will, which can cause malfunctions. In addition to the solid design along with dropping out when the magazine release is pressed, they positively activate the bolt lock after the last shot is fired.
A Mini-14 Ranch Rifle 5.56 NATO with a matte stainless and black synthetic stock was selected for this review, along with a Mini Thirty Ranch Rifle 7.62x39mm (aka 7.62 Soviet). Throughout testing neither rifle jammed or failed to function in any way; they cycled and fired a variety of ammunition without a hitch.
With one exception noted below, regardless if a Mini-14 receiver is marked ".223" or "5.56 NATO," they are all suitable for use with either .223 Remington or 5.56 NATO ammunition. The exception is the recently discontinued Mini-14 Target rifle that features a .223 chamber and should only be used with that ammunition.
To evaluate the Mini-14 5.56/ .223 for accuracy, a Leupold VX-Freedom 2-7x 33mm scope was installed using Ruger factory-supplied rings. This riflescope is lightweight, durable and features .25-MOA click adjustments. In spite of its modest cost, the optics are very good.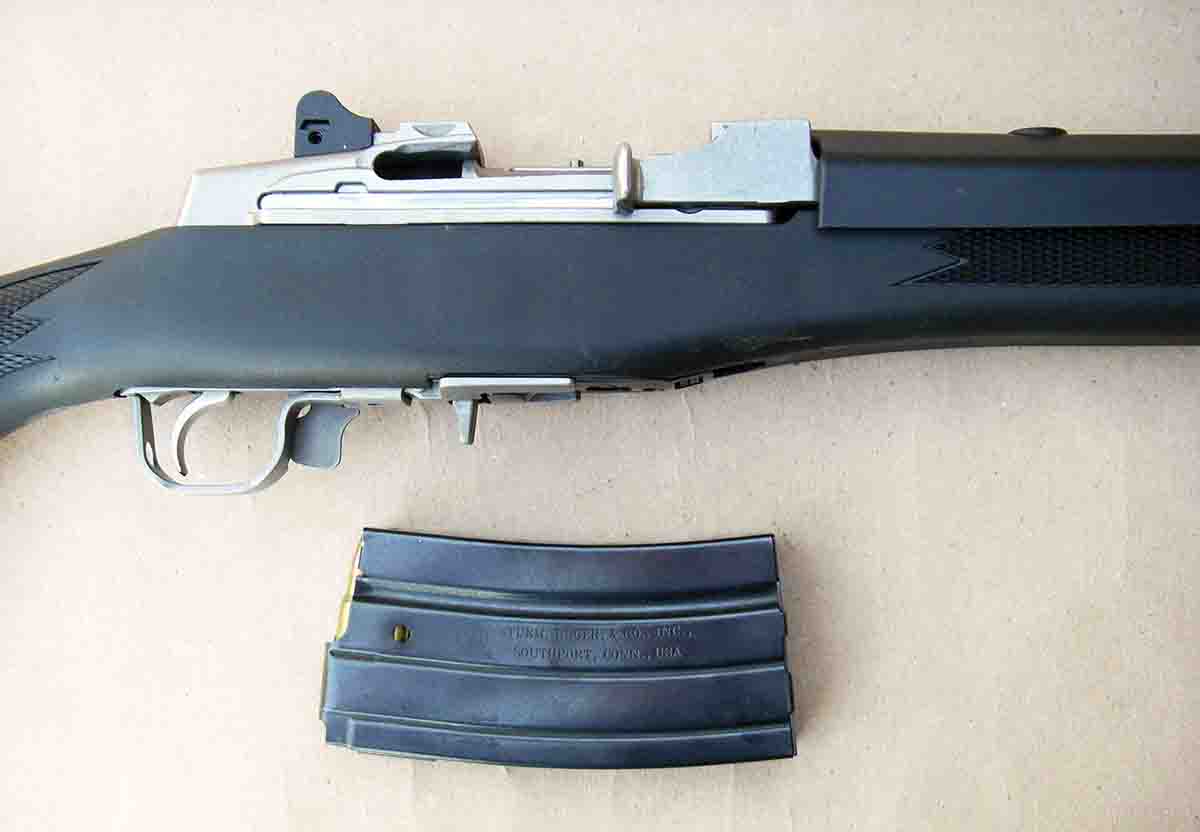 As can be seen in the accompanying table, factory .223 loads from Black Hills, Speer, Federal and Winchester each grouped around 2 inches at 100 yards, and select loads grouped just over 1.5 inches.
Not long after the Mini-14 was overhauled in 2003, I was visiting the Ruger plant in Newport, New Hampshire, where Mini-14s are manufactured, and the head engineer was working on a problem associated with the first shot producing a flier. In other words, the first round out of the magazine is almost always a flier. Previous to the 2003 overhaul, this problem was not as apparent, as the rifles were not accurate enough to really identify that there was a flier. But with the newly accurized versions it became apparent. I spent a fair amount of time with the engineer during testing. Based on the results of the production guns that he was working with at that time, my test rifle has been notably improved but still throws the first bullet out. For example, if the first shot was eliminated from the group's measurement, the group would typically shrink by .5 to .75 inch. Usually, this first shot flier was high and right. (Additional comments on accurizing and tuning the Mini-14 can be found in my "Mostly Long Guns" column in this issue.)
The Mini Thirty 7.62x39mm shares most of the same common design features as the above Mini-14 but is modified as needed for the more potent cartridge. It should be noted that most foreign 7.62x39mm ammunition (under Commission Internationale Permanente specifications) features bullets of .312 inch in diameter. All Ruger rifles, including the M77 MKII, produced since 1990 have a groove diameter of .308 inch, while barrels previously had a .311-inch groove diameter. Ruger knows this foreign ammunition will be used in its rifles but does not recommend it. There have been reports of misfires as well; however, in my tests the Mini Thirty functioned fine with Russian manufactured Brown Bear 125-grain softpoint ammunition and polymer coated case.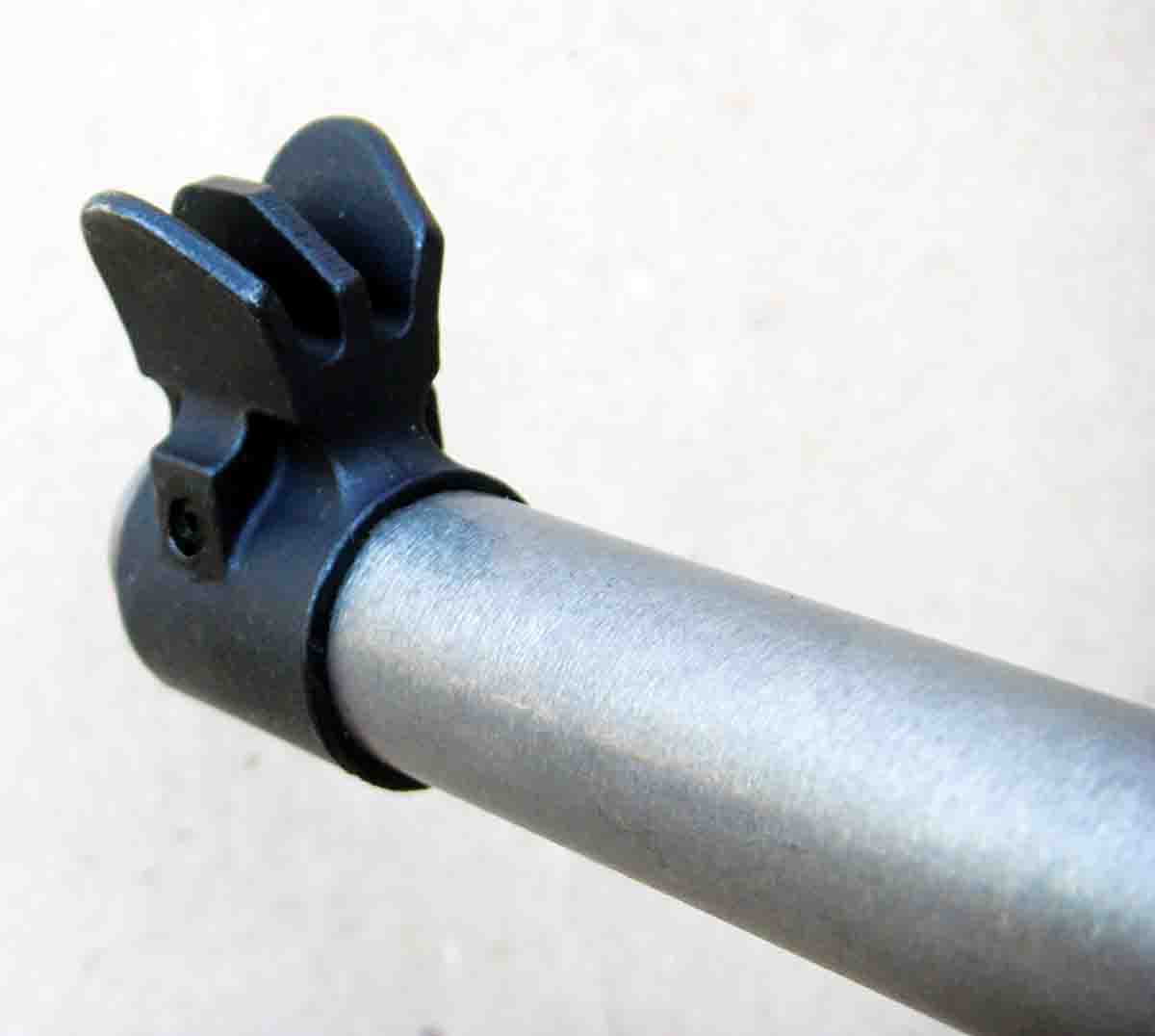 The larger diameter bullet will produce greater pressures and is less accurate than Sporting Arms and Ammunition Manufacturers' Institute (SAAMI) ammunition, but some foreign surplus ammunition features a varnish coating on the case that can build up in the chamber to cause reliability issues and can be difficult to remove. SAAMI specifies bullet diameter for the 7.62x39mm at .309 to .311 inch, with Federal, Winchester, Remington and Hornady offering loads within those specifications.
Using the factory-issued aperture sights, the Mini Thirty managed to produce several groups inside 1.5 inches at 50 yards using Federal and Hornady ammunition. Switching to handloads containing the Hornady 123-grain SST bullet pushed with 25.5 grains of H-4198 powder for 2,345 fps (assembled in Winchester cases, with CCI BR2 primers and crimped with a Lee Factory Crimp die), group size tightened to around one inch.
A Leupold Freedom RDS 1x34mm 1-MOA BDC dot sight was then installed and the gun was test-fired at 100 yards for additional accuracy results. This red dot sighting system features an adjustable dot that offers a sharp sight picture and helps in obtaining tighter groups than conventional dot sights. It also features motion sensor technology for longer battery life, .25 MOA click adjustments, excellent optics, waterproof construction, is lightweight and comes with a lifetime guarantee.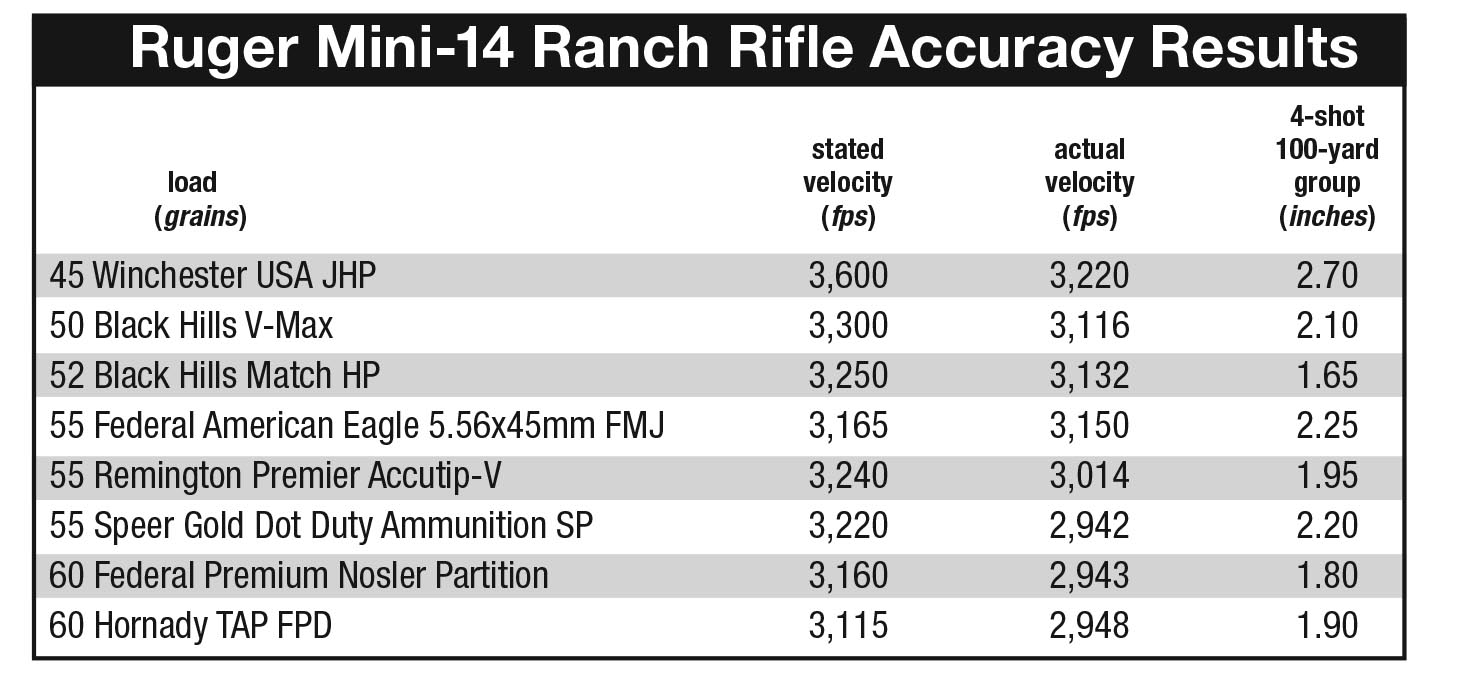 Using a sandbag rest, groups with most loads ran around 2 to 2.5 inches, which is adequate for the intended sporting purposes of this rifle and cartridge.
The Mini-14 is currently available in 5.56 NATO/.223 Remington but is also chambered for .300 AAC Blackout, which will function with both supersonic (without suppressor) and subsonic (with suppressor) ammunition.
The Mini-14 has been a highly successful rifle with impressive production numbers sold, but it is not without controversy, which is mostly based on accuracy issues with early rifles. It is occasionally belittled by AR fans in an effort to make their rifle choice appear superior, but the truth is they can be amazingly reliable, produce respectable accuracy, are fun to shoot and are an excellent choice for many sporting applications that include hunting and recreation, or they can just be kept by the door for security.