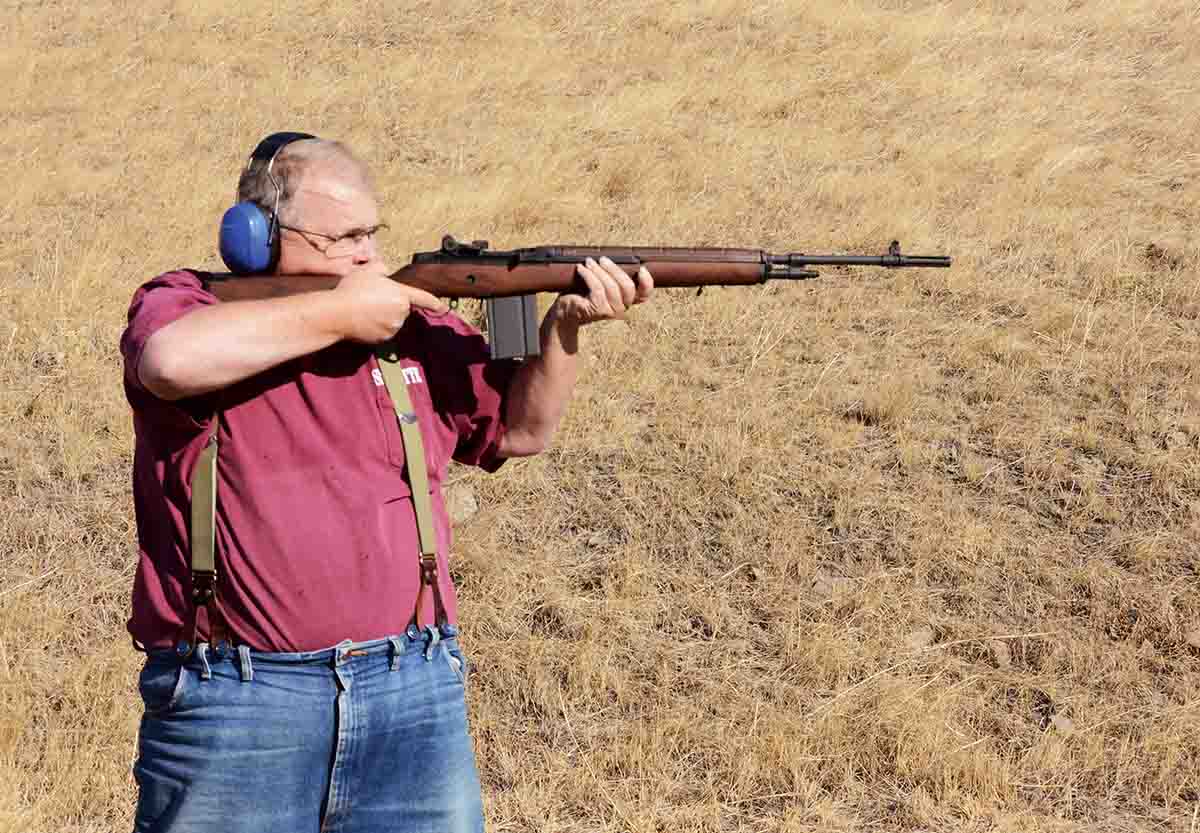 By my count, between 1866 and 1966, for infantry forces the U.S. Army fielded two single-shot rifles, three bolt actions and three semiauto or select-fire rifles. The cartridges for which they were chambered numbered six. Every one of the eight basic rifle models and of course all their cartridges saw combat ranging from skirmishes in the Plains Indian Wars through many enormous planet-wide campaigns of World War II.
My rifle collection contains a specimen of all eight American infantry rifles. Both select- fire spots – M14 and M16 – have been filled with semiauto substitutes. (However, I would like to say that I have fired full-auto M14s and M16s.) All my rifles have been shot with factory loads where available, and factory equivalent handloads have been developed for all six cartridges.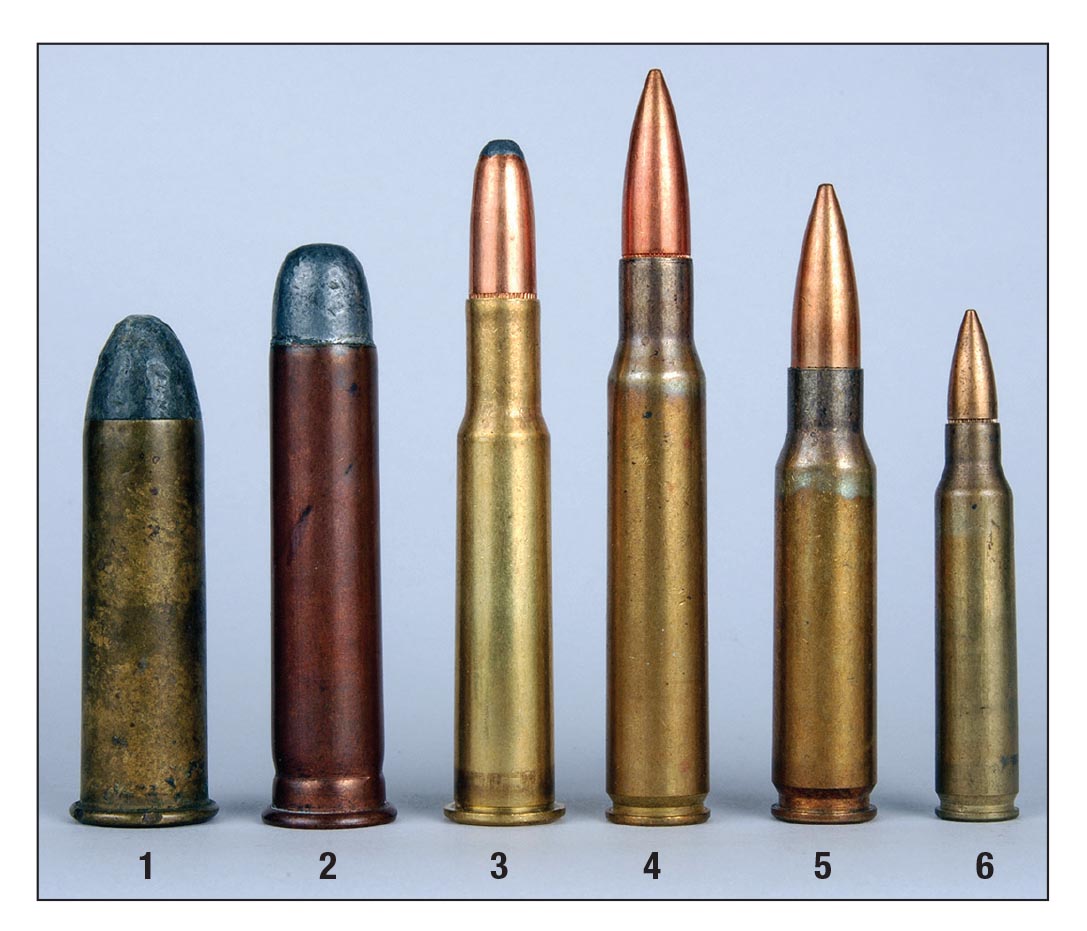 First up is the .50-70. Actually, in strict terms it was second. In 1865 the government-owned Springfield Armory first developed its conversion of .58-caliber rifle muskets for a .58-caliber rimfire. It went nowhere and was replaced the next year with a centerfire .50 Government Model 1866. It was a true conversion, meaning finished muzzleloading muskets were altered to fire metallic cartridges. Military .50 Gov't issue cartridges carried 450-grain bullets over 70 grains of black powder. Velocity was rated at 1,250 fps.
Two other versions followed. The Models 1868 and 1870 were not conversions. Their actions were built fresh but parts such as lock plates were left over from musket production. For instance, my Model 1868 lockplate bears the date "1863." Model 1868s had 32.63-inch barrels for an overall length of 51 inches. Weight was 9.5 pounds. Sights were a simple blade front and an open rear. Because these .50-70s had breechblocks that tilted upward, they gained the nickname "trapdoors."
In 1873, after considerable study and experimentation, the U.S. Army adopted a completely newly-manufactured infantry rifle still based on the trapdoor system. In fact, barrel length and basic weight remained as the earlier .50 trapdoors. Springfield Armory had various in-house model numbers for these rifles during their 19 years of production. However, I've only seen 1873 and 1884 actually stamped on their actions.
Caliber was reduced from .50 to .45. We call this round the .45-70 now but upon its introduction it was .45 Gov't. Bullet diameter was .457 inch and weight was 405 grains, but powder capacity remained 70 grains. This boosted rated velocity to 1,350 fps. (In 1881 another military load with a 500-grain bullet was introduced.) Both Remington and Black Hills Ammunition offer .45-70 loads with 405-grain bullets; jacketed for the first and lead for the latter. They are pressure rated as safe for trapdoor .45-70s in good shooting condition.

The U.S. Army joined the smokeless powder era in 1892 by adopting the Norwegian designed Krag-Jorgensen .30-caliber bolt action. Its unique feeding mechanism consisted of a sturdy steel box that opened on the receiver's right side. Up to five cartridges were dropped in. When the box was closed, a powerful spring pushed rounds under the action, feeding them into the chamber from the receiver's left side as the bolt closed. Krag infantry rifles had 30-inch barrels and weighed a bit over 9 pounds. All U.S. Krags were manufactured at the Springfield Armory and were arguably the finest quality military rifles ever produced in the U.S. Infantry rifle versions underwent minor design changes, especially in regard to rear sights, through the Models 1896 and 1898.
My sample is a Model 1896 that was obviously well cared for in an era of corrosive primers. Its bore is still bright with no signs of wear. Both Winchester and Remington still produce .30-40 Krag factory loads. I consider them reasonable for hunters but don't use them in my military rifle because they carry only 180-grain bullets. Standard issue military loads included 220-grain bullets at 2,000 fps (later upgraded to 2,200 fps) and are much more likely to shoot to a military Krag's issue sights.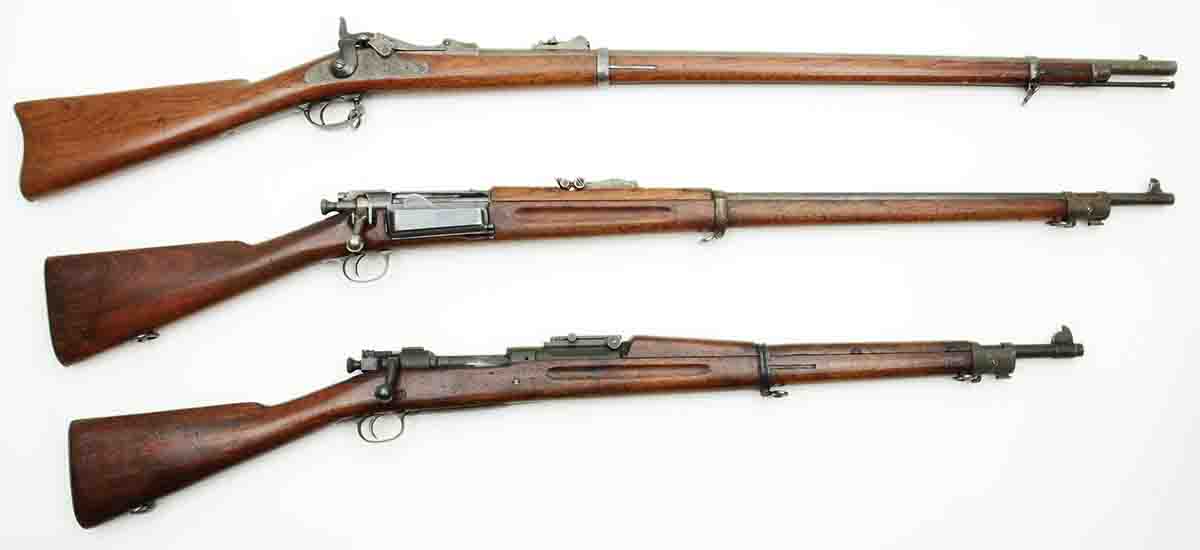 No American military bolt-action rifle has gained (and deserved) the respect bestowed on the U.S. Model 1903, commonly called the "Springfield." To be sure, it was manufactured at Springfield Armory but also at the government-owned Rock Island Arsenal. Starting in 1941, the Remington Arms Company began making '03s for the war emergency. Barrel length was 24 inches and rifle weight was 8.5 pounds.
Many enthusiasts consider '03s a World War I item. However, the U.S. Marine Corps fought with them in World War II until mid-war (1943), and a considerable number of "Springfields" were used in the European Theater of Operations. Many of those were the remodeled version given the designation of Model 1903A3 (meaning "alteration three"). Action functioning remained the same as '03s but changes were made to the sights and method of manufacture. Many parts were converted from milled steel to stamped steel.
Sights for standard '03s consisted of a blade front with a rather intricate open ladder-type rear sight in which a peep appeared after it was raised to 300 yards. It was finely adjustable for windage. Many writers have stated the '03's rear sight is better for target shooting than fighting. The '03A3's front sight remained the same but the rear was changed to a peep type that could be moved for elevation by sliding it on a notched bar. It was crudely adjustable for windage with 4 MOA clicks.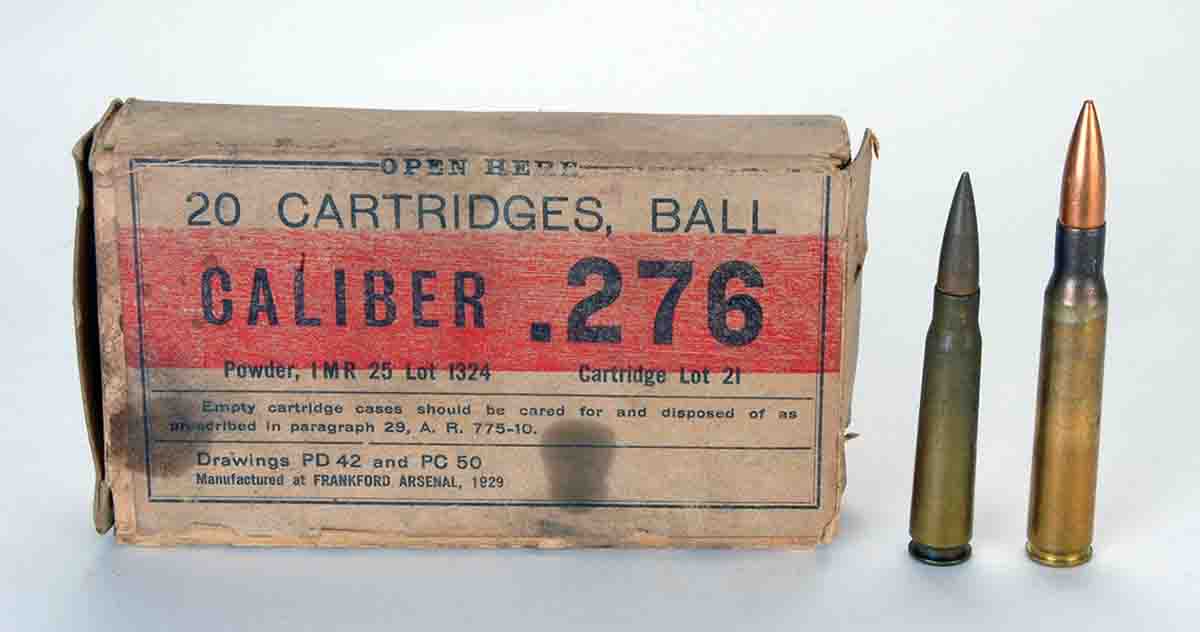 There was also a Model 1903A4. It was simply the '03A3 fitted with a 2.5x Weaver sporting scope for sniper use. Rifles were chosen at random with no pre-testing, and consequently do not have quite the accuracy reputation of German, British or even Russian sniper rifles of World War II. Model 1903A4s were the only sniper rifle issued by the U.S. Army in World War II, and many also saw action in the Korean War.
No matter exactly which stamping was placed on "Springfields," the simple fact is that they were knock-offs of Germany's Model 1898 Mausers in function and form. In fact, Peter Paul Mauser actually won a lawsuit against the U.S. Government for patent infringement but likely was never paid. All Model '03s/A3s were fed by means of five-round stripper clips from the top of the action. Magazines were contained inside the stock. Due to the top-mounted scope, American snipers using '03A4s loaded their rifles' magazines with individual rounds.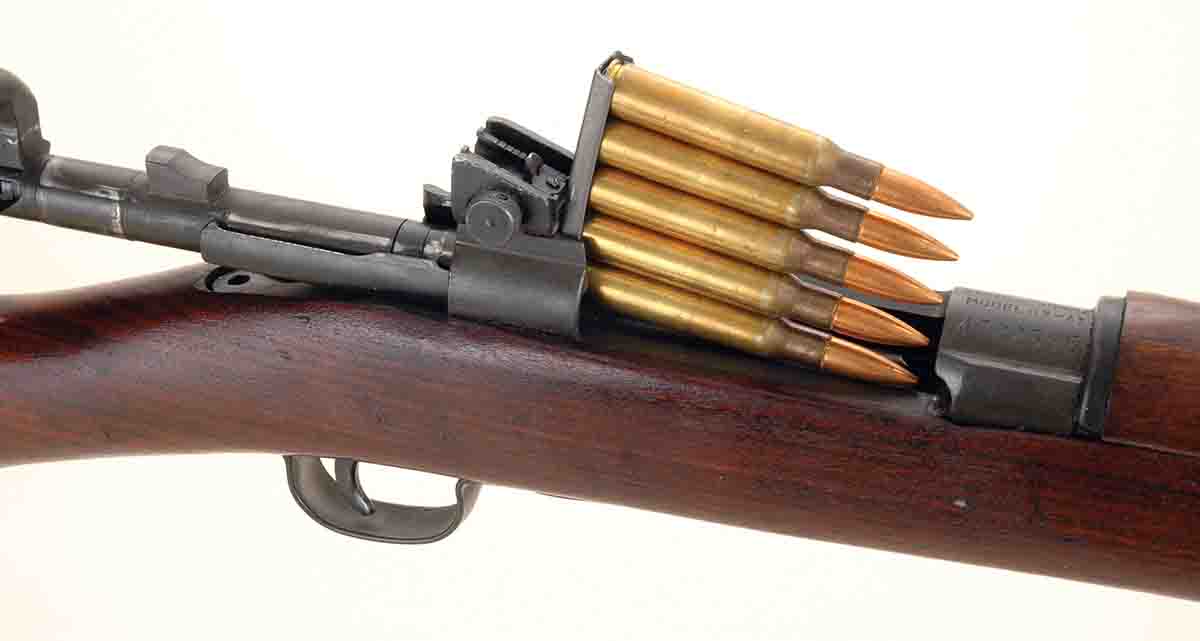 The first U.S. loading for the new .30 U.S. round we all know as the .30-06 was a 150-grain spitzer at about 2,700 fps. For a time that was changed to 174-grain bullets at about 2,650, but by the time World War II erupted bullet weight was changed back to 150 grains at about 2,750 fps. That latter load is famous among military rifle enthusiasts as the M2 Ball.
Contrary to many opinions, '03 Springfields did not dominate among U.S. troops in World War I. The U.S. Government-owned facilities mentioned above could not produce enough rifles. Coincidentally, the firms of Remington Arms Company and Winchester Repeating Arms, with a subsidiary of the first called Eddystone, had been producing Pattern 1914 .303 rifles for the British. Converting their machinery to make essentially the same rifle in .30-06 was a simple feat for such manufacturing giants. The U.S. Army called them Model 1917s, but many people today simply call them Enfields after the English facility where they were designed but never built. In a feat of firearms production likely never to be seen again, the three factories making '17s produced 2.2 million between 1917 and 1919. More of them saw World War I combat in American hands than Model 1903s.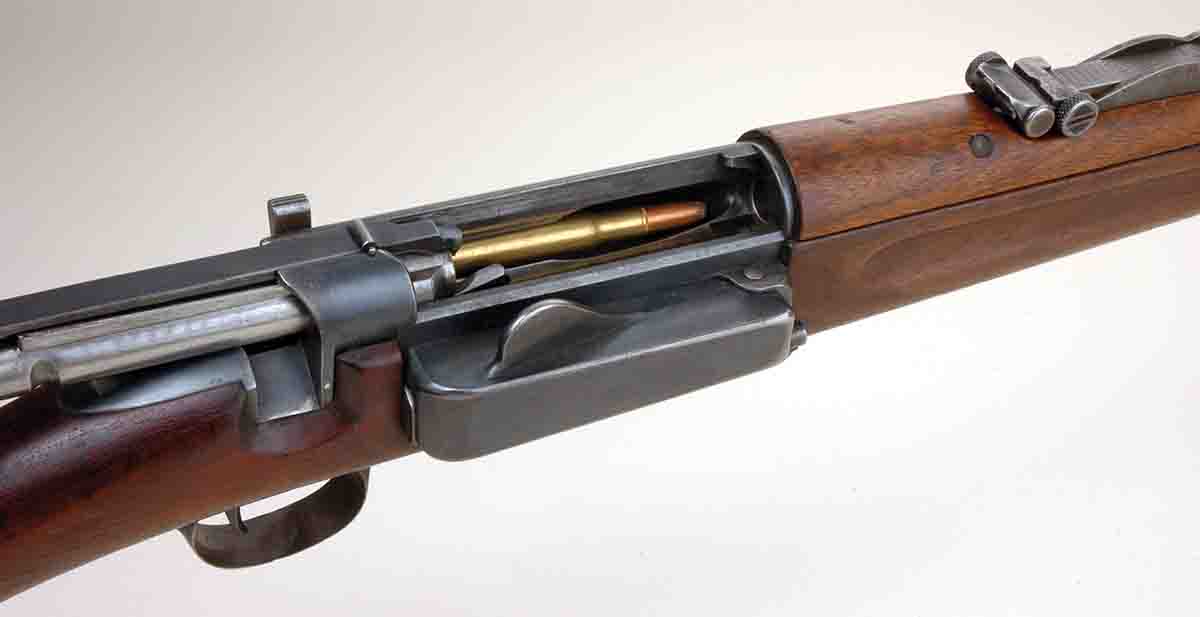 Barrel length for Model 1917s was 26 inches and they weighed a full pound more than '03 Springfields. With the design being converted from .303 British to .30-06, magazine capacity was actually six rounds, albeit the same five-round stripper clips were issued for both U.S. .30 rifles.
Sights on the Model 1917s were interesting in that there were two apertures. With the sight ladder folded down, there was one aperture serving as the primary battle sight with a 300-yard zero. For longer range fire, the ladder sight was raised and another aperture adjustable for 1,650 yards came into play. No provision was made for windage adjustment except drifting the dovetailed front sight.
One thing the U.S. Army learned from World War I was that a semiautomatic rifle was a good thing. As early as the 1920s, Springfield Armory had Canadian born John C. Garand working on a gas-operated semiauto rifle. At first it was designed for a .276 cartridge, but before adoption all work was reengineered so as to retain the .30-06. Official adoption was in 1936, but production was slow with only about 40,000 "Garands" in troops' hands by 1940. That speeded up with America's entry into World War II, and by war's end in 1945 more than 4,000,000 M1s had been made by both the Springfield Armory and Winchester, with the former facility out-producing the latter by seven to one.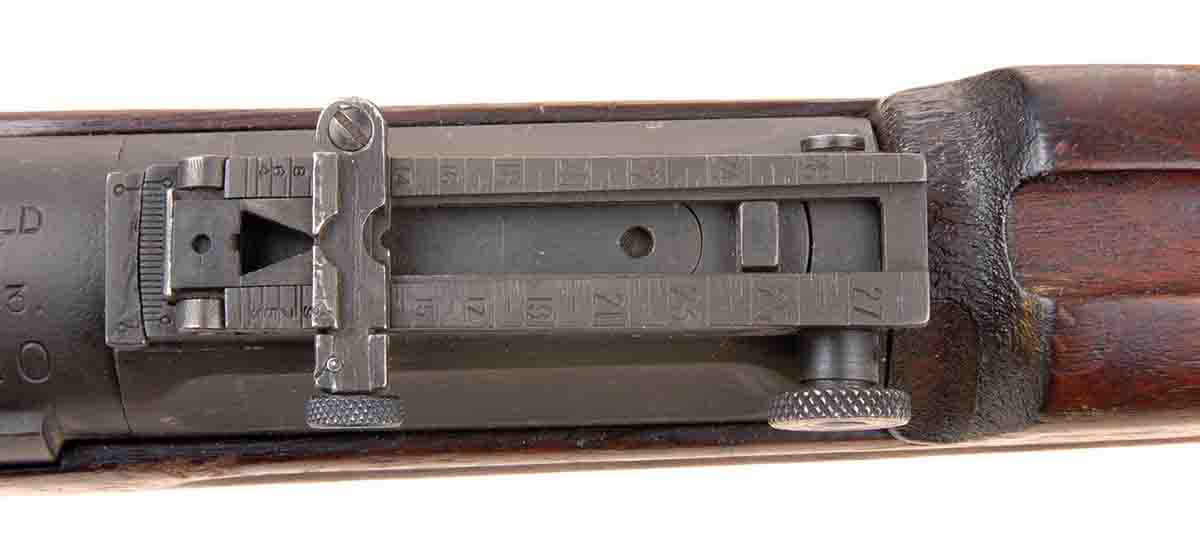 M1s retained 24-inch barrel lengths but weighed about 10 pounds. They were fed from the top by means of a unique eight-round en-bloc loader that entered the magazine with the ammunition. It was ejected when the last round was fired. M1 battle sights were some of the best ever. The front blade was protected by "wings" on each side, and a rear peep sight was adjustable for both windage and elevation. The main reason the U.S. Army returned to the 150-grain FMJ load was because the Garand's operating rod could be damaged by heavy bullets or too much velocity.
Factory .30-06 loads need no introduction from me. There are a plethora of them; all of which are fine for the two U.S. bolt actions, but those rated specifically for M1 Garands should be selected for the semiauto because of the reason mentioned above. Their operating rods could be damaged.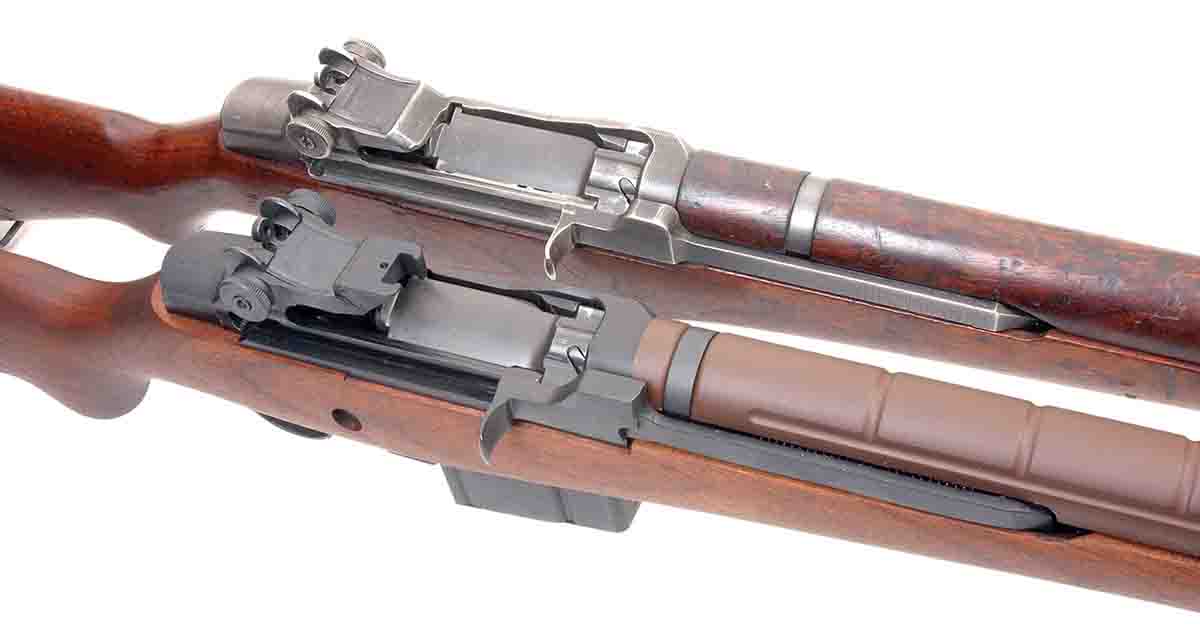 Perhaps the only thing 1950-era American military thinkers did not like about the M1 Garand was its magazine capacity. Some also thought it should be select-fire. Therefore, the basic M1 design was remodeled and updated to take a 20-round detachable box magazine and given a manner in which it could fire full auto. This was the M14. Adopted in 1957, it shared the title of "shortest serving American infantry rifle" along with the old .50-70s.
Of course its cartridge was updated to the 7.62x51mm NATO. It fired a 150-grain bullet at the same velocity as M2 Ball ammunition but in a shorter case. Improvements in smokeless propellants made that possible. Sights on M14s were essentially the same as M1s, weight was 8.75 pounds with 22-inch barrel length. A special tool was needed to convert semiauto M14s into full auto. Most were issued without it. Having fired a full-auto M14, I find that understandable. Accurate shooting with in full auto is very difficult due to heavy recoil.

By 1964 the M14 was out and the M16 was in, and in basic action form it remains in as the M4 carbine. It was a radical departure. M16s featured synthetic stocks fore and aft, some aluminum parts and the ability to switch from semi to full auto fire by the flick of a finger. Of course, it was made for a new and, by military standards, petite round. It was called the 5.56mm in the beginning but has segued to 5.56mm NATO. The original military 5.56mm loads fired a .224-inch, 55-grain bullet at about 3,200 fps from a 20-inch barrel. We civilians call it the .223 Remington. Interestingly, a 20-round magazine of 5.56mm weighs half as much as a 20-round 7.62mm NATO magazine.
The M16 was almost 3 pounds lighter than wood-stocked M14s. Like all American battle rifles since the Model 1917 "Enfield," M16s had aperture rear sights with a post-style front sight. Interestingly, the synthetic stocks on M16s were green in color with a trianglular shaped forearm. The M16A1 that started arriving in Vietnam circa 1967 had black stocks with round forearms.
This is only a brief overview of American infantry rifles. Favorite handloads of mine are listed in the accompanying table. Each of these rifles and their cartridges deserve and have had books written about them. From the Great Plains to tiny Vietnam, these rifles and their respective cartridges served troops well for 100 years.