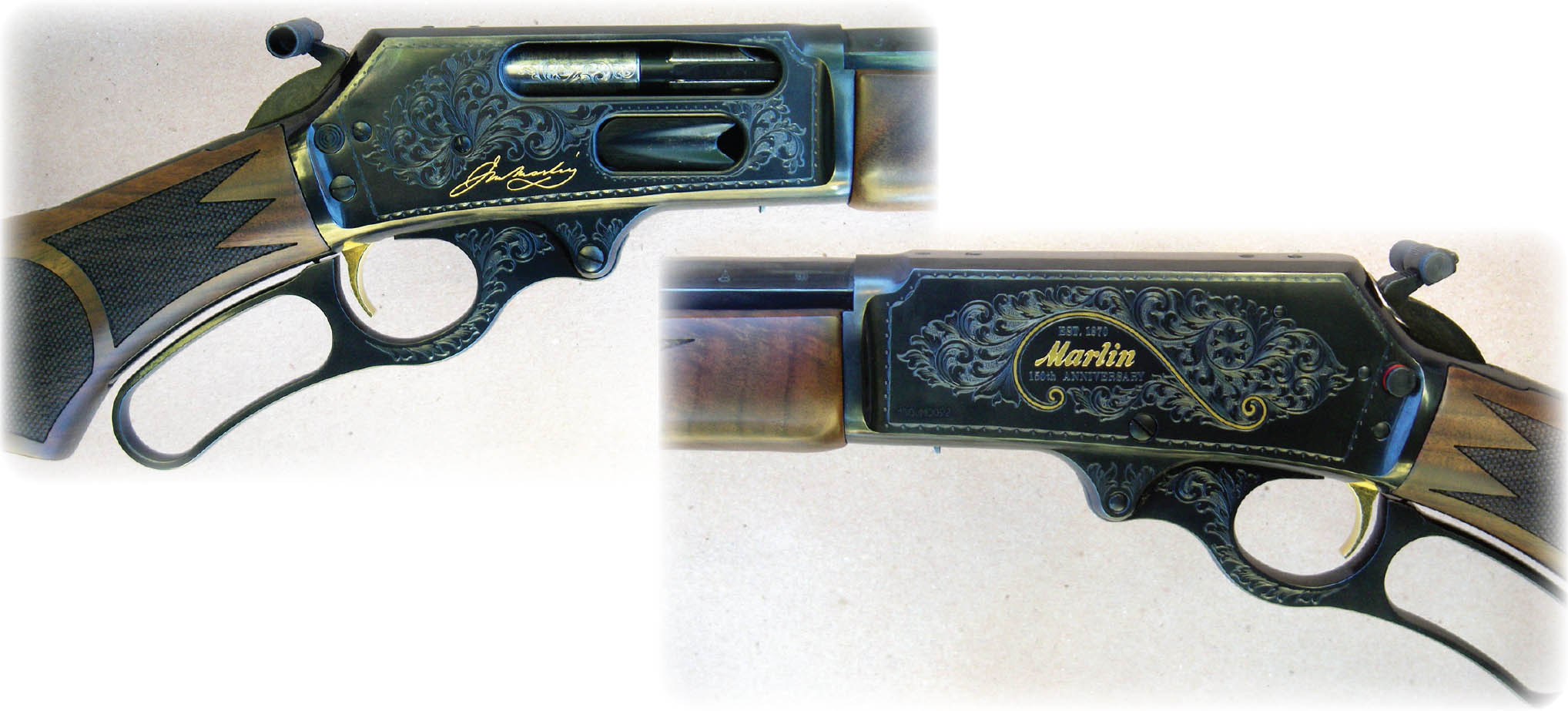 One hundred and fifty years ago, 34-year-old gunsmith and firearms designer John Mahlon Marlin (1836-1901) hung a sign in front of his New Haven, Connecticut, shop, and a new business was born. Initially, Marlin designed and manufactured single-shot pistols to serve as self-defense "purse" guns; however, his business soon blossomed, and he began offering derringers, double-action revolvers and rifles. He quickly raised his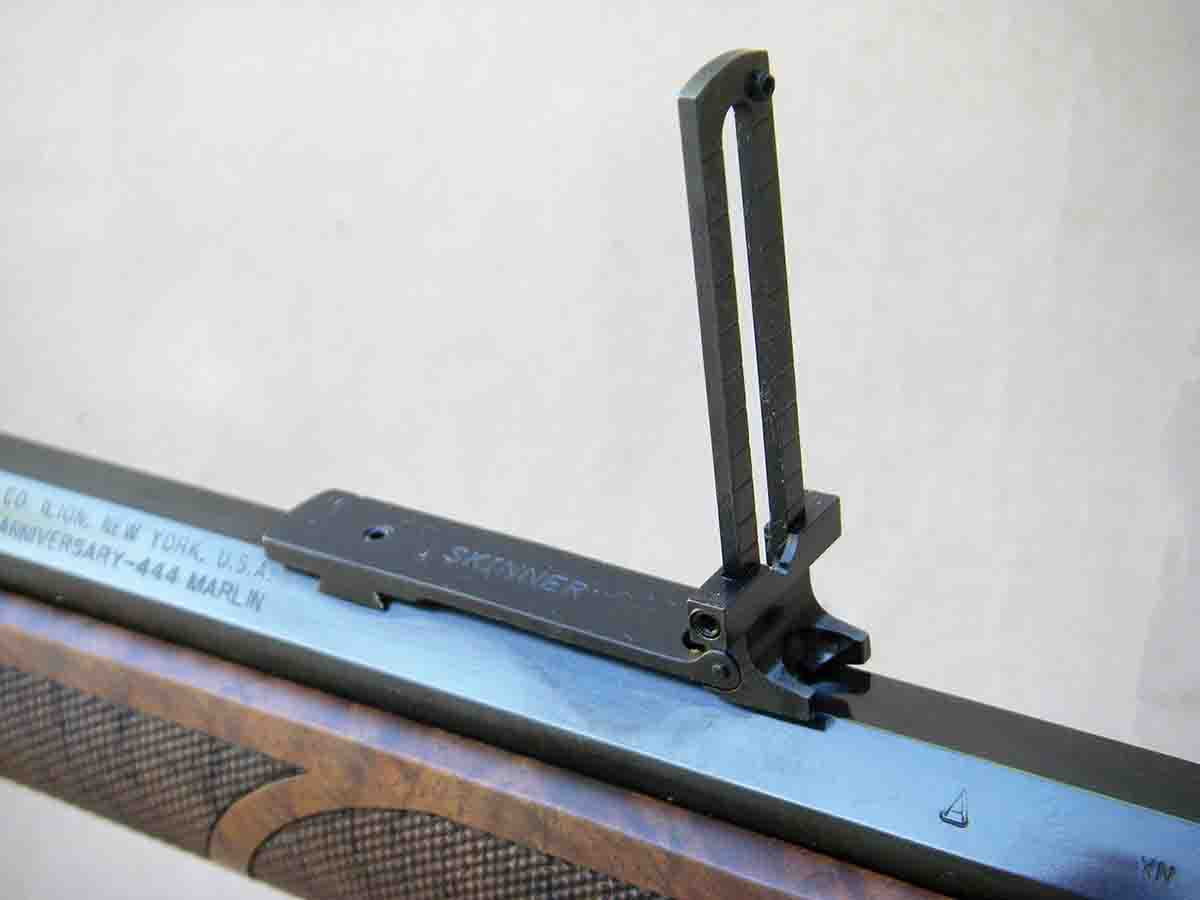 sights and developed an innovative lever-action repeating rifle, which required hard work and many prototype rifles. These repeaters brought tremendous fame and success. They have found great favor with cowboys, hunters, exhibition shooters, lawman, outlaws, etc.
Today, the demand for quality, and reliable leverguns is overwhelming, and Marlin production is in a continual back-order mode. Marlin has survived wars, the Great Depression, more wars, changes in ownership, and in 2010 a move to Ilion, New York. Today, Marlin offers lever-action rifles that appeal to traditional rifleman and hunters,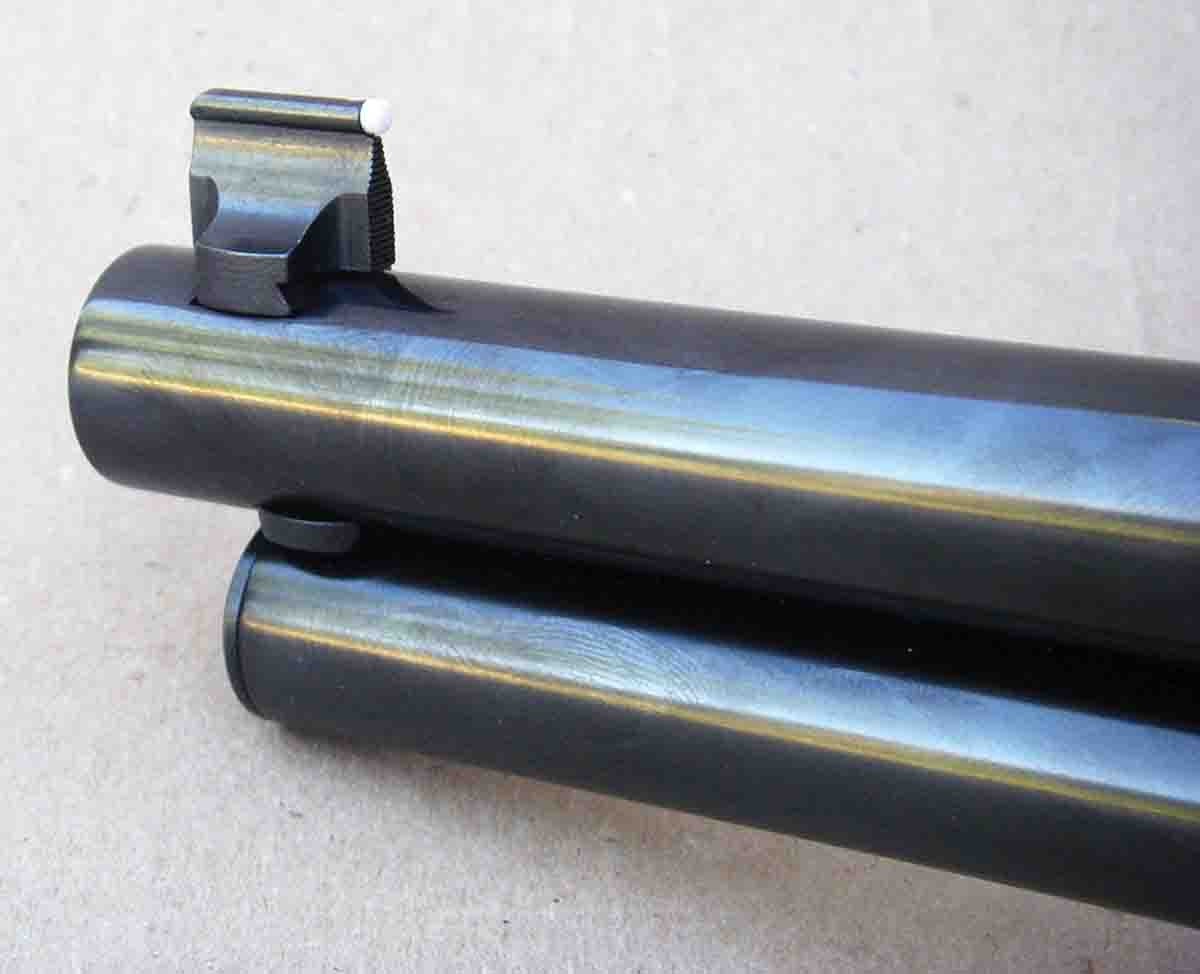 but also offers tactical variations that readily accept twenty-first-century accessories.
Marlin's early life history is a bit sketchy. Records indicate that he worked as a machinist and tool and die maker for Colt during the Civil War, or at least through 1863. His occupation was listed as "pistol maker" from 1863 through 1870, when he officially started Marlin Fire Arms Company (which in the 1880s became the Marlin Firearms Company). His experience and skills allowed him to make the tooling necessary to manufacture his own firearms.
Marlin always focused on building a quality product and by 1875, began producing the legendary Ballard single-shot rifle, which had a stellar reputation on target ranges, but Marlin managed to make significant improvements to the design.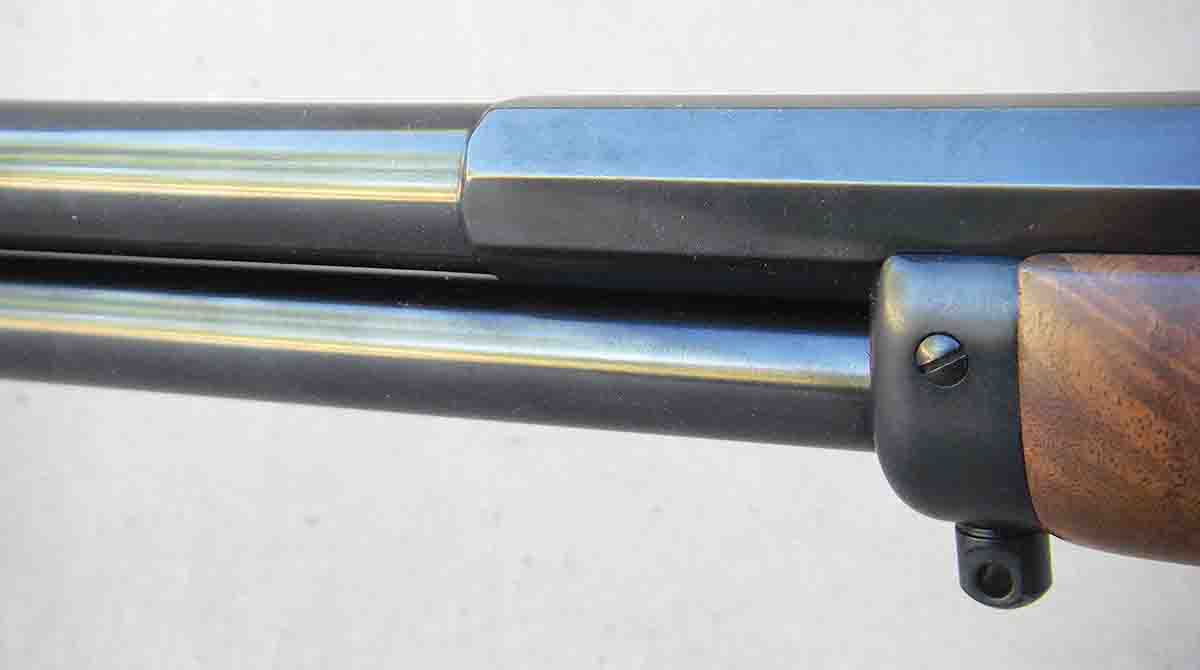 During the 1860s and 1870s, Winchester Repeating Arms Company had few real competitors. The Model 1866 was highly successful, but its famous Model 1873 was improved, strengthened and chambered in centerfire cartridges such as the .44-40, .38-40 and .32-20 and enjoyed widespread popularity. The Model 1876 (a large version of the 1873) was offered in .40-60, .45-60, .45-75 and .50-95. However, it could not house the .45-70 Government for which there was high demand. In spite of the U.S. military expressing interest in a repeating rifle chambered for the .45-70, Winchester had not been able to come up with a legitimate repeater so chambered. Whitney Arms Company had produced the Model 1878 Burgess repeating rifle in .45-70, but it had some shortcomings and was rejected by the U.S. military.
Marlin was ambitious and set out to not only compete with Winchester with a new lever-action rifle, but surpass the company. With the shared patents of H.F.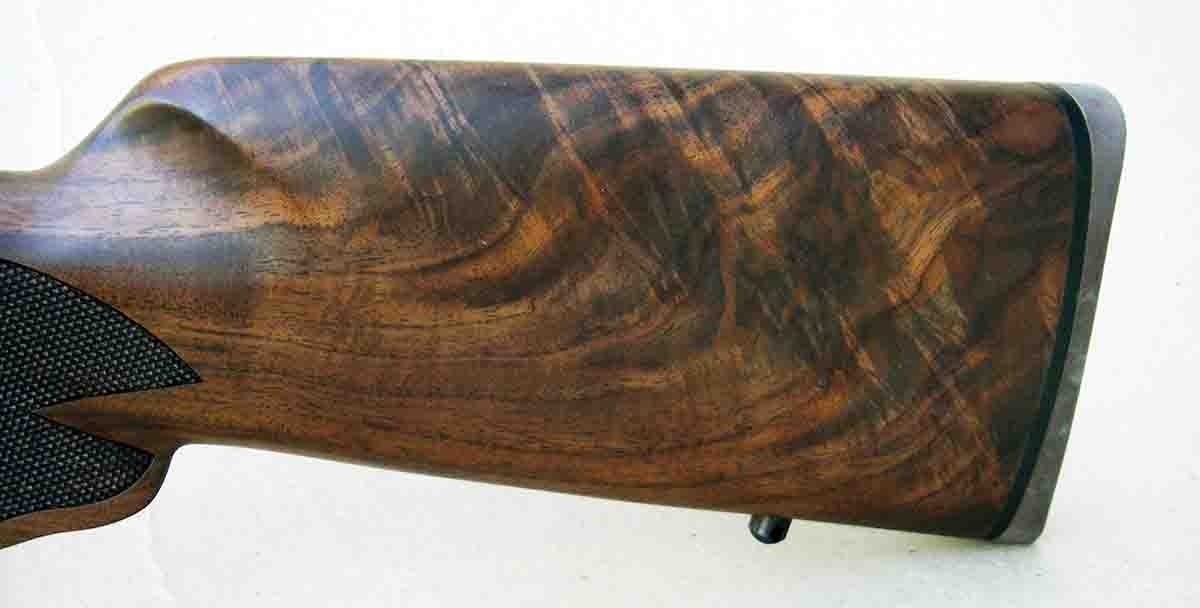 Wheeler, A. Burgess, E.A.F. Topperwein and J.M. Marlin, the Model 1881 .45-70 (and others) was introduced. It was a high-quality rifle and Winchester certainly had reason to be concerned with its new competitor that seemingly came from nowhere. The action was much smaller, shorter and lighter than the Winchester 1876. It offered the same desirable features of Winchester rifles, including a right side loading gate, external three-position hammer and top ejection. Standard was a 28-inch barrel with cut Ballard-style rifling, which produced excellent accuracy. Due to the short action, the 1881 offered outstanding balance. It sold for a whopping $32. The U.S. military tested the 1881 for possible adoption, and it performed very well. However, Marlin had specified that ammunition must feature small rifle primers to prevent magazine tube detonations. The military ignored this request and experienced cartridge set-off during testing using cartridges with large primers. Nonetheless, civilian sales were good, with more than 20,000 guns produced over the next 11 years.
Marlin recognized high demand for rifles chambered for .44-40 and similar cartridges and began working on the Model 1888. This lever action also featured top ejection and boasted of several mechanical improvements over the Model 1881, and it sold for a comparatively modest $19.50.
Still not satisfied, J.M. and his engineers almost immediately began working to further improve function, durability and strength, and to further distinguish their design from Winchester. While strength may not have seemed overly important with period black-powder ammunition, that was about to change, as U.S.-produced smokeless powder ammunition was less than three years away.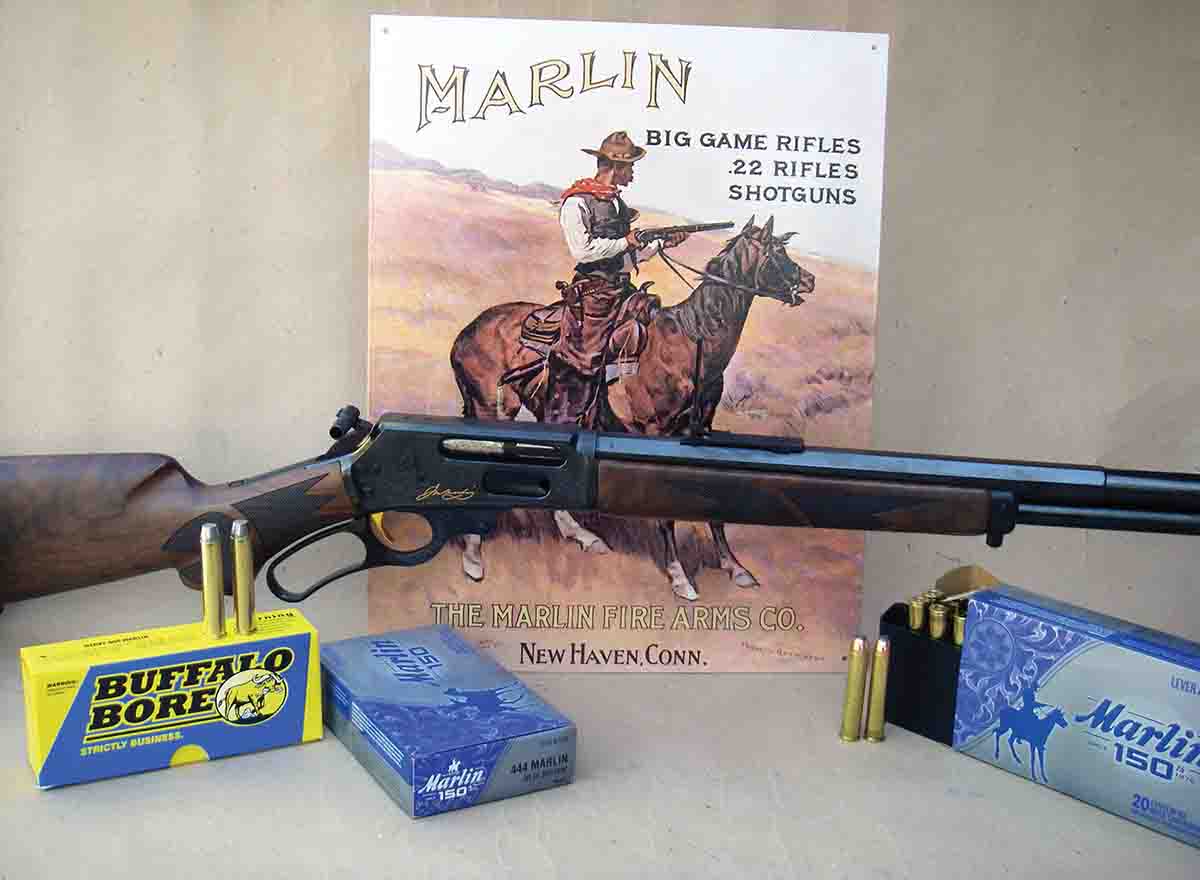 Marlin and his engineers worked long hours, which lead to the development of the Model 1889 that was suitable for .44-40 and similar cartridges. In addition to the action being a solid forging for maximum strength, it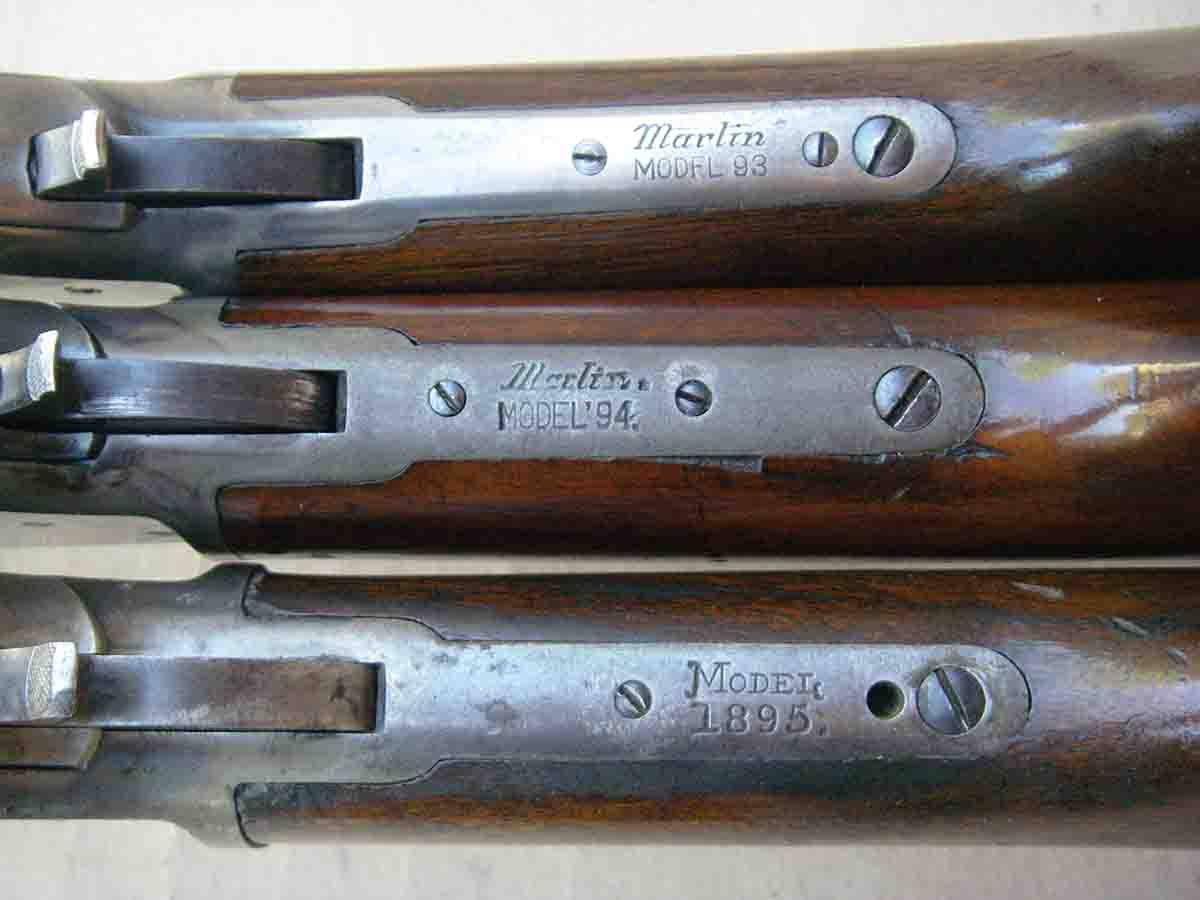 was especially lightweight and compact. Most significant, it was Marlin's first side-ejection, side-loading rifle with a solid top receiver design. It was truly modern and a significant design breakthrough. Its basic design remains present on all modern Marlin lever-action rifles. The strength was significantly increased, and it was ready for forthcoming smokeless powder loads that featured a much shorter impulse time. The bolt was flat, the same as its descendant Model 1894 (both original and modern versions) that resulted in a closed action that protected internal parts and prevented dirt, snow and debris from entering.
The side ejection feature was also advantageous, as cases exited to the right side and out of the line of sight of the shooter. The Model 1889 offered excellent shooter protection in the unlikely event of a ruptured case. Tests were conducted wherein cases were precut at several areas to duplicate case failure or rupture, and no gases ever reached the shooter. Marlin soon began offering top-mounted aperture receiver sights (Hepburn Receiver Sight) in a similar fashion as popular present day sights from Skinner Sights and XS Sights. The solid top receiver would also eventually become popular for scope mounting.
The Model 1889 was known appropriately as "The New Safety Repeating Rifle." It sold for $17.50 for the basic saddle ring carbine and $18.00 for round barrel rifles. Both were huge successes. Marlin offered it with almost unlimited special order features, including high-grade wood, octagonal barrels, custom barrel lengths, half-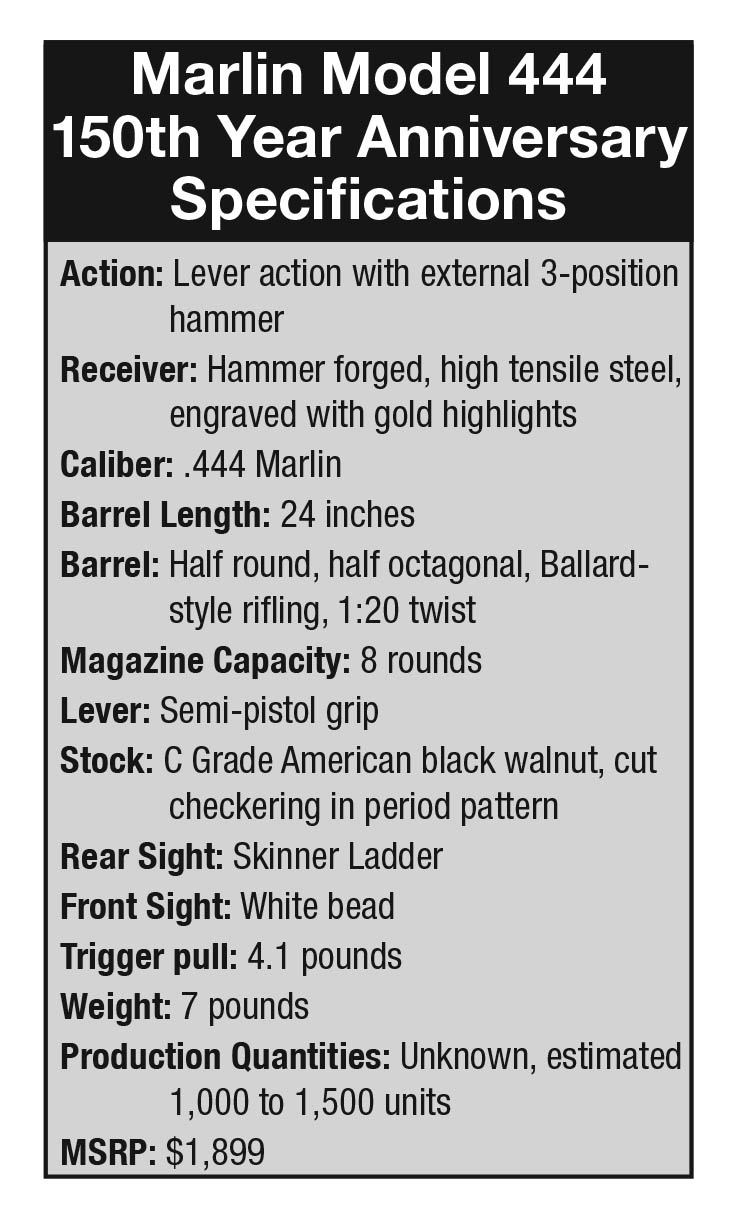 magazine versions, takedown receivers, custom sights and very fine, elaborate factory engraving. I have experience with high condition Model 1889s, and they were true masterpieces with beautiful machining, polish and finish. The accuracy of guns I have fired with good bores is remarkable.
Marlin next developed the Model 1891, which was its first lever-action rimfire and the first repeater to accept .22 Short, .22 Long and .22 Long Rifle cartridges interchangeably – it was also chambered in .32 rimfire. Exhibition shooter Annie Oakley (and many others) quickly recognized the virtues of this particular model – accuracy, speed, long-term reliability – and often used it to perform remarkable feats. For example, on March 10, 1893, "Little Miss Sure Shot" placed 25 shots into a single ragged hole at 36 feet in 27 seconds!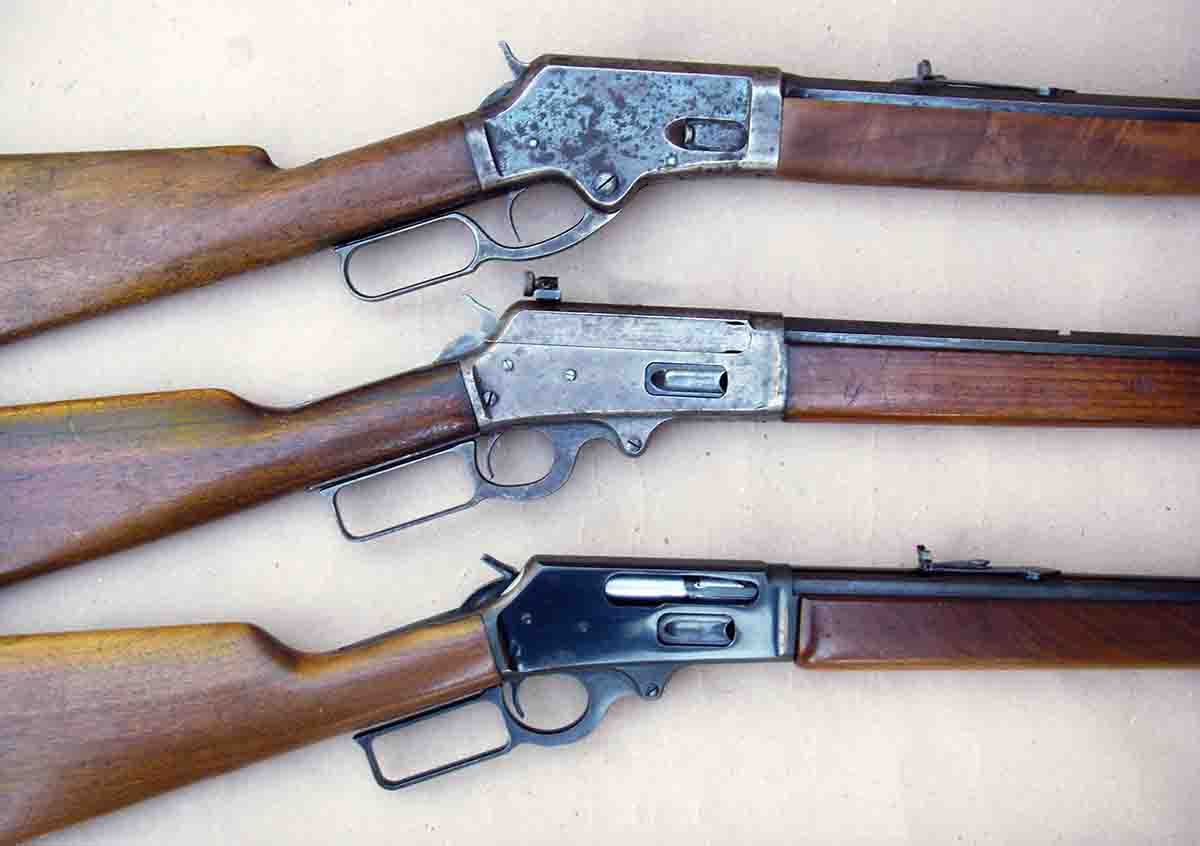 The Model 1892 was similar to the Model 1891 but had a few minor improvements. That rifle eventually became the Model 1897, the Model 97 in 1905, then the Model 39 in 1921 and 39A in 1939, and it remains in production today as the Model Golden 39A. Design changes since 1891 have been minimal, and it is still considered the same rifle! As this rifle rapidly approaches 130 years old, it boasts of being the longest continually-produced rifle in the world and is one of this shooter's personal favorites.
Marlin sought further improvements to the Model 1889, so engineer L.L. Hepburn obtained patents for a two-piece firing pin that prevented the rifle from firing if the trigger was pulled prior to the finger lever and breech bolt being fully closed. And the locking bolt system was further strengthened. These features are present on all modern Marlin leverguns.
These improvements were present when the Model 1893 appeared, which was something of a "stretched" Model 1889 designed specifically for the .32-40 and .38-55 cartridges, but it was soon chambered for the smokeless .25-36, .30-30 and .32 Special cartridges. In spite of Winchester having a strong relationship with noted inventor John Browning, who designed the Models 1886 and 1892 for them, Marlin nonetheless beat them to the punch with a lever-action repeater designed for the above medium-action cartridges. Winchester responded with the Browning designed Model 1894 a year later. Marlin was clearly a worthy competitor.
The Model 1893 became the Model 93 in 1905, then the Model 1936 in that same year, but that was soon changed to Model 36. The Model 1893 and all of its descendants featured forged receivers with beautiful case coloring, but unfortunately, toward the end of Model 36 production the receivers were blued rather than case colored.
In 1948, the Model 336 replaced the Model 36; however, it featured several significant design changes. Most obvious was a new round bolt that increased strength. A new extractor was designed, along with a redesigned cartridge carrier. Feeding and ejection were better than on any previous version. The 336 has now been in continuous production for 72 years and has been chambered for many cartridges.
After launching the Model 1893, Marlin introduced the Model 1894, an updated and improved Model 1889 designed for short-action rifle cartridges. Sales were strong; however, the trend was toward more powerful,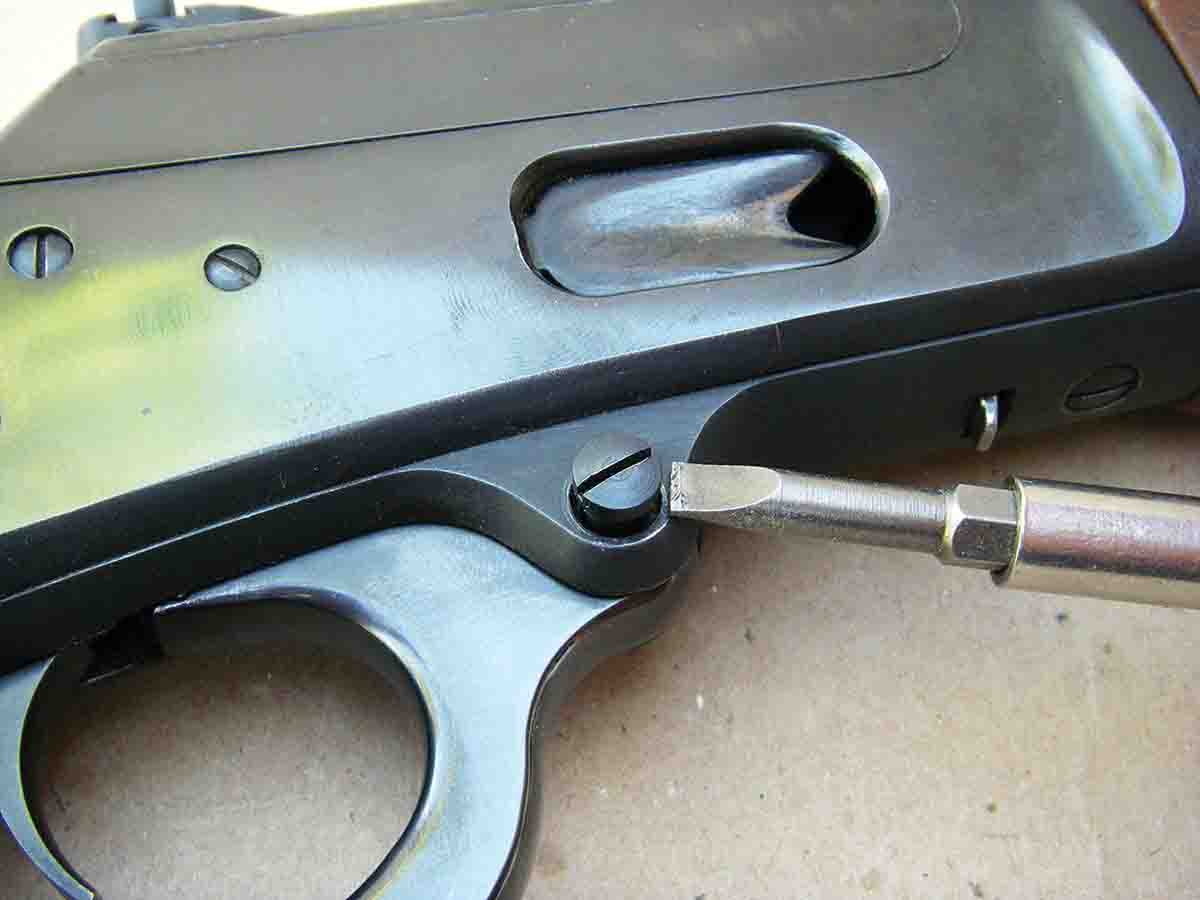 high-velocity cartridges, so sales eventually slowed and this fine rifle was discontinued in 1934. If Marlin would have known the .357 Magnum would appear in 1935, and what a dandy, light lever-action cartridge that it is, perhaps it would have kept it in the product line.
A modern Model 1894 .44 Magnum was introduced in 1969, with the .357 Magnum offered in 1979, which were both enthusiastically received by shooters and hunters. In the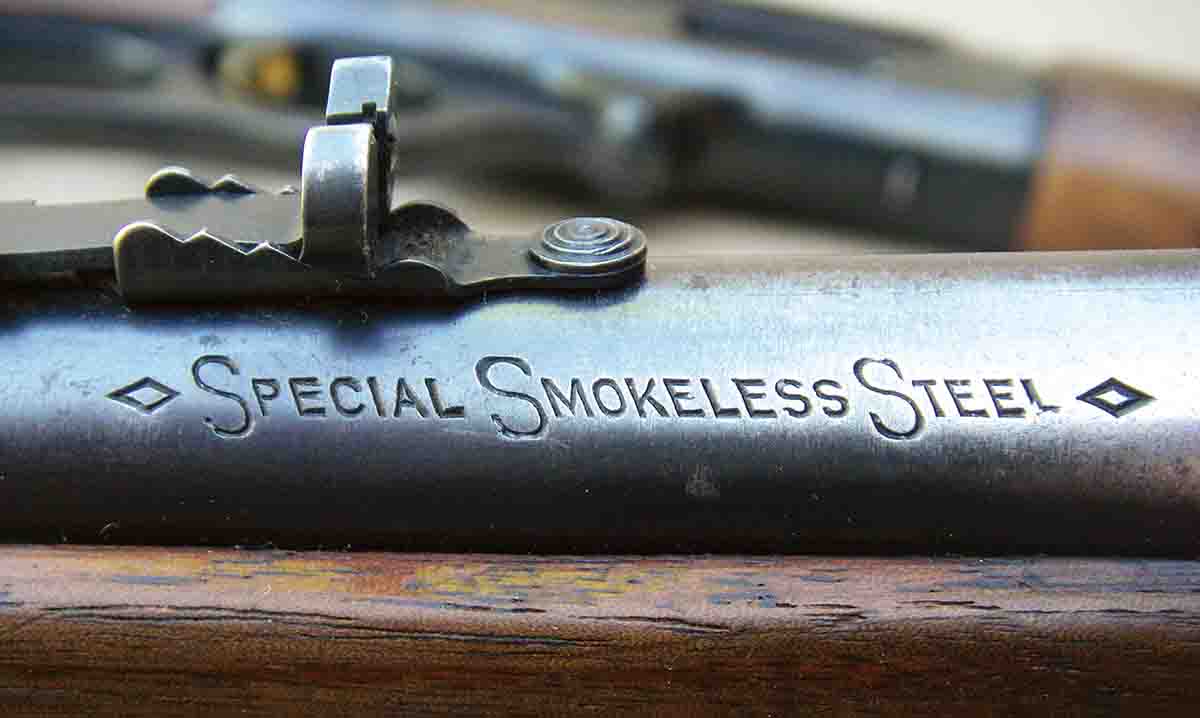 years since, the 1894 has also been offered in .22 Magnum, .218 Bee, .25-20, .32-20, .32 H&R Magnum, .38 Special, .41 Magnum, .44-40 and .45 Colt. Its popularity has been huge among hunters, recreational and competition shooters. It retains the flat bolt of the original 1894. Incidentally, the finger lever pivots from a single screw. This allows the lever and bolt to be easily removed for cleaning, but it also gives breech access to the barrel. This also results in an incredibly short lever throw for extremely fast cycling and explains why this model is so popular with competitors.
Wanting to replace and modernize the Model 1881, Marlin introduced the Model 1895 that same year with all the same improvements that had been given to the Models 1893 and 1894. It featured a large frame and was chambered in .33 WCF, .38-56, .40-65, .40-70, .40-82, .45-70 and .45-90. While it proved reliable and accurate, due to the trends toward small caliber, higher-velocity cartridges, it was discontinued in 1915.
Nonetheless, demand still existed for a powerful big-bore cartridge and Marlin introduced the Model 444 in 1964. The action was based on the 336. However, it featured a larger ejection port and other changes to accommodate the new cartridge.
While the .444 Marlin is a great cartridge, strong demand remained for the proven .45-70. In 1972, Marlin introduced a modern Model 1895 .45-70, which was an instant success and remains so today. It has found huge favor with big-game hunters and guides that need a potent cartridge for big bears, moose, etc. The modern 1895 is likewise based on the 336 action, but with the necessary engineering changes to accommodate the large cartridge.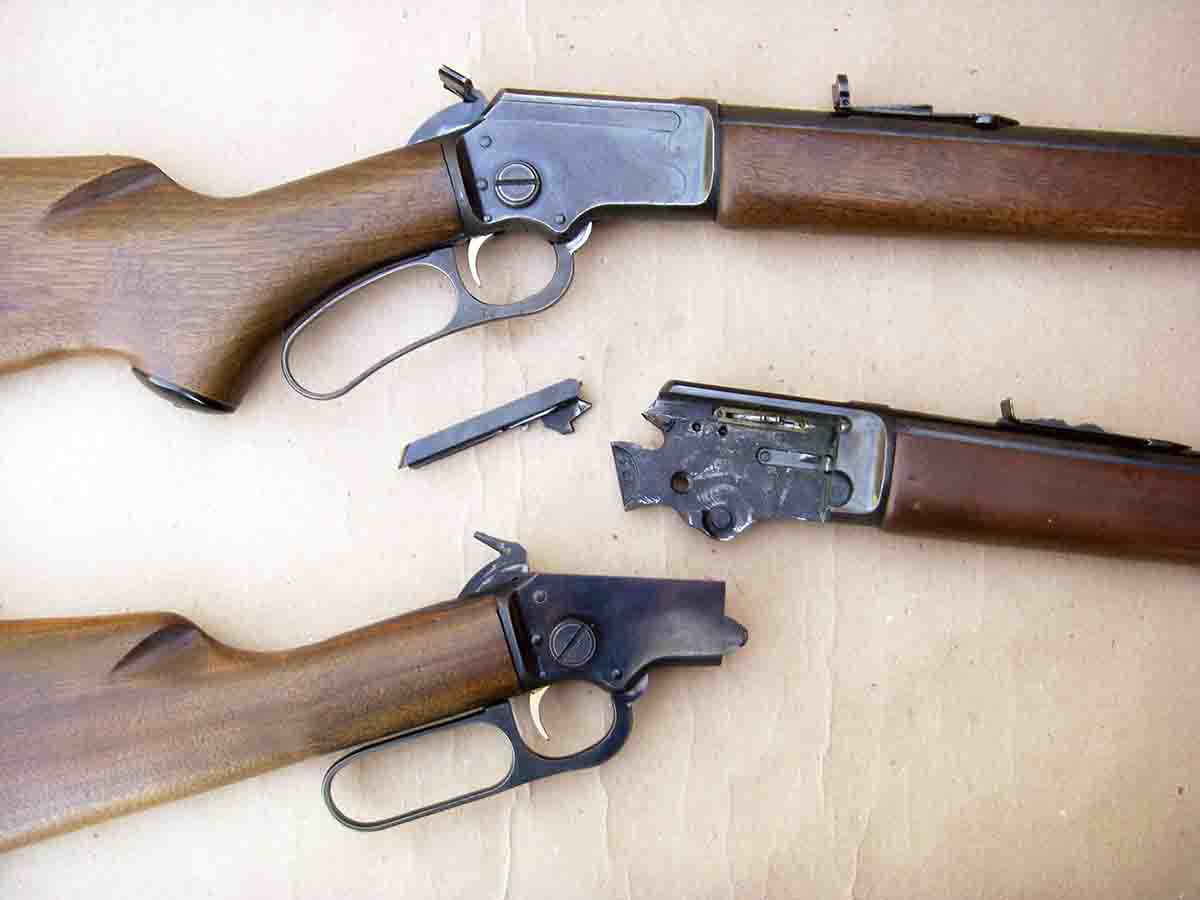 Since the 1970s, sales for Marlin leverguns have soared. In spite of rising labor and tooling costs, the company continues to produce rifles from forged parts and has generally kept quality high (except as noted below), with rifles often producing 100-yard, 2-inch groups or smaller. They have become widely popular among shooters, hunters, Cowboy Action competitors and anyone needing a quality lever action. Marlin also had a good sense as to what rifle configurations and calibers shooters want. For example, it introduced the widely popular "Cowboy" rifles and carbines in popular calibers (with Ballard-style rifling), stainless steel hunting rifles, the Guide Gun and variants, etc. Marlin also introduced new cartridges, including the .450 Marlin, .308 and .338 Marlin Express.
Marlin was purchased by Remington Arms in 2007, but in an effort to streamline production, operations were moved from New Haven, Connecticut, to Ilion, New York, in 2010. With the loss of almost all employees, quality immediately suffered. After developing new blue prints, adding extensive CNC tooling followed with much trial and error, it slowly began working back to former quality and reliability. Today, quality is good, and Marlin is selling every rifle it can manufacture.
This brings us to the "Model 444-150 Year Anniversary-444 Marlin" rifle, which is a real beauty. Production has not been determined but will probably be 1,000 to 1,500 units. It features a 24-inch half-round, half-octagonal barrel, a full-length magazine, Skinner Ladder rear sight and white bead front and a bright blue finish with a tastefully engraved receiver accented with gold highlights with the J.M. Marlin signature. The lever is a semi-pistol grip while the black american walnut stock is C Grade. It is certainly reminiscent of period rifles.
The Anniversary rifle has the smoothest action and best trigger pull I have seen from Marlin in the past decade, and it's certainly on par with the best post-World War II guns that came out of New Haven.
The .444 Marlin (based on a rimmed .30-06 case with straight walls and tapered to accept .429/ .430-inch bullets) was introduced in 1964 and loaded with 240-grain JSP revolver bullets pushed to 2,400 fps. This was a poor combination that limited penetration. Today, factory loads from Hornady and Buffalo Bore are hugely improved and contain bullets that perform beautifully on big game. When loaded with various 270- to 335-grian bullets pushed between 2,100 and 2,300 fps, the .444 fully duplicates the .405 Winchester President Teddy Roosevelt referred to as his "lion medicine."
Incidentally, a couple of years back, Marlin changed the barrel twist of .444 rifles from 1:38 to 1:20 with deep-cut Ballard-style rifling. The faster twist offers improved bullet stabilization for all normal weights, but especially 300 grains and heavier.
Marlin is offering 150th Year Anniversary ammunition in a blue box patterned after vintage boxes and is available in .30-30, .35 Remington, .444, .45-70, .357 and .44 Magnum.
The anniversary rifle proved accurate with loads from Marlin, Buffalo Bore and Hornady. With careful target selection and good lighting, groups hovered around one to 2 inches at 100 yards. The best group measured 1.10 inches and was fired using a handload that utilized Starline cases, CCI BR-2 primers and 52 grains of Hodgdon H-322 powder with the 300-grain Hornady XTP bullet for 2,205 fps.
It is remarkable that a basic lever-action design developed in 1889 is still in production and that every rifle that the company can produce is already sold. Clearly there is no substitution for a quality product that works.