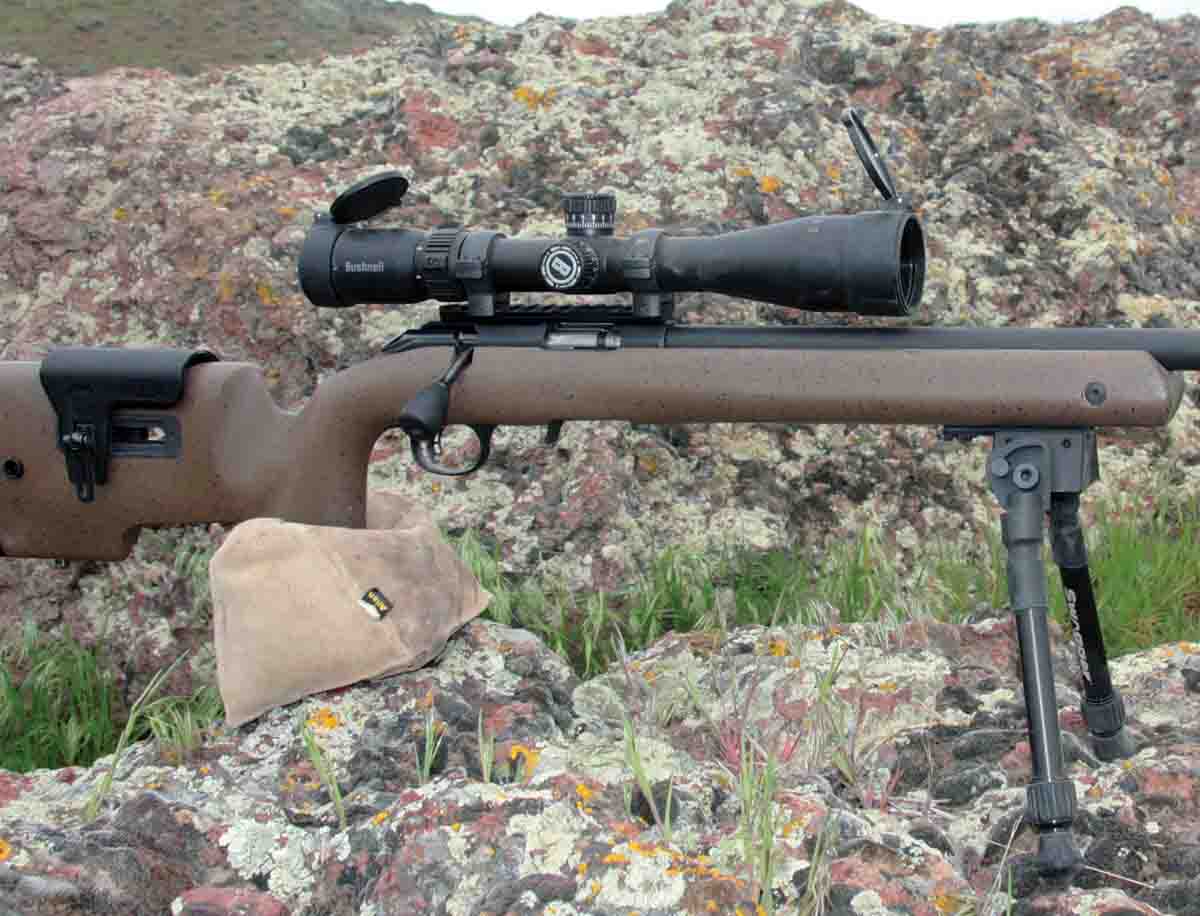 Each spring, I await the emergence of local Columbia ground squirrels as anxiously as others anticipate the turkey season opener. I frequently travel days to reach eastern Oregon or shoot "gophers" in southern Idaho. I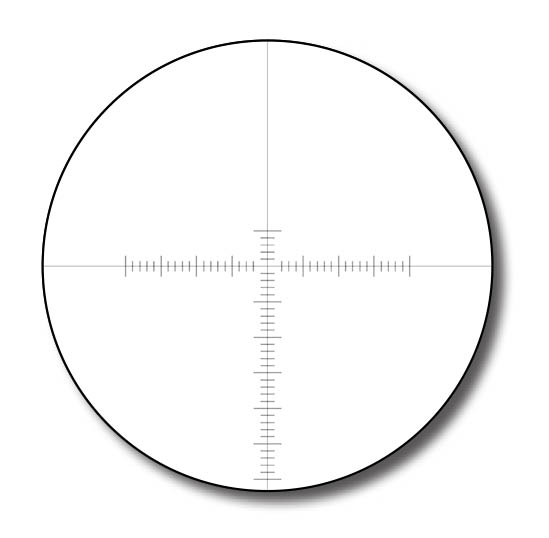 own two tricked-out Ruger 10/22 rifles, each including $1,000 worth of aftermarket parts to maximize accuracy. So, it was no surprise that I gravitated to the rifle used in this optics evaluation. Ruger's new American Rimfire Long-Range Target is a serious .22 LR, but I needed a scope.
Bushnell's 13.5-inch, 19.3-ounce Engage 2.5-10x 44mm scope, with its 30mm tube, wide magnification range, Deploy MOA reticle and exposed turrets, was no doubt designed with centerfire big-game hunters in mind. It includes the excellent resolution and light-gathering abilities needed to function in any legal shooting light and features necessary to wring the very most from your favorite big-game rifle. I highly recommend this optic for anyone looking for a highly-versatile, feature-packed but affordable centerfire riflescope. The Engage series includes eight other models ranging from 3-9x 50mm to 6-24x 50mm. This host of features, plus side parallax focus, also happen to provide serious rimfire shooters an edge by introducing more precise shot placement, added range capabilities and shooting confidence serious target or small-game hunters appreciate. As such, this review involved targeting mostly varmints and very few paper targets beyond initial sight-in.
The Engage 2.5-10x 44mm includes Bushnell's Deploy MOA reticle, which as a stand-alone creates highly-capable and versatile aiming solutions. Bushnell indicates the system is compatible with multiple calibers, and to that, I'd add high-velocity, hollowpoint .22 LR ammunition. If I had a single complaint about this optic – and a very small one at that – it would be a somewhat cluttered center-crosshair area. Given my druthers, I'd eliminate the first set of hash marks outside the center crosshair (which would admittedly interfere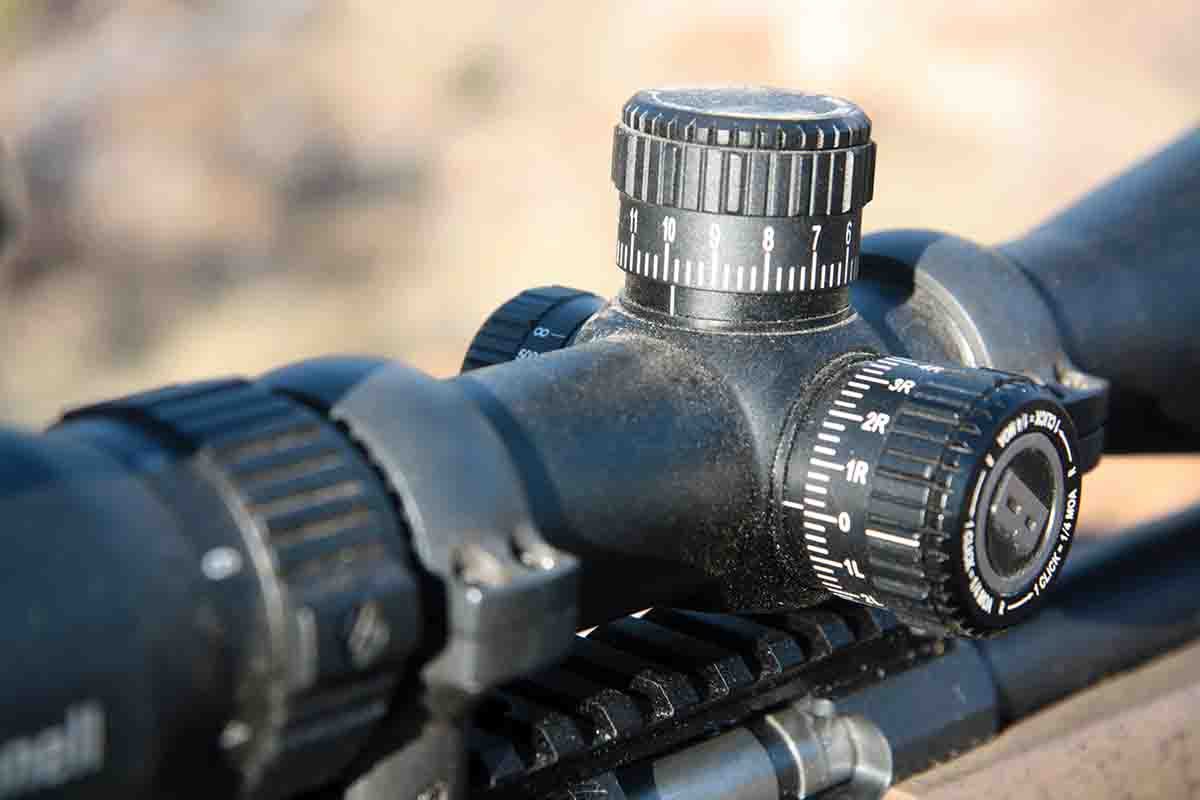 with the reticle's orderly holdover system). Other than that minor complaint, the windage and elevation hash marks offer handy holdover or wind-cheating corrections when you have neither time nor inclination to twist turrets. There are 30 holdover marks below the center crosshair, five above and 20 to each side of center. Hash marks are 2 MOA wide spaced at 1 MOA intervals, and every fifth/heavier mark is 4 MOA wide.
In conjunction with Bushnell's Fusion 1 Mile laser rangefinder binocular, which I use during every varmint shoot, the Deploy MOA system provided very reliable aiming at any reasonable range. Zeroed at 75 yards, for instance, I used these hash marks to plunk Columbia ground squirrels from 90 to 151 laser-measured yards. As more squirrels emerged, I developed a better feel for the holdover marks' full potential. The system was designed for a 100-yard zero with centerfire cartridges, but for rimfires 50- or 75-yard zeros serve well.
That said, given more time for deliberation, especially when shots grew longer after traveling to eastern Oregon, I turned to the slick turret system. The Engage 2.5-10x 44mm turret system provides 50 MOA (14.5 MIL) elevation and windage adjustment ranges, 15 MOA applied for each complete turret rotation – more than enough for any reasonable .22 LR shot. Adjustment clicks (standard .25 inch at 100 yards) were positive, tactile and audible. I really enjoyed the operation system on this scope – turrets locked down when not in use, popped up to make corrections, clicked back into place to guard against inadvertent movement (like while pulling a rifle in and out of a soft case).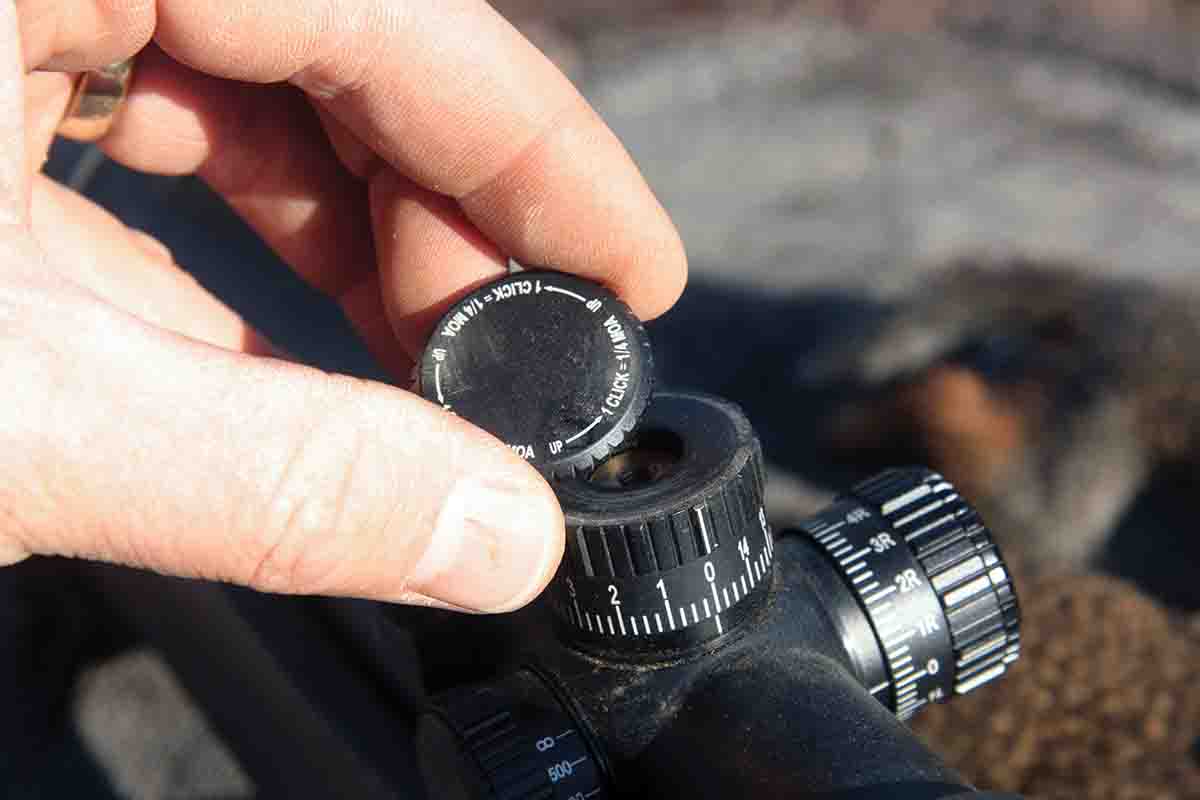 Tool-less Locking Turrets (TLT) allowed quickly returning elevation and windage turrets to zero – pushing turret caps down to lock, unscrewing a knurled finger cap, pulling the turret cup off, setting to zero on the turret scale, pushing down to relock, returning the threaded cap and finger tightening. This is easily accomplished without fear of losing established sight-in. There is no zero stop for elevation bottom and no horizontal indicator marks below the turret edge, so the shooter must keep track of total rotations on longer shots to return to an original zero (or add a small piece of tape to mark a bottom zero location).
Shooters who take time to create a ballistics chart will be at a distinct advantage with this scope. And, yes, it can be done with .22 LR ammunition, if the time is taken to determine true velocity, plug in a ballistic coefficient (BC) of .150 and choose one well-auditioned load. Much is made of 1,000-yard centerfire shots. I have just as much fun shooting small squirrels (or steel plates) with a .22 LR at 200 yards – understanding insufficient energy remains for targets the size of prairie dogs or jack-rabbits at those yardages.
This is a second, or rear, focal plane scope, meaning the ultra-fine .18-inch thick Deploy MOA reticles stay that way at the highest magnifications. When shooting at flip-phone-sized targets, crosshairs that obscure the target are loathed.
High-volume shooting forays are hard on equipment, including long days with enough shooting volume that thumbs develop blisters from refilling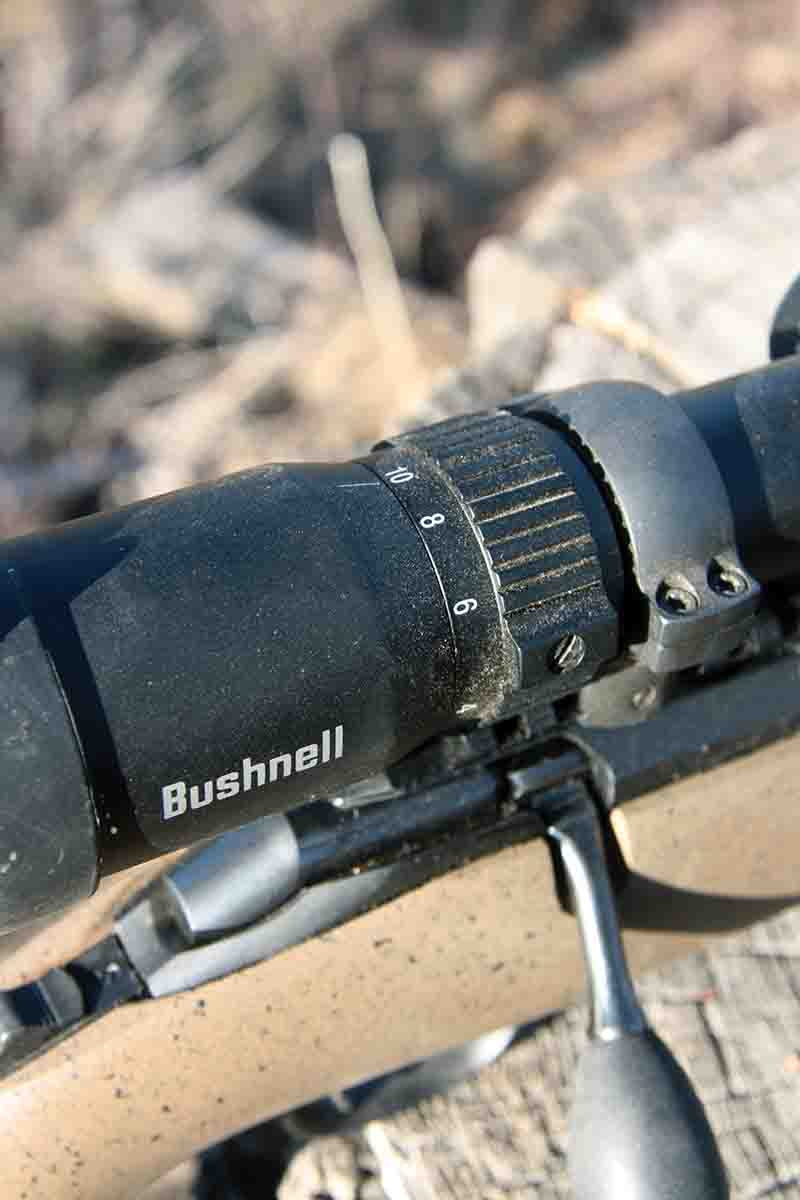 magazines, rifles/scopes bouncing on pickup seats and plenty of abrasive dust added to the equation. Bushnell's exclusive EXO Barrier Protection is a lens coating molecularly bonded to its optics, filling the microscopic pores of the ED glass. This super-slick treatment repels water, oil, dust and debris, while also helping to prevent scratches. What this means in the real world is that after lenses develop a film of dust after a long day of shooting, a couple healthy puffs removes 90 percent of that dust. Bushnell assures this treatment won't fade with time, while 100 percent waterproof construction assures the finest dust stays out of the interior.
All Engage optics are fully multi-coated. All exterior glass surfaces receive multiple layers of anti-
reflective coating that, when combined with its 30mm tube and 44mm objective lens, assures bright, high-contrast images, even at the very edges of day. As mentioned, this scope includes side parallax focus, a highly important feature on any rimfire optic. Varmint shooters need riflescopes that will focus at shorter ranges when needed. The Engage focuses down to 10 yards. In my opinion, even with scopes bestowed rimfire labels, any optic without parallax adjustment – front bell or side – is not a legitimate rimfire option.
The Engage includes 3.6 inches of eye relief, making it comfortable even when going prone over a bipod. At its highest 10x setting, the Engage provides a field of view measuring 11 feet (45 feet at 2.5x), making target acquisition, even in cluttered backgrounds, quick and easy. It comes with front and rear spring-loaded Butler Creek flip-up lens caps to keep dust at bay when not shooting.
I put this scope through much more rigorous testing than time normally permits. The scope performed flawlessly and the turrets tracked precisely through literally hundreds of corrections between a 75-yard zero and shots to 150/200 yards. The Deploy MOA reticle proved quite useful when time did not permit turret manipulation. The optics proved super sharp and crisp whether shot under a brassy sun, under overcast skies or while shooting directly into the sun.
If you're looking for something more to top a serious rimfire rifle, this is a viable solution to lackluster standard-issue rimfire scopes. Of course, it is also a serious centerfire scope. The price is right, the glass and coatings are top-notch, and the reticle offers maximum versatility under a wide variety of shooting scenarios.