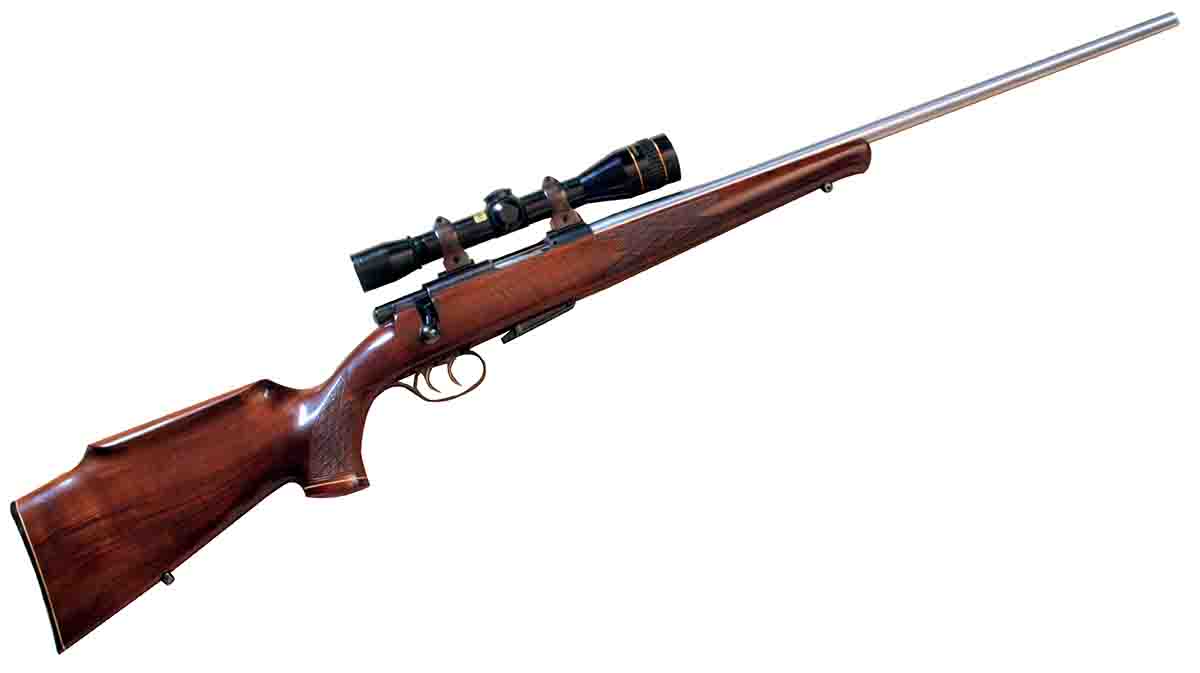 In twenty-first-century America, riflemen primarily acquire rifles in sporting goods stores or through advertisements, often on the internet. Once in a while, however, we find rifles the old-fashioned way, by word of mouth. In the spring of 2021, I found one through my local friend Randy, who had another friend with a unique rifle for sale, and suspected I might be interested.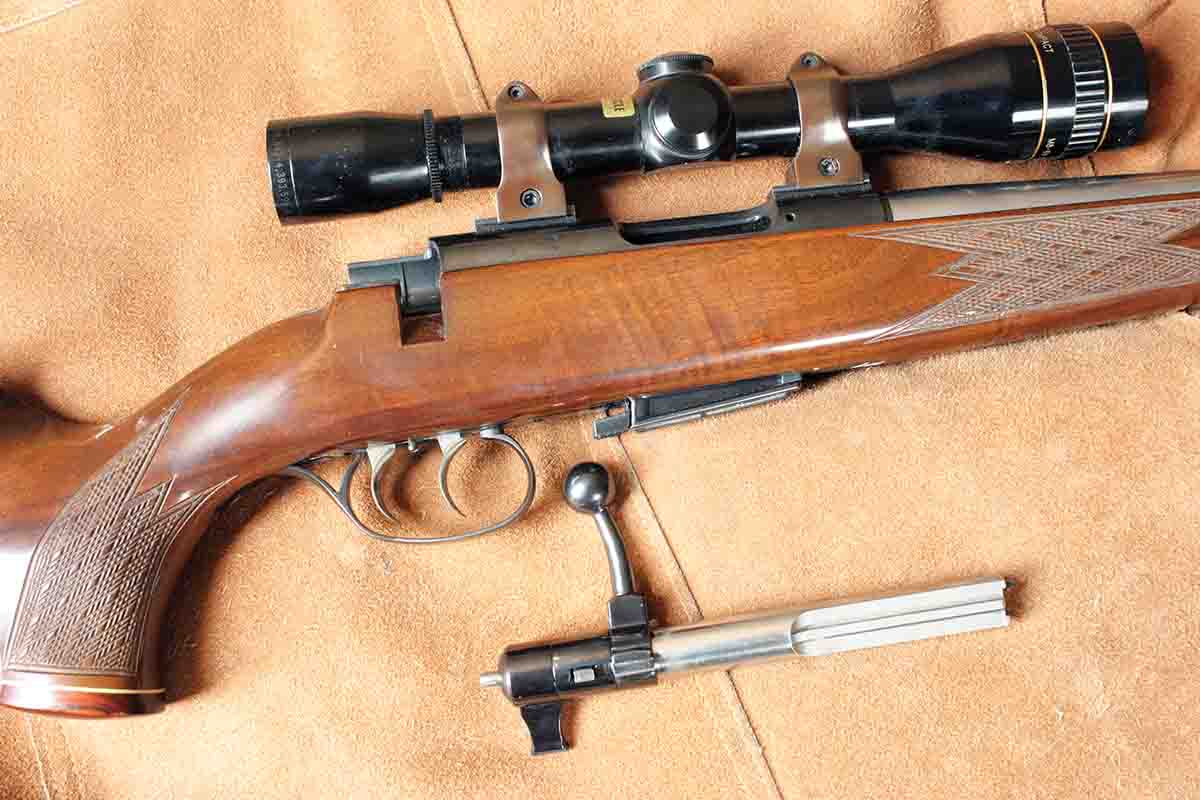 It turned out that I had actually met this friend around 40 years ago – Tom Roll, an anthropology professor at Montana State University. Back then, I worked part-time for a historical research firm, which often examined Native American sites that might be harmed by new construction. The company had a large library, which included several of Tom Roll's reports on his archaeological field work. I briefly met him at a professional gathering, but he was surrounded by old friends wanting to talk to him, so I never discovered he was also a real rifle loony, with his own machine shop to rebarrel and otherwise modify his rifles.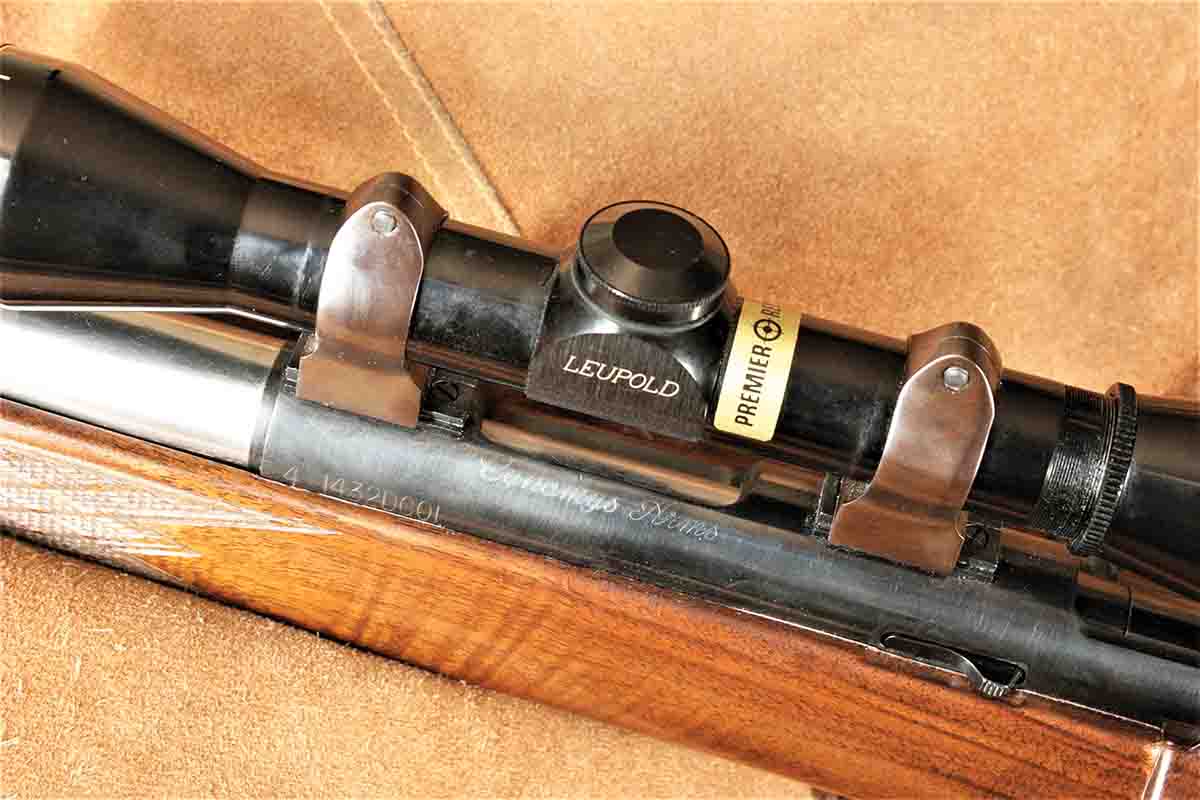 Randy explained that years ago, somebody gave Tom a bolt from an Anschutz .22 Hornet action, but he could not find a boltless action. Eventually, he decided to make one, since it's a slightly larger version of the relatively simple Model 54 .22 rimfire action, and barreled it in the .17 Ackley Hornet wildcat. The sale would include the rifle's Leupold scope, handloading tools, bullets and brass.
Randy explained Tom and his wife had decided to move to a retirement home, so they were "downsizing," the reason he wanted to sell. The price was right, so I phoned Tom that evening, and we made plans to meet the next week at his house in Bozeman, where Eileen and I were also meeting some friends at a restaurant for lunch.
Tom turned out to be an older, yet very recognizable version of the friendly guy I met half his lifetime ago, who was organizing decades of stuff in his machine shop/handloading building. During the process, he had gathered most of the .17 Ackley extras, but knew there were more, and would call when it turned up. We talked for maybe 20 minutes, because he was obviously busy, so we thanked him and left with the rifle and a box of extra stuff.
The box included a set of RCBS dies, the JGS .17 Ackley reamer he purchased to chamber the barrel, more than 1,000 20- and 25-grain Berger hollowpoints, and several hundred .17 Ackley cases formed from Remington .22 Hornet brass.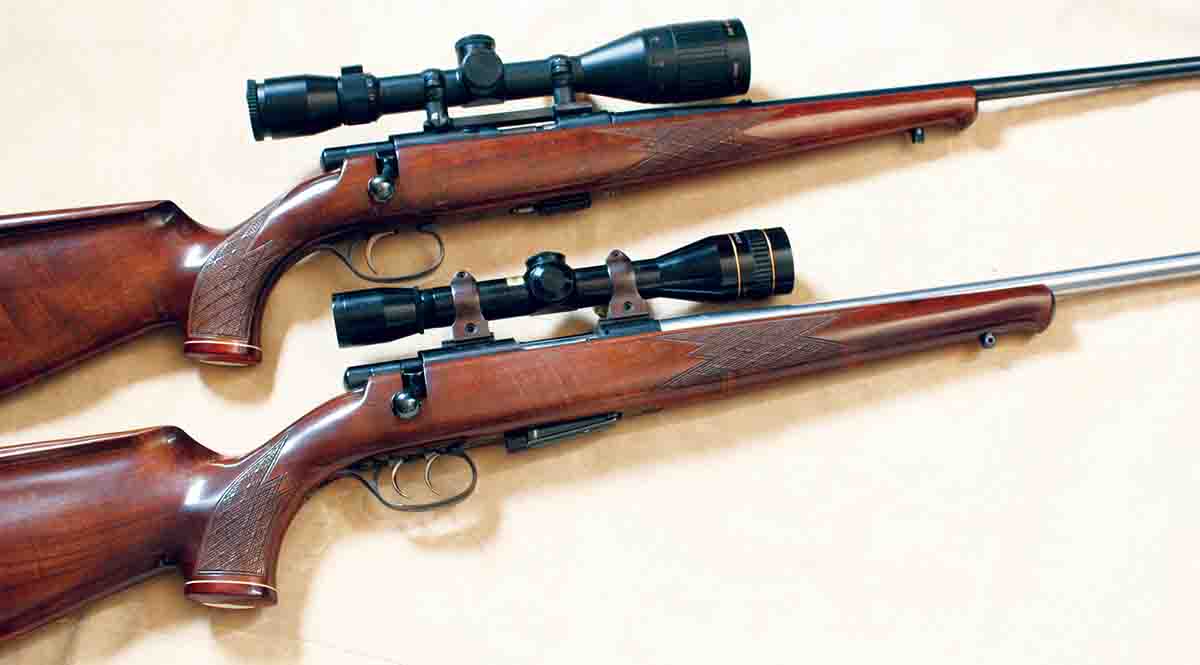 The Leupold turned out to be a 6x40mm M8 Compact from the 1980s, with an adjustable objective lens, extremely fine crosshair reticle, and a decal from Premier Reticles, a company founded in 1946 by a guy named Dick Thomas, which had a symbiotic relationship with Leupold for many years until Thomas passed away. Premier not only installed custom reticles and click adjustments in Leupold scopes, but magnification boosters.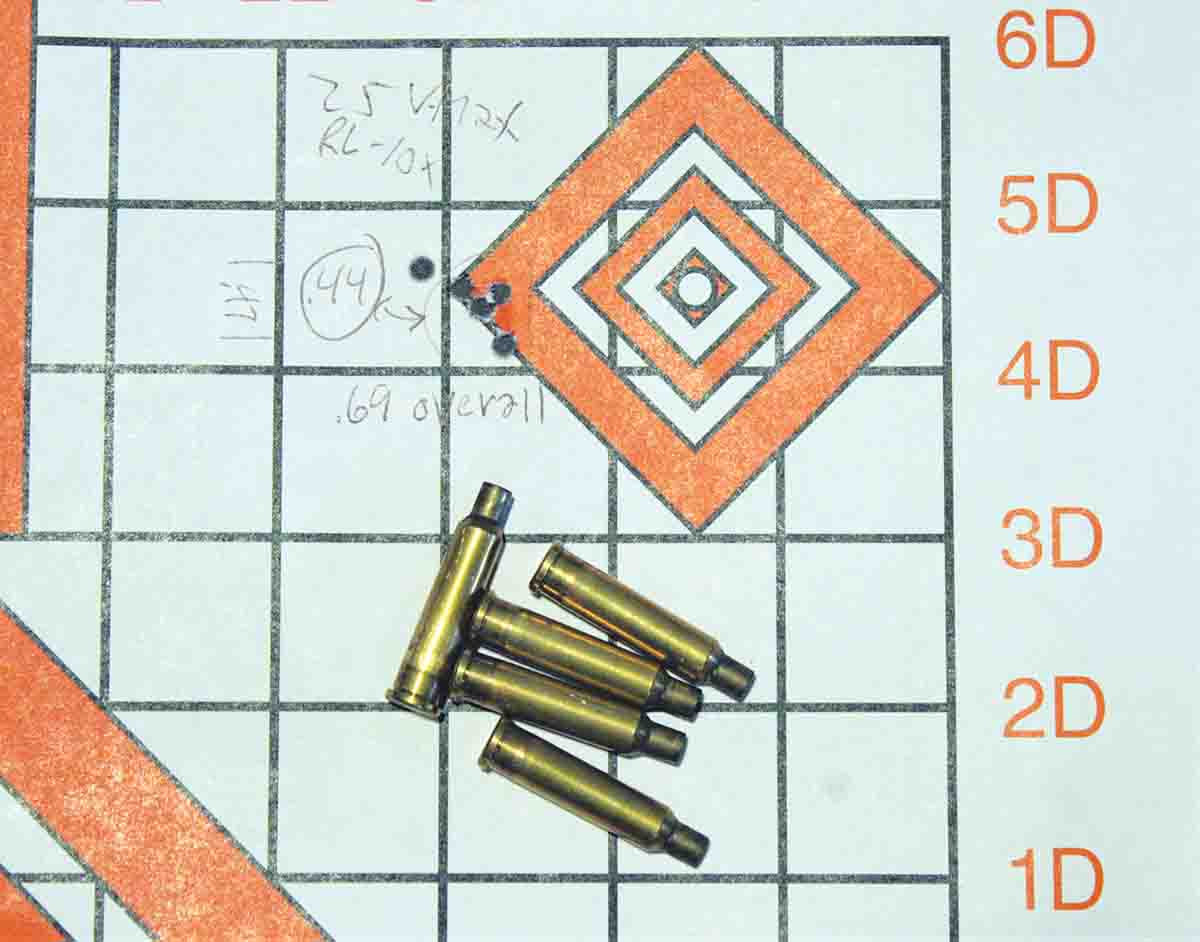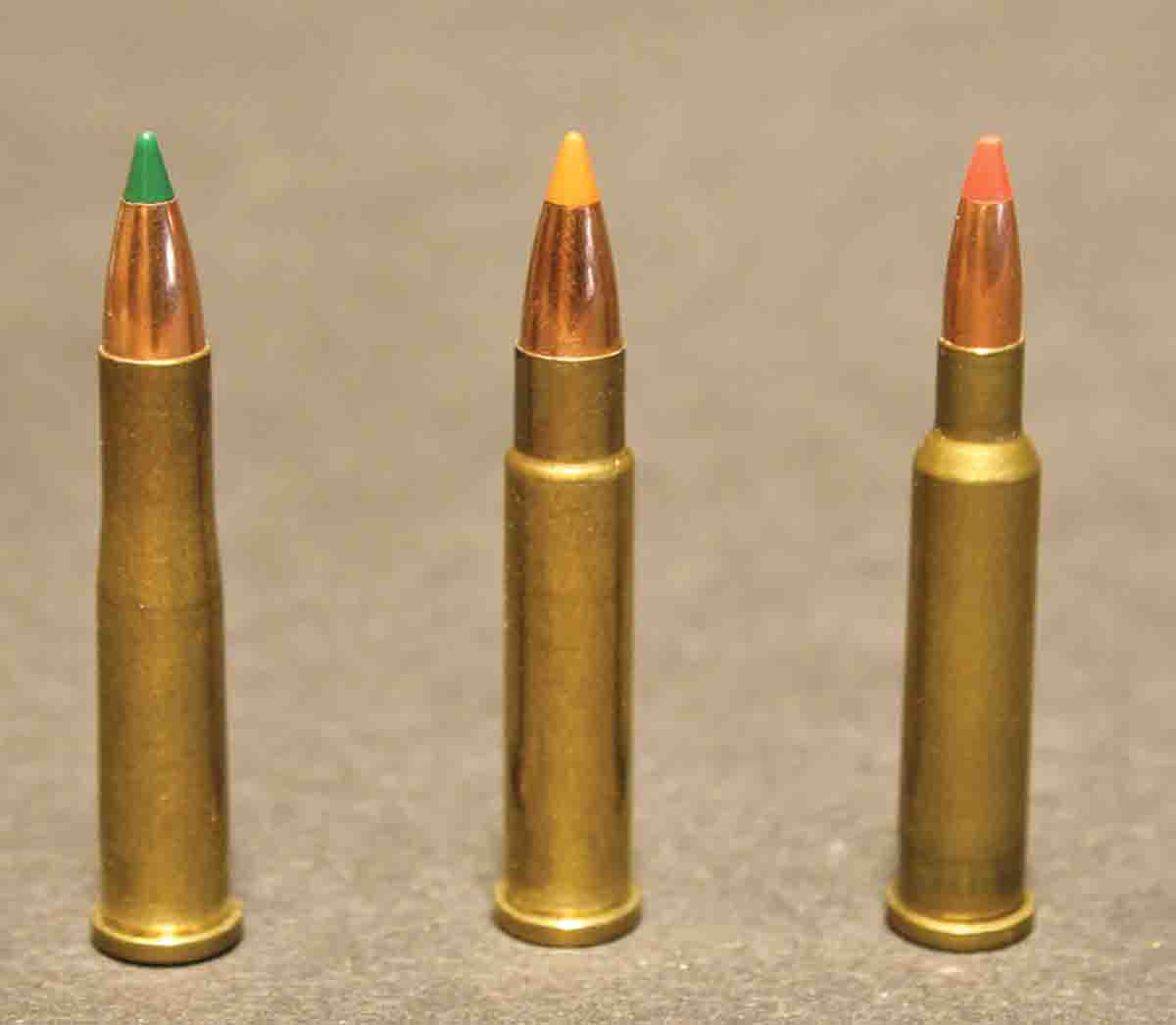 The blued action had a block-stamped serial number, so is not one of the "ghost guns" some anti-gunners fret about today, along with "Cynomys Arms" engraved in script. (Cynomys is the genus name for the various species of prairie dogs.) The factory walnut stock is the typical high-comb, Schnabel-forend, gloss-finish, skip-line checkered-style on many Anschutz rifles, providing an interesting contrast to the stainless barrel.
I wanted the rifle partly due to the chambering. The .17 Ackley Hornet was a wildcat precursor of the .17 Hornady Hornet introduced commercially in 2012, and Hornet-based cartridges have fascinated me since acquiring my first .22 Hornet a quarter-century ago, a Thompson/Center Contender carbine.
The .22 Hornet was developed as a potential "survival" round for the U.S. military at Frankford Arsenal during the 1920s, when U.S. Army officer and gun writer Townsend Whelen was commanding officer. The case was based on the black-powder .22 WCF cartridge introduced in 1885, and shot in modified Model 1922 Springfield .22 rimfire training rifles, which had the typical .22 Long Rifle 1:16 rifling twist. As a result, the bullets had to be very short to stabilize, and the first Winchester factory ammunition featured blunt 45-grain hollowpoint and 46-grain full-metal-jacketed bullets.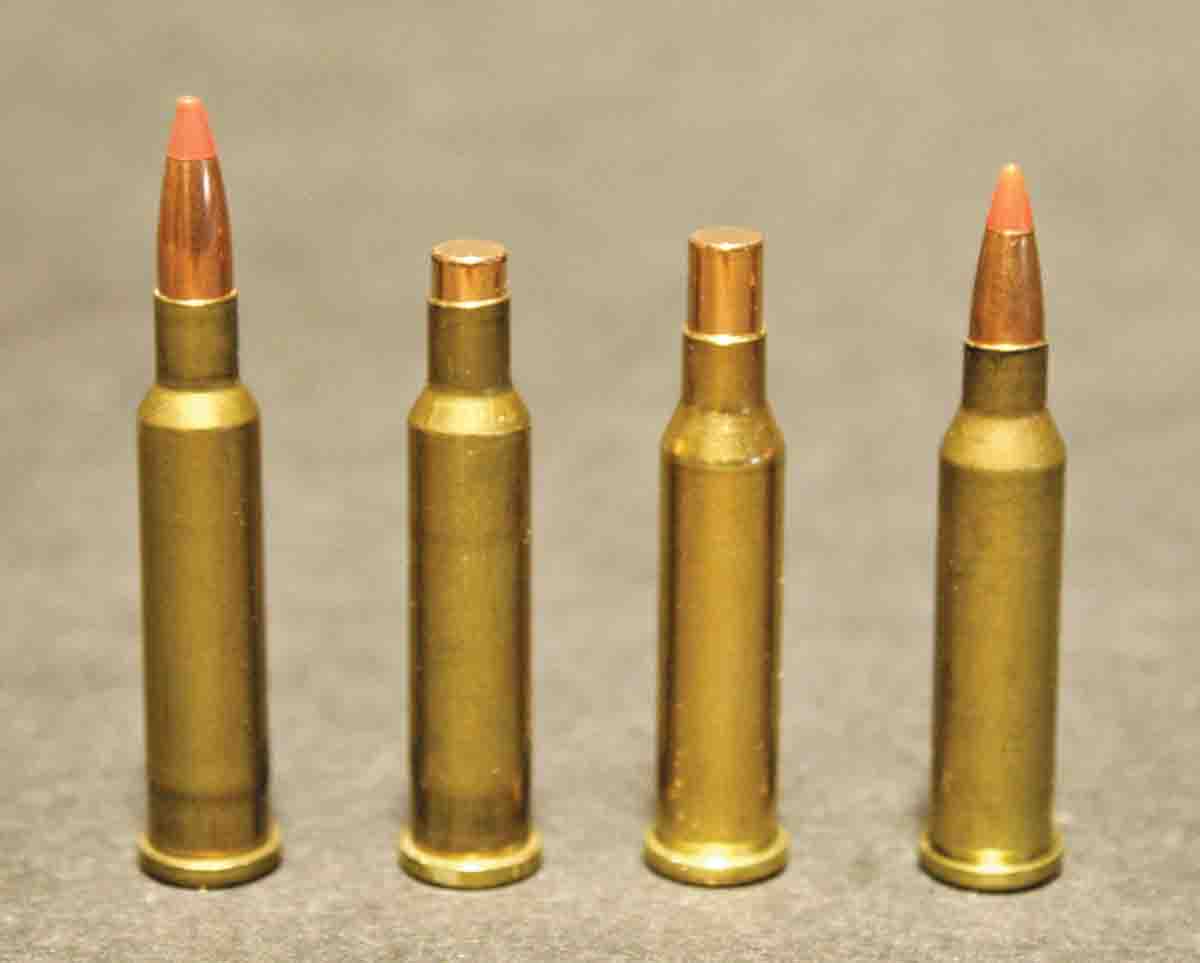 This resulted in a .22 Hornet problem that still exists. The maximum overall cartridge length approved by SAAMI was only 1.72 inches, so most rifle factories made .22 Hornet magazines just long enough to accommodate the blunt-bullet ammunition and stuck with the 1:16 twist. As a result, ballistically efficient spitzers could not function in bolt-action magazines, and the .22 Hornet became known as a relatively short-range cartridge, good to maybe 200 yards. Larger .22 cartridges capable of shooting spitzers became more popular for longer-range hunting, especially the .220 Swift.
Still, the .22 Hornet kept plodding along until after World War II, partly because ammunition was relatively cheap and very compact – the reasons it became popular among the Native Americans in northern North America, who used the Hornet for hunting animals from Arctic foxes to polar bears. The report was also very mild compared to the .220 Swift, the reason some New England woodchuck hunters preferred the Hornet for use on smaller farms.
However, in 1950, Remington introduced a somewhat larger rimless .22 centerfire round it named the .222, which used spitzer bullets at around 500 fps higher muzzle velocity. The .22 Hornet started disappearing, even in the North.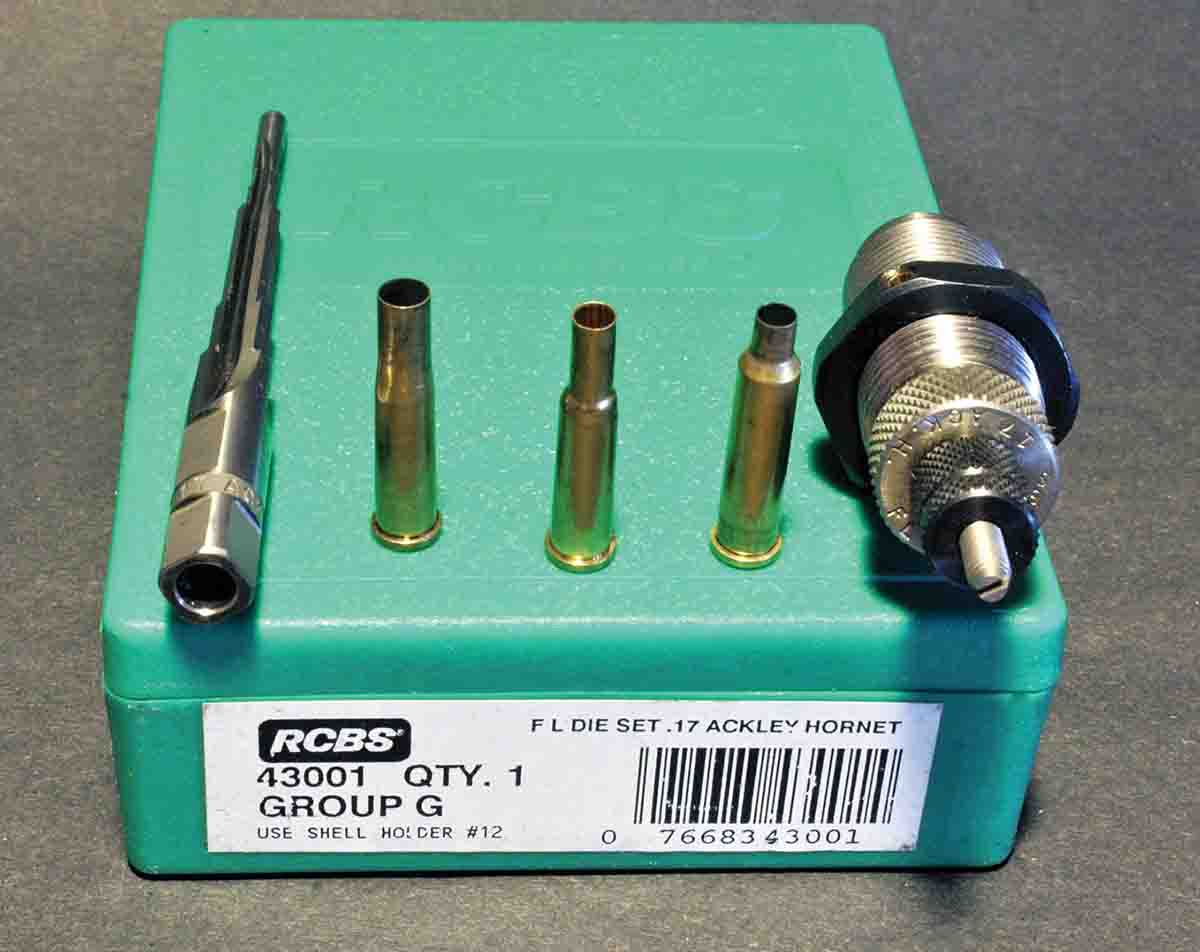 A few decades later, it started reappearing, because of better powders and lighter bullets, which flattened trajectory. I bought the T/C Hornet after learning how 40-grain Nosler Ballistic Tip bullets flattened trajectories in the .223 Remington. Essentially, they allowed the .223 to match the trajectory and expansion of softpoint 50-grain .220 Swift spitzers out to around 400 yards – but with far less powder, recoil and barrel erosion, which made prairie dog hunters happy. Soon, other bullet companies introduced .224 plastic tips, which did the same things.
It occurred to me that a single-shot Hornet would bypass the magazine-length problem, allowing the use of plastic-tipped spitzers, so I acquired the Contender Carbine, which had a 1:12 rifling twist, then standard in most .223s. With the new Hodgdon Lil'Gun powder, the Ballistic Tips averaged 2,950 fps from the 21-inch barrel, turning the .22 Hornet into a nearly zero-recoil, 300-yard prairie dog round – and made it possible to spot my own shots through the scope, a major help in prairie dog shooting.
Three years later, I acquired a 26-inch barreled Ruger No. 1 .22 Hornet, which was even more accurate and added 150 fps in muzzle velocity. The Ruger became my "starter" prairie dog rifle, used on a town until dogs within 300 yards got wise, whereupon I switched to a .223 for longer shots.
During this period, I also acquired a CZ 527 rechambered to .22 K-Hornet, the "improved" version developed in 1940 by upstate New York gunsmith Lisle Kilbourn. It proved to be very accurate, but when plastic tipped 40-grain bullets were seated deeply enough for rounds to fit the magazine, the ogive ended up far down the neck, and cartridges did not feed reliably. Hollowpoint and softpoint spitzers fit the magazine, but did not shoot nearly as flat as plastic tips in the No. 1, so the CZ went down the road. (Nine years later, I purchased a used Brno ZKW 465 .22 K-Hornet from Capital Sports in Helena, Montana, partly because the magazine was long enough for 40-grain plastic-tipped bullets. However, muzzle velocity barely matched the velocity from the 26-inch No. 1, and the Ruger was more accurate, so the Brno also took a hike.)
When the .17 Remington Fireball appeared in 2007, I got to shoot a Remington 700 during "range day" at the annual SHOT Show in Las Vegas. Since it recoiled as lightly as the Ruger .22 Hornet but shot much flatter, I had to own one, which became my "alternate" starter prairie dog round: When the .22 Hornet's barrel got too hot, I switched to the .17 Fireball while the Ruger cooled down.
In 2012, Hornady introduced its version of the wildcat .17 Ackley Hornet, which seemed like an ideal combination of case and caliber, so I purchased a CZ Model 527. With 20-grain V-MAX bullets, the .17 Hornady Hornet came within 300 fps of the muzzle velocity of the .17 Fireball while using only 60 percent of the powder, and cases were far cheaper and more available than Fireball brass. When sighted-in an inch high at 100 yards, the 20s dropped an inch more at 300 yards than from the Fireball, not enough to make any practical difference, so the Fireball went away.
However, during all this Hornet activity I never got to fool with the .17 Ackley version. In fact, I cannot recall encountering one, even at very large gun shows and stores, or in internet ads.
Hornady's version was slightly shorter than Ackley's, apparently so plastic-tipped bullets would easily fit in standard Hornet factory magazines, like the one on my CZ 527, a typical 1.78 inches long. However, the longer case of the .17 Ackley would theoretically hold a little more powder, so to be capable of higher velocity, another reason Tom Roll's unique "Anschutz" appealed to me. This desire for a little more velocity was admittedly irrational, since I found the .17 Fireball had no practical field advantage over the .17 Hornady Hornet.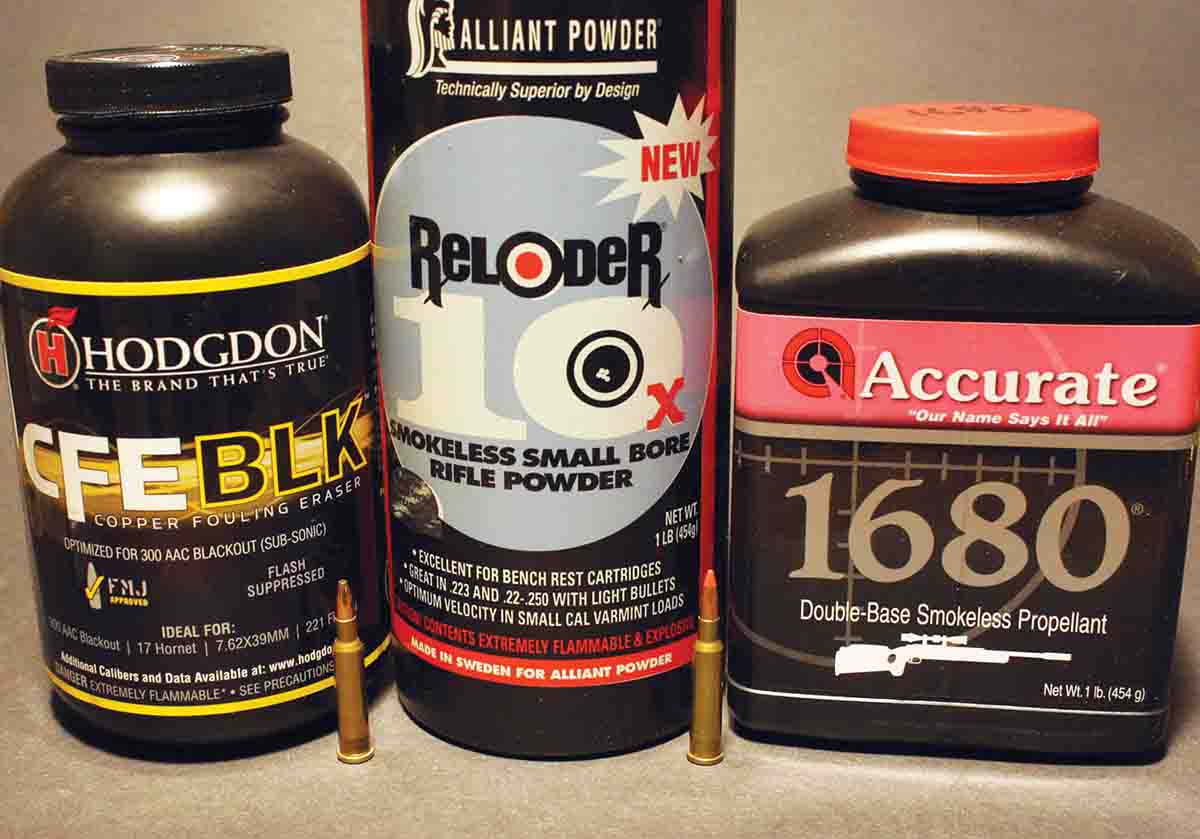 The Anschutz magazine turned out to be even shorter than the CZ .17 Hornet's, a hair over 1.75 inches. I was still certain the .17 Ackley would result in more velocity, partly due to Hodgdon's published data, which shows the .17 Ackley Hornet using a little more of the same powders as the .17 Hornady Hornet at slightly higher speeds.
However, I failed to notice that Hornady also "blew out" the body of its .17 Hornet. The .17 Ackley was the .22 K-Hornet necked down, and the K-Hornet's case retained some of the body taper of the .22 Hornet. Measured in front of the rim, standard Hornet cases are .195 inch in diameter, while the bottom of the shoulders of my .17 Ackley Hornet and .22 K-Hornet cases mike around .185 inch in diameter. The Hornady version's body is a straight cylinder, measuring .195 all the way from rim to shoulder.
I discovered this while measuring the relative water capacity of fired .17 Ackley and .17 Hornady Hornet cases, which turned out to be a real trick. Generally, water can be poured into case mouths directly from a bottle kept on my loading bench, but with the .17s, surface tension caused the first drop to plug the mouths.
I ended up using an eye-dropper to fill the .17 cases, and weighing them indicated there might be 0.1-grain difference in case capacity between the Ackley and Hornady versions – basically nothing. The reason, of course, was the extra room in the straight-cylinder Hornady case bodies.
This was confirmed when shooting the rifle. It grouped very well, as might be expected, but muzzle velocities were 100/150 higher than listed in Hodgdon's data. I then noticed the pressures for its .17 Ackley data were copper-crusher (CUP), and the .17 Hornady data were electronic (PSI). While CUP pressures are useful, today most ballisticians consider electronic pressures more accurate.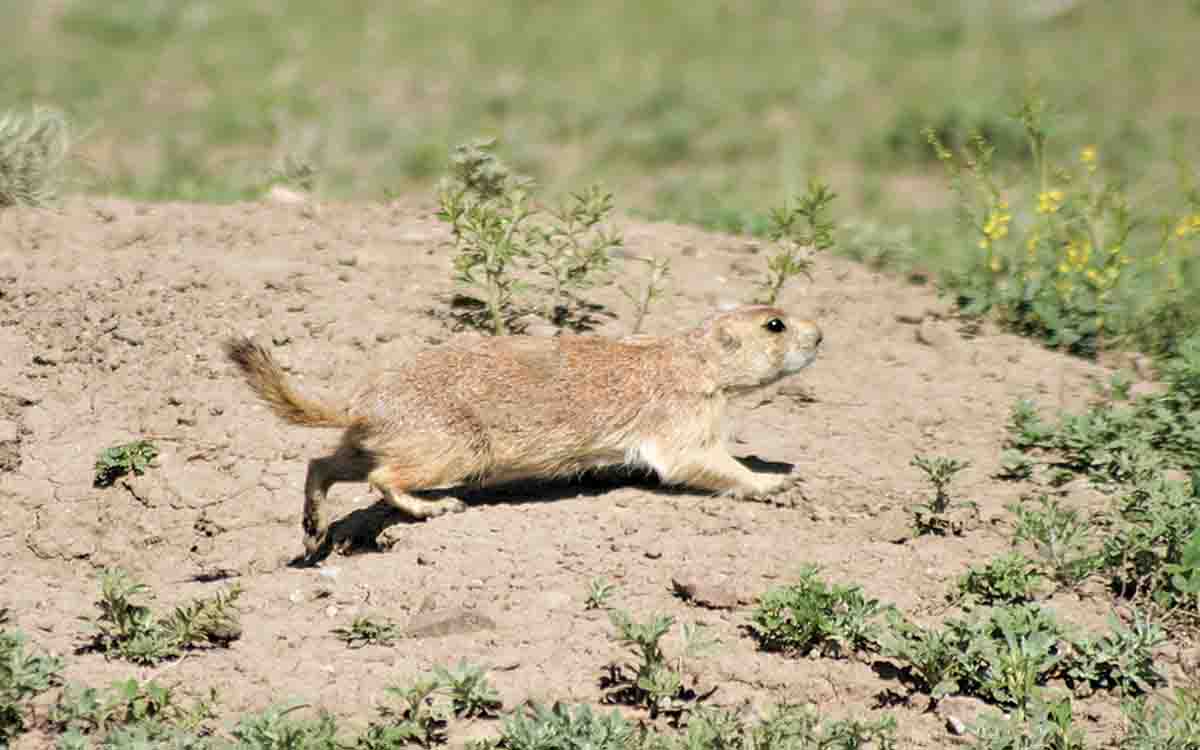 I also discovered the throat of the .17 Ackley chamber was shorter than the CZ's throat, after "measuring" them with the crude but effective technique of seating 25-grain Bergers backward. In fact, bullets can be seated out to a longer overall length in the CZ .17 Hornady Hornet than in the "Anschutz" .17 Ackley. The resulting cartridges won't fit the magazine – but the longer throat of the Hornady chamber also makes a difference in pressure, like the "freebore" used in most Weatherby magnums.
The one real failure during the range testing involved trying some (discontinued) 30-grain Berger bullets, which in theory, the 1:10 twist should not stabilize. The first two shots landed half an inch from each other – but the third landed two inches to the right, and sideways. (Factory rifles for the .17 Hornady Hornet have a 1:9 twist, which stabilizes the same 30-grain bullets quite well.)
Eventually, I tested the same powder charge and bullet in the .17 Ackley that I had used in my .17 Hornady for many years, 12.0 grains of Accurate 1680 with a 20-grain Hornady V-MAX. Average velocity was around 3,650 fps, while in the CZ the same load averages around 3,600 fps.
However, the .17 Ackley's barrel is 24 inches long, while the CZ's barrel measures slightly over 22 inches – and 20 to 25 fps is generally accepted as an average gain or loss per inch of barrel. Essentially, the load gets the same velocity in both rifles. As a result, I now have two very accurate .17 Hornets, both weighing just about 8.5 pounds with scope, and both with set triggers, the "Anschutz" with a double-set, and the CZ with its factory single-set – so I can let one cool while shooting the other.
During all this, I made two more trips to Tom's increasingly empty shop, the first to pick up some more .17 Ackley stuff. He immediately noted that "your pickup shrunk," since on the first time we drove Eileen's Toyota Tacoma, and the second time I took my Ford F350. I nodded and said, "Yeah, and it turned from gold to silver."
Tom had more time to talk, and we spent over an hour discussing rifles, hunting, archaeology and other important stuff. I found out the barrel on the "Anschutz" had been cut-rifled by Ron Pence of Indiana, known back then as perhaps the finest maker of .17-caliber barrels.
I made a third trip a couple weeks later, after phoning him to ask a few more questions about the "Anschutz," and discovered he also had a fine old shotgun for sale. I bought it too – but that is another story.