I won't deny it, the prospect of shooting an H-S Precision rifle was something that really excited me. Paraphrasing the late Colonel Townsend Whelen, accurate rifles are most interesting to me, and H-S Precision is known for manufacturing some of the most accurate rifles around. Honestly, just the thought of owning a quality H-S Precision stock to drop one of my existing rifles into has always remained a longtime dream.
In the big picture, H-S Precision is a well-rounded firearms manufacturer, not only building it's highly-regarded firearms, but scads of other products designed by the company to serve the shooting enthusiast. H-S also manufactures every component that goes into its firearms – complete actions, triggers, floor metal, barrels, optics bases and stocks – incorporating unique engineering approaches, proprietary manufacturing technologies and state-of-the-art equipment. This allows it to control every detail of a finished rifle.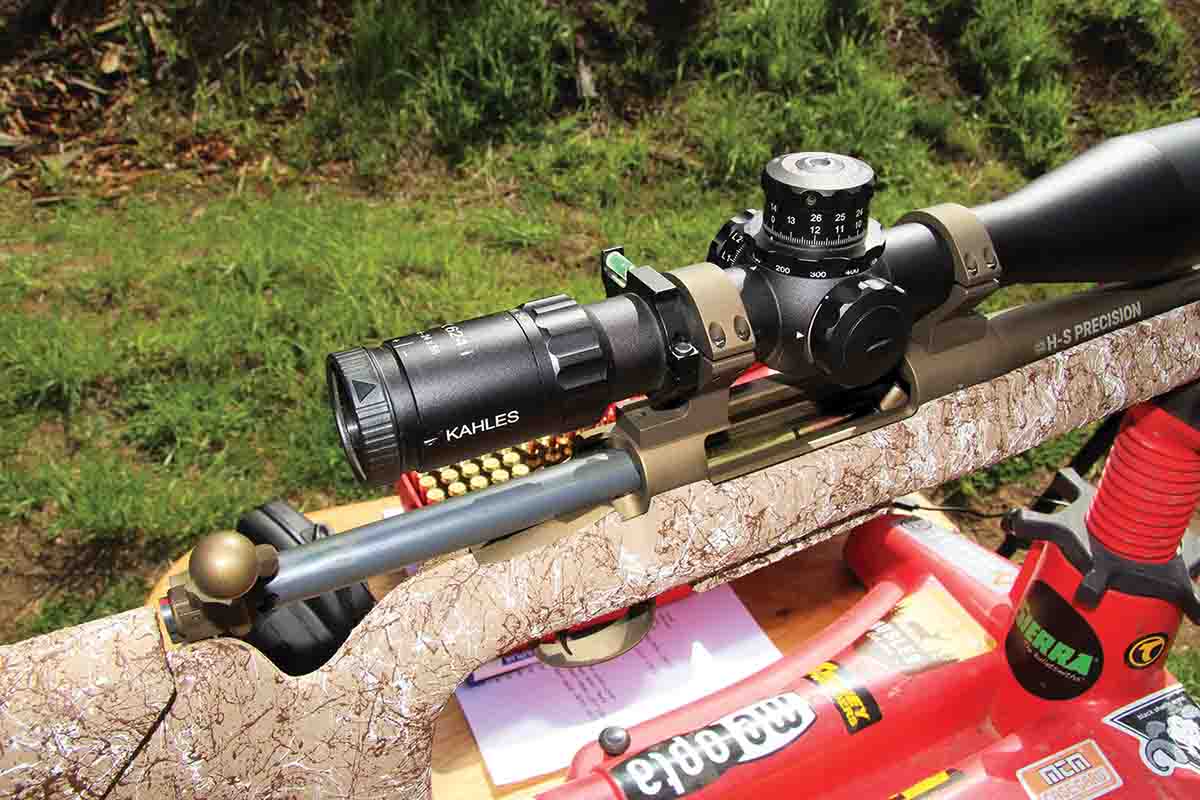 The Rapid City, South Dakota, company supplies custom-made precision rifles to some of the most demanding customers. H-S Precision stocks can also be found on rifles manufactured by some of the biggest names in the firearms business. Military and law enforcement agencies across the country, including the U.S. Marine Corps, U.S. Army, FBI and IDF.
H-S Precision was founded in 1978 by ex-army drill instructor, avid benchrest shooter and chemist Tom Houghton, Sr., and it remains family owned and operated today. From his first shop in Prescott, Arizona, Houghton pioneered the development of a rigid fiberglass stock, including a fully-integrated aluminum bedding block. Commonplace today, this revolutionary bedding block concept provided the action a more stable base that significantly improved accuracy.
Houghton's innovations lead to several official patents, which soon caught the attention of military and law enforcement agencies. H-S barrels became so renowned, the company quickly became one of the world's largest suppliers of ballistic test barrels to manufacturers of ammunition. H-S Precision remains the only firearms company to design, engineer and manufacture every component that goes into its sporting and tactical rifles.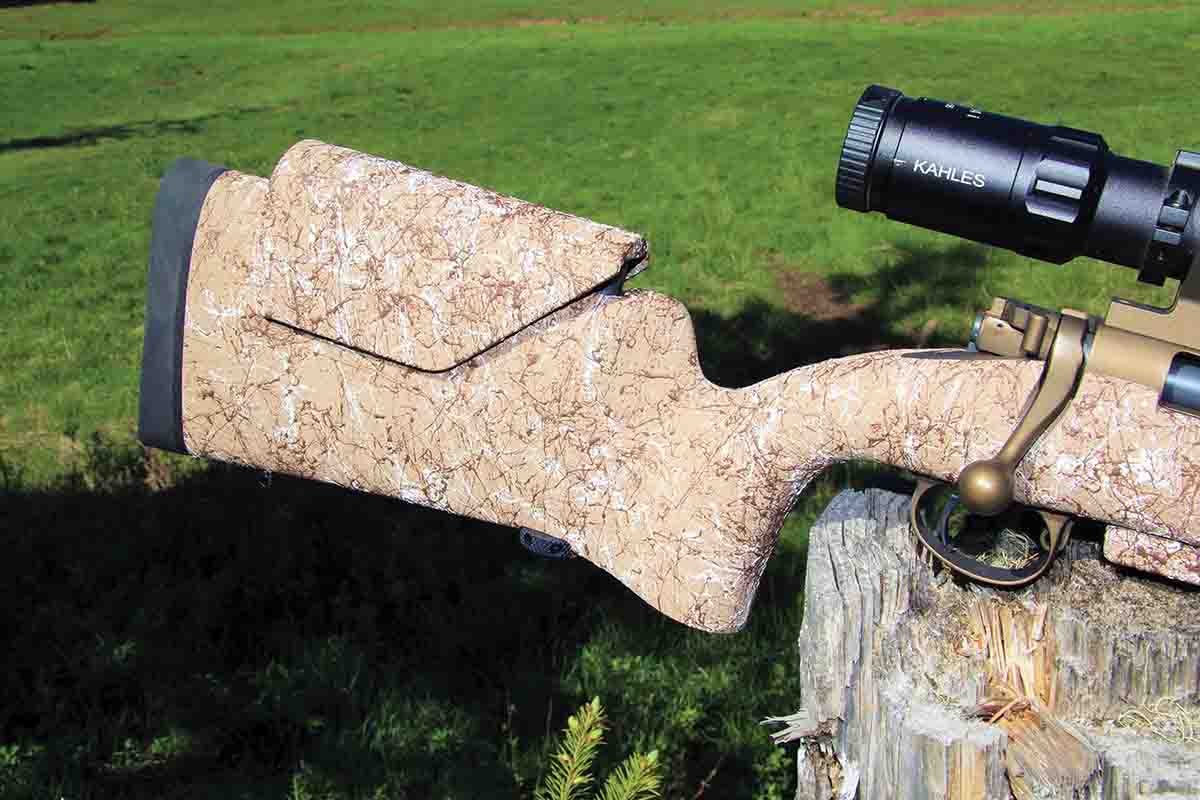 Many rifle companies guarantee 1-MOA accuracy with premium ammunition. H-S Precision guarantees .5-MOA accuracy from all .30-caliber or smaller rifles, testing each rifle that leaves its facility in a state-of-the-art underground range to assure it meets this strict standard. H-S Precision provides a proof target and load data with each firearm it sells.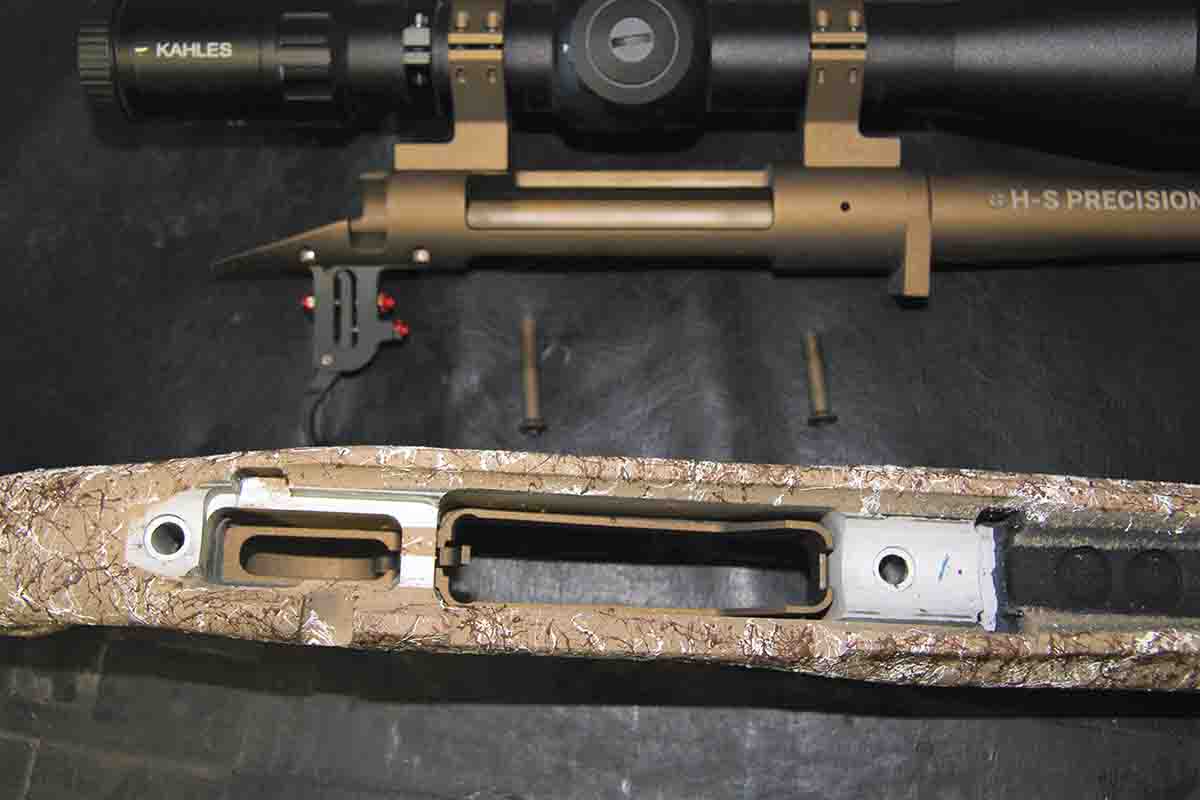 The test rifle supplied was H-S Precision VP Sales & Marketing Josh Cluff's personal rifle, a Professional Long Range (PLR) hunting rifle chambered in the intriguing 6.5-284 Norma. The original .284 Winchester was meant to provide .280 Remington ballistics in a short-action round. The fat, rebated-rimmed round fell short of that goal by first being released in autoloader and pump rifles, and because short-action bolt rifles required seating heavier 7mm bullets so they intruded into powder space, hobbling the cartridge's true potential. The .284 Winchester may have lost the fickle cartridge popularity race but has since served as a popular base for wildcat cartridges, the most successful of those being the 6.5-284 Norma, adopted in 2001 (which includes slightly different case dimensions than the 6.5-.284 Winchester, which typically includes a shorter throat to accommodate short actions and requires reduced powder charges).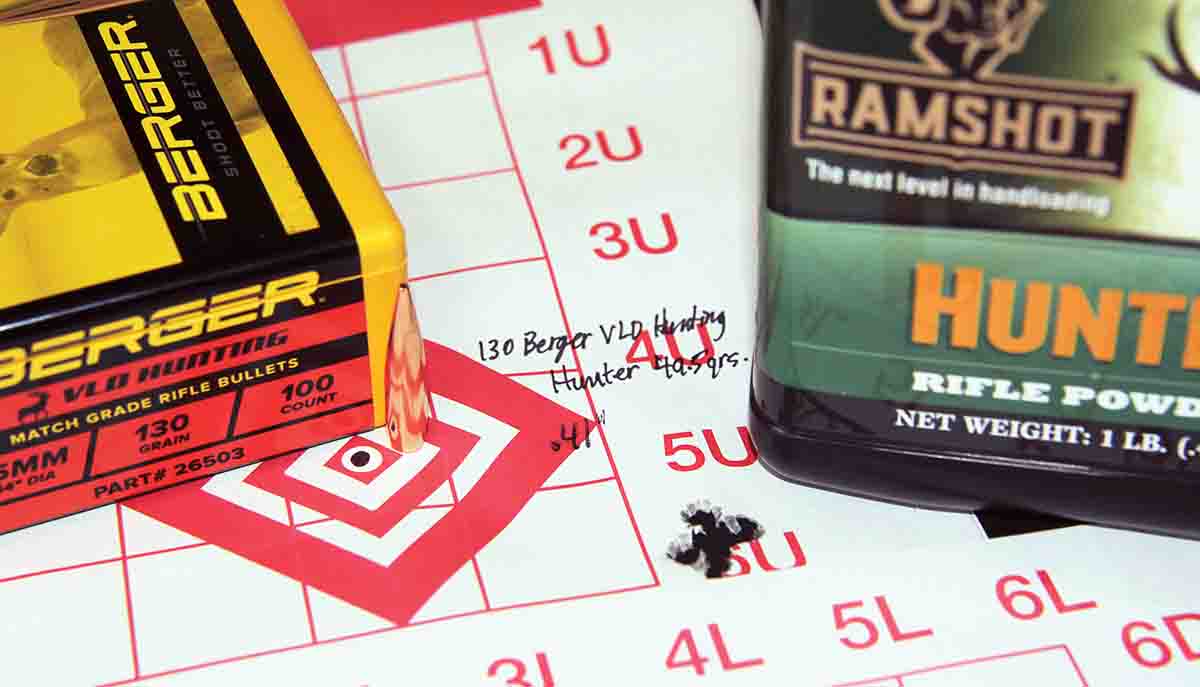 The 6.5-284 Norma is recognized for providing exceptional accuracy via its short, fat powder column and remarkable long-range performance via capacity matching the performance of .30-06 derivatives, such as the 6.5-06 A-Square. It is a popular hunting cartridge, but has developed a serious following amongst target shooters, providing long-range capabilities in a mild-recoiling package. Due to its talents, the 6.5-284 Norma is enjoying a renaissance in arenas such as Camp Perry, where it has been used to win both the Wimbledon and Leech cups, plus other 1,000-yard matches.
The Norma's longer throat allows seating long-for-caliber bullets (overall loaded length 3.228 inches, in contrast to the Winchester version's 2.80 inches) and increasing powder charges, so care should be taken to avoid seating bullets too deeply and increasing chamber pressures. The 6.5-284 Norma will send 85- to 100-grain bullets from around 3,400 to 3,300 feet per second (fps) and bullets in the neighborhood of 140 grains, or slightly more, at around 2,800 fps. The cartridge thrives on medium-slow powders and long-for-caliber bullets from 120 to 140 grains. With these combinations, the 6.5-284 Norma generates less recoil than the .308 Winchester or 7mm-08 Remington, and markedly improved performance over stalwarts like the .270 Winchester, .30-06 and 7mm Remington Magnum, in terms of less drop and wind drift, improved punch at distance and deeper penetration through higher bullet sectional density at extended ranges.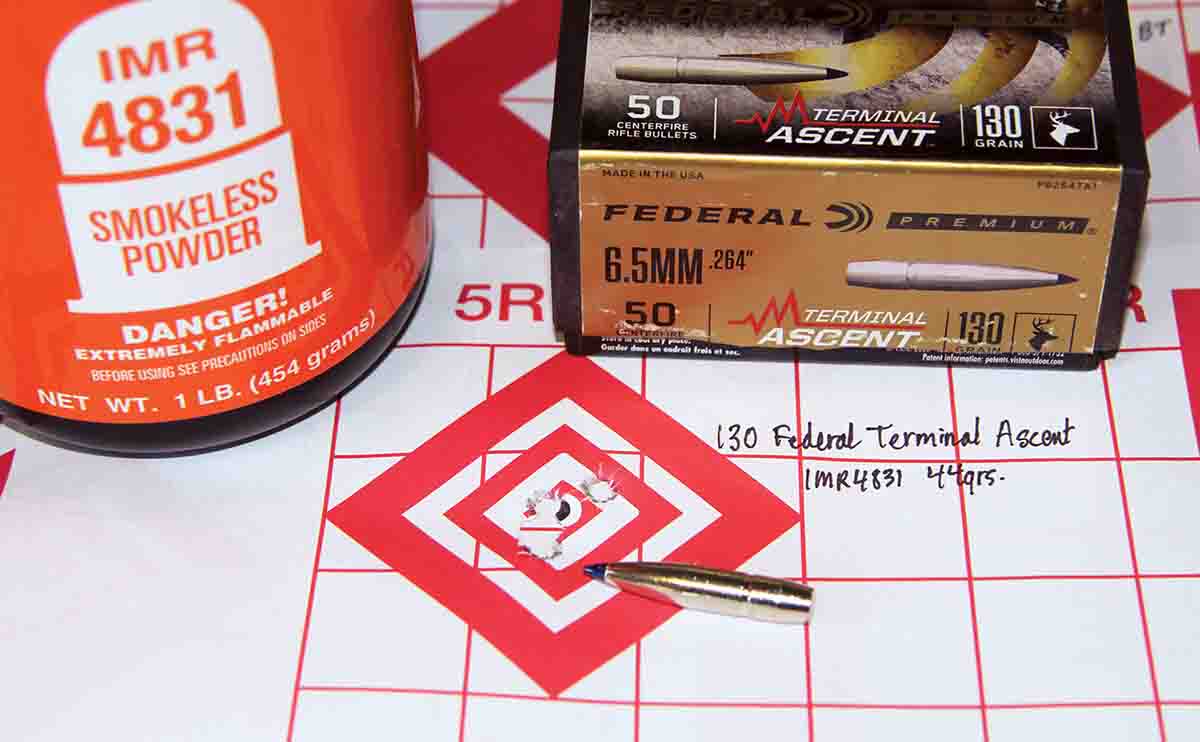 H-S builds every rifle on a custom order basis. The test rifle, as mentioned, is a PLR set in a newly-designed PSS149 adjustable stock. The PSS149 can be purchased as a drop-in for Remington BDL long actions for around $579. Every component of this rifle was manufactured in-house, including the barrel, action and bolt/firing pin, trigger, stock, floor metal and box magazine – and likely some other aspect I've forgotten to mention. H-S also builds all of its own tooling, including bore and chamber reamers, all of which are machined from 100 percent U.S.-sourced raw materials. Customers are able to choose a base model, caliber, barrel length, twist rate, stock color and style, and attached accessories.
The PLR, introduced around 2013, starts at around $3,799. It is becoming one of H-S's most popular long-range rifles. The test rifle was engineered especially for hunting, sporting a newly-designed vertical grip with an ambidextrous palm swell best suited to prone bipod shooting. The barrel includes a magnum contour to provide maximum stability and heat dispensation, without creating an overly heavy rifle. Besides the 6.5-284 Norma tested, the PLR is chambered in the 7mm Remington Magnum, Weatherby and Remington Ultra Mag cartridges, the .338 Lapua, and a host of other options.
The PSS149 stock is designed to accommodate heavy sporter/light varmint contours (.75-inch/No. 3 contour) and includes a full-length aluminum bedding block. The height-adjustable comb is controlled by a straight-forward knurled knob located beneath the stock that offers smooth travel. The cheekpiece must be lowered completely to remove the bolt. The forend is wide and flat to sit steadily on a sandbag or rest, and has a 2.5-inch section of Picatinny rail securely bolted into place to accept a bipod, the rear of the milled rail including an integral sling stud (the butt includes a standard sling stud). A thick Pachmyr Decelerator pad brought length of pull to a comfortable 13.5 inches. Cluff said the PSS149 is H-S's most popular long-range stock. Something to the tune of 34 color options are offered, from plain to camouflaged to wild themes.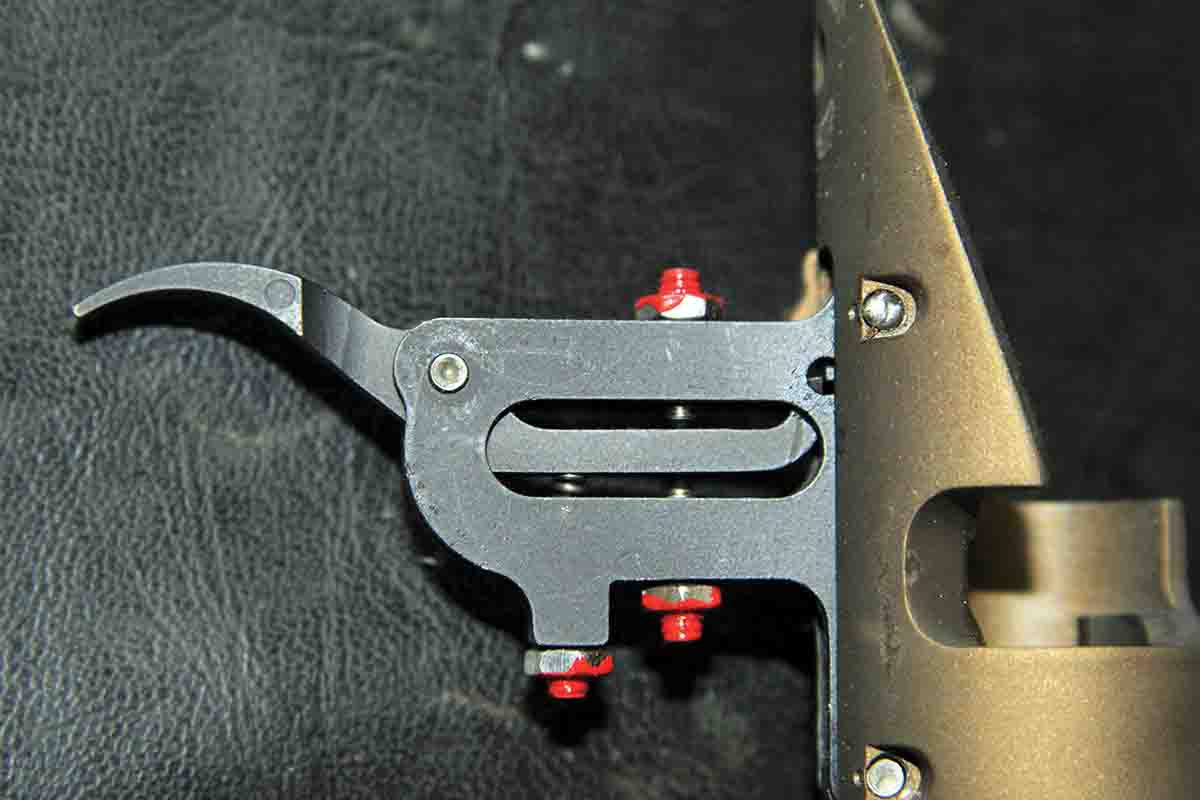 That's the basic nuts and bolts, but there is more there than meets the eye. The test rifle was fed from a three-round detachable magazine, which includes a polymer boot extending just a half-inch below the bottom metal. The magazine boot received the same finish as the overall stock and is released by a long lever sitting sleekly inside the trigger guard. The magazine is made from stainless steel and included a stainless steel follower. It's Teflon-coated matte black and includes an extra-large spring that won't wear out if left loaded for long periods. It feeds from the center for added reliability.
The twin-lug bolt cocks on the lift and includes a three-position wing safety that operates horizontally. Moving the safety all the way to the rear locks the bolt and the trigger, the middle position allowing working the bolt without engaging the trigger. The mechanism is pushed forward to "fire." The rear of the bolt includes a red dot cocked indicator, with another red dot showing on the back of the safety wing and is visible from the shooting position when the rifle is ready to fire. The bolt runs in the races smoothly. The only resistance encountered is on the bolt lift and slightly while turning the bolt down and into battery. The trigger is as fine a mechanism as I have ever encountered, with zero creep or overtravel, and breaking crisply at around 2.88 pounds as delivered (promised 3 pounds from the factory).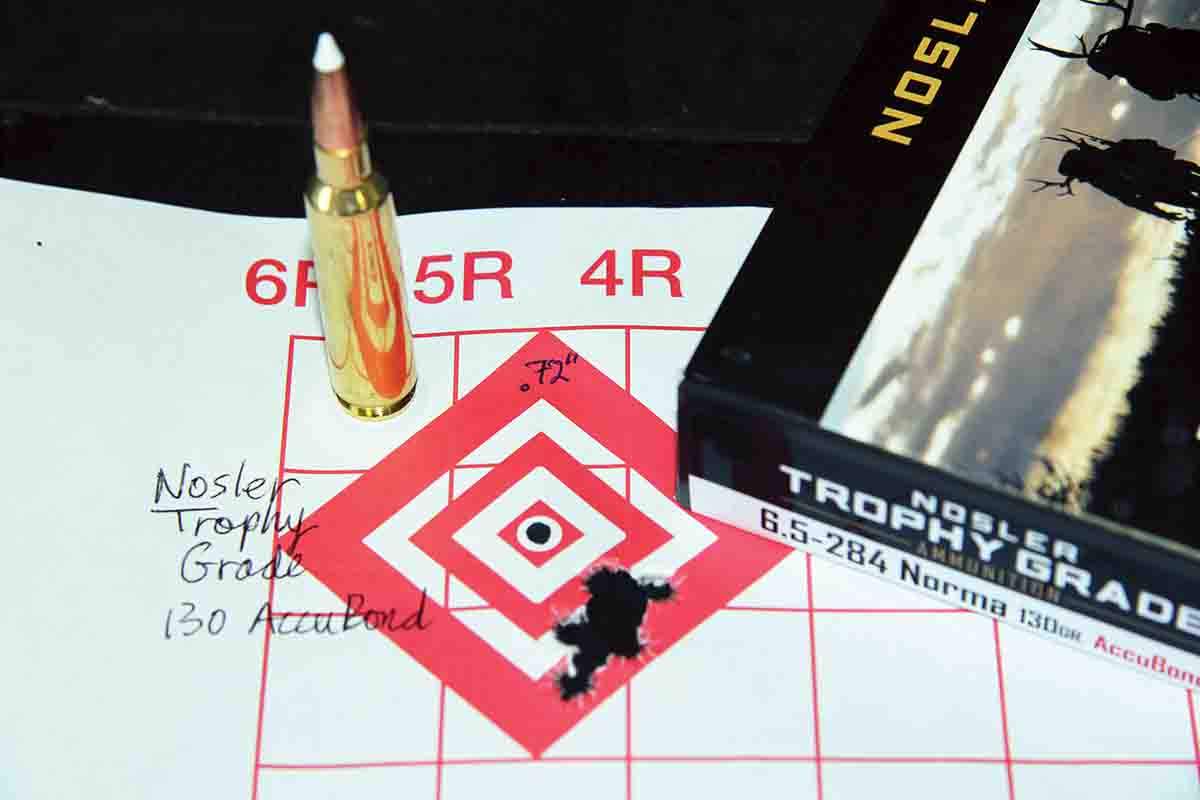 The 26-inch heavy sporter barrel is straight fluted, and like the Pro-Series 2000 action, bolt and proprietary floor metal, received a bronze CERAKOTE finish. H-S calls it a No. 3 Hybrid Contour that falls between the sporter and varmint and measures around .75 inch behind the muzzle. The barrel includes 10x cut rifling and is threaded and delivered with an H-S muzzle brake. The barrel included a 1:8 rifling twist, ideal for long-for-caliber bullets carrying high ballistic coefficients. With the substantial scope attached, the rifle hit the scales at 11.88 pounds. Without a scope, this rifle model weighs 8.2 to 8.9 pounds.
The action, as hinted, is set in an aluminum block, sans glass bedding. This means the action drops in and out of the stock effortlessly. The H-S action is held by two hex bolts, one behind the recoil lug, the other at the rear of the receiver. Besides the aluminum bedding block the H-S stock includes aluminum pillars set through the bolt holes.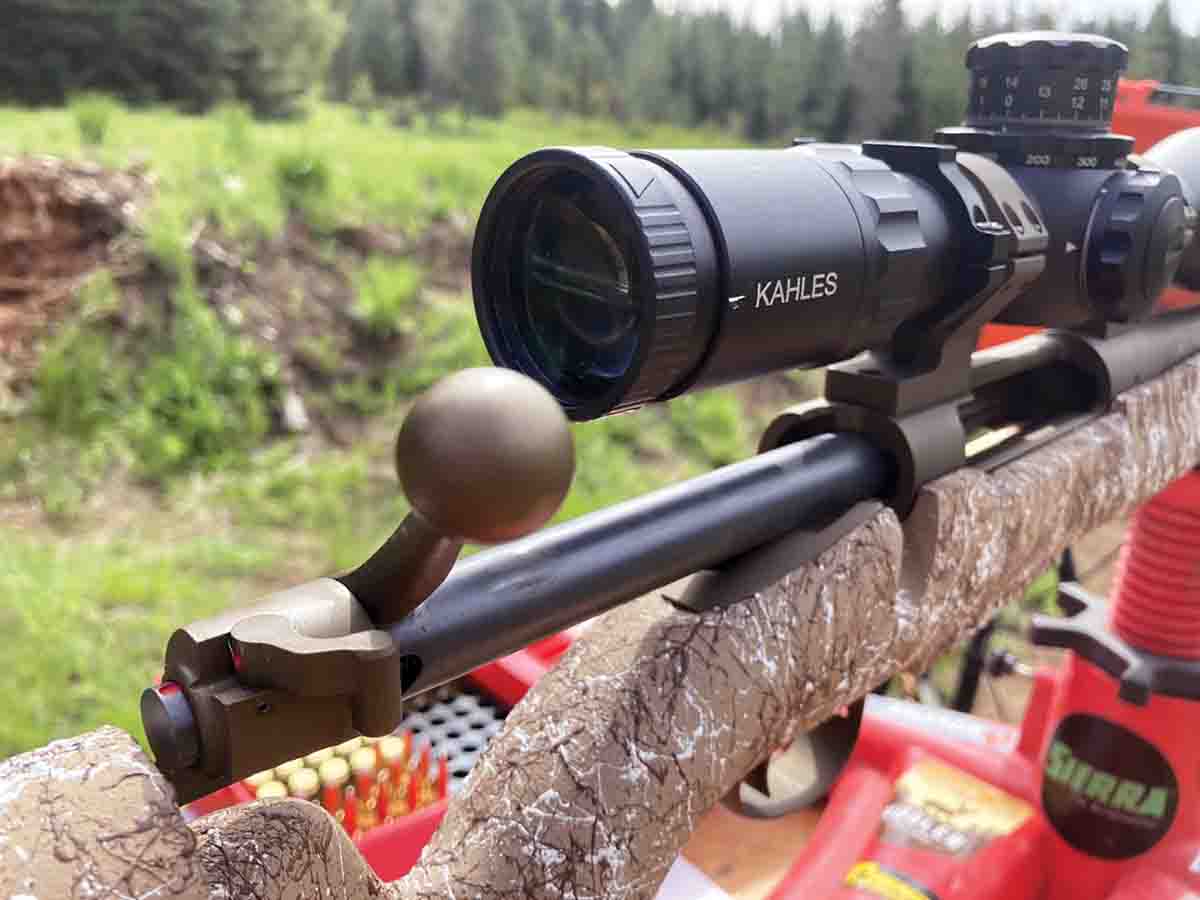 The rifle was topped with a 33.5-ounce Kahles K624i 6-24x 56mm scope set in a Tally ring and base combo. The rings/bases were Cerakoted to match the action and barrel. The 34mm-tubed FFP optic included exposed 0.1-MRAD elevation and windage turrets, the elevation turret including an adjustable zero stop feature. The windage knob was located on the left side of the scope, the reticle illumination knob on the right. (The scope can be ordered with these knobs reversed, as well as with MOA adjustments.) The parallax wheel is integrated into the elevation turret, focusing from 50 meters to infinity. The SKMR3 "Christmas tree" reticle was ultra-fine and the glass superbly crisp and sharp. A Kahles clamp-on Bubble Level was added. This is quite the scope for the rifle's long-range talents and is backed by a 10-year warranty.
Of course, the obvious question is, how does the rifle shoot? To find out, I shot two factory loads and nine fairly random handloads. Factory loads consisted of Nosler's 129-grain AccuBond Long Range and 130-grain AccuBond Trophy Grade ammunition – the only commercial ammunition I could get my hands on prior to press time. Handloads were also assembled using hunting and target bullets weighing from 120 to 153 grains, boat-tail designs all, and a variety of readily-available powders by Hodgdon, Vihtavuori, Western Powders, IMR, Alliant and Winchester.
Nosler's factory Trophy Grade offerings provided sub-1-MOA groups and low extreme-velocity spreads, with velocities essentially matching advertised numbers. Handloads were fairly random examples based on intuition and components on hand. The best grouped into .41 inch, using a Berger 130-grain VLD Hunting bullet and 49.5 grains of Ramshot Hunter powder to provide 2,846 fps velocity. Federal Premium's 130-grain Terminal Ascent bullet wasn't far behind with a .58-inch group resulting from 44 grains of IMR-4831 at 2,636 fps. Honorable mentions go to 48 grains of IMR-4350 under Barnes' 120-grain TTSX BT at 2,962 fps and 53 grains of Vihtavuori N560 beneath Nosler's 140-grain AccuBond at 2,837 fps. These were five-shot, 100-yard groups. Three-shot groups would have undoubtedly turned in tighter groups, as many group sizes were dictated by a single flier leaving the five-shot cluster. Further tweaking would no doubt also lead to tighter groups.
H-S Precision's PLR is a well- balanced combination of accuracy, industry-best features and field "tote-ability." The serious western big-game hunter – or eastern "bean field" hunter for that matter – couldn't go wrong with this H-S rifle, or the 6.5-284 Norma cartridge. Both impressed me and proved well suited to the tasks they have been bestowed.