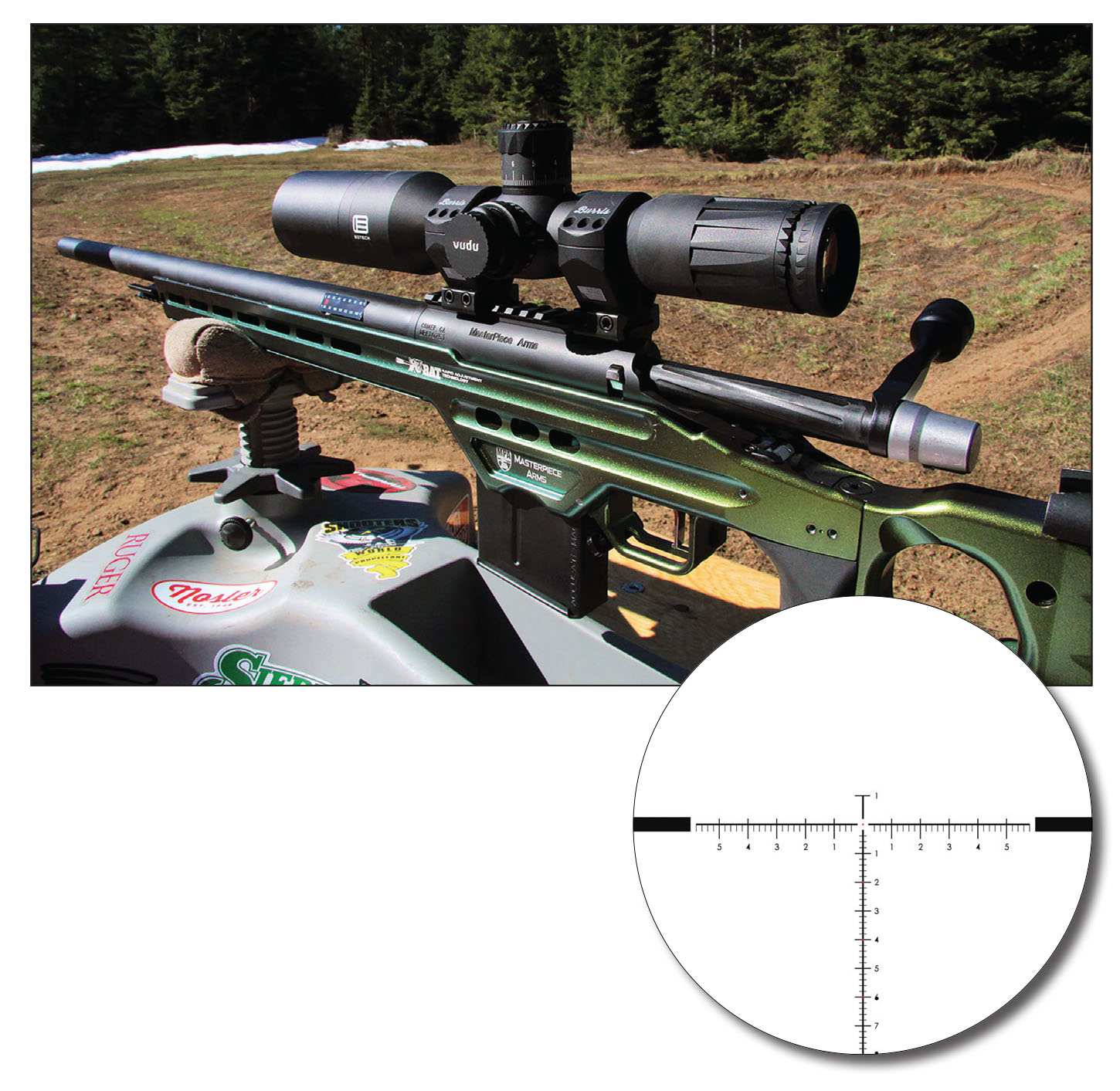 Since 1996, EOTECH has become known for its industry-leading Holographic Weapon Sights (HWS), used by many law enforcement and military organizations, including U.S. Special Operations, elite army and U.S.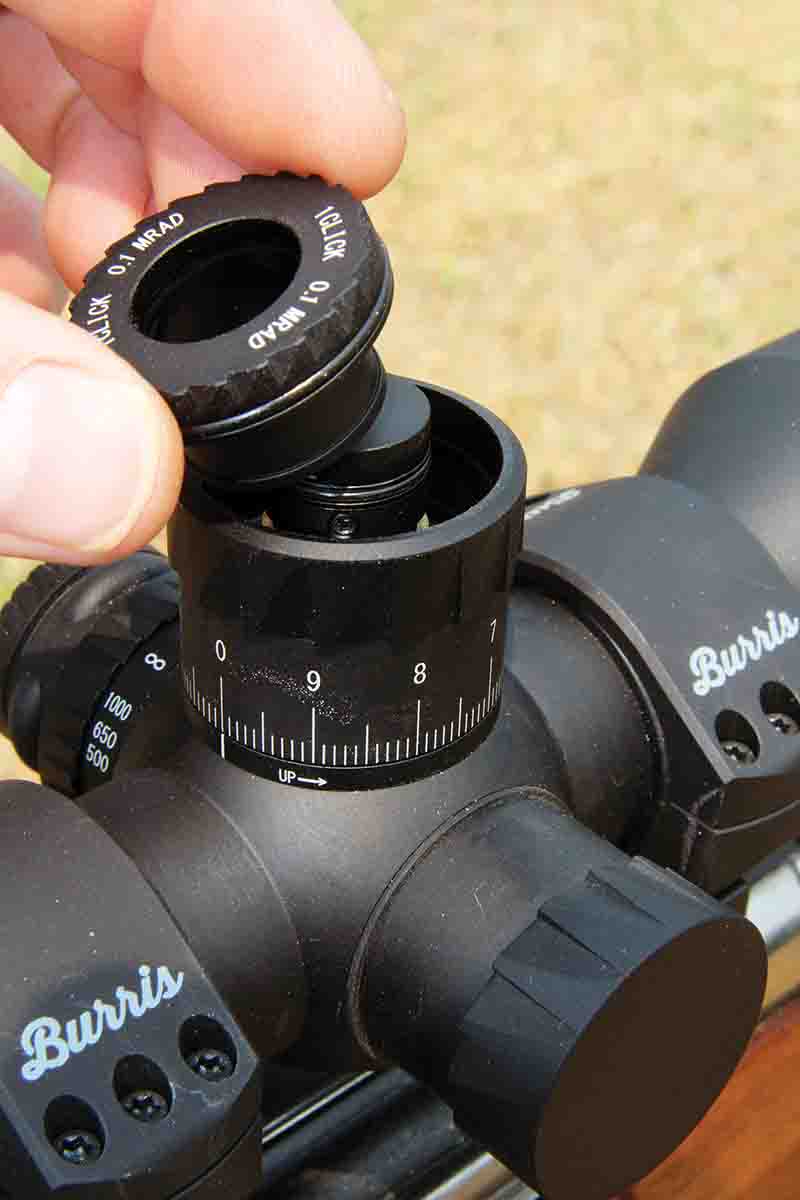 Marine Corps combat units. By 2016, EOTECH expanded into premium magnified optics offering the same degree of reliability and precision. That lineup expanded greatly in 2020, when EOTECH separated from L3Harris, a defense-contracting firm, allowing the company greater agility and independence. Since that time, EOTECH has been quickly developing a reputation for manufacturing stellar optical riflescopes under the Vudu name.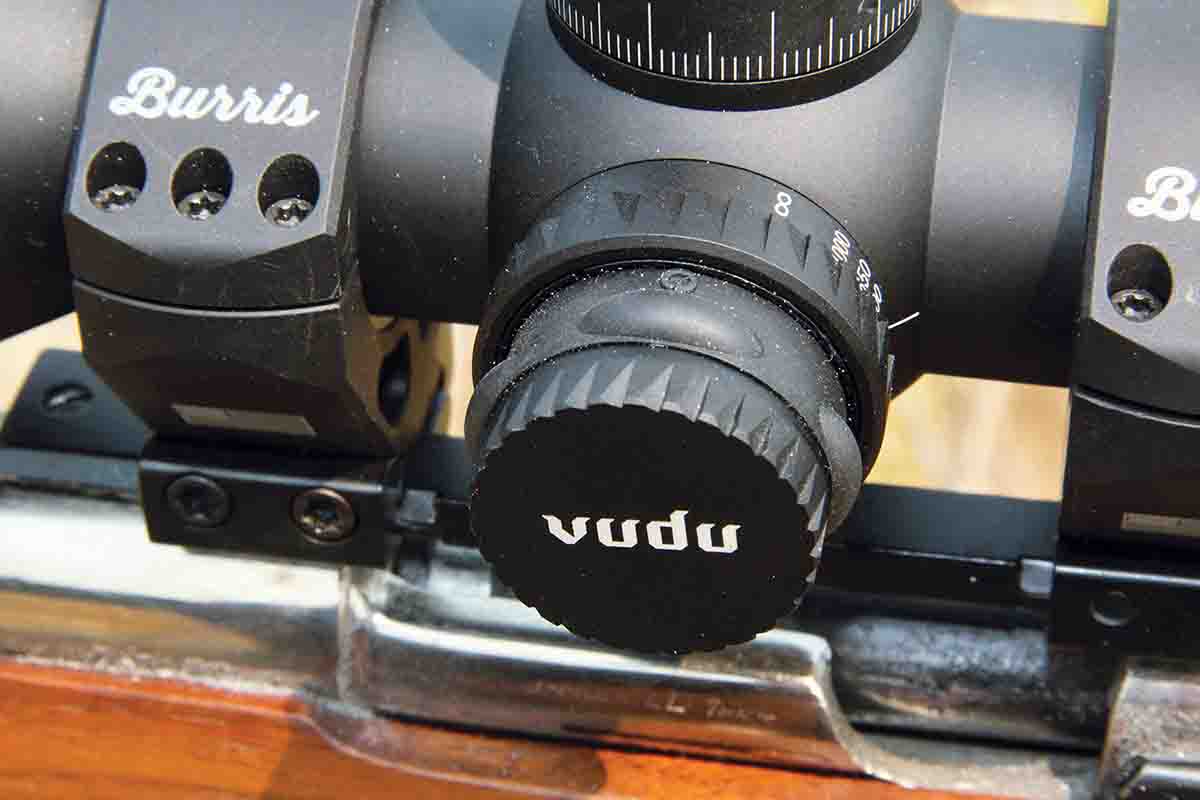 EOTECH's latest Vudu, the 5-12x 50mm scope is the newest answer to the long-range shooting craze. This is a quality, 34mm-tubed optic combining first focal plane (FFP) ranging capabilities with a novel push/pull locking elevation turret system that is also equipped with the company's EZ Chek Zero Stop, which allows nearly instant return to zero after large elevation corrections. The scope's controls also allow making any necessary adjustments while on the rifle and making the shot. That's the very basic nuts and bolts of it, but what struck me at first glance was this scope's compact dimensions – about 11 inches (without sunshade) in length and weighing a solid 29.5 ounces. EOTECH points out that the short design provides plenty of room for a clip-on night vision or thermal device – which EOTECH also happens to offer.
The Vudu 5-25x 50mm FFP is manufactured in Japan and retails for as low as $2,099, which isn't exactly a giveaway, but more affordable than many riflescopes in this class and given the same array of user-friendly features. The 5-25x magnification provides a great deal of versatility, from average shots at big game to extreme-range shooting at small varmints or steel plates. The design offers generous eye relief for the big boomers, from 2.96 to 3.71 inches at the lower magnifications to 3.27 to 3.63 inches at 25 power. Field of view varies from 23.3 feet at 5x to 4.7 feet at 25x at 100 yards.
The FFP arrangement means the reticle marks will always show the same distance gaps at any magnification, allowing accurate mil, holdover or hold off at all magnification settings (unlike second focal plane (SFP) reticles that only allow ranging with subtensions at a specific power setting). Admittedly, this isn't my favorite arrangement, as crosshairs also grow thicker in relation to the target as magnification increases, meaning they can begin to obscure the target at longer ranges (particularly targets such as tiny burrowing rodents), and I own rangefinder binoculars for determining distance. That said, many serious target shooters, running timed courses and shooting targets of known sizes, prefer FFP setups for their time-saving properties after thorough familiarization.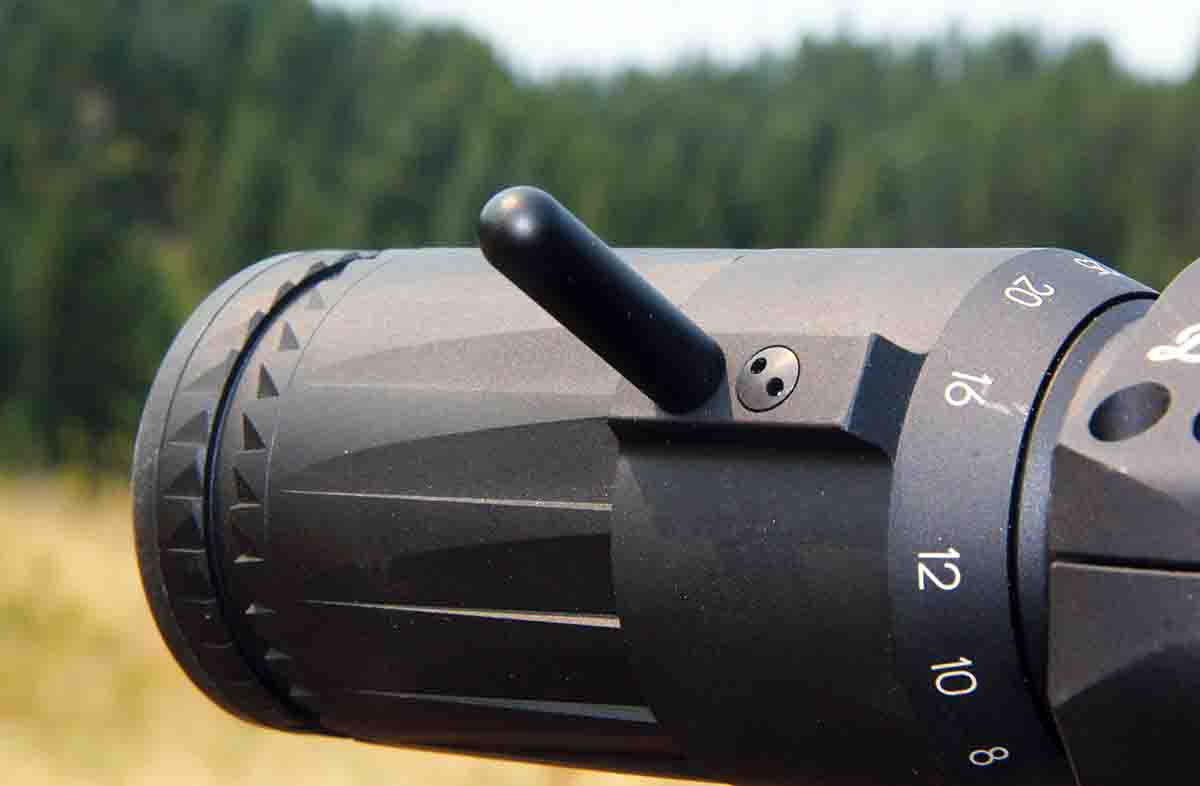 The Vudu's glass is of the highest quality, providing excellent light transmission in low light. The 50mm objective lens delivers a .22-inch exit pupil at 5x, down to a .08-inch exit pupil at 25x. The reticle's .055-mil center dot, and the center of every other .0656-mil cross hash running down the vertical crosshair, is illuminated via a single CR2032 lithium coin battery and includes a 10-level rheostat.
Illumination powers down automatically after two hours of inactivity to avoid exhausting the battery. A fresh battery provides about 500 hours of run time while set on the middle "5" brightness setting. Each scope comes with user and reticle manuals, an extended throw lever, a 27⁄8-inch screw-on sunshade, tethered lens covers, a battery, lens cloths and the appropriate Allen wrench to setup the EZ Chek Zero Stop.
The scope comes with the choice of a Horus H59 or simpler MD3 reticle. The test optic included the latter, which features a MIL-DOT-style pattern with long bottom and side crosshairs bracketed by wider .0591-mil blocks and an abbreviated top crosshair, all with milliradian scales. This reticle was designed specifically for medium- to long-range work. Every other cross-hash is .55 mil wide, each divided by five .25-mil wide marks with .25-mil spaces between. The center dot is isolated within the crosshair center to obscure less target. The target size, measured in inches, multiplied by 27.8 and divided by the MRAD reading will provide the range in yards; target size in centimeters multiplied by 10 and divided by the MRAD reading provides the range in meters. A shooter must know the target size to benefit from these correction aids, as is possible with regulation competition targets (hunting requiring educated guesses), with a DOPE chart usually recommended.
The elevation and windage turrets include 0.1 MRAD (1cm at 100 meters, 2cm at 200, 4cm at 400, etc.) per click movements at 100 meters (.36 inch at 100 yards). The top turret is fully exposed and must be pulled upward to unlock the turret and allow making corrections (counterclockwise up, clockwise down), clicking it back into place to lock those movements. Setting up the EZ Chek Zero Stop requires using the supplied Allen wrench to loosen three set screws and free the lock collar for movement into the appropriate position.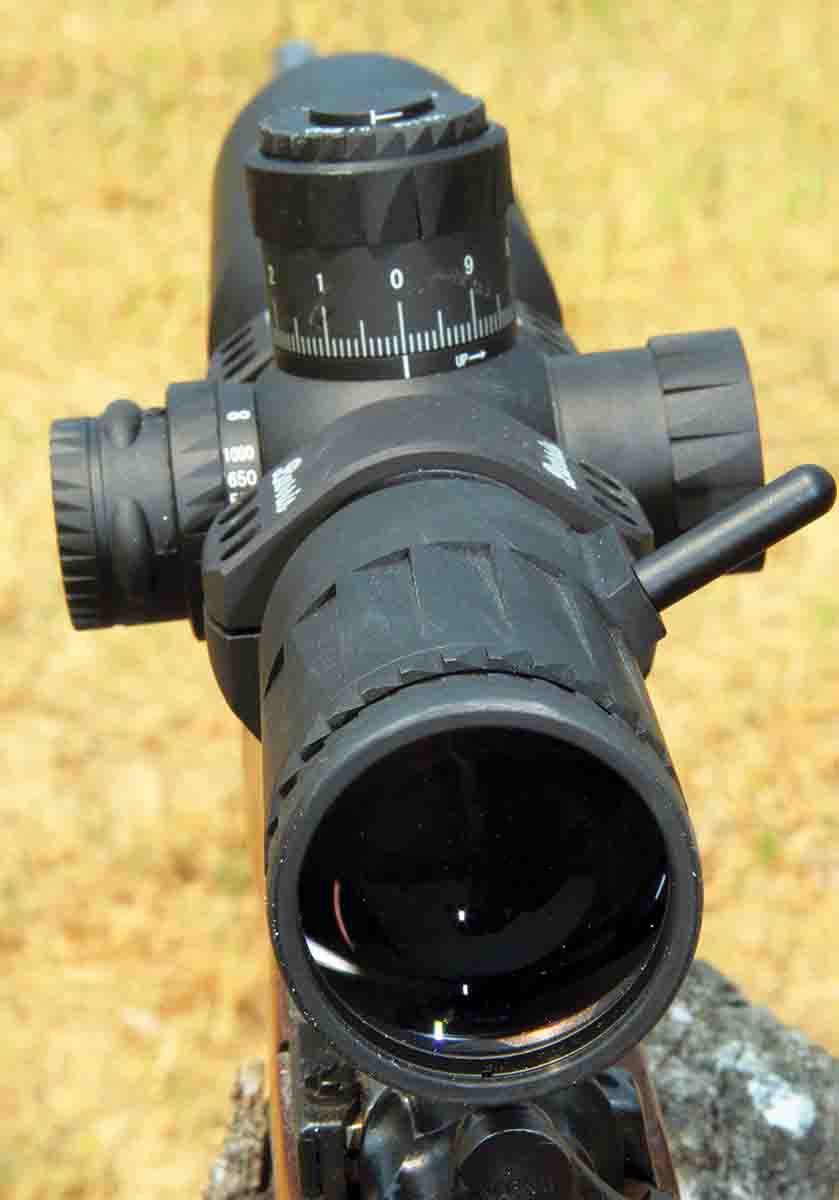 The windage turret is covered by a threaded, milled-aluminum cap and will turn freely without the need to pull the turret up (counterclockwise right, clockwise left). This turret seems to be O-ring sealed against moisture, so the cap is more likely added to prevent accidental movement. The elevation turret pops up and down smoothly, and both elevation and windage movements are crisp and positive. The elevation turret can be reindexed to zero without tools. A gear-like top cap allows finger manipulation. The windage turret requires a flat blade or thin coin to unlock for reindexing. The side parallax ring is located on the left side and runs smoothly between 45 yards and infinity. It includes marks for 500, 650 and 1,000 yards. Checked against my laser rangefinder, the parallax marks were pretty much on the money, so it could be used as a crude rangefinder in a pinch.
The battery housing also includes a knurled aluminum cap with a rubber insert to hold the coin-sized cell firmly in place. Illumination is controlled by a slick system including three tactile rubber buttons.
The top/center turns the unit on and off, the rearward/+ button increasing brightness, the frontward/- button decreasing brightness. The system is easy to manipulate without looking and doesn't require a lot of pressure to activate. Turn the illumination off and then back on again later, and it returns to the previous setting. The -/+ buttons can also be used to activate the illumination system, though only the on/off button will extinguish the lighted aiming dots.
The magnification ring holds a raised block at about the 16x position, which also includes the tap to accept the extended throw lever. The block itself provides ample grip for any movements, and the extended lever does not interfere with bolt manipulation at any power setting. A reticle focus ring brings the crosshairs into sharp focus and is part of the one-piece eyepiece and magnification ring. All adjustment grip points include slant-cut knurling that provides good purchase without raised protrusions.
Vudu lenses include anti-reflective/protective finishes that stand up well to hard use and provide excellent light-gathering abilities. I did note the slightest bit of hazing after sunset when the scope was twisted to the highest magnification setting, but overall, the optic is bright in all reasonable lighting conditions. The glass also did a great job during sunny middays of penetrating deep shadow to reveal, say, the glinting eye of a burrowing rodent.
I mounted the Vudu 5-15x 50mm on my customized Mauser '98 .22-250 Remington, set in Burris XTR Signature Rings – the only 34mm rings available to me at the time – and had big plans involving the northern plains of Montana and its abundant prairie dogs. One thing after another prevented departure, and then the heat wave of July 2021, set in and I just never made it out. I got to shoot a lot of paper though, including my standard block test to confirm accurate turret tracking. The scope performed without flaw and makes me even more anxious to get it into the field.
The user-friendly MD3 reticle and precision-tracking turrets, paired with Hornady 52-grain ELD Match bullets over 38.7 grains of Hodgdon CFE 223 would make a bang-up combination for reaching way out there and helping my rancher friends with their burrowing rodent problems.
EOTECH optics include a limited lifetime warranty. Learn more about the Vudu line by visiting eotechinc.com.