Without a doubt, I consider the Mauser Model 1898 as king of bolt-action rifles – both military and sporting types. Nearly every twentieth-century, bolt-action sporting rifle was based on the '98 Mauser's design to one degree or another.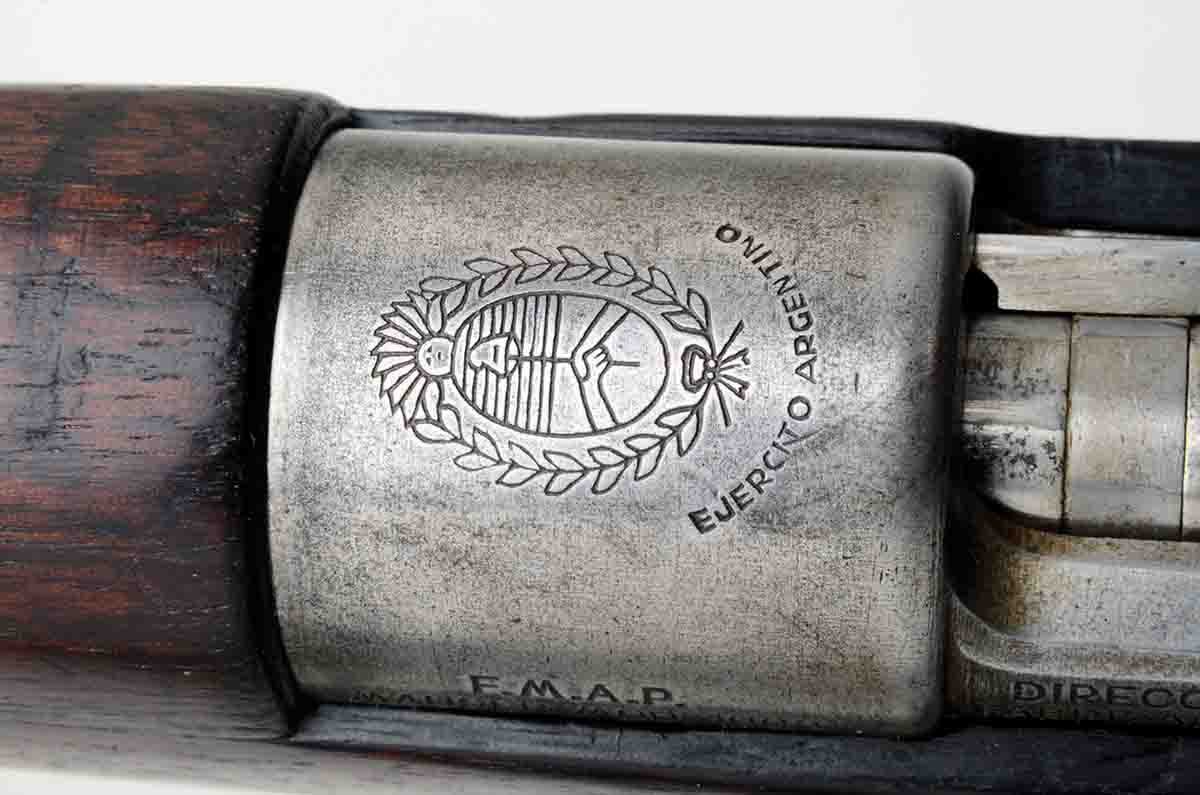 Mauser '98s were issued by armed forces around the world. Virtually every South American country adopted them, in one form or another, from the beginning of the twentieth-century until well after World War II. I'm not a Mauser collector by any stretch of the imagination, but in my vault are almost a dozen '98 Mausers. Along with the ones in my World War II collection, I've ended up with a Brazilian Model 1908, an Argentine Model 1909 and a Chilean Model 1935. Their chamberings are 7x57mm for the first and third, and 7.65x53mm for the second one. Most of Europe's Model 1898s fired the 8x57mm (known in Europe as the 7.9x57mm or 7.92x57mm).
Model 1898s were not only adopted by many European armed forces but were manufactured all over that continent. In Germany, Mauser '98s served as the primary battle rifle through both World Wars: first as Gewehr 98 and starting in 1935 as the Karabiner 98k. In the 10 years until 1945, at least 10 million K98ks were produced for the German Wehrmacht. Interestingly, when war broke out between Germany and Poland in 1939, both sides used its own versions of Model 1898 Mausers produced in their own factories. Both sides also used the 8x57mm for chambering. For that matter, so did China in its war against the Japanese, circa 1937-1945. Many of those Chinese 98s were turned against American troops by Chinese Communist troops in the Korean War of 1950-1953.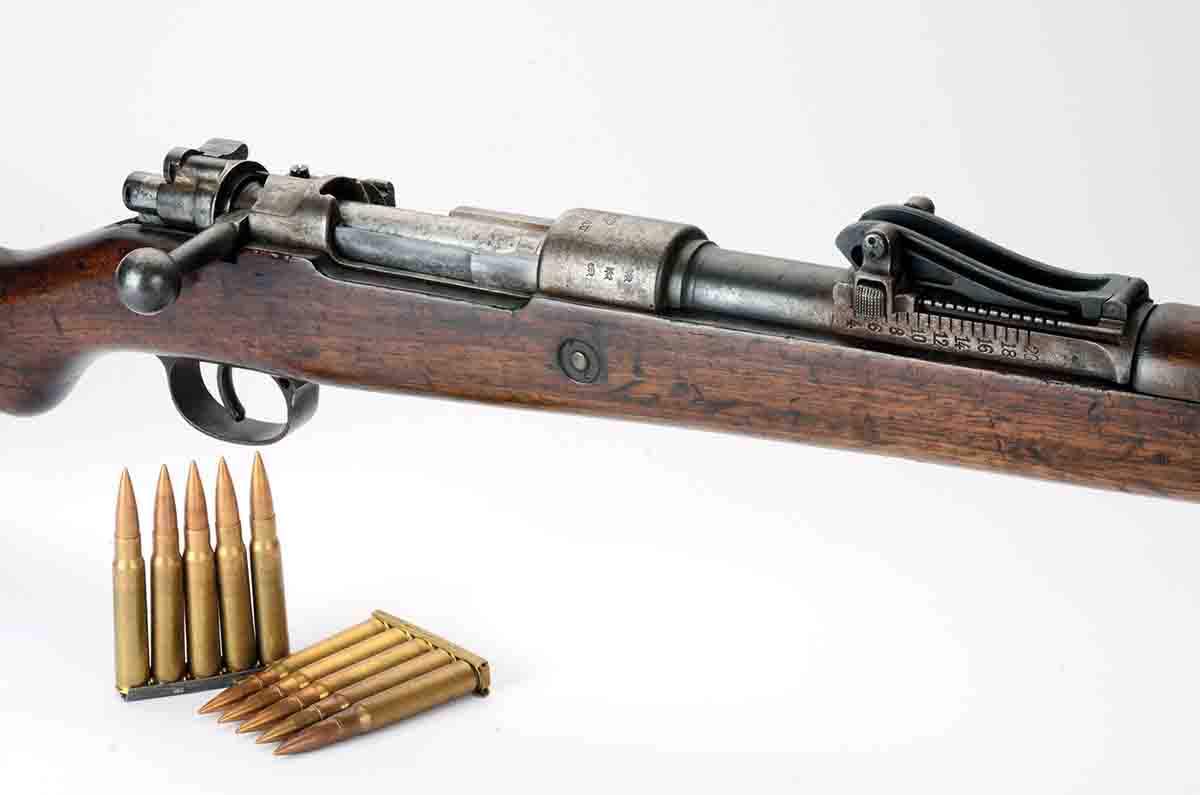 Just off the top of my head I can think of factories producing Mauser '98s in Austria, Belgium, Czechoslovakia, Poland, Argentina, Turkey, China, Spain, Japan, Yugoslavia and of course, Germany. Estimates made by serious researchers suggest that no less than 100 million Mauser military rifles were made worldwide, with the great bulk of them being Model 1898s. After the U.S. adopted its Model 1903 "Springfield" .30-06, Peter Paul Mauser sued the U.S. government for patent infringement and won, although there are conflicting stories about whether Mauser ever collected his settlement. As much as I respect the U.S. Model 1903, truth is that it's a knockoff of the Mauser Model 1898, except 03s have better sights. Anyone halfway trained on one can easily shoot proficiently with the other.
One of the oddest cartridges a nation selected for its '98 Mausers was the Siamese 8x50mm Rimmed (1903), and later the 8x52mm Rimmed (1923). Japan was the producer of Siamese Model 1903 (aka Type 45) and 1923 (Type 66). The reason I termed their 8mm rounds as "odd" was that they had very wide rims. Later in the twentieth-century, Siamese Mausers were imported into America and were torn down for their actions. The bolt faces made for the original cartridges' wide rims made the simple conversion to the strong, bolt-action .45-70s. Japan used the Model 1898 as the basis for its World War II combat rifles; the Type 38 6.5x50mm and the Type 99 7.7x58mm. For some reason, it chose firing pins that cocked on the bolt closing instead of the firing pin cocking on the bolt opening, which is usually associated with Model 1898s.
Mauser designed several other bolt-action, smokeless-powder rifles prior to the Model 1898, starting with the Belgian Model 1889 7.65x53mm. That basic model was quickly adopted by Argentina as its Model 1891. That early design held five rounds in single-stack magazines extending beneath the stock in front of the trigger guard. By 1893, Mauser created the staggered, five-round box magazine contained inside the stock, which was considered a vast improvement. Then in the Model 1898, a third locking lug was added to the bolt for strengthening, and a bolt shroud to protect shooters from escaping gases in the event of case rupture.
My personal introduction to Model 1898 Mausers came in the late 1970s, but not with a military rifle. The first was a '98 sporter produced commercially by FN of Belgium. The rifle's barrel and stock had been butchered. I nabbed it for $95, just for the action. They were considered prime candidates for building custom rifles.

Uncountable numbers of '98 Mausers brought home by soldiers after both world wars have been torn apart to make sporters of vastly differing quality. However, I had read enough to recognize that a commercial '98 action would not have the thumb cutout necessary in a military action so that soldiers could press home stripper clips of ammunition. I also knew that FN actions were considered very high quality. Therefore, I had that action fitted with a 7mm Shilen barrel 24 inches long and chambered for .280 Remington. Then the barreled action was sent to Bishop for a checkered walnut stock. I don't remember what scope it wore, but I do know it was a fine shooting rifle. I was talked out of it during a complicated trade for my first original Sharps Model 1874.
My second '98 sporter came at a Montana gun show just a few years ago. It was obviously converted from a military Gewehr 98, due to the action's thumb cutout, and it remained a 8x57mm. During the interwar years, a great many '98 military rifles were converted by gunsmiths in Germany. This one had the typical European-style stock with plenty of drop for iron sight shooting, corresponding iron sights, a spoon bolt handle, front sling swivel base attached to the barrel instead of the stock and claw mount bases for scope mounting. What actually hooked me were its double-set triggers. Sadly, health concerns prevented me from hunting with it, so it was sold to a friend who also is hooked on double-set triggers.
Along the way, since the late 1970s, I've owned most types of American made bolt-action sporting rifles and some of European origin. They might have differed from Mauser Model 1898s in details as in regard to safeties, extractors, triggers, etc. Most were turn-bolt actions with five-round (four in magnum chamberings) integral box magazines. To me, they were all descendants of Mauser Model 1898s.