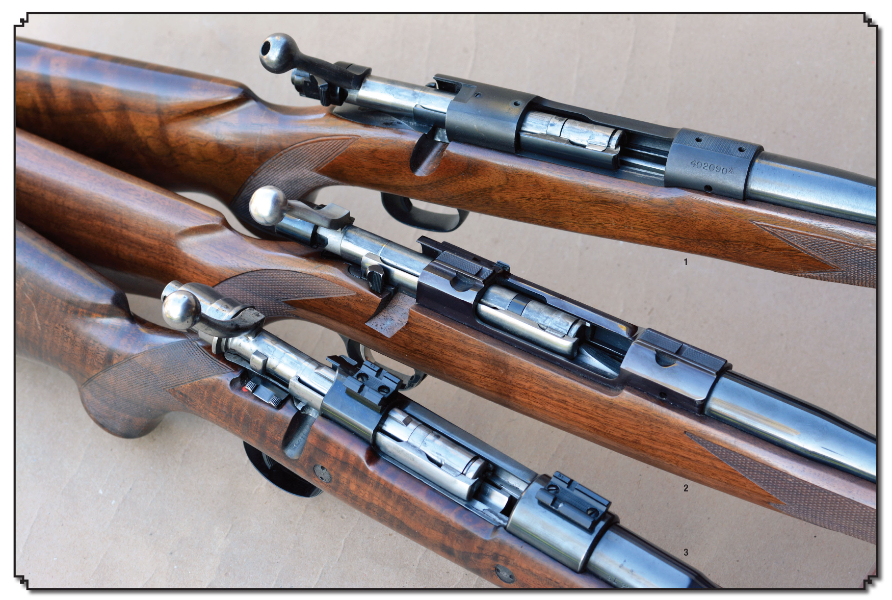 My guide and I had been successfully hunting brown bear, caribou, wolves and other game on the vast tundra of southwestern Alaska for more than a week. We had been hiking many miles daily on the soft tundra with heavy packs and gear, fought severe winds, snow, rain, etc., and had paid the price to finally find a trophy moose spotted at more than a mile away. As we stalked within rifle range, it bedded down and became concealed in a draw filled with willows, alders and brush, but was unaware of our presence.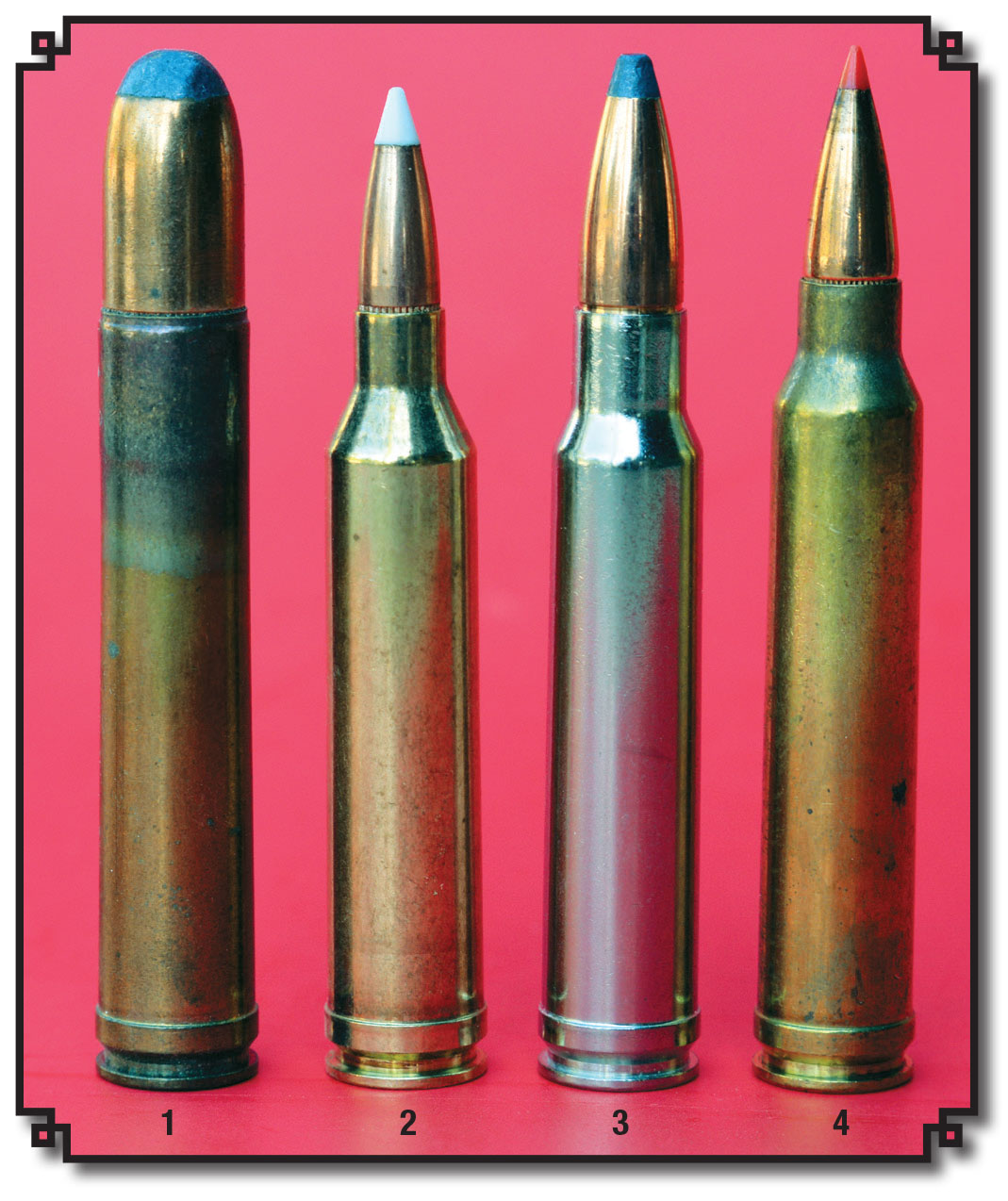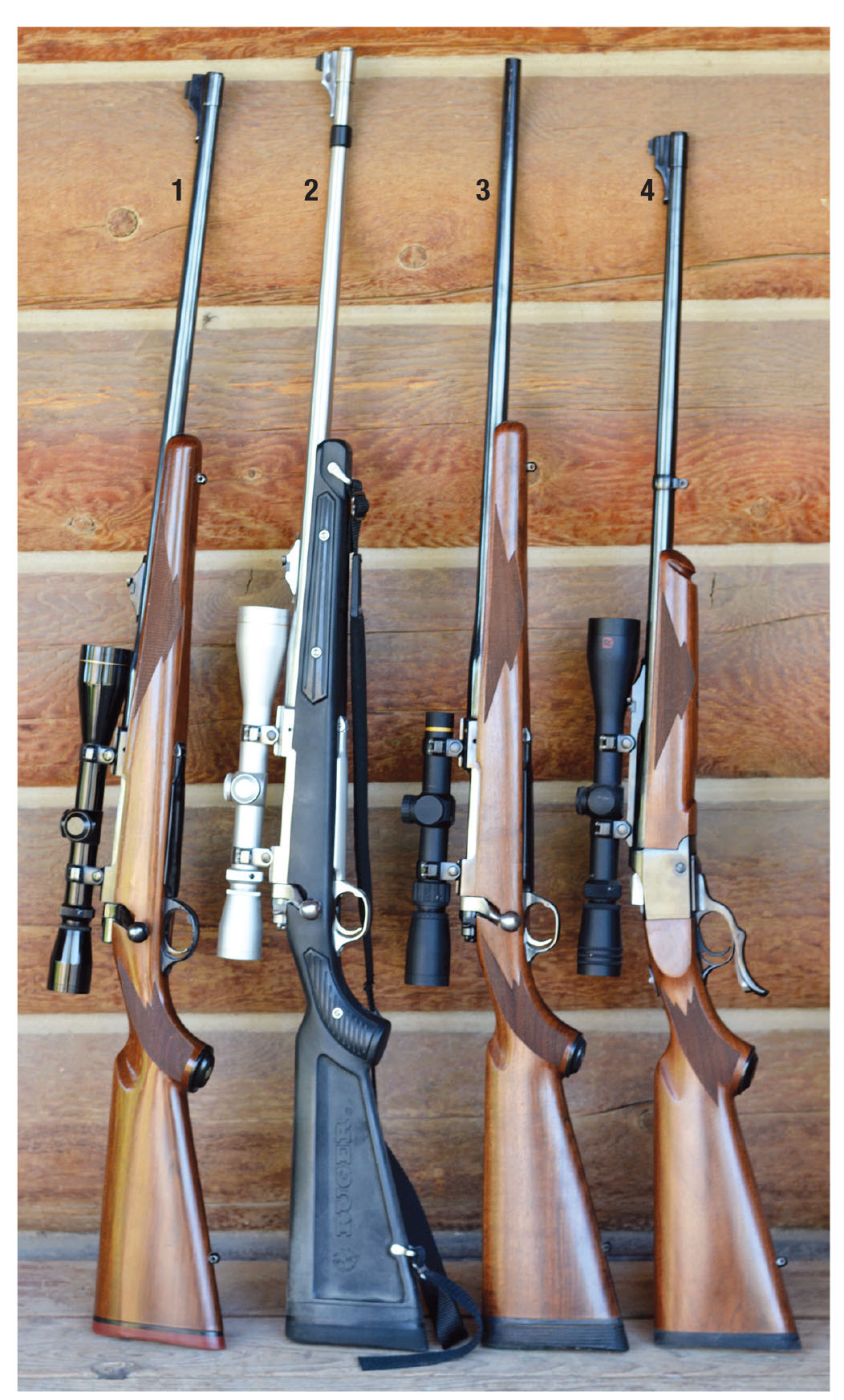 The problem was that if we moved closer, we would not be able to see over top of the willows and brush and it would probably detect us and run out the other side of the draw unseen without offering a shot. With their long legs, stamina and size, moose can really cover country, and a marathon did not sound particularly appealing. I suggested we wait it out from our current position; after all they don't stay bedded forever. The guide responded that normally he would never let a client shoot a moose at that distance, but he reflected on the ragged-hole, 100-yard group I had fired from a field position at the main camp upon my arrival that served to confirm the rifle's zero. This "required" shooting also gave the guide some idea of the hunters' rifle skills, as they really don't like dealing with wounded game. More telling was that each animal that had been previously taken, including a large brown bear in bad weather, was dropped with a single shot.
Eventually, the large bull stood up and began walking, which gave me the opportunity to quickly aim and fire. The Nosler 250-grain Partition bullet pushed to between 2,700 and 2,800 feet per second (fps) from a .338 Winchester Magnum, struck just behind the shoulder and exited the offside of the approximately 1,700-pound moose, resulting in a clean kill.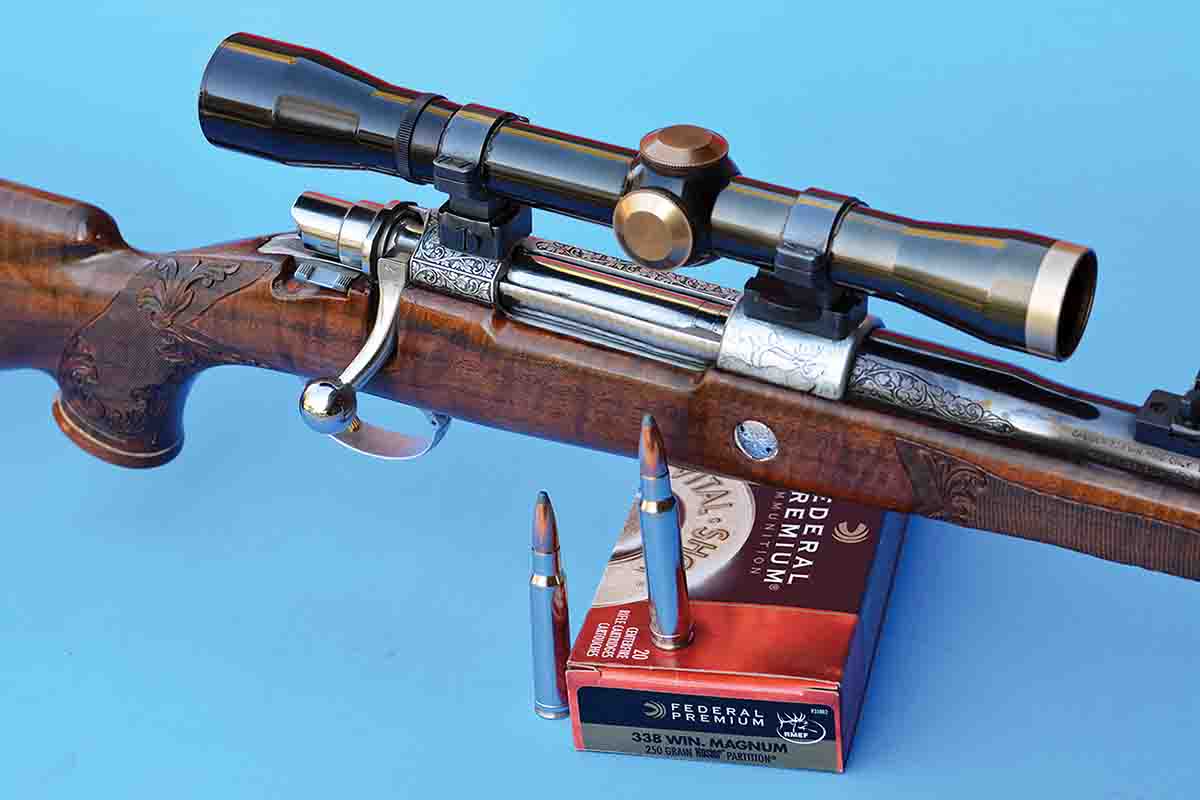 My cartridge choice for the above hunt was not random; rather it was based on many years of hunting a variety of big game that began in the 1970s. During that era, Idaho elk, mule deer, black bear and antelope were often hunted at the same time, or at least from the same wilderness camp. Trophy class elk were foremost on my mind and they were hunted continually until a quality bull was found. Like so many other hunters, I began with the .30-06, and then moved on to the .300 H&H, .300 Winchester and .300 Weatherby Magnums, all of which performed very well. However, at the suggestion of Elmer Keith, I tried the .338 Winchester Magnum.
The first really big bull I took with the .338 was a very heavy six-point. I was dealing with a broken leg obtained while helping with a search and rescue a month prior, but had talked the doctor into re-casting it with a modified version that would allow me to walk, albeit slowly, as elk season was opening and I'll be darned if I was going to miss it!
It was midafternoon and I had been slow trailing (pun intended) a herd of elk since first light. Unfortunately, when I finally intercepted them at around 300 yards, they were making their way up an offside hill, but before I could make a shot, they bumped into two oblivious hunters at about 10 yards that managed to shoot the 5x5 herd bull.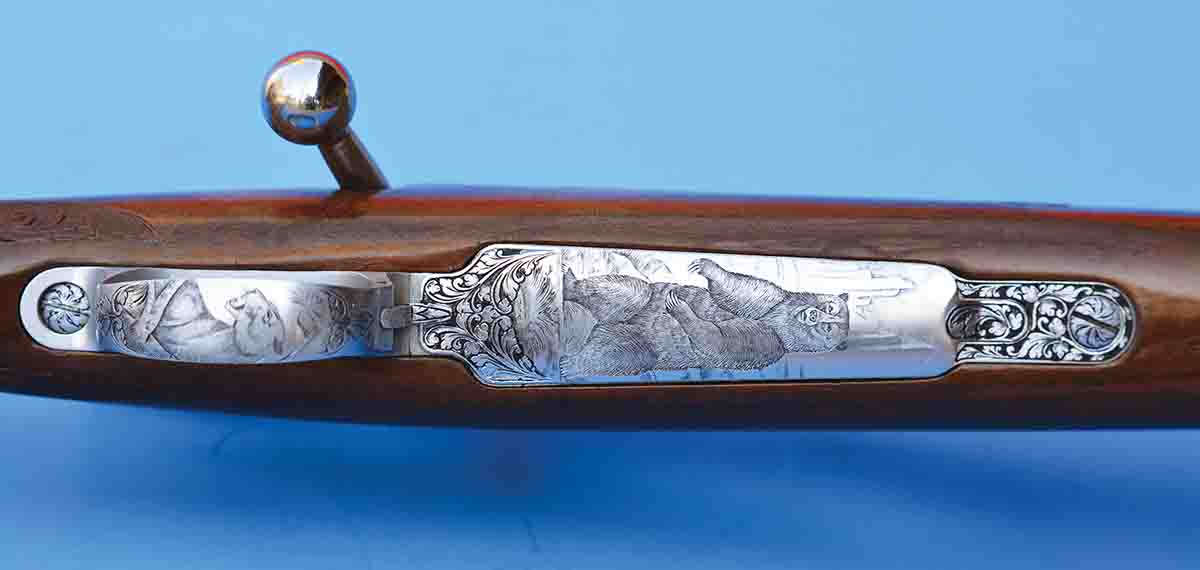 I sat down, tired and in pain, and rested awhile and watched the two hunters field dress the bull without any knowledge of my presence. I tried to think of another plan, but decided to begin making the long trek toward camp. I finally hobbled up the hill in the opposite direction and remembered seeing a larger bull in that group of elk and wondered about its whereabouts. I hadn't hiked a quarter of a mile, when several cows and calves came over the hill followed by a beautiful heavy 6x6 bull. Their direction was more or less directly toward me, so the .338 was slipped from my shoulder, the safety eased forward and I waited. At around 300 yards the lead cow caught my scent and they all instantly whirled and ran up the hill at a quartering angle. In those days, I shot daily in high volume, and making an offhand shot at that distance was no problem. I put the scope crosshairs at the appropriate place and the bull instantly dropped.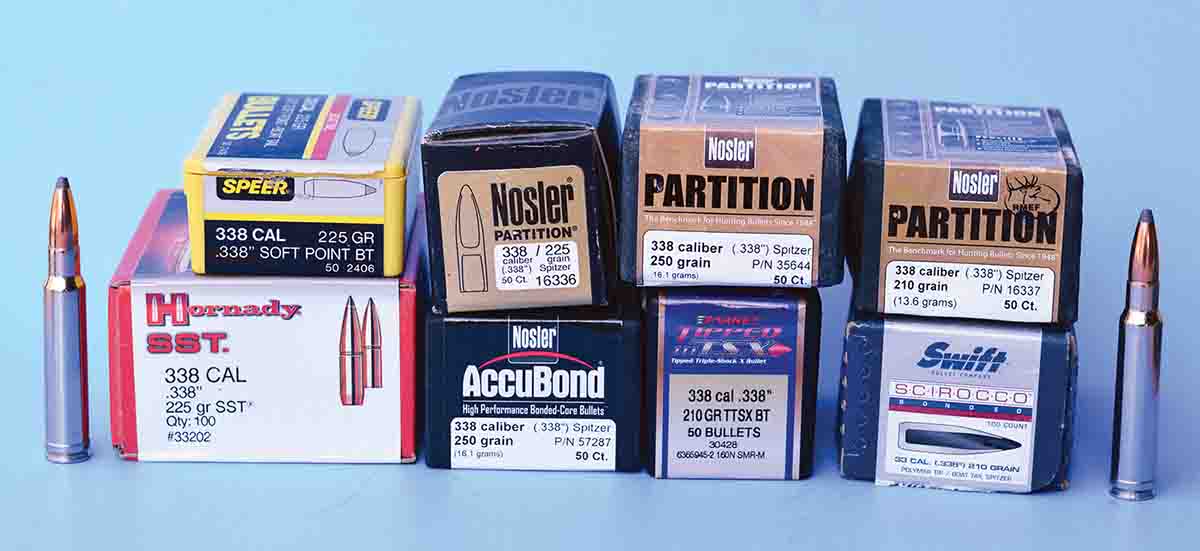 While field dressing and hanging the quarters in pine trees to cool, I examined the penetration and size of the wound channel left from the Nosler 250-grain Partition bullet. I became even more impressed with the terminal performance of this fine cartridge. In the decades since, I have taken many head of big game with the .338, and have never lost a single animal. If the bullet is placed properly and is of suitable design for a given species, it will perform with absolute reliability.
In 1956, Winchester introduced the .458 Winchester Magnum, which was based on the belted .375 H&H Magnum case, but shortened and featured a maximum overall cartridge length of 3.340 inches, which allowed it to function in .30-06 length bolt actions. The .338 Winchester Magnum was next in this series of "short magnum" cartridges that was introduced in 1958, followed by the .264 Winchester Magnum in 1959 and the .300 Winchester Magnum in 1963, with the latter cartridge having the shoulder moved forward. All were offered in the robust and accurate pre-'64 Model 70.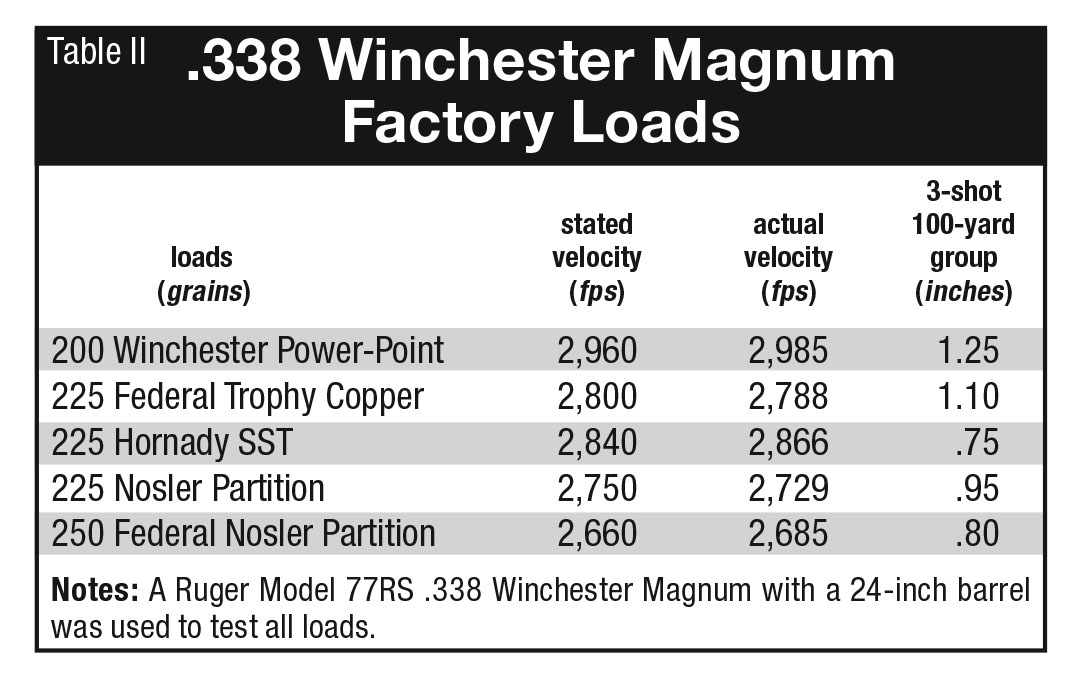 The development of the .338 was largely influenced by wildcat cartridges developed by Charley O'Neil, Elmer Keith and Don Hopkins (OKH) during the late 1930s and early 1940s. First, they developed the .333 OKH that was based on the .30-06 case (very similar to the .338-06), but it utilized .333-inch bullets commonly associated with the .333 Jeffery, as the only .338 inch U.S.-manufactured bullets available at that time were designed for the .33 Winchester. Next, they necked the belted .375 H&H Magnum case to .333 and called it the .334 OKH, but later added "Long Belt" to its name, which was a long action cartridge similar to the .340 Weatherby. Last, they developed the .334 OKH Short Belt that was designed specifically to function in .30-06 length actions, but still offer magnum performance and was very similar to the .338 Winchester Magnum.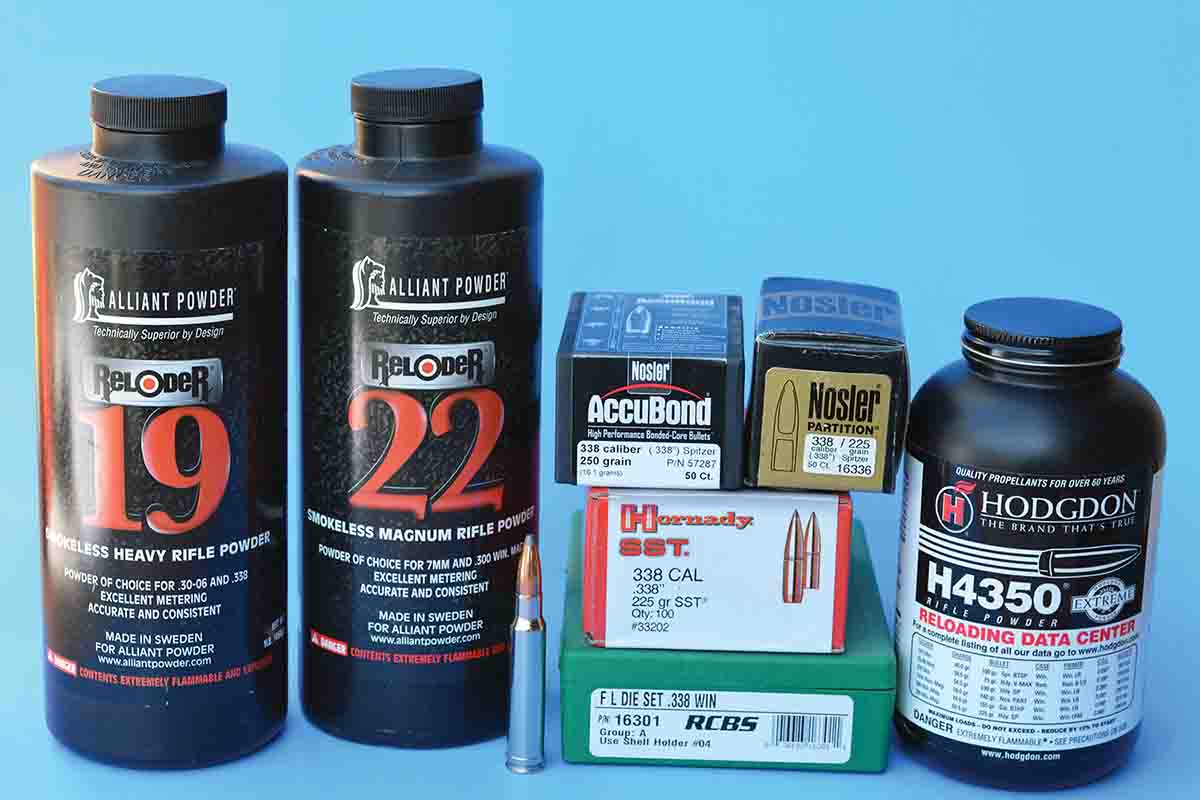 The .338 filled a distinct void between .30-caliber cartridges, such as the .30-06 and .300 H&H and the .375 H&H Magnum. It was intended primarily for hunting large, thin-skinned game, including elk, moose and the great bears of the north, large black bears, grizzlies, Alaskan brown bear and polar bear wherein a cartridge with muscle is welcome. But it was also ideal on heavy, thin-skinned African plains game that have a reputation for being tough, such as wildebeest, but heavy antelope such as eland, often weigh close to 1,500 pounds and occasionally exceed 2,000 pounds and are best hunted with a potent enough cartridge to achieve reliable penetration to provide quick kills.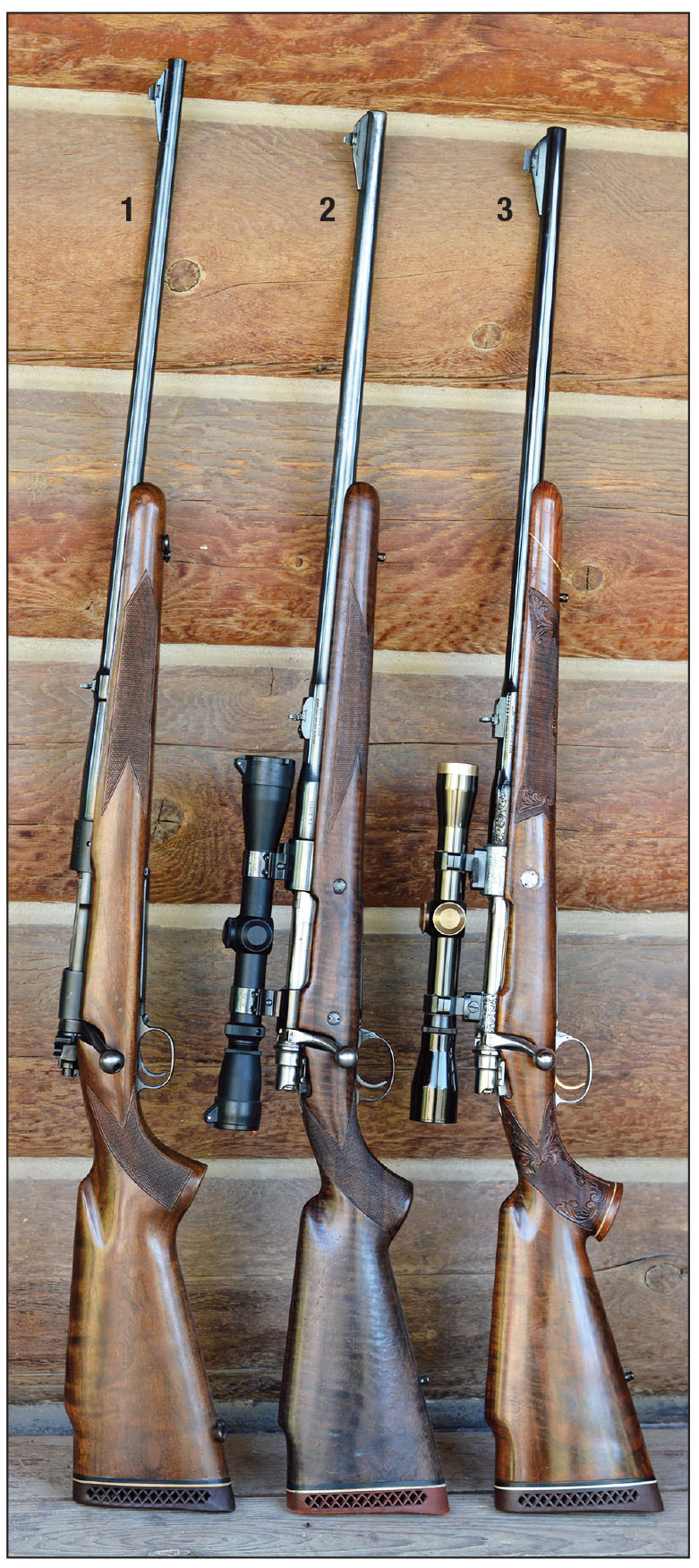 Winchester was not trying to create another deer cartridge and knew that the .338 would never become as popular as common deer cartridges that are typically .30 caliber or smaller. However, its sales have been steady and strong, with many rifle manufacturers offering a variety of models, and all major ammunition companies offer loads.
I have hunted Alaska many times and the .338's popularity among guides is extensive, which is based on its reliable performance. To better understand the culture with Alaskan guides and outfitters, they have a tough job providing food, shelter and finding trophy game for clients, but they also fight the elements and the wilderness daily. To them, a rifle is a tool – the same as an axe, saw or shovel – which are often exposed to the elements for months on end, qualifying them to be considered abused. The conditions in Alaska will quickly sort out reliable and rugged rifles from those that suffer from reliability issues. When a client wounds a big bear, moose, etc., the guide must finish the job. Wounded bears become irritated and often brush up, making them very dangerous while trailing them. Guides need a potent cartridge that is capable of turning the bear or stopping a charge at close range. When stoked with proper bullets, the .338 offers significant shock and deep penetration. While cartridges of larger caliber loaded with heavier weight bullets would be desirable for stopping a wounded bear, rifles in larger caliber are usually heavier, which is a significant drawback in Alaska where many miles are covered daily and weight becomes a factor.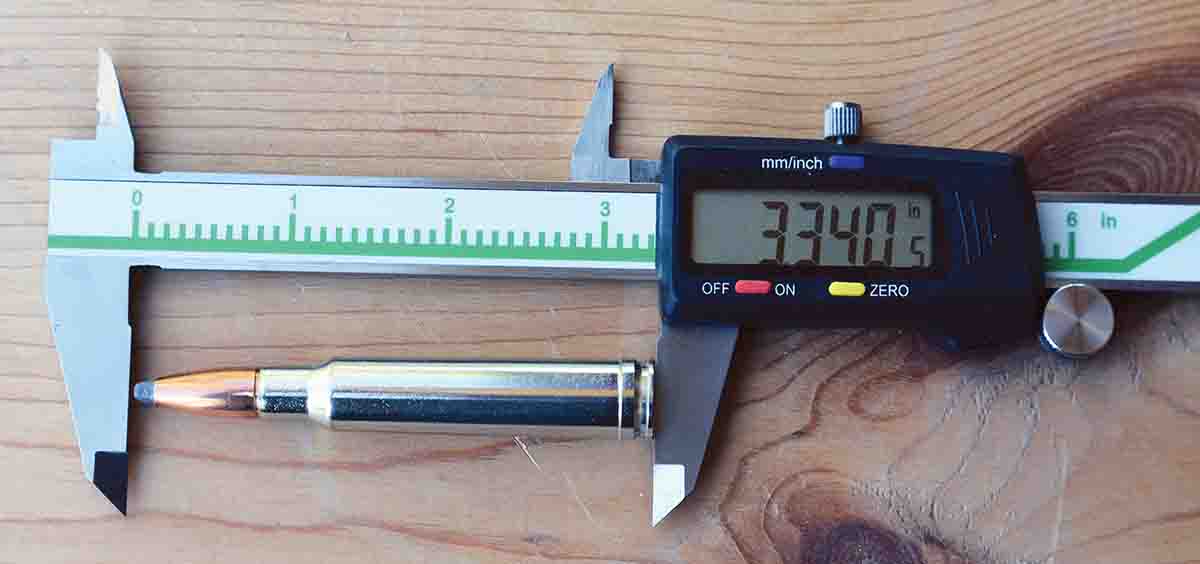 Guides also need a cartridge that can be used on long shots. I recall a moose hunter that showed up in southwest Alaska with a rifle chambered for .460 Weatherby Magnum that he had never fired. When a big bull passed near camp, he grabbed his gun and fired, but the 500-grain softpoint bullet was poorly directed into the paunch. He fired again and missed, but when he fired his third shot, the scope cut deep into his forehead and knocked him semi-unconscious, while the bullet went wild. The moose took off into the brush, crossed the river and the next time it was seen it was 500 yards and was running very strongly. The guide sat down on the steep hillside and placed his elbows on the insides of his knees, took aim with his weather-worn Ruger M77 .338 and fired twice, with both 250-grain bullets hitting home and within a few yards the bull stopped, staggered, went over backward and expired. Few cartridges can match this kind of all-around performance.
Winchester initially listed .338 ballistics to push a 200-grain PowerPoint bullet at 3,000 fps, or a 250-grain SilverTip at 2,700 fps (with velocities eventually reduced slightly) and later a 300-grain PowerPoint at 2,450 fps. In the passing decades, ammunition manufacturers have joined to offer a variety of hunting loads, with the trend toward premium bullets that typically weigh between 200 and 250 grains. With improved powders attainable, velocities can be higher than original listed speeds, which I will discuss in a moment.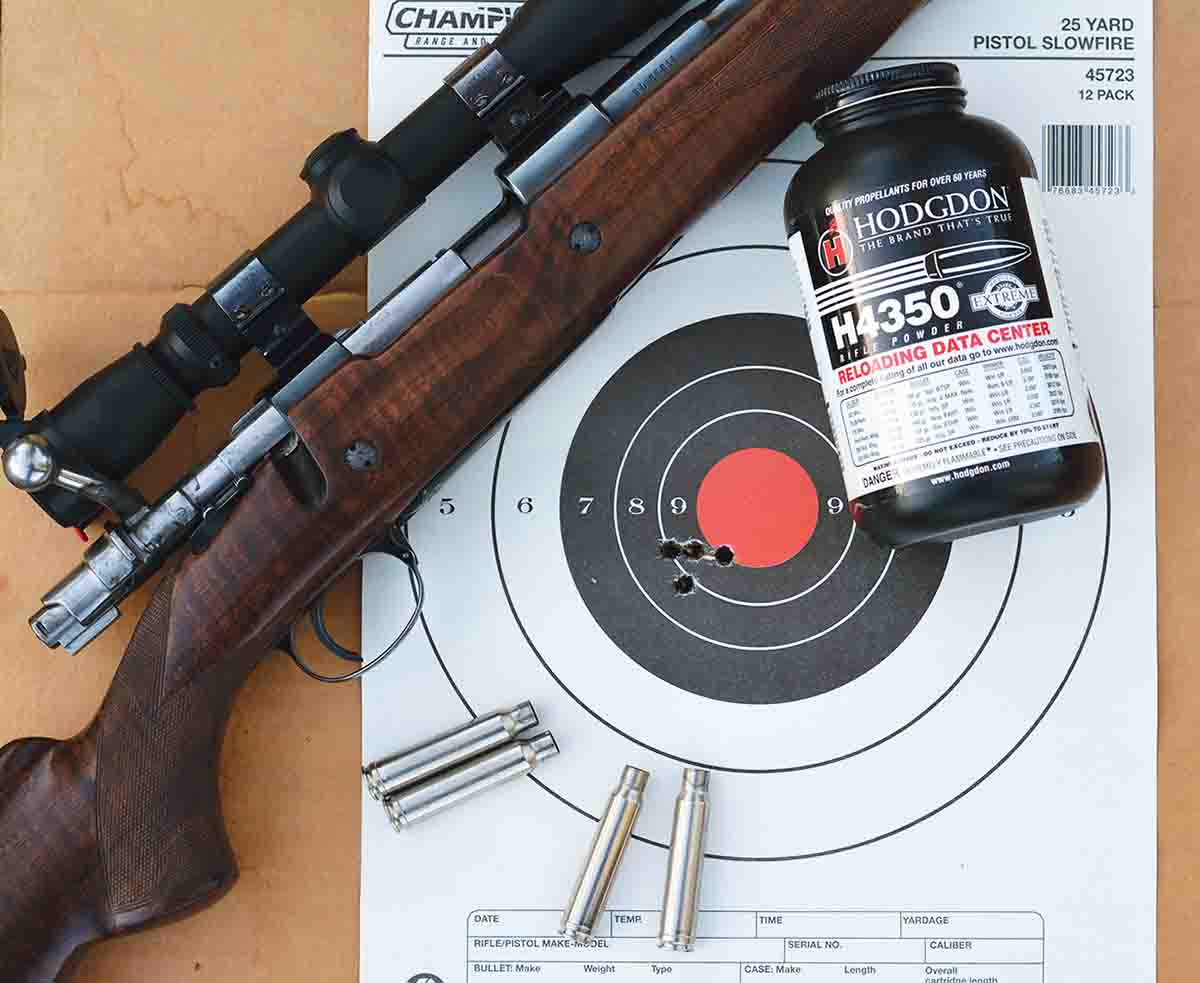 Many outstanding hunting bullets have been introduced that serve to increase terminal performance by offering deep penetration and controlled expansion. But their designs have also increased ballistic coefficient (BC) and reduced drag, etc., resulting in a flattened trajectory while extending effective range.
As indicated, I have experienced considerable success and outstanding performance on big game using the Nosler 250-grain Partition bullet and other similar weight bullets pushed to around 2,700 to 2,800 fps in my carefully assembled handloads and Federal Premium factory loads. However, many of the more recently-designed 225-grain bullets offer notable terminal performance on game while achieving higher velocities and offering a flatter trajectory at normal distances. Several years back, ammunition companies were offering special high-velocity loads, such as the Hornady "Heavy Magnum" and Federal "High Energy." The latter pushed the 225-grain Partition bullet to 2,940 fps, which can be duplicated through select handloads and can include other bullets such as the Hornady 225-grain SST and Nosler AccuBond with .515 and .550 BCs, respectively. Using a 200-yard zero, the AccuBond drops 6.6 inches at 300 yards, 19 inches at 400 yards and just 38.1 inches at 500 yards, which is a trajectory that compares favorably with many smaller caliber cartridges using much lighter bullets, but offers notably greater muscle. For example, using the same 200-yard zero, the 6.5 Creedmoor with a 143-grain ELD-X bullet drops 44.5 inches at 500 yards, the 6.5 PRC with the same bullet drops 36.2 inches while the .30-06 with the 180-grain SST bullet drops 44.1 inches.
It should be noted that there have been several .338s developed to improve upon original .338 Winchester ballistics, such as the .340 and .338/.378 Weatherby Magnums, .338 Remington Ultra Magnum, .338 Lapua, .33 Nosler and others.
However, there is always a price paid for increased velocities, which includes higher ammunition costs, substantially greater recoil, significantly greater powder charges and shortened barrel life, as well as increased muzzle report and usually much heavier rifles, longer actions, etc. For these reasons, the .338 remains a practical choice for hunters, guides and outfitters.
As indicated, factory loads have been substantially improved through better bullets, improved powders, higher velocities and even better accuracy. As can be seen in the accompanying table, a sampling of factory loads were checked for accuracy and velocity in a Ruger M77RS with 24-inch barrel, which was factory-fitted with a Shilen match barrel and is an especially accurate rifle. All loads grouped under 1.25 inches, while select loads grouped under .75 inch.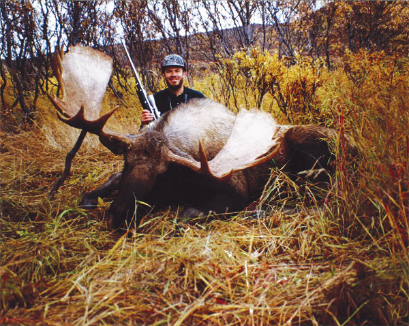 The .338 is one of the easiest rifle cartridges to develop top-performing handloads for, as its powder charges are modest for the caliber and it thrives on burn rates that are ideal for the .30-06. There are many bullets available that can be applied to any practical hunting application.
I own, or have owned, the most common .338 rifles, including Winchester Model 70s in pre- and post-64 versions, Ruger M77RS and M77 MKIIs, Ruger No. 1s, Browning FN Mauser 98 High Powers, Howa 1500s and Weatherby Vanguards and many others. Nonetheless, my favorite rifles include a Winchester pre-'64 Model 70, the above mentioned accurate Ruger M77RS and a Ruger M77 MKII All-Weather which may be rather homely, but it has been in the luggage compartment of most airlines and has proven especially reliable and accurate. It has digested many thousands of rounds and has accounted for game from gophers to grizzly bears.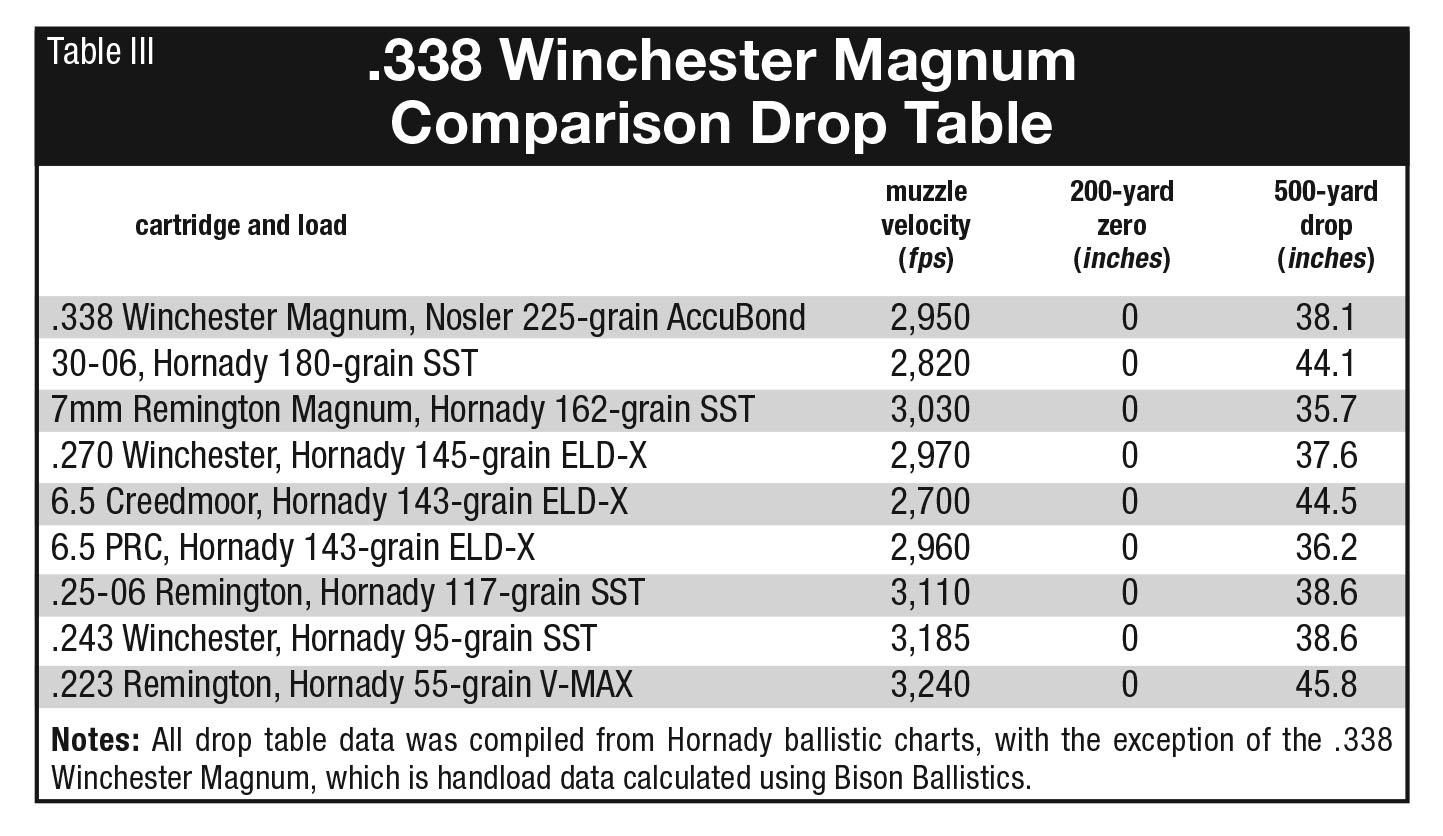 Another notable rifle is a fully-engraved Browning FN High Power Olympian Grade engraved by Magis with suitable game scenes and originally owned by Elmer Keith, and is reported to be the first one of its kind made. Keith hunted considerably with it beginning in 1961 and reported taking many elk, mule deer, antelope, etc. In spite of its modest Leupold M7 4x fixed power scope, select handloads will place four shots into a ragged hole.
In spite of many new .338-caliber cartridge developments, the original .338 Winchester Magnum remains popular. It delivers a practical blend of performance, recoil, rifle weight, accuracy and many other virtues that make it a special favorite.