On the surface, 1922 would not seem to be a good year to start an ammunition company in America – and truth to tell, when Charles Horn acquired the building and equipment of a moribund shotshell company, he had no intention of doing so.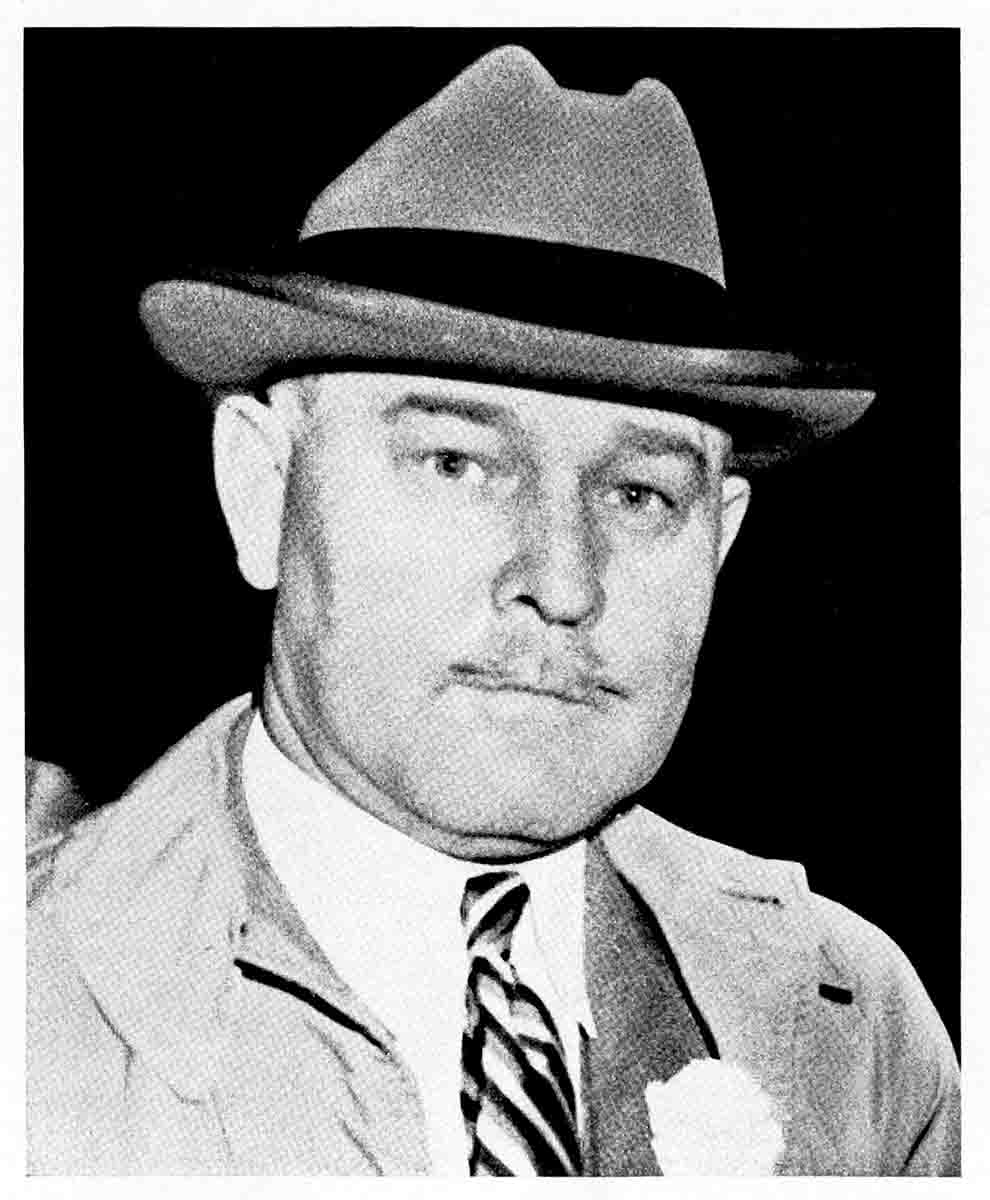 Horn ran a Minneapolis firm that produced lead shot and steel balls and was seeking a source of cardboard tubes to hold BBs for air rifles. The factory in Anoka, a few miles away, held machinery for making laminated paper shotshells. Perfect, he thought, and bought it out of bankruptcy.
Exactly what happened next is a mystery, but what is known is that Horn ended up hiring back the former plant manager, and with a skeleton staff, was soon producing 12-gauge shotshells and travelling the country, essentially selling them out of the trunk of his Buick.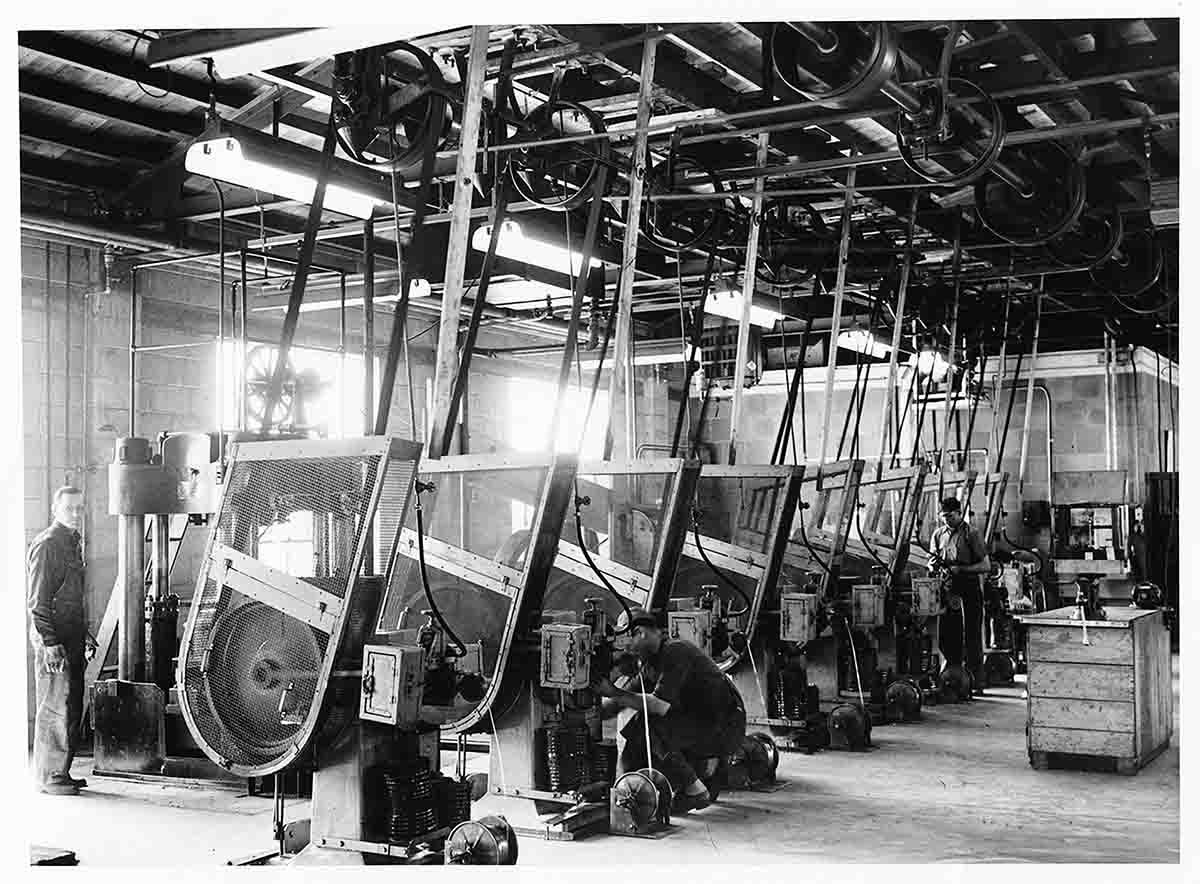 At the time, America was not suffering from an ammunition shortage. If anything, it had too much. The Great War, which engulfed the world from 1914 to 1918, was a financial windfall for the U.S. Even before the first shots were fired, orders were flowing into the U.S. for guns and ammunition, which caused rapid expansion of industry of every kind. Naturally, such a buying binge led to a colossal hangover when the "good" days ended in November 1918, and the American munitions industry, clutching fistfuls of cancelled orders, began to regroup.
Some companies went under, some consolidated. For example, Savage Arms swallowed up the remnants of J. Stevens, a big, pre-war company whose owners had gone all in to capitalize on military orders. When those disappeared, so did Stevens, to all intents. In the ammunition business, Western and Remington, the two giants, emerged bigger than ever, absorbing several smaller companies along the way. With huge government munitions plants in place to meet military demand for the foreseeable future, that left only the civilian market – and the prospects for a new company breaking into the market looked pretty dim.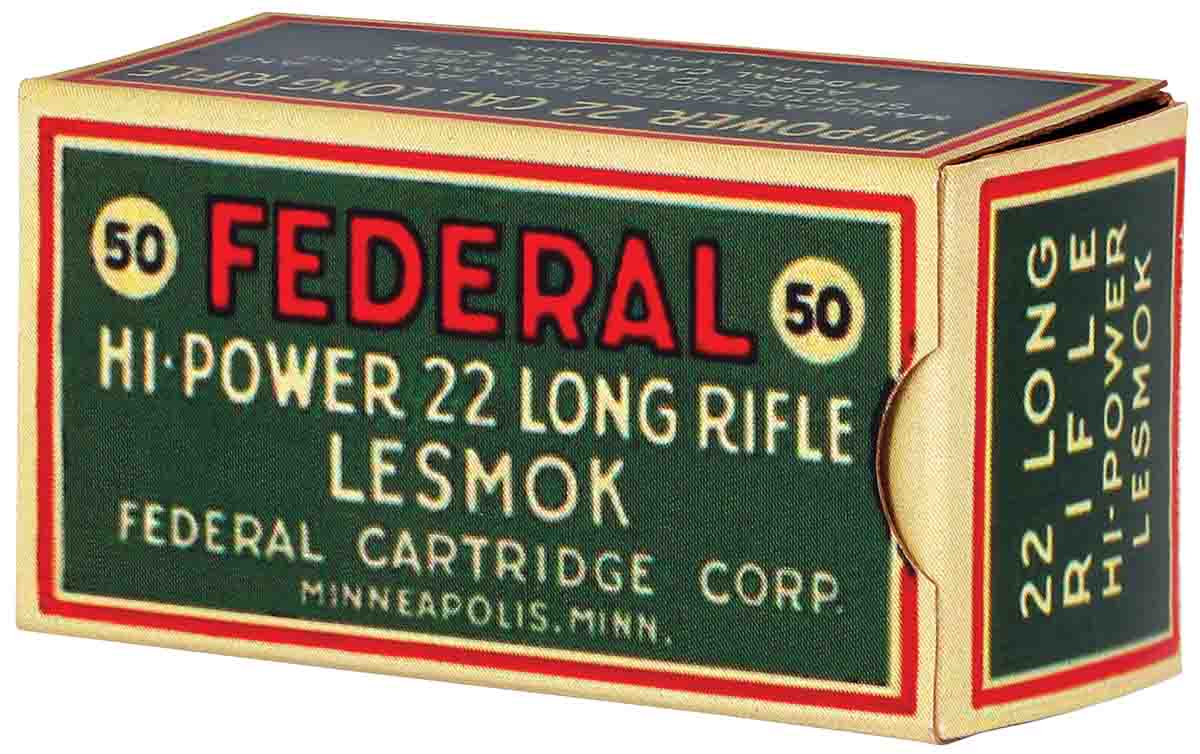 Six years earlier, in 1916, Harry and Lewis Sherman of Kansas City, had seen an opportunity. Foreign demand was at an all-time high and the prospect of the U.S. entering the war was becoming more likely by the day. The brothers formed the Federal Cartridge and Machine Company, found investors in Minnesota, and set up a small factory at Anoka. The plan was to produce shotshells for both military and civilian use. The end of the war, however, combined with investor difficulties, forced the factory to close, and it remained so for two years.
Initially, Charles Horn wanted only its machinery for making paper tubes. Instead, he reconstituted the company, assumed the presidency – which he would hold for the next 50 years – and in 1922, Federal Cartridge began producing shotshells.
In the 1920s, competition among the big ammunition companies was fierce and the majors – Western and Remington, mainly – had locked up conventional distribution channels to the point where they could block competitors. Charles Horn had to figure some way to get his products in front of the buying public.
Realizing a town's menfolk tended to gather in places such as barbershops and pool halls, where they talk about hunting and shooting while getting a trim or putting the eight ball in the side pocket, Horn began approaching such establishments directly. Soon, shelves of Federal "Hi-Power" ammunition adorned the walls of these male bastions, and men were seen leaving with a supply of shotshells to go with their sleek haircut. Federal ammunition was even for sale in doctors' and dentists' offices.
It was a brilliant strategy, as was the next step. In 1923, Federal began making "house brand" shotshells for Montgomery Ward, and four years later, for Sears, Roebuck & Co. This latter relationship lasted until 1971. The company also made ammunition for lesser-known retailers. By 1930, Federal had 500 employees, compared to just seven in 1922. In 1924, Federal went into rimfire ammunition as well. Under the direction of Maurice "Daddy" Swope, a rimfire production specialist hired away from Western Cartridge, Federal quickly became a major player, and by the mid-1930s was the acknowledged leader in accurate rimfire ammunition.
This coincided with the next stage in Federal's development and illustrated just how intertwined the American ammunition business was in the 1920s. After leaving Federal in 1917, the Sherman brothers returned to Kansas City, where they founded the American Cartridge Company. This also went bankrupt, and in 1924, Charles Horn took it over, moved it to Anoka, and began producing its ammunition under the "American Eagle" brand, which Federal still maintains. Meanwhile, Franklin W. Olin, founder of Western Cartridge, became an investor in Federal and, by 1932, effectively owned the company. In 1931, with the country mired in the Great Depression, Western Cartridge acquired Winchester Repeating Arms and both became part of the Olin Corporation.
Olin continued to own Federal, in the latter years through the Olin Foundation, until it was forced to divest it in 1985 because of federal legislation regarding non-profit foundations. This then set the company on a path of changing ownership and corporate status until it reached its position today as anchor of Vista Outdoors, a conglomerate of hunting and shooting brands that include CCI, Speer, RCBS, Hoppe's, and most recently, Remington Ammunition.
* * *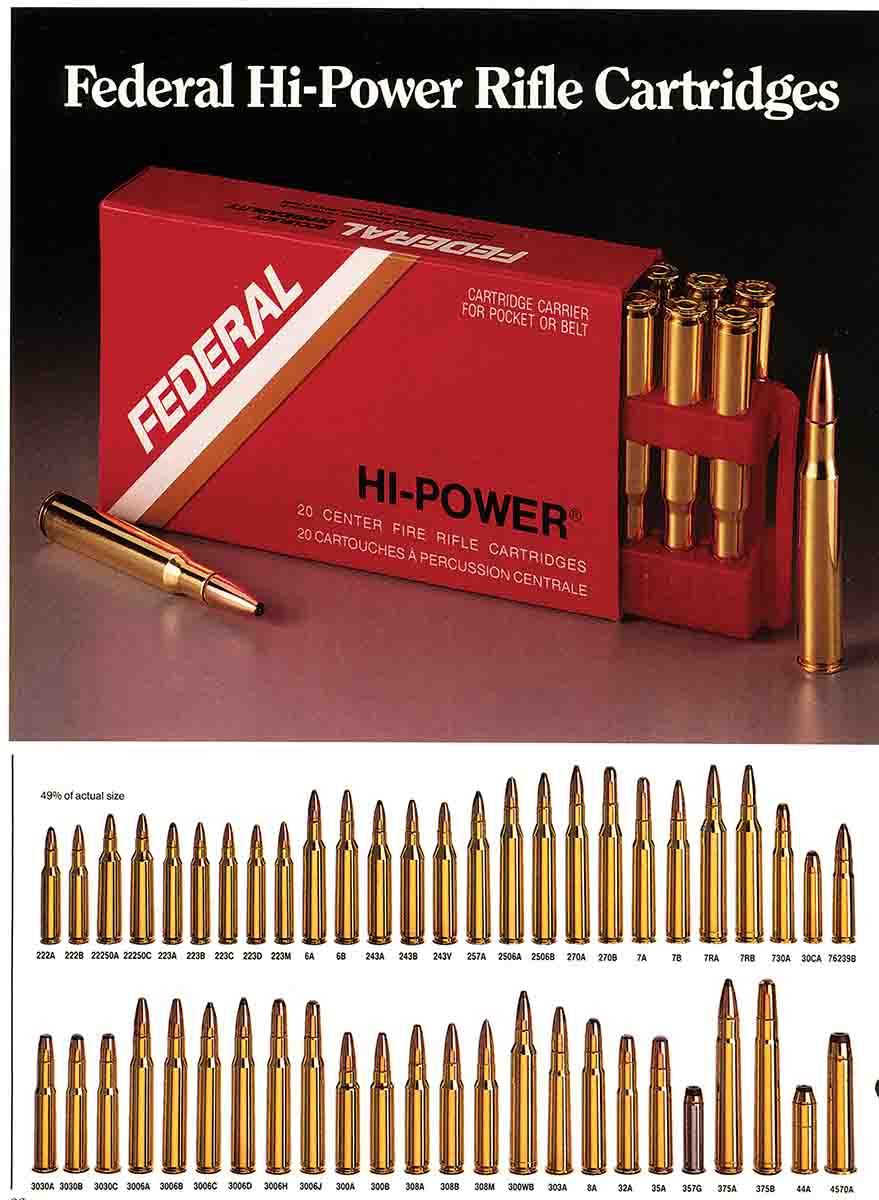 Charles Horn was more than an astute businessman; he was also a conservationist at a time when that concept was just starting to gain attention. In the 1930s, Federal became associated with several conservation movements; it originated 4-H Conservation Clubs and ran a series of magazine ads calling on hunters to help preserve both game and habitat. From Ducks Unlimited to the Boy Scouts of America, and later Safari Club International, the Wild Sheep Foundation, Pheasants Forever and the National Wild Turkey Foundation, Federal has supported or has been associated with every major (and many minor) conservation organization, helping with direct donations or special-edition ammunition with a percentage of revenue helping to fund their efforts.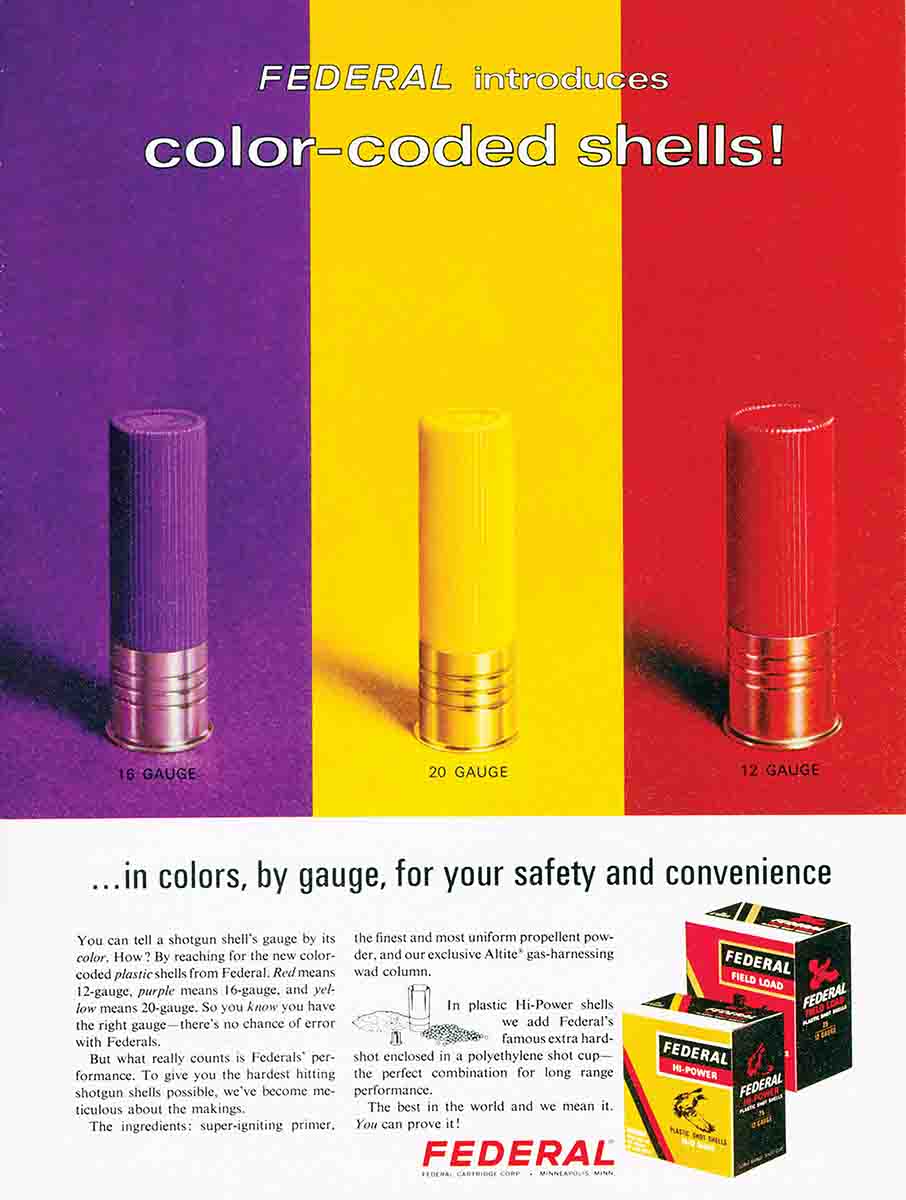 Having survived the Great Depression through a combination of quality products and innovative sales tactics, the next major step for Federal came in 1941. With another war in Europe, and Japan threatening in the Pacific, the U.S began to seriously rearm. Horn secured an $87 million contract to build and operate a munitions factory in Minneapolis, the Twin Cities Ordnance Plant (TCOP). Construction began in August 1941 (four months before Pearl Harbor), and it became one of six contractor-operated munitions plants supplying the U.S. military throughout the war.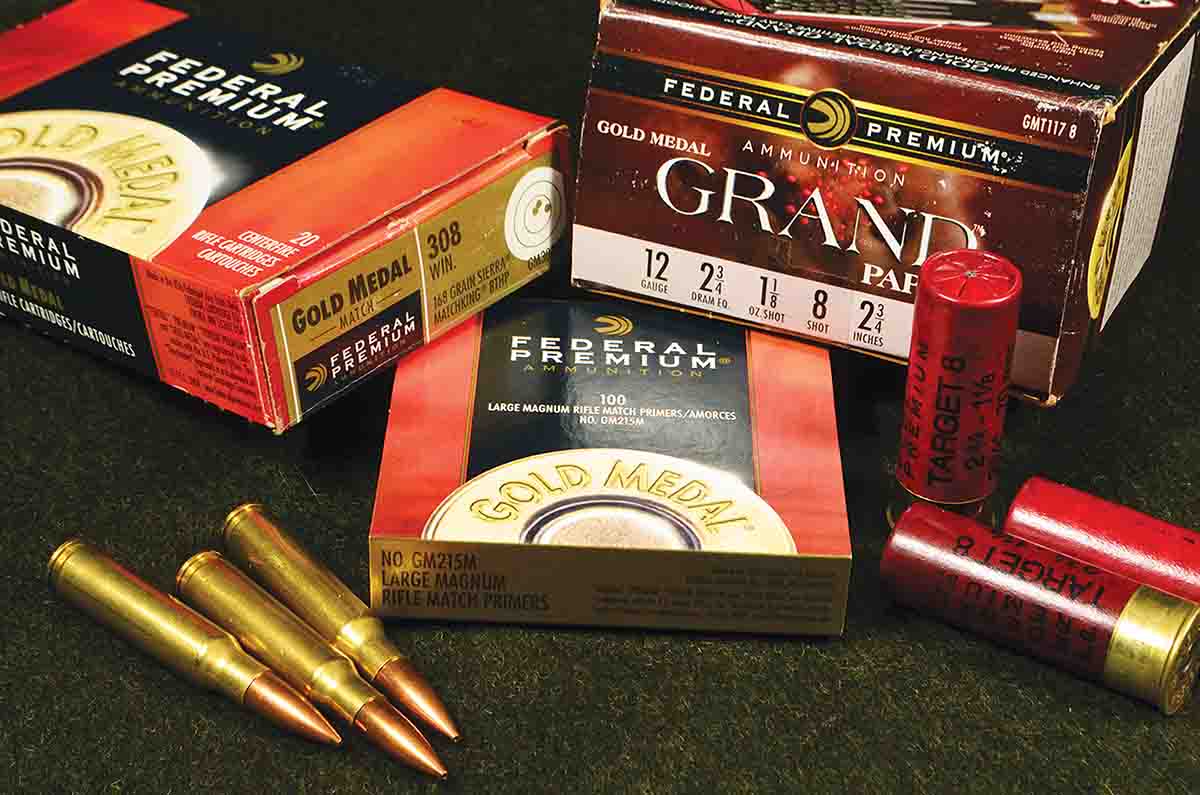 The plant was mothballed in 1945, but it gave Federal experience in producing centerfire ammunition. In 1963, the company put this experience to use when it introduced its first commercial centerfire rifle and pistol ammunition – 12 rifle calibers from .222 Remington to .35 Remington, and two pistols (.38 Special and .45 ACP).
This was a bold move, considering Winchester and Remington were at their peak in influence, customer loyalty (to the point of fistfights in deer camps) and tacit support from the most influential writers. Within the past decade, Winchester had introduced the .243 and .308 Winchesters, the .264, .300, .338 and .458 Winchester Magnums, and was riding high with the Silvertip – easily the most brilliant name ever for a hunting bullet. Remington, meanwhile, could boast the .222 Remington and 7mm Remington Magnum, and if the Core-Lokt did not have the reputation of the Silvertip, it was not far behind.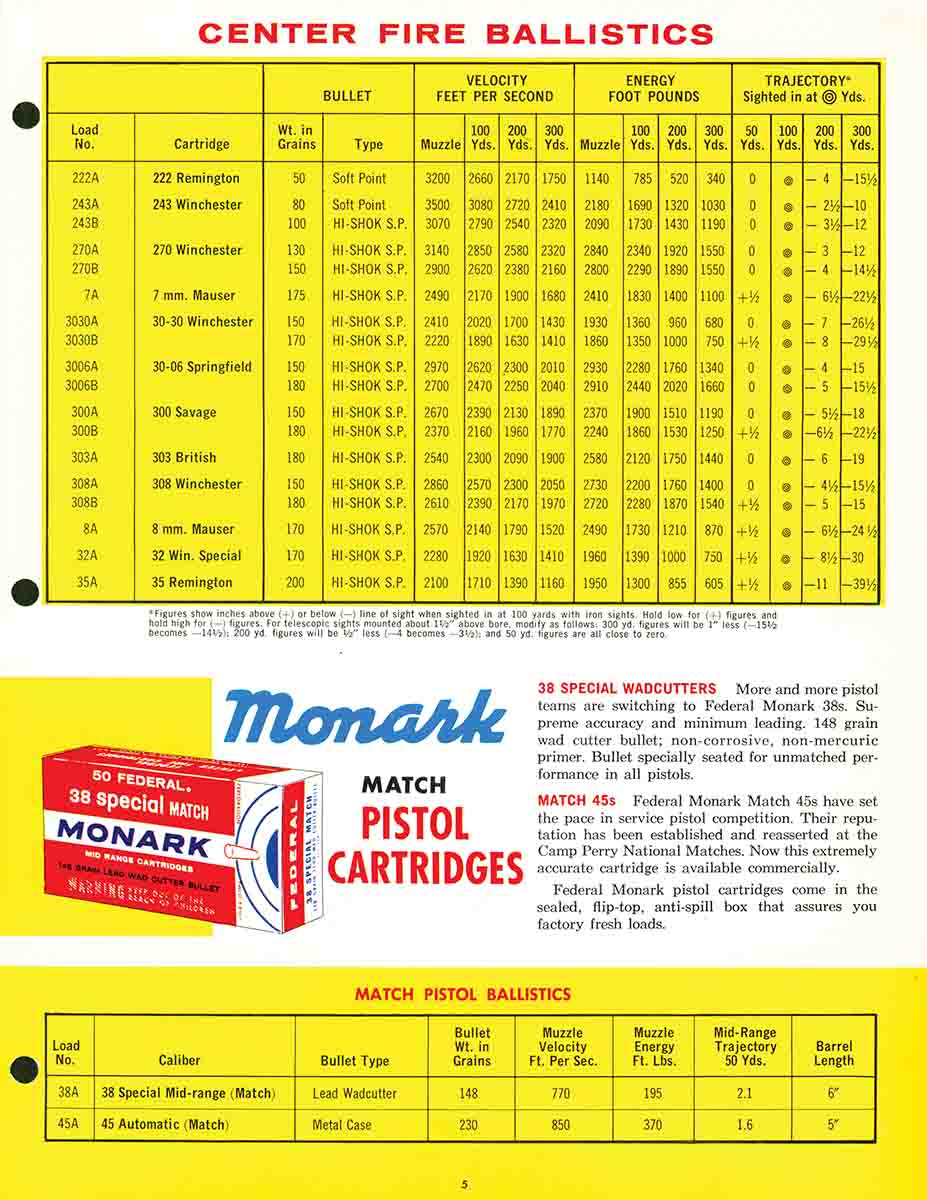 To counter this, Federal offered its Hi-Shok softpoint. It faced a serious uphill climb. The turning point came in the late 1970s. Federal began loading .308 ammunition with Sierra MatchKings, the undisputed accuracy champion and this grew into the famous, Gold Medal Match. In 1978, Federal Premium was formally introduced, and early premium ammunition was loaded with both Sierra MatchKings and Nosler Partitions.
The idea of loading third-party premium bullets in factory ammunition was not new. Weatherby pioneered it. From the beginning, Norma produced Weatherby ammunition loaded with Hornady bullets, which Roy Weatherby considered the most accurate in the 1960s, and later offered Nosler Partitions at a higher price.
Federal adapted the principle to a wide range of commonly used calibers like the .308, .270 Winchester and .30-06. This was gradually expanded to include Swift A-Frames, Woodleigh Weldcores and the Barnes X, among others.
The 1980s and early 1990s saw a concerted effort to improve terminal performance in hunting bullets with "premium" bullets by a number of smaller operators. Lee Reed developed the Swift A-Frame, which combined a bonded core with a partition like the Nosler. Jack Carter of Texas developed the Trophy Bonded Bear Claw, which proved itself in many dangerous situations. I was involved in some of the field testing in Tanzania and Botswana, Africa. In 1992, Federal purchased the rights to the Trophy Bonded, and it became the company's in-house premium hunting bullet, loaded in a wide range of calibers. Since then, it has been modified significantly, but the essential bullet is the same.
Throughout this period, Federal was steadily progressing to the peak of the shotshell world. It began producing plastic hulls in 1965, and became the first to color-code its ammunition (red for 12 gauge, yellow for 20) around the same time, a practice that was soon followed by other companies. Federal pioneered steel shot in 1972, anticipating regulatory changes. It continued to make paper-hulled competition loads, and Federal Paper has an almost mystic following among top-level trap shooters. The Gold Medal line was introduced in 1980. Whether plastic or paper, Federal ammunition wins matches: During the 1980s, Federal ammunition won 70 percent of the titles at the Grand American and the company quotes similar statistics from almost every period.
At the Barcelona Olympics in 1992, Launi Meili won gold in smallbore three-position rifle using Federal UltraMatch .22, the first medal performance since 1960 by U.S. shooters using American ammunition. U.S. shotgunners then won gold, silver, and bronze at the 1996 Olympics in Atlanta, using Federal Gold Medal shotshells. This included the first-ever gold by Olympic record holder Kim Rhode.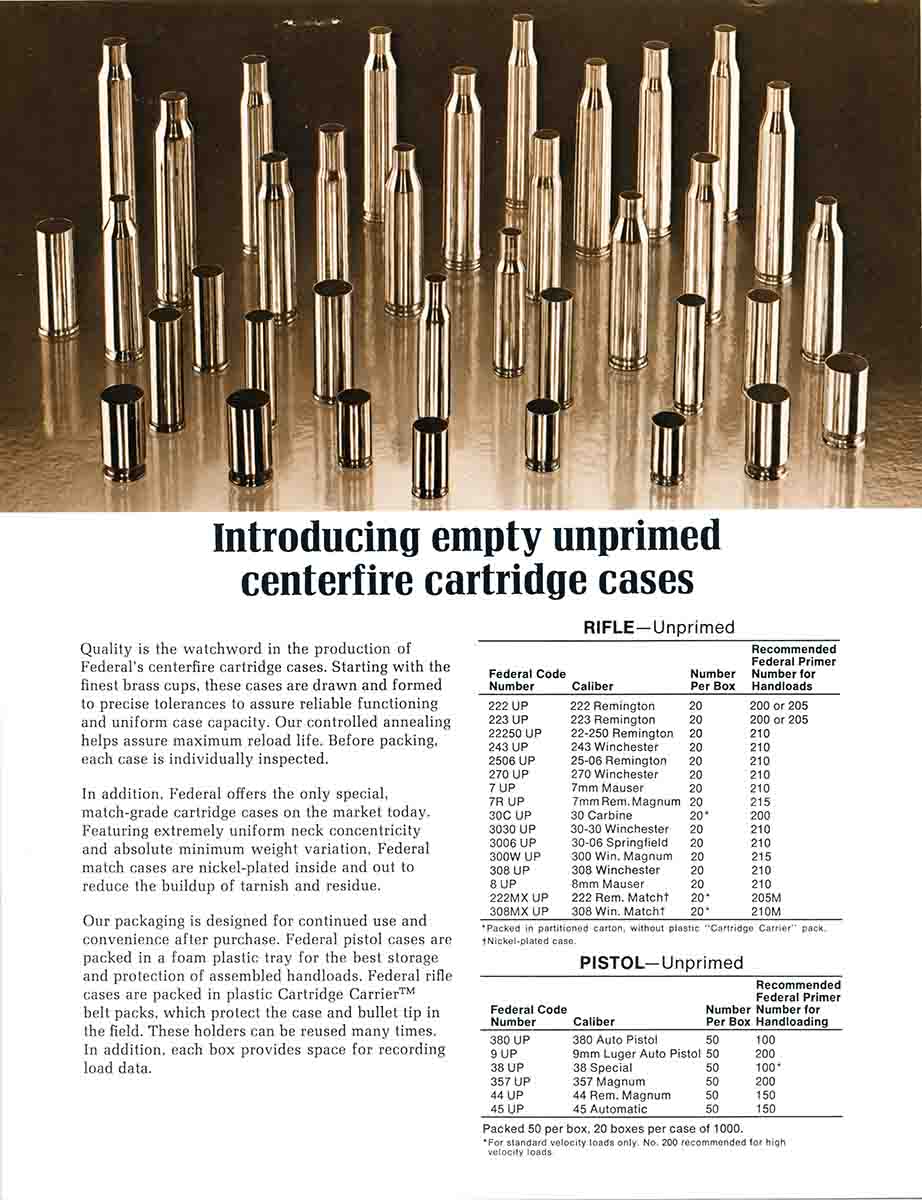 Another area where Federal became a leader was providing components for reloaders. Ammunition companies are usually conflicted, with some executives insisting that selling components cuts into ammunition sales, while others believe (I think rightly) that it builds brand loyalty. Federal began selling primers in 1951, and today, it offers the widest range of any company. Federal has both standard and benchrest quality in every size, and its Gold Medal Match 210M, and especially its magnum rifle GM215M, are as good as it gets.
One area Federal largely avoided was in designing new cartridges. Two exceptions were the 1982 introduction of the .32 H&R Magnum (in partnership with Harrington & Richardson) and the .338 Federal, introduced in 2005 in partnership with Sako of Finland, which built rifles for it. The .338 Federal is a big-game cartridge – essentially the .308 Winchester necked up – loaded with premium bullets. It's an excellent cartridge for short-action rifles. Two years later, the .327 Federal Magnum pistol cartridge was introduced, this time working with Ruger, to provide a more compact but effective personal-defense round.
* * *
The year 1985 was a watershed for Federal, and the beginning of a dizzying series of changes in corporate ownership. In that year, the Olin Foundation, which had owned the company since 1938, was forced to sell under new tax laws. A new company, Federal-Hoffman, Inc., came into being. Three years later, Federal was sold to Pentair, Inc., and in 1997, was acquired by Blount Industries, which already owned CCI, Speer, RCBS and several other related firms. This was followed by Blount's acquisition, in 1999, by Lehman Brothers Holdings of New York. (Yes, that Lehman Brothers.) In 2001, Lehman sold Blount to Alliant Techsystems (ATK), a Minnesota-based aerospace and defense group.
This was within a few months of 9/11, with the prospect of extraordinary expansion of security forces, and the beginning of the war in Afghanistan, all of which entailed vast increases in demand for ammunition and other munitions. In 2015, ATK spun off Federal and the other civilian companies in its "Sporting Group," which became the publicly traded Vista Outdoor Group. This included Alliant Powder (originally Hercules), CCI, Speer, and eventually, Remington's ammunition division, just recently bought out of bankruptcy.
In 2018, Federal introduced the .224 Valkyrie, a high-powered .22 centerfire intended to fit AR rifles and accommodate long-for-caliber bullets. Another first, in 2019, was the establishment of a custom shop, which allows customers to buy custom-loaded, high-performance ammunition.
As the company approached its centennial, it simplified its corporate name to "Federal" and marked its emergence as the largest sporting ammunition manufacturer in the world by introducing a remarkable 130 new products at the 2020 SHOT Show.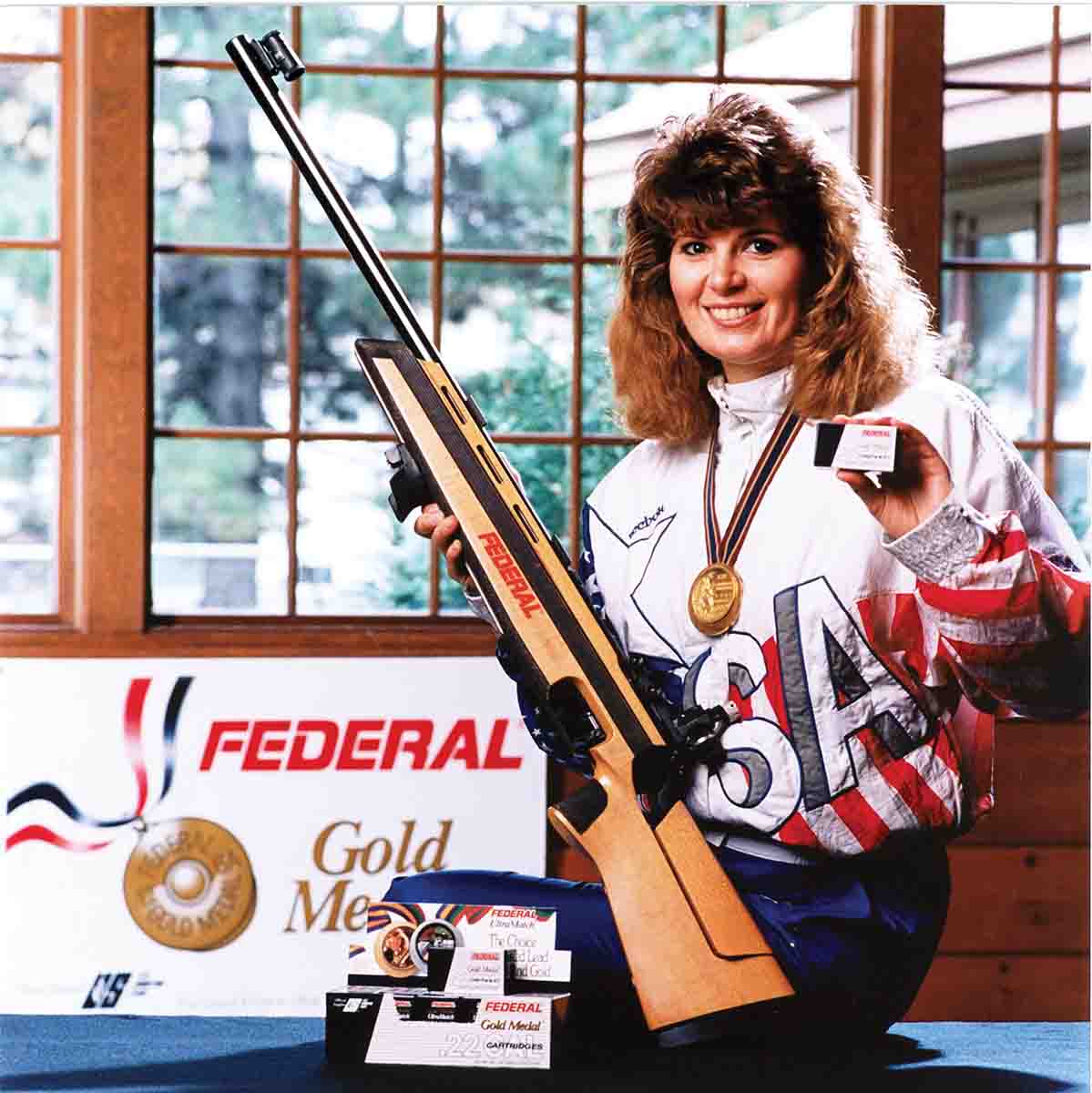 Today, many companies have followed Federal's lead in different areas, from color-coding shotshells to loading the best premium bullets by other makers into handload-quality ammunition. When you look at it, innovation has been at the center of Federal's success for a century – from Charles Horn selling shotshells in pool halls and dentist's offices, to making house-brand ammunition for big retailers, to pioneering steel shot and developing the latest iteration of the Trophy Bonded bullet, the "Terminal Ascent."
Over the course of a century, Federal has changed the industry, and the shooting world in many different ways and in another century? Who knows? But it would probably be a mistake to bet against it.