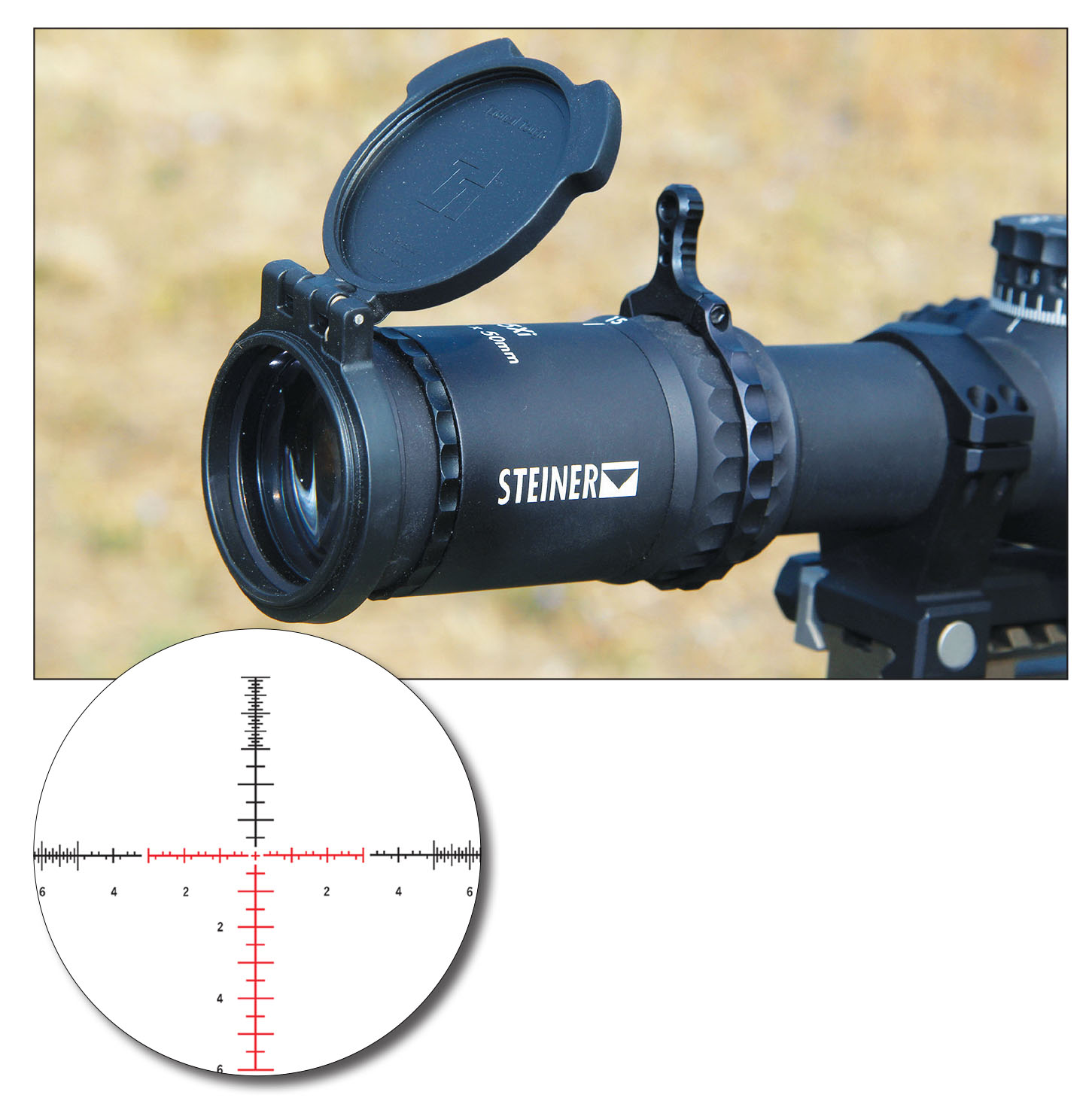 I've admittedly had little experience with Steiner wares. Its binoculars have held little appeal, including decidedly blocky, militaristic lines that just don't appeal to me. I was certainly aware that Steiner made riflescopes, but until a press release arrived in my email heralding the new T5Xi 3-15x 50mm under discussion here, I had given them little thought.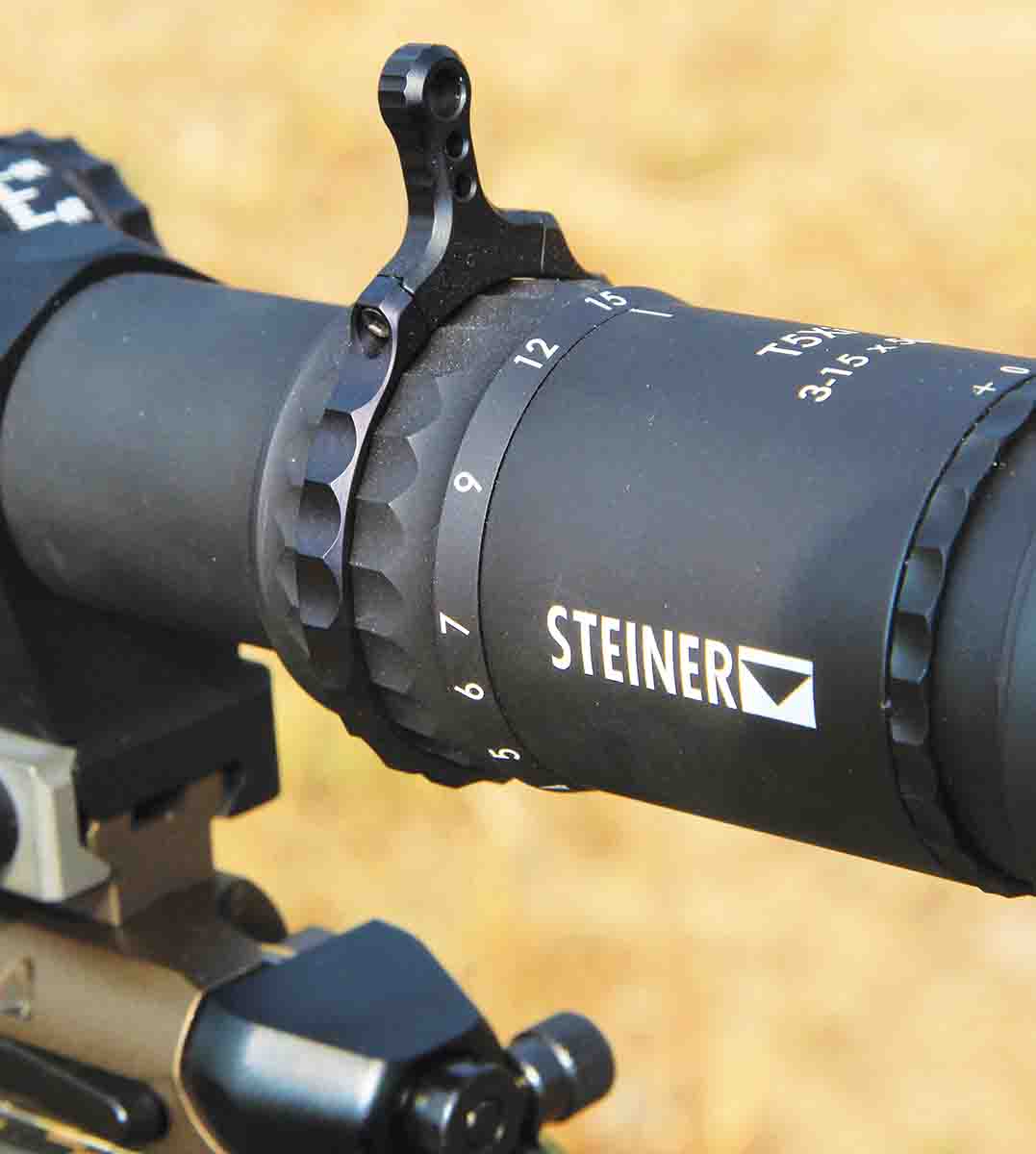 Steiner has a history reaching back to 1947 and the ruins following World War II, when Karl Steiner started a one-man workshop in Bayreuth, Germany. His goal was to "create optical products so functional, sturdy and uniformly flawless that nothing in the chaotic, mass-production post-war world could compare." Within six years, Steiner had grown to a 50-man factory and become a respected name in binoculars and riflescopes. Today, Steiner optics are available in 65 countries. Interestingly, while world-class Steiner lenses, coatings and prisms have long been created and produced in Germany, the scope under discussion here is made in the U.S. using precision German engineering.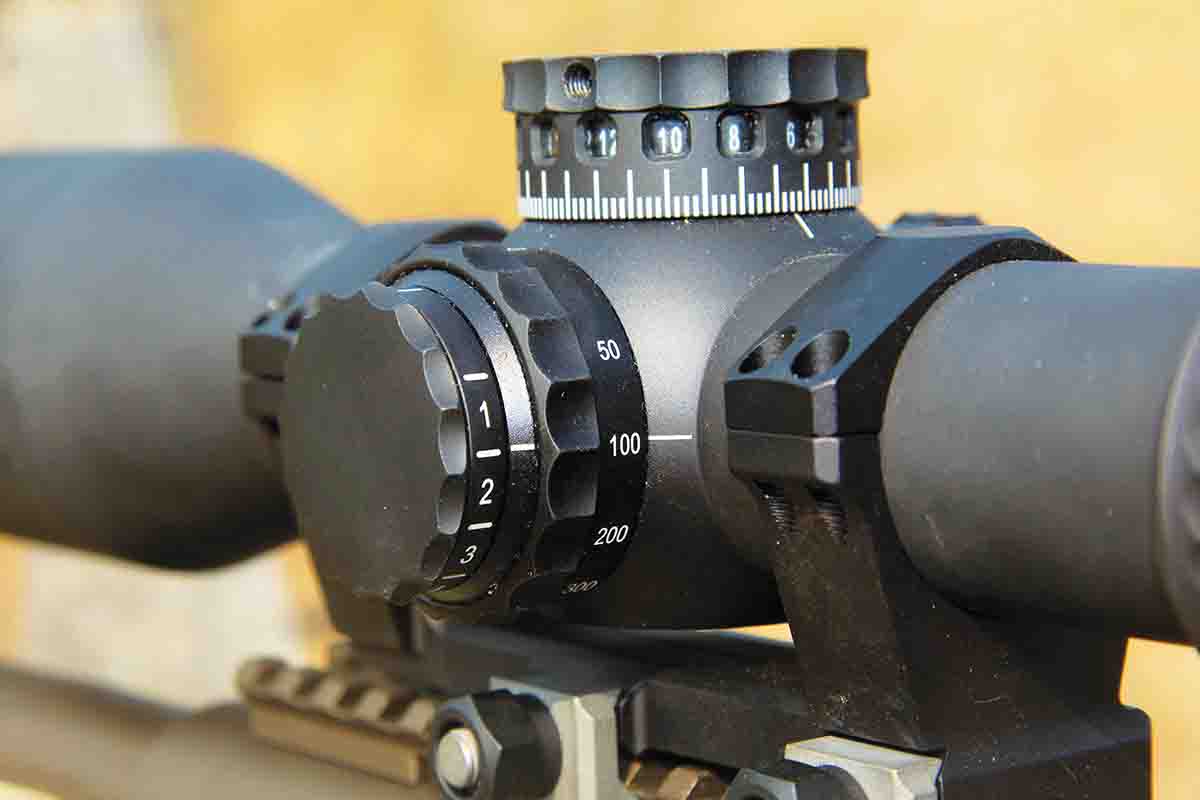 Steiner's battlefield presence has instilled a rock-solid character, and the 13.1-inch-long T5Xi is no exception. It is anything if not solid. The "medium-range" 3-15x 50mm scope weighs 29.8 ounces (1.86 pounds.) This comes through a one-piece, 34mm aluminum tube and rugged all-metal construction. Just holding the T5Xi speaks of reliability.
The T5Xi Series also includes renowned German glass, providing exceptional optical clarity and color fidelity. Look through the T5Xi 3-15x 50mm and a rifleman will understand much of what the $2,369.99 asking price is buying, in addition to slick exposed turrets and Special Competition Reticle (SCR) systems, both are new.
The 3-15x magnification configuration provides adaptability for close-quarter to long-range shooting, with a 50mm objective lens offering excellent light gathering abilities at the edges of day (12mm to 3.4mm exit pupils, 3x to 15x). The 34mm tube provides a full 120-MOA elevation and 54-MOA windage corrections. The side parallax wheel can be adjusted from 25 yards to infinity.
The exposed turrets are labeled as "Never-Lost," which include a Second Rotation Indicator that shows each elevation increment through the indication window of the elevation turret. This exclusive technology shows each mil or elevation through the indicator window on the elevation turret and after 120 clicks, the numbers automatically change to prevent the shooter from losing track of where they were at on big corrections.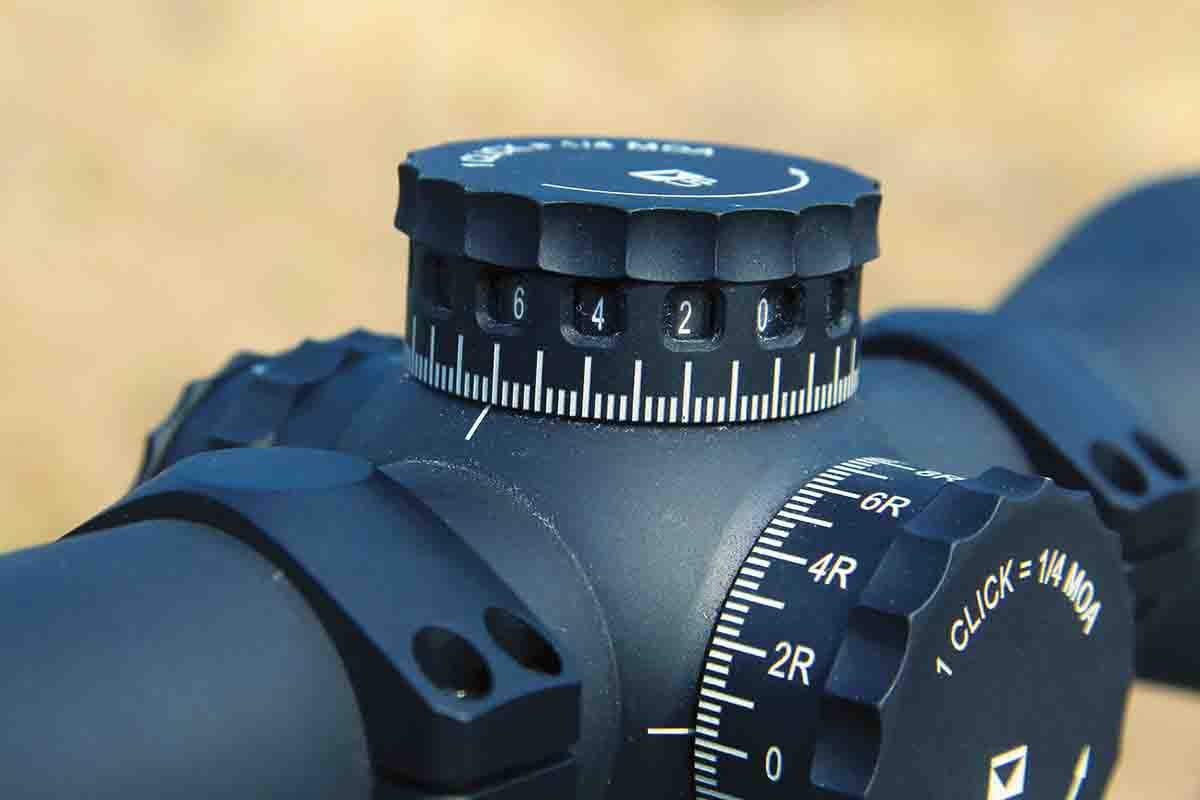 The elevation turret includes a zero stop, and turrets can be swapped out for different loads or applications without losing zero. The windage turret includes standard laser-etched hash marks with 0 and numbered R/L indicator marks. The turrets are tight enough to eliminate unintentional movement, like when pulling the rifle in and out of a scabbard, but offer positive tactile and audible clicks between settings. The knobs are large (elevation/windage/parallax about 1.54 inches across, illumination about 1.27 inches across) and heavily knurled for a nonslip grip.
The new SCR crosshairs, in mil or MOA versions, provide latitude for effective, close-, mid- and long-range use. The reticle offers 2⁄10-mil windage and ½-mil holdover marks with 1⁄10-mil ranging brackets for precise distance ranging. The etched-glass reticles can be illuminated via the left side, outside rotary dial, with intensity settings of 1 through 11, including tactile and audible clicks between various positions. Shutoff positions between each setting allow saving battery life while remaining cued up for instant action at a preferred brightness level.
The illumination system operates through a single CR2450 lithium coin battery. The T5Xi 3-15x 50mm is a first focal plane (FFP) scope, meaning reticle subtensions remain consistent in relation to the target at all magnification settings. The sure-grip diopter ring can be locked after tweaking reticles into sharp focus, while the generous eye box provides consistent eye relief throughout the entire magnification range.
The riflescope also comes with a 3-inch sunshade and spring-loaded Tenebraex lens covers with quick deployment tabs to keep dust and moisture out in the field, but make the optic ready in an instant. An extended throw lever can be added to the magnification ring for better purchase while wet or when wearing gloves. The all-metal tapered/knurled surface offers a good grip without the throw lever, but movement is fairly stiff right out of the box, making the lever welcomed. Magnification movement will undoubtedly loosen up with use. The tapered design allows viewing magnification settings while positioned behind the scope.
The T5Xi was mounted to the standard Picatinny rail of a new Franchi Momentum Varmint chambered in .224 Valkyrie using a pricy, 20-MOA Nightforce Ultralite Unimount – the only 34mm mount with appropriate height I could lay my hands on during testing. This option proved a good match.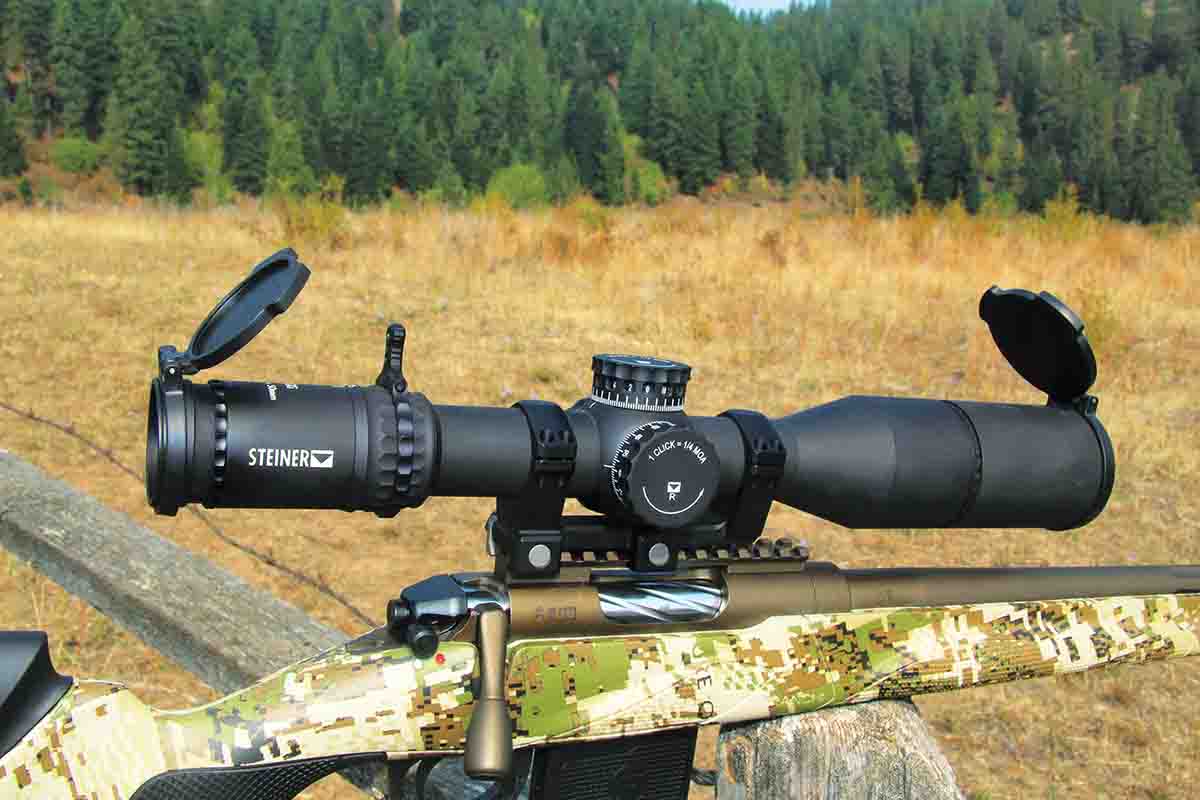 The T5Xi, in this case sporting .25-MOA movements, easily passed the standard turret-tracking box test. First sighting the rifle point on into the center bullseye of a five-spot, sight-in target at 100 yards, I spun turrets 18 clicks up and 18 left (41⁄2 inches elevation and windage). A three-shot group centered the top left bullseye. Returning to zero between groups, the test was repeated, up and right, down and left and down and right. All movements created dead-centered groups inside the bullseyes, confirming precision tracking.
The SCR reticle was used in less scientific fashion, shooting off a bipod at rocks wedged in distant clay hillsides situated from 400 to 700 yards, firing Federal Premium Gold Medal ammunition launching streamlined 80.5-grain Berger bullets. This has always been one of my favorite forms of field practice, taking a laser range, reading the wind, making some quick mental calculations and testing the theory. A miss is marked by a telltale puff of dust, a direct hit exploding the rock and providing satisfying feedback. The sharp optics, uncluttered reticle, light recoil of the Valkyrie cartridge from the heavy Franchi Momentum Varmint with a GemTech suppressor made this especially rewarding and quite revealing.
Steiner's warranty covers this scope for the life of the product, with no warranty card or receipt required and applicable to all future owners. See steiner-optics.com for more information.