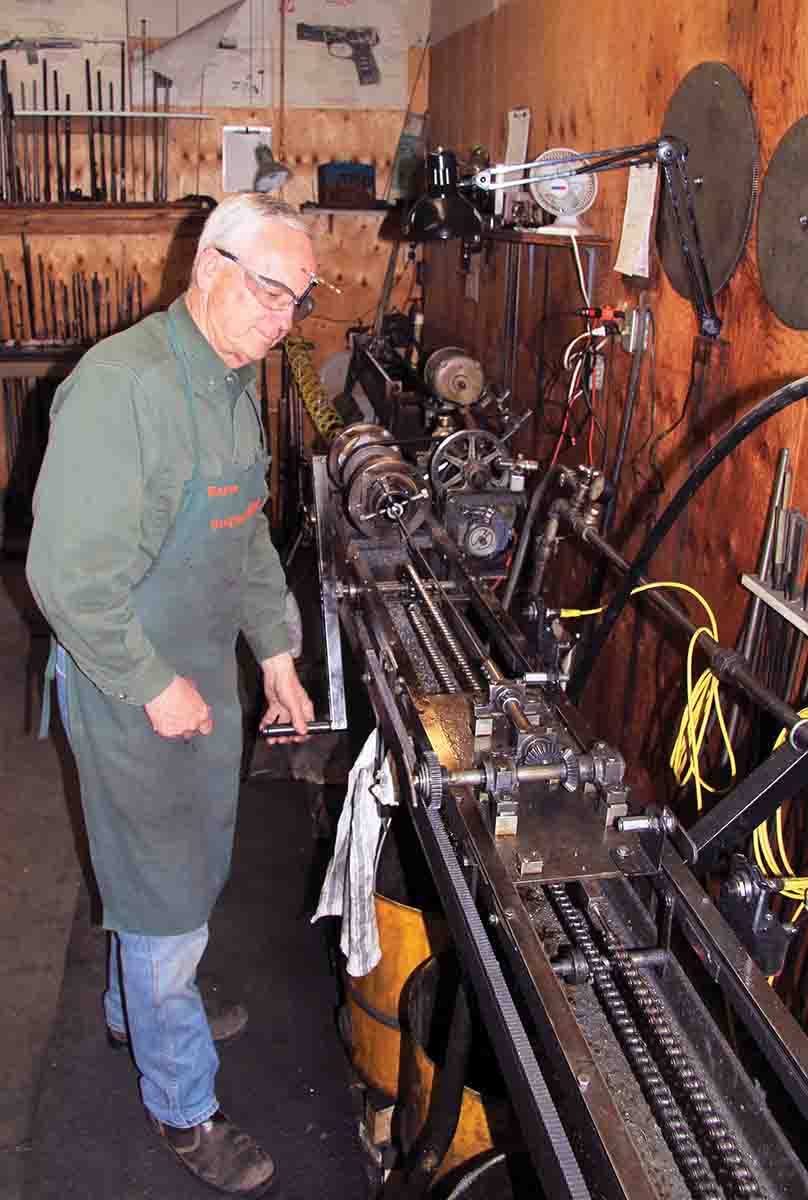 It all started on a Puget Sound duck hunt, more pointedly when Wayne York's boat flipped in freezing water. He was forced to swim ashore while wearing a vest full of lead shot and clinging to a bag of decoys for flotation. Despite the real threat of drowning, he kept a death grip on his deceased father's 20-guage Winchester Model 12 shotgun. York reached shore no worse for wear, but the saltwater did a number on that shotgun.
York quickly visited a local gunsmith to see about having the shotgun restored, including a new bluing job. But instead of quoting a price, the gunsmith invited York to conduct the job himself while the old man supervised. It wasn't long before York was doing odd jobs around that shop, developing a deep interest in gunsmithing that dovetailed right into a lifelong passion for everything outdoors.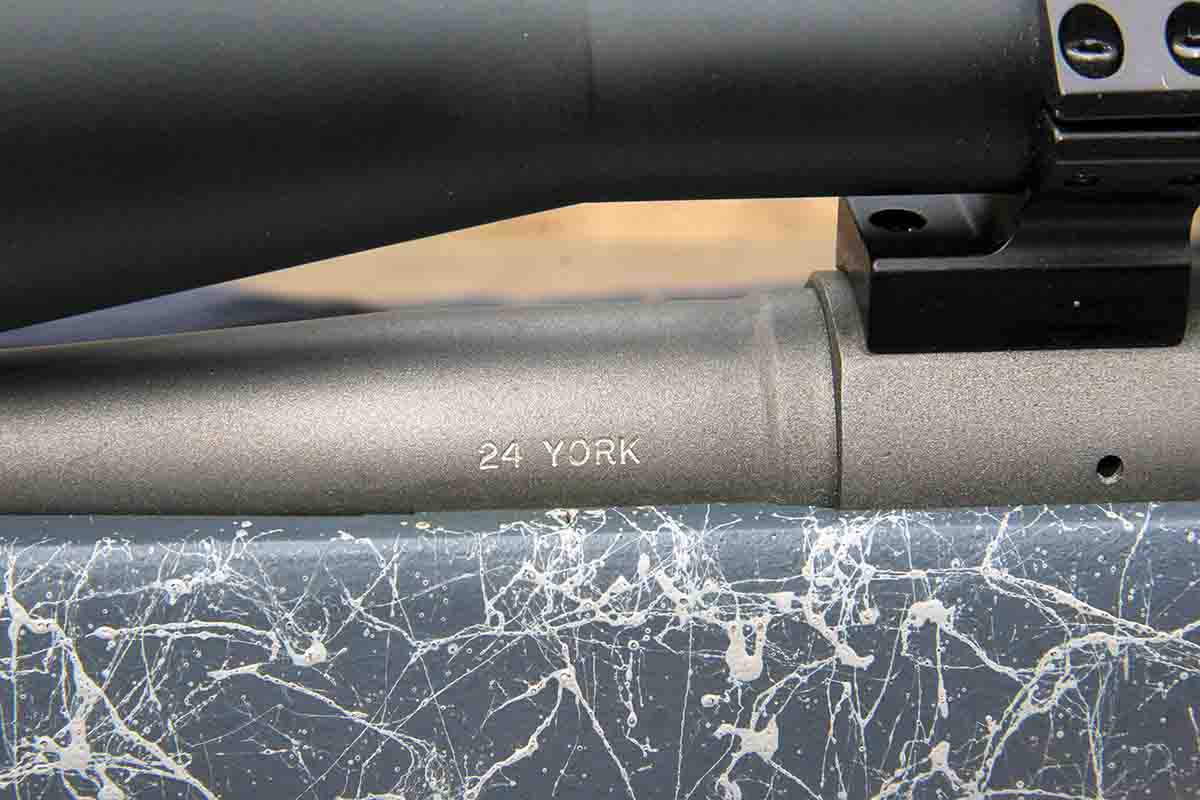 As a teen, York worked for another gunsmith in Olympia, Washington, and continued dabbling in gunsmithing through college, making side money bluing firearms and conducting woodwork, including fashioning wood pistol grips. Still later, he would apprentice with Bob West, a lifelong friend of P.O. Ackley and cofounder of the Trinidad Gunsmithing School in the Colorado town of the same name. West lived to be 94 years old and on his passing, York acquired some of the barrel-making equipment that had been used by Ackley and West during their illustrious careers. In fact, one of York's current barrel-making machines was designed and built by Bob West, not only serving as an intriguing piece of firearms history, but it's still in use today by Oregunsmithing to create custom, cut-rifled barrels and to rebore or reline barrels in 18 different calibers. Oregunsmithing rebores an average of 100 barrels annually and currently employs three full-time craftsmen and a machinist.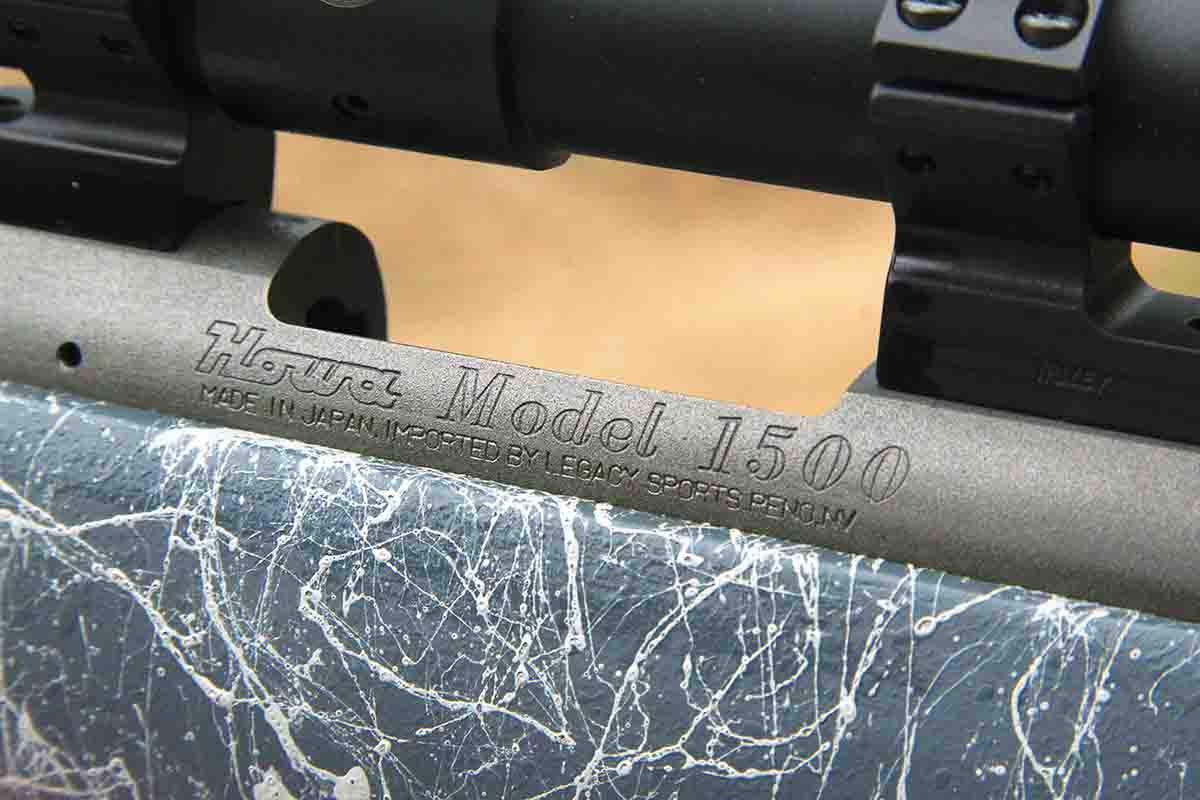 Somewhere in that busy life, York found time to serve 20 years as an Oregon State Trooper, where he became part of the department's highly-successful pistol shooting team. York said he was a natural at pistol shooting. He holds many marksmanship records that stand to this day. York opened Oregunsmithing around 1975, working part-time until his retirement from police work. Oregunsmithing also does repair and custom work on handguns and shotguns, in addition to rifles.
York said he saw his first synthetic rifle stock sometime in the 1970s, an example made by Brown Precision, immediately thinking to himself, "This is the future." York began researching the chemical and material components used in building composite stocks, even working for a Portland pattern and tooling company for a time to gain additional insight. He began building his own stocks in 1999. This self-taught endeavor would eventually evolve into Pendleton Composite Stocks (PCS) and become part of York's thriving Oregunsmithing business. York hired a chemical engineer to create a proprietary epoxy and began building featherweight but super-stout stocks reinforced with a Kevlar/carbon fiber blend. The stocks include no aluminum blocks, as York said aluminum includes five to six times more thermal movement than steel. He instead developed a system including small stainless steel pillars that, when combined with glass bedding and barrel floating, resulted in an extremely stable platform.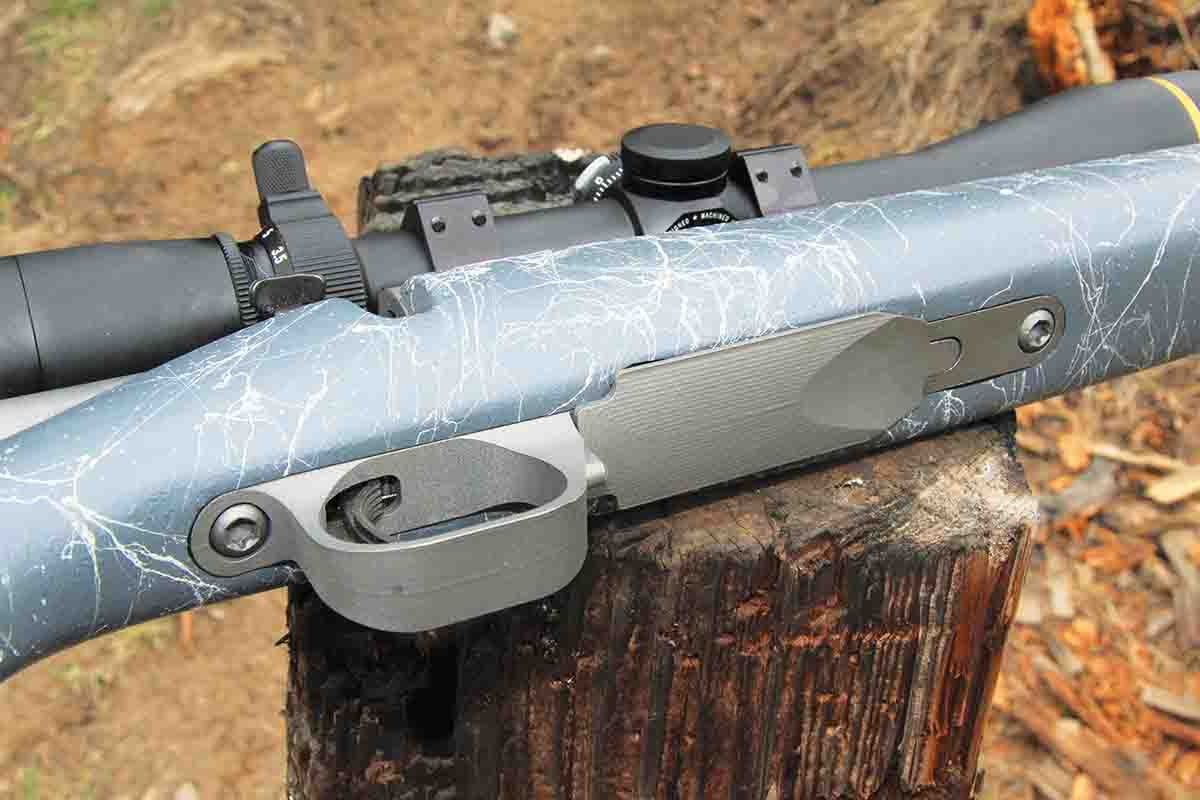 The composite stocks also include steel cross pins embedded behind the web and the magazine box to provide reinforcement. Each stock is handlaid in a compression mold. After given time to catalyze, a final sanding and the addition of a proprietary hard-skin application and painting to order, it resulted in a drop-in fit and a nail-tough finished product. A Pachmayr or proprietary Oregunsmithing Ultralight recoil pad (used on the rifle under discussion) and sling studs are then added.
Oregunsmithing will build a custom rifle on any action requested, but York gravitates to Howa's Model 1500 Mini Action, which was used on the rifle tested here. The rifle has a compact action, providing the perfect option for Oregunsmithing proprietary cartridges – the .24 and .25 York. York said the Japanese-made actions offer exceptional quality, with strong construction and tight machining tolerances, reliable extractors and front lugs similar to those found on Winchesters. The rifle was fitted with a 20-inch, cut-rifled, sporter-contour barrel with 1:10 rifling twist made by Oregunsmithing.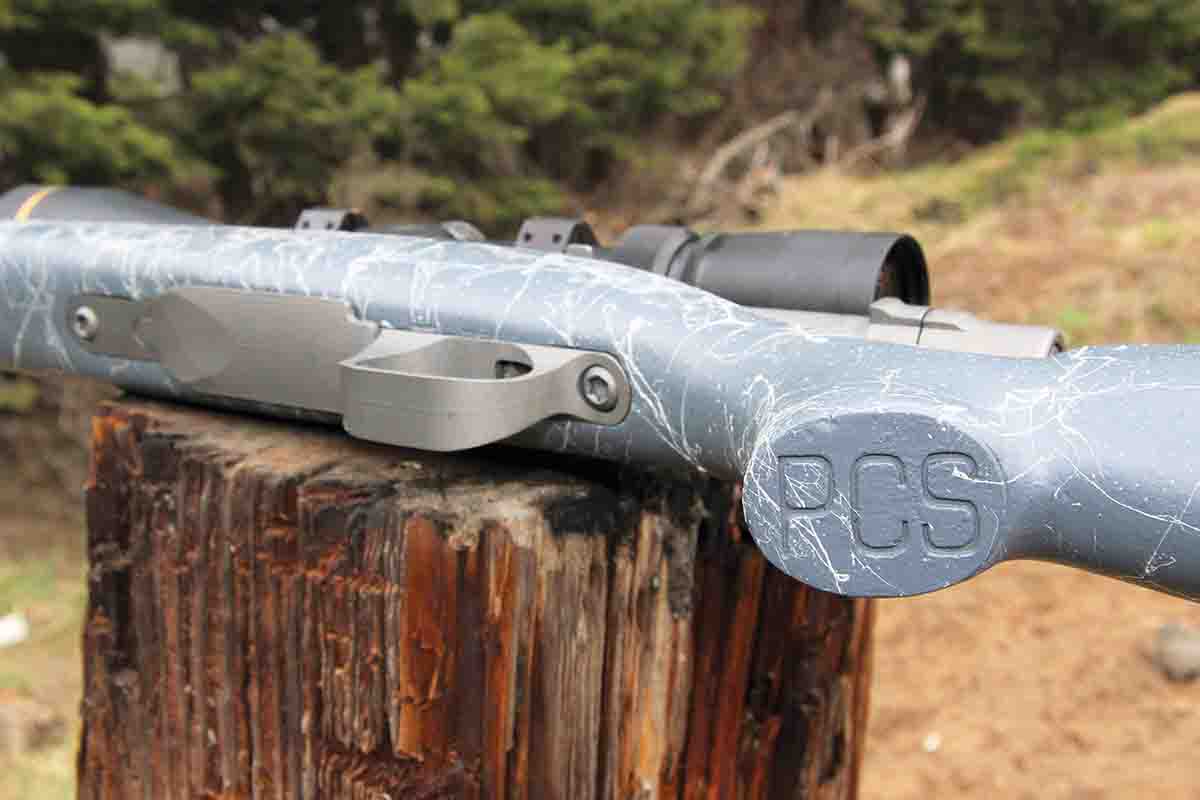 Besides the barrel and Howa Mini action, this rifle includes an 18.4-ounce, PCS Classic-C drop-in stock with an Ultralight recoil pad made in-house, plus the company's handsome and sleek proprietary bottom metal. This bottom metal replaces the Howa trigger guard, bottom metal and magazine well with an aluminum trigger guard and hinged floorplate, CNC machined in-house and treated to a tungsten CERAKOTE finish in this case, which matches the action and barrel. (A multitude of custom colors are available.) The rifle offers five-plus-one cartridge capacity with the York rounds.
With a new Leupold VX-3HD 3.5-10x 40mm scope set in Talley one-piece bases/rings, the rifle weighed a few ounces less than 6 pounds unloaded – a true mountain rifle if there ever was one. This is a rifle I could carry all day on a wilderness or backcountry hunt without complaint. York said he often slings one of his ultralight rifles across his back while bird hunting, to use against encountered coyotes. The rifle is lively, compact and well-balanced, and it comes to the shoulder lightning fast and with instant edge-to-edge scope acquisition. It sits steady in the hand, even while shooting offhand. The Howa two-stage trigger had been tuned to break at a crisp 1.25 pounds without overtravel.
York developed his proprietary .24 and .25 York cartridges in the 1990s. They are based on the 6.8 Remington SPC case, resulting in essentially a 6.8 SPC "Improved," with the shoulder moved forward and given a 30-degree angle. The neck is shortened and sidewalls are given a two percent draft that improves on the SPC's powder capacity by a grain or two. The result is an extremely efficient pair of cartridges. York has used his .25 York to tag dozens of mature mule deer bucks and cow elk. The .24 York is the same cartridge but necked to 6mm. The 1:10 twist on this rifle limits it to conventional 100-grain bullets, but with a velocity of 2,785 (Hornady 80-grain GMX) to 2,518 feet per second (fps) (Speer 100-grain Grand Slam) proves more than powerful enough for deer and pronghorn with the more ruggedly constructed bullets selected for load testing. Kinetic energy ranged from 1,378 to 1,408 foot-pounds at the muzzle with hunting weight bullets. It's 6mm caliber also allows using a wide variety of varmint bullets for predator hunting or rodent shooting. The test rifle shot Nosler 55-grain Ballistic Tip Lead Free bullets at 3,423 fps and Hornady 75-grain V-MAX bullets at 3,067 fps, as examples.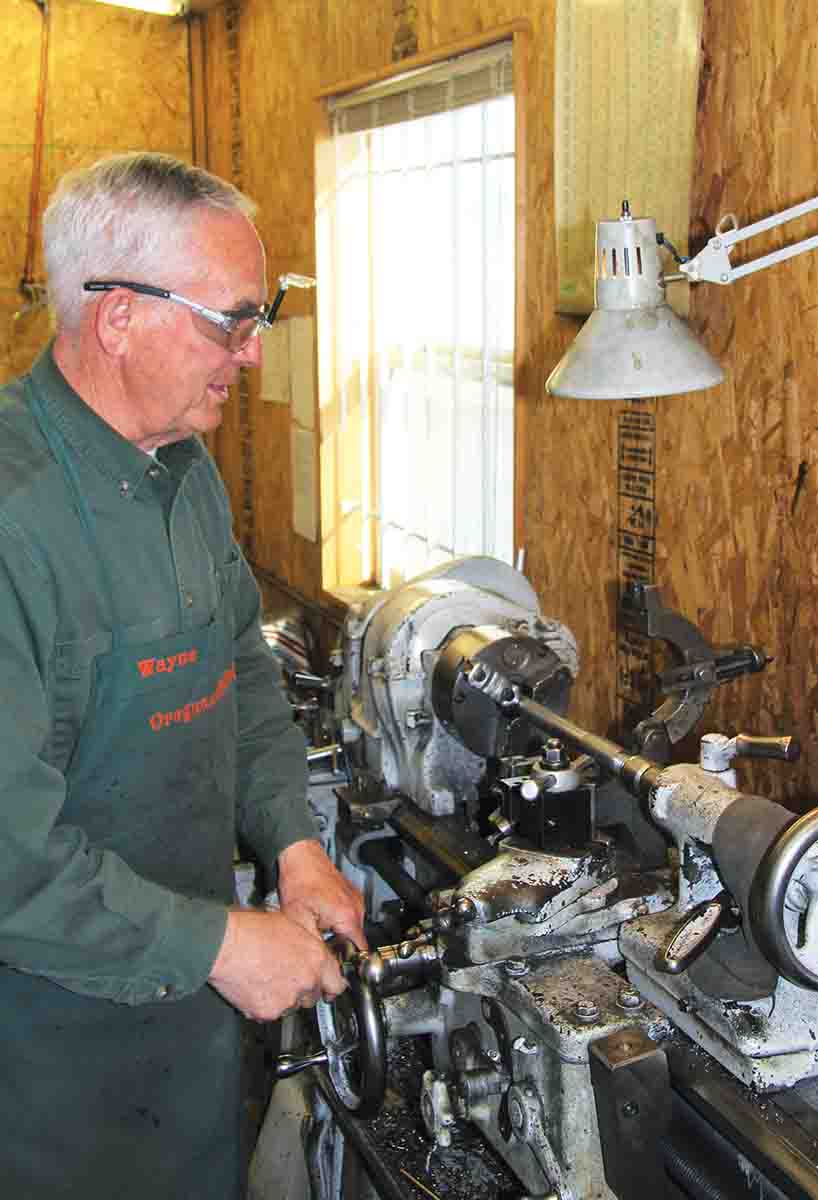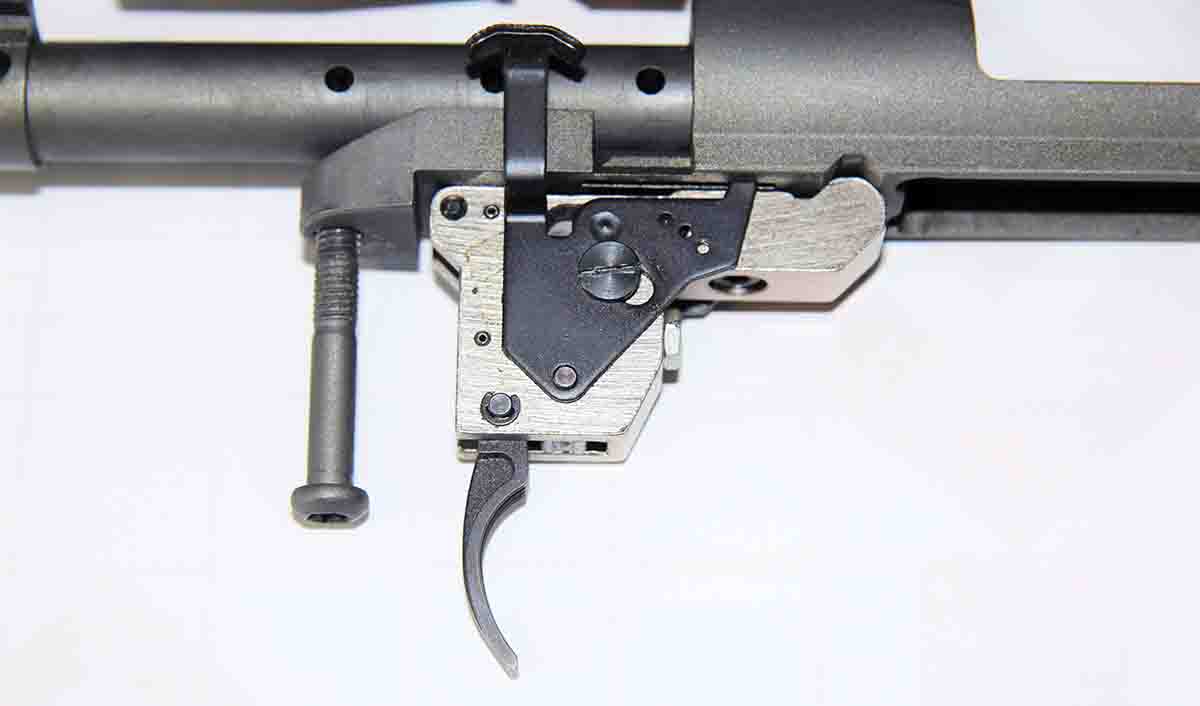 Though the test rifle included 1:10 rifling, it would be easy enough to order a faster twist if a customer felt a pressing need to shoot today's longer, sleeker bullets. The .24 York combined with 105- to 107-grain bullets – shot from, say, a 1:9 twist rate – would make an interesting long-range, windy-day varmint cartridge.
In the spirit of the crossover nature of this 6mm cartridge, bullets were chosen to serve both varmint shooting and big-game needs. The lightweight nature of the rifle and ultra-thin barrel inspired three-shot instead of five-shot groups, as this is a hunting rifle and the thin barrel heated quickly. Listed group sizes are the average of three, three-shot groups. As bullets grew heavier, recoil became noticeable with the sub-6-pound rifle, though certainly manageable.
As load data was not available, 6mm ARC starting loads were used to develop the data included in the accompanying table. Laddered loads including three to five separate loads were tested and the best results listed. I should reemphasize that the test rifle was designed to be a lightweight big-game rifle, not a varmint rifle, so while accuracy didn't live up to what I would demand for rodents, all listed loads are more than sufficiently accurate for work on small- to medium-sized big game. New Roberson Cartridge .25 York brass was necked down to 6mm and bullets were seated with Hornady 6mm ARC dies screwed into an Area 419 ZERO Reloading Press.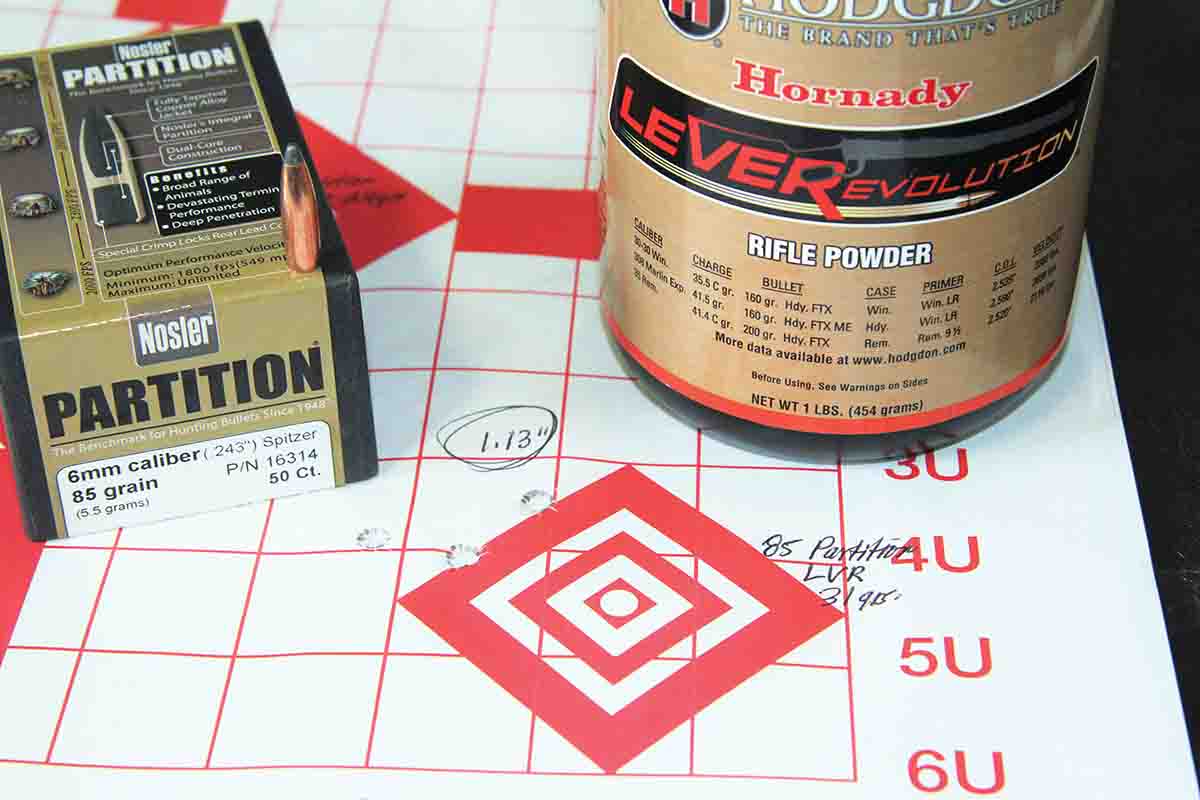 Nosler's 55-grain Ballistic Tip Varmint Lead Free offers a blazing-fast burrowing rodent option, its nontoxic makeup creating a relatively long-for-weight bullet with a G1 ballistic coefficient (BC) of .288. The Barnes 62-grain Varmint Grenade is another "explosive," highly accurate lead-free design ideal for small varmints to 300 yards. Hammer Bullets' 70-grain Hammer Hunter (G1 BC .320) serves as an excellent cross-over, a long-for-weight, mono-copper bullet combining top velocities with controlled expansion that has been tested successfully on white-tailed deer. It was designed to stabilize with a 1:10 rifling twist rate. Hornady's 75- grain V-MAX provides an excellent BC for longer ranges or windy conditions (G1 BC .330) paired with dramatic terminal performance. The Hornady 80-grain GMX (G1 BC .300) is a polymer-tipped, mono-copper bullet that offers deep penetration and high weight retention combined with blazing velocity. Nosler's 85-grain Partition (G1 BC .315) needs no introduction as the original controlled-expansion design is ideal for most big game.
Hornady's 90-grain ELD-X and Swift Scirocco II would be my choices for long-range game such as Coues' whitetail or pronghorn. They offer an exceptional G1 BC of .409 and .419, respectively, for excellent energy/velocity retention at extended ranges and killing terminal performance at short to long ranges. Finally, Speer's 100-grain Grand Slam (G1 BC .351) is a bonded, lead-core bullet that would serve well on burly mountain muleys, midwestern whitetails or average black bears.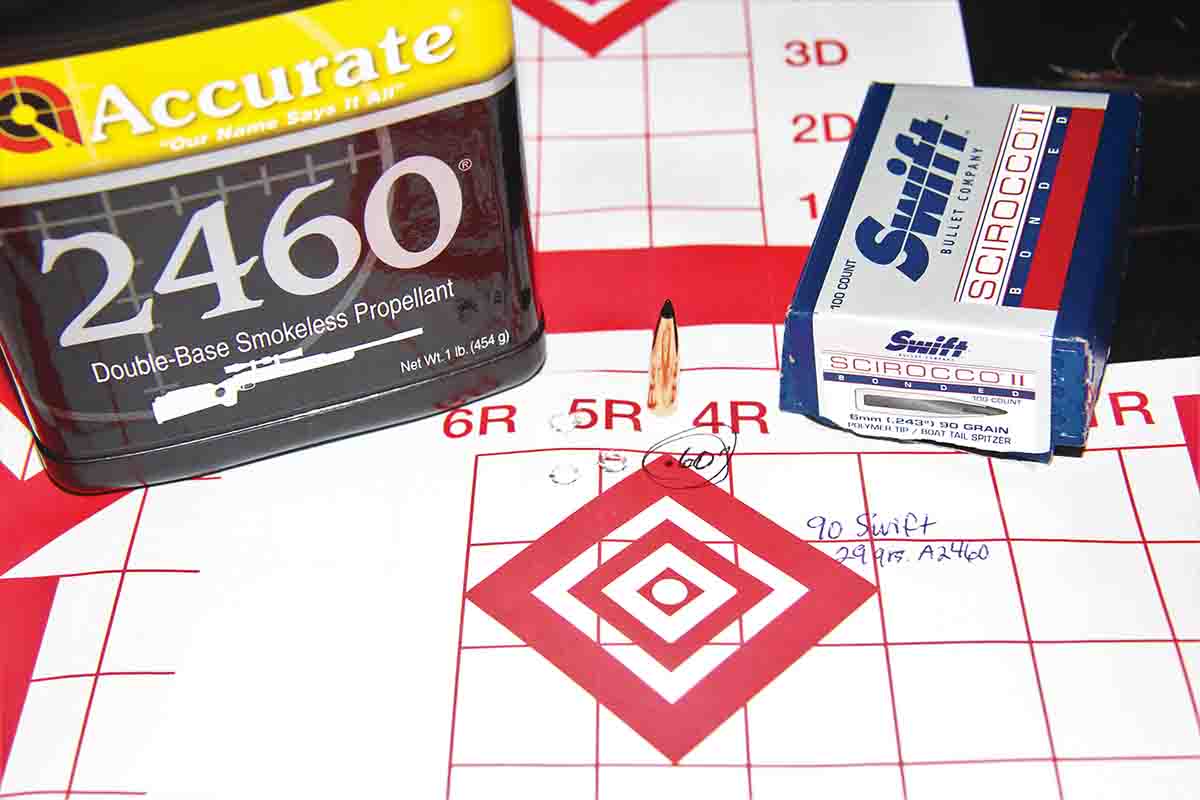 Interestingly, two of the hard-core varmint bullets included in testing – the Nosler 55-grain Ballistic Tip Lead Free and Hornady 75-grain V-MAX – just didn't work well with the test rifle, producing the largest average groups. Barnes' 62-grain Varmint Grenade proved the varmint shooting choice for this particular rifle and produced one of the smallest average groups, .69 inch at 3,176 fps with 30 grains of Ramshot X-Terminator.
The remainder of loads utilized big-game bullets. The Hammer Bullets' 70- grain Hammer Hunter produced a sub-1-MOA group average using 29 grains of Alliant Power Pro Varmint at 2,993 fps, which would make an excellent pronghorn load. The similarly constructed Hornady 80-grain GMX produced a smaller, .72-inch group average with 27 grains of Ramshot TAC at a slightly slower 2,785 fps. Nosler's 85-grain Partition shot a near 1-inch group with 31 grains of Hodgdon LEVERevolution at an impressive 2,935 fps – a combination of bullet dependability and velocity I'd call ideal for deer-sized game.
Hornady's 90-grain ELD-X managed around an inch and a quarter seated over 30 grains of Hodgdon CFE 223 at an inspiring 2,800 fps – a group average that could no doubt be improved by jockeying seating depth. The Swift 90-grain Scirocco II produced the tightest group average from this rifle – .60 inch at 2,836 fps utilizing 29 grains of Accurate A-2460 – not unsurprising, as this powder performs wonderfully in the 6mm ARC as well. The Scirocco II is tough enough to tackle the beefiest muley or Midwest whitetail. Berger's 95-grain Classic Hunter didn't do as well as I would have expected, perhaps it is a touch too long for the 1:10 rifling.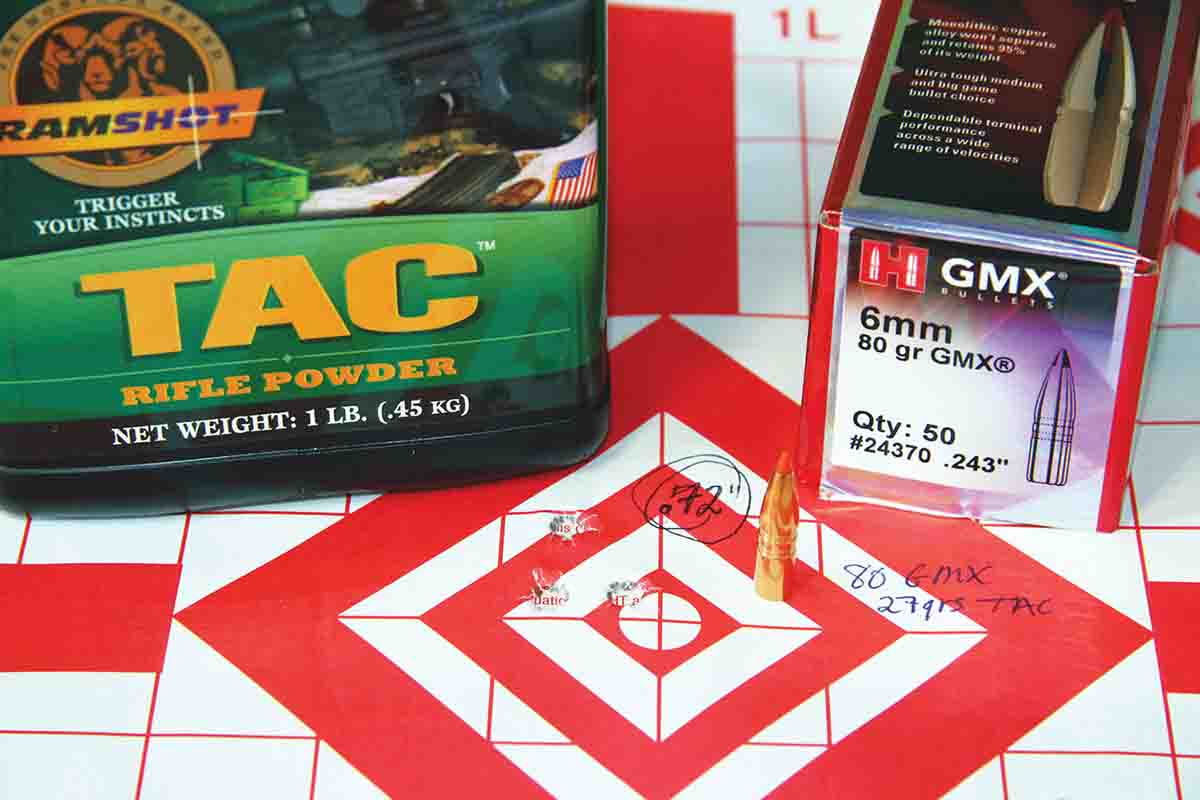 For all-around woods hunting, it would be difficult to beat the Speer 100-grain Grand Slam sent at 2,518 fps with 28 grains of Alliant Power Pro 2000-MR. That load produced a group average right around .75 inch. It packs a punch and the Grand Slam can be counted on to produce a beautiful mushroom with high weight retention.
As a big-game mountain rifle likely to fire but one or two shots per hunt, I'd call this Oregunsmithing creation an absolute ideal. All the controlled-expansion and/or big-game bullet loads produced more than ample accuracy to keep all shots in the vitals of pronghorn, deer or black bear at any reasonable range. Some of the tighter-shooting loads allow the hunter to stretch range a bit if necessary. I'm not one to encourage long-range shooting at big game, but it's nice to know that should a hunter wound an animal at 200 yards and it presents another opportunity at 400, you'd have a very good chance of ending that animal's suffering quickly.