Few inventions during the nineteenth century are still considered perfect for their intended purpose. However, due to their effectiveness, big-bore double rifles are timeless and are often chosen by savvy professional hunters and sportsman who pursue large and dangerous game to include elephant, buffalo, etc. Their very lives could be at stake should their choice of firearm and caliber fail.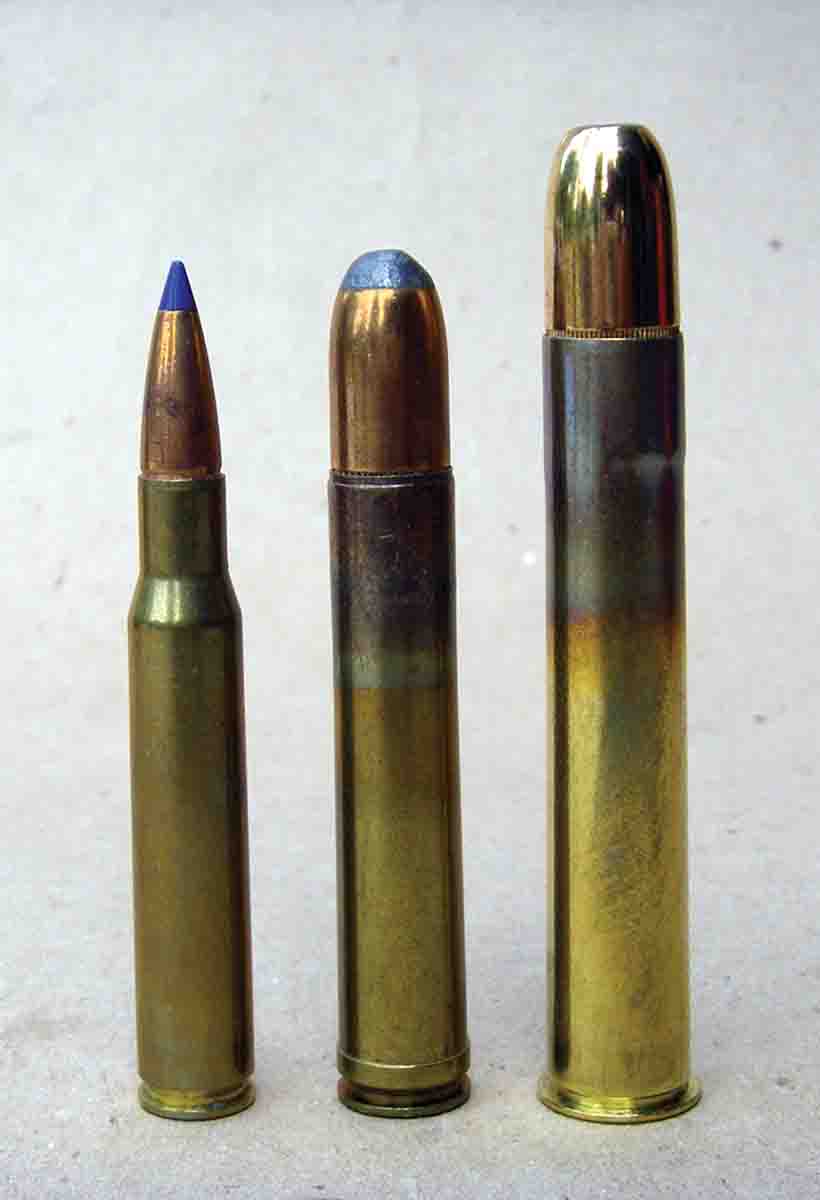 While the golden era of the double rifle has passed, fine-crafted, vintage examples (typically produced from the 1890s until the beginning of World War II) remain in high demand and command premiums that often range from $25,000 to $200,000 or more, which puts them out of reach of the average hunter/shooter. And many have been fired extensively and exhibit considerable wear.
Nonetheless, there are newly manufactured rifles with properly regulated barrels that can be purchased for a fraction of the costs listed above. One notable example is the Merkel 140-2, with variations offered in .375 H&H Magnum, .416 Rigby, .450/400 Nitro Express (NE), .470 NE and .500 NE, which is the cartridge I selected.
This story really begins during the last half of the nineteenth century, when savvy professional hunters (PH), adventurers and sportsman determined that a large-caliber double rifle was the ultimate sporting gun for hunting large, heavy and dangerous game that was usually encountered at close range in brush or trees in unexplored Africa. The ability of the hunter or PH to quickly shoulder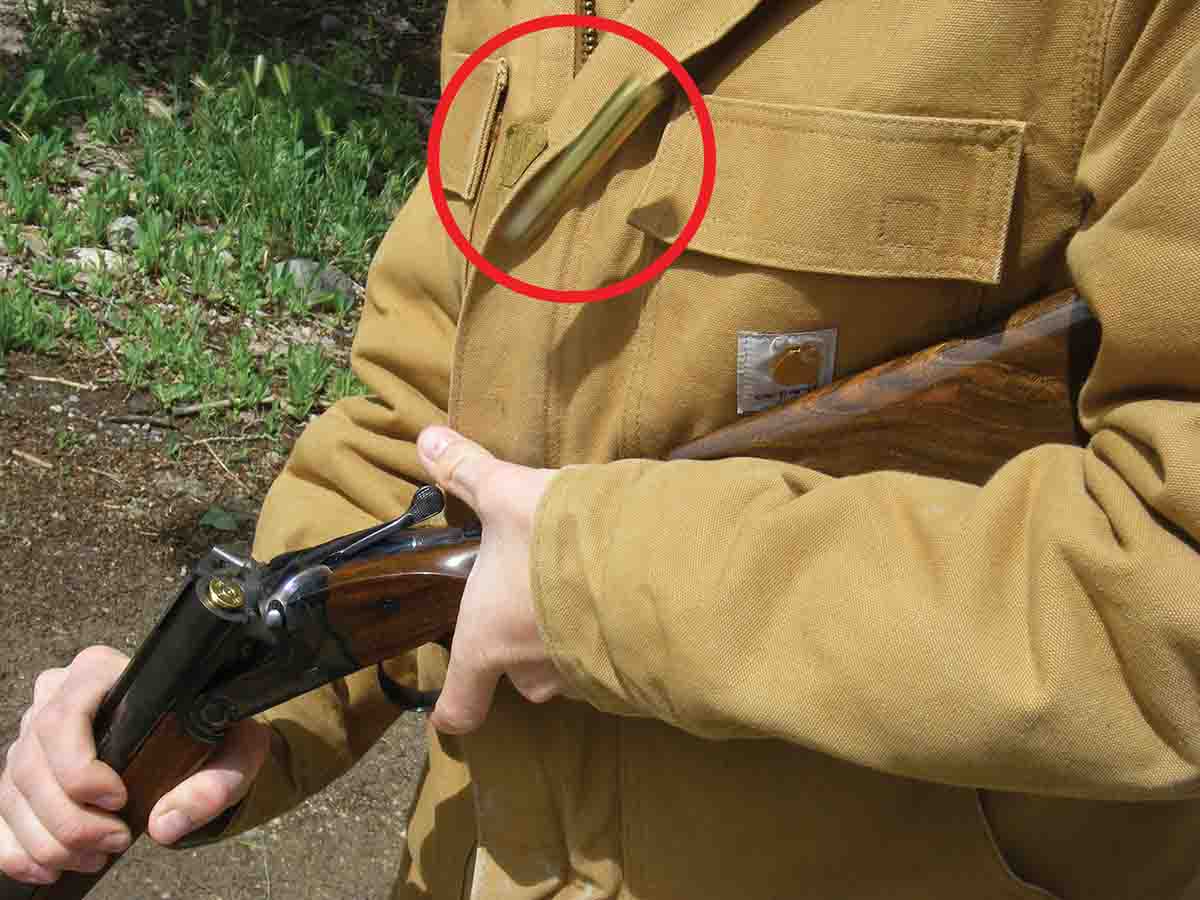 the rifle and send a heavyweight solid bullet through thick skin, heavy bones and muscle and on into the vitals of a charging animal often meant the difference between life and death. The side-by-side double rifle is comparatively short, fast handling and can be shot instinctively while producing acceptable accuracy. If necessary, a quick follow-up shot is ready the instant the rifle can be brought down out of recoil and back on target. Furthermore, a double rifle is essentially two guns in one, as it has two barrels, two locks, two firing pins, two triggers and two ejectors. Should one "side" fail due to a broken part or a faulty cartridge, the second barrel can be a lifesaver.
While there were a number of excellent rifle cartridges developed during the black-powder era for single-shot and double rifles, the Nitro Express cartridges remain in high demand and are practical for today's hunters. During the late 1970s when I first began shooting and experimenting with big-bore double rifles, ammunition was very difficult to find in the U.S. and was generally considered obsolete. Ammunition had to be obtained from specialty dealers and was expensive. Naturally, fired cases were handloaded, which was difficult as Berdan 172 primers had to be unconventionally removed, bullets were hard to find, and determining a powder charge that would produce the correct pressures and velocities to correspond with factory-load ballistics and regulate correctly for a given rifle was challenging.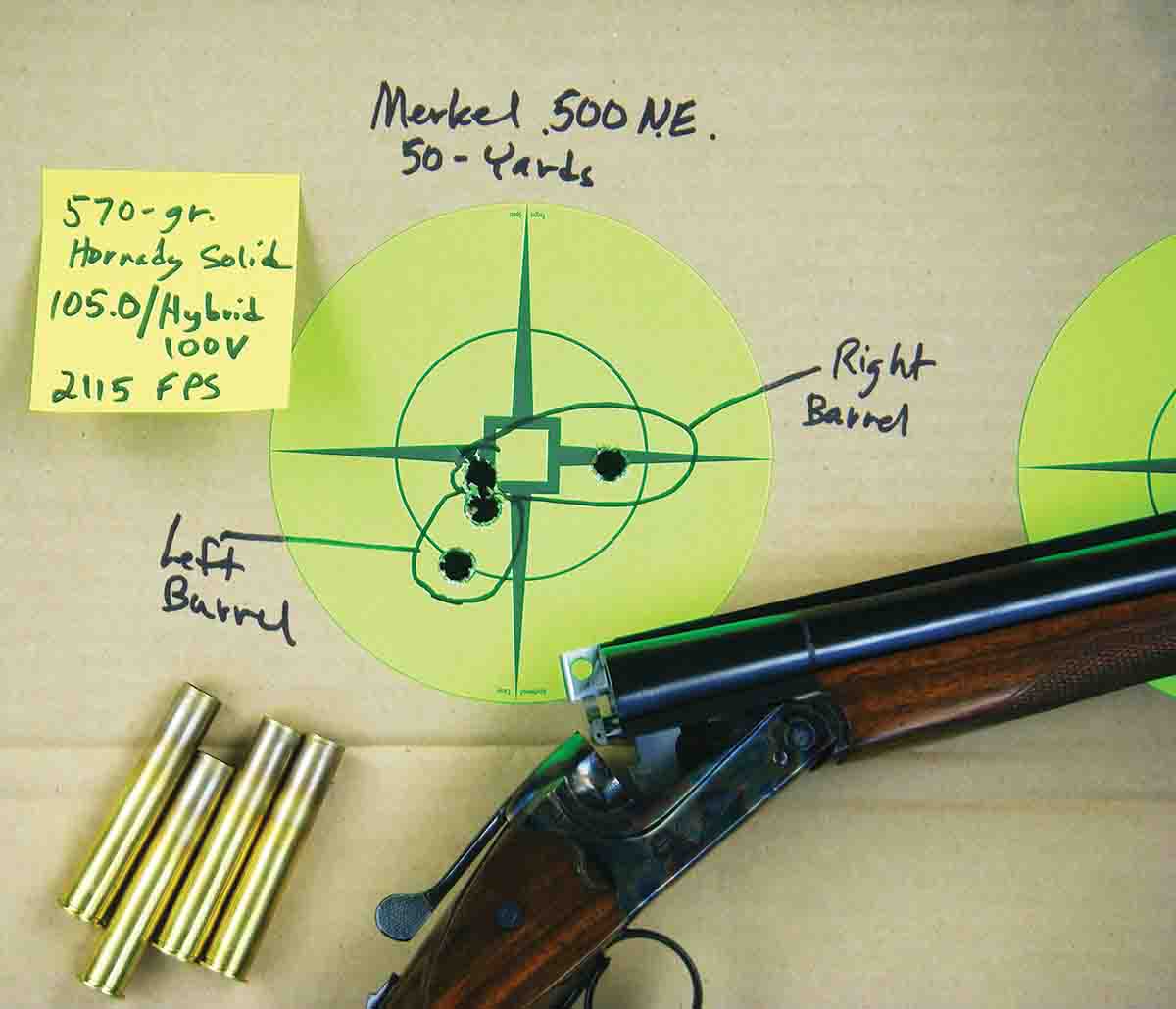 That has all changed, as Federal, Hornady and Nosler offer factory ammunition for the most popular big-bore Nitro Express cartridges. As I have come to expect from these three companies, ammunition is of higher quality and features better bullets (solid and expanding) than vintage ammunition. They also feature Boxer-primed cases, and U.S.-produced bullets are readily available, which make it easy for handloaders to assemble loads.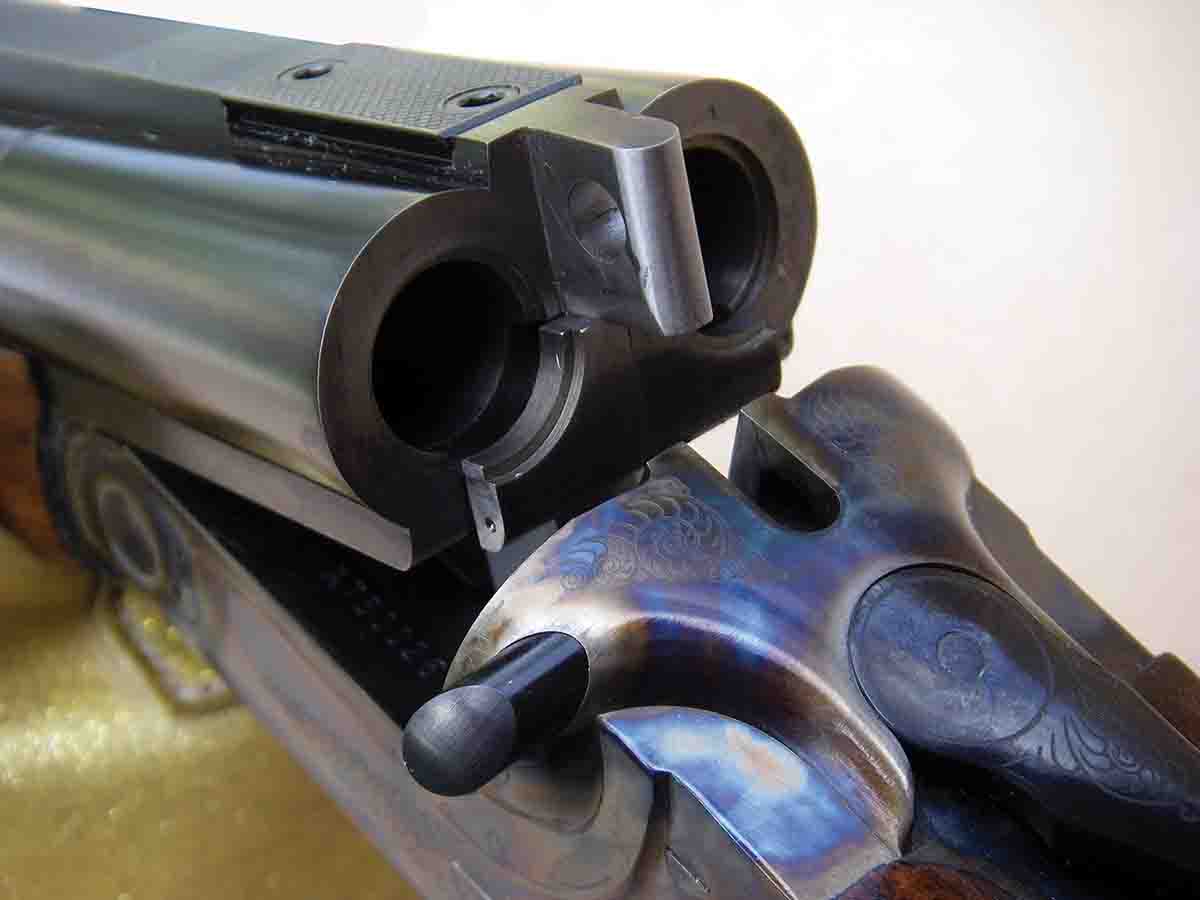 While traditional double rifles are chambered for potent cartridges, their actions are not strong – at least when compared to bolt-action rifles. As a result, chamber pressures are kept intentionally low. This serves to increase the reliability of both the rifle and ammunition, which is largely insensitive to temperature changes. This cannot be said of some modern big-bore cartridges that are loaded to high pressures.
One of the more popular cartridges is the .500 NE (3-inch) that was developed by UK-based Westley Richards around 1890. It is noteworthy that there are three distinct versions of this cartridge, including the .500 Black Powder Express (.500 Express), which appears to have been developed during the 1860s and features a 3.25-inch case length. The next version is the .500 Nitro for Black Powder that was loaded with cordite and first appeared in the 1890s.
The .500 NE (3-inch) obtained its name from the cordite loads that contained guncotton (nitrocellulose based) and nitroglycerin. They were loaded to higher pressures and not intended to be fired in rifles designed for black powder, which by comparison were not as strong. Current industry maximum average pressure is established at 40,611 psi. Traditional ballistics list a .510-inch, 570-grain bullet with a muzzle velocity around 2,150 fps (as listed by Kynoch), which generates 5,860 foot-pounds. However, since foot-pounds is not a particularly good method of measuring the actual effectiveness of a big-bore cartridge, it is noteworthy that by using Taylor's Knock-Out (TKO) formula, it earns an impressive 89.29. By comparison, the .458 Winchester Magnum with a 500-grain bullet at 2,010 fps has a TKO value of 65.75, and the big .460 Weatherby Magnum pushes a 500-grain bullet at 2,600 fps for a TKO of 85.05.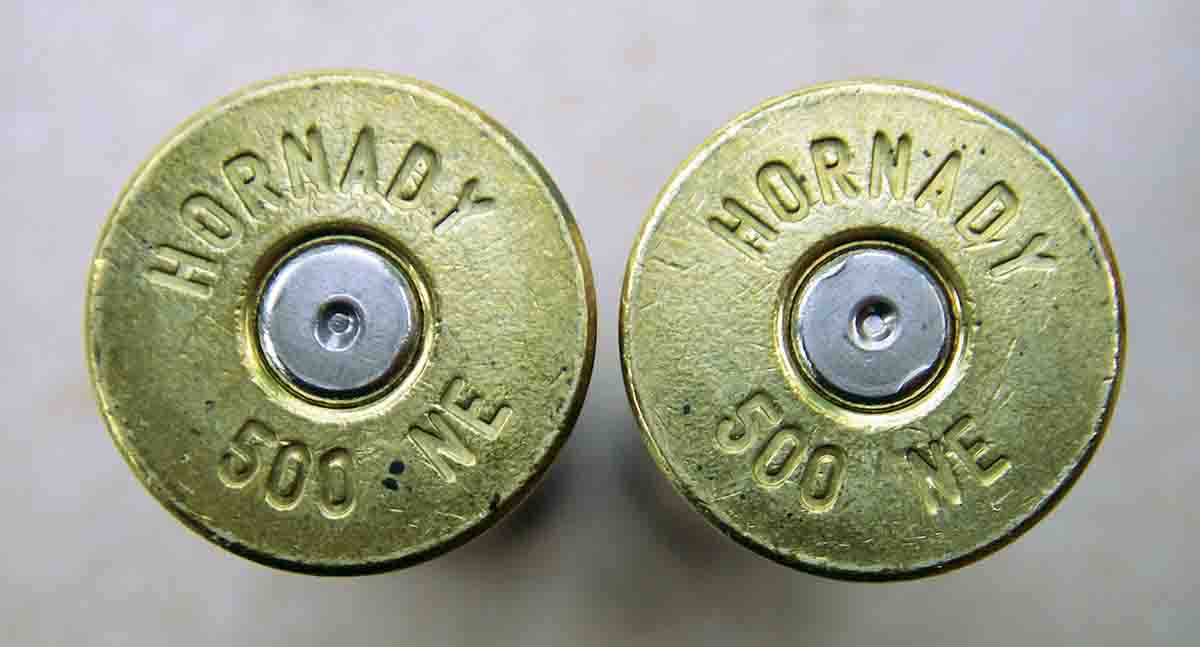 The big .500 Nitro offers the large-caliber, bone-breaking and deep-penetration qualities that are required to reach the vitals of Africa's heaviest game under all conditions and is generally considered a stopping cartridge, but it is also fun to shoot! Although still a challenge, more hunters can master the recoil of the .500 NE than the heavy stopping cartridges such as the .577 and .600 NE, making it a practical choice.
German-based Merkel has been building fine sporting guns since about 1898. The Merkel 140-2 is a box lock Anson & Deeley design, which is simple, strong and reliable. This rifle features double triggers and selective ejectors but is also available with extractors (at less cost) for hunters wanting a quietly opening action. To increase durability and strength, it features the famous Greener cross bolt and conventional double bottom bite locking system. The screws are qualified and the firing pins are bushed, all of which denote a quality double rifle.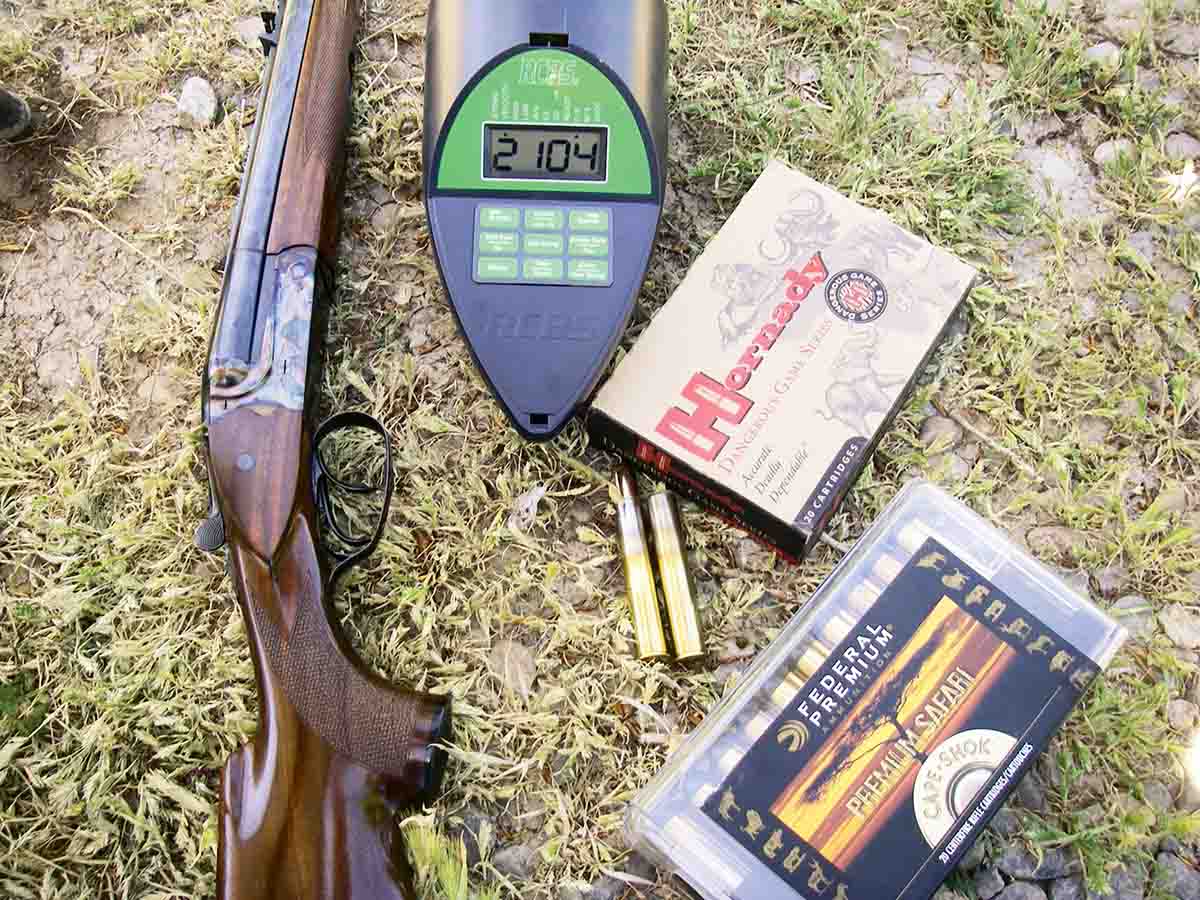 This particular model is relatively plain, as the receiver is case color hardened and features light scroll engraving. The classic-style stock features a low-profile cheekpiece and is constructed of Turkish walnut with straight grain, meaning it's strong and functional. Higher grade versions such as the 140-2.1 African Safari Series feature a silver nitride receiver with extensive hand engraving, gold-inlayed game scenes, octagonal barrels and upgraded wood. The barrels are rust blued at a low temperature for a beautiful, durable, nonreflective luster reminiscent of a bygone era.
The rear sight features a fixed, wide English "V" with two U- notched folding leafs for 50 and 75 yards/meters, respectively. The front sight is a standard gold bead.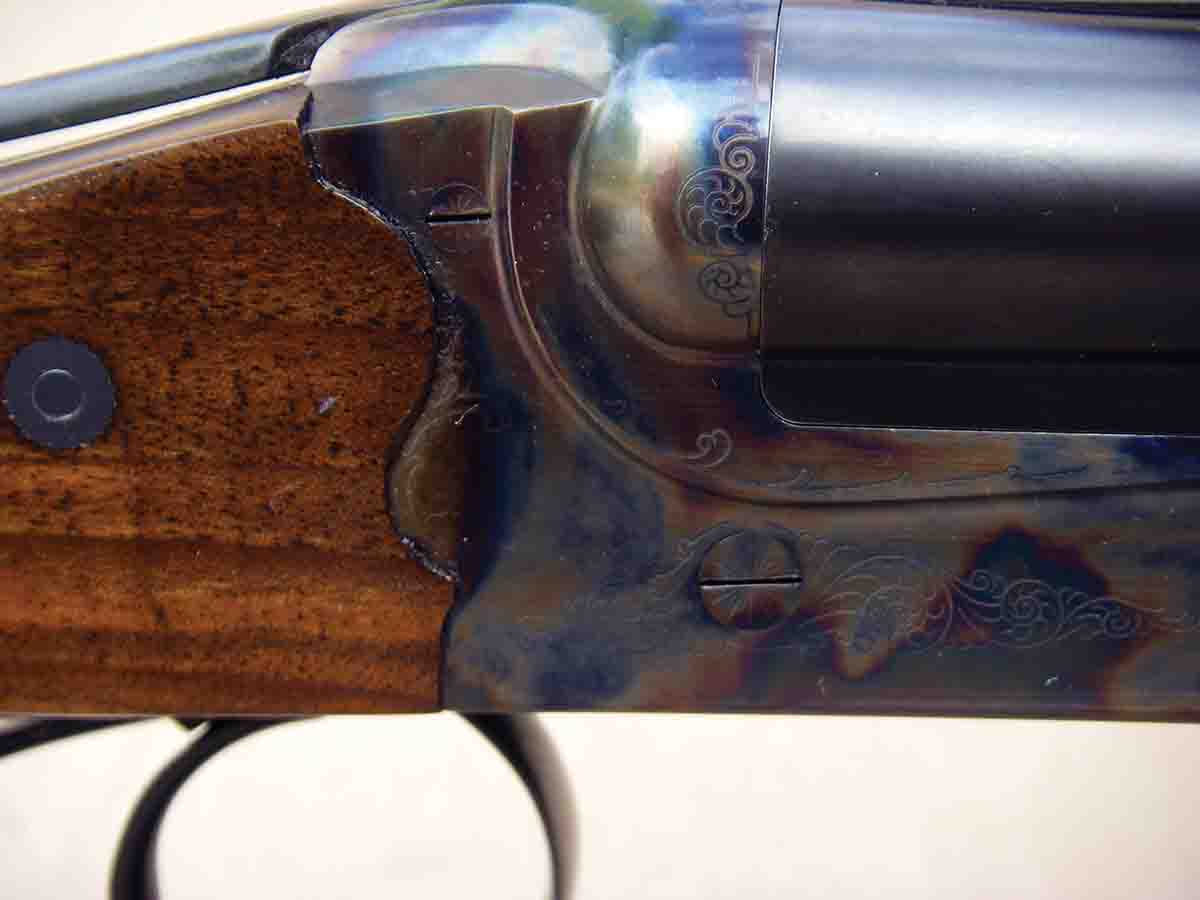 Merkel uses a combination of modern manufacturing or tooling with hand fitting, polish and barrel regulation. Upon assembling the rifle for the first time, it was noted that the barrels fit the receiver with extreme precision and were tight to open and close. After working the action and firing the rifle extensively, it began to "wear in" while remaining tight.
The barrels are hammer forged and feature a 1:15 rifling twist. They are straight and beautifully machined. Using a Lyman Borecam borescope, they were further examined for surface condition. While they were not the smoothest barrels I have seen, their finish is respectable, and they did not produce unusual fouling during many shooting sessions with jacketed and cast bullet loads.
Barrel regulation of double rifles is something of an art and is often misunderstood. The regulation of some rifles will ultimately cause bullets to cross paths downrange, and then begin to diverge beyond normal hunting ranges. That does not mean they are supposed to converge or cross. I have used rifles that fired bullets in a more or less parallel path but were a marvel even at extended range. This is ideal; however, a rifle that groups both barrels properly within normal hunting distance is most certainly effective and adequate. Regulation is very sensitive, and small changes in loads, pressure, powder charge, velocity and even bullet design can affect how barrels group, and the path of the bullets. In other words, one load may cause bullets to cross then diverge while other loads may produce parallel groups or begin to diverge soon after leaving the muzzle.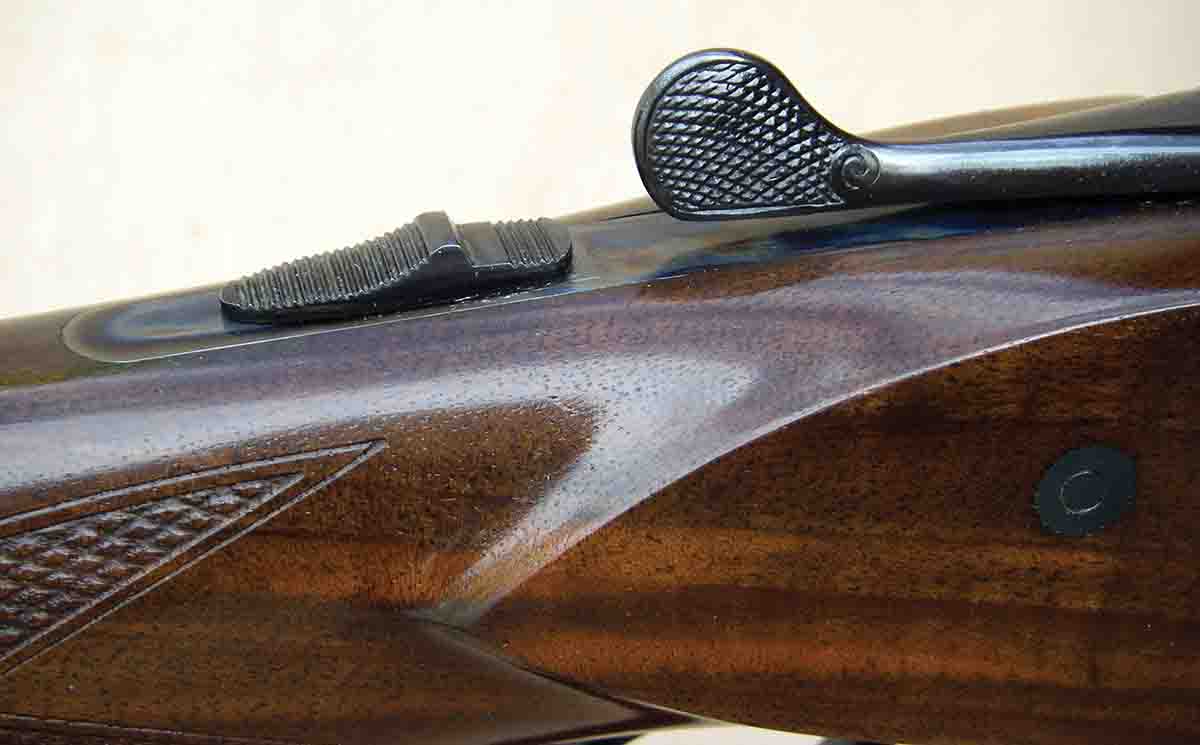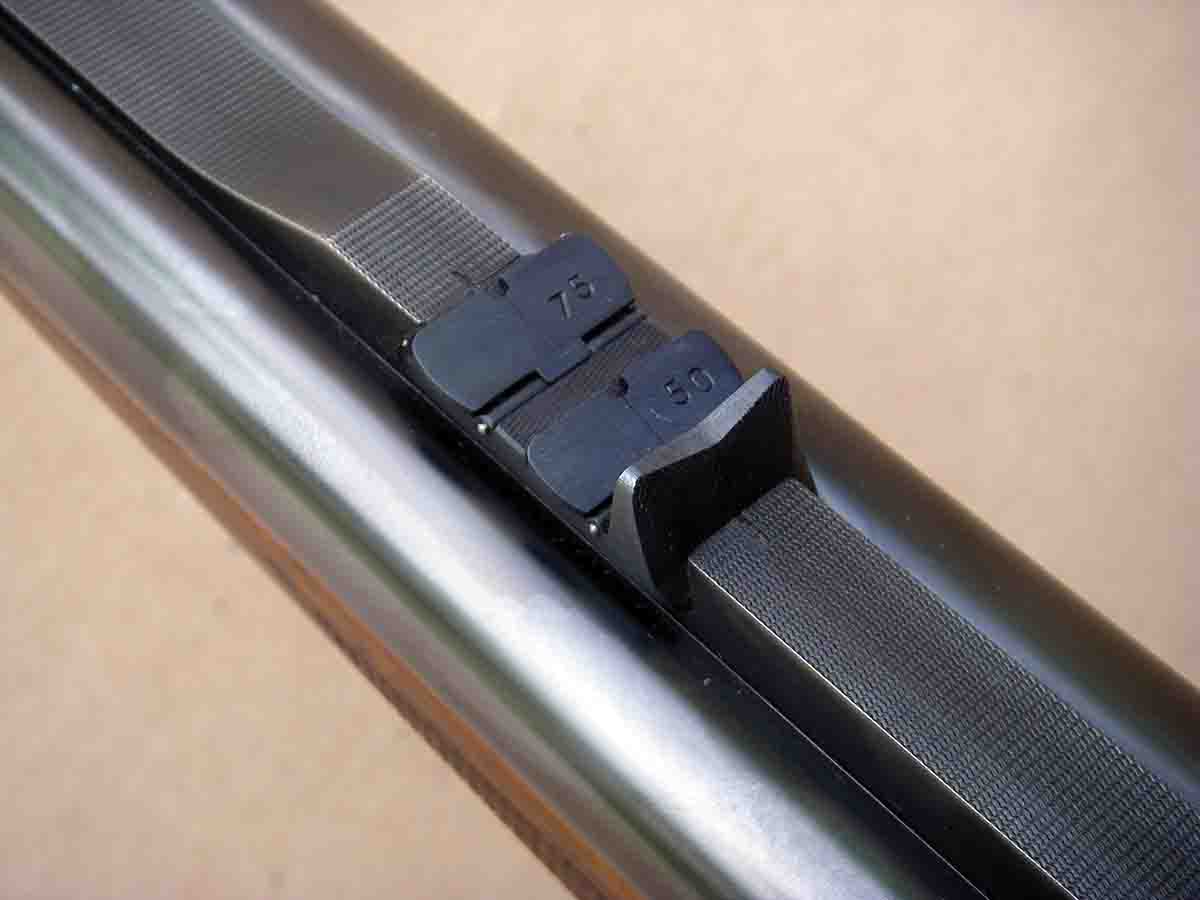 Using factory loads containing various 570-grain bullets at around 2,100 fps from Hornady, Federal and Nosler, the Merkel 140-2 test rifle would often put two bullets from each barrel into around 2 to 2.5 inches at 50 yards. Interestingly, group sizes at 100 yards were only slightly larger. The extreme velocity spreads of these loads were especially impressive. For example, the Hornady DGX load had an extreme spread of just 5 fps for six shots. Keep in mind that shooting a 10.5-pound .500 NE with express sights for accuracy is no easy task. To the best of my testing ability, it seemed that the bullets were very close to parallel, with the left barrel striking just slightly lower. I was pleased with the accuracy and would not hesitate to use the Merkel for any typical dangerous game hunting situation.
The factory loads mentioned feature various 570-grain solid and expanding bullets at 2,100 fps, and most of them produced actual velocities that were close to that figure. Kynoch loads were not available when this was written but are advertised to push a 570-grain bullet at 2,150 fps.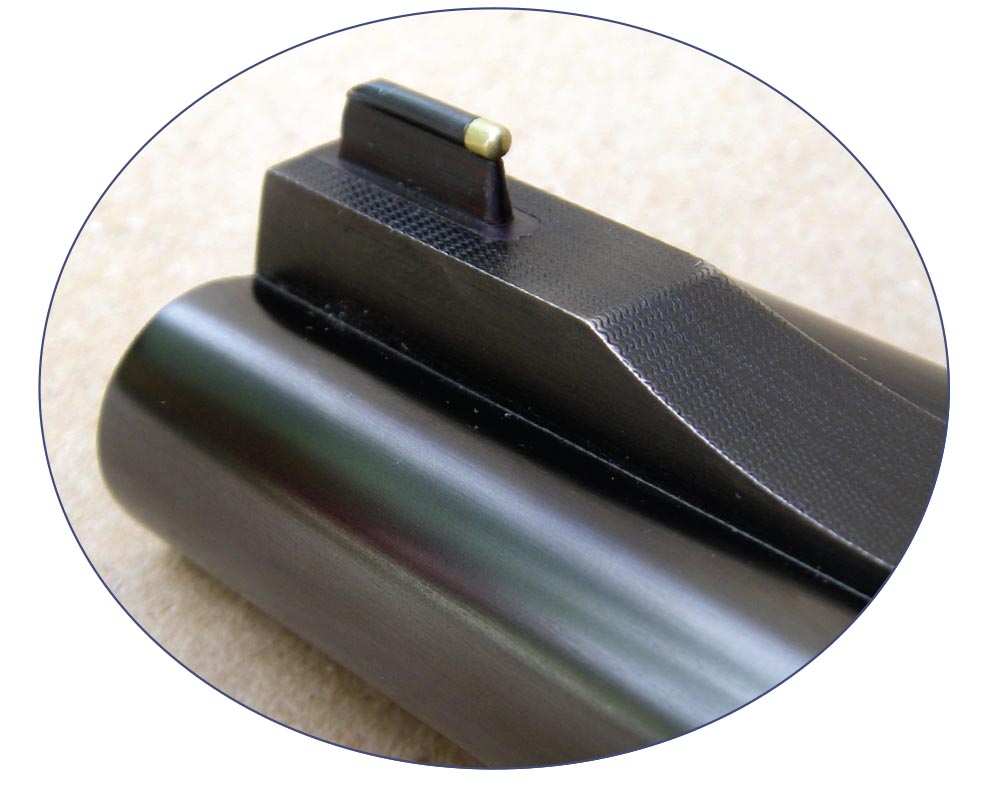 This brings us to handload data. New powders have really helped improve the .500 Nitro Express. The "improvement" refers to powders that bulk up correctly to fill the case while providing correct pressures and velocities. Historically, many published loads left a significant amount of air space in the large case. While these loads could work okay, they were less than perfect. Some sources suggested using fillers to take up the extra space, but that was still a less-than-perfect solution.
Three powders were stand-out choices: Alliant Reloder 17, Hodgdon Hybrid 100V and IMR-4955. Using the Hornady 570-grain Dangerous Game Solid bullet, each powder duplicated or even exceeded factory load velocities, more or less filled the case, was within industry pressure limits, produced good accuracy and regulated properly when velocities were between 2,100 and 2,150 fps. If there was a notable accuracy advantage with any of the three powders, it was not detectable.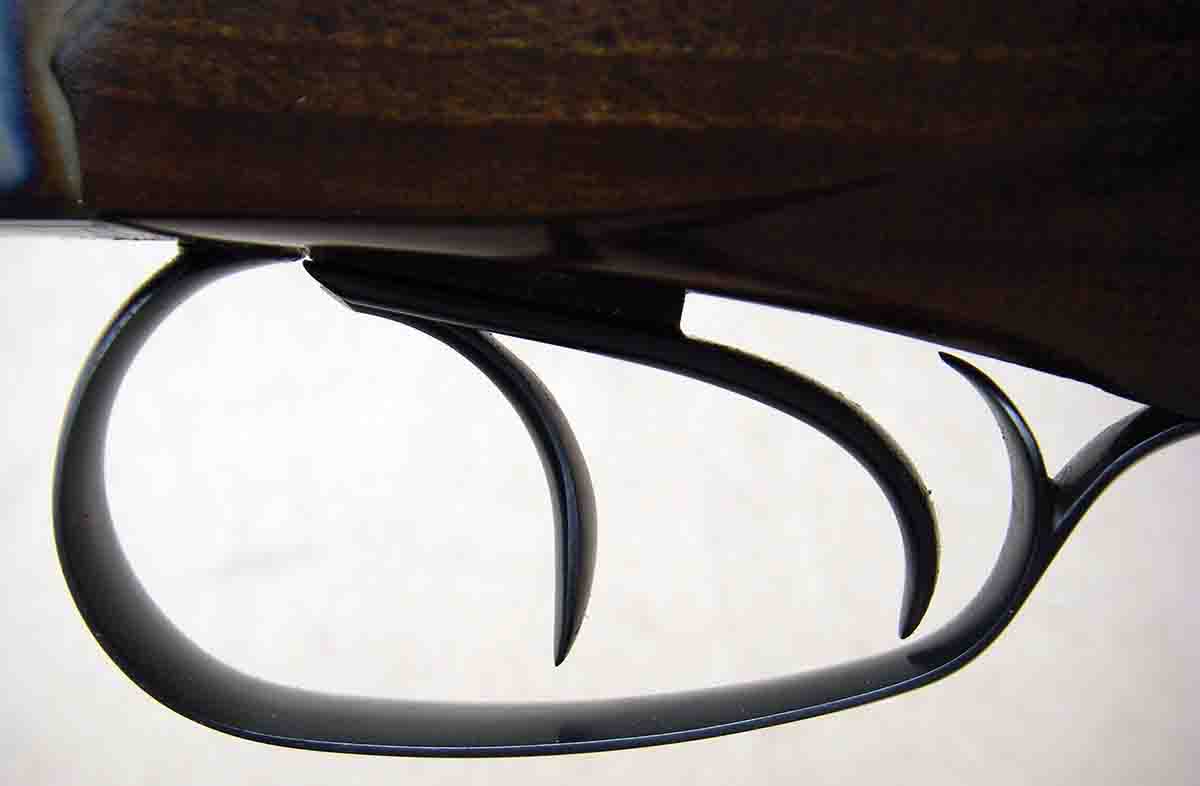 For a slightly reduced load that produced noticeably less recoil, try 96.0 grains of RL-17 for just over 1,900 fps; 105.0 grains reached 2,113 fps and is a factory duplication load. With Hybrid 100V, 105.0 grains yielded 2,115 fps and 109.0 grains of IMR-4955 powder gave 2,119 fps. A Federal 215 Large Rifle Magnum primer is highly recommended.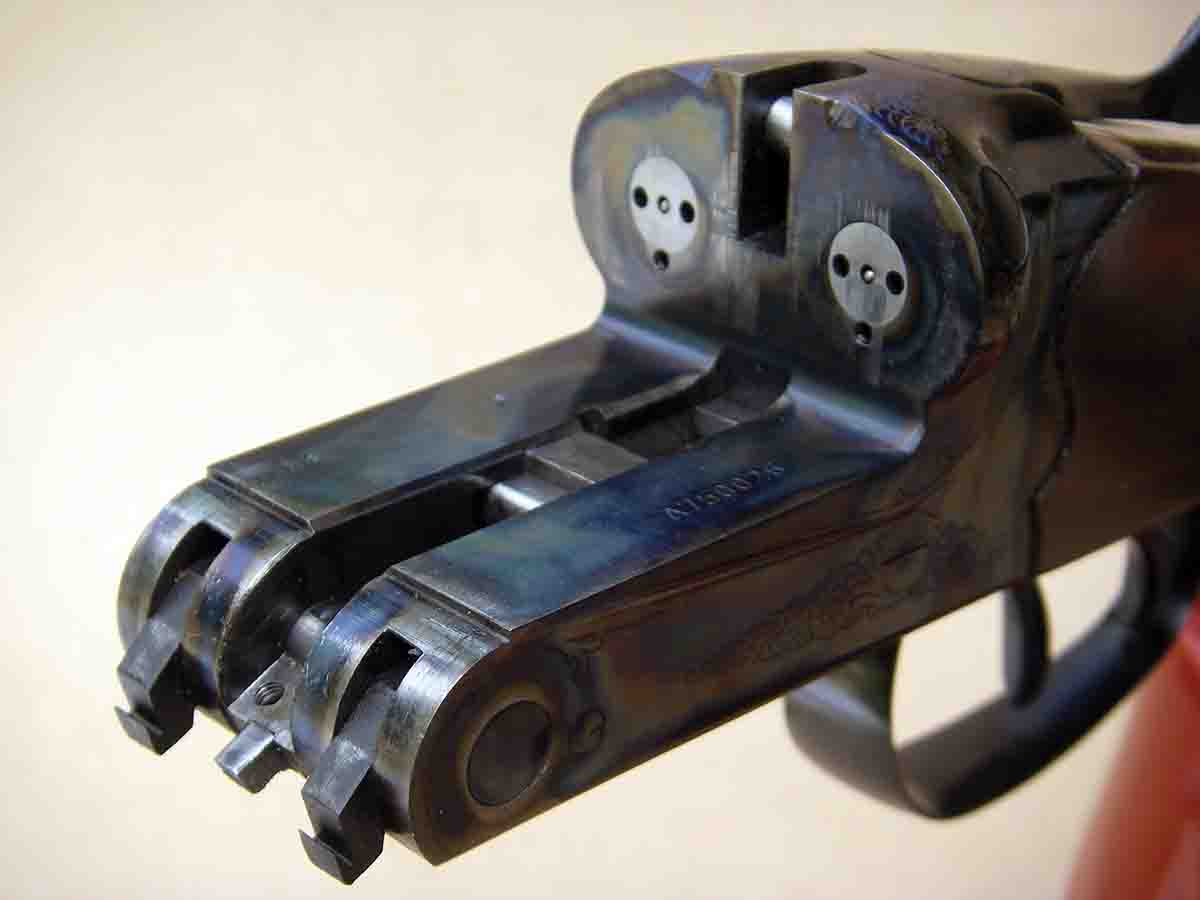 A few handloads were developed that reached over 2,200 fps. This is mentioned because as velocities increased in just 25- or 30-fps increments, the extra recoil was noticeable. Likewise, dropping velocities down to 1,900 fps resulted in significant recoil reduction.
I have had experience with the big .577 and .600 NE cartridges, which due to their recoil are definitely not for everyone. I have seen .600 NE rifles come off a shooter's shoulder during recoil then hit him in the face, causing an immediate blackout or, at the least, bleeding. I have also seen neck injuries. Recoil of the .500 NE is not nearly as severe; however, it is certainly not for everyone. I have often heard shooters describe the big-bore British cartridges as having a "slow recoil," or "easy to manage." Perhaps they have never fired one! Recoil is quick and authoritative. A shooter with experience dealing with heavy-recoiling rifles probably won't have any real difficulties in mastering it. However, it must always be respected.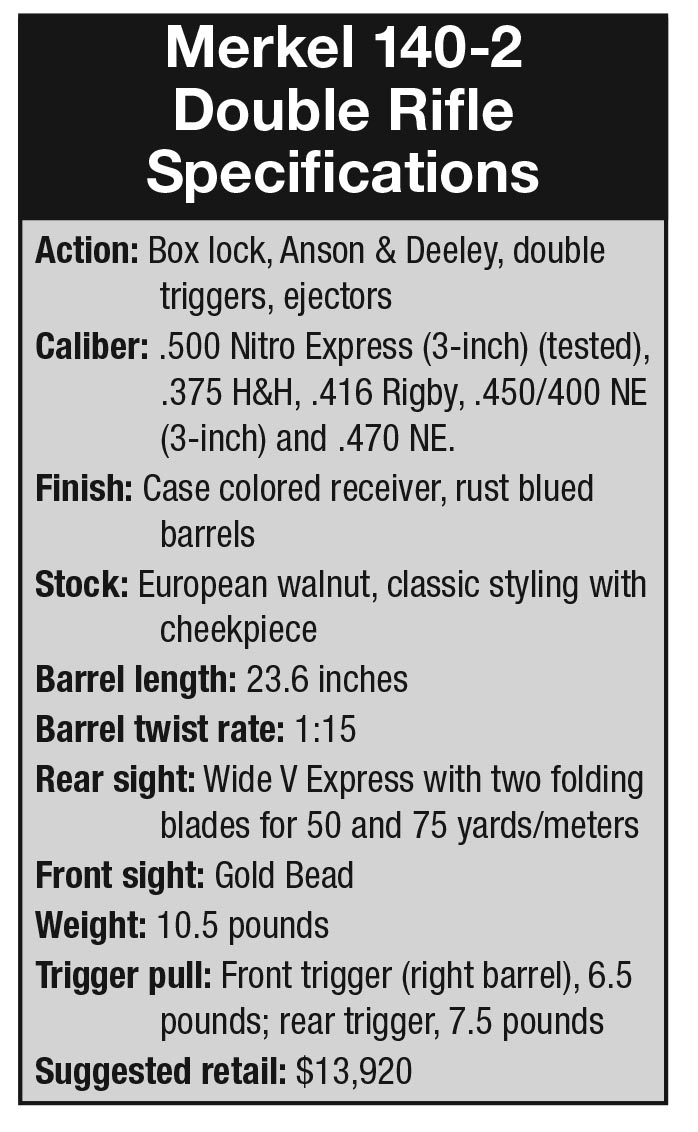 I must be getting soft, as on the first day of testing only 12 rounds were fired. The stock was too short for my 6-foot, 4-inch frame, which caused more punishment to my cheek than desired, and the trigger guard would bump my second finger when firing the right barrel (front trigger). Both problems were remedied by adding a 1.5-inch custom lace-on leather pad, and the extra length of pull made a huge difference. Over the following two weeks, 20 to 30 rounds were fired each day without any real discomfort.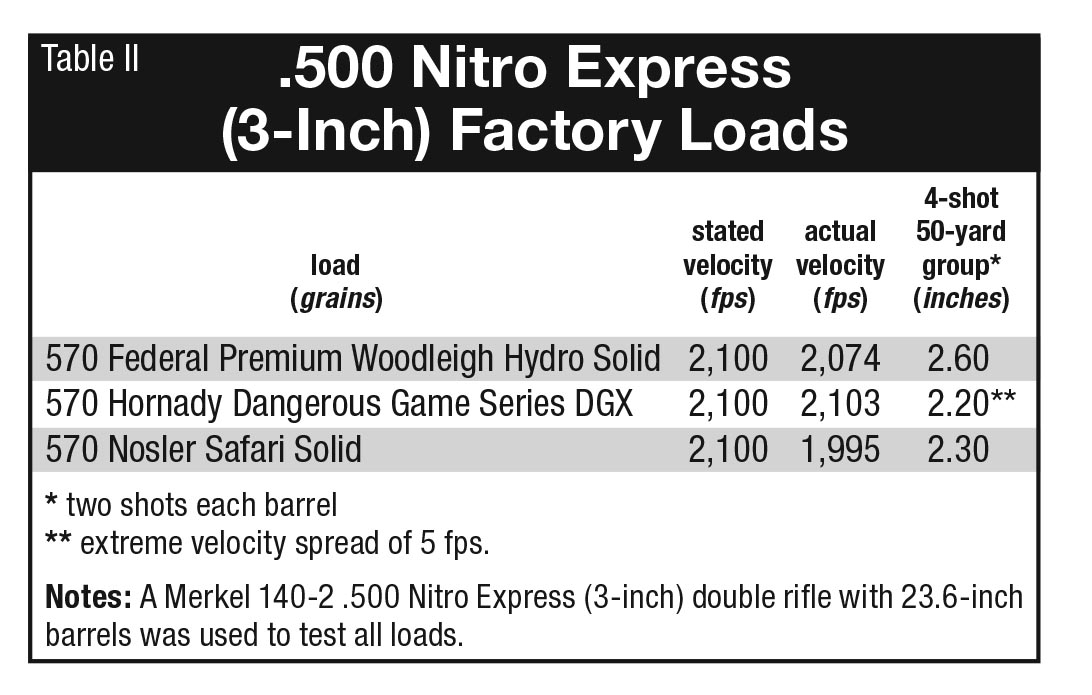 The rifle and cartridge were fun and challenged my shooting skills. In fact, after initial testing was complete, I found some excuse to go shoot it more and attempt to fully master it in terms of accuracy, including fast follow-up shots.
During this process, my curious mind went to work and inspired development of one more handload that would be pleasant and economical to shoot. With the .500 Nitro Express having a groove diameter of around .510 inch, I turned to the 440-grain LBT LFN gas-check cast bullets used in my .500 Linebaugh revolver (sized .511 inch). Cases were charged with 36.0 grains of Hodgdon Trail Boss, which filled the case 100 percent. Muzzle velocity was 1,298 fps, and while still very potent, it produces comparatively mild recoil. This is the same velocity that I push this bullet to from my .500 Linebaugh revolver and is comparable to the .45-70 with a 405-grain bullet at around 1,330 fps.
When fired from each barrel, the load grouped well at 100 yards and was good enough to hunt any big game at that distance. Point of impact was different than the 570-grain jacketed bullets, but the rifle can be sighted-in at 100 yards by drifting the rear sight assembly slightly and using the 75-yard/meter rear sight leaf.
At the end of testing, the rifle was beginning to wear in; however, it was still tight enough that the top lever had to be bumped slightly to completely close and lock the action and allow the rifle to be fired. I am confident that with just a bit more break-in, the rifle will function smoothly while remaining tight.
The Merkel 140-2 is a well-built rifle that offers reliability, power and accuracy at a reasonable price.