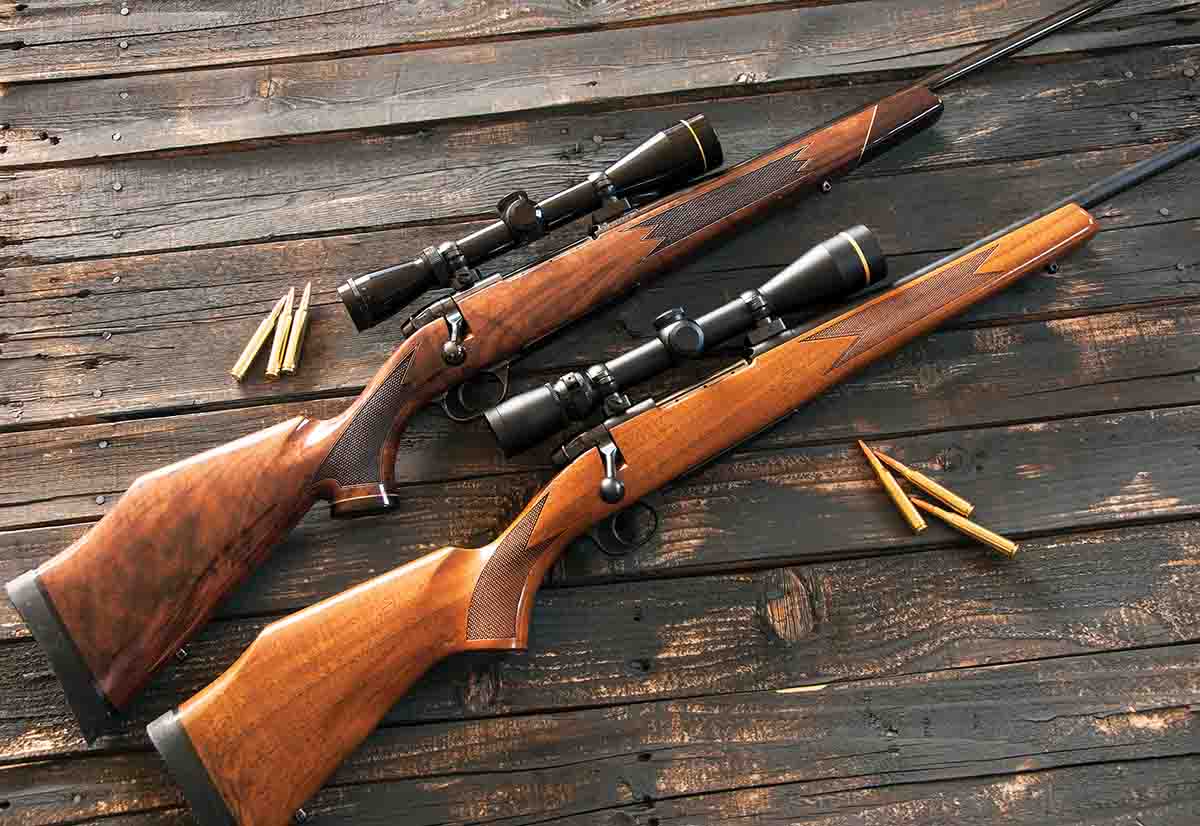 In the pages of Gun Digest in 1965, cartridge connoisseur Ken Waters referred to the recently introduced Weatherby Mark V Varmintmaster rifle and its .224 Varmintmaster/.224 Weatherby Magnum cartridge in his annual "Test Fire" report as "Probably the star attraction…" Then he quickly pointed out that the "cartridge is more novel than the rifle, since it is the first small capacity American case to wear a belt." The rifle was modeled after other Mark Vs but featured six locking lugs at the end of a shorter, fluted bolt, and it was eventually chambered for the .22-250 as well. The Varmintmaster went out of production by 1995.
Within two years, the six-lug bolt design became Weatherby's "standard action," albeit lengthened a bit to accommodate .30-06-length cartridges with a rim diameter of .473 inch or smaller. Perhaps the six-lug action finally became "novel" – if not commercially useful – to its manufacturer. The resultant rifle weighed a couple of pounds less, give or take, than long-action, nine-lug Mark Vs and allowed the company to reach more potential Mark V buyers by broadening its rifle and cartridge lineup.
This standard or "lightweight" receiver, weighing roughly a pound and a half, excluding trigger, magazine and floorplate, has been used on far too many Weatherby rifles with wood or synthetic stocks to cover here, but there is one I suspect might be somewhat rare; the Mark V Sporter that featured a walnut stock sans the typical Weatherby forend and grip cap embellishments.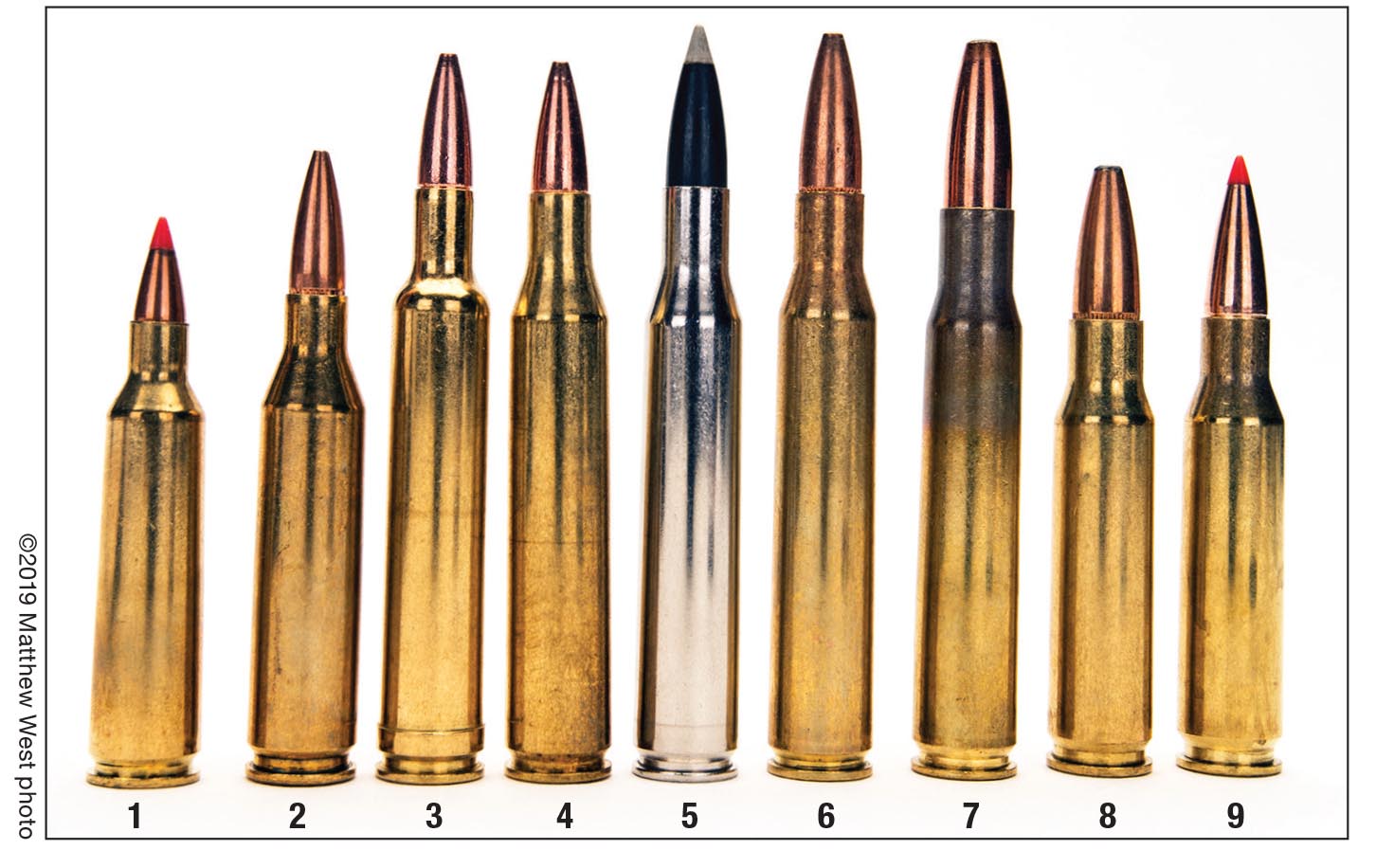 I owe this guess to the fact that, having spent a large part of my life in California, I've seen only one, a .270 Winchester I ended up taking home after trading away two other rifles. Furthermore, the Mark V Sporter was only made for seven years (1997-2004). Short runs of one-off rifles have never been unusual, especially for Weatherby.
In a second effort to clarify how many of these Mark V Sporters were produced, a call was made to the company's new headquarters in Sheridan, Wyoming. Unfortunately, searching through the company's computerized records turned up no information of value. Therefore, the idea that these rifles are "somewhat" rare remains purely speculative.
Mark V Sporters of this design featured skinny, 24-inch barrels and 54-degree bolt rotation. Available chamberings included .22-250 Remington, .243 Winchester, .240 Weatherby Magnum, .25-06 Remington, .270 Winchester, .280 Remington, .308 Winchester, .30-06 and 7mm-08 Remington. Listed weight without a scope was 6.75 pounds.
On a certified postal scale, the .270 Winchester variant on hand weighed 7 pounds, 8 ounces with a Leupold VX-III 3.5-10x 40mm scope mounted in steel Burris bases and Leupold rings. For comparison, a six-lug Mark V Deluxe .240 Weatherby Magnum of recent manufacture with a 24-inch barrel of near identical taper and a Leupold VX-2 3-9x 40mm scope in the same basic mounts weighed an even 8 pounds on the same scale.

There are two reasons to bring this comparison up: Wood density can obviously play a minor (occasionally major) role in the weight of a finished rifle; and though with but one sample of the Sporter on hand, its stock lines appear to have been toned down compared to other Weatherby rifles I've shot or owned – maybe a dozen in all.
The stocks on both rifles measure 31 inches in length, but the Sporter appears to have more graceful lines. The angle of its comb is more gradual, where the Deluxe model's comb is steeper and shorter. The grip on the Sporter is comparatively slender and more open. Stock width measurements taken over the bottom metal and just behind the front sling studs were as follows: Deluxe, 1.9 inches and 1.64 inches, respectively; Sporter, 1.75 inches and 1.5 inches, respectively.
These measurements prove little, given the reality that two consecutive wood stocks can come off the same assembly line with slightly different dimensions; but stock proportions matter ­– one reason savvy shooters handle more than one example of a wood-stocked rifle they intend to purchase. As an impromptu test, I asked one of the experienced shooter/hunters in the office to shoulder each rifle and pick the one he liked best. It turned out to be the Deluxe model due to its steeper comb.
He then shouldered my High Tech Customs stainless .270 (7 pounds, 13 ounces scoped) and 2008 limited edition Model 70 .270 (9 pounds, 2 ounces scoped). His preference was as follows: Winchester Model 70, Weatherby Mark V Deluxe, Weatherby Mark V Sporter, High Tech Customs. This order of preference is exactly opposite mine, which by default also factors in known accuracy.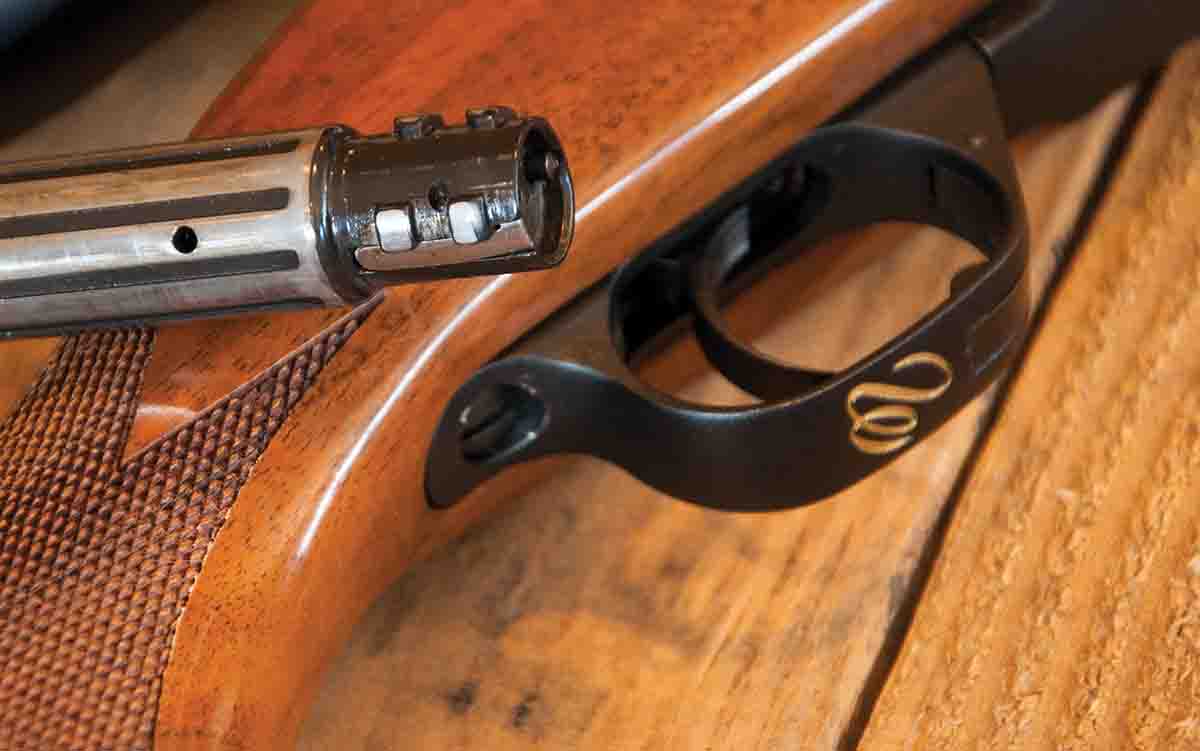 As a boy, I became aware of the Weatherby brand when my father brought home an over/under 12 gauge choked skeet and skeet. Purchased from Weatherby's Sporting Goods in South Gate, it was his quail gun, and he handled it marvelously. Due to easy availability, some of the earliest rifles I tested later for editorial reviews were Mark Vs; some of them shot well and fit fine; others were found lacking in one way or another, usually fit, which has already been shown to be subjective.
As a result, I've always been in some way fond of the Mark V Sporter .270 Winchester. Its steel is matte blued and its skinny barrel tapers to .552 inch at the muzzle. Its trigger pull is 3 pounds, 8 ounces. Its slim barrel heats up quickly, however, and when it's hot, its best five-shot groups run around 1.5 inches. This is truly of little concern, because these rifles were built to be carried up mountainsides, not win benchrest competitions. The High Tech Customs rifle will shoot rings around the Weatherby Sporter so sees more use when it becomes appropriate to test new factory ammunition or handloaded bullets; the Model 70 is a close runner-up.
The Weatherby Mark V Sporter is, nonetheless, a novel rifle that served a purpose, regardless of how many were made.