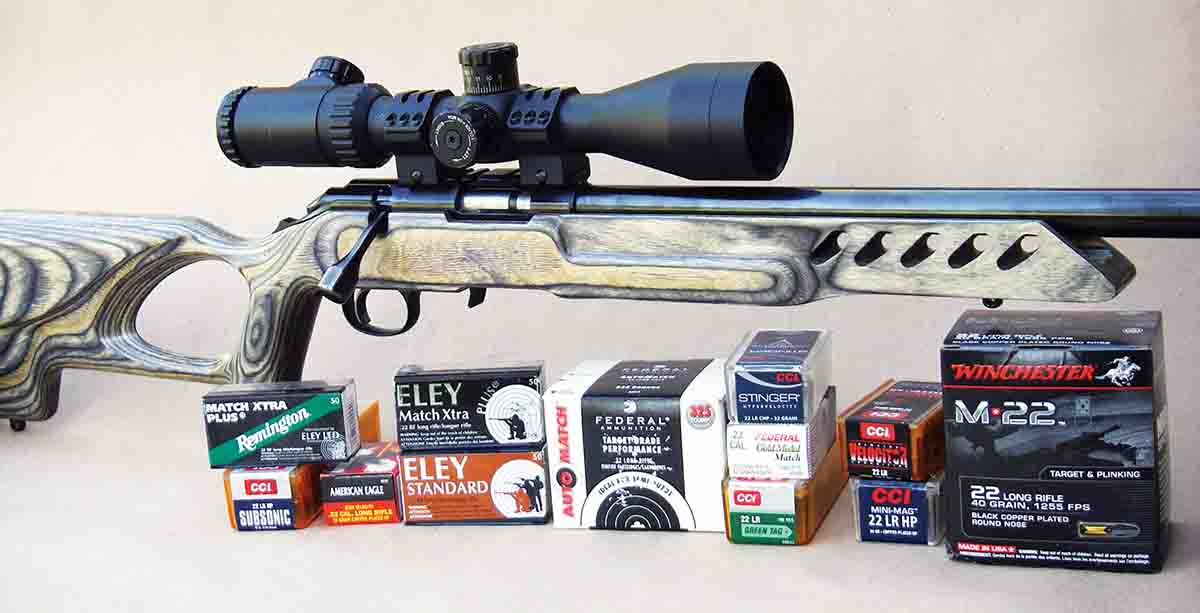 Ruger introduced the Model 77/22 bolt-action rifle chambered in .22 Long Rifle in 1983. It featured a unique action that housed a 10-shot box magazine (and accepted Model 10/22 magazines), a three-position wing safety, a classic-style walnut stock and blue finish. Stainless steel variations appeared later.
In addition to being handsome, it was accurate and rugged. In Ruger tradition, it was manufactured efficiently and was one heck of a good rifle for the money. Unfortunately, in recent years its retail price increased, and although it remained a great bargain, modern shooters seemed more interested in rifles with a lower price point. As a result, it has recently been discontinued in .22 Long Rifle caliber but is still available in .17 Winchester Super Mag (WSM), .22 Hornet, .357 and .44 Magnum.
In 2013, Ruger began offering the American Rimfire bolt-action rifle designed to replace the 77/22 and correspond with new manufacturing technology to help keep costs in check, with an emphasis on accuracy as well as being compatible with current rifle trends. The basic "Standard" model (constructed of blue steel, open sights with fiber optic front, 22-inch barrel and black synthetic stock) can be purchased from retailers at well under $300.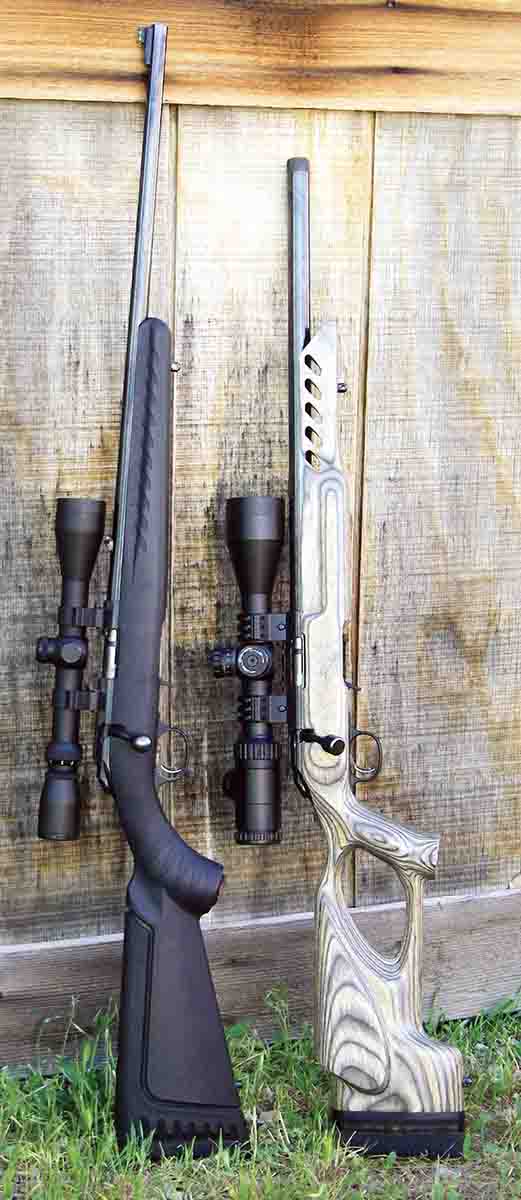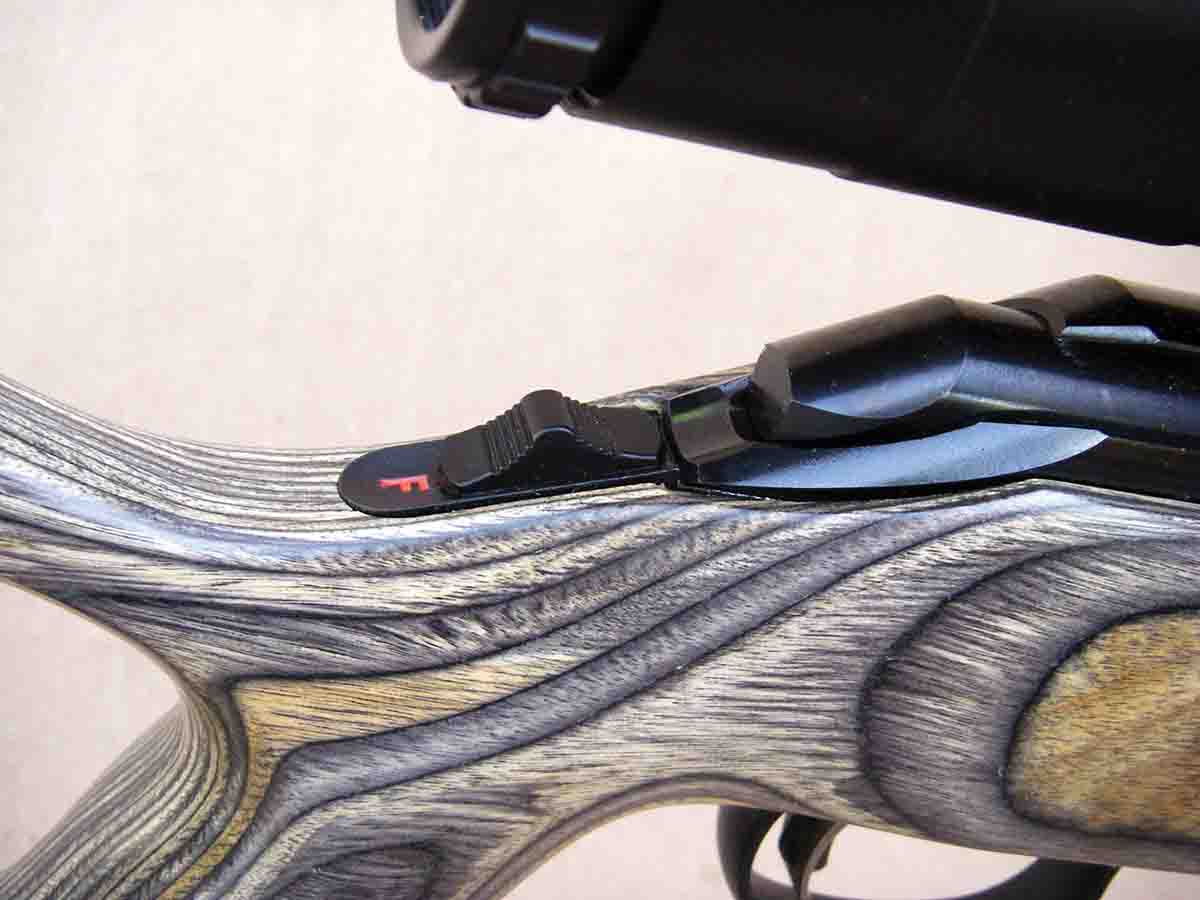 Over the past six years, many variations have been added that include stainless steel, walnut, laminated and camouflage stocks, and the "Precision" version features an adjustable stock with an overall design that corresponds with the tactical and long-range trends that are currently enjoying such great popularity. In addition to .22 Long Rifle, the American Rimfire is chambered for .17 Hornady Magnum Rimfire (HMR) and .22 Winchester Magnum Rimfire (WMR).
For this review, an American Rimfire Standard and American Rimfire Target were selected. While space will not allow a detailed discussion of the action design, the bolt body is round and the safety is mounted on the tang. The Ruger Marksman trigger is adjustable for pull weight from 3 to 5 pounds and features the familiar center pivot lever that is common on many modern rifles. Out-of-the-box trigger pulls broke at 49 and 45 ounces, respectively.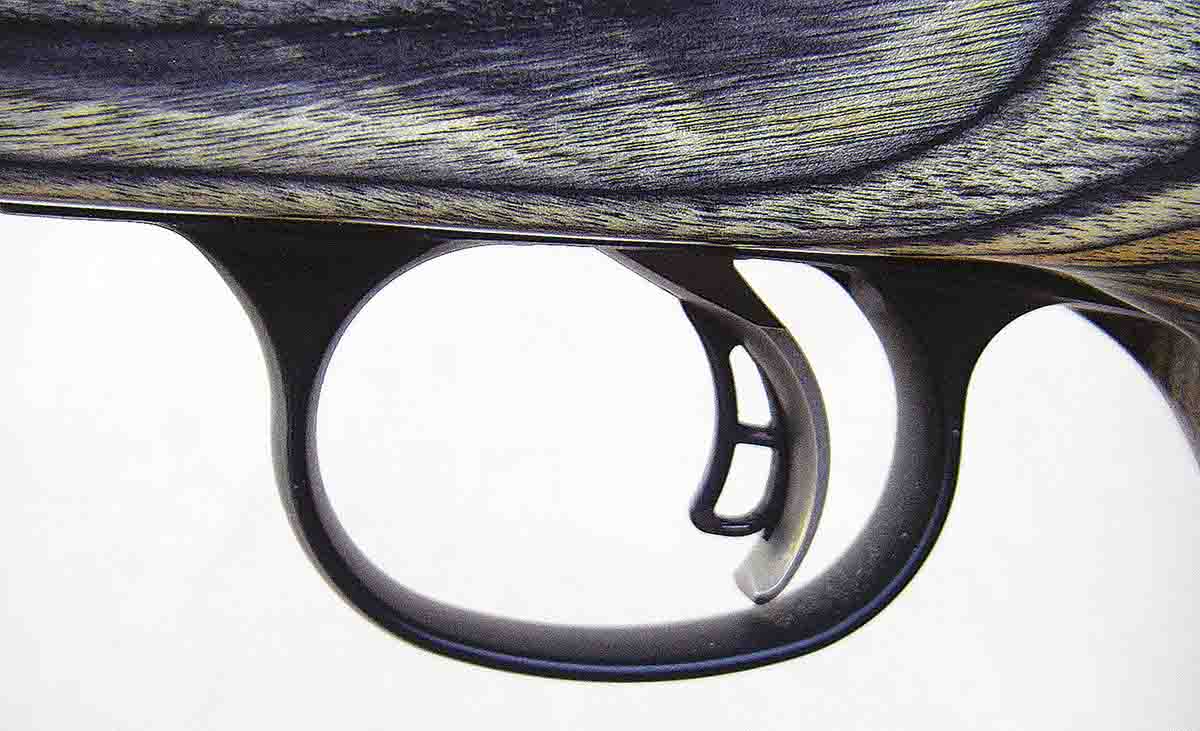 The barrels are hammer forged and then crush-fit to the receiver, so changing barrels is not an option. The receiver is dovetailed to accept traditional rimfire rings; however, it is also drilled and tapped to accept a cross-slot base (or bases) for substantially improved strength. The bolt lift is 60 degrees and functions smoothly. There is an integral alloy bedding block system (two blocks) with the front featuring a "V" that serves to center the receiver and prevent binding while two guard screws secure the action and stock together. The rifles are well machined and polished with a bright blue finish.
Both rifles functioned smoothly. The only real "hitch" came when three rotary magazines were joined together using an Alangator TM1 TriMag clip connector, which is a practical setup for Ruger rifles (10/22, 77/22, etc.) that utilize 10-shot rotary magazines. It allows empty magazines to be reloaded while a fully loaded magazine is held in the rifle, and they don't protrude too far downward as "banana-style" magazines do. The problem was that gravity was just enough to pull the 10-shot rotary magazine down slightly, which caused the nose of bullets to hang-up while being fed into the chamber. When a single 10-shot magazine was used, feeding and function was smooth and reliable.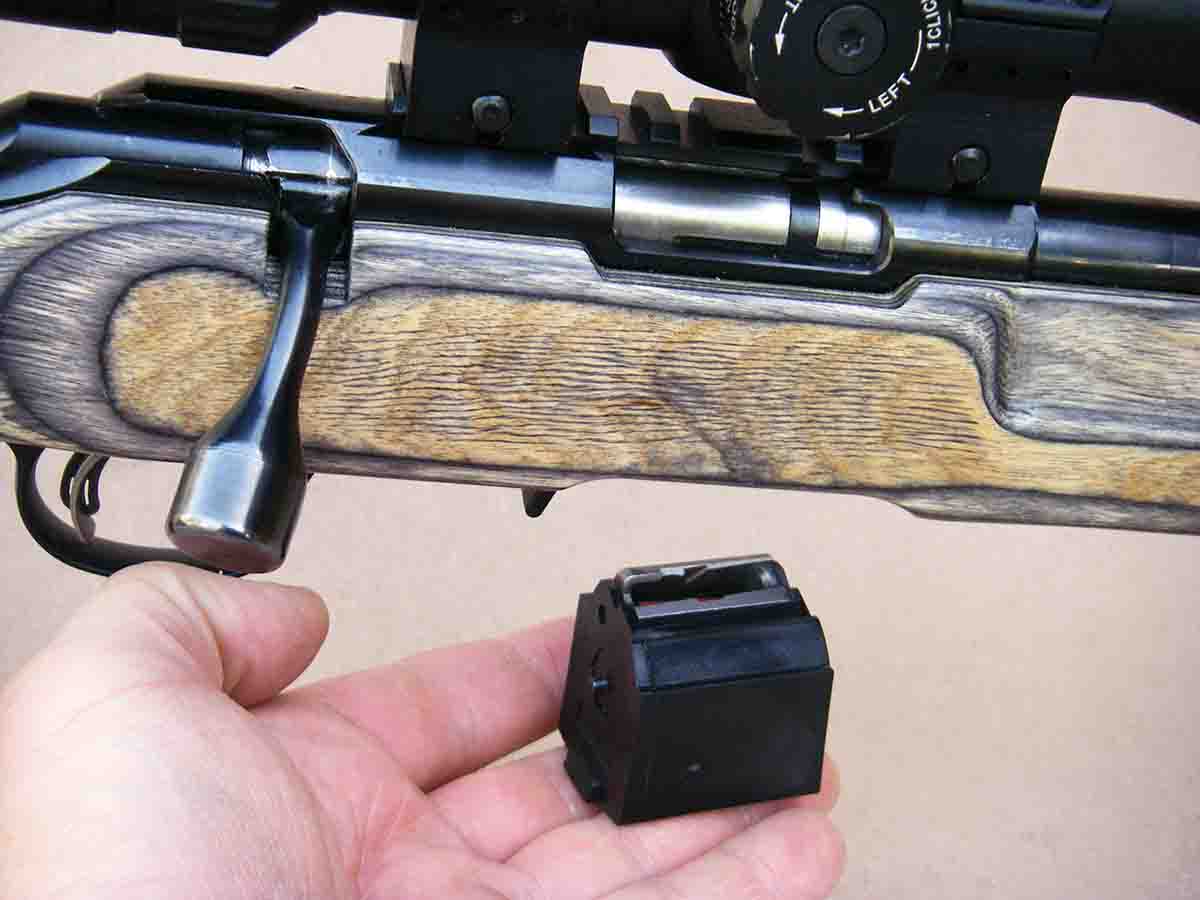 A Burris 3-9x 40mm rimfire scope was installed on the Standard model, then it was checked for accuracy at 50 yards using a variety of loads that included match/target, high-velocity and bulk-packed economy ammunition from several manufacturers. The best accuracy was observed with Eley Limited Match Xtra.
The Target rifle features a futuristic green/gray/tan laminate stock with a large ambidextrous thumbhole, ventilated forearm and an ambidextrous cheekpiece with length-of-pull spacers. The magazine release is extended for a quick and effortless release. The Target model's bolt handle is large for increased leverage and potentially faster cycling. A patented Power Bedding system features integral bedding blocks mounted into the stock, while the 18-inch barrel has a muzzle diameter of .860 inch and is free floating. The barrel is threaded with a protector. And last there is a one-piece cross-slot aluminum scope rail.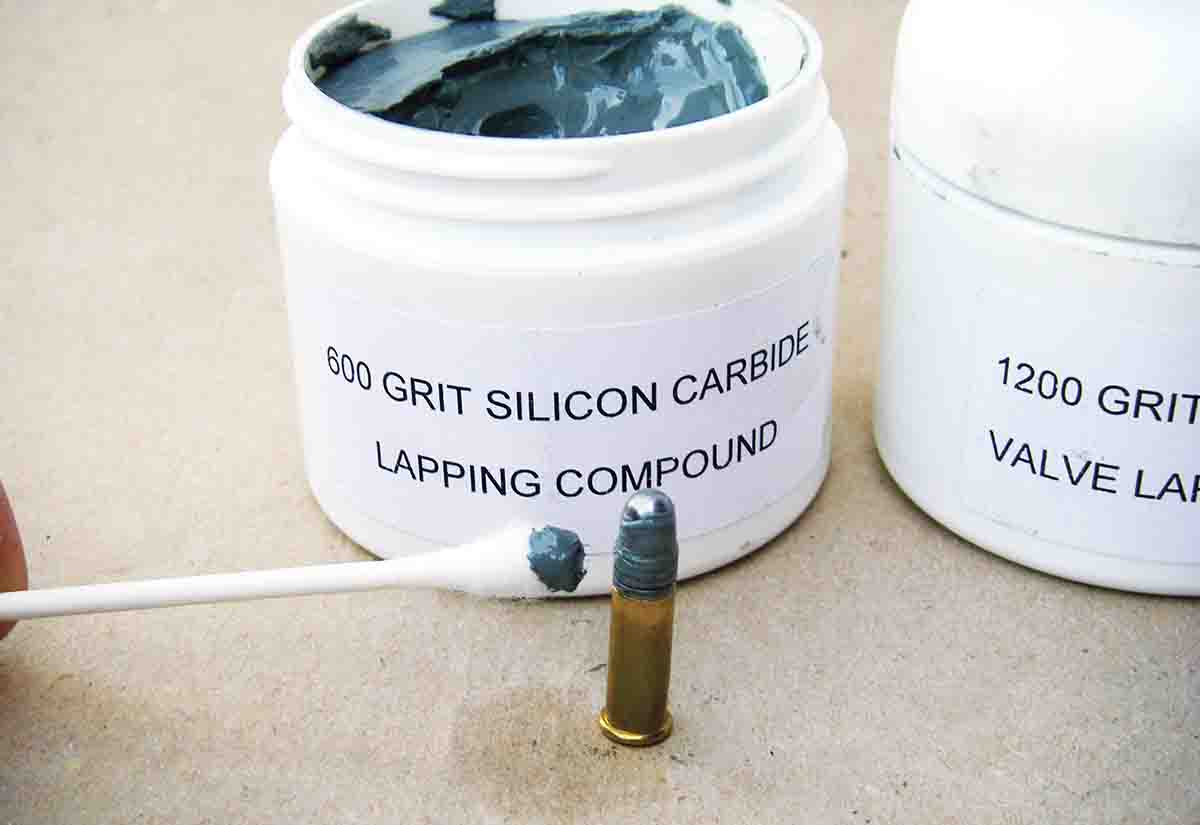 A reasonably priced Weaver KASPA Tactical 2.5-10x 50mm scope was installed that features 1⁄4-MOA click adjustments and a mil-dot reticle. My son purchased this rifle in hopes of it being a tack driver for hunting Idaho ground squirrels and as a comparatively inexpensive tool to practice long-range disciplines.
More than a dozen loads were tried, including some not listed in the accompanying table, with five-shot groups ranging from around .50 inch to almost 2.0 inches at 50 yards. The best accuracy was obtained using Eley Limited Match Xtra, Federal Gold Medal Match Solid and Federal Auto Match, each placing five shots between .50 and .60 inch.
While the accuracy was not bad, it was less than my son was hoping for. The barrel was cleaned repeatedly using Montana X-Treme Rimfire Solvent; however, there were only small accuracy improvements.
My son made the decision to obtain a replacement rifle that might produce better accuracy; however, I suggested that he might try fire lapping the barrel first. While fire lapping is controversial, if done correctly it can result in significant accuracy improvements, as it can smooth the bore while removing rough spots that can degrade accuracy. This is especially critical with cartridges that are used with lead-based bullets such as the .22 Long Rifle. I must warn, however, that if the wrong compound is used with a given steel type, or if there is an excessive amount of lapping performed, barrels can be ruined.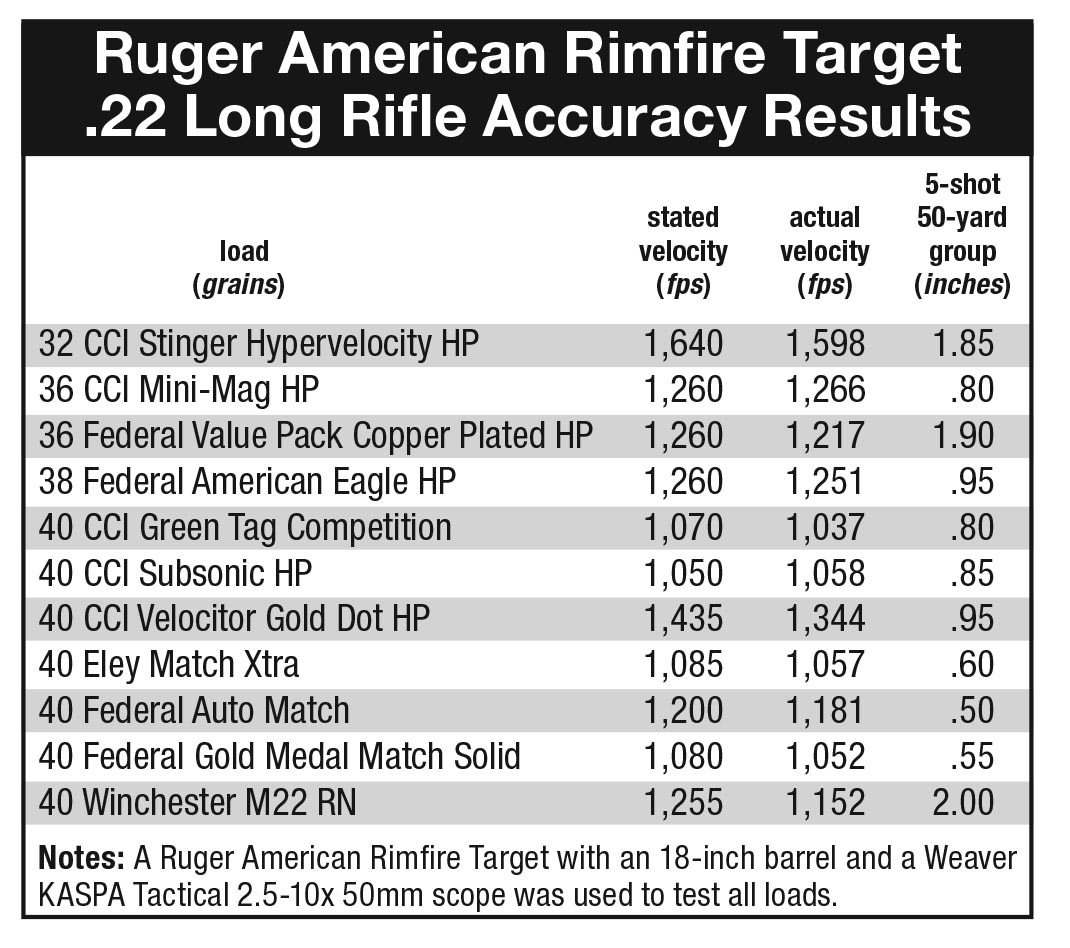 As noted, the American Target rifle features a cold hammer-forged barrel constructed of a tough, proprietary steel. In examining the bore's surface condition using a Lyman Borecam digital borescope, it seemed that it was rougher than I would like to see. Based on previous experience in fire lapping many barrels, I suggested that he completely clean the bore, then fire seven rounds of lead-bullet ammunition (without copper wash) using 600-grit silicon carbide lapping compound. (Barrels constructed of softer steel will require a finer lapping compound and may require fewer shots.)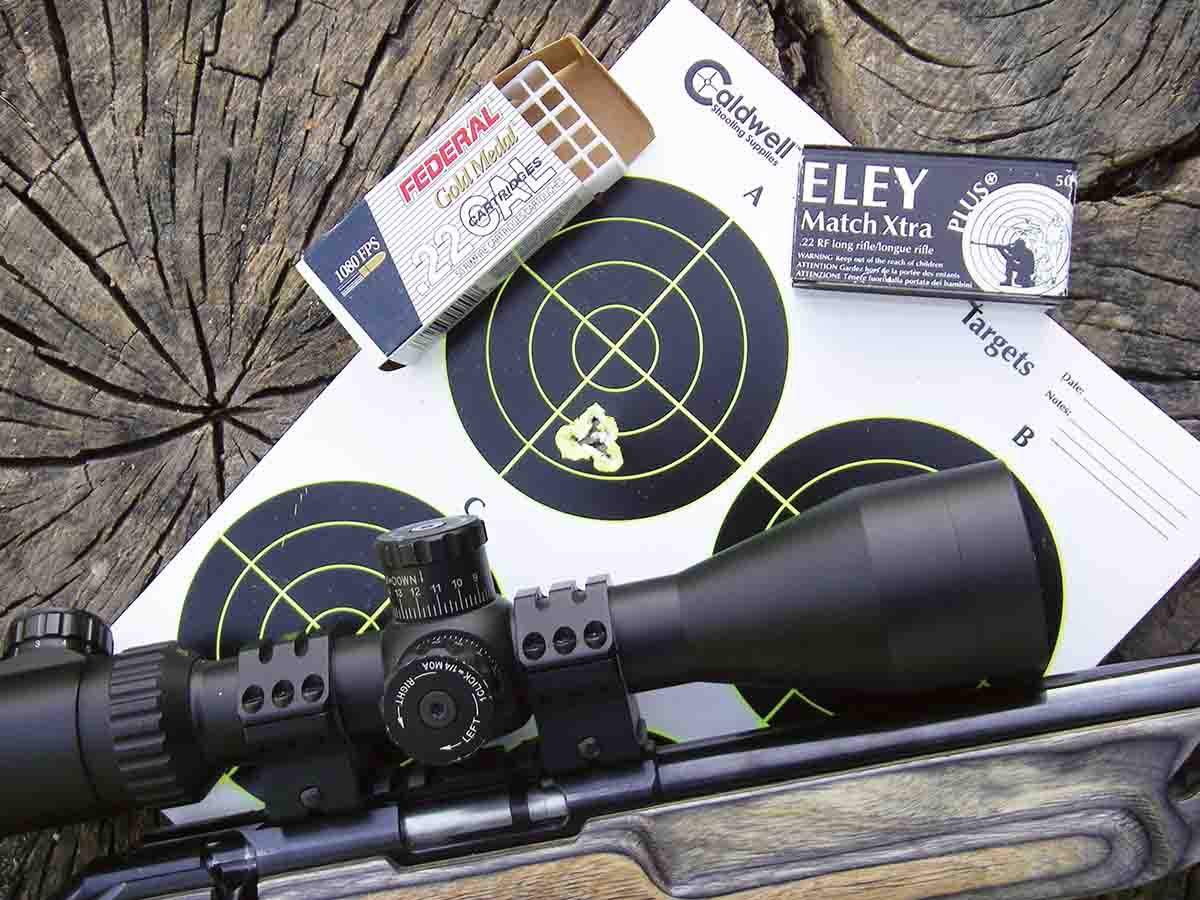 Using a Q-tip, the compound was wiped evenly around the forward edge of the bullet's shank and the ogive just forward of the shank. After those seven rounds were fired, I suggested firing an additional three or four shots with cartridges treated with 1,200-grit silicon carbide lapping compound to further smooth the bore's surface. However, Porter chose to check the rifle's accuracy at that point.
While it took a number of rounds to fully foul the bore and let accuracy settle, the rifle began stacking five shots of Federal Auto Match ammunition under .25 inch at 50 yards, and under .33 inch at 75 yards, which is darn good from a rifle that can be purchased at a street price of around $450.
This particular Federal load is especially interesting as it features a 40-grain bullet at 1,200 fps and is bulk packed to help keep costs in check. Naturally, it is suitable for use in any action type. However, it is designed to function reliably in autoloading rifles (which cannot be said of many other bulk-packed loads) while producing excellent accuracy. This was the level of accuracy that he was seeking, and no further barrel lapping was performed.
The Ruger American Rimfire is an accurate rifle offered at an attractive price. With many variations available, there is likely a version that will satisfy shooters of all ages.