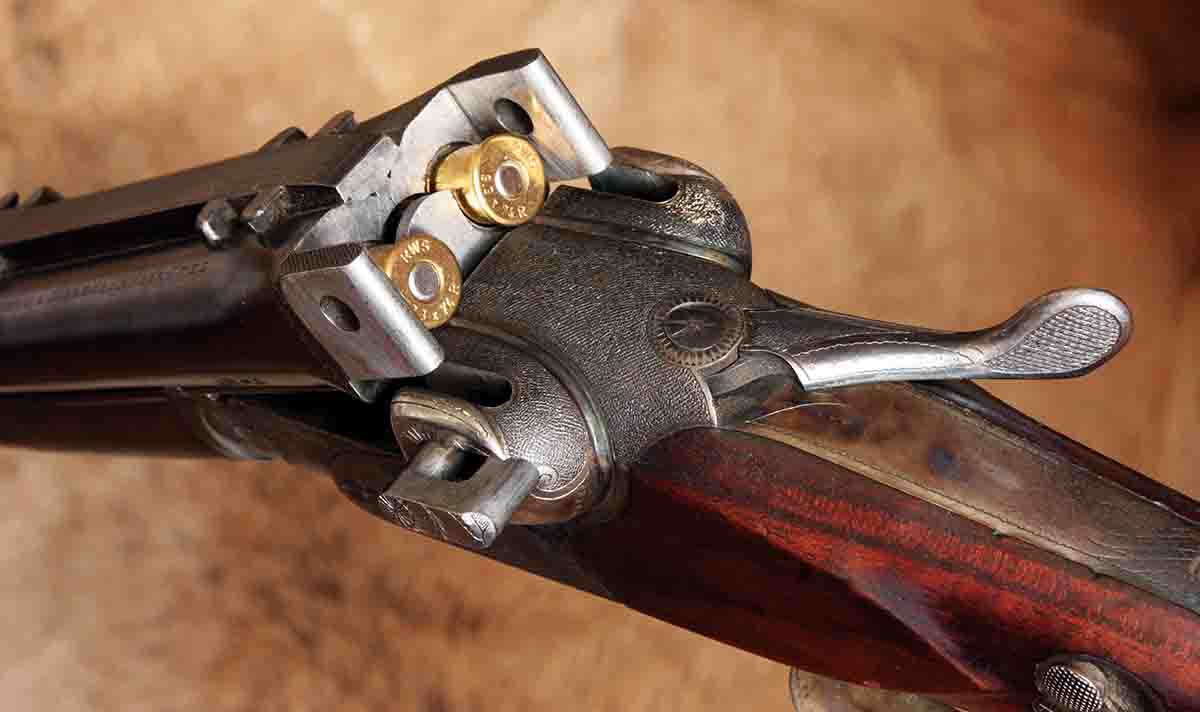 Many American hunters dream of owning a double rifle suitable for hunting dangerous game in Africa. This is usually due to reading classic African hunting literature from the first half of the twentieth century, when smokeless powder made powerful doubles far more practical and effective than the
really
big-bore, black-powder rifles they replaced.
Smokeless side-by-sides (and they normally were side-by-sides, not over/unders) could be built much lighter than doubles chambered for cartridges measured in gauge, not caliber. Smokeless ammunition was trimmer as well – potentially important when after lions, Cape buffalo and elephants. The ability to personally carry plenty of ammunition made running out less likely during a dangerous dust-up.
Double-rifle dreams often include fantasies of standing next to a professional hunter (PH), blazing away at an oncoming lion, buffalo or elephant. Doubles were considered the best "stopping rifles" by most PHs because they offered two very quick shots, often all a hunter had time to shoot in thick cover; if the first shot failed to stop the animal, an immediate second shot could be very handy.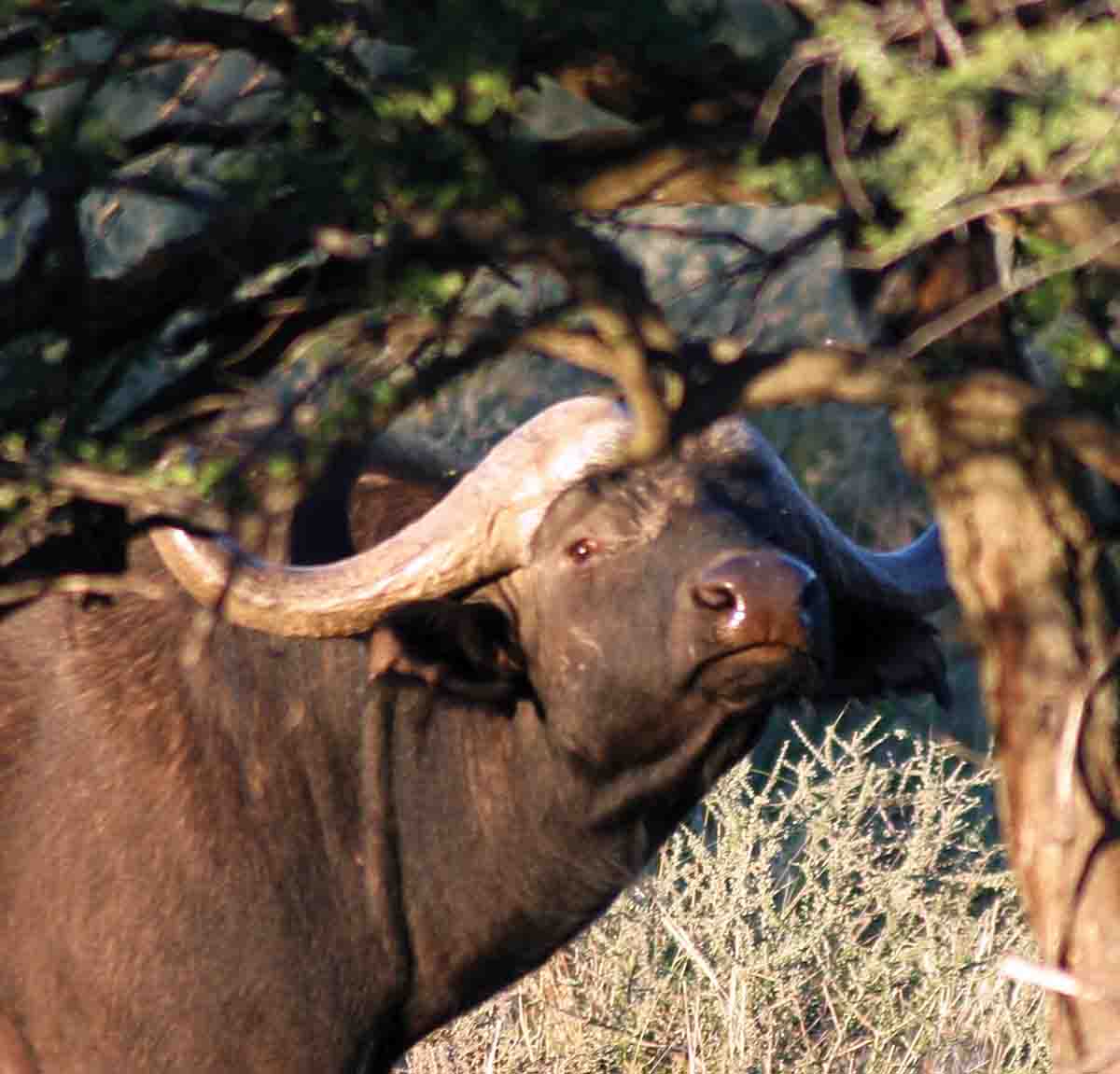 Doubles also easily accommodated bigger cartridges than even the largest bolt actions. Many early big-bore smokeless cartridges were very long to keep pressures low enough for tropical use with early heat-sensitive powders. Unlike bolt actions, double rifles lacked magazines that can limit cartridge length: Instead, rounds are manually fed directly into the chambers, one reason over/unders were rare: They had to be opened wider than side-by-sides to reload – not as handy in an elephant emergency.
All those reasons make sense for a professional hunter, whose most important job is the safety of his clients. It does not necessarily make sense for the average safari hunter, because a well-placed initial shot is the best way to "stop" a charge – by preventing it from ever happening.
This requires accurate bullet placement, and an unfortunate characteristic of big-bore double rifles is mediocre accuracy. Consistently putting a "right and left" within 3 inches of each other at 50 yards is generally considered good enough, and a big-bore double that keeps all its shots inside 3 to 4 inches at 100 yards is considered the dangerous-game equivalent of a benchrest rifle.
This is partly due to the traditional open "express" sights on doubles, one reason many safari clients cannot shoot doubles very well; many of them have never hunted with irons of any kind. Also, many hunters have never used double-barrel shotguns with two triggers, which can prevent firing a quick second shot from a big-bore double. Both are among the reasons most PHs recommend a scoped bolt action to their buffalo clients.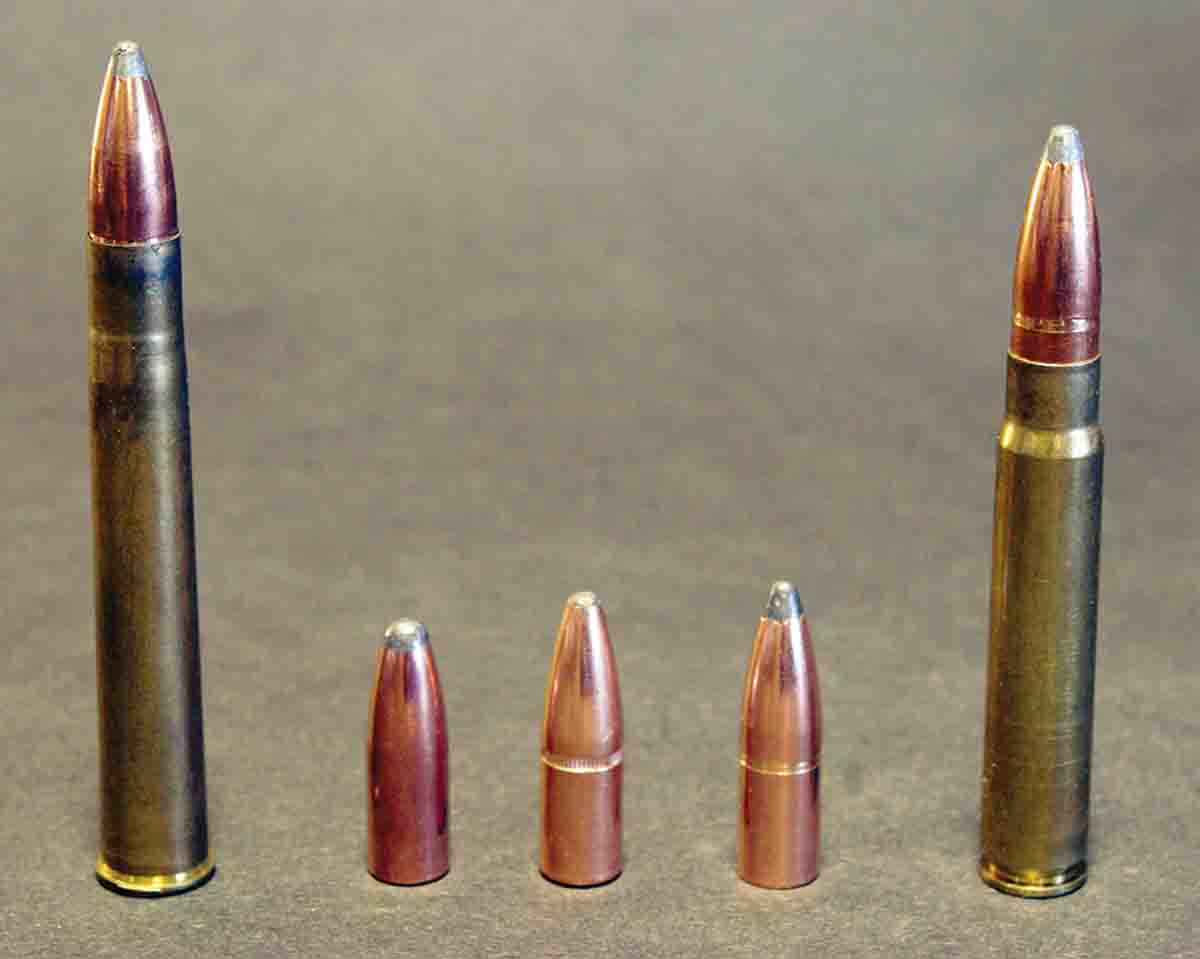 Here it should be noted that my very first shotgun was a 12-gauge side-by-side with two triggers inherited from my paternal grandfather, and I've always owned at least a couple of double-trigger side-by-sides ever since. This is partly why I really wanted a big-bore double rifle after almost taking a Manton .450/400 Nitro Express (3-inch) owned by my friend Tim Crawford on my first Cape buffalo safari in Zimbabwe nearly 20 years ago.
Tim generously loaned it to me when Brian Pearce and I planned a mini version of Theodore Roosevelt's 1909-10 safari, inspired by the reintroduction of the Model 95 Winchester .405 WCF, Roosevelt's "lion medicine." We could not afford a lion but could afford buffalo and plains game, and along with the .405 planned to take my 1903 Springfield sporter with a receiver sight, emulating Roosevelt's "little Springfield." Tim decided we needed a double as well, since just before Roosevelt's safari several of his friends (alarmed at his plan to use the .405 as his "big" rifle) presented him with a Holland & Holland double in .500/450 Nitro Express. (However, I suspect another reason for Tim's loan was so I could work up handloads.)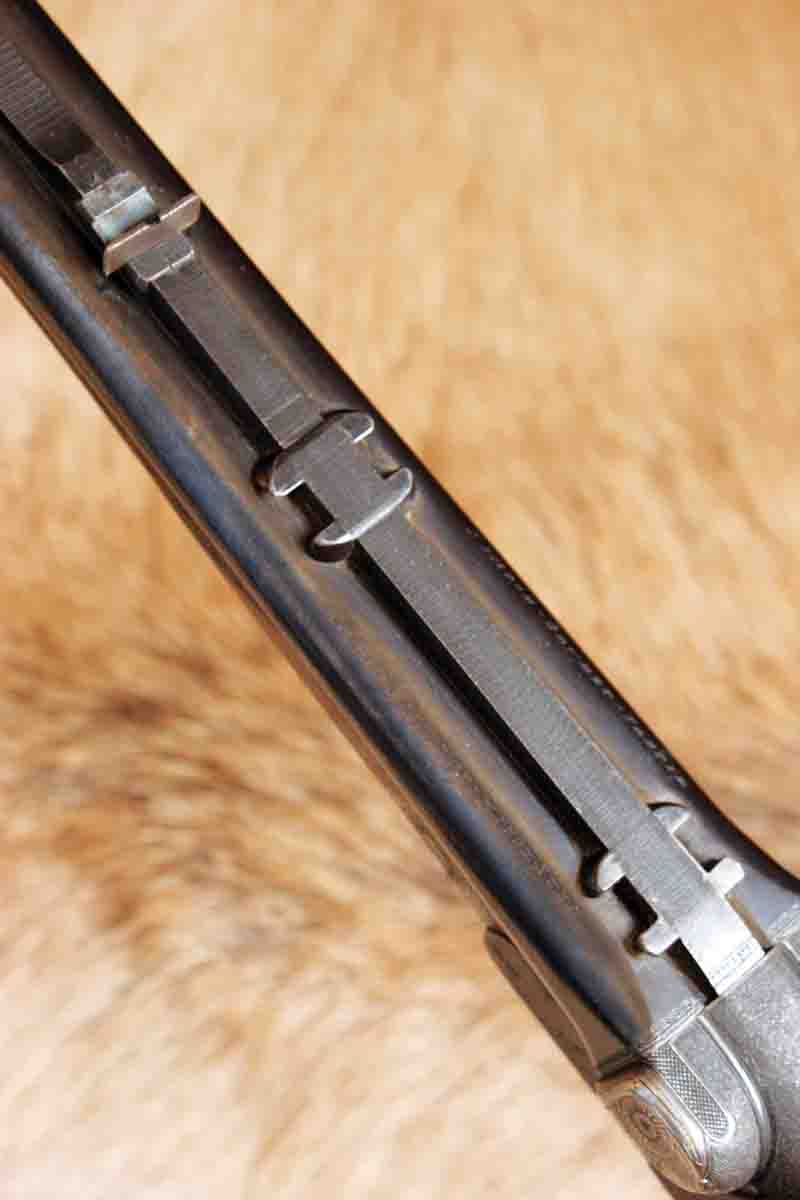 Double rifles are "regulated" at the factory to shoot a specific factory load, a process involving test-firing. This is because side-by-side barrels sit on either side of the rifle's centerline. The right barrel tends to recoil to the right, and the left barrel to the left. As a result, the bores are not parallel but angled slightly toward each other. If the barrels shoot to slightly different places (and at first they almost always do) the angle gets tweaked, and the rifle is test-fired again.
If subsequent ammunition varies much from the regulating load, a side-by-side's barrels either shoot apart or "crossfire," the right barrel shooting left of point-of-aim, and the left barrel to the right. Handloading can solve both problems. Essentially, the rifle is regulated by tweaking the ammunition. This can also be a real adventure that often requires considerable benchrest shooting with a relatively hard-kicking rifle.
As with any centerfire handloading, the basic procedure is to start with a lower powder charge and work up. Starting charges normally result in the barrels shooting apart, so powder is added until they shoot together.
Tim provided dies and brass, and I ordered some 400-grain Woodleigh softnose and solid bullets. After consulting a few sources, including Graeme Wright's fine 1996 book Shooting The British Double Rifle, I started with the modern Extreme version of Hodgdon H-4831, partly because of temperature resistance. Temperature-resistant powders have solved one major problem of handloading for doubles, their tendency to "deregulate" in cool or hot weather, the reason early British ammunition came in "standard" and "tropical" versions, with less powder in the tropical variant.
I had fired a couple of big doubles before, a .470 and .600 Nitro Express owned by other friends, but never handloaded for one. (Oddly, the .470 recoiled more obnoxiously than the .600 because it only weighed 9 pounds, and the .600 around 15 pounds.) Shooting the .450/400 was more pleasant because it recoils about as much as a typical .375 H&H.
Typical 400-grain .450/400 factory loads reach about 2,100 fps. I worked up to 83.0 grains of powder, whereupon the rifle put softs and solids into about 3 inches at 50 yards at a muzzle velocity of about 2,050 fps. (The left barrel chronographed 40 to 50 fps faster, which is not unusual in older British doubles. The right barrel has typically been fired more often so shows more erosion, common with the Cordite "powder" used in traditional British ammunition.)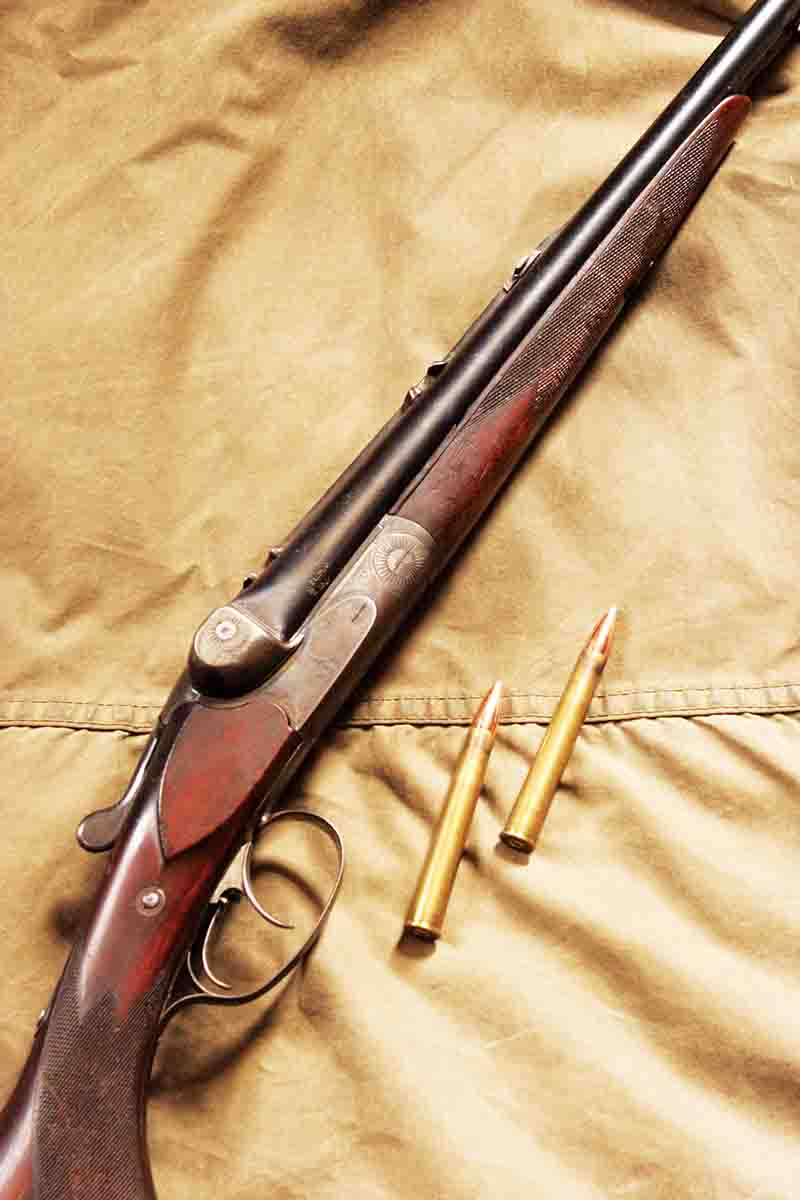 Unfortunately, our flights to Zimbabwe were scheduled for September 11, 2011. In Idaho, Brian never even boarded, but I left Montana earlier and was in the air to Salt Lake City when the terrorists hit. The safari could not be rescheduled that year, and by 2012 the Model 1895 .405 was ancient news. We cancelled, and each did separate buffalo hunts a year or two later.
However, shooting the Manton made me want an African double rifle. Tim said he might sell the .450/400, but I dithered and somebody else got it. I searched the Internet and found another British .450/400 a day's drive away. The price, however, was about the same as a buffalo safari, so I decided to take a much cheaper bolt action in .416 Rigby.
I still wanted a double rifle but was now more realistic about price – along with possible use; how many dangerous-game safaris would I go on? What use would a big double be otherwise? My Montana friend Keith McCafferty had owned a .470 Nitro Express for a while, using it on elk and deer, but he eventually grew weary of the weight so sold the .470 and bought a much lighter British .333 Jeffery Rimmed Nitro Express double.
In the meantime, I started hunting with a CZ 9.3x62 Mauser, a cartridge designed shortly after the turn of the twentieth century to function in an unaltered K98 action. I was impressed with the way it put down big game, and while most Americans believe the .375 H&H is the legal minimum for Cape buffalo in Africa, many countries allow 9.3s.
About that time, I got a phone call from gunsmith Karl Heckman, who then had a shop an hour away where he also sold consignment guns. Somebody had consigned a German side-by-side 9.3x74R, introduced about the same time as the 9.3x62 as a rimmed equivalent for break-action guns.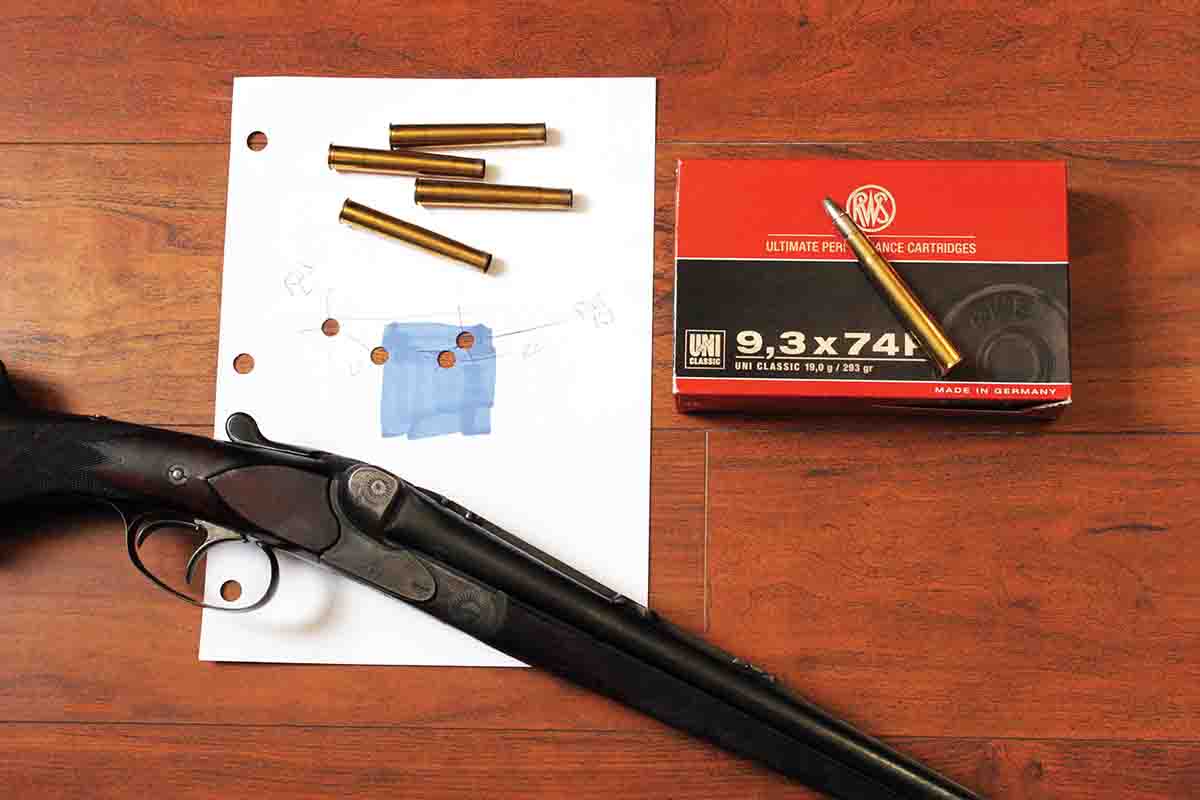 Later that day, I walked out of his shop with a medium-bore double rifle that only cost as much as a plane ticket to Africa. It was made before World War II by Thieme-Schlegelmilch, but like many German gunmakers, Thieme-Schlegelmilch never went back into business after the war, even though the company made excellent firearms.
Mine is a plain-grade box lock with what the British call a Greener cross bolt and Germans a Kersten fastener, a rod that slides through barrel extensions to lock the action. The caliber designation was stamped "9mm," which converts to .354 inch – the diameter of the lands, not the bores, which measured .366 inch, standard for 9.3mm barrels. The regulating bullet weight engraved on the side of the left barrel was 18 grams, about 278 grains, not the common 18.5 grams (286 grains).
The rifle had some nifty German features, such as a hinged aperture sight in the tang, which is also found on many older drillings like the outside-hammer 12x12/.30-30 Charles Daly Sauer I once owned. Of course, there was a flip-up open sight as well, set far enough forward that I can still see it pretty well 16 years later. Both triggers also turned out to be single set with an unset pull of 4 to 5 pounds. Pushing them forward resulted in a set pull of around a pound.
The rear of the barrel rib also had a pair of permanent scope-mount bases. However, they were not for traditional claw mounts, but rings that screw-tightened to dovetails. I thought it might be possible to modify other common rings to fit, but the rifle weighed only an ounce over 8 pounds, just about exactly the scoped weight of my 9.3x62, which I really liked for hunting, so the scope decision was deferred until after testing the rifle with the iron sights.
After some loading-manual research, I decided on Hodgdon H-4350 with Nosler 286-grain Partition bullets. The maximum charge listed by Hodgdon was 65.5 grains for 2,323 fps from a 24-inch barrel. In my rifle, 65.0 grains regulated perfectly with muzzle velocity averaging right around 2,350 fps from the 25.6-inch (65cm) barrels.
Despite the rifle's age, both barrels are in near-perfect condition, showing only a hint of throat erosion through my Hawkeye borescope. Many 9.3x74R doubles were primarily used for driven game in Europe, from wild boars to Scandinavian moose. Usually, both barrels were fired, whether after an initial miss or two shots on two animals (or two misses!), so the left barrel got about as much use as the right.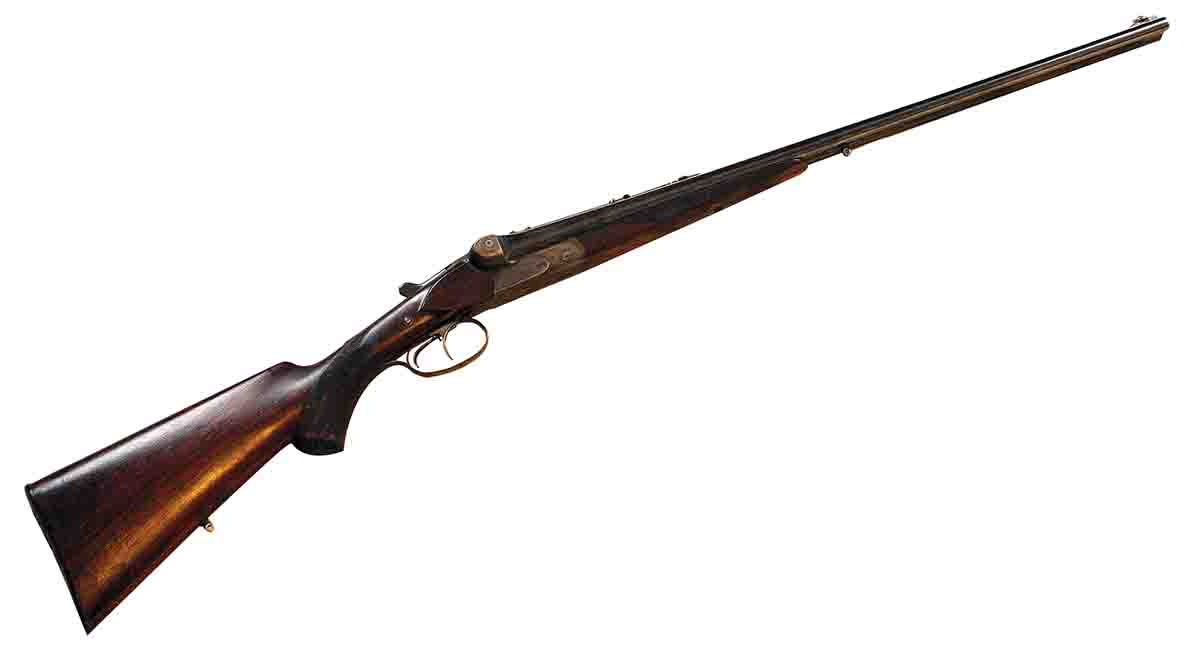 The rifle proved to be very accurate, with four shots (two pairs) grouping around 2 inches at 100 yards. Better yet, it proved to be pretty bullet-weight tolerant, since 270-grain Speers (the least expensive 9.3 bullet commonly available back then) shot to the same point of impact with a grain less of H-4350.
Back then, Hornady hadn't yet introduced any 9.3mm bullets, but as the popularity of 9.3 rifles rose in the U.S. it introduced several, including a 286-grain InterLock Spire Point featured in the company's selection of 9.3x74R factory ammunition at a listed 2,360 fps. I strongly suspect it would regulate nicely in my rifle, but no local stores carried it. However, I did find a box of the component Spire Points and tried them with 65.0 grains of H-4350, and they also regulated fine.
I have a little experience with this bullet in the field, though not in my double rifle. A few years ago, I went on an industry nilgai hunt in Texas with Blaser USA and used a Mauser Model 18 9.3x62 with Hornady 286-grain factory InterLock ammunition, which is also listed at 2,360 fps.
Over the years, I had taken several bull nilgai, which are among the most delicious game animals on Earth. But many hunters claimed the cows tasted even better, so I decided to try one. Eventually a mature nilgai cow (about the size of a cow elk) appeared at around 150 yards, almost directly facing me. The 286-grain Spire Point landed where aimed, just inside the left shoulder, and exited at the rear of the ribcage on the right side. The cow crow-hopped sideways a few feet then fell over dead. InterLocks are very reliable big-game bullets, "the poor man's premium," but the modest velocity of the 9.3s makes them even more "premium."
I eventually found my rifle shoots reasonably well with RWS factory ammunition loaded with the company's 293-grain UNI Classic bullet, a controlled-expansion projectile designed for bigger game (RWS' website includes buffalo). In the Thieme-Schlegelmilch it shoots to the same basic point of impact as my handloads, though the two barrels shoot slightly apart – yet not enough to make any difference on a Cape buffalo even at 100 yards, the longest range I have ever seen one shot. The listed velocity of the load is 2,280 fps; in my rifle it averages 2,221 fps, close enough.
I did fit a scope after the initial load work-up, filing a pair of steel Talley rings until they fit the dovetails. Unfortunately, the extra weight threw the rifle out of regulation, with shots landing up to 5 inches apart, even at 50 yards. This often happens with double rifles, and since the powder charge was already near maximum, I decided not to try to work up a "scope load."
I hunted some with the rifle for a year or two in Montana but only took one animal, a mule deer doe encountered on the public ridge where we do most of our elk hunting. I also took the rifle spring black bear hunting, but the only bear seen within range was a yearling that was probably just run off by its mother, as it was late May and the bear rut was starting. ("In range" means 200 yards. The rifle shoots about 2 inches above the top of the front bead at 100 yards and about 2 inches below at 200 – where the velocity of the Partition drops to about 2,000 fps, sufficient for reliable expansion.)
Soon after that little bit of hunting, however, I started going on a lot of hunts with various manufacturers who wanted me to use their rifles, and the 9.3x74R ended up in the back of the safe, semi-forgotten. A few years ago, however, I decided not to travel as much, partly because of wanting to hunt more with local friends and family, and partly to use my own rifles. My "medium" double may never go to Africa, but it will definitely go on more Montana hunts, partly because our local elk ridge is now home to more than one grizzly. While we do carry bear spray, a double rifle provides more than double the protection.