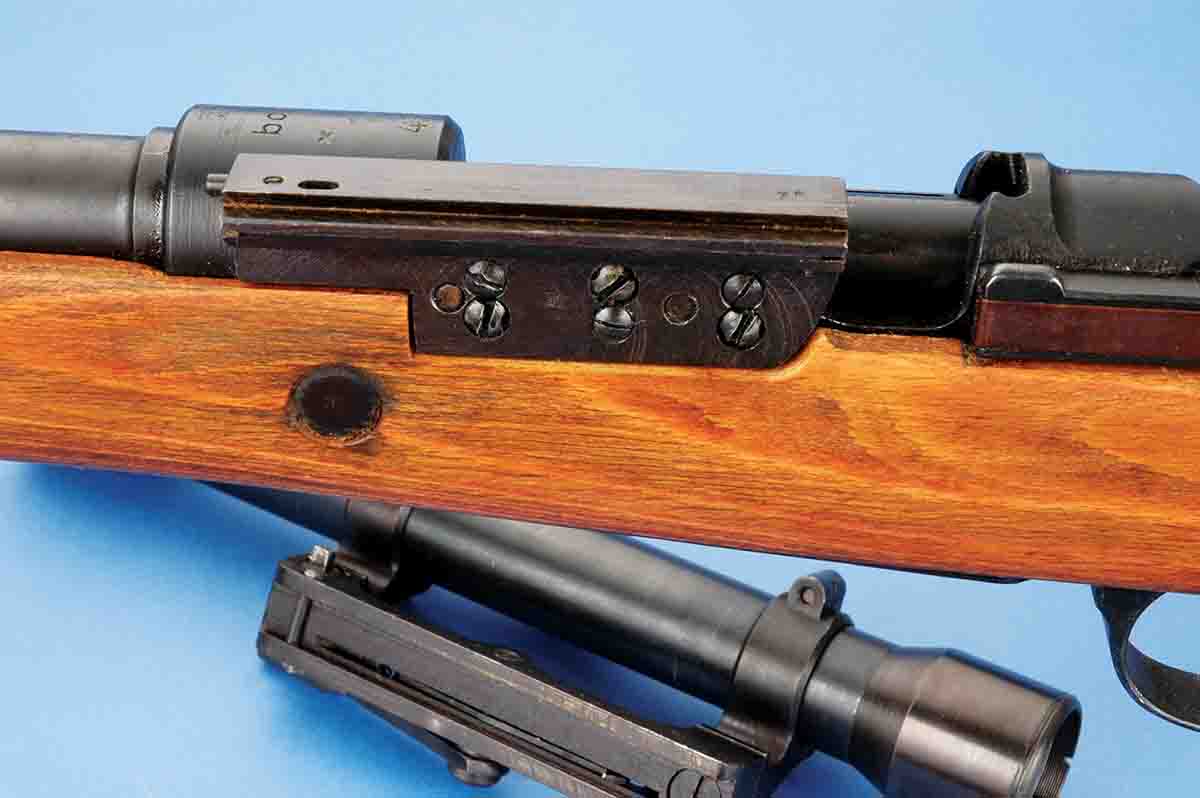 The idea of quick-detachable scope mounts did not appeal to me in my early years of shooting rifles. I think most riflemen felt the same. The concept of taking a scope off and then putting it back on seemed a recipe for an unzeroed rifle. Every avid rifle shooter of my acquaintance adhered to the "screw mounts and scope rings down tight" school of thought.
In November of 1980, I then stumbled across a rifle on the used rack at the Powder Horn gun store in Bozeman. It was a .308 Winchester Model 70 Featherweight. Two things about the rifle were unusual. One was that its factory stock had been replaced with a Mannlicher-style stock extending to the end of its 22-inch barrel. The other was that the Weaver K4 scope mounted on it was in a set of quick-detachable rings and mounts.
Almost 40 years later, I cannot remember the brand name of that arrangement. The rear scope ring had on its bottom a spring-loaded steel pin with its point to the rear. The rear base had a notch into which that point fit. To dismount the scope, it was pulled backward, compressing the spring and in turn allowing a stud in the front mount to clear. Then the scope was free. A nonadjustable, flip-up peep sight was on the rear mount.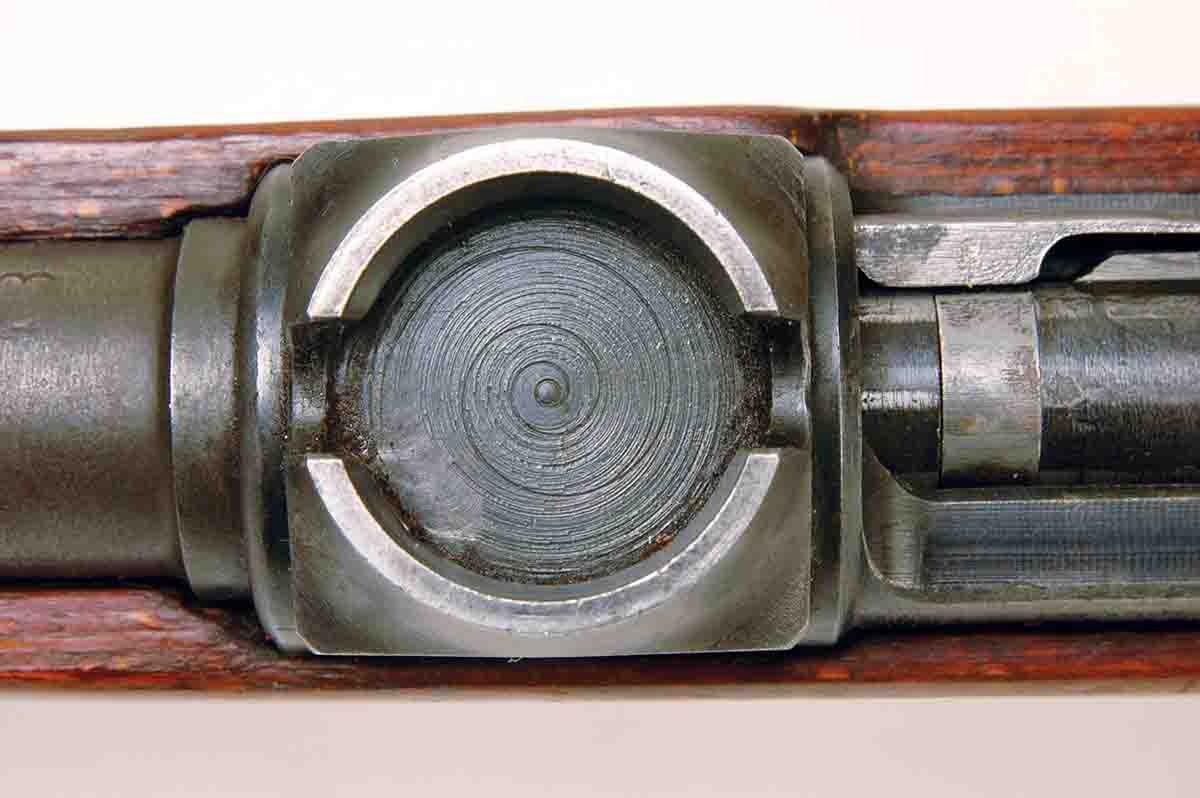 To test this setup, a three-shot, 100-yard group was fired, then the scope was dismounted and replaced, and another three-shot group fired. The total size of the two groups was about 11⁄2 MOA. Satisfied all was well, within a few weeks of buying this rifle/scope combination I shot a fairly impressive mule deer with it.
However, all wasn't truly fine. In those days, much of my hunting was on horseback. No problems arose when hunting on foot, but the first time I carried that rifle on horseback, it was slung crossways on my back. When I swung in the saddle, my hunting partner said, "Hold up!" Then he bent over and fished my scope out of the snow. As the day progressed, this chain of events was repeated several times. If the rifle got bounced about, the scope quickly became detached. Soon afterward, a Leu-pold 2-7x scope was placed on that rifle in conventional mounts, and it is still there.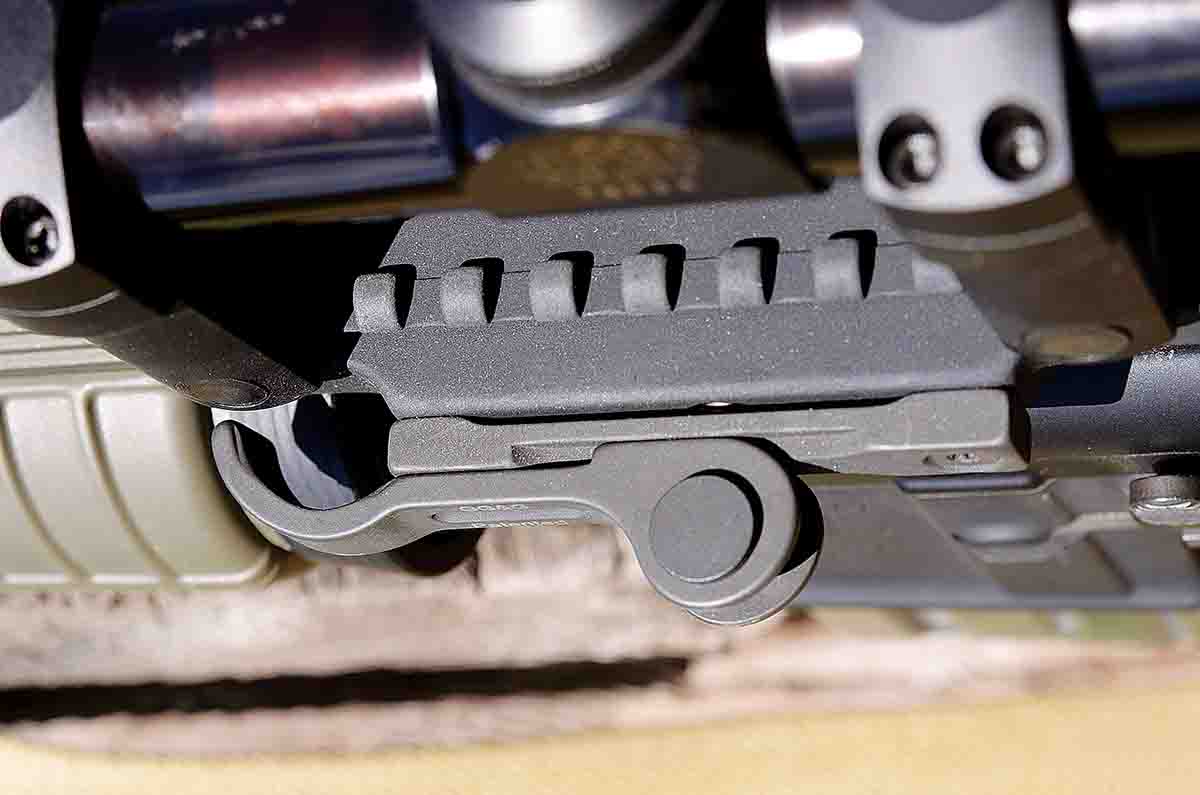 That ended my experience with quick-detachable scope mounts until beginning to assemble my collection of World War II sniper rifles. As the assortment grew one thing became evident; the Germans were dead set on having their battle rifles' iron sights usable, even with scopes mounted. Furthermore, German sniper rifles had quick-detachable mounting systems. Their snipers carried the scopes in leather pouches, and the optics were only mounted when action was imminent.
Because of the great variety of German quick-detachable mounting systems, collectors have come to call them short side rail, long side rail, low turret, ZF41, etc. There are more, but those mentioned I have on hand. Additionally there was a German semiautomatic called the G43, later changed to K43. All the G/K43 receivers were machined with a side rail, and a short Z4 scope was developed with a quick-detachable mount. It should be stressed that not all G/K43s were issued with scopes, but all were capable of accepting them.
Except for the turret mounts, all these German quick-detachable scope systems had dovetail-style rails permanently mounted to the rifles' receivers. Then the scope rings had a matching dovetail groove. To mount the scope, all one had to do was slide the dovetailed parts together and then lock it down with a lever pushed almost 180 degrees from rear to front. The turret-mount system had one part as the base and the other part integral with the front ring.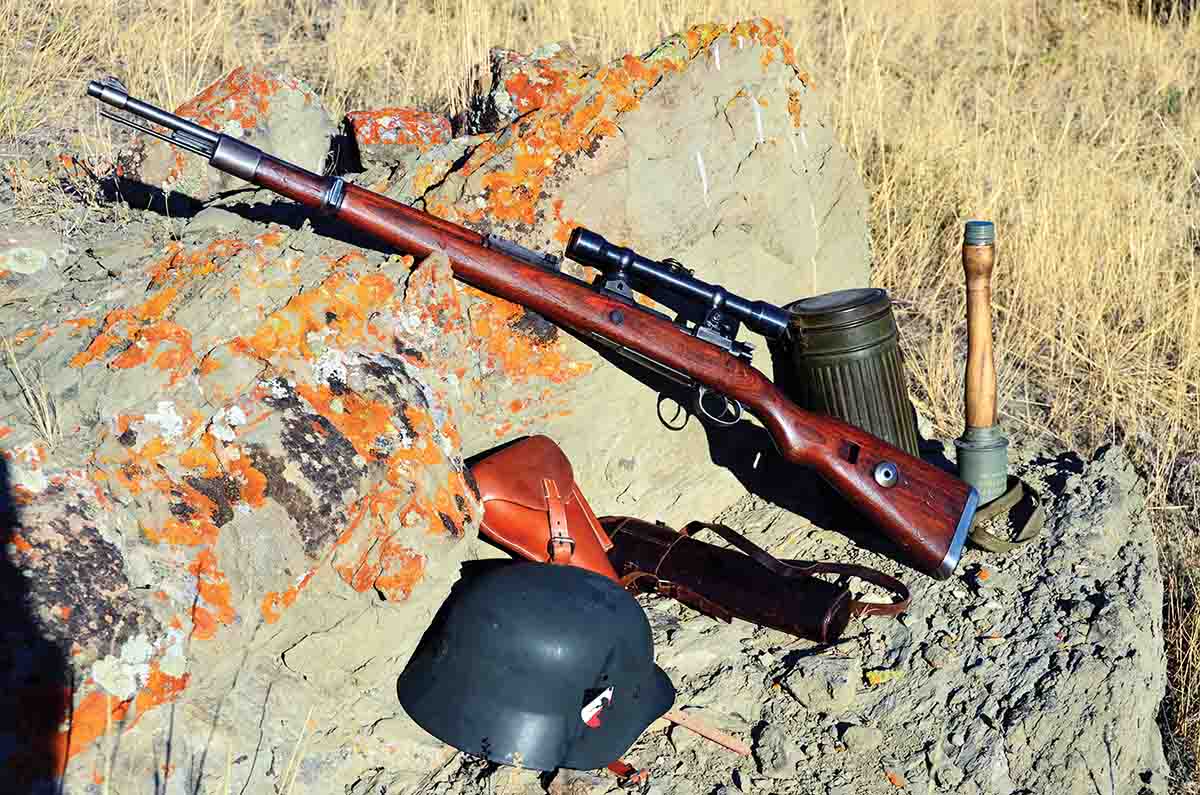 To mount the scope, the front turret parts are mated together with the scope 90 degrees to the rifle. Turning it in line with the bore brings the rear scope ring to the rear mount, where it "clicks" in place. Naturally, I tried all of these systems for return to zero, and all did so within about an inch at 100 yards.
As said, all these German quick- detachable scope systems allowed full use of iron sights with scopes mounted. The side-rail types sat high enough that iron sights were visible beneath, and the turret types had "tunnels" through them so the iron sights were still usable.
That brings us to the present. A few years back, my gun trading left me with a used AR carbine at no cost. It was manufactured by a now-defunct company, Essential Arms of Louisiana. On a whim, I decided to shoot it, and to my surprise found it very accurate; less than 2 MOA with good ammunition. I decided to hang onto it. The AR's former owner had added an inexpensive foreign-made 4x scope. It had given me no problems, but I yearned for an American-made scope.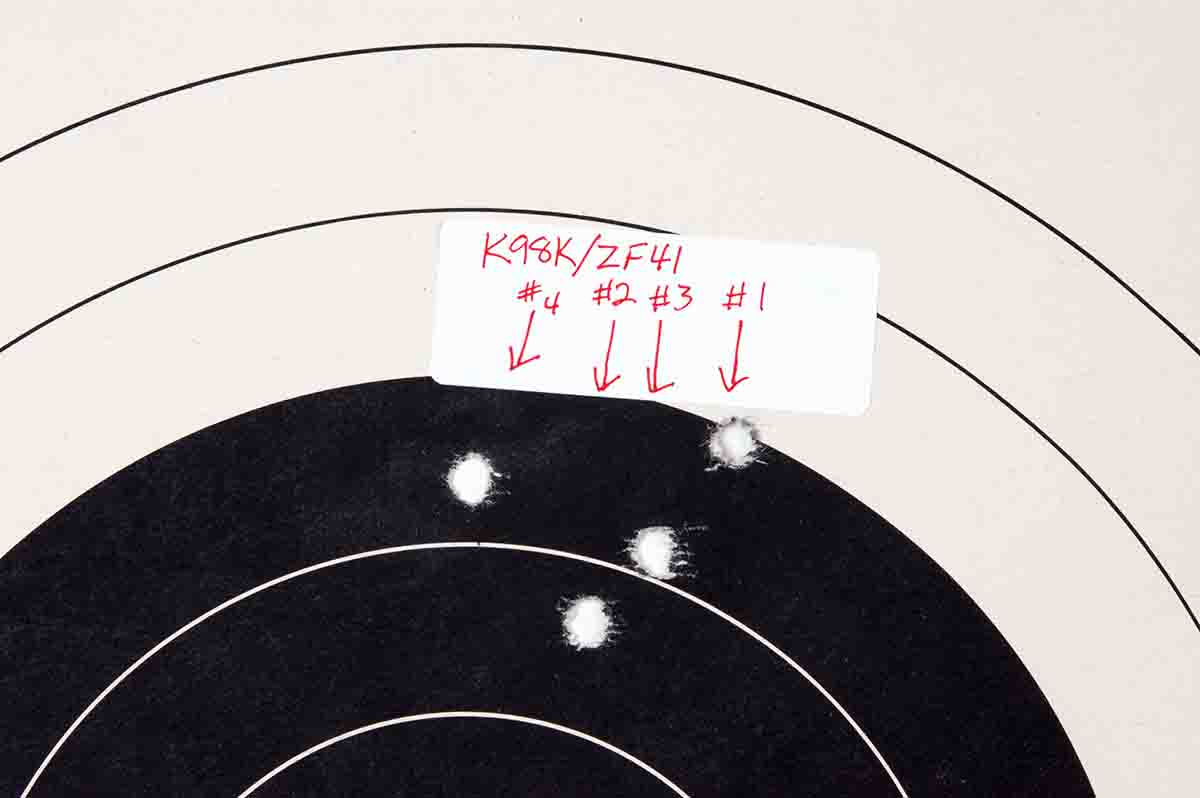 At this point, I remembered two things. One was that Clint Smith of Thunder Ranch always advised students in rifle-shooting classes to keep their rifles' iron sights when mounting optics. He said in a pinch the optics could fog, fancy ones could have dead batteries, etc. The second thing remembered was how those German sniper scope mounting systems were devised so iron sights were usable.
My new AR had a Picatinny rail and its front sight was intact, but the rear peep sight was missing. So, I called Clint Smith for advice. He said to get a quick-detachable Accucam mount sold by GG&G (GGGaz.com). It fits on Picatinny rails and also had a rail on top. Therefore, the rings from the foreign scope were transferred to a 3x Leupold scope. For a rear peep sight, Samson Manufacturing (samson-mfg.com) markets a rail-mounted option that is windage adjustable. (Of course traditional AR front sights are adjustable for elevation.) To dismount the Accucam system, a lever pointing toward the muzzle is pulled rearward to point toward the buttstock. Then the Accucam mount and scope lift clear. Remounting is simply done in reverse order.
When everything was gathered and assembled, an enjoyable afternoon was spent zeroing the scope and iron sights. Several times, the quick-detachable scope was removed and replaced. Zero-wandering was barely perceptible, if at all.