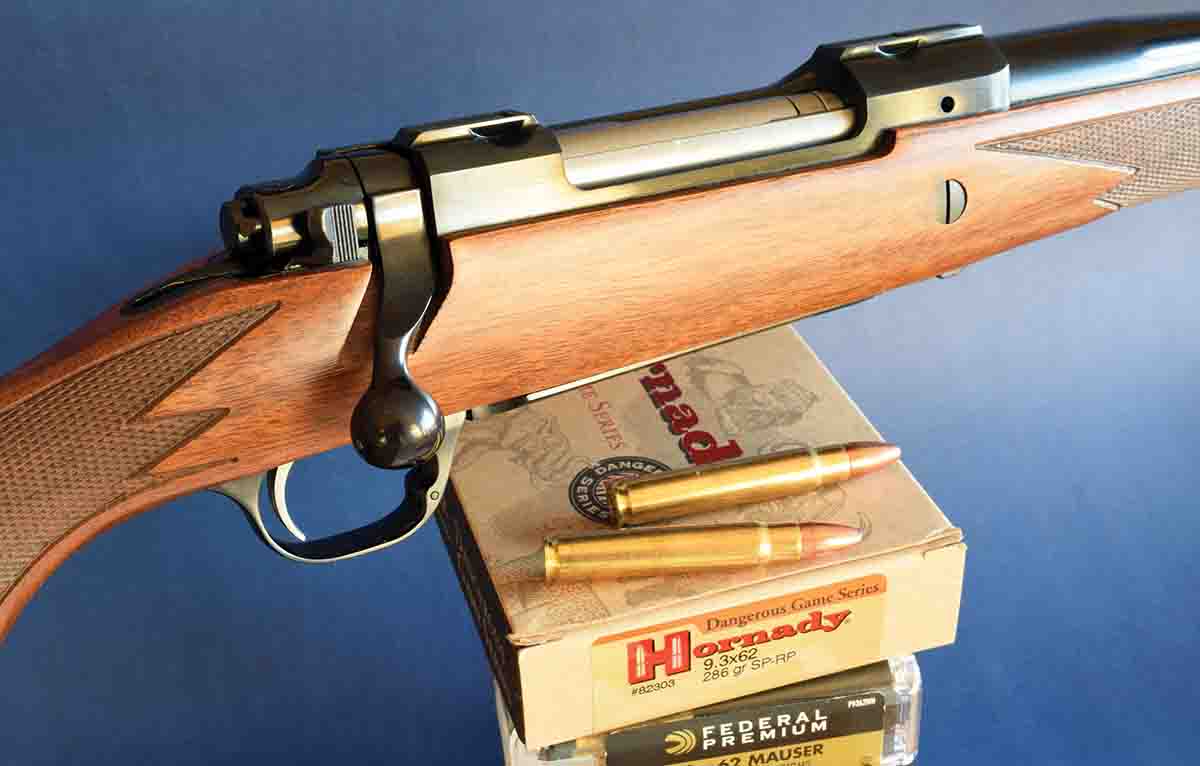 A wink of sun on horn pulled us both to a stop. The bull was less than a dozen steps away, mostly hidden. We checked the impulse to lift rifles. Statue-still, we stared at parts of both horns, black and thick, sweeping deep from enormous bosses far from tattered ears. The hooks were heavy as truck axles.
Seconds ticked by. "No." I read silent lips and nodded slightly to the corner of bwana's eye. This buffalo was not the aged, stub-horned "dagga boy" we sought. "Too … big." A beast worth many dollars. At nine meters, though, the decision to break off wasn't ours alone. The bull had to agree.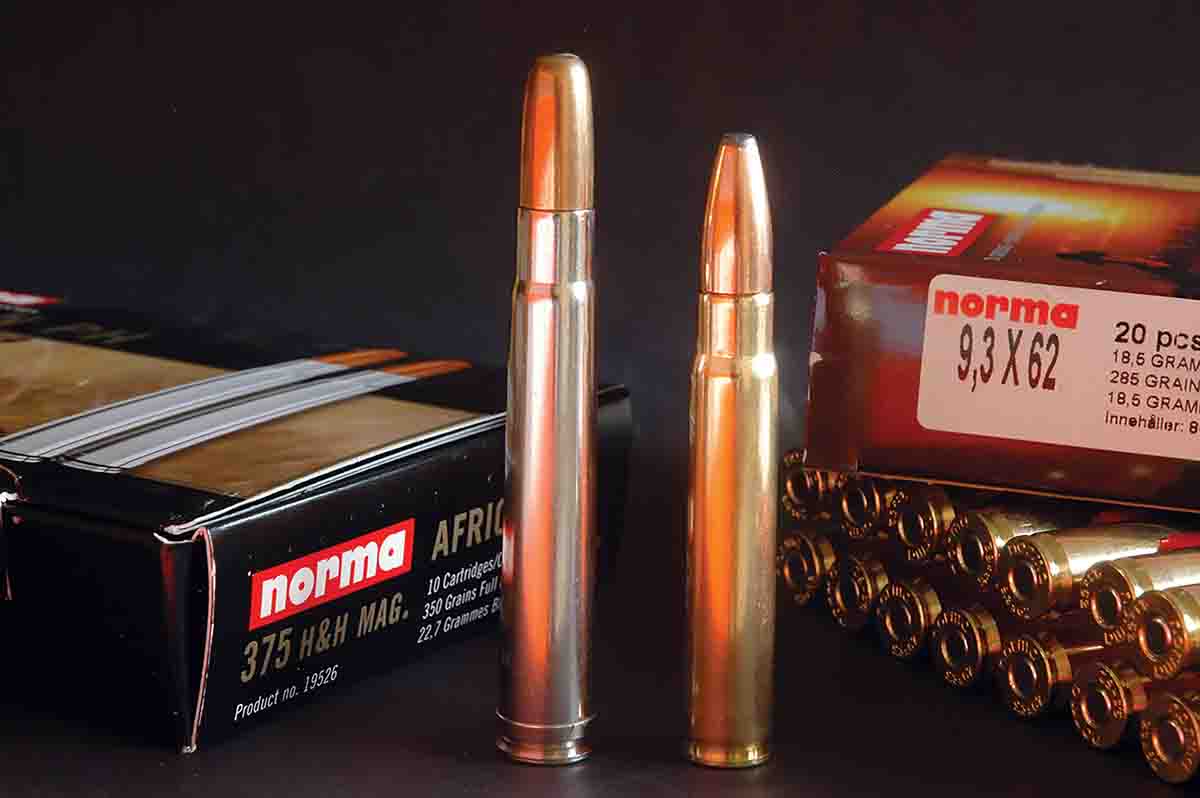 The breeze shimmied. The horns swung and the great black bull crashed away, a veil of backlit dust suspended in its wake.
We listened to be sure, then turned back to the spoor.
Presently the path, shredded by other hooves, entered a thicket. We eased in, stepping sideways to limit our disturbance. Toes pressing gently, we could see mere feet to either side.
The bachelor bulls had dispersed before bedding. "Wait here." I nodded. He returned after a short reconnaissance, whispered "Old bull to the left." He motioned me on. Bent low, I looked closely. A mud-caked buffalo in dense thorn is surprisingly easy to overlook.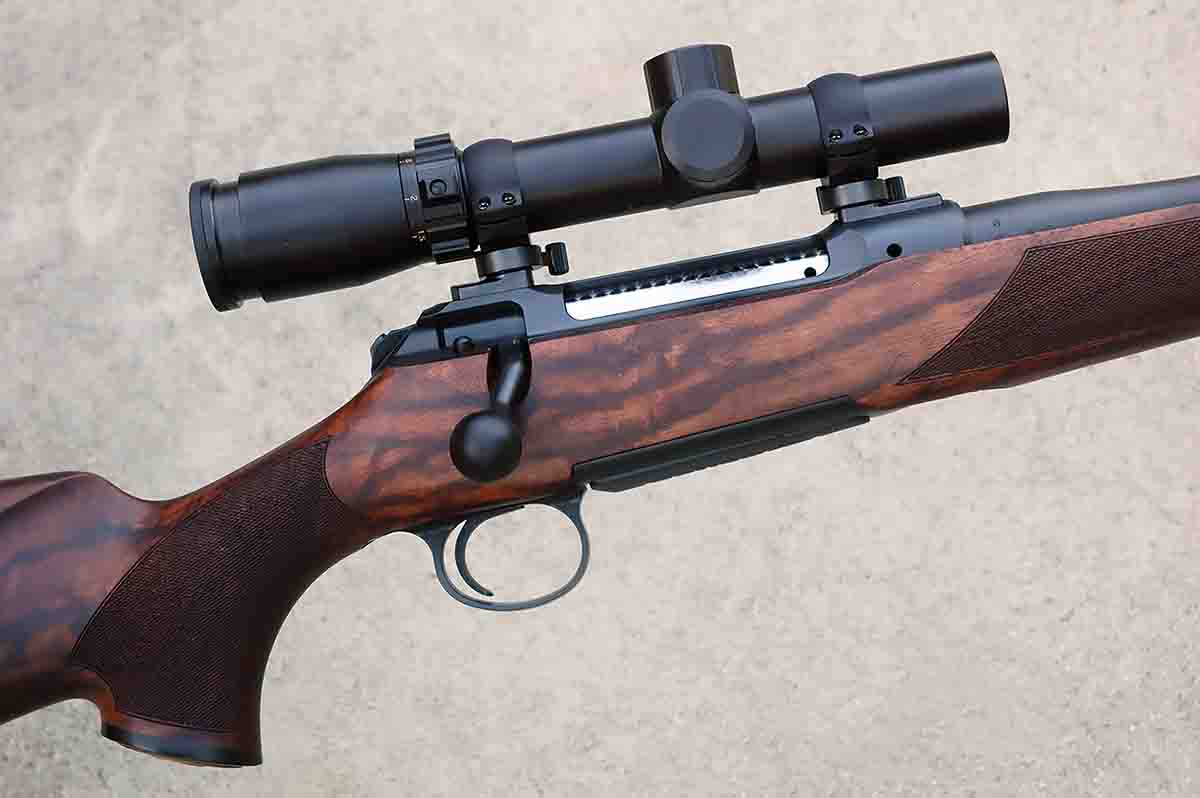 Suddenly he was there. The bead caught the knuckle below the scapula, and the Mauser bucked. With a bellow he was up, pivoting to face me. My follow-up nicked a horn en route to the other shoulder. He spun away, then crashed to the ground as another solid broke its neck.
It wasn't my first buffalo, or the first game I'd shot with a 9.3x62mm. That hunt is sharp in my memory because it ended mere feet from a great beast, with open sights and a rifle and load of century-old design.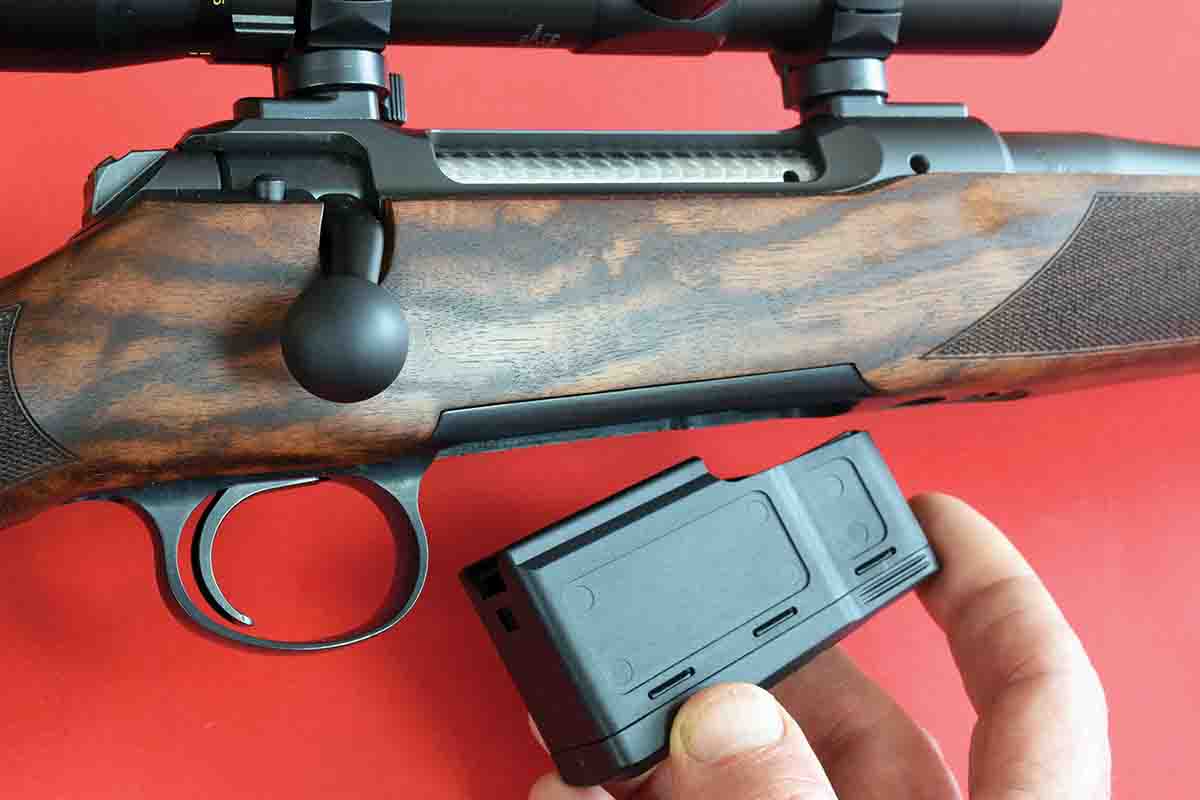 Berlin Gunmaker Otto Bock developed the 9.3x62mm around 1905, probably for German farmers and hunters in colonial Africa. But this cartridge grew popular in Europe too, especially for wild boar. Mauser imported 9.3x62mm sporting rifles to the U.S. until World War II. The Czech company CZ followed with its sturdy Model 550. A standard 9.3x62mm load sends a 286-grain (some manufacturers list a 285-grain) bullet at 2,360 feet per second (fps). In my youth, factory ammunition and .366-inch bullets were scarce stateside. But the cartridge has since gained traction. Bullet makers offer softpoints and solids. Hornady, Federal, Remington and Norma load ammunition.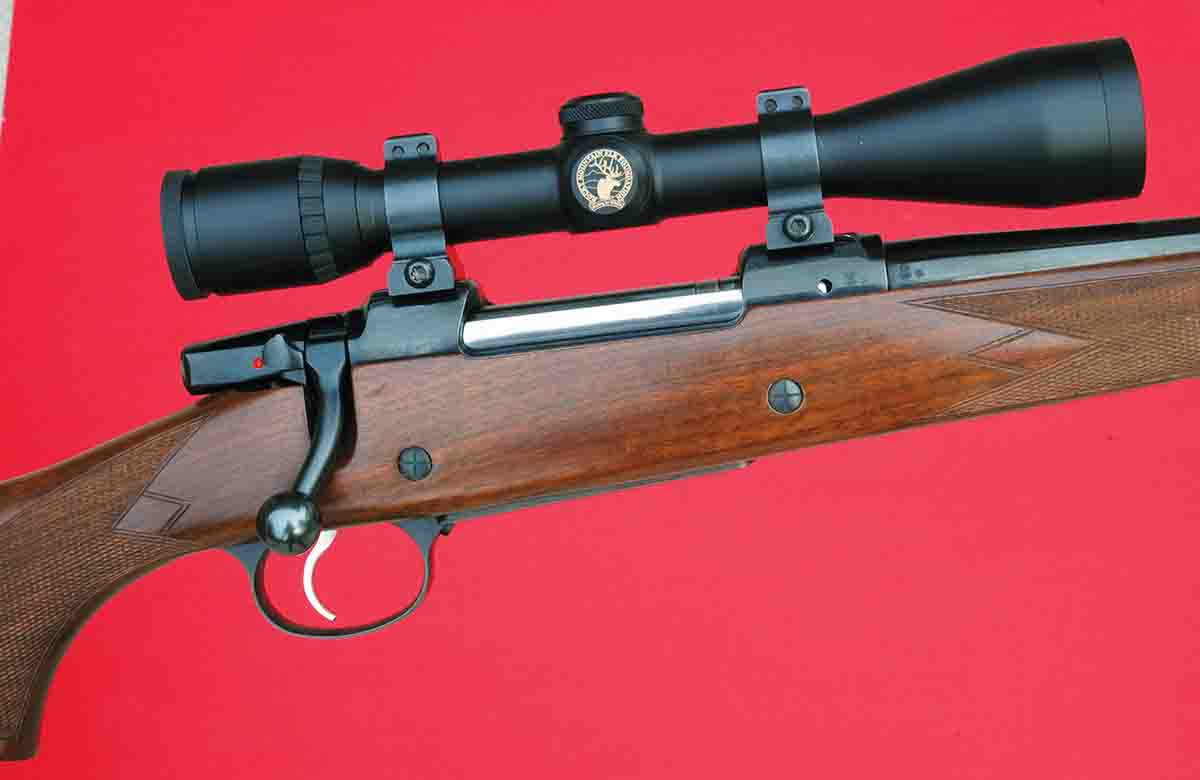 By tradition, most European forest game is shot at modest range, as are Africa's biggest and most dangerous beasts. The 9.3x62mm kills handily up close – but also well beyond the limits of open sights. Physically and ballistically, the 9.3x62mm is most like the 35 Whelen, developed by James V. Howe and Townsend Whelen. A necked-up 30-06 with no other change, this wildcat dates to the "nine-threes" era. It has the 17½-degree shoulder of the 9.3x62mm, but uses .358-inch bullets instead of .366-inch bullets of the 9.3x62mm. Though a fine hunting cartridge, it wouldn't appear commercially until Remington offered it in 1987. The drift toward faster, flatter-flying bullets, spurred by the refinement of riflescopes between the world wars, was a headwind for cartridges with thick, heavy bullets chugging along at 2,400 fps.
Technically Speaking
Factory loaded, the 9.3x62mm out punches the 35 Whelen. A more comparable round might be the 35 Whelen Improved, with its slightly greater case capacity, or the even more capacious 35 Brown-Whelen, whose short neck resembles the 9.3x62mm. Cartridge dimensions of these 35s and the 9.3x62mm suit all of them to any rifle action for the 30-06. See Table I for a few numbers from the 9.3x62mm and 35 Whelen.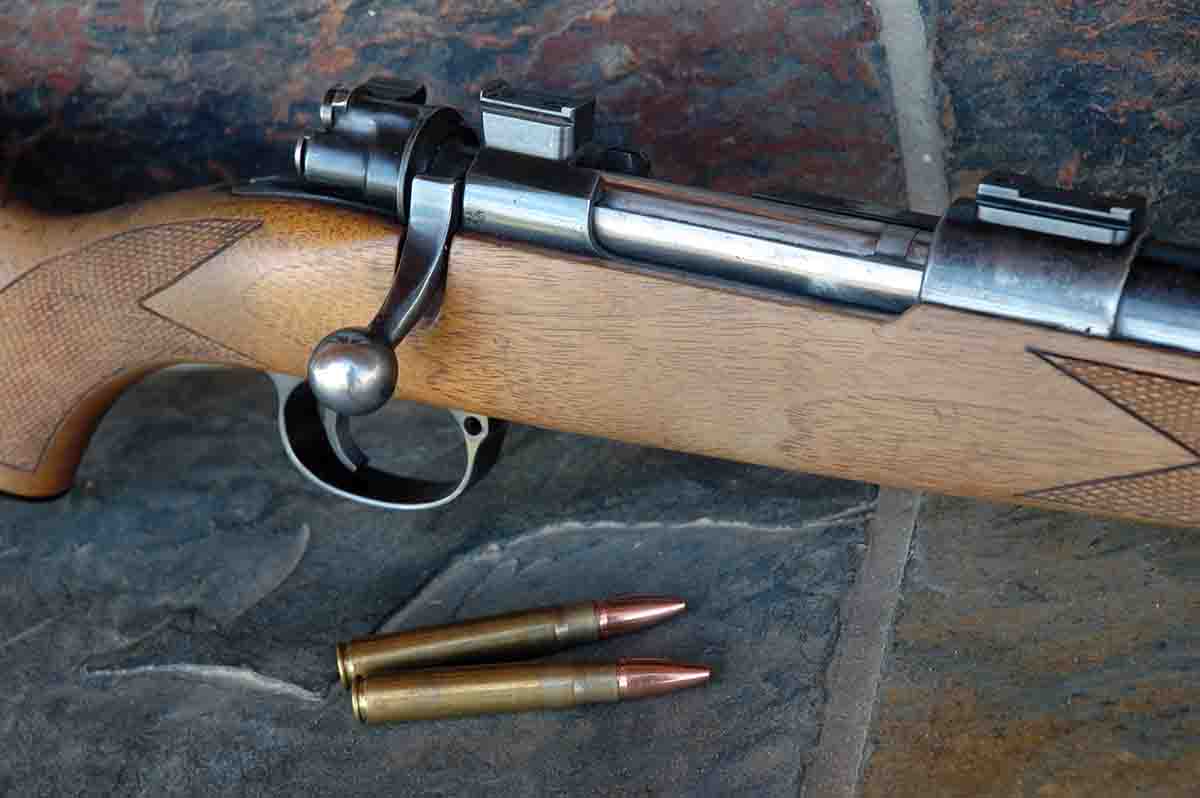 With a 250-grain bullet seated to standard depth, the 9.3x62mm has been listed with a water capacity of 62.5 grains, just .3 grains more than a 35 Whelen with that bullet. Direct ballistic comparisons between these rounds are limited by a dearth of .358- and .366-inch bullet options from U.S. manufacturers. The 286-grain weight standard for 9.3 bullets isn't available in 35s, nor is the 200-grain weight most common in 35s offered in .366-inch diameter. The disparity in breech pressures have been credited for the 9.3x62mms edge; but according to my references, the "nine-three's" maximum average breech pressure of 56,600 pounds per square inch (psi) is on par with that of the 30-06. Loading manuals suggest factory loads for both the 35 Whelen and 9.3x62mm stay well shy of breech-seizing levels.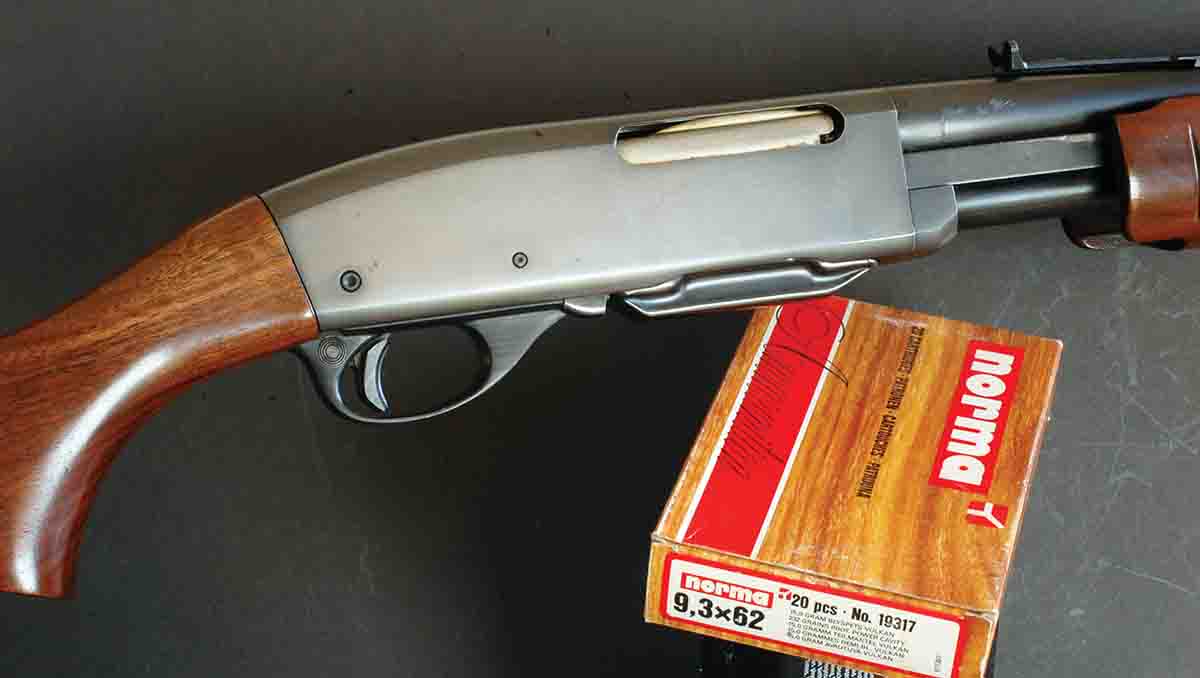 Remington's roster shows a 250-grain bullet from the 35 Whelen clocks just 40 fps faster than a 286-grain bullet from the 9.3x62mm. On the other hand, Hornady's Superformance 200-grain 35 Whelen load registers 2,910 fps – 235 fps faster than Remington's pointed softpoint.
The weight and frontal diameter of the 9.3's bullets have much to do with its stellar reputation on durable game, according to hunters who've used it a lot. According to the tables, factory-loaded 286-grain bullets leave the muzzle within 50 fps of 220s in a 30-06. The 9.3 lands with noticeable authority. (Yes, heavy-bullet 30-06 loads that once floored big animals were retired too early; but that's another tale.)
The proper "light" bullet for the 9.3x62mm was determined long ago by alchemy and the positions of the stars to weigh 232 grains. Norma's Vulkan and Oryx bullets exit at 2,625 fps. But miserable sectional density holds ballistic coefficients of these short bullets to around .270. They lose enthusiasm quickly and scribe steep arcs. Much better is Swift's 250-grain A-Frame. Charged in handloads to 2,500 fps, it carries more than a ton of energy past 200 yards and flies flat enough to stay within 3 vertical inches of point of aim to 230 yards. I like this option. Still, trimming weight to add 150 fps gains no practical advantage downrange. A 286-grain A-Frame at 2,300 fps (handloaded or in Federal's factory load) hauls a ton of whop past 250 yards in nearly the same arc. Its sectional density (SD) of .305 trumps the .267 SD of the 250-grain bullet.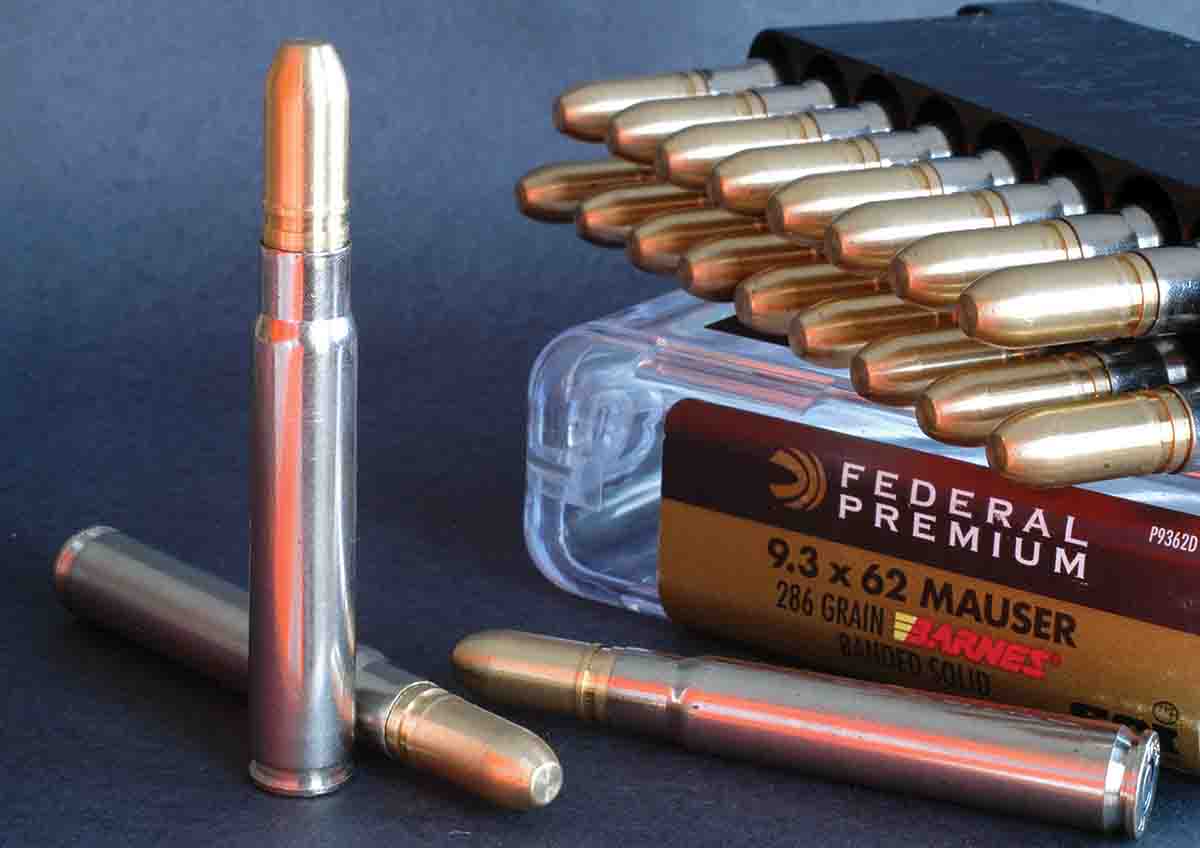 Other bullet weights? Speer has a 270-grain semispitzer that is a stiff, but a safe load and should shove at 2,450 fps from a 24-inch barrel. Norma lists a 325-grain Oryx factory load at 2,200 fps. It should excel on buffalo. I like solids for follow-ups. Federal loads a 286-grain Woodleigh Hydro to 2,360 fps. Norma lists a 275-grain brass solid at 2,450 fps.
Where Big Beasts Lurk
In some of Africa's game fields, the 9.3x62mm has proven itself so popular and effective for shooting heavy beasts that in some places where regulations specify .375-bore rifles for dangerous game, I have it on good report that the 9.3x62mm is a permitted exception.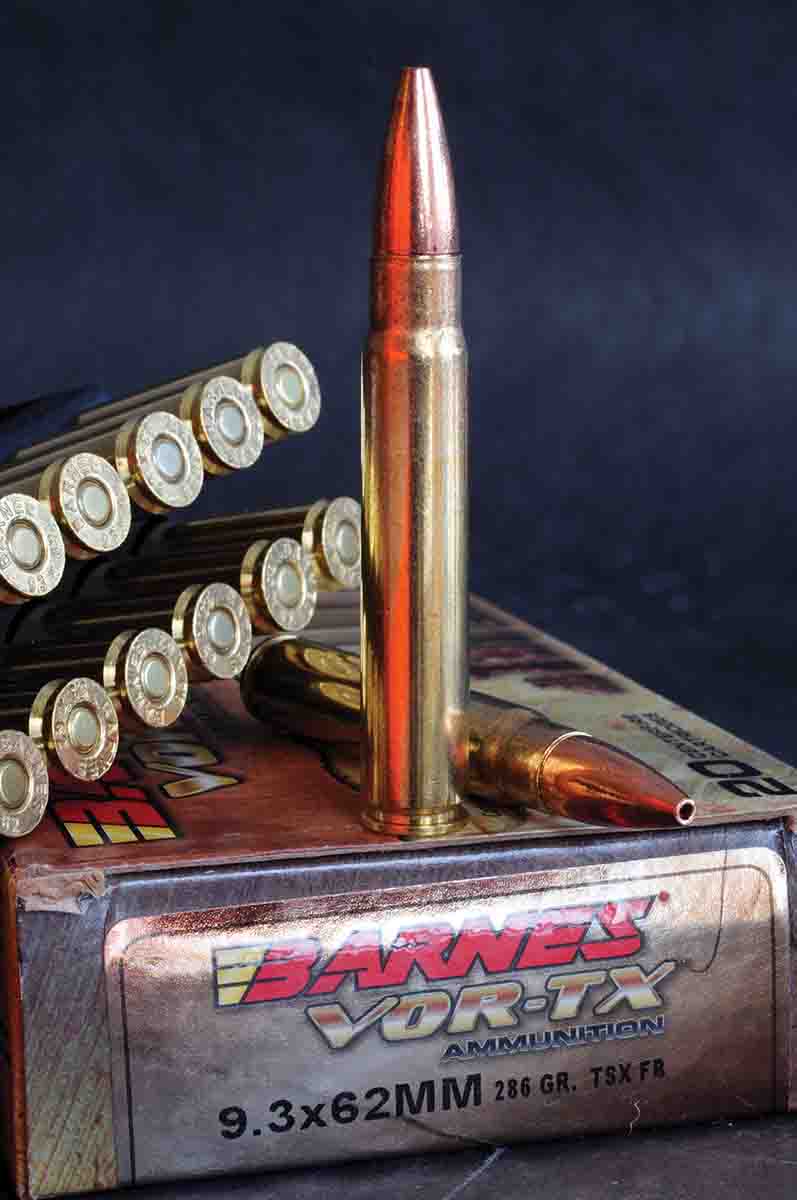 While British Express cartridges get plenty of love in safari tales, the 9.3x62mm remains a workhorse for people who do less writing than shooting at big game. Kevin "Doctari" Robertson, a veterinarian and a professional hunter (PH), is well-known for his book, The Perfect Shot, a comprehensive bullet-placement guide for safari-bound hunters. While he has used, and seen used many cartridges, he's exceedingly fond of the 9.3x62mm. In a Barnes loading manual, he calls it "a true African classic, with a deserving reputation for just getting the job done without too much recoil and muzzle blast .… My [slightly compressed] load of Somchem S-335 behind a 286-grain X-Bullet [chronographs at] 2,300 fps in the hot low-lying … areas of Zimbabwe without any signs of excessive pressure." That bullet, popular for heavy plains game has "taken the odd fully broadside-on buffalo as well." With Barnes 286-grain solids at 2,300 fps, Robertson affirms, the 9.3x62mm is a match for any thick-skinned game. "My current rifle in this caliber, a Brno ZG 47, now has well in excess of 600 Cape buffalo to its credit."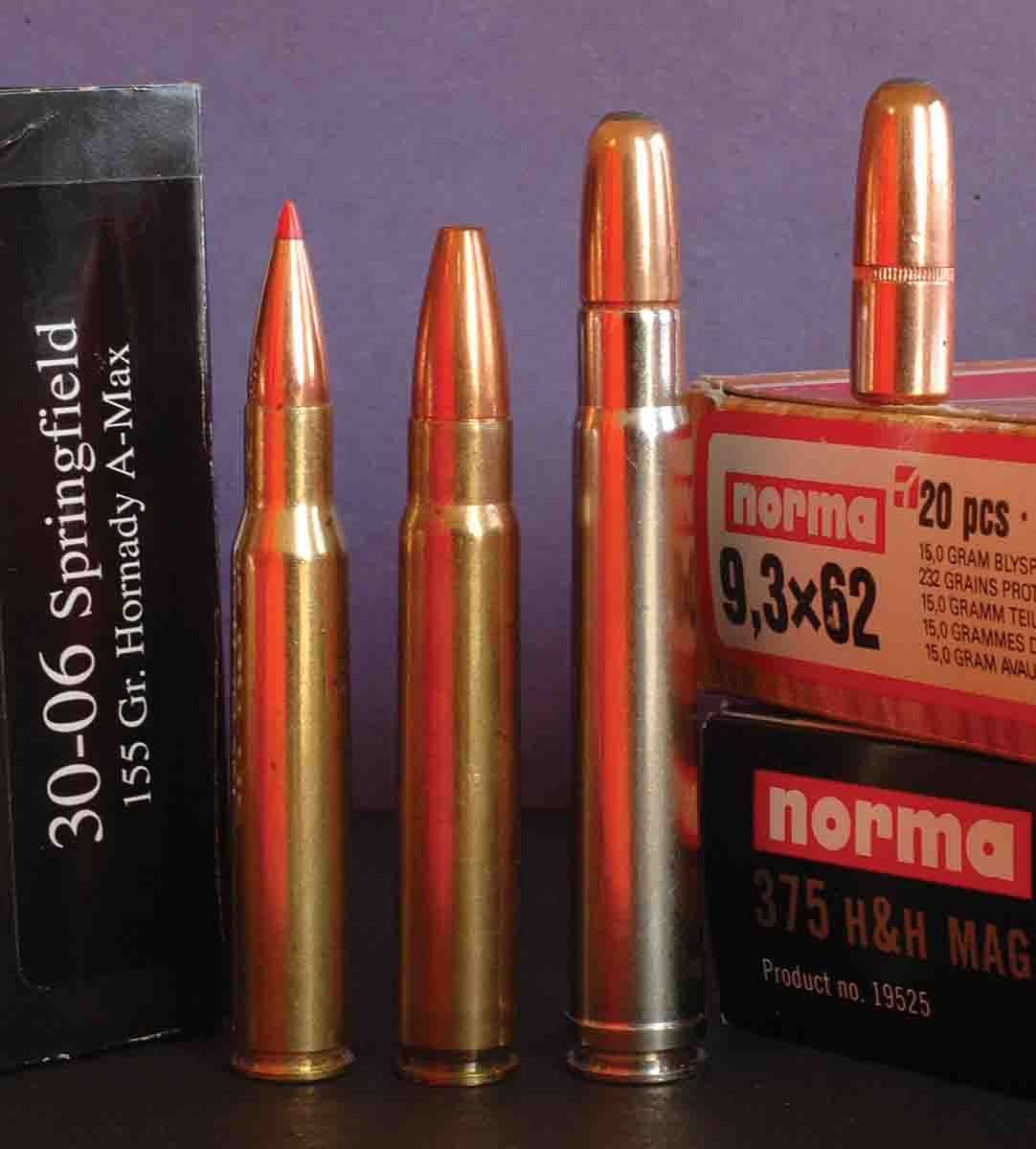 It'll be some time before either of my 9.3x62mms get that much exercise in buffalo country. In fact, the "nine-three" I've used most in Africa is owned by Namibian PH Jamy Traut. He's graciously loaned it to spare me the time shepherding a rifle through Jo'burg's O.R. Tambo International Airport when my visits are mainly to bring other people. That Mauser was Jamy's before he began outfitting and then, his favorite lion rifle. It has a plain but well-shaped stock with no provision for a sling. The flag safety is handy enough, because there's no scope. A small bead up front and a shallow rear V suffice for any game at any distance.
I've carried that rifle more than I've fired it, but even in silence, it's easy to like – a no-nonsense rifle light enough for long treks but not so light it dances on target. Its bolt runs with the buttery "snickety-click" of every well-traveled 98. Bullets go to the sight, whether or not I hold it where the bullet is meant to go. I have muffed easy shots with this rifle. But it has blessed me too.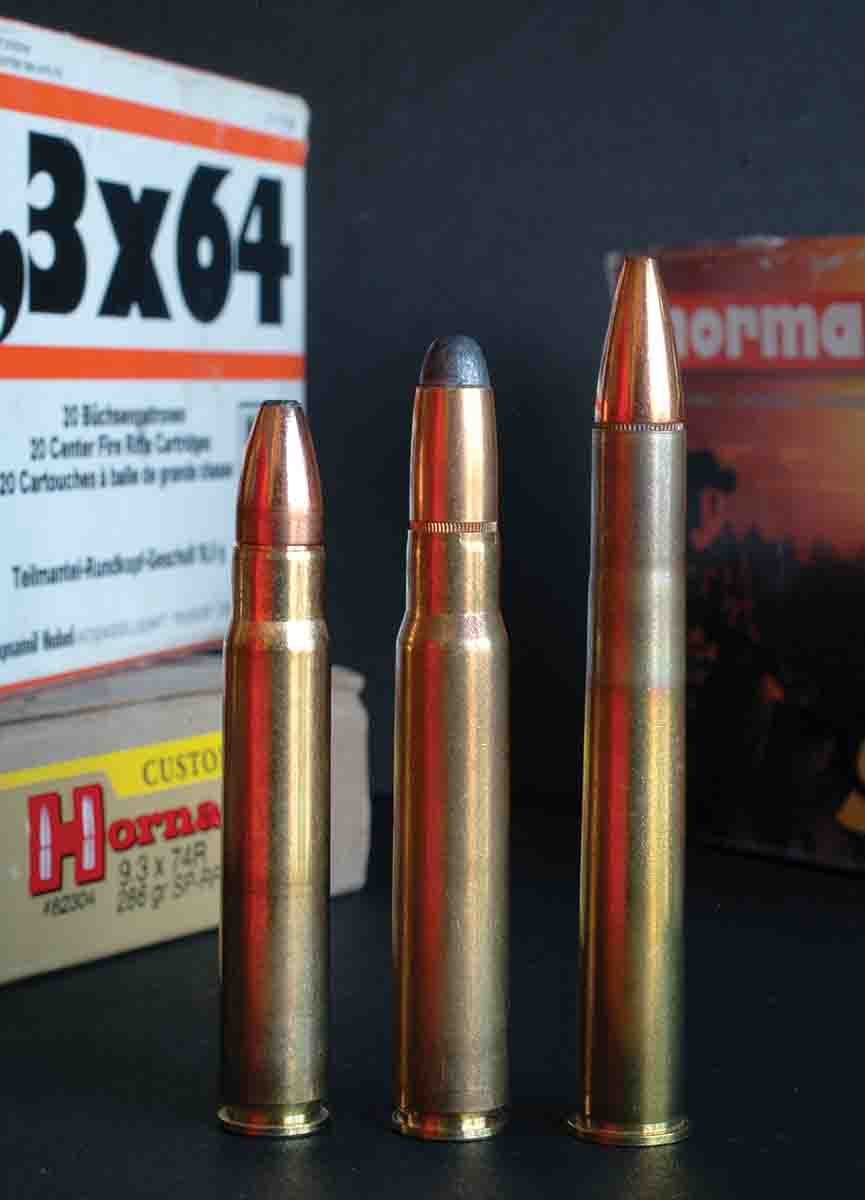 Once, after a failed effort to find a gemsbok in the dunes of the Kalahari, Jamy and I plodded up one more and came upon a small herd with a spectacular bull. They were drifting up the slope opposite. We dropped to our chins. Still huffing from the climb, I squirmed ahead and dug my elbows into the sand, swiveling on my belly, using my toes as levers, to keep the sight on the bull's shoulder. He moved into the group as it funneled up a draw. "A hundred twenty," whispered Jamy. "One thirty."
The front of the herd was out of sight in the top of the coulee when the bull stopped. The cows slid on by. He turned slightly. "One forty. That's pretty far." About as far as open sights made sense. But pivoting, I'd augured my elbows deep into the dune. The rifle was steady. At the 9.3's blast the gemsbok collapsed. "Hit him again!" urged Jamy. Gemsboks are tough. But as I struggled to corral the bead, the buck showed no life. It proved to be an exceptional animal.
Another Kalahari dawn, four eland bulls caught our eye in a frosty pocket. Sunrise would come at our backs. The air was still. We had them! But as we took to a cut that would give us the shot, a gemsbok appeared. We ducked behind a bush. Other gemsbok came. The eland relaxed, a common response among plains game when other wary prey joins them. "More eyes." Jamy shook his head. Dressed to walk as the day got hot, we were pinned and chilled. All warmth leaves deserts at night.
An hour of shivering later, we watched helplessly as the eland walked away, up a dune. Then the gemsbok drifted off. We raced on stiff legs across the flat and up in soft sand. We crested breathless – and without a necessary pause. The color of the desert and statue-still, the last eland was suddenly there, 80 yards off, staring back at us. Bushes nixed a low shooting position. I fell to both knees and fired as the bead flitted briefly on the shoulder. The big bullet toppled the beast. Another finished it. No matter how hard-earned or well-shot, a dying eland draws my apology.
But How Versatile?
Many experienced hunters favor the 9.3x62mm for game that isn't weighed by the ton or belligerent when annoyed. Kevin Robertson declared that with Barnes X Bullets it's his "all-around any-antelope load." Bill Wilson, who brings forth superb 1911 pistols and AR-15 rifles from his Arkansas enterprise, Wilson Combat, has hunted in Africa at least 10 times. For most game there, he likes a Ruger bolt-action rifle in 9.3x62mm with RL-15 powder sending Nosler Partition and Barnes X bullets.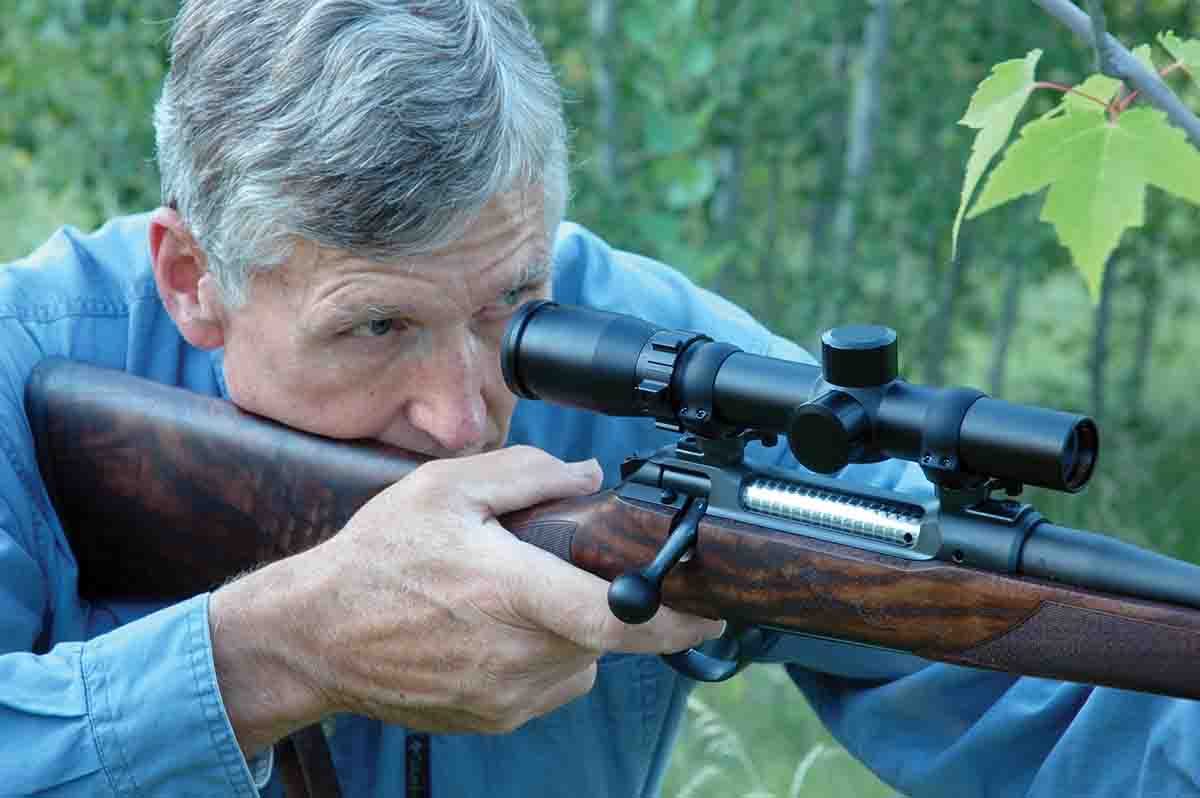 Legions of less celebrated hunters quietly keep taking game with the 9.3x62mm while racier rounds with shallow track records snare headlines.
In this hemisphere, my CZ 550 in 9.3x62mm has proven itself on elk, moose and goats. The elk was in a patch of noisy Montana "shin tangle." Had it not been for tracks in new snow, and a wind stiff enough to drown my step with snaps, cracks and a steady moan from the trees, I'd have yielded the day. But dark neck hair caught my eye in the gray and white monochrome of windfall. Offhand, I brought the crosswire in the 4x to a quiver and pressed the trigger. The elk buckled.
I came to expect such results with the 9.3 and got them again in a British Columbia thicket. From a hill, my guide had spotted the chalk splash of an antler palm half a mile off. He led me through stunted conifers and an alder jungle that defied direct approach. The moose appeared as a wiggle in willows at 40 steps. Tense seconds of bobbing and weaving showed me an alley. Staggered by the 250-grain A-Frame, the bull crashed off for a couple of jumps. Then it was down.
A tougher beast than a mountain goat is hard to find. The few I've shot have all required multiple hits. The billy I met with my CZ "nine-three" in hand showed up on a timbered ridge below the jagged rock that makes goat hunting treacherous. My softpoint took him in a rear rib as he quartered off at 200 yards. Two more struck before he fell. It's the only animal I recall moving more than a couple of steps after a hit from my 9.3x62mm.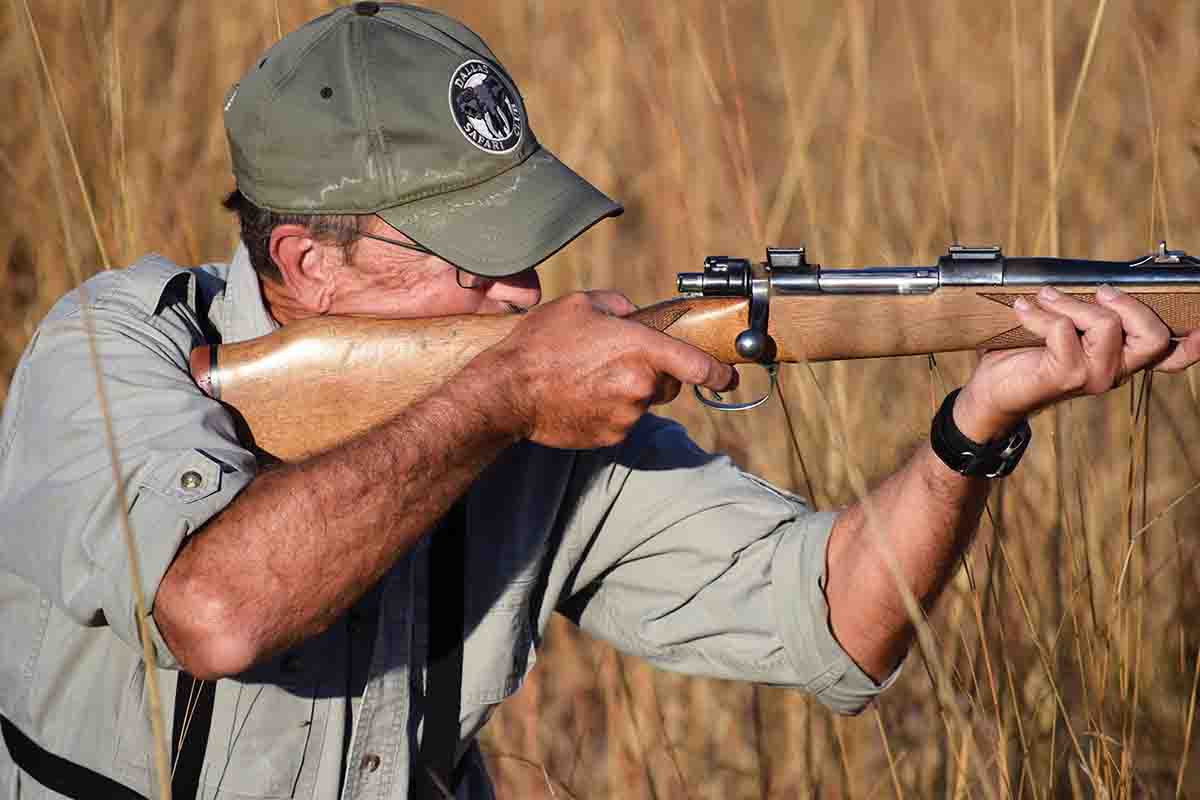 A more recent "nine-three" is a Sauer 101, a rifle not widely promoted stateside. Built at the factory near Isny, Germany, that makes Mauser and Blaser rifles too, it's a modest upgrade from the Model 100 better known in the U.S. Its slick-running bolt boasts six lugs (three pairs) up front, a tail-mounted safety. The staggered, detachable polymer box magazine fits flush behind a recessed release. The trigger breaks like a glass rod at 2½ pounds. This rifle's finely checkered stock fits me; its prominent open sights align instantly. The 1½-5x Weaver in QD rings is as quick to the eye. With factory loads, I get sub-minute groups. Trailside, the rifle weighs about 8 pounds.
Scoping a rifle to assist aging eyes also helps tap the 9.3x62mms reach. This is a 250-yard cartridge, worthy of a 200-yard zero with factory-loaded 286-grain bullets.
There's a myth that all blunt bullets "head for dirt" as soon as they clear the muzzle. Not so! For some, point-blank range (furthest distance at which a bullet strikes within 3 vertical inches of sightline) exceeds 240 yards. These examples are from an early Bausch & Lomb list. It doesn't include the 9.3x62mm. But as SD and velocity for 286-grain 9.3 bullets are a near match for those of heavy-bullet 7x57 and 308 Winchester loads, zero and maximum point-blank ranges are similar.
A 9.3x62mm rifle zeroed at 200 yards will provide lethal hits with center holds through 7-inch shot alleys out to 235 yards – about as far as most game is shot.
The Magic of SD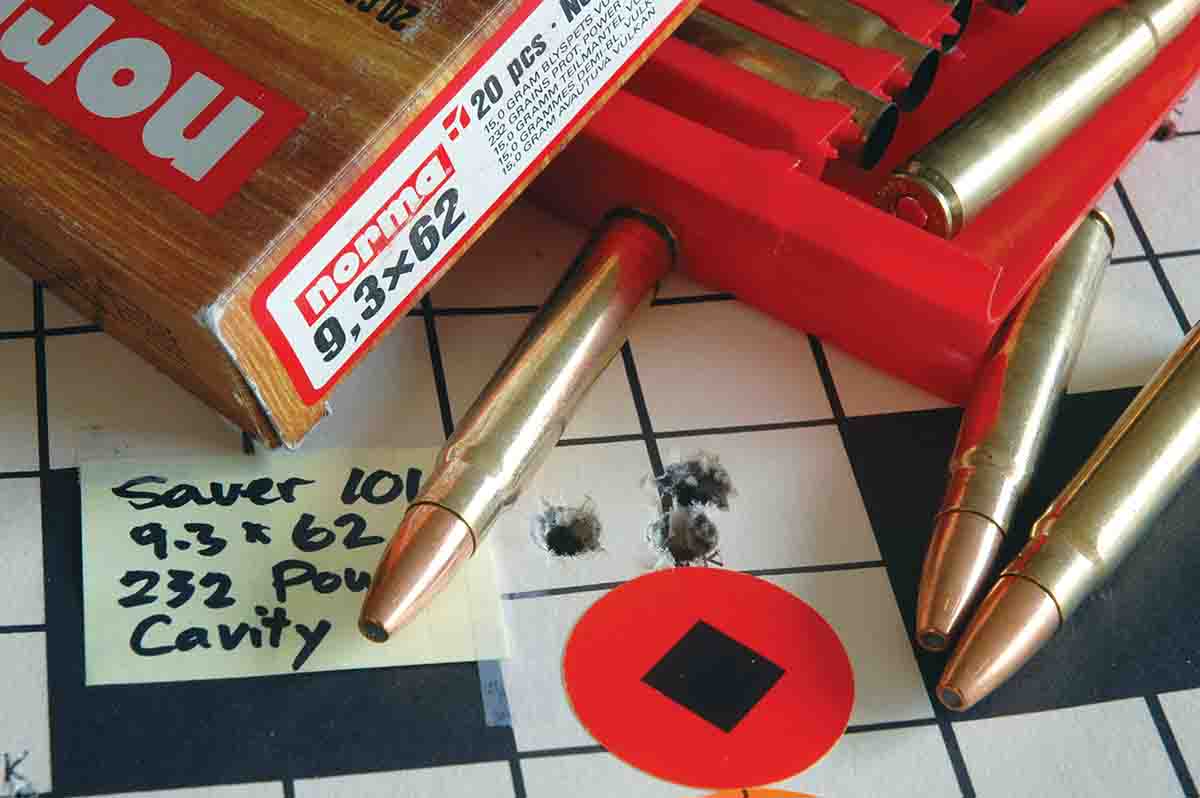 What's responsible for the 9.3x62mm's impressive record on heavy game? That might also be asked about the 375 H&H, another century-old cartridge noted for punching above its weight. Sectional density is part of the answer. SD is the ratio of a bullet's weight in pounds to the square of its diameter in inches. Simply put, bullets heavy for their diameter have high SDs. For any given weight, the slimmer a bullet, the higher its SD. Also, for any given diameter, the longer a bullet, the higher its SD, if the nose shape is the same.
The contribution of SD to killing effect has largely been lost in the current race to higher ballistic coefficients for hits far away. Pinocchio noses limit bullet weight as they battle drag. Longer bullets beg fast rifling twist and long magazines. The longest pointed bullets practical, given these constraints, are lighter than if given flat or abruptly-rounded noses.
What is a "high" SD? My arbitrary threshold is .300. These bullets meet it. Big-bore double rifles built for iron-sights used at close range unapologetically rely on blunt bullets, as trajectory matters not. But early in the twentieth century, long blunt bullets from smallbores – the 6.5x45 M-S, 7x57 Mauser and 303 British – served famous explorers and hunters like F.C. Selous, Jim Corbett and W.D.M. Bell. Their great lengths (high SDs) and blunt noses helped them drive straight through bone and heavy tissue. Before Kenya's Serengeti Plain had roads, a Dutchman named Fourrie guided John A. Hunter's safari toward Ngorongoro Crater. When hunters in the party rashly shot through their supply of solid bullets, Fourrie reversed softpoints in their cases. These flatnose "solids" worked just fine. Heavy roundnose or semispitzer bullets still reach farther than many hunters expect, and excel in cover where quartering shots are common.
Few indeed are the animals I've shot that required a bullet nose longer than a semispitzer's. Most kills would have been made easily with roundnose bullets of the type traditionally loaded in the 9.3x62mm.
A Slide-Action DGR?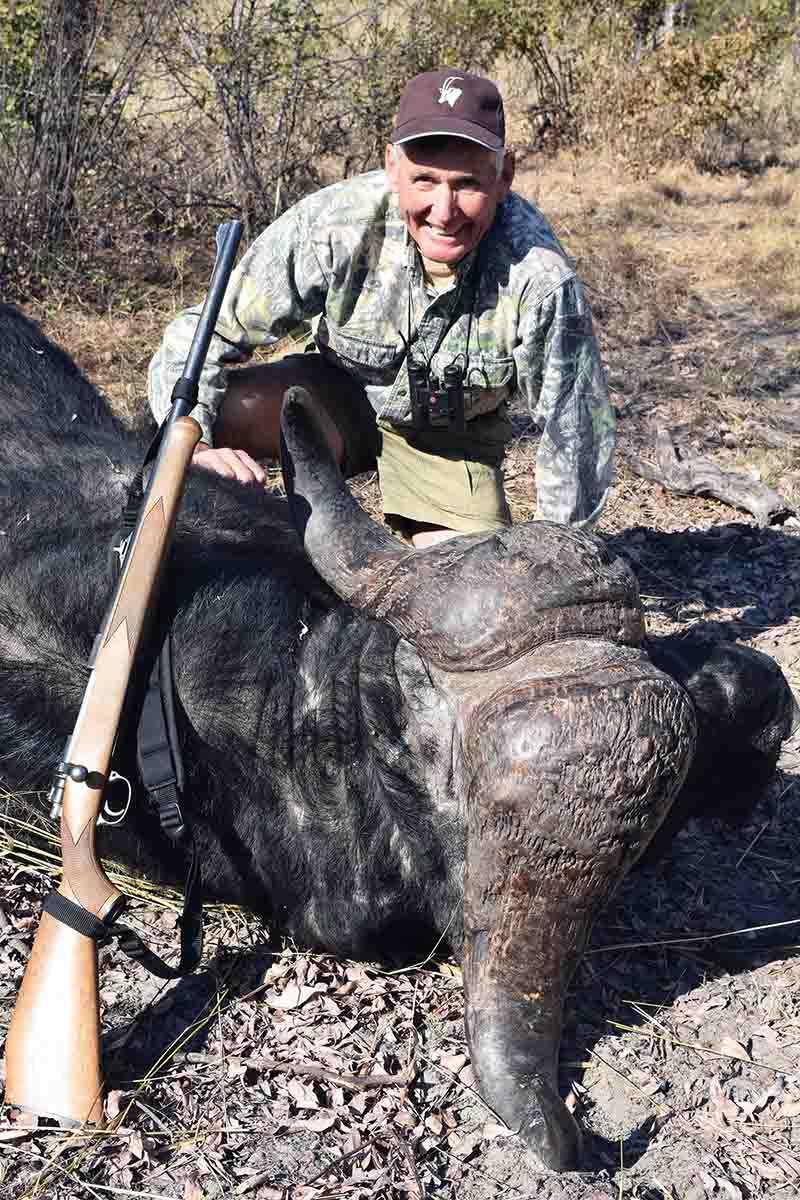 Like me, John Dustin was dismayed by the daunting prices of "safari rifles." Unlike me, he came up with an alternative. "It's a slide-action 375," he said on the phone a few years ago.
At the time, the only common slide-action rifle readily available was Remington's 7600. Its mechanism, sized for the 30-06, can't digest long, belted 375 H&H cartridges. Also, it lacks the camming power and vaunted reliability of bolt-action rifles. I said so. John countered with: "My Pump'r Thump'r isn't a magnum. But it gives a 300-grain bullet two tons of muzzle energy, it is reliable, and it fires five shots lickety-split!"
An exciting leopard hunt prompted John to consider a slide-action, dangerous-game rifle. To meet legal and practical minimums, it needed a .375 bore. Remington had once listed the 7600 in 35 Whelen, which could be necked to the wildcat 375 Whelen. But the 9.3x62mm had slightly more capacity. Bumping the mouth from .366 to .375 was easy.
Dave Skiff at Pacific Tool and Gauge made a reamer. Hornady sent custom dies. John ordered a Remington 7600 in 30-06 – a walnut-stocked version. "I wanted to shave the comb for iron-sight use." He added a Pachmayr Decelerator pad and opened the forend for the Pac-Nor #5 barrel, chosen "to limit muzzle jump and recoil." He installed his own JD Quietbrake and a Williams front sight. An XS aperture sits on the Weaver base under a Burris 1.5-6x in low rings. A trigger job completed his Pump'r Thump'r.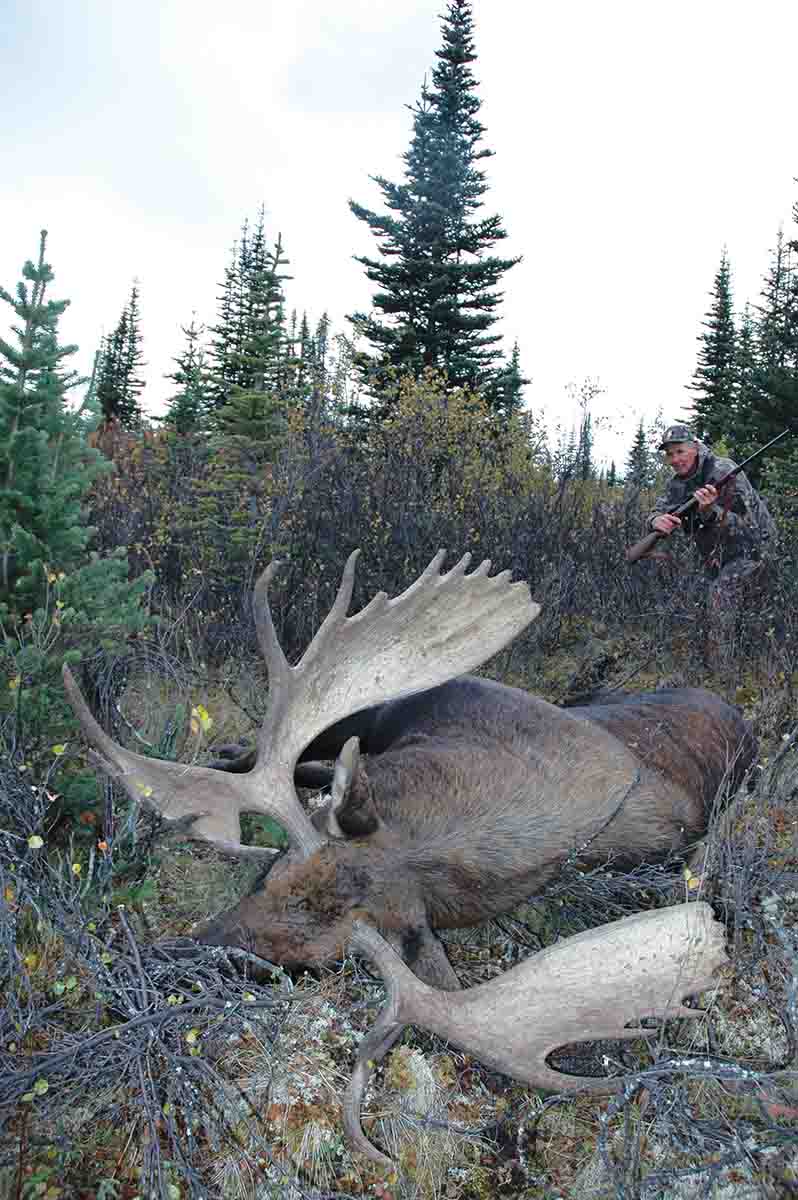 "Hornady's dies worked perfectly," he said. "Of course, I had to keep the loaded length to 3.34 inches to fit the magazine." For thin-skinned game, I settled on Sierra 300-grain GameKings with 60 grains of Varget. They clock at 2,450 fps. "I could drive lighter bullets at around 2,600, but trajectories were about the same. The 300s were more accurate, and carried 2,500 ft-lbs to 350 yards." For solid-bullet loads, John chose 300-grain Woodleighs and Hornadys. He coated all bullets with molybdenum disulfide, and emphasized that "loads with uncoated bullets must be reduced to keep pressures in bounds!"
After just enough bench time to confirm zeros, John practiced firing fast offhand at 30 yards. "My routine was five aimed shots in 6 seconds." He shattered five clay targets in a dirt bank in 8 seconds. "That's 20,000 ft-lbs of heavy-bullet energy mighty quick!"
Where Zimbabwe's elephants exceed target numbers, they're culled by rangers or hunters. John got a permit for a tuskless animal. His chance came soon after trackers picked up fresh prints. "The herd's lead cow had no tusks, so I moved in for a clear shot," John told me. The animal stopped and faced him at just 15 steps – then wilted when a Hornady DGS from the Pump'r Thump'r lanced her brain. It exited the back of the skull. "We recovered the bullet from my make-sure shot to the neck. It had severed the 8-inch spine and drove the depth of the elephant. Essentially no deformation. I could have reloaded it!"
A slide-action 375/9.3x62mm hardly confirms the merits of the 9.3. For nearly 120 years, legions of hunters have been claiming there's nothing this cartridge can't do well.