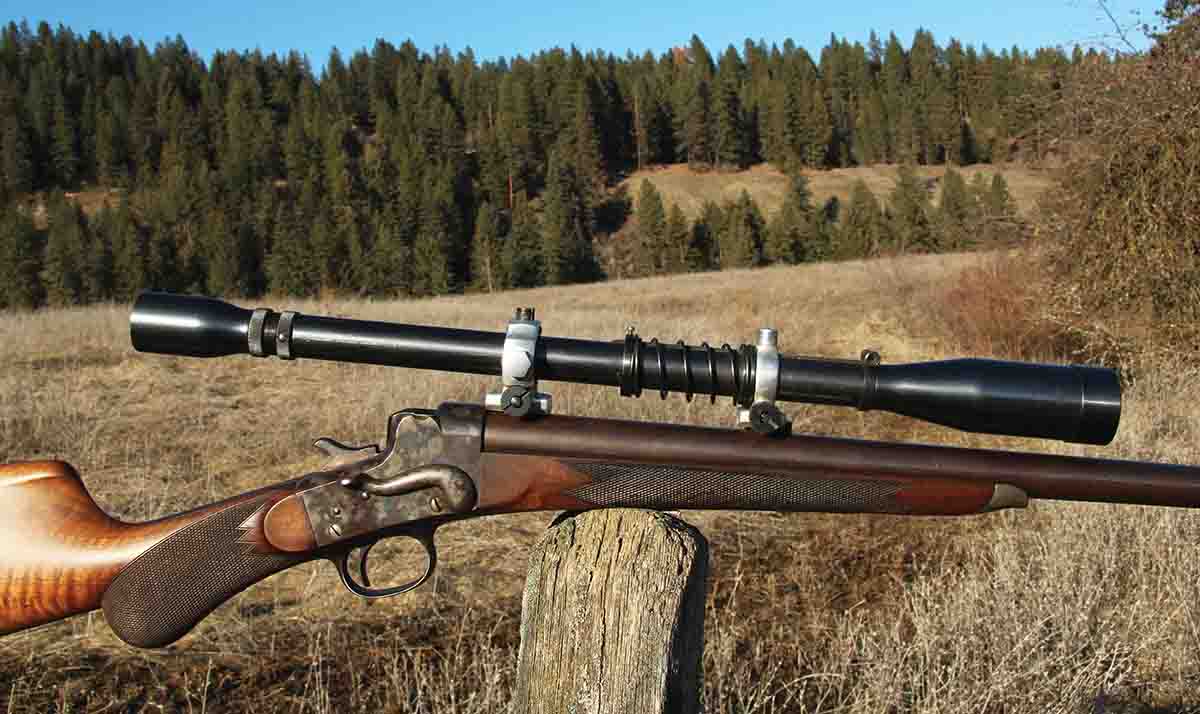 There was a time when my tastes ran to blued steel and walnut. At the time, I considered synthetic stocks an abomination, as I truly cared about the aesthetics of a firearm. But then I became obsessed with bows and arrows and the rifle shooting I continued doing almost exclusively involved predators and varmints. After maybe 30 years of shooting only the occasional big-game animal with a rifle, my firearms obsession had shifted to burrowing rodents in the spring and summer and predator calling in the winter.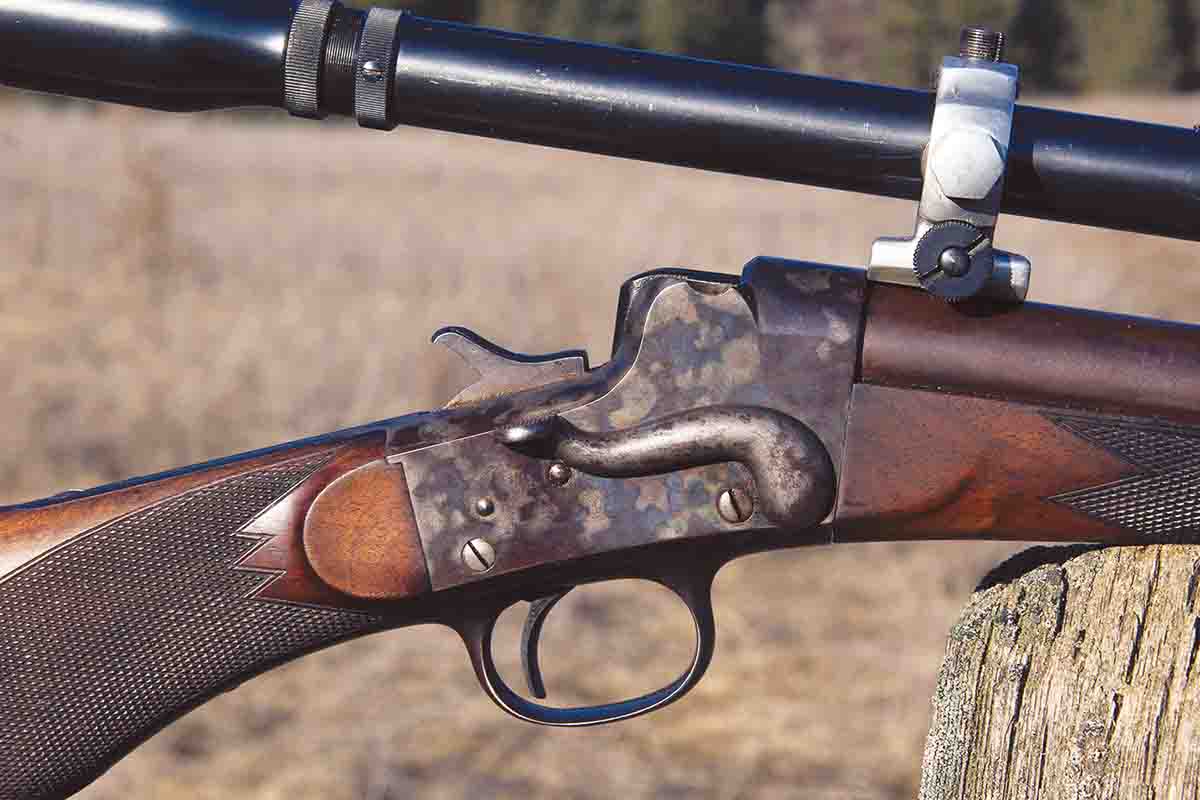 I began looking at rifles as utilitarian tools. Fine-point accuracy was all that moved me, aesthetics be damned. The once-hated synthetic handles became more practical as I slowly viewed wood as an inherently inferior rifle base – though while wielding my modest collection of side-by-side shotguns, the beauty of fine walnut still rules the day.
Looking for something interesting to write about, I visited my friend, Norm Barrington. Norm owns more rifles than anyone I know, and in a wide variety of unique chamberings, mostly vintage varmint cartridges. I'd expressed interest in a 25-20 WCF (Winchester centerfire), the true original varmint cartridge. Norm handed me a Remington No. 3 rifle (Hepburn's patent), also known as the Remington Hepburn, or just the Hepburn. I was struck by its elegant lines, blued barrel, case-hardened action and walnut stock with a half-moon brass buttplate and forend graced with a polished-steel endcap. Its beauty was obvious, a rifle harkening to simpler times.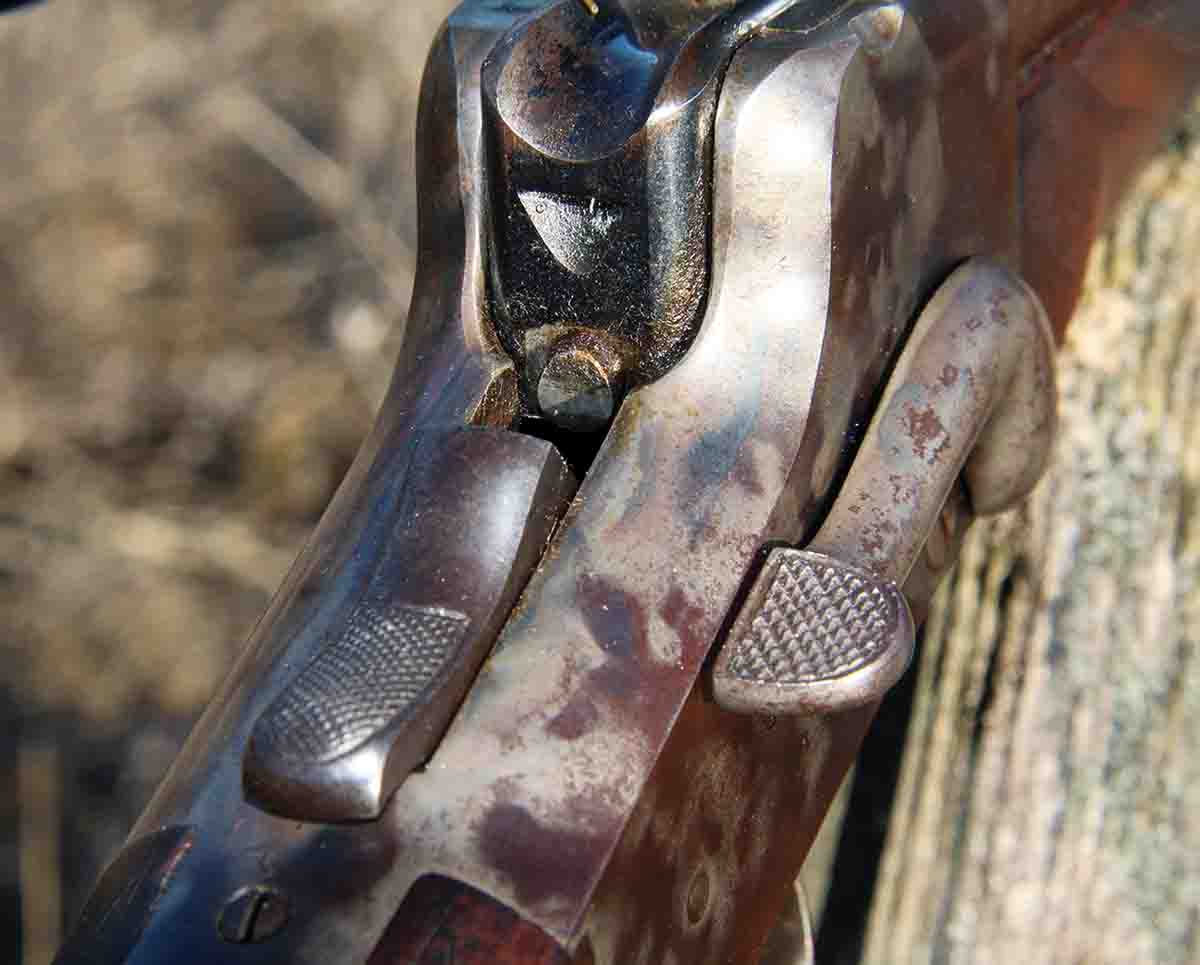 The rifle was designed by Lewis Hepburn, Remington's mechanical department superintendent when the rifle was patented in 1879. Hepburn was also a member of the Creedmoor International Shooting Team. The design was sold and marketed by Remington from about 1880 to around 1907. The single-shot rifle uses a side-mounted thumb lever to operate the falling-block breech. A strong action, the company, then known as E. Remington & Sons, chambered the Hepburn in rounds as varied as the 22 Long Rifle to 50-90 Sharps. The Hepburn is arguably among the rarest of the mainstream American single shots, as only about 10,000, or less, were produced in all chamberings. This included a good number of model variations, from basic utilitarian to fancy Schuetzen or Remington Walker rifles, some holding double-set triggers. Many were fitted with early telescopic sights. The design developed a solid reputation with American hunters and target shooters.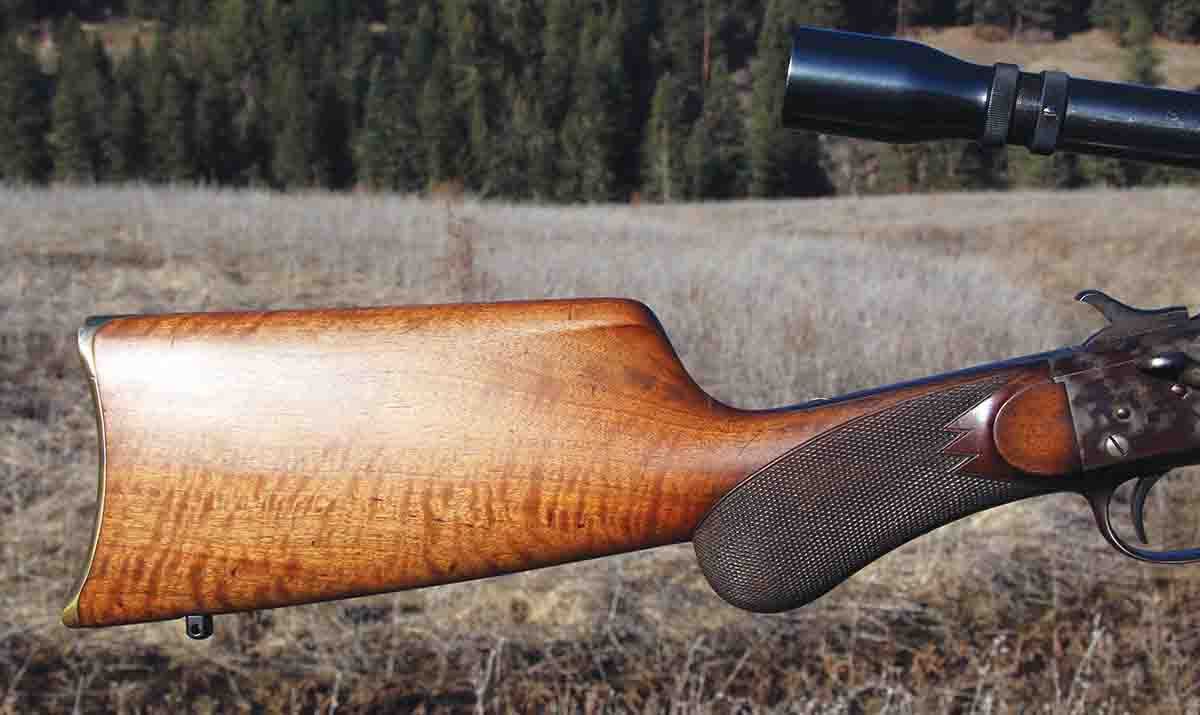 Variations included octagonal or round barrels measuring 26, 28 or 30 inches in length (all blued, actions case-hardened, and fitted with high-grade walnut stocks). A wide variety of optional features were available, all these affecting collector value considerably. According to research, Hepburn rifles with original barrel serial numbers matching the action and roll-stamped E. Remington & Sons on the barrel are antique, while some Remington Arms Co.-stamped rifles are also antique, but not all. A forend holding the original steel forearm cap is antique, as the plain wood with ebony V came late in production.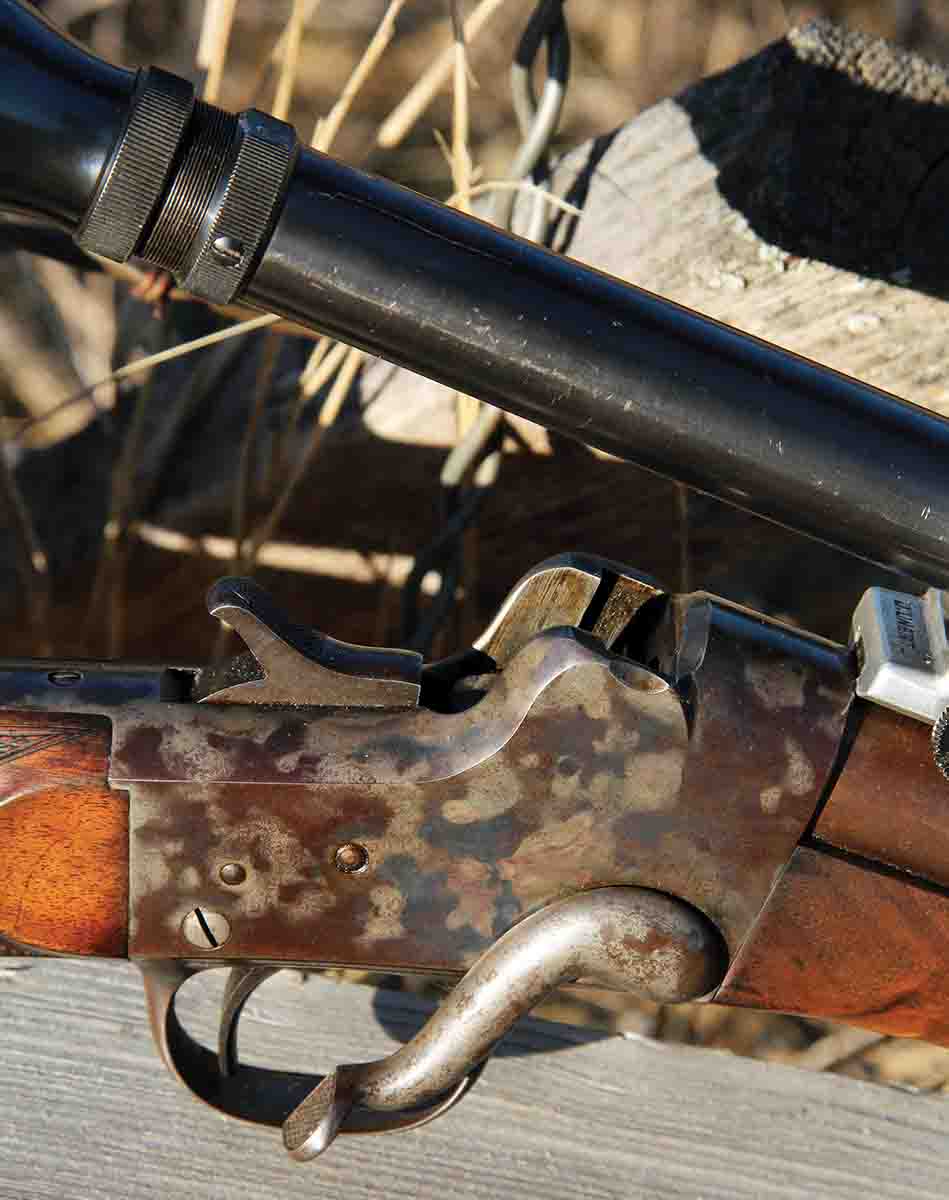 Estimates put 1880 to 1885 production at approximately 1,200 rifles annually, with sequential serial numbers starting with number 1. Serial number 6,600 was the cutoff for the early roll-stamped E. Remington & Sons rifles, reorganization then required a couple of years before guns appeared with the later Remington Arms Co. markings that places them into the late 1880s. At that point, Remington resumed production but continued to use earlier marked barrels, so they are found up to around serial number 7,200. Total production numbers go up to around 10,050, but there are many missing numbers, totaling around 100 in the changeover to the new owners, so it is believed less than 10,000 total rifles were manufactured. How many were chambered in 25-20 Winchester remains a mystery.
Finally, based on the later production of approximately 3,000 guns during 15 years to the end of production in 1907, modern rifles would likely have serial numbers higher than number 9,000. At around serial number 9,890, Remington added an "I" prefix – I9,890 – so all "I" prefixes are modern rifles. Most collectors consider the number 9,000 as a production cutoff, but numbers might be higher. Still, "I" prefixes represent a firm cutoff for modern rifles.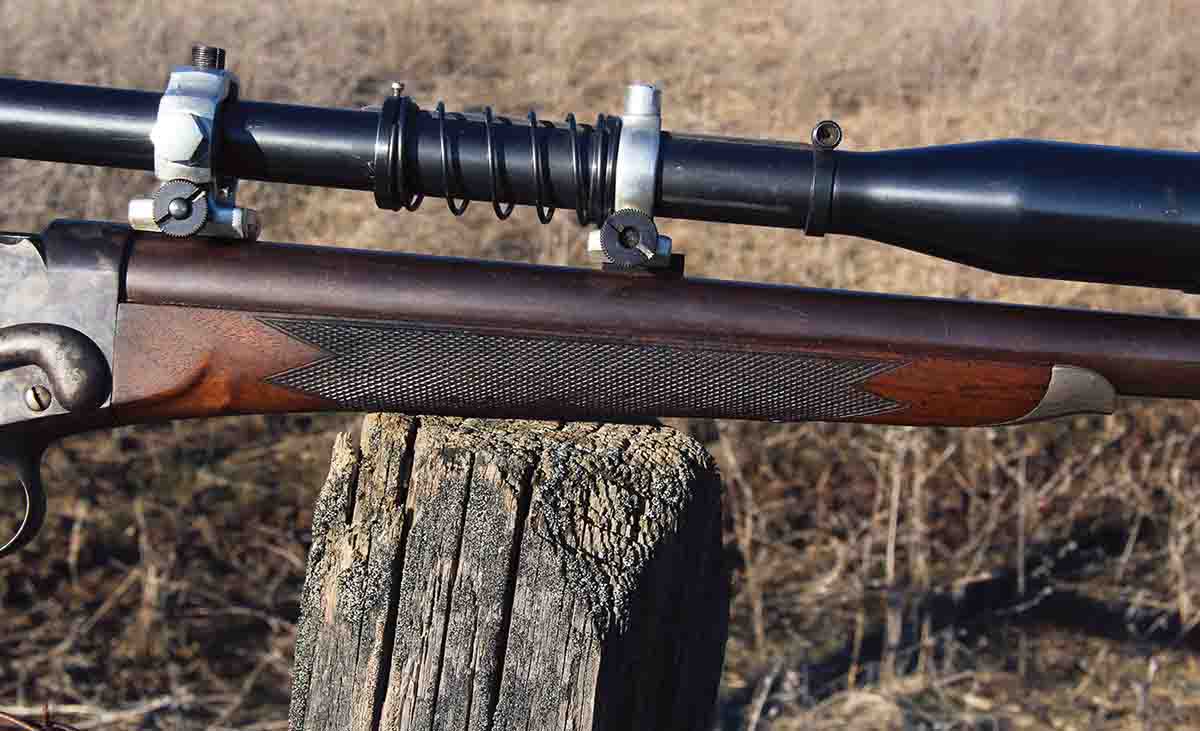 The rifle under discussion – stamped 5,494, placing it in early production – held a round barrel marked "Hoffman Arms Co., Cleveland, O, B 161, 25/20." An integral wraparound front sight with bladed/brass dot bead and front sling mount was included. Blocks had been added for an early scope, meaning an optic adorned with springs and the main tube running through rings with screw-driven adjustments. The wood was in excellent shape, well-figured and included fine 24-lpi (lines per inch), wraparound checkering on the Prince of Wales-style grip and slim forearm areas, plus a raised cheekpiece. A conspicuous drop in the heel made it compatible with offhand, iron-sight shooting, adding a vintage scope made a hard cheek weld somewhat awkward. The trigger was excellent, breaking at a crisp 3.12 pounds. The rifle, with a long vintage scope, weighed about 10.34 pounds.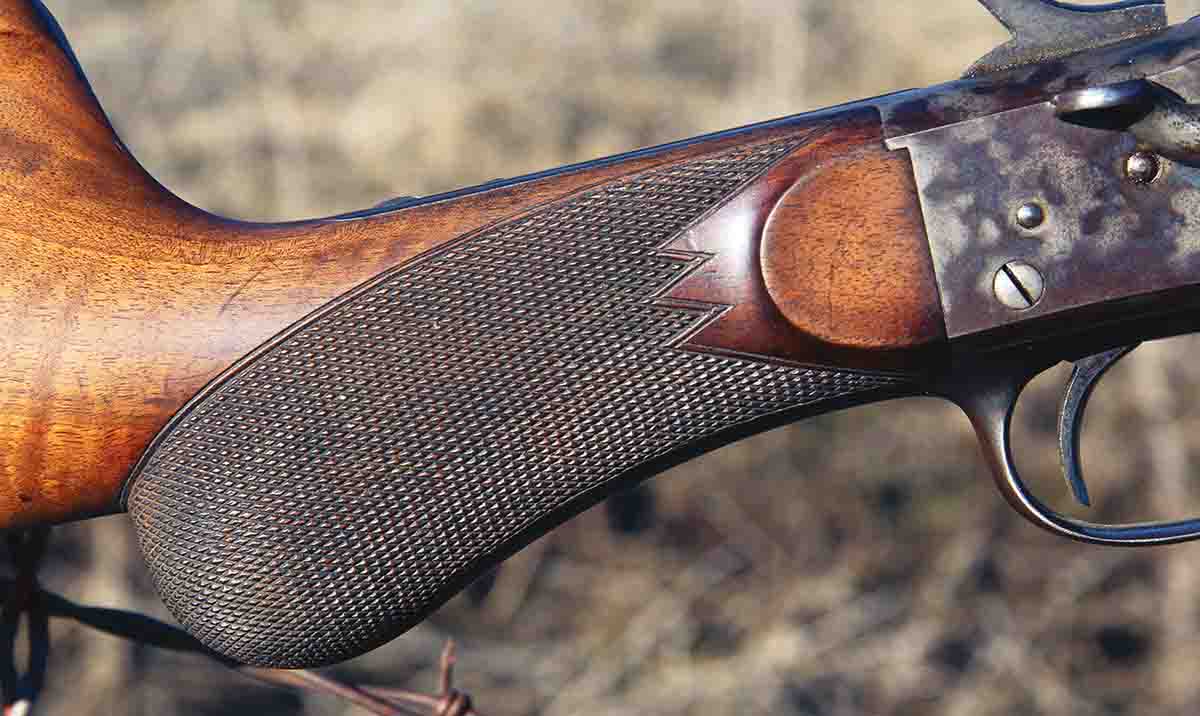 I was initially disappointed by the Hoffman Arms Co. barrel markings, but then discovered that firm had an interesting history of its own. Frank Hoffman and investor Harry Snyder opened for business in June 1923, the same month as Griffin & Howe. A month after its inception, James Howe, part of Griffin & Howe's namesake, joined Hoffman Arms Co. The company invested heavily in setting up its modern gun-building shop. Snyder and other company officers traveled to Europe, where they purchased a good number of commercial Mauser 98 bolt actions directly from the manufacturer. Snyder also acquired the largest collection of imported stock blanks in the U.S. Some of Hoffman's key employees came from the Ross Rifle Co. of Canada – the company responsible for the famed 280 Ross cartridge and rifles. Other employees included Eric Johnson from Colt, John Dubiel, who specialized in stocks and barrels, and Stockmaker John Wright from Holland & Holland.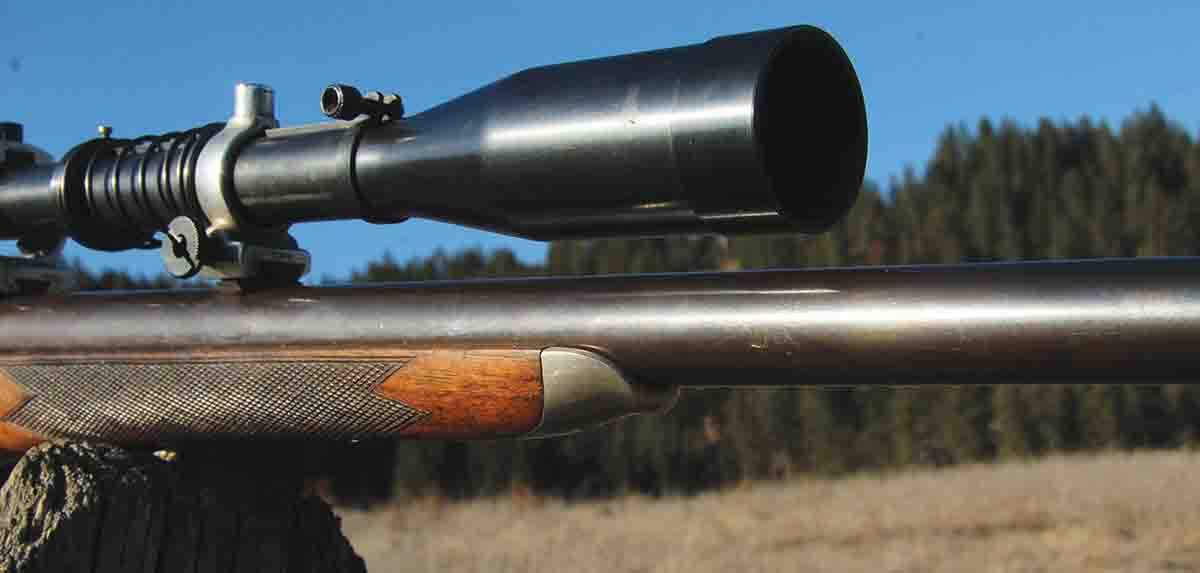 In 1925, a group of wealthy Oklahoma oilmen became impressed with the Hoffman company, purchased it, and moved operations to Ardmore, Oklahoma. Unfortunately, the Great Depression doomed the Ardmore venture to failure by 1930. The Hoffman name was revived in 1940 and managed by B.R. Polley in Amarillo, Texas, amid rumors that Frank Hoffman himself may have fueled the company's last iteration. Total Hoffman Arms Co. production was not more than 500 firearms, including shotguns. Some well-known Hoffman Arms Co. customers included Elmer Keith, Teddy and Kermit Roosevelt, Charles Askins, Carl and Mary Akeley and William Randolph Hearst. Townsend Whelen, responsible for the formation of Griffin & Howe, was quite complimentary of Hoffman Mauser rifles.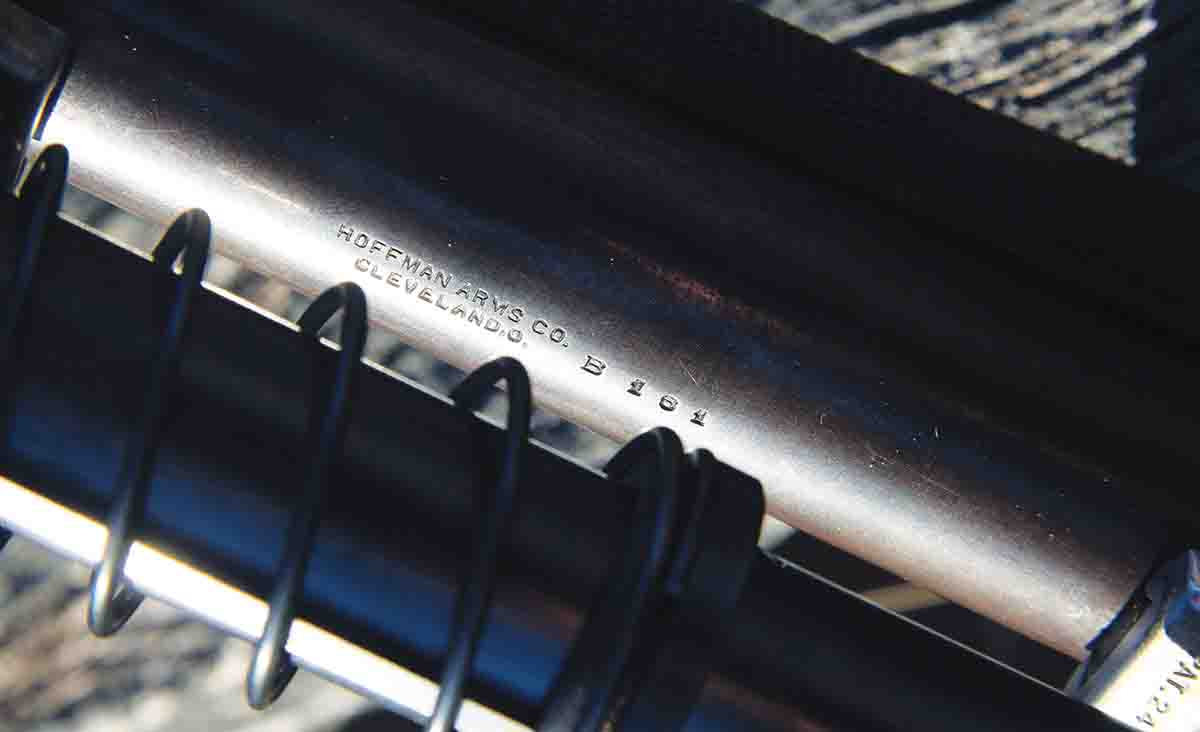 How that Hoffman barrel arrived on a Hepburn rifle is anyone's guess. The ravages of early black-powder loads and/or mercury priming to the bore, in conjunction with a poor cleaning regimen, likely explain it. I once owned a blued-model Colt New Line Revolver 22 in outwardly 99 percent condition, for instance, but with a ruined bore that severely depressed its value. Even in the '20s, when the Hoffman barrel would have been manufactured, the 25-20 Winchester still held strong appeal as a varmint cartridge, demanding some degree of accuracy that a severely pitted barrel could not deliver. The Hoffman barrel would return this fine rifle to service.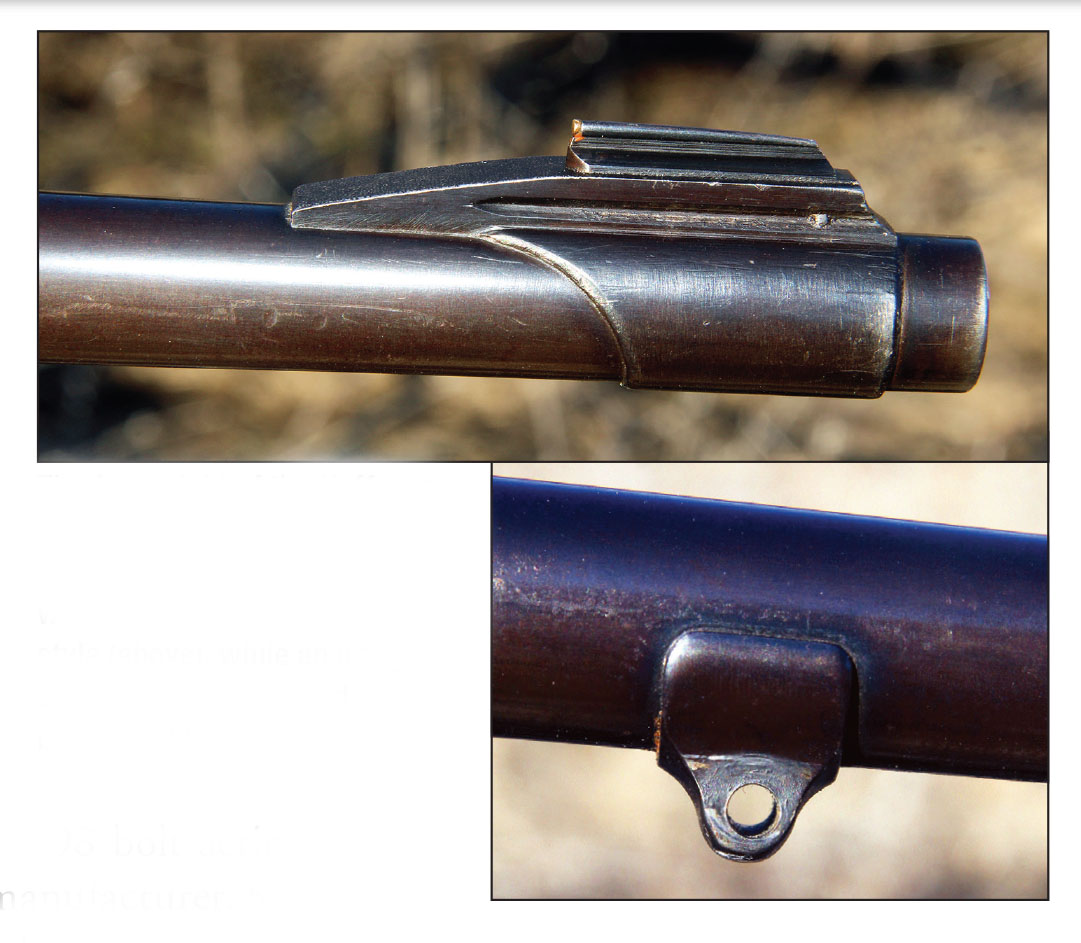 The 25-20 Winchester cartridge originated about 1895, developed for the Winchester Model 1892 lever-action rifle. It should not be confused with the 25-20 Single Shot, which is not interchangeable. The 25-20 Winchester was created by necking down the 32-20 Winchester case. The 25-20, in essence, became America's first true, small-game/varmint, centerfire cartridge, pushing original 86-grain bullets to about 1,460 feet per second (fps). Two years earlier, Marlin Firearms Company had necked down the 32-20 Winchester and labeled it the 25-20 Marlin, chambering it in the Marlin Model 1889 lever action, but Winchester ultimately claimed the name.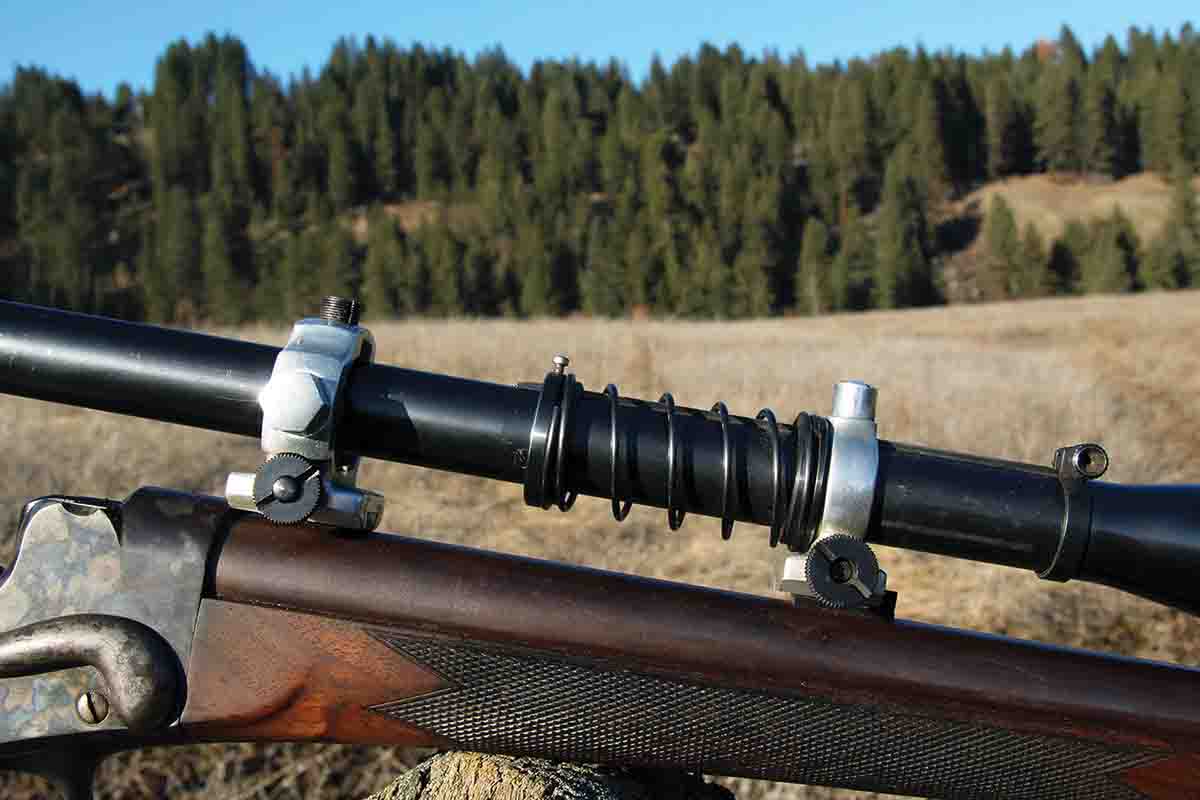 The Sporting Arms and Ammunition Manufacturers' Institute (SAAMI) pressures sit at a low 28,000 CUP, though rounds are generally loaded to even lower pressures in deference of older rifles with weaker actions and steels. Ammunition was loaded to around 20,000 psi in the black powder days, with SAAMI numbers reflecting more modern smokeless powder pressures. The economical 25-20, which lent itself well to handloading, appealed to farmers, ranchers, small-game hunters and trappers. The 25-20 has certainly been used to bag plenty of deer – including the long-time world record "James Jordan Buck" – though it is undoubtedly a bit light for such purposes. Light modern bullets weighing 60 to 75 grains make the 25-20 an even more effective varmint round, with heavier cast lead projectiles weighing about 85 grains sent at around 1,200 fps best for potting small game, as they damage less meat while delivering more punch than 22 Long Rifle ammunition.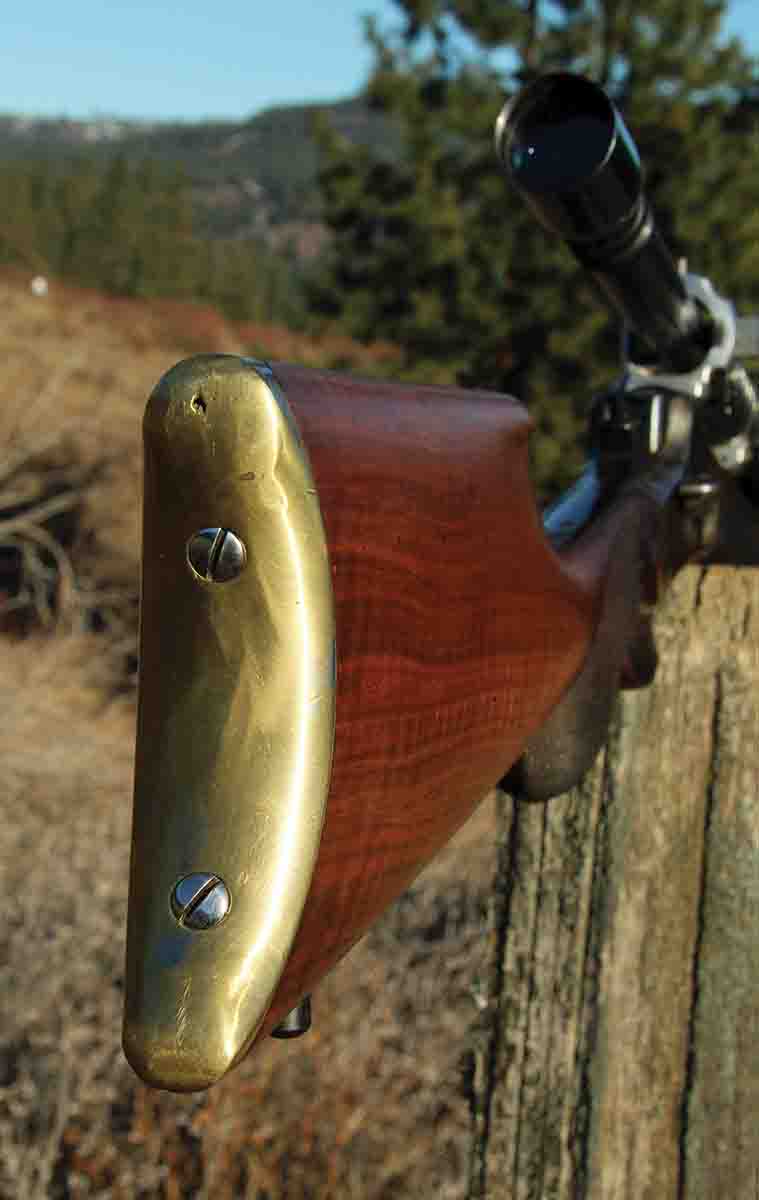 Despite my affinity for ultra-modern, "I-dotting" bolt-action varmint rifles, I thoroughly enjoyed shooting the antique Hepburn. A vintage 10x J. Unertl Opt. Co. scope was added, a company launched in 1928, or around the same period the replacement barrel was added. The barrel held dovetail scope blocks, the patina matching the barrel and obviously was added when the barrel was installed.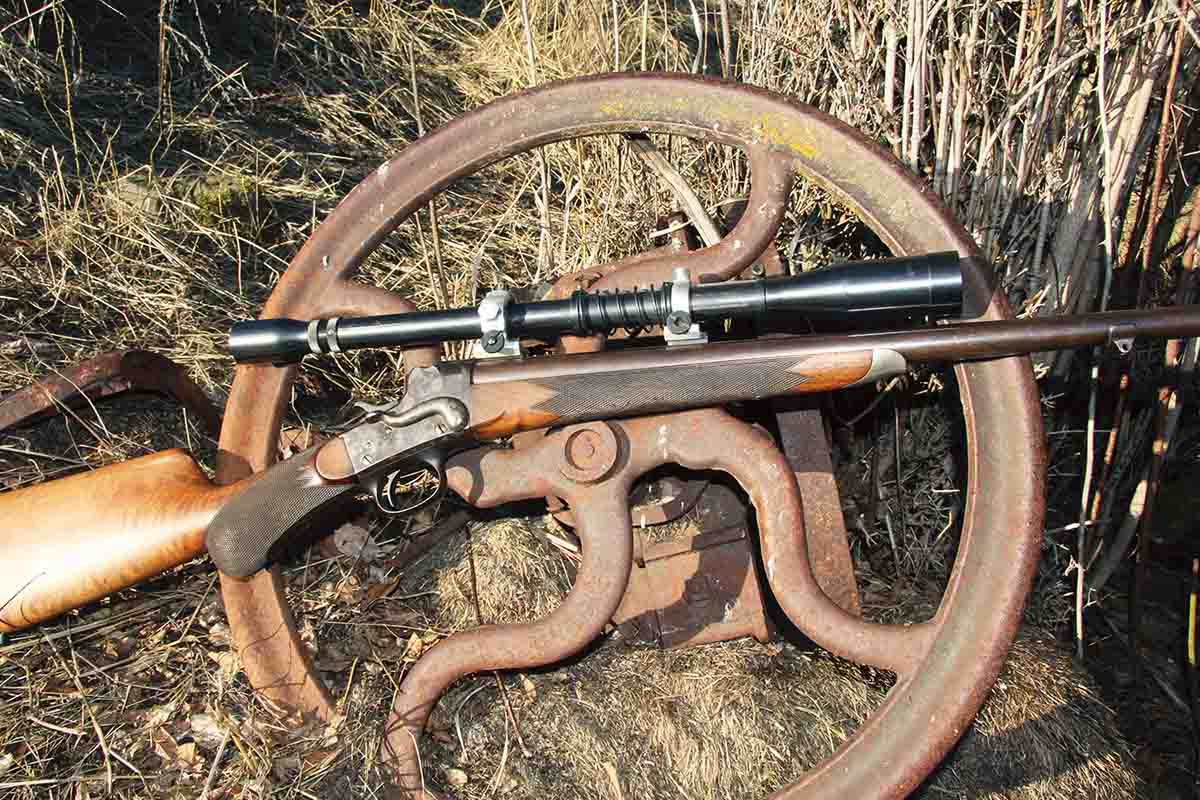 I loaded a mix of vintage-style, cast-lead and modern light-for-caliber .257-caliber jacketed bullets to run through the paces. These included a 55-grain GT Bullets hollowpoint, which when combined with reduced loads (read 25-20 velocity) powder charges from my scoped Thompson/Center Contender 256 Winchester Magnum pistol make excellent short-range varmint rounds. Hornady's 60-grain flatpoint hollowpoint made a natural choice, a bullet designed specifically for tubular-magazine leverguns chambered in this cartridge.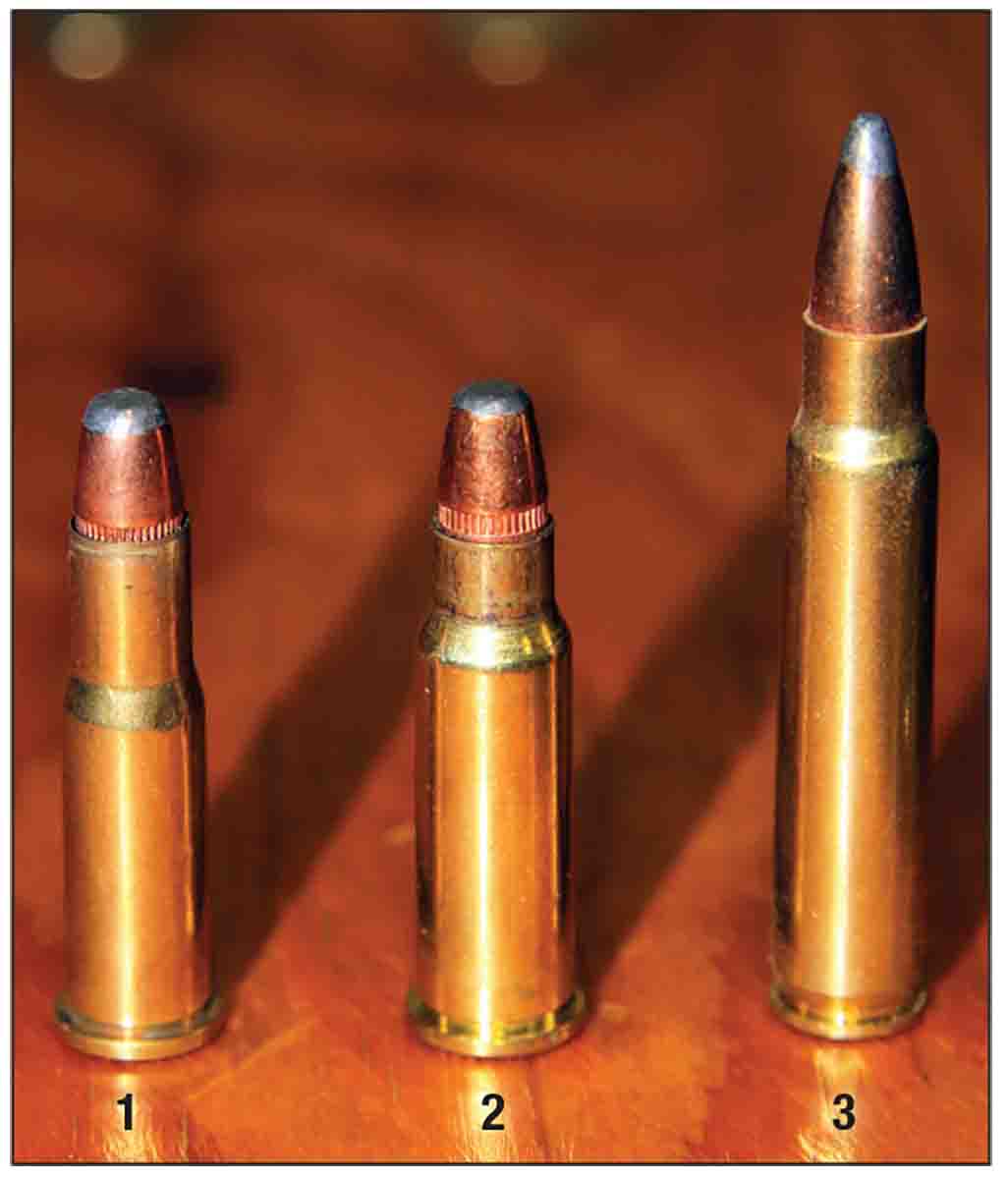 I'd acquired some 65-grain flatnose, cast-lead bullets somewhere, which didn't work out in my Contender. Sierra's 70-grain BlitzKing is obviously a modern bullet, as is the Hornady 75-grain V-MAX and Speer's 87-grain Varmint softpoint. All of these have performed well in my Contender pistol at higher 256 Winchester Magnum velocities.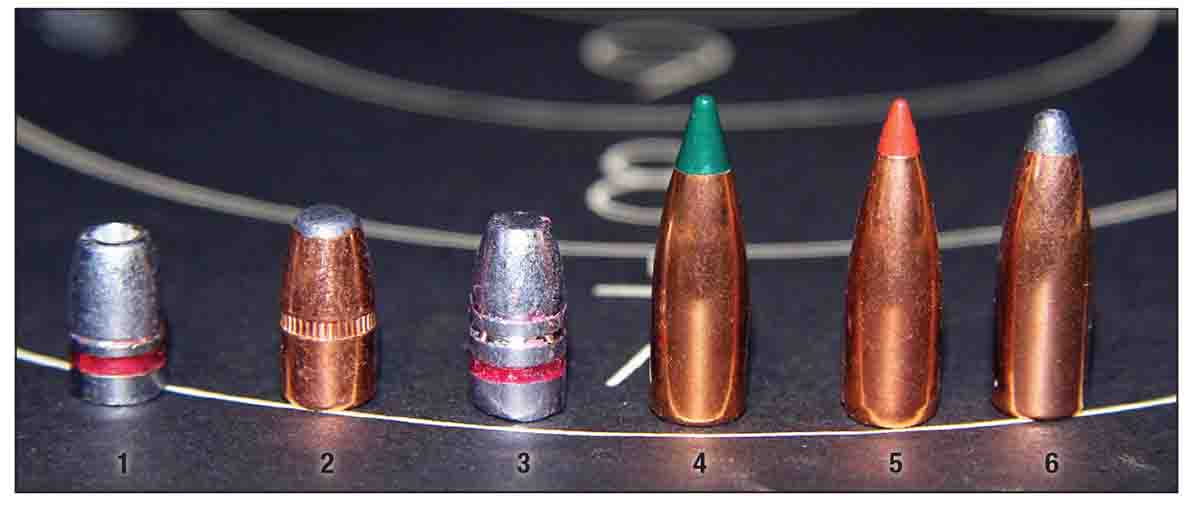 These were combined with fast-burning handgun and rifle powders, including Alliant Unique, Accurate No. 9, A-5744, A-2015 and A-1680, Vihtavuori N110, Hodgdon H-322, H-110 and H-4198 and IMR-4227 and IMR-4198. Loads ranged from just 4.5 grains with super-fast-burning Unique to 14 grains with slower H-322 and A-2015, everything else falling somewhere in between. Properly headstamped Remington cases and Winchester WSR primers were used in all loads, assembled using RCBS full-length dies and an Area 419 ZERO Reloading Press.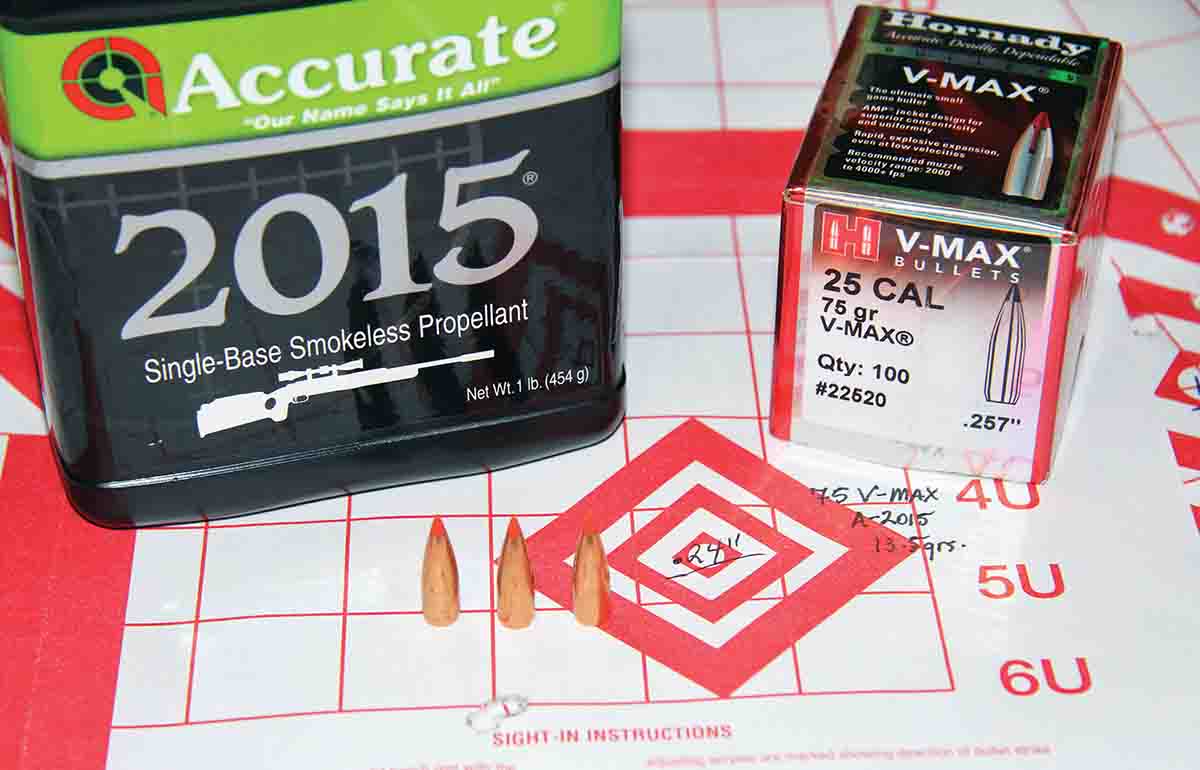 There is something enchanting about shooting single-shot rifles. The right-side thumb lever dropped the breechblock with a quick snap. A cartridge was poked into the chamber, sliding over the dished top of the breechblock and the thumb lever clicked upward. The hammer was cocked with some small effort, though both the thumb lever and hammer included a patch of fine-line knurling. After firing, thumbing the action lever popped the empty case clear with surprising authority. Both recoil and muzzle blast were pleasantly mild.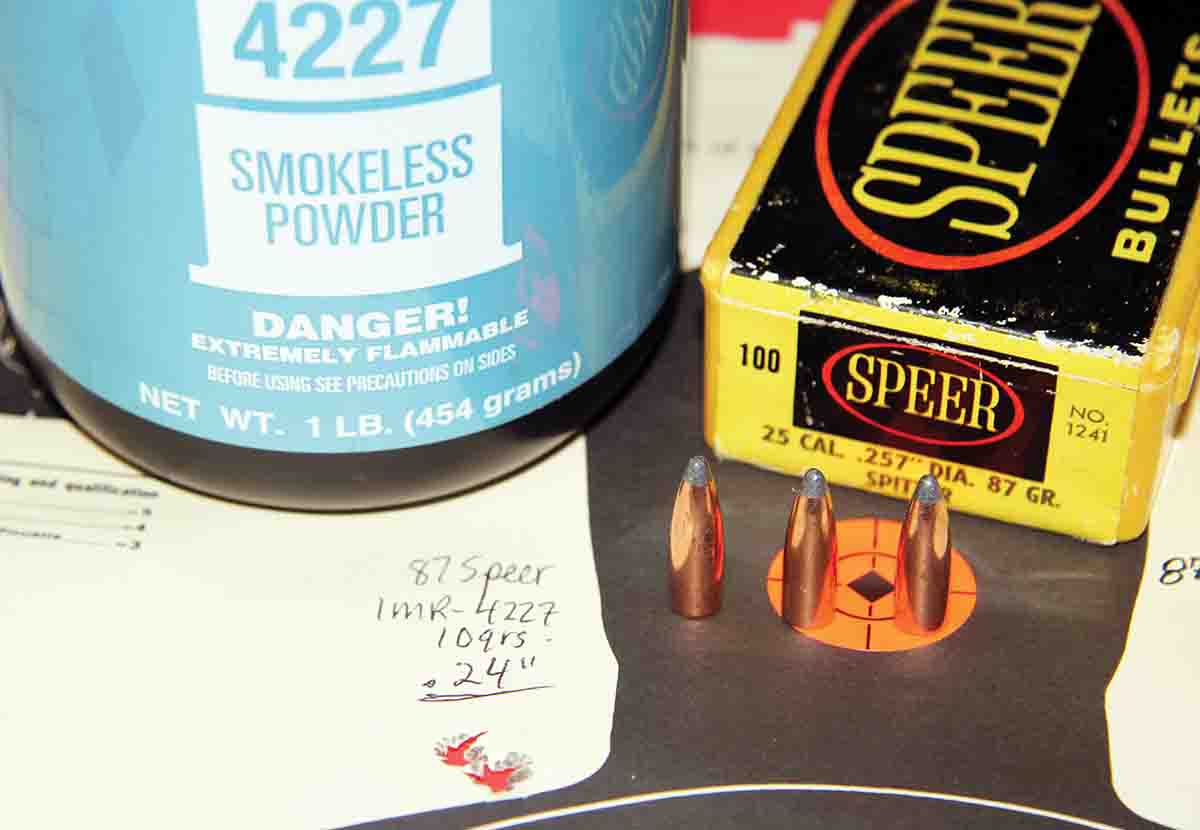 All loads were fired at 75 yards. My sight-in load, using the 55-grain GT hollowpoint seated over 12 grains of IMR-4198 and leaving the muzzle at 1,850 fps, grouped into 1.73 inches. This was about what I had expected from the antique rifle, and such groups persisted while shooting the subsequent GT 55-grain loads, Hornady 60-grain flatpoints and especially the 65-grain, cast-lead loads, which shot much worse on average. But then, the pleasant surprises began to arrive as I pushed into the heavier slugs, sub-1-inch groups began to outnumber larger clusters. The 75-grain V-MAX seated over 13.5 grains of A-2015 and leaving the muzzle at 1,641 fps, and the 87-grain softpoint over 10 grains of IMR-4227 at 1,667 fps truly stunned, each of those loads printed .24 inch. The heavy Speer also produced a .60-inch group with 11 grains of IMR-4198 at 1,683 fps.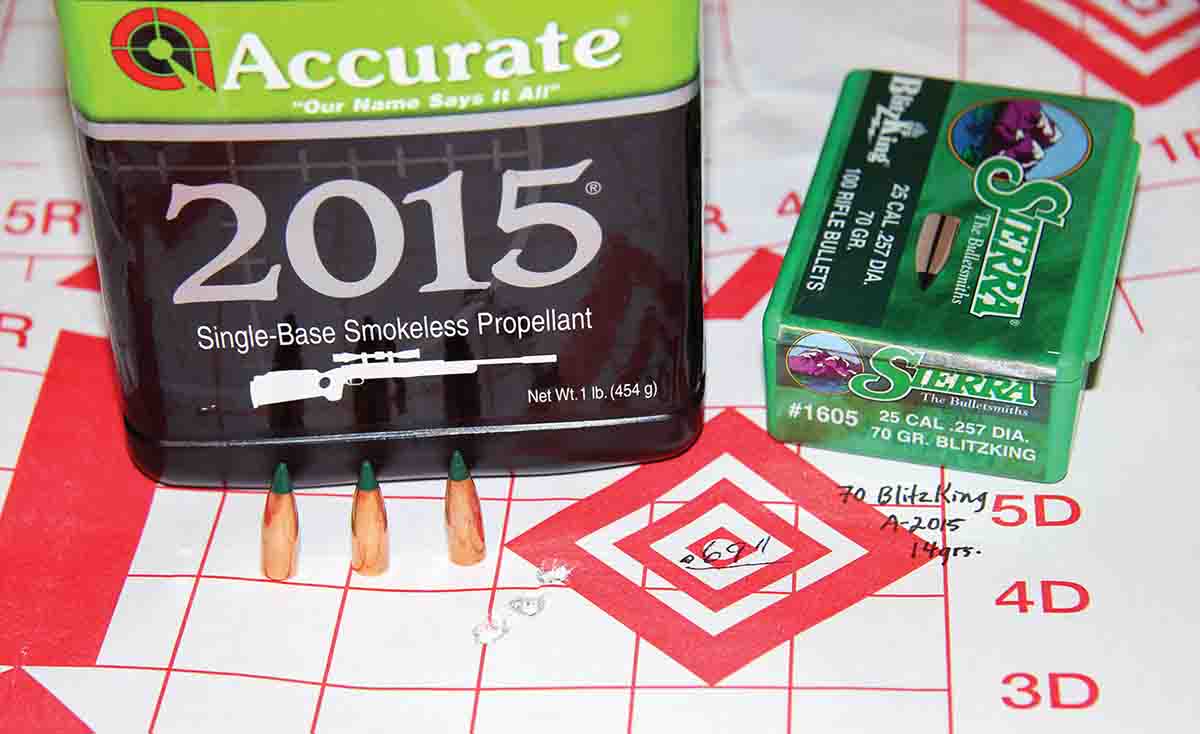 The heavy-bullet groups truly impressed and would no doubt hold up well at the standard 100-yard mark and understand, these were essentially random loads that could no doubt be improved with minor tweaking. Not bad for an antique rifle and barrel, aiming with a touchy antique scope. Accurate 2015 proved best suited, with H-4198, IMR-4227 (the listed load extracting a touch sticky), Vihtavuori N110 and IMR-4198 all worthy of further exploration.