The late Bill Ruger (1916-2002) needs no introduction. Rather, suffice to say that he possessed a remarkable blend of talents that included being a firearms designer (holding many patents) and developing innovative manufacturing techniques. Plus, he proved to be a marketing genius, a shooter, a hunter and a family man. He was especially known for his many charitable contributions.
Beginning in 1949, with the introduction of the 22 Standard Pistol, until his retirement in 2000, having supervised the manufacture of nearly 20 million guns during that period, Ruger had direct involvement in virtually every firearm design that was produced by his company.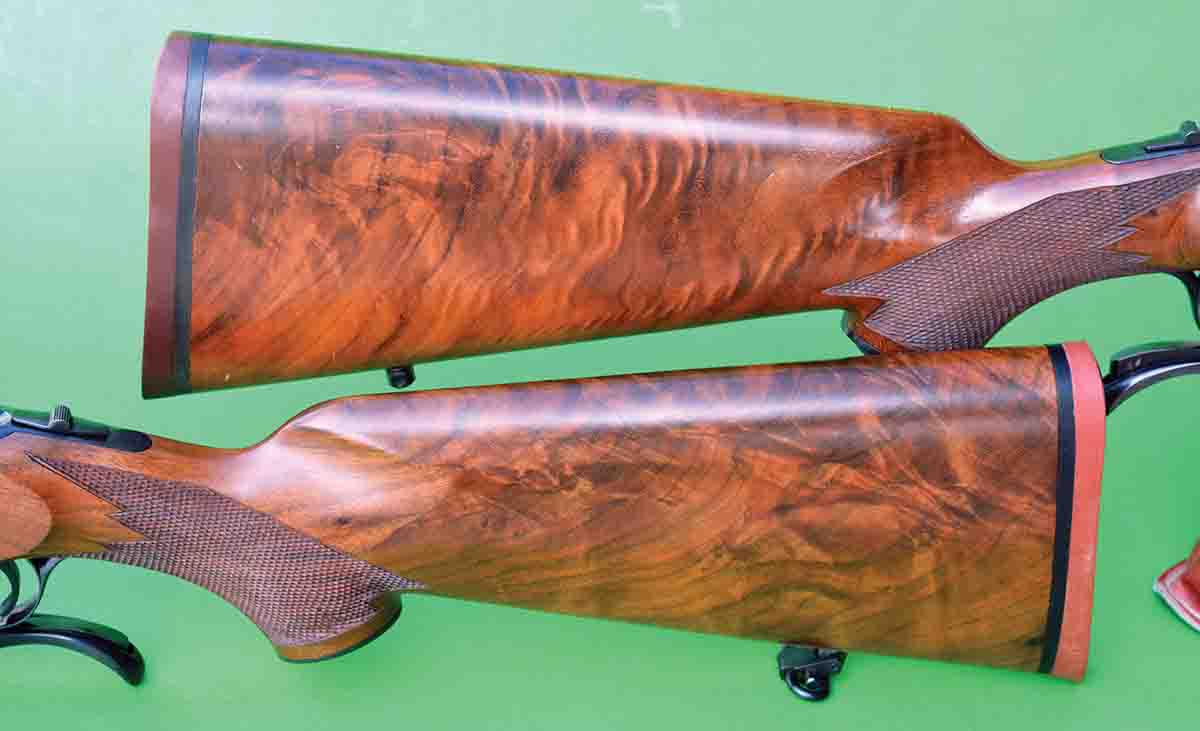 I have toured many firearms manufacturer facilities across the U.S. and around the world, and Sturm, Ruger & Company production facilities are standout manufacturing plants due to continuous innovation and efficient processes, but also the staggering number of different firearm models that are produced under one roof, particularly at the New Port, New Hampshire, facility. The massive volume of guns manufactured is impressive by any standard. From the very beginning, Ruger earned a reputation of producing guns with a combination of being robust, reliable and highly durable, while offered at prices that working men and women could readily afford.
Now to my point – when a man of Ruger's firearm savvy, background, expertise and experience selects a favorite rifle, the wise will listen. This brings us to the No. 1, which was his favorite rifle. He often hunted with No. 1s and was a true sportsman. Personally speaking, I have more than 45 years of experience with this fine rifle and have used them in calibers ranging from the 218 Bee to the 458 Lott and in dozens of more common calibers. It offers elegant and handsome lines, accuracy and reliability, and being a single shot, it epitomizes the very definition of the sporting rifle.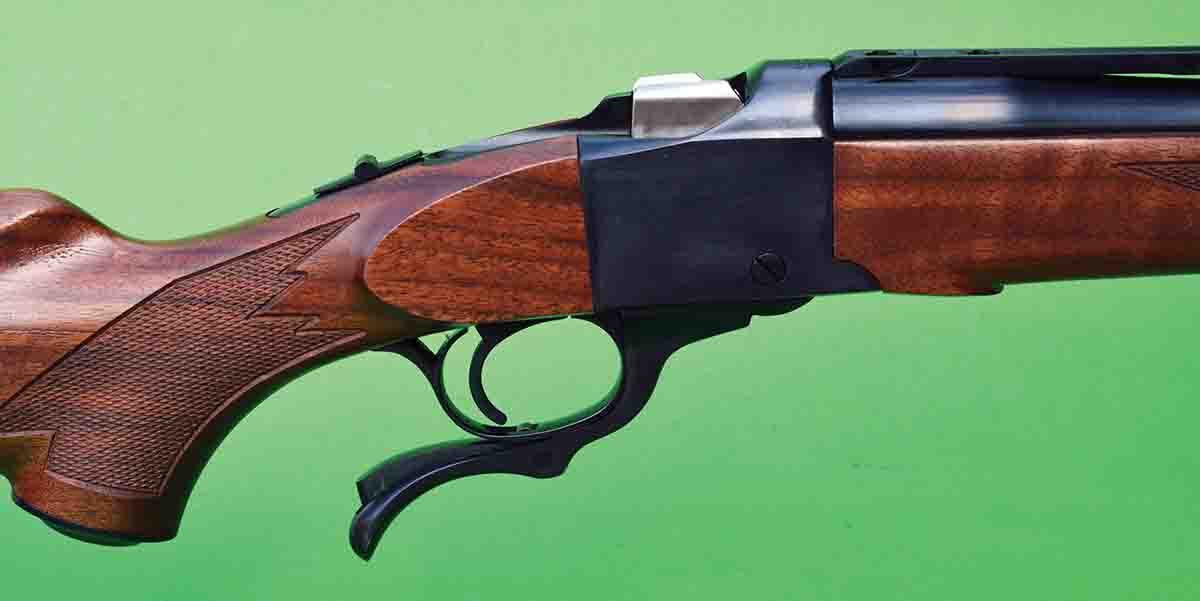 No. 1 development began in the early 1960s with the first rifles shipping in 1966. In spite of Ruger's proven record of offering new designs and guns that enjoyed immediate popularity, some questioned how much general interest there would be in a quality single-shot rifle. In other words, the wonderful vintage U.S.-manufactured, single-shot rifles from Sharps, Remington, Winchester, Ballard and more, were long gone and more or less considered relics in the 1960s. Rather, bolt actions and leverguns were the rage. The only single shots that were still popular were the inexpensive rimfire rifles for youth. In a sense, Ruger took something of a risk to design and tool up to manufacture a quality centerfire single-shot rifle. Incidentally, the manufacturer's suggested retail price was $280, which was approximately twice the price of the Remington Model 700 and Winchester Model 70, and was on par with the prestigious Weatherby Mark V. But within a few years, the price was decreased, which made this quality rifle more affordable for all.
When the No. 1 first appeared, it caught many by surprise, but it was enthusiastically received by hunters and savvy riflemen and sales were strong. Many of the early rifles were especially well-made with top-notch machining, good wood-to-metal fit, were beautifully polished and often featured high-figure walnut stocks. However, something that is seldom mentioned about the No. 1 is that it was the finest quality firearm that Ruger had produced to date. In other words, previous Ruger products were tough, reliable and well-engineered, but they often featured aluminum or were priced modestly, which gave the impression that they were less than a finely made product. Examples would include the 10/22, Model 44 Standard Carbine and Blackhawk. On the other hand, the No. 1 was all steel, beautifully machined and finished and exhibited high quality in every respect. It was a striking rifle and served to improve the overall image of Ruger firearms.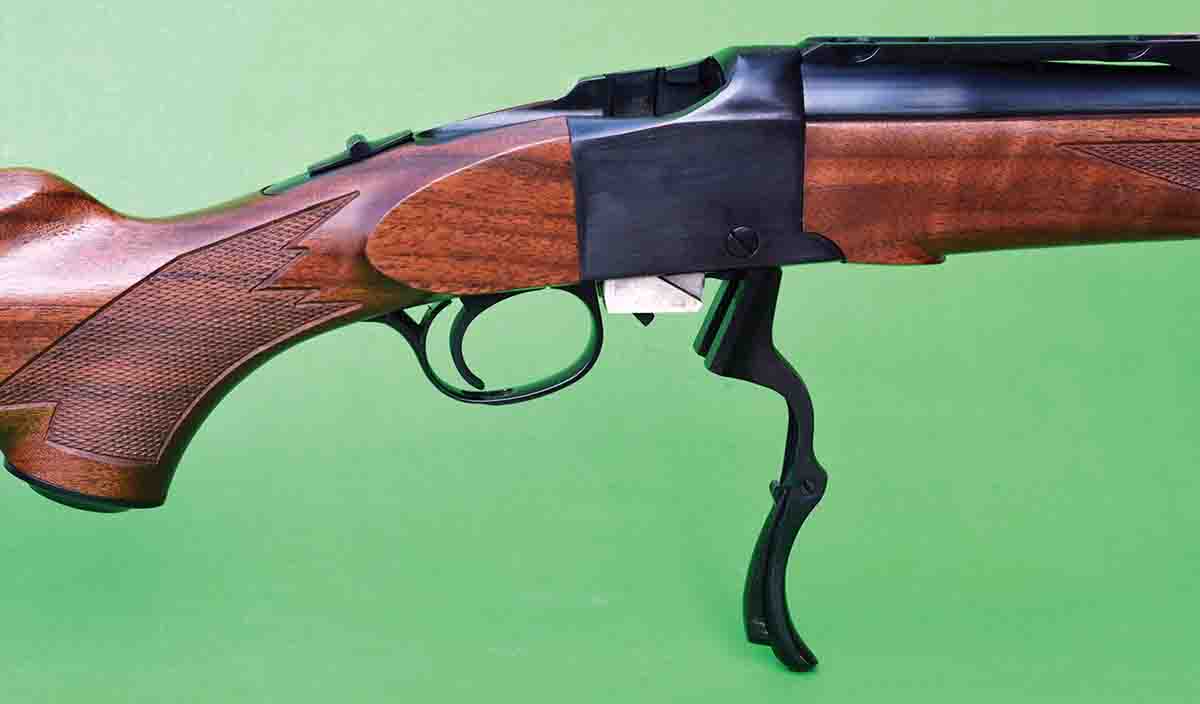 Due to their instant popularity, No. 1s were hard to find on dealer shelves for the first several years. Again, Ruger had proven his knack for either knowing that there was demand for a particular type of firearm, or he created that demand by offering a gun that people just wanted to buy the instant they saw it.
The No. 1 was a hammerless, falling-block design that featured elegant lines reminiscent of the big British/Scottish Farquharson rifles. However, internally it was much simpler and modern in every respect, but it also boasted of being much trimmer, smaller and lighter that appealed to the modern rifleman. It nonetheless could easily handle the 458 Winchester, 416 Rigby, etc. I even had one converted to 470 Nitro. It featured a falling-block breech that easily handles high-pressure cartridges and those that produce significant head thrust.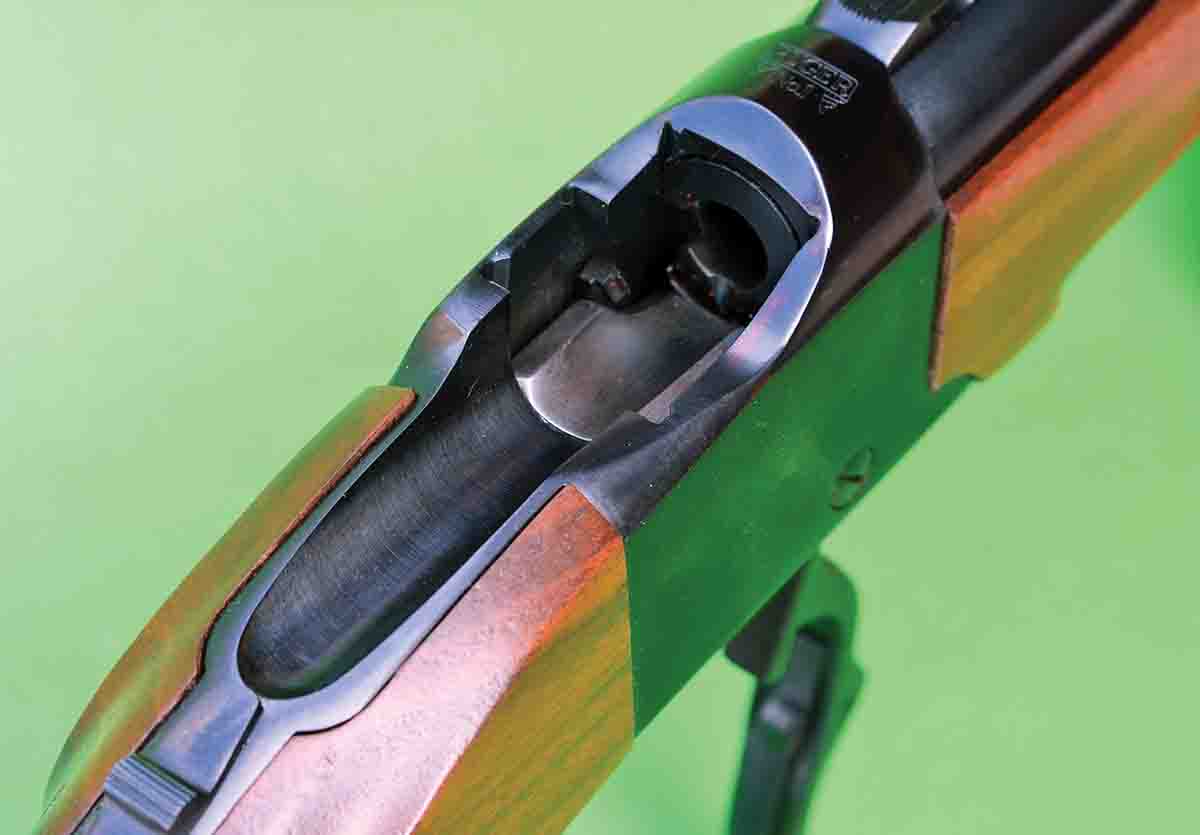 Space will not allow a technical discussion of the remarkable engineering design of the No. 1. However, notable features include a locking, gracefully shaped under lever, with the rifle automatically cocking upon opening the breech. A beveled breechblock serves to push cartridges home into the chamber when the action closes. The receiver is cast from 4150 series chrome-moly steel, which serves to offer great strength. In fact, Lenard Brownell was involved in designing the No. 1 and stated, "There was never any question about the strength of the action. I remember, in testing it, how much trouble I had trying to tear it up. In fact, I never did manage to blow one apart." The tang-mounted safety is especially positive as it blocks the sear and a safety bar blocks the hammer. The trigger is reliable, fully adjustable and breaks clean. The firing pin is cleverly angled at 5-degrees from the axis of the bore to increase strength and as a bonus, permits dry firing. Naturally, it works equally well for right- or left-hand shooters. I'm not exactly sure how many calibers the No. 1 has been offered in, but it has been at least 63!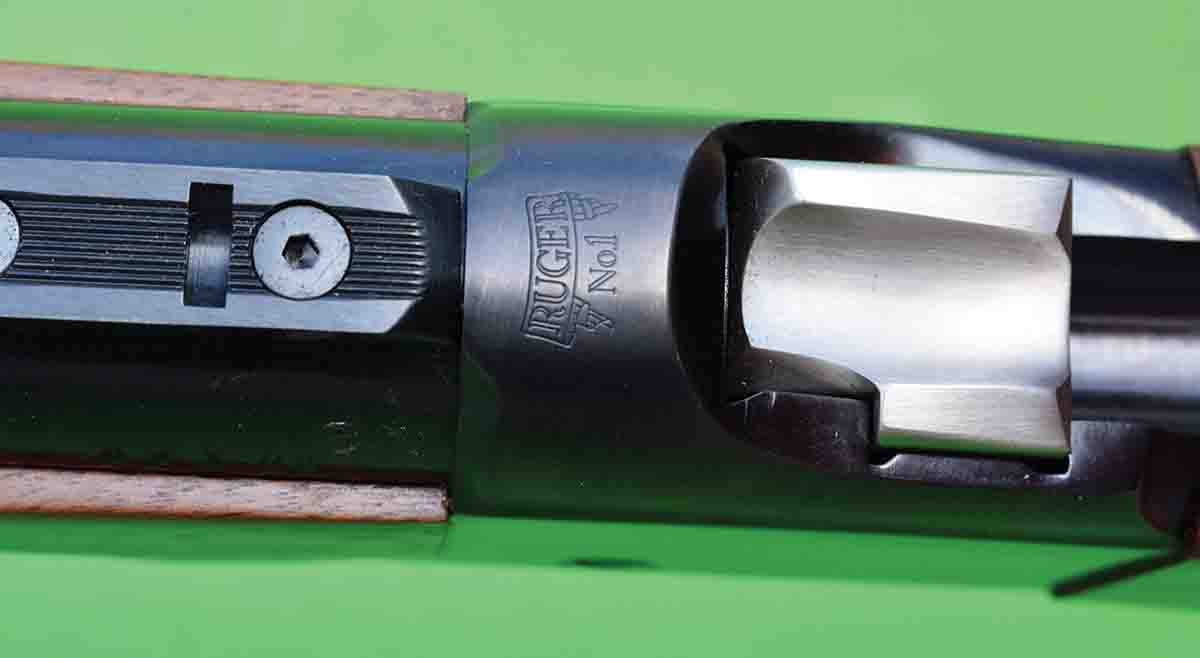 As indicated, early No. 1 rifles had extra effort in every respect to assure that they were a cut above in quality. In addition to extra effort in fit, finish and wood quality, from 1966 through 1973, rifles employed match-grade Douglass barrels. Many of these early guns were capable of ½- to ¾-MOA right out of the box with quality ammunition. In an effort to lower production costs, in 1973, barrel stock was changed to Wilson, many of these rifles still shoot very well. But today's barrels are all produced by Ruger and are cold-hammer forged and are good quality. Generally, with proper load development, No. 1s are easily capable of sub-MOA.
Many years ago, I purchased Elmer Keith's No. 1 rifles chambered in 375 H&H Magnum and 458 Winchester Magnum. In spite of the nearly primitive Weaver K series scopes on each, from the bench with sandbag rests, and using my proven handloads, each rifle cut five-shot cloverleaf groups that were each less than .70 inch with the 375 having a slight accuracy advantage! Incidentally, Keith was a hunter and a firearms expert and he too praised the No. 1 rifle.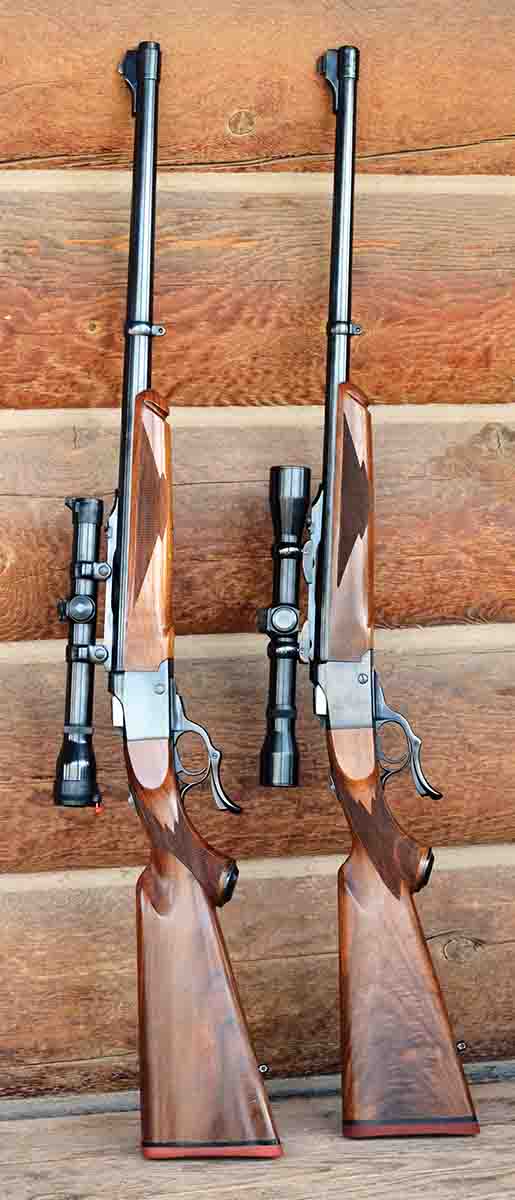 If a rifle is struggling to produce proper accuracy, I focus first on load development, which will almost always cure the problem with a skilled handloader. If results are still mediocre, I then address the forearm hanger, which can hinder accuracy, by installing a Hicks No. 1 Accurizer system.
There is much more to the single-shot advantage than most modern shooters can understand. My first rifle was a single shot and it taught me to be very careful with that first shot. In other words, I learned to not flub the shot, rather I became a better hunter, a better stalker and a better shot and learned to wait for the perfect moment to fire. It can be said that there is a psychological advantage in knowing that there probably won't be an opportunity for a second shot. For the record, I have no hesitation in hunting dangerous game with a single shot and have done so many times. While it would not be my rifle of choice to follow-up game wounded by a client, a skilled hunter will make it work perfectly on dangerous game by placing the first shot correctly. The No. 1's action is much shorter than a comparable bolt action, which results in an approximately 4 inches shorter overall rifle length. In other words, a No. 1 with a 26-inch barrel will share a similar overall length as a common bolt-action rifle with a 22-inch barrel. This allows for a long barrel (necessary for many high-performance cartridges) without having a long and out-of-balance rifle. On the other hand, if a short, compact rifle is desired for handiness, for carrying on a horse, etc., a No. 1 with a 22-inch barrel is especially handy and practical.

Many modern shooters have failed to recognize the virtues, appeal and significance of the No. 1 and sales have slowly declined in recent years. As a result, it is only produced in limited quantities and in select calibers. Lipsey's (lipseys.com) is currently the exclusive distributor for the No. 1 that is currently offered in 257 Weatherby Magnum, 6.5 Creedmoor and 275 Rigby (the same as 7x57 Mauser). Each model features blued steel and walnut stock and are traditionally handsome rifles. If you would like to see a particular caliber or configuration offered in future production, let Lipsey's know as they do listen to their customers.
There is one advantage with single-shot rifles that I have saved for last. Many times I have arrived in hunting camps with a No. 1 and the guides and outfitters almost instantly treat you with priority primarily because they are pretty sure that they will not be trailing wounded game, rather it will be a one shot and one trophy hunt!