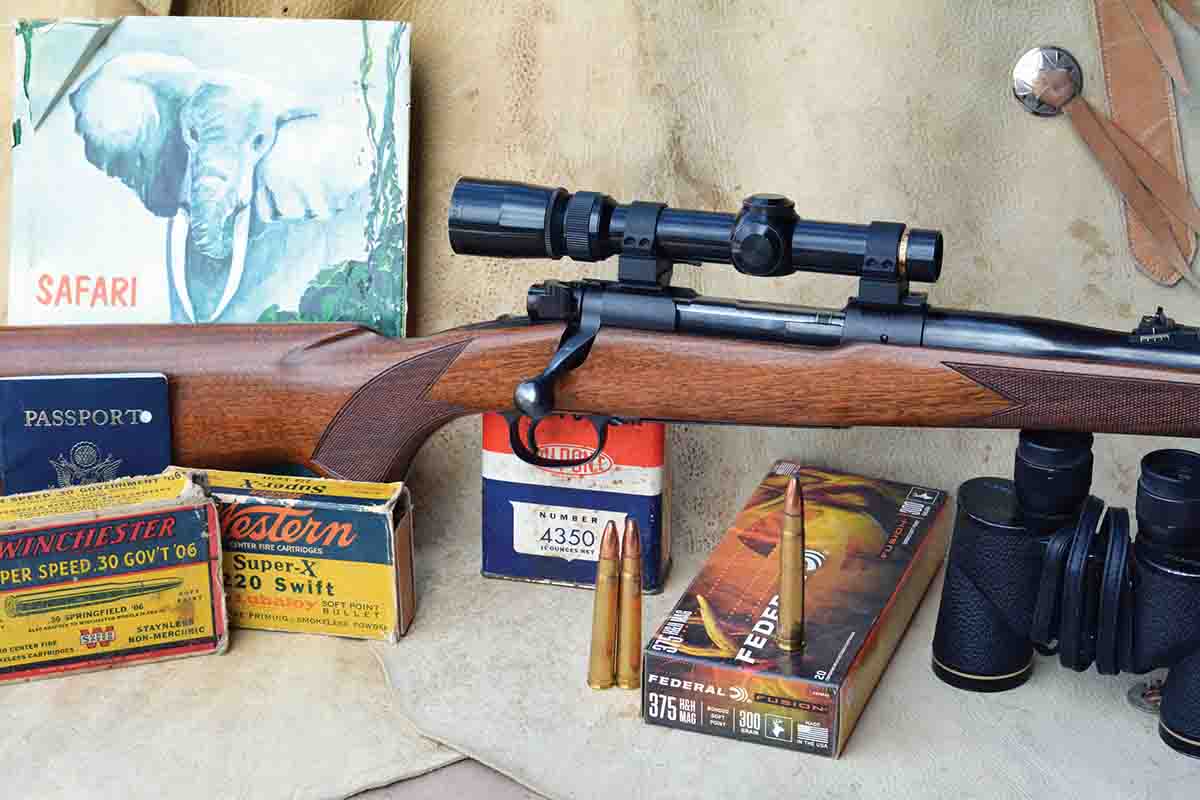 In spite of being out-of-production for 60 years, few rifles are so widely known, treasured and respected as the outstanding Winchester pre-'64 Model 70, but like most great products, it is not without controversy. Nonetheless, in the opinion of this shooter, hunter and rifleman that has used and evaluated virtually every modern bolt-action rifle and has extensive experience with the Model 70, it is a great rifle by any measure.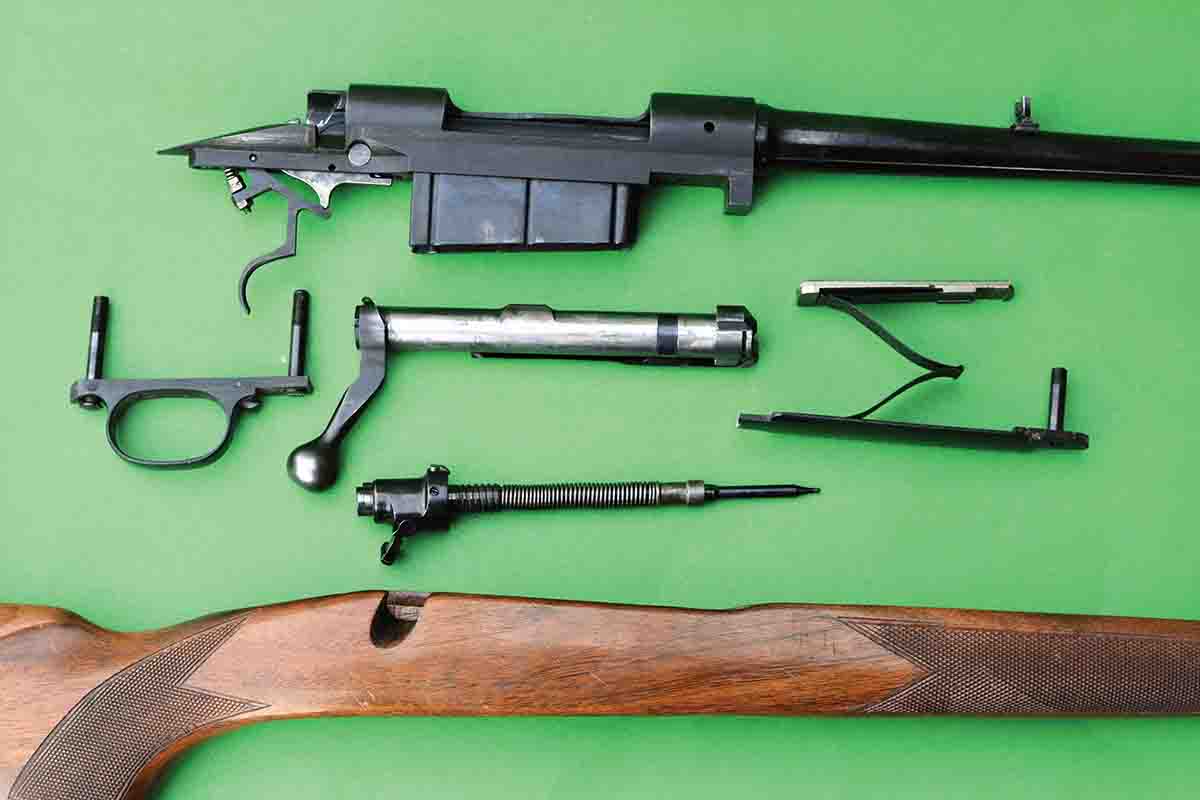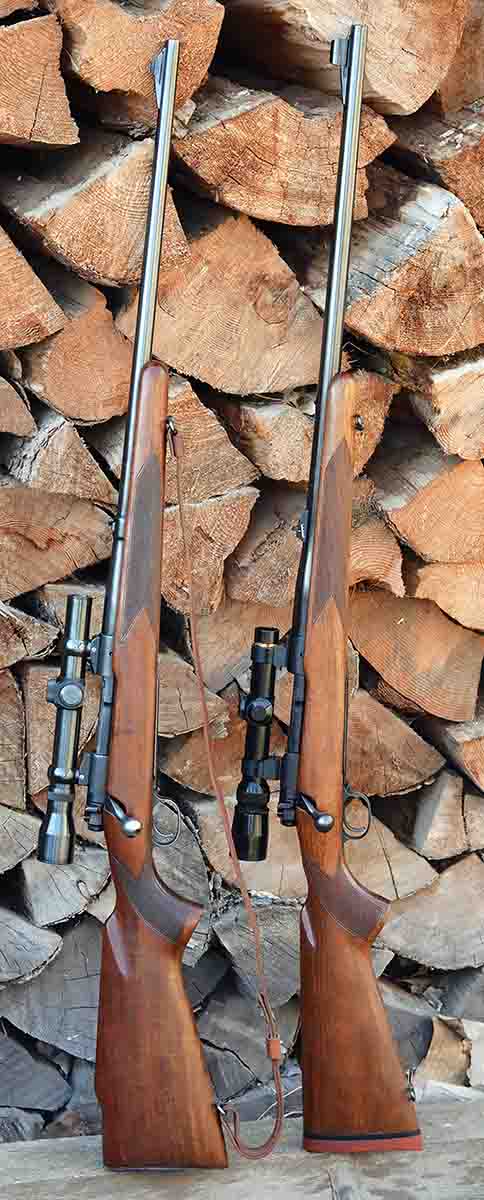 During my early teens, pre-'64 Model 70 rifles seemed to be everywhere and were commonly used as a standard rifle for hunting deer, elk, black bear and antelope. Strangely, my spare time was often spent with old ranchers, hunters and our local sheriff who was a savvy gunman and there seemed to be little talk about the post-'64 Model 70, but in time that discussion became a rather hot topic. In essence, the new version produced during the 1960s and early 1970s was generally cussed out, but I digress.
My first Model 70 was a post-World War II, standard-weight version with a 24-inch barrel, high-comb stock and chambered in 30-06. That rifle was a shooter and would often drop five shots inside a nickel at 100 yards, despite my handloads probably leaving something to be desired in terms of real precision. I used that rifle to take deer, elk, black bear and coyotes and it established a high expectation that I still look for in a hunting rifle. It was not finicky as to the loads that it shot well; it was super reliable and always fed, fired and ejected cartridges and cases with perfect reliability. The trigger broke crisp and clean and had very little aftertravel. While I rarely rely on any safety, it worked positively, but it also allowed the removal of the cartridge in the chamber, while still preventing the rifle from being fired. Regardless of the floorplate latch being rather stiff and hard to open on cold winter days, the floorplate always stayed closed when shooting, which added to the reliability of the rifle. I was pretty hard on that rifle, as I was always hunting something every chance that I had. It was often carried on horseback during the fall and spring, used while checking my trap line during Idaho's snowy, cold, wet winter months and it rattled around in ranch pickups during summer months while irrigating and was exposed to heat, dirt and dust. Nonetheless, it never failed me; rather, it performed perfectly in every respect. In the years since, I have owned, hunted and fired dozens and dozens of Model 70s in almost every caliber that it has been offered.
Winchester began producing the Model 54 in 1925, but it fell short in several aspects, so some redesigning was necessary to improve and fully modernize it. The Model 70 became the successor that was conceived during the heart of the Great Depression, with the first rifles shipping in 1935, but full production was not underway until late 1936. While there were some engineering changes over the first few years, to keep today's conversation simple, comments will be geared primarily toward the post-World War II versions.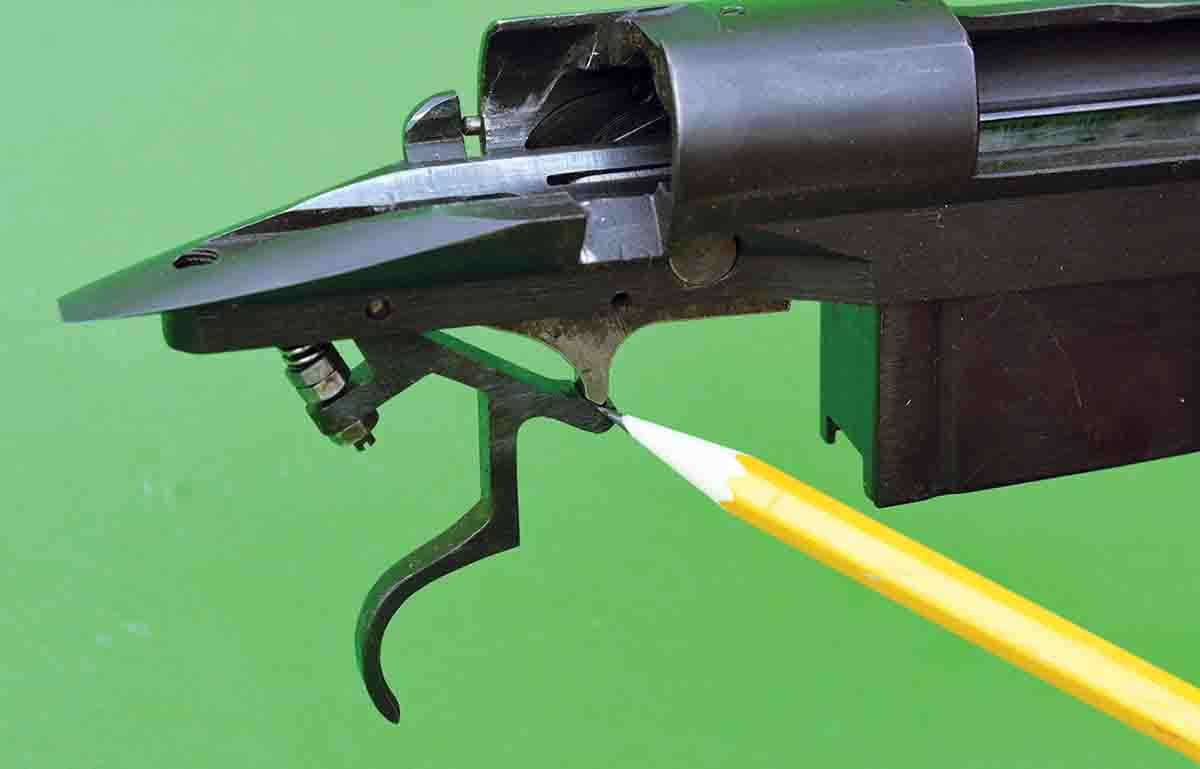 The receiver was fully machined from 120 ounces of chrome-moly bar stock. After around 75 machining operations (which varied with caliber), the final receiver weight was 19.3 ounces. The recoil lug was integral, while the bottom of the receiver was flat, which I will discuss further in a moment. Incidentally, there was just one receiver size. In other words, all cartridges from little 22 Hornet to long 375 H&H Magnum were built on the same receiver size that measured 9.14 inches in overall length. Naturally, the 375 had to have some additional machining to increase the allowable cartridge lengths, but the 22 Hornet, as well as 308 Winchester length cartridges, were fitted with blocks to shorten the internal dimensions and allow proper function, while the magazine wells for belted magnum cartridges were widened.
The receiver, stock, trigger guard and floorplate are married via three guard screws. For several reasons, I generally focus on tightening the front and rear guard screws to 100 inch-pounds and the middle screw to around 30 inch-pounds. The barrels of standard-weight rifles feature a barrel lug, while a fourth screw served to secure the barrel to the stock and increase bedding pressure and dampen barrel vibration.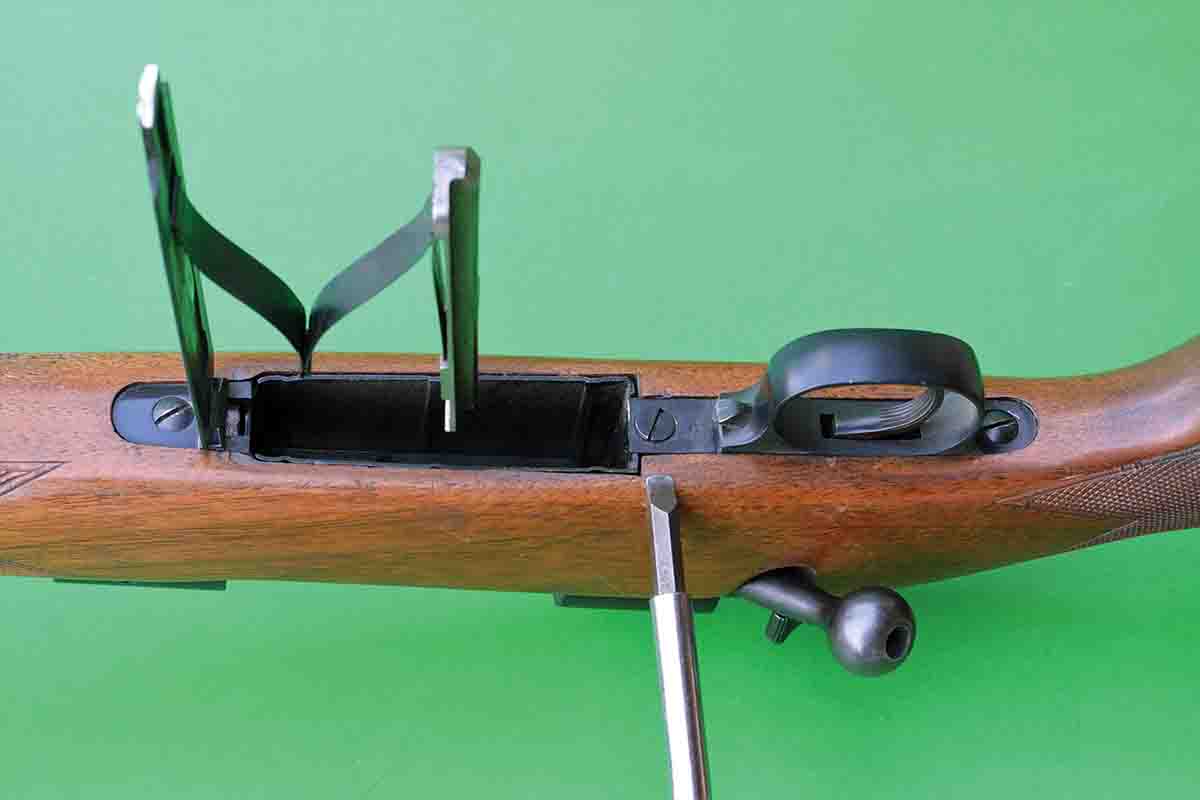 The Model 70 receiver is truly attractive and pleasing to the eye, as many artists refer to it as sculptured art, which has helped it become especially popular with custom gunsmiths that are building beautiful, traditional-style rifles with handsome profiles that are constructed of blue steel with high-grade walnut stocks.
Naturally, the Model 70 features a non-rotating claw extractor and receiver-mounted blade ejector to achieve control-round feeding, wherein the case rim slips under the extractor and against the bolt face as the cartridge is stripped from the magazine and pushed into the chamber, which is similar to the legendary and hugely proven Mauser 98 action. As such, the cartridge is literally held by the bolt that gives the shooter total "control" of the cartridge. There is no double feeding and neither do cartridges turn sideways as they are stripped from the magazine, all of which can cause jams. The large steel extractor offers incredible camming power and if the case rim is strong enough to hold, it will pull any fired case from the chamber – even cases that were fired with over-pressure loads. Furthermore, the extractor is machined from solid steel and virtually never breaks. Plus, as a bonus, the extractor is beveled to allow cartridges to be placed directly into the chamber and the bolt will close while the extractor pops over the case rim. These control round features may not be important to a whitetail deer hunter that places a cartridge in the chamber, places the safety in the ON position and waits from a blind or tree stand for the right buck and typically fires one shot. However, hunters and guides that deal with dangerous game, deeply appreciate a highly reliable, bolt-action rifle like the Model 70.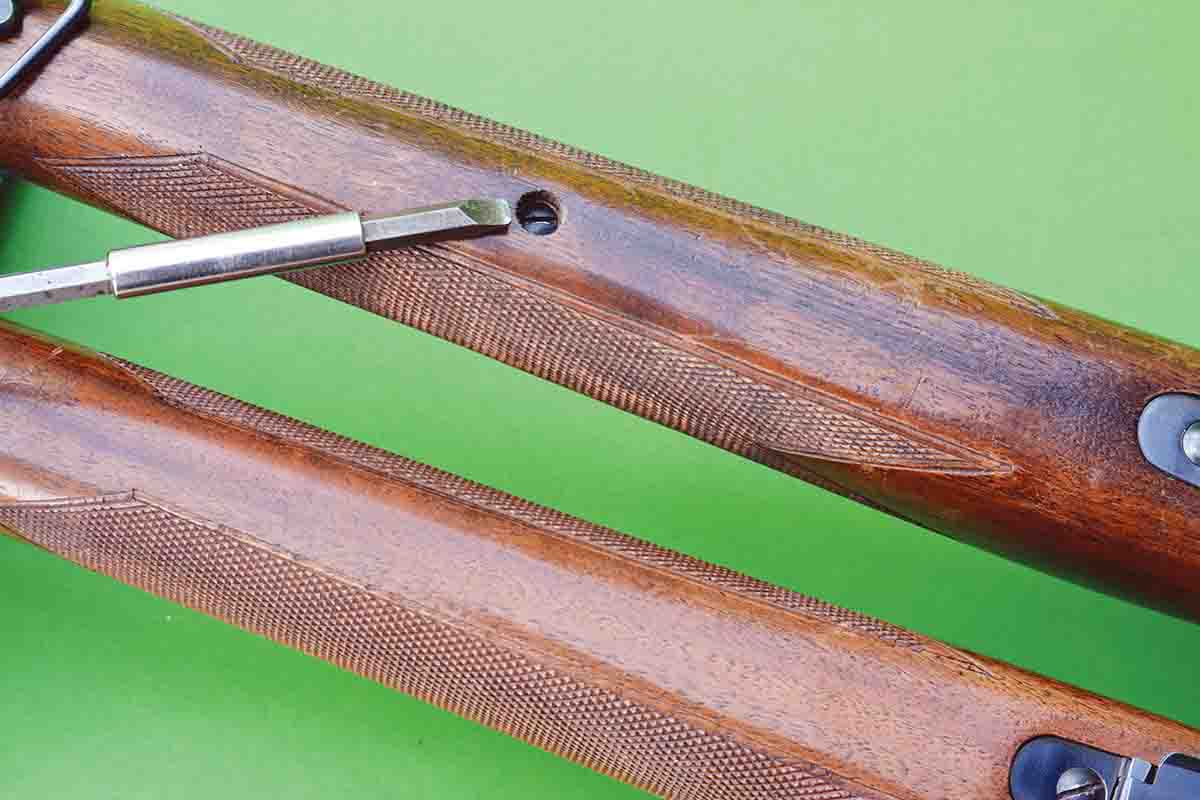 Detractors of the Model 70, with its control-round feed and coned barrel breech, will criticize it for lack of a supported cartridge case head. I for one, have never bought into this argument, as the cartridge head is inside the chamber where it belongs. In short, there is plenty of support and strength for any modern high- pressure cartridge and it is by no measure weak, as detractors would have us believe.
The bolt body is a one-piece with chrome-moly forging for maximum strength, while the gracefully swept bolt handle is integral. This is significant as there was nothing to break. The bolt body and bolt handle were not going to separate, loosen or break and could easily handle the strongest, fastest bolt operators without fail. Naturally, there are twin forward locking lugs that result in an 87-degree bolt lift. This provides proper leverage to allow easy bolt opening and smooth operation, but also permits the shooter to easily cycle the action with the rifle at the shoulder. A guide lug is machined onto the bolt body to serve as an anti-bind device. The bolt stop is fully machined and strong, but offers a tidy size and is lightweight.
The three-position thumb piece wing-style safety is located on the right side of the bolt sleeve (except pre-World War II guns) that allows proper scope mounting and can be quietly operated using the page finger and thumb. In the rear position, the bolt and firing pin are locked, but when placed in the middle position, the bolt can be opened to remove a cartridge from the chamber, but it still has the firing pin locked (or blocked) to prevent firing. Naturally, the forward position is ready to fire.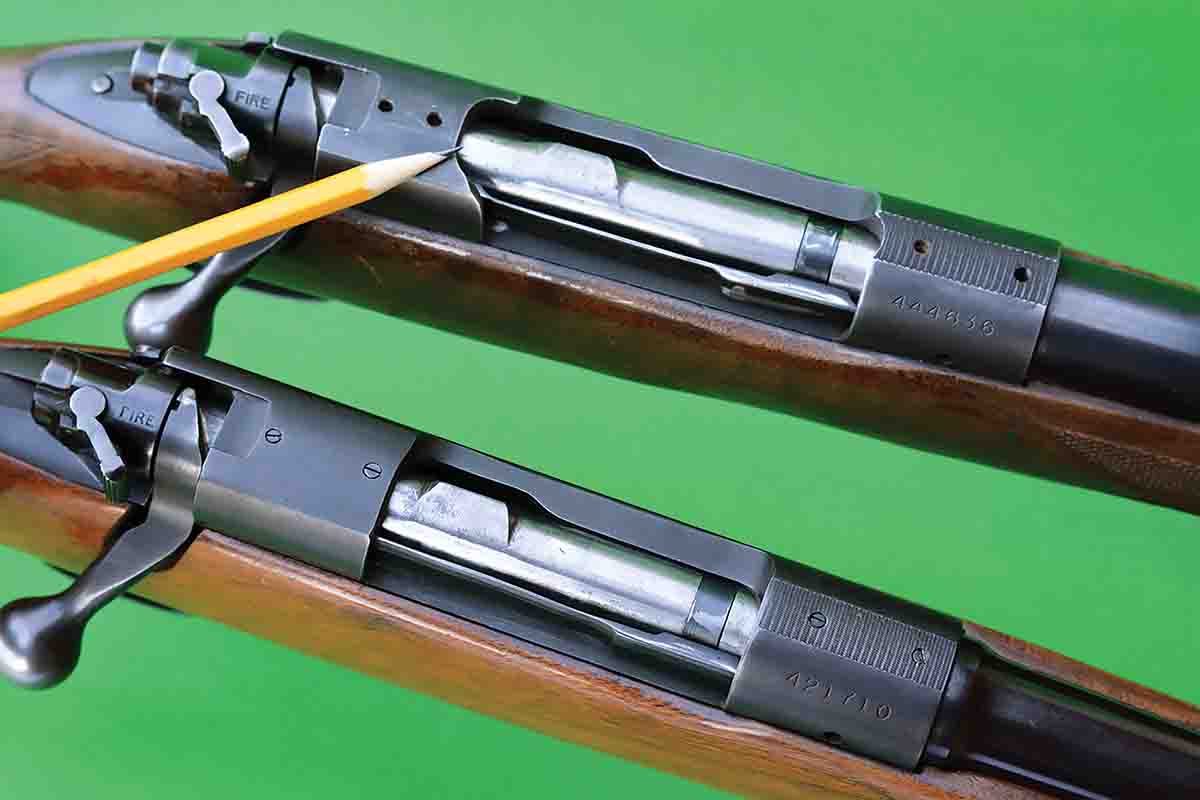 The override trigger was exceptional in several aspects. First, it was fully adjustable for weight of pull and aftertravel and easy to adjust. Normally, the pull can be brought down to around 2 pounds, but if that is not possible, a skilled gunsmith can easily bring it down to that weight. But most remarkable is its simplicity. The trigger and sear are solid-machined, steel-tough and robust. Simply stated, there are no tiny parts, pins, screws or even housing to gum up from hardened solvents/oils, dirt and rust that can make a rifle inoperable without warning, which can be bitterly disappointing in a remote wilderness hunting camp. The Model 70 trigger easily handles neglect, sand, dirt and just keeps on working. A couple of other notable features include a virtually unbreakable, one-piece firing pin that delivers a hard blow to primers to assure reliable firing (this has actually been a problem with several recently engineered, bolt-action rifles). Lock time is average at 3.5 m/s. The bolt stop is compact, lightweight, strong and easy to operate.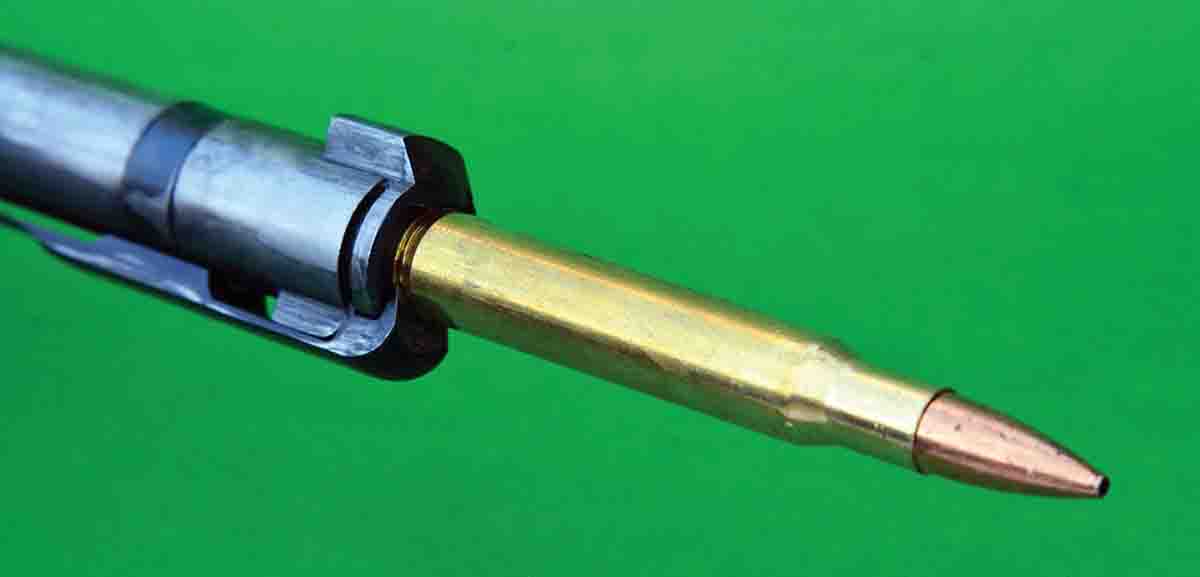 Many modern rifles feature round receivers and small ejection ports. The purpose is to help keep manufacturing costs down, but this design also results in a very rigid receiver that can help in achieving top accuracy and is easy to provide uniform bedding. However, small ejection ports can be problematic if or when a case fails to clear the action and are awkward to single-load cartridges directly into the chamber when a rifle is empty and a mad grizzly is just a few feet away in the brush! Again, the Model 70 reliably ejects empty cases from the action, offers easy access to reload the magazine, or if needed, readily allows an emergency round to be dropped into the chamber for the above bear. Speaking personally, this is an important feature for a general-purpose hunting rifle, but is especially important when pursuing dangerous game.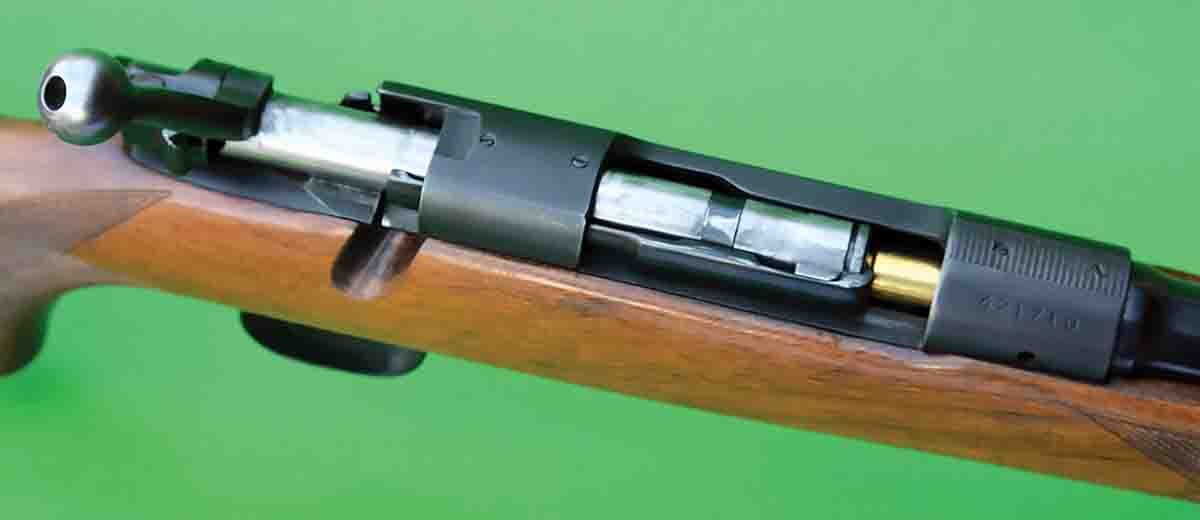 The stocks were generally plain walnut with a common cut checkering pattern that appealed to period riflemen who favored conservative appearance and functionality. Earlier rifles had a classic "low-comb" profile that best aligned the shooter's eye with iron or aperture sights; however, high-comb stocks became standard with later production rifles due to the growing popularity of scope sights. Stocks were generally full-length bedded in the barrel channel. For what it is worth, the stocks were the one aspect that could have, or should have, been improved with a trimmer profile and better checkering. But many custom riflesmiths are kept very busy by offering finely crafted stocks that were perfectly fit and inletted, hand-cut checkered and gracefully shaped. Often no other modifications were made to the barreled action because they were already top-drawer quality.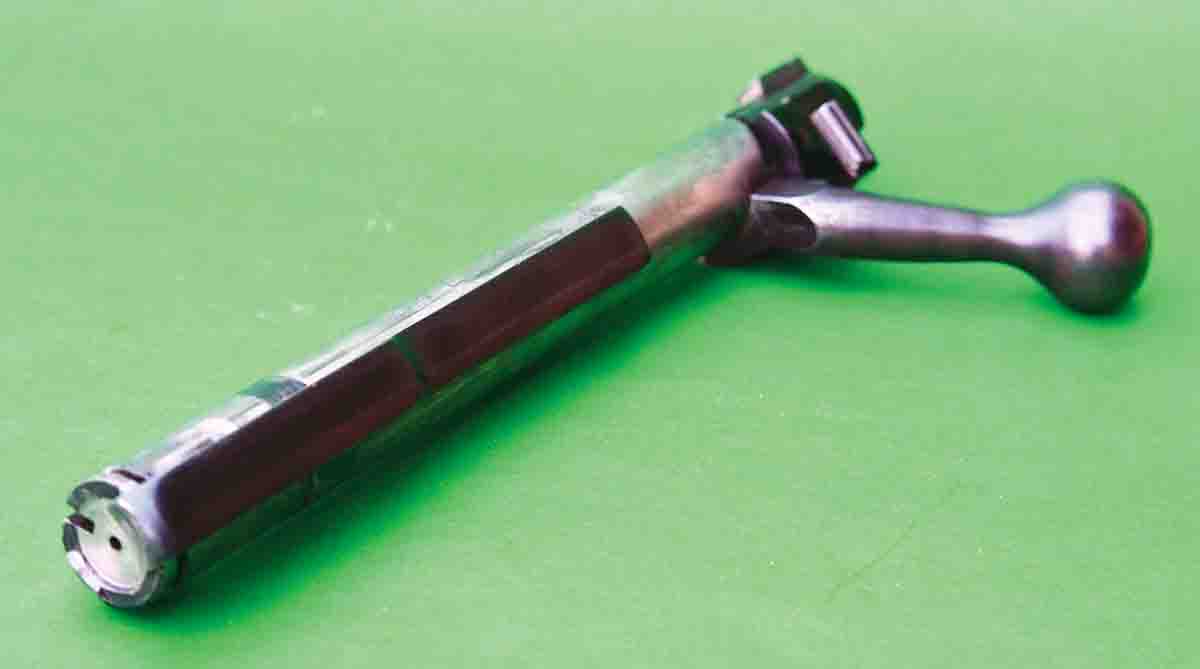 Model 70 barrels featured cut rifling and were essentially match grade (while post-'64 rifles were hammer forged to cut costs). Space will not allow a detailed discussion of the care and quality that Winchester put into making barrels, but they were straight and high quality even by today's standards. Most rifles are easily capable of sub-MOA. But if a rifle will not shoot well, it is generally a bedding problem.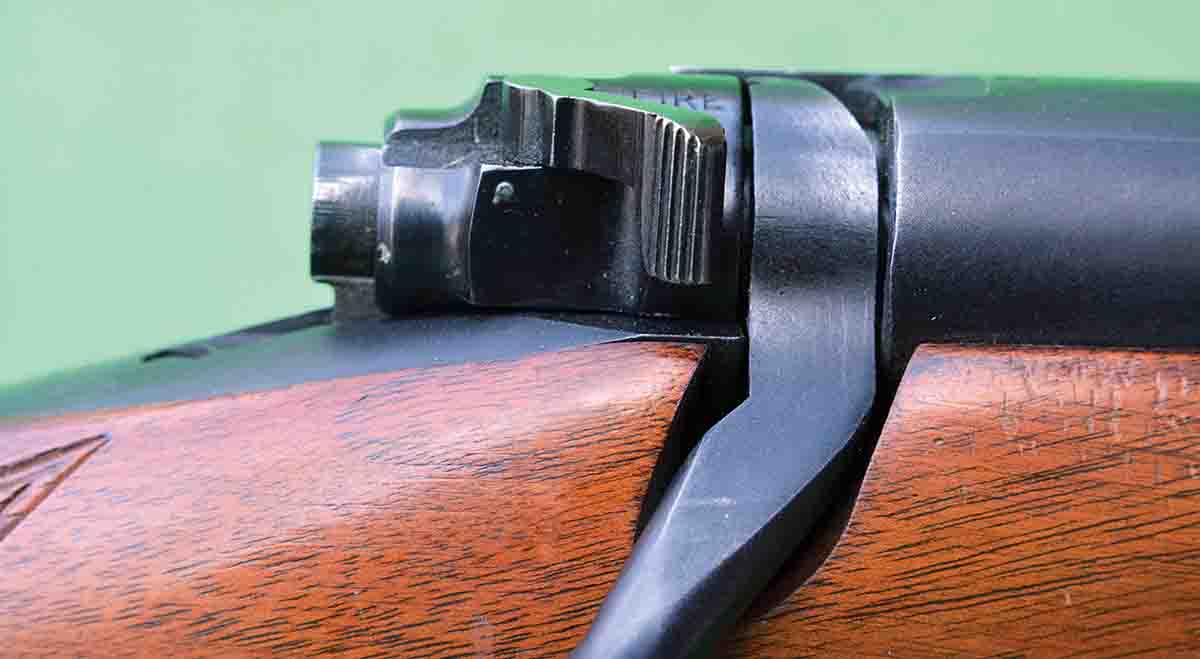 As indicated, barrels were bedded rather than free-floating, which is so common and popular on today's bolt-action rifles. It is noteworthy that during the era that the Model 70 was produced, a free-floating barrel would have been rejected by most shooters and considered a poor-fitting, poor-quality rifle. A complete discussion of bedding versus free-floating would take considerable space, but suffice it to say, that both can work very well. Regarding sporter-weight barrels, bedding will generally dampen vibration and can produce outstanding accuracy. However, with temperature and humidity changes, the wood forearm can change the pressure on the barrel, which will cause point of impact changes and can be frustrating. Full-length glass bedding can greatly stiffen the forearm and largely alleviates point of impact changes. If done properly, most Model 70s will produce sub-½-MOA groups. On the other hand, I have worked with Model 70s that have had the action glass-bedded, but the barrel is fully free-floating. With properly tailored ammunition, again I have seen these guns stack bullets into a ragged hole. For example, one of my sons has a standard weight 30-06 with a free-floating barrel, and with hunting-style handloads, it will stack 10 shots into around a half inch without even letting the barrel cool! That is impressive performance even by today's standard of high-precision rifles that were designed primarily for accuracy.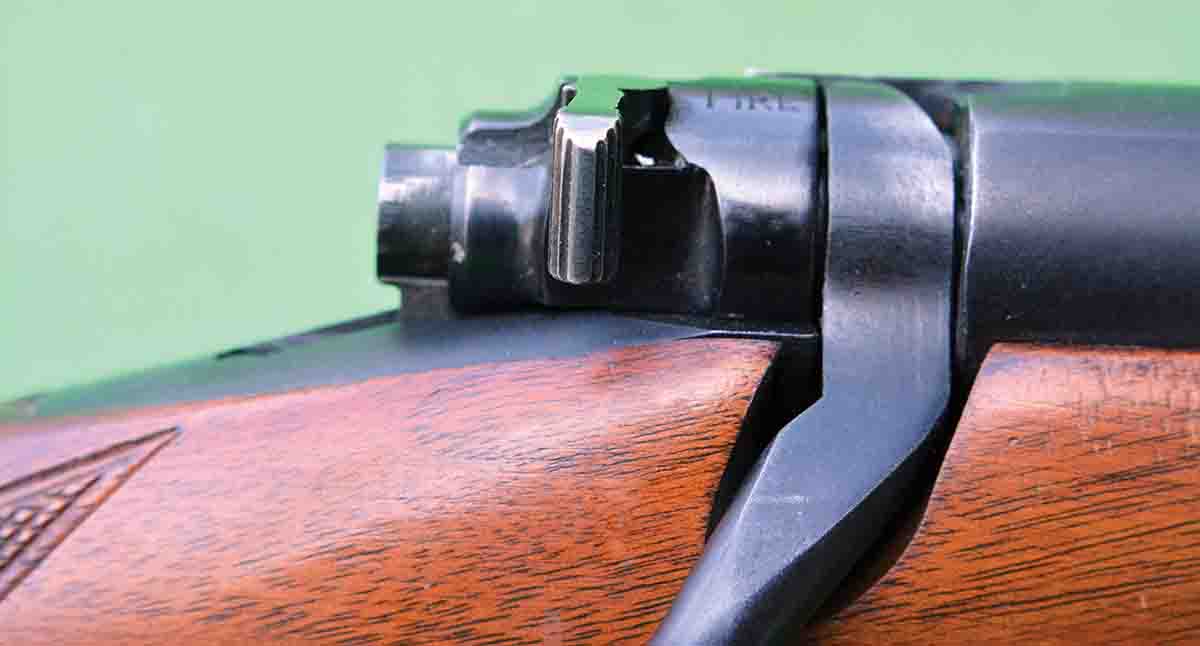 In my collection is a special Model 70 standard-weight rifle with a high-comb stock chambered in 30-06 that was owned by the notable Elmer Keith, who was one of the original designers of this famous rifle. Many times Keith mentioned the accuracy of the Model 70 in both print and in person. In shooting this rifle, even with the very aging, low-power Weaver scope, using Federal Premium ammunition containing the Sierra 200-grain bullet, it placed five bullets into a single ragged hole at 100 yards. What is interesting is that many years ago when I first acquired this rifle, I did not tighten the guard screws or check the scope mounts. Rather, I took it right to the bench with the same loads Keith used. Groups were centered for windage, but struck just over 3 inches high, which is exactly how Keith always sighted his open-country rifles.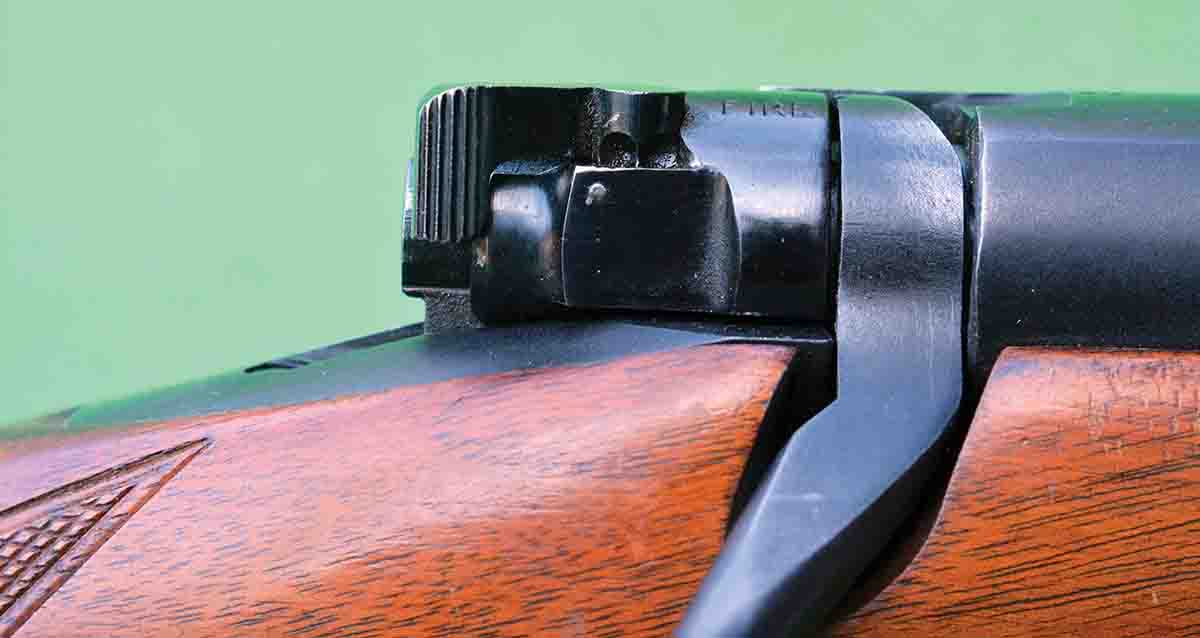 There is no perfect rifle. One Model 70 shortcoming is the gas system, which scores average for shooter protection in the event of a ruptured case. The right side of the receiver ring is drilled to divert gases out and away from the action. The bolt body is drilled with two holes to divert gases into the left lug raceway. But the bolt sleeve is void of a flange as a final stop for gases before it reaches the shooter. For these reasons, I never run handloads at maximum pressure and always use high-quality components.
Another area that custom-rifle builders complain about is the flat bottom receiver, which takes greater effort to bed with aluminum when compared with a round bottom receiver. For what it is worth, when I have a rifle that needs the action bedded, I have never found the Model 70 difficult to glass bed.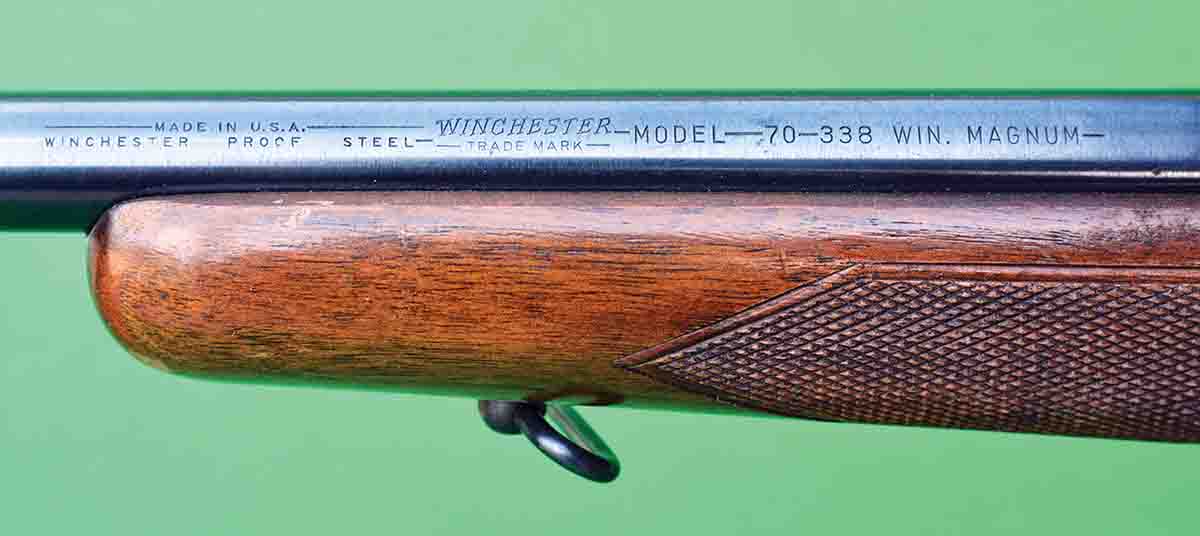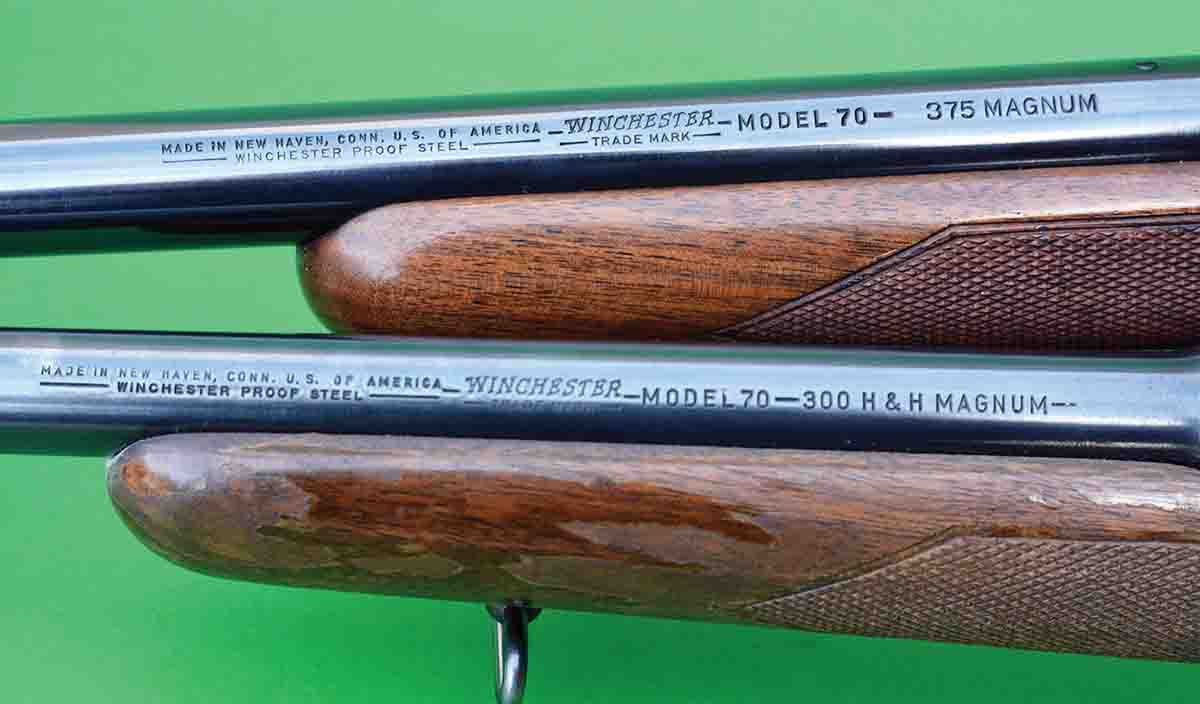 During the approximately 28 years of production (with very few produced during World War II), the Model 70 served as the vehicle to introduce many new and significant cartridges that are still widely popular today. Examples include the 308 Winchester (1952), 243 Winchester (1955), 358 Winchester (1955), 264 Winchester Magnum (1959), 300 Winchester Magnum (1963), 338 Winchester Magnum (1958) and 458 Winchester Magnum (1956). Additional calibers include 22 Hornet, 220 Swift, 250 Savage, 257 Roberts, 270 Winchester, 7x57mm Mauser, 300 Savage, 30-06, 300 H&H Magnum, 35 Remington, 375 H&H Magnum and the super rare 7.65mm and 9x57mm Mauser, resulting in a total of 20 calibers. There were even prototype rifles in additional calibers, but they really don't qualify as production rifles.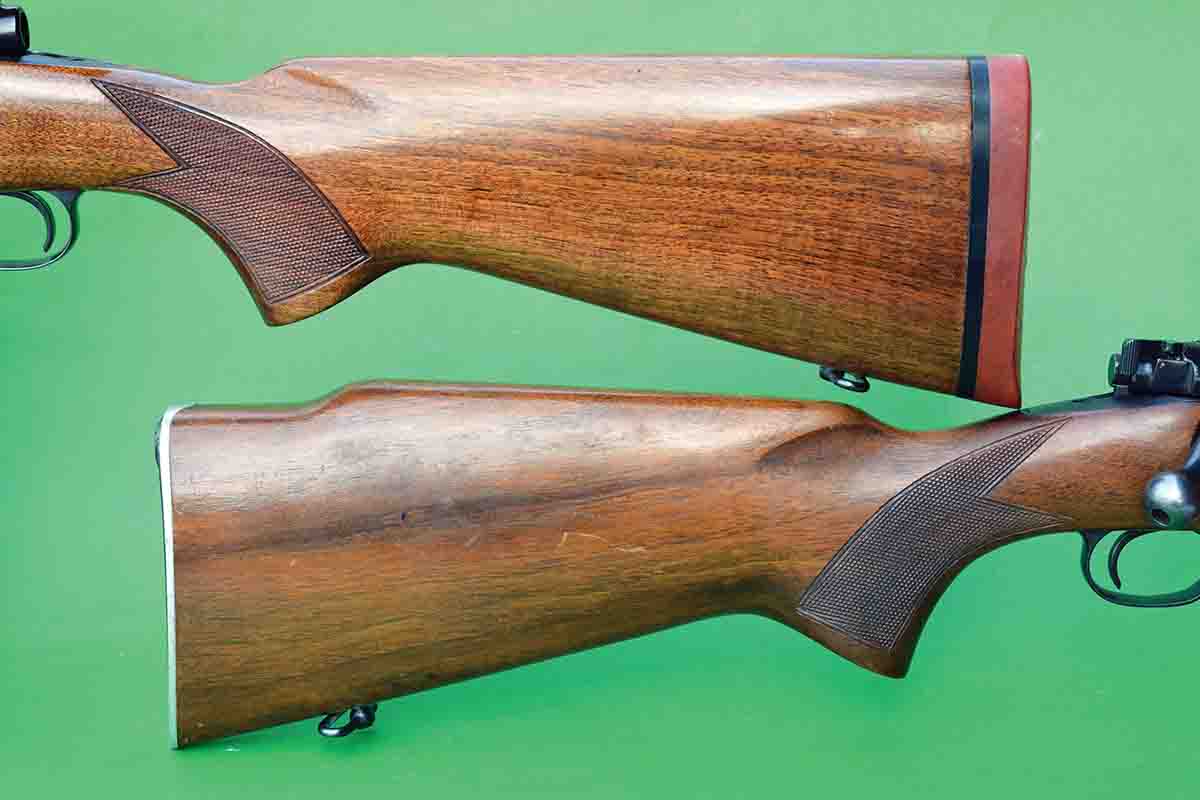 The Model 70 was offered in many configurations including Standard Grade, Carbine, Super Grade, Super Grade African, Featherweight, Super Grade Featherweight, National Match, Target, Bull Gun, Varmint, Alaskan and Westerner. Considering that it was produced before and after World War II, and with transitional variations, the Model 70 is rightfully very popular with collectors.
After producing an estimated 581,471 rifles, the great Model 70 was discontinued in 1963, with many considering the post-'64 version a completely different rifle, but that is a story for another day. Due to high machining and labor costs, along with competition that offered rifles at lower prices, Winchester decided to discontinue its legendary rifle. Today, it seems that many young adult shooters are so focused on accuracy that they overlook the significant features of the pre-'64 Model 70. But savvy riflemen and hunters still treasure what is appropriately known as "The Rifleman's Rifle."