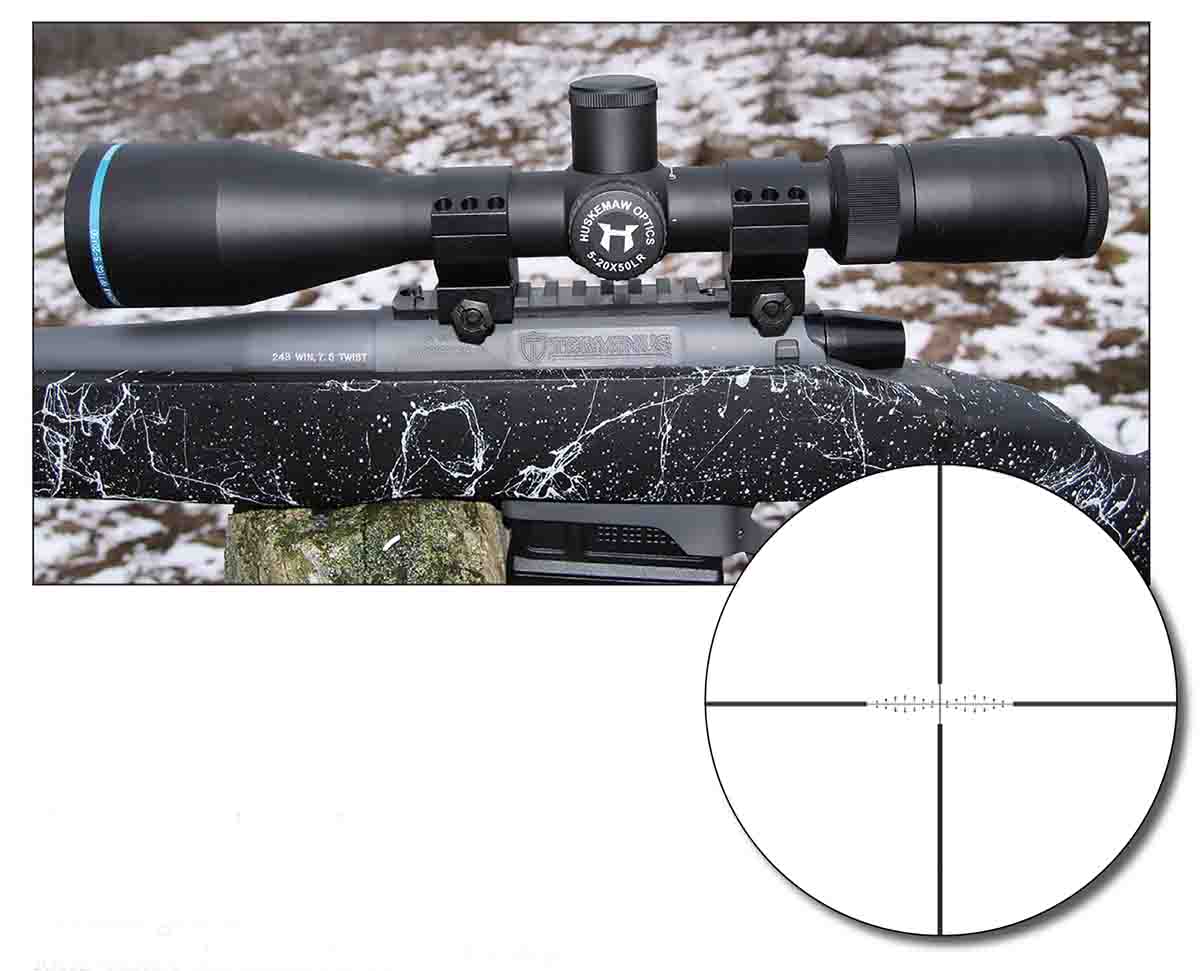 Huskemaw was not only on the spear tip of extreme long-range shooting but has developed riflescope systems that make shots at long-range much easier. Huskemaw uses patented technology to make dialing elevation and windage easier to understand and confidently extend the maximum effective range in the field. Huskemaw's patented HuntSmart Reticle allows a dead-on hold instead of holdovers, plus employing horizontal hash marks for wind drift hold-offs.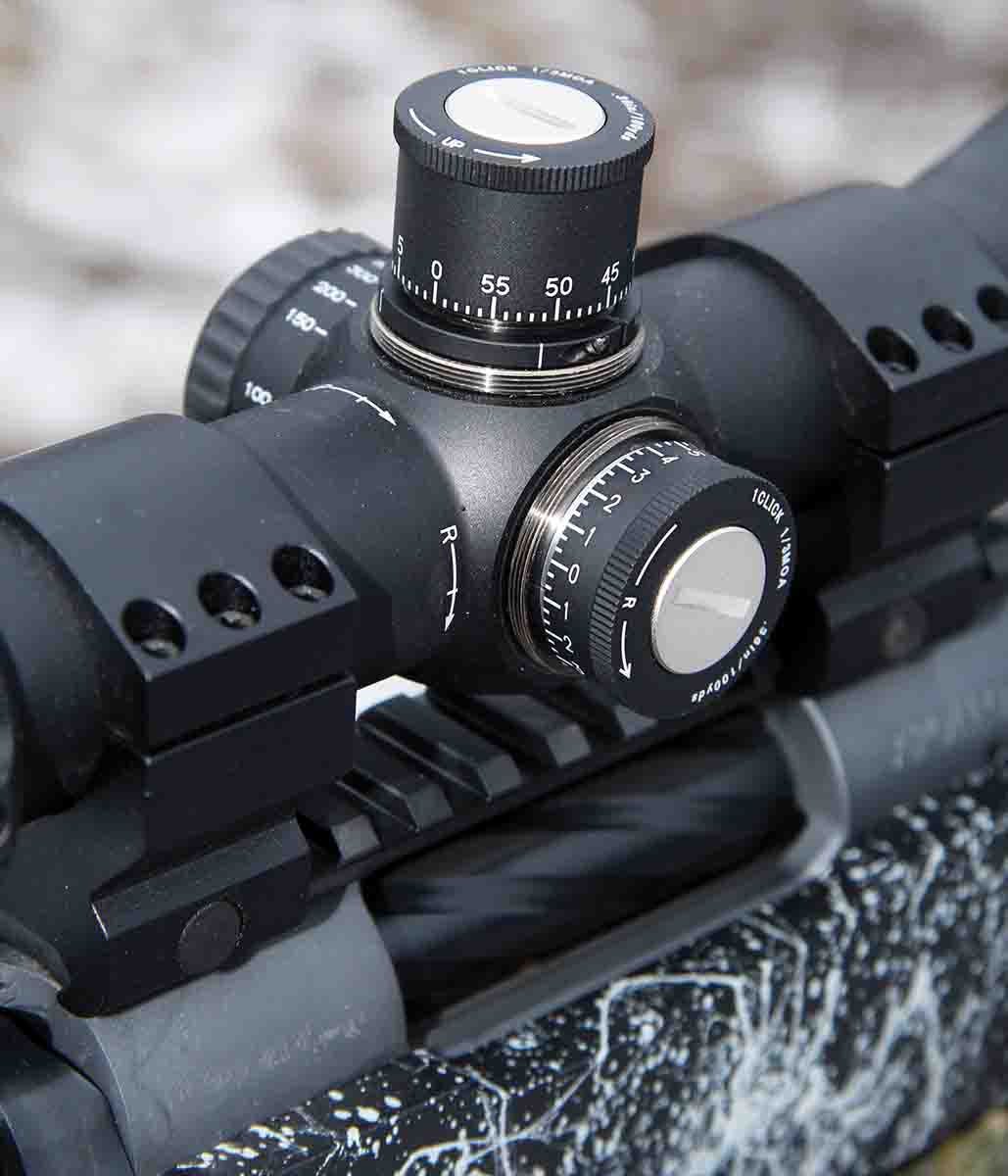 Huskemaw's 5-20x 50mm Blue Diamond scope was designed for long-range hunting, using patented TrueBC, the Rapid Field Ballistic Compensator (RFBC) dual-stack interlocking turrets and a simple, but effective wind-compensating reticle. The integrated system eliminates guesswork. Huskemaw was the first to offer custom turrets wrapped around proven drop data and corrections for downrange velocity matched to individual rifle loads.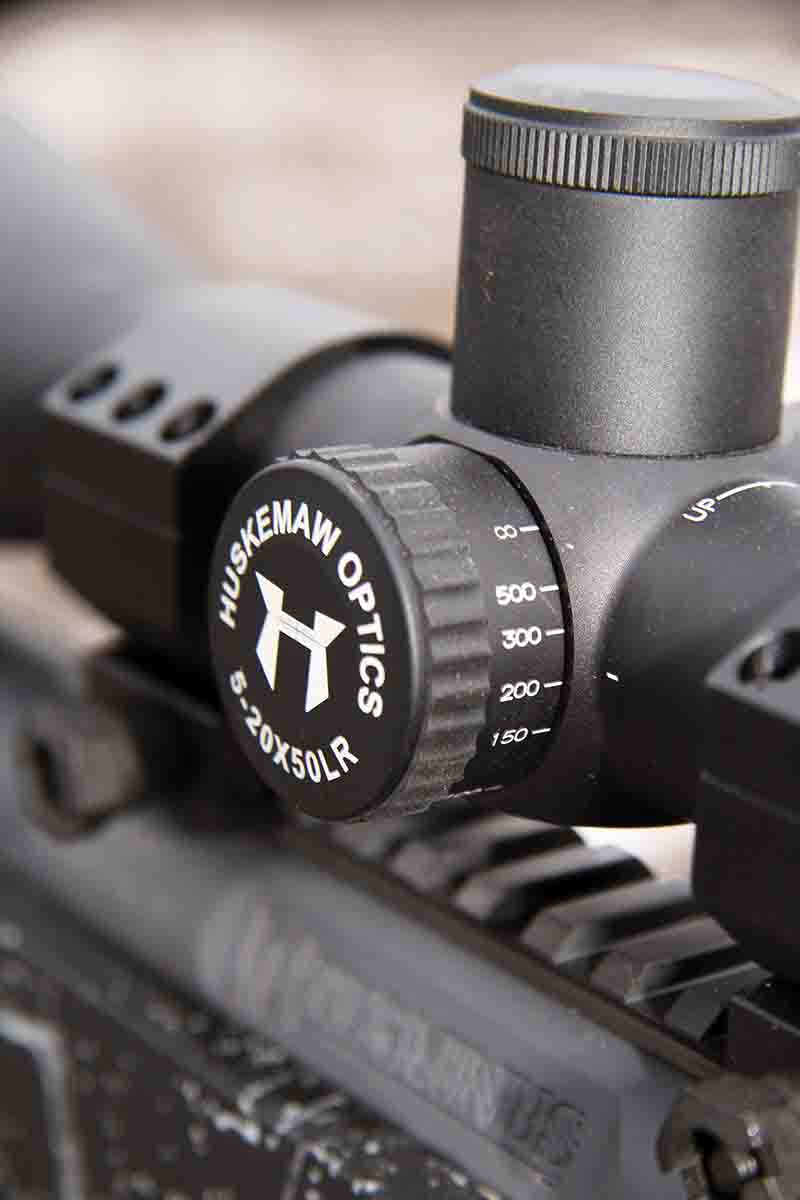 Huskemaw is operated by hunters/engineers, giving them insight into the unique demands encountered afield, and how to design a product that gets the job done. These are long-range shooting fanatics who also understand precision manufacturing.
The three components to Huskemaw's approach – ballistic turrets, ballistic reticle and online TrueBC calculator – and the data collection process work together as a system. The foundation is the RFBC Turret.
Patented interlocking, dual-stack turrets can be engraved for specific bullets/loads, providing continuous revolutions for extreme long-range shooting in MOA, meters, or a blend of these elements. One dual-stack turret can handle shooting environments ranging from 4,000 to 12,000 feet above sea level and temperatures from 10 to 70 degrees Fahrenheit.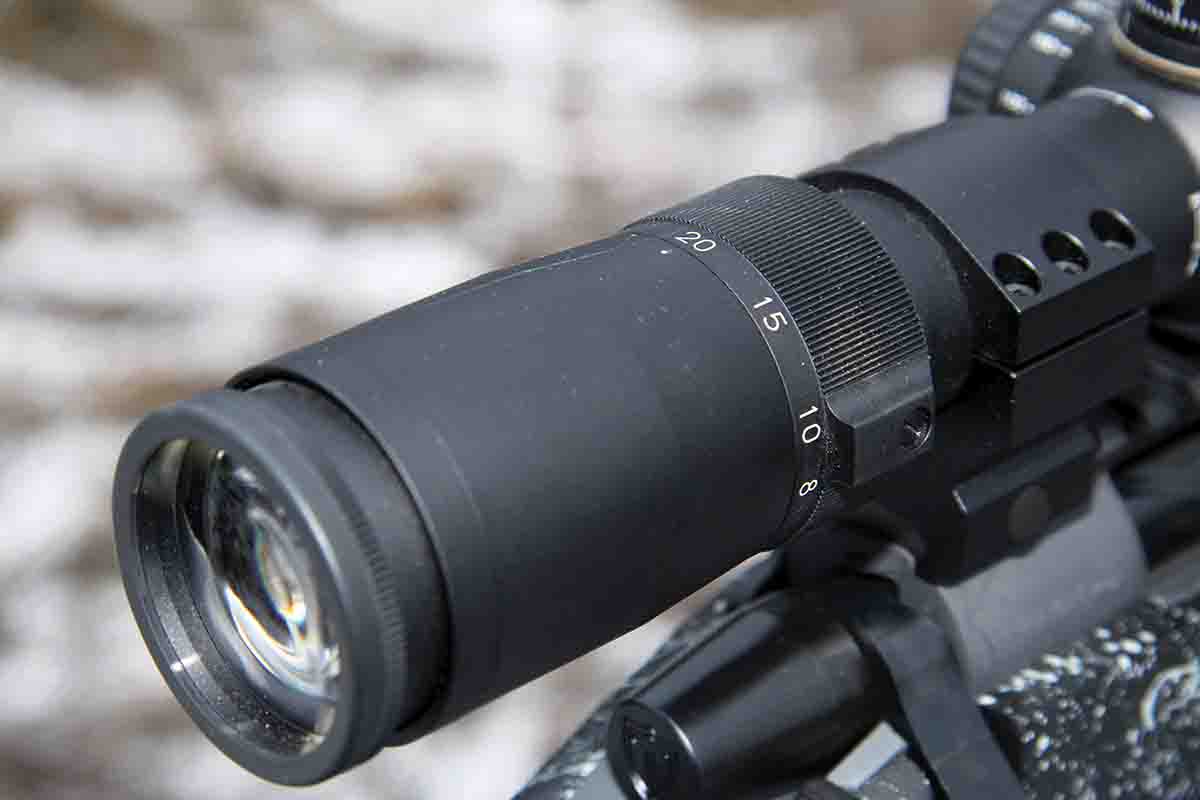 The Blue Diamond 5-20x 50mm riflescope was Huskemaw's inaugural optic and changed the way riflemen viewed long-range hunting. The Blue Diamond introduced its RFBC ballistic compensating turret and wind-hold HuntSmart reticle – approaches that make long-range shooting easier to understand.
My first experience with a Huskemaw Blue Diamond scope involved a fast-twist 243 Winchester built by Wayne York of Oregunsmithing. The rifle was based on a Terminus Apollo action, holding a 24-inch Benchmark barrel with a 1:7.5 rifling twist to accommodate long-for-caliber bullets to 115 grains. It also included bottom metal crafted by Pacific Tool & Gauge to accommodate a Magpul box magazine, Timney HIT trigger and Pendleton Composite Stocks (PCS) T-11 stock. The Huskemaw, set in heavy six-screw tactical rings, proved an ideal match for this purpose-built rifle – see Varmint Rifles & Cartridges (Spring 2023) available on WolfeOutdoorSports.com.
My first impression was just how sharp and vivid Blue Diamond optics were. The Blue Diamond label comes from Huskemaw's high-density lens coating by the same name. This multi-coated treatment is applied to high-density glass to provide exceptional clarity, light transmission and durability. The Blue Diamond, with its 50mm objective lens, provided clear viewing, whether shooting in bright sunlight or the very edges of day, eliminating starbursts and graininess in poor light, even at top magnifications.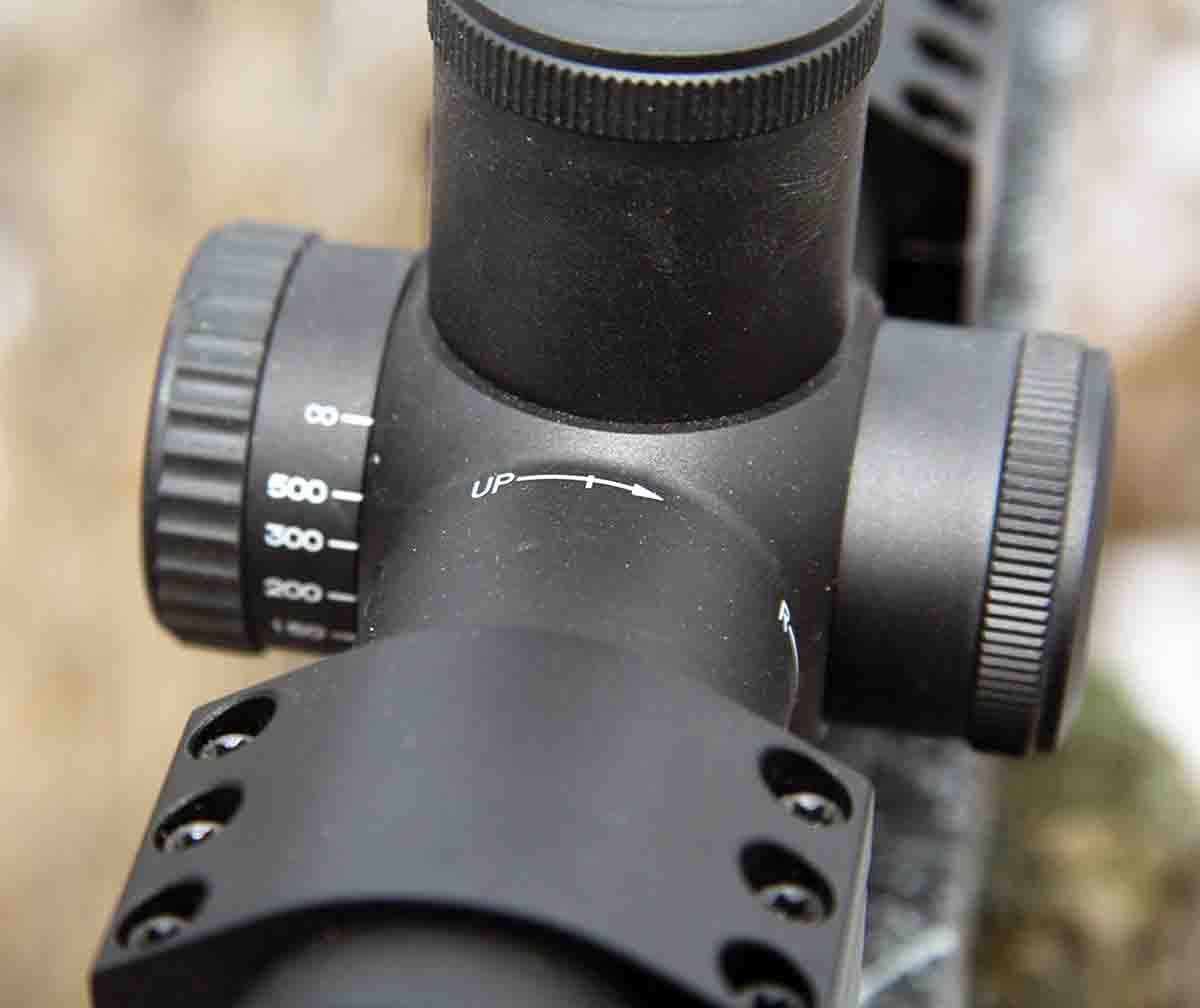 Huskemaw scopes are built tough, engineered to handle the recoil of powerful magnum cartridges. They are also built to withstand the worst Mother Nature can dish out, including wet and cold, and the hard knocks inherent to hunting rough-and-tumble terrain. The 30mm main tube is milled from a single piece of high-quality aluminum and lenses are grooved and bedded with proprietary adhesive for maximum recoil and shock resistance. The glass-etched second focal plane (SFP) reticle is sandwiched between two layers of glass for maximum protection. The fog and waterproof turrets include titanium internal springs for unparalleled reliability and accurate tracking.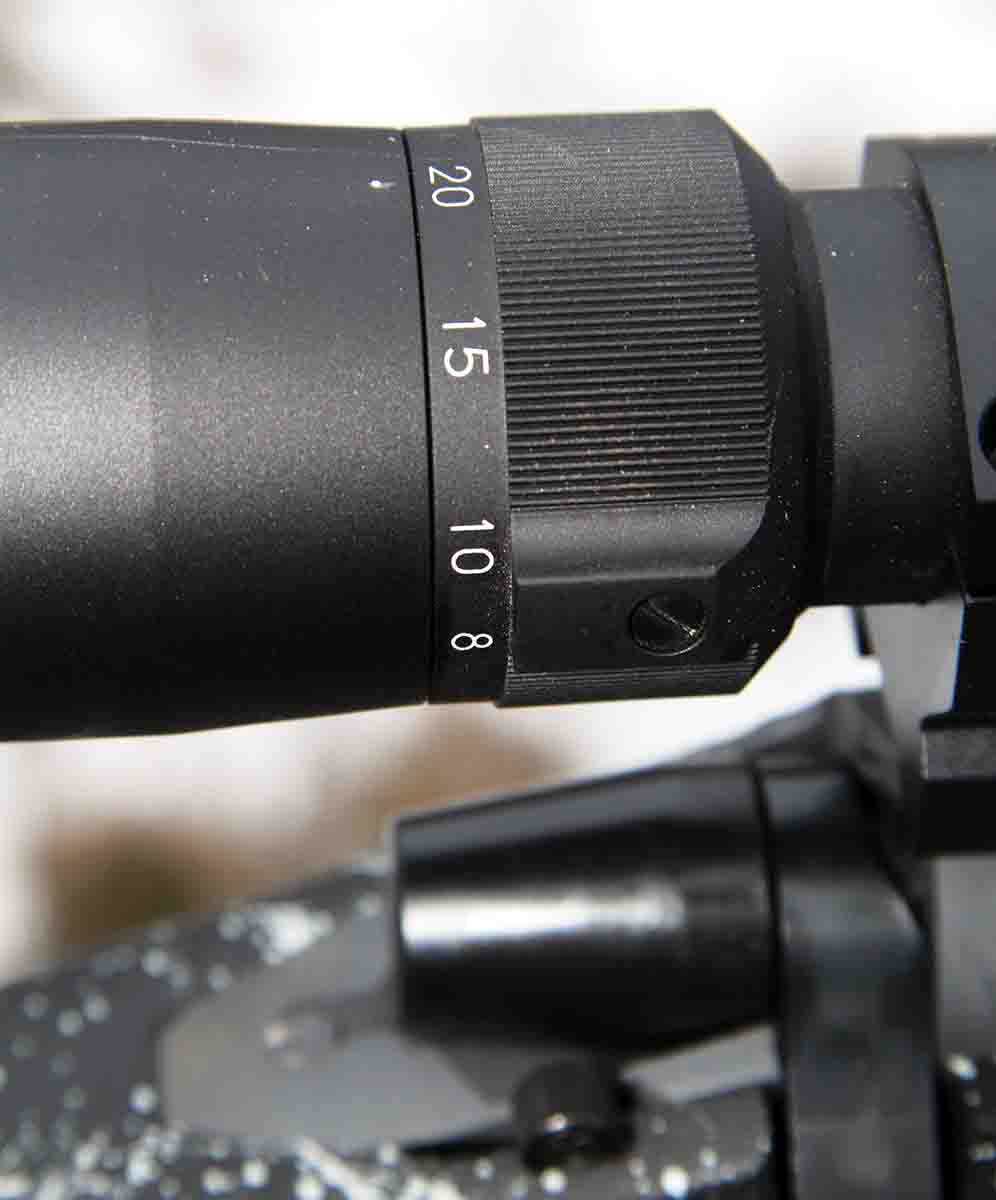 The top TrueBC turret is covered with a screw-on/milled aluminum cap, and the test scope came with a black generic numbered turret matching the cap-covered windage turret. Huskemaw scope buyers can choose a custom blue turret etched to a specific rifle/cartridge/load. The elevation turret includes an adjustable zero-stop index ring to make returning to 0 following large corrections easy. The 43mm ocular lens holds a fast-focus ring to bring the reticle into sharp focus. The side parallax knob is marked 40 yards to infinity, with yardage marked out to 500 yards. The magnification ring holds small, white numbers – 5, 6, 8, 10, 15, 20 – indexed to a static white dot. The eye focus, magnification ring and turret caps include fine ribbing and the parallax knob more aggressive ribbing. The magnification ring also includes a raised rib for improved purchase with gloves or while wet. The barrel included an etched "UP" arrow pointing to the right just below the elevation turret, an "R" and downward-pointing arrow found behind the windage turret.
The Blue Diamond 5-20x 50mm provides 4 inches of eye relief, ensuring no scope cuts with hard-kicking magnum rifles. The 26.6- ounce scope measures 13.6 inches long. It provides 5.6 inches of mounting latitude and provides a field of view of 17.9 feet (5x) to 5.2 feet (20x) at 100 yards.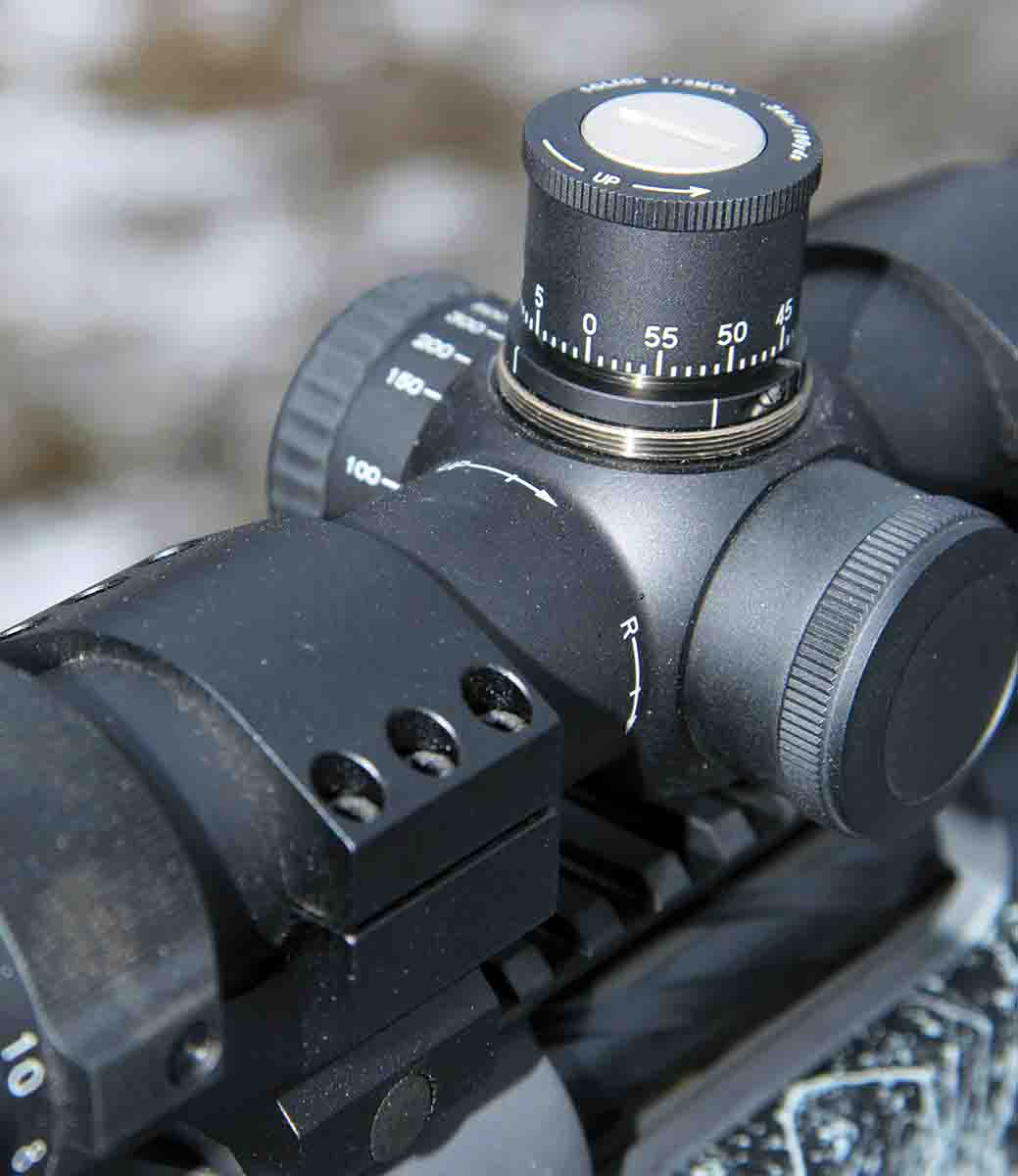 Corrections are made in .333-MOA (1⁄3-inch) increments, with 60 clicks/20 MOA of movement made per revolution. Huskemaw uses a 1⁄3-MOA system instead of ¼-MOA to get 20-MOA of adjustment per revolution, whereas ¼-MOA would provide only 15-MOA. Turrets each provide 80-MOA of total adjustment. As mentioned, range-marked custom elevation turrets are available with every Huskemaw purchase. MOA wind holds are indicated in conjunction with the customized BDC turret, patented technology unique to Huskemaw. This component is utilized by dialing to a ranged distance, and then holding for wind deflection as indicated on the turret directly above the elevation number – making something that is usually fairly complicated very simple.
Custom turrets are calibrated in yards or meters rather than standard MOA marks. This also adds to the simplicity of the system. Custom turrets are created with a specific input for elevation, temperature, actual ballistic coefficient and muzzle velocity to match a specific hunting setup and ammunition. Huskemaw's patented wind compensation HuntSmart reticle becomes an RFBC (Rapid Field Ballistic Compensator) system. It is reliable, fast and precise.
Dual Stack Blue Diamond RFBC Turrets are offered for $125 for various models standard Single Stack RFBC Turrets are $25 for 4-16x 42mm and 5-20x 50mm Blue Diamond models. The Blue Diamond 5-20x 50mm riflescope retails for $1,699 – a bargain in today's long-range optic marketplace.
The Huskemaw Optics website (HuskemawOptics.com) serves as a virtual crash course on long-range shooting.