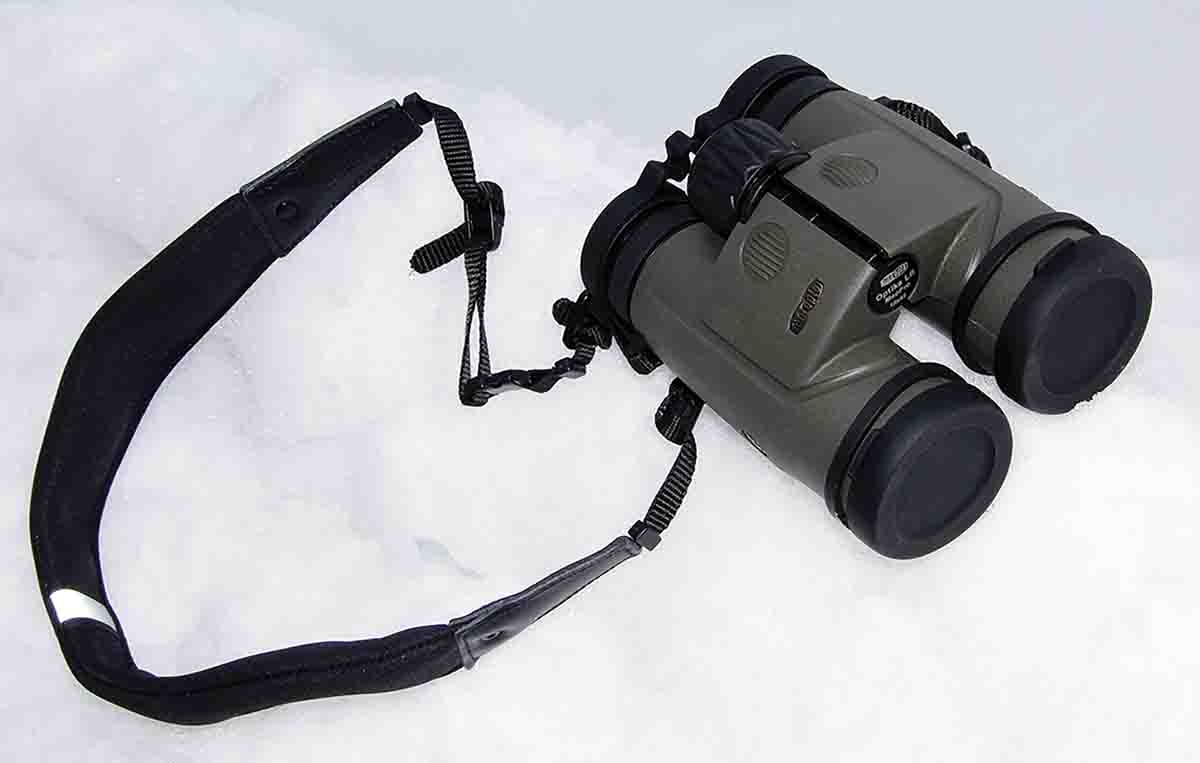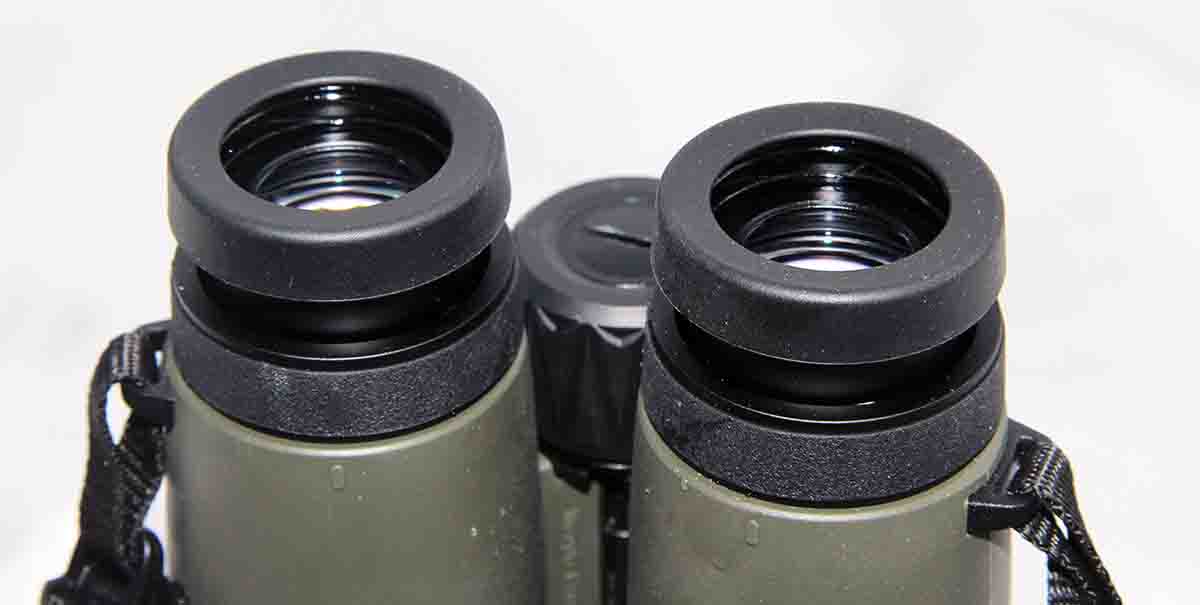 Studies conducted by various military agencies have long demonstrated the human eye is a poor instrument for determining accurate ranges. Practice leaves a shooter better equipped to estimate range at most viable big-game hunting yardages, but changing terrain quickly complicates matters. When I was a big-game outfitter and my clients' success depended on accurate range estimates (before laser rangefinders), I became pretty good at eyeballing range estimates. Still, shooting across wide-open spaces, like canyons or steep topography, made it easy to make mistakes.
The bigger problem, even after the first handheld civilian laser rangefinders appeared, is that when a hunter badly needed a range, meaning when a behemoth bull elk or mule deer buck stood at a range beyond, say, 400 yards, early units typically proved worthless on anything short of a metal barndoor.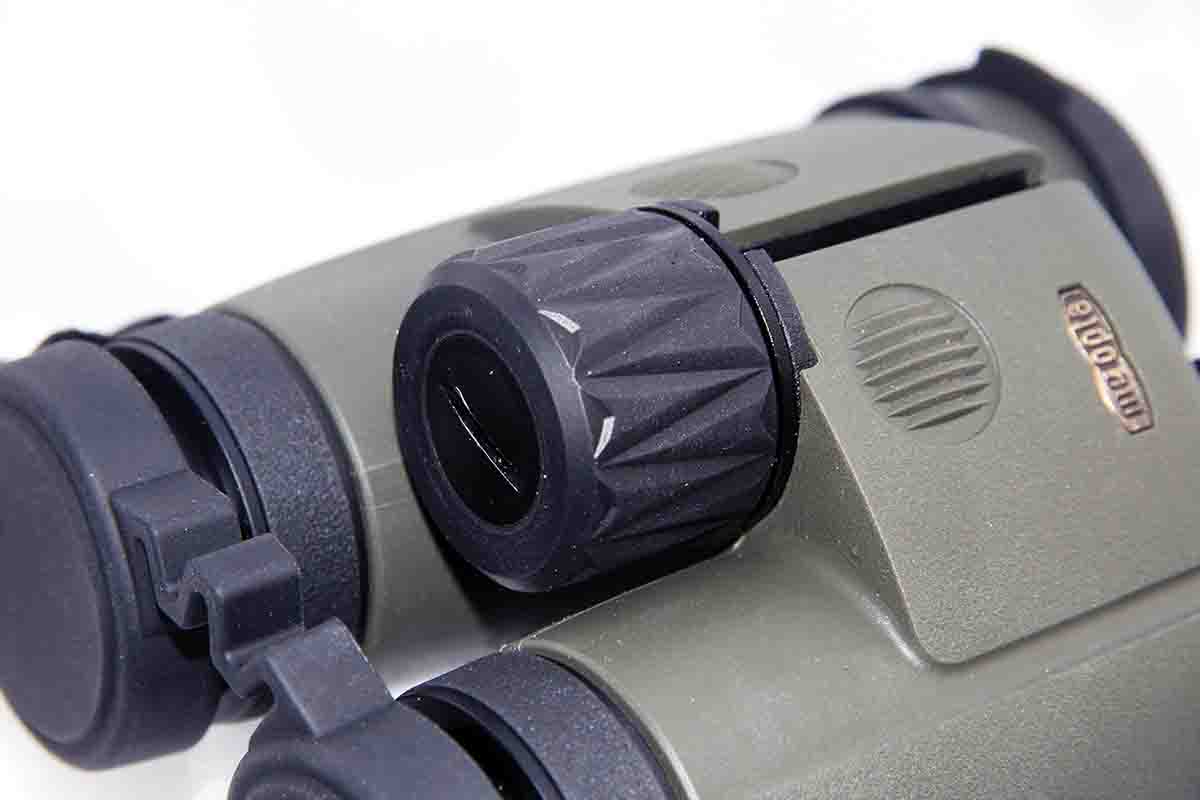 Handheld laser rangefinders have come a long way since my guiding days, with most providing first-try ranges out to 350/400 yards on even "soft" targets such as deer, bushes or tree trunks. Yet, handheld laser rangefinders often come up short when targeting smaller game standing in cluttered vegetation at 350 to 450 yards. I'll just say right here I'm not a fan of shooting big game at excessive yardage. The point of hunting is the hunt, not the shooting, and stalking closer is what hunting is all about. I also don't believe many hunters understand how much energy a bullet hemorrhages beyond 500 yards when fired from average big-game rifles. For instance, a .300 Winchester firing a 180-grain CoreLokt softpoint carries about the same energy at 1,000 yards as a .38 Special firing a 140-grain bullet at 50 yards.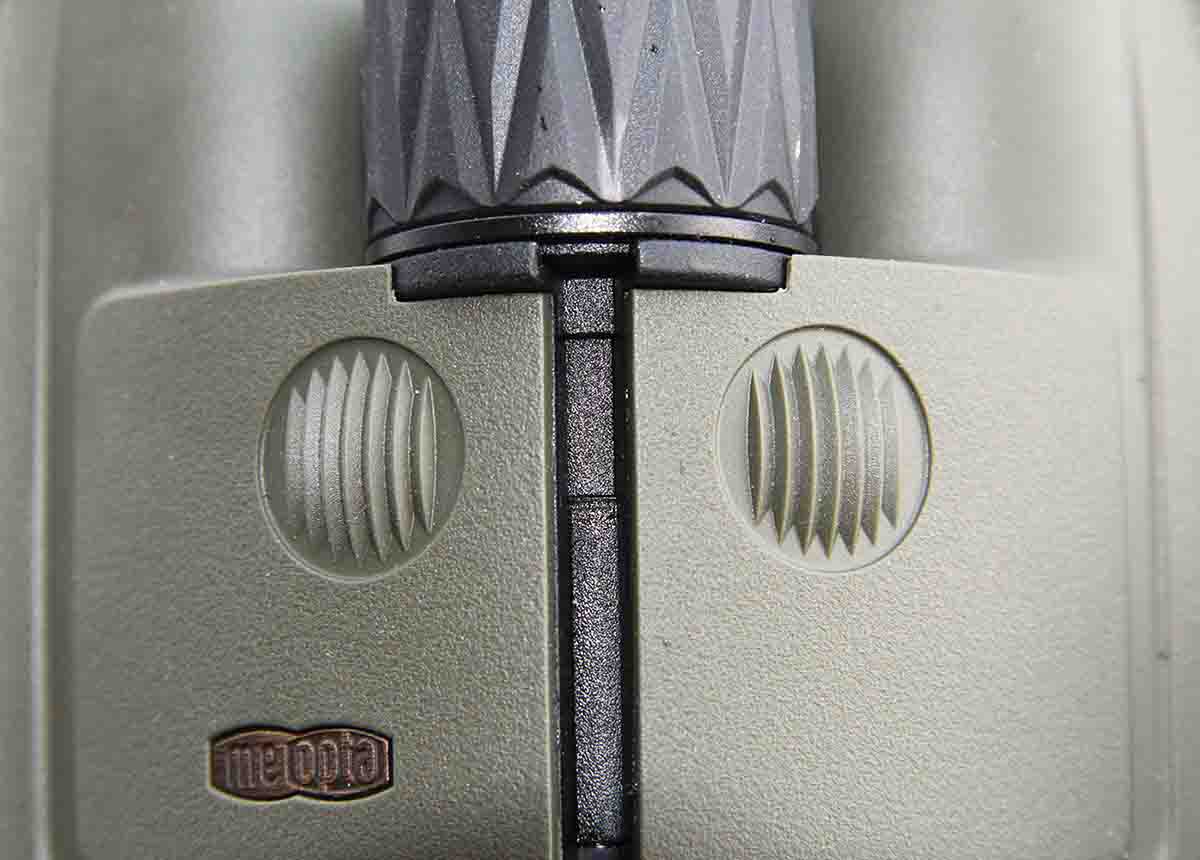 I know guys who successfully tag big game at jaw-dropping ranges, but they have invested years developing specialized skills, handloads and field-proven correction charts. They own specialized rifles and shoot bullets with maximum ballistic coefficients. They spend thousands of dollars on specialized optics. They also own dead-reliable laser rangefinding binoculars that provide first-pop yardages at ranges well beyond their maximum effective range.
As a hard-core bowhunter, I've owned many handheld laser units. While varmint shooting, I tote steadier rangefinder binoculars. This doesn't have so much to do with handheld units' deficiencies as it does a users' inability to hold those compact units steady enough to "catch" a returning laser bounce. Larger rangefinder binoculars prove steadier in the hand, as well as holding larger receiving surfaces and processors that make capturing the returning laser after long-range journeys much easier.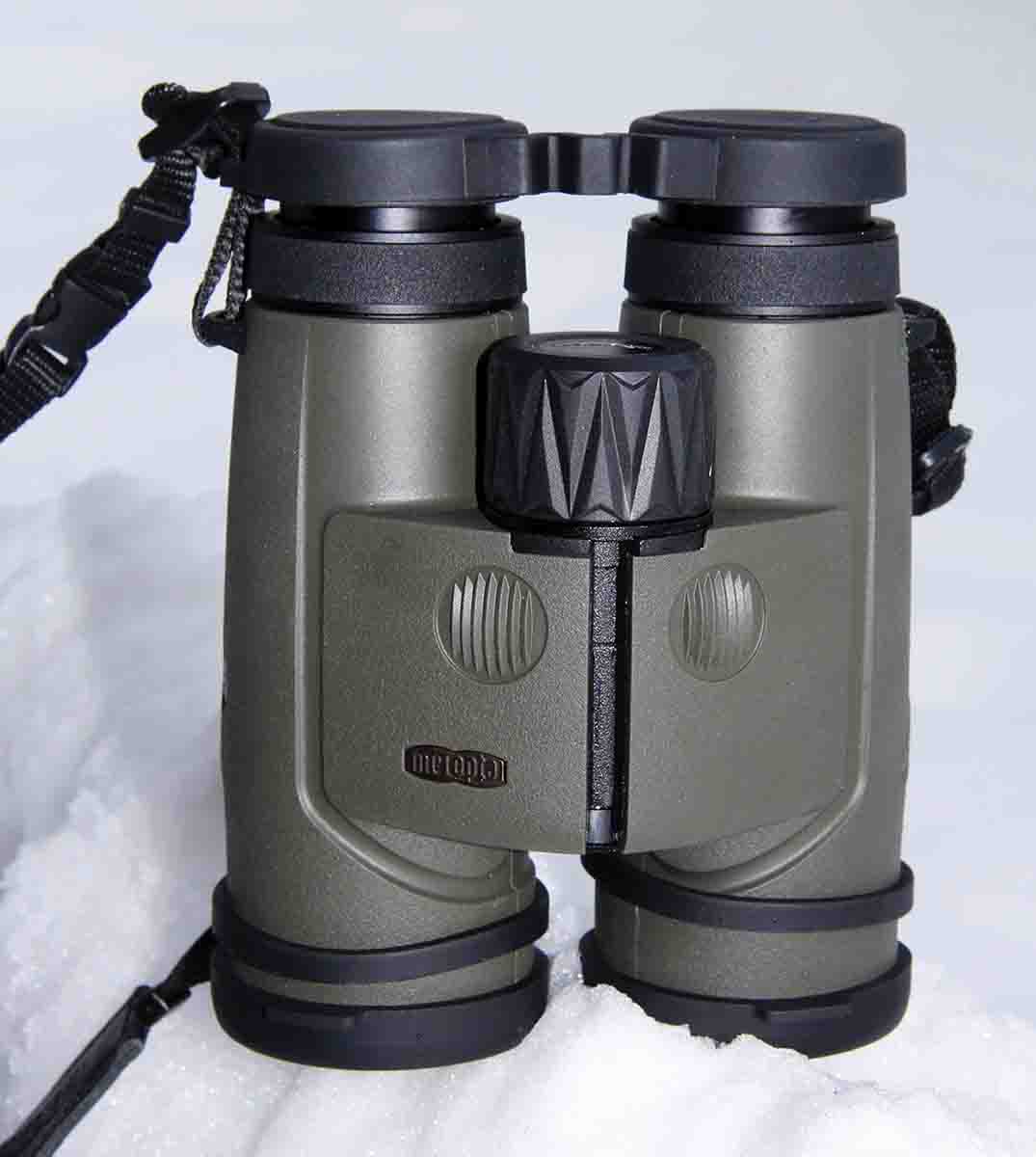 One of the latest in this extreme-ranging precision is Meopta's MeoPro Optika LR 8x50 HD and 10x42 HD laser rangefinding binoculars. For this review, I used the 10x42 HD version with a 42mm objective lens. The 8x50 HD was set to drop in April 2021.
The Czech Republic-made MeoPro Optika LR 10x42 HD is a compact 6.06 by 5.43 by 2.68 inches, and weighs a solid 32.63 ounces to provide in-hand steadiness. The works are covered in a green rubberized armor to protect against hard knocks and provide a firm grip. All lenses are covered by rubberized protective caps. The ocular cap is one piece, attached at a single point to the neck strap and swings out of the way during use. The objective caps are held on the optic barrels by rubber rings, and flip down and out of the way while viewing. Each ocular barrel includes a dioptric adjustment ring; the right correcting for individual vision and the left to focus the OLED display. Each adjustment ring is coated with textured rubber for sure purchase.
The main focus knob is oversized and rubber coated, with a ribbed pattern providing a nonslip surface when wet or while wearing slick gloves. This knob contains the single CR2 battery powering the laser rangefinder. A control bottom created by molded rubber ribs is located to each side of the center hinge with a "Main/OK" button on the right and a "Menu" button at left. The seamless design makes it completely waterproof. The eyecups are rubber coated and click adjust for use with or without eyeglasses. Overall, the design is quite ergonomic. A neoprene-padded neck strap (which doubles as the carry-case strap), padded carry case and an optical cleaning cloth are provided.
Like Meopta riflescopes I've been acquainted with, MeoPro Optika LR optics are superbly crisp and clear, with excellent contrast and lifelike color representation. Meopta has been in the optics trade for 80 years, its latest wares including top-grade HD fluoride glass and cutting edge European components. This unit is based on a magnesium-alloy chassis.
Like other Meopta products, these binoculars are dust and waterproof (even when submerged) and nitrogen purged to prevent fogging in extreme climates. A MeoDrop hydrophobic lens coating repels moisture, dust and smudges, while a new MeoLux proprietary anti-reflective lens coating provides 85 percent light transmission and HD glass eliminates secondary chromatic aberration. The 10x42 optic provides a 62-degree field of view (354 feet at 1,094 yards) and a 4.2mm exit pupil.
The integrated Class 1 laser rangefinder is what makes these binoculars stand out. After activation, the OLED display shows direct target distance for about a second, incline data for another second and then remains on the direct distance for 10 seconds before the auto shutoff feature kicks in to conserve battery power. The unit emits infrared radiation impulses, the built-in computer calculating distance based on the radiation reflected by the measured target. The MeoPro Optika LR also includes a built-in inclination indicator for more accurate corrections in sloping terrain. The 10x42 HD version provides ranges to 2,600 yards (the 8x50 HD version 2,950 yards) under ideal conditions and includes a +/- 70-degree inclination range. Ranging capabilities are maximized by lighter backgrounds and large, homogeneous vertical surfaces under clear but overcast skies. Fog, rain, snow or haze, and conspicuous air turbulence shortens the unit's capabilities. A "- - - - " symbol appears when the unit is unable to provide a yardage.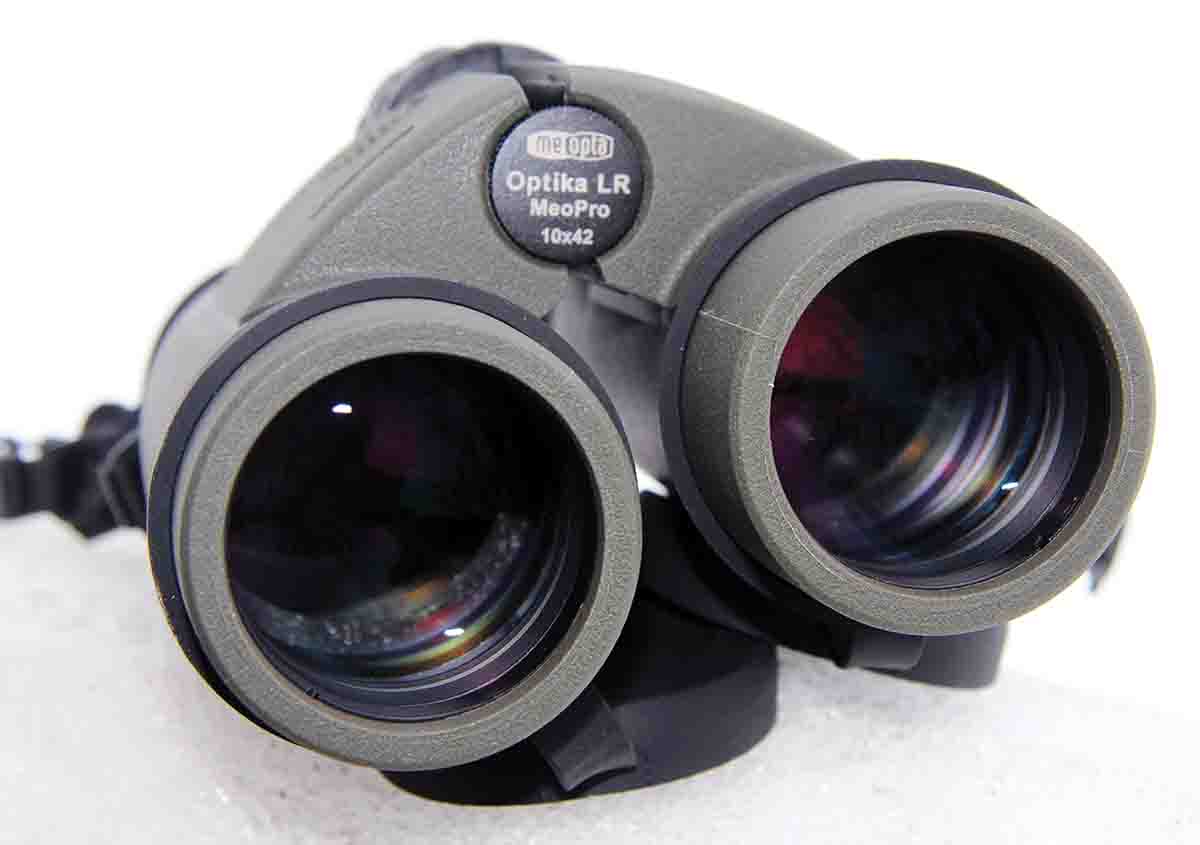 To activate the laser rangefinder the main button is pressed, powering the unit up, and a second click provides distance. The button can be clicked a single time for quick pops, or by holding the bottom down for scan mode. "Auto" (AUTO), "Golf" (flag) and "Hunting" (deer head) modes can be chosen. "Golf" displays the distance to the nearest target inside the center aiming ring and doesn't change when a more distant target is acquired. This mode is best for ranging small targets in open spaces, like a ground squirrel in a hay field. "Hunting" mode shows the distance to the farthest target in the aiming ring and does not change when a closer object enters the aiming ring. This would make a better choice in wooded terrain.
The first time I tried the MeoPro Optika LR, atop bright snow, I found the display difficult to view. I then discovered display brightness is adjustable via the menu, with levels 1 through 5 offered. Distance measurements can also be displayed in meters (M) or yards (Y), incline in degrees (T), height difference of the target in the units chosen (V), or horizontal distance in the units chosen (H). This feature can also be turned off, displaying only direct distance. The display includes a low-battery indicator.
Wild, late-winter weather allowed testing the unit in highly disparate conditions. Initial tests included cold conditions with snow swirling from a woolly sky. I had no trouble acquiring quick readings on snow-covered hillsides from 200 to 486 yards. Shooting across the wider canyon across from the house was a no-go. After conditions cleared the following day, I tried again, getting a first-try 1,567-yard reading from a snowy mountainside, and 876 from a cluttered stand of firs. I should mention, my eyes had to be aligned precisely in the viewfinder to receive a clear reading of the OLED display in the bright, snowy conditions, often having to move the optic into darker trees to read displays clearly. These yardages were acquired without a steadying rest.
The following week, I carried the binos down to town a couple thousand feet lower while running errands. Stopping at a roadside rest stop, I had no problem acquiring readings to 1,200 yards on a rock-, grass- and brush-covered hillside, and out to 600 yards on a pan-flat pasture. The display was bright and clear without the blinding snow backdrop.
Another evening, I sat on our back porch and watched a large flock of turkeys flying to roost in huge yellow pines. The sky was overcast and the birds were several hundred yards away, but I had no problem picking out individual birds and distinguishing gobbler beards well after sundown. Meopta glass and coatings certainly provide excellent light transmission and low-light viewing.