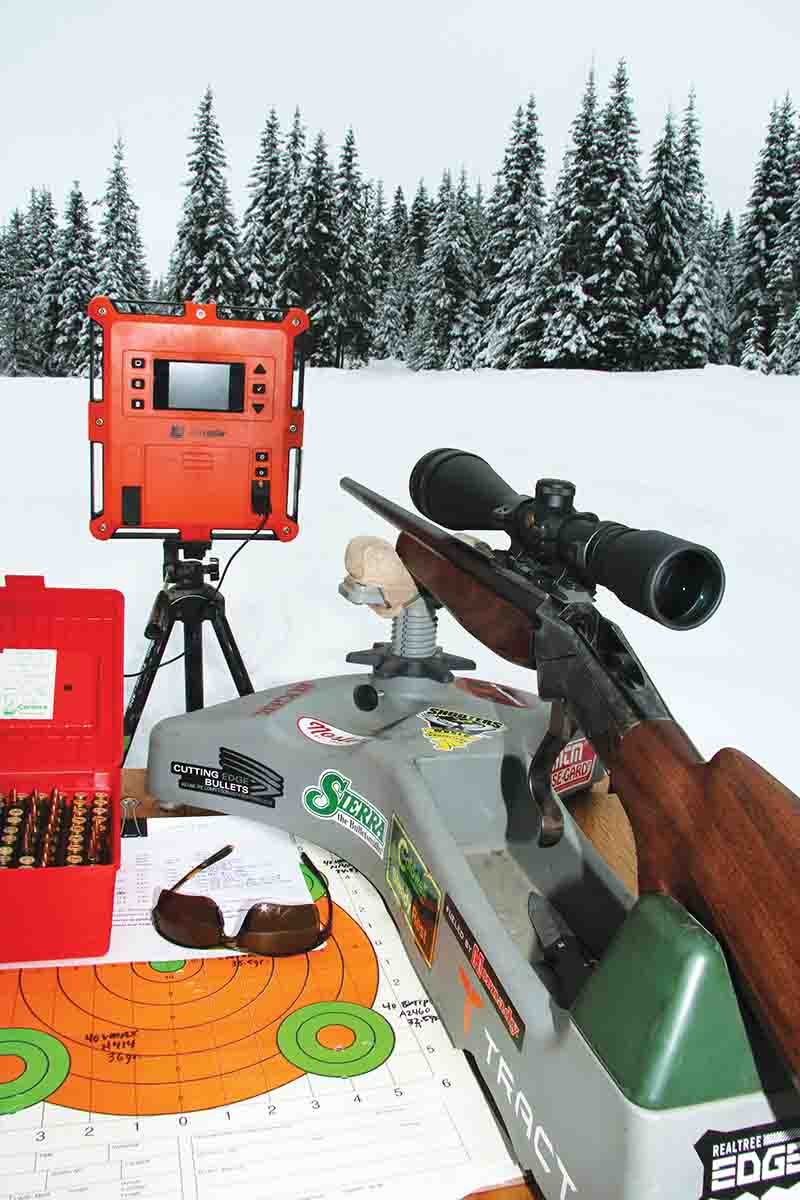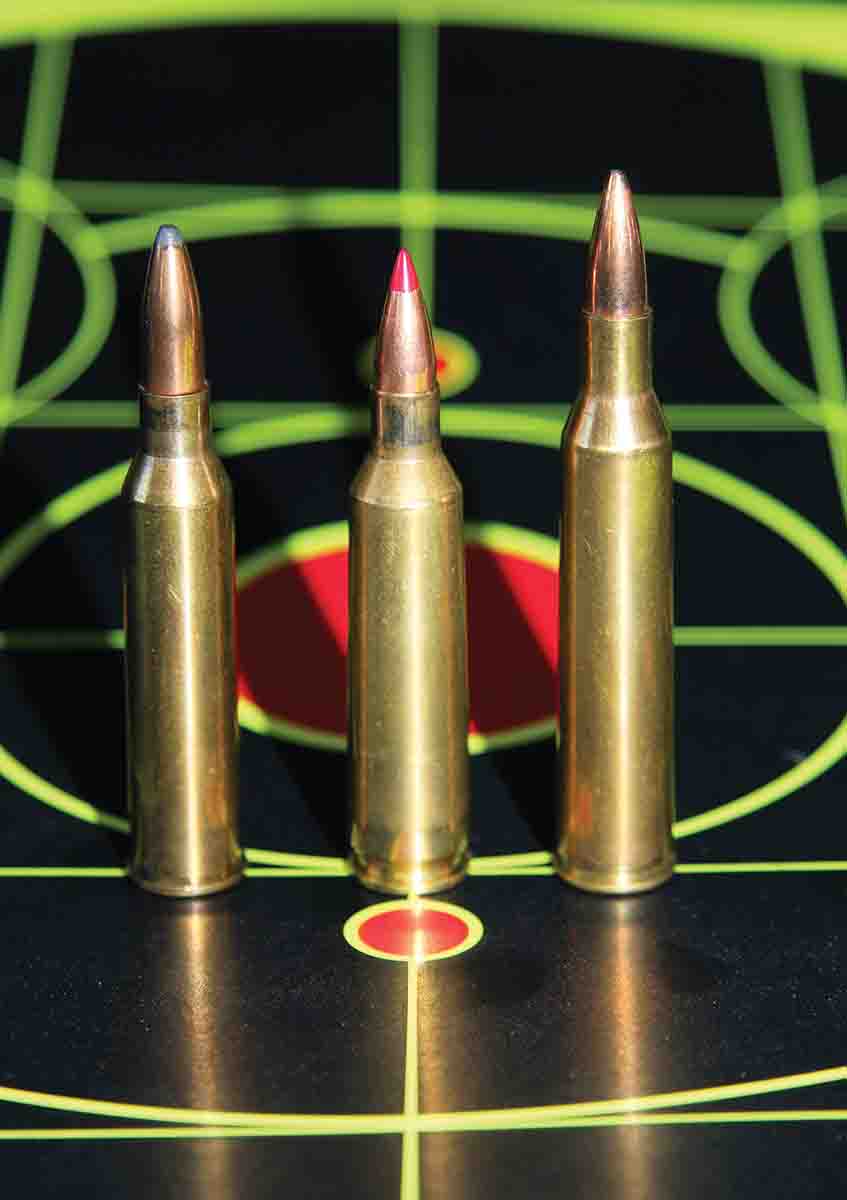 I've always found single-shot rifles innately elegant and esthetically pleasing, especially the falling-block design. The falling block includes a metal breechblock that rides in vertical grooves cut into the rifle action that is manipulated by a swinging underlever. Pulling the underlever tightly against the action lifts the sliding breechblock into place and seals the chamber for firing. Pull the underlever downward and the breechblock is lowered and the chamber is exposed to allow ejection/extraction of the fired case and shoving the next round home. It is a simple but ultra-stout arrangement. Engaging the breechblock creates a solid "wall" of steel that doesn't require lugs to lock the chamber solidly. It is an action type also used in heavy artillery firing shells as big as a man's leg.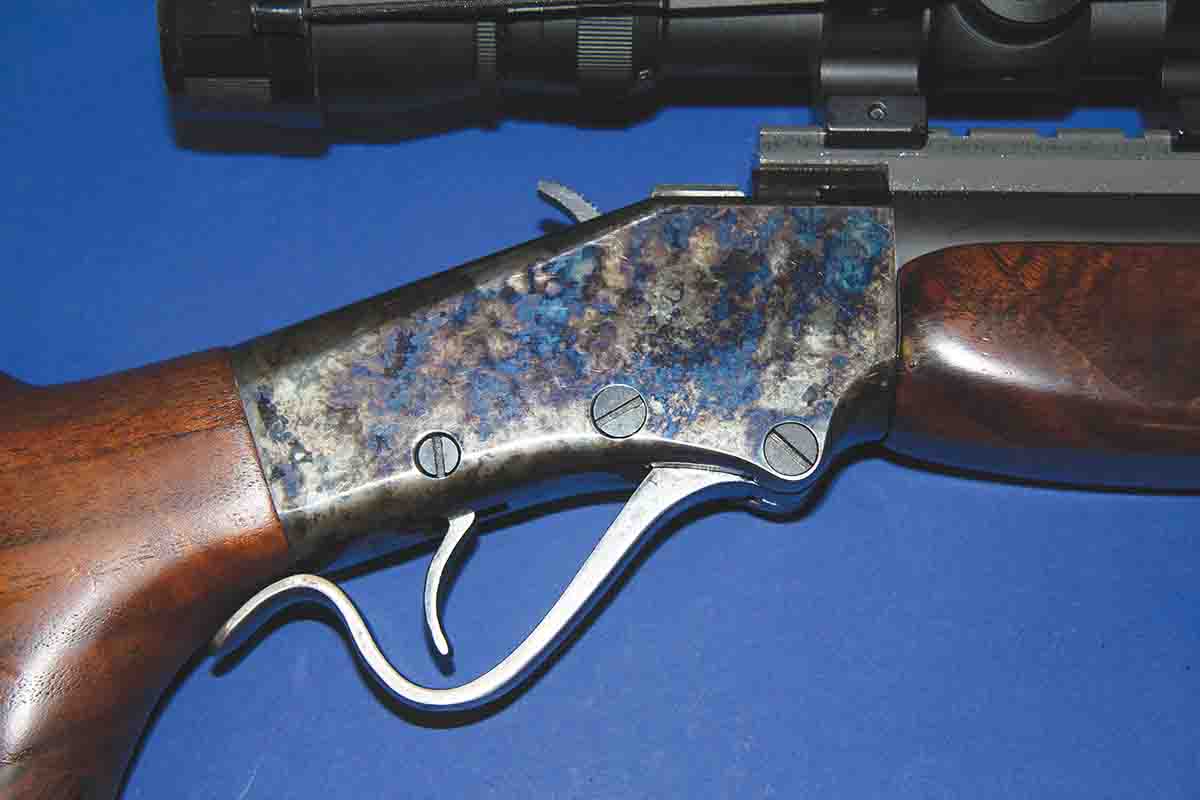 Famous falling-block actions include the American Sharps, Scottish Farquharson, 1890 Stevens, Winchester Model 1885 High Wall and the Ruger No. 1 (and similar pivoting-block rifles like Martinis and Ballards), just to offer some easy examples. Falling-block rifles served many militaries around the world until being replaced by faster-cycling bolt actions prior to World War I. For me, most of all they bring to mind buffalo hunters of frontier days.
The rifle under discussion here is a Falling Block Works out of Rochester, Michigan (many Falling Block Works rifles are stamped Troy, Michigan). Falling Block Works, Inc. was founded by Joe and Leo Fix in 1971, and the brothers' goal was to build rugged single-shot actions that were constructed as simply as possible. The actions were investment cast from 4140 steel and heat-treated to Rockwell C of 35/40. The breechblock moved perpendicularly to the chamber and most were fitted with a Mann-Niedner-style firing pin bushing. The actions utilized coil mainsprings and coil springs for lever tension, firing pin and trigger. The action includes a through-bolt for buttstock anchoring. The single trigger is generally excellent, breaking at a crisp and consistent 1.75 pounds on the test rifle.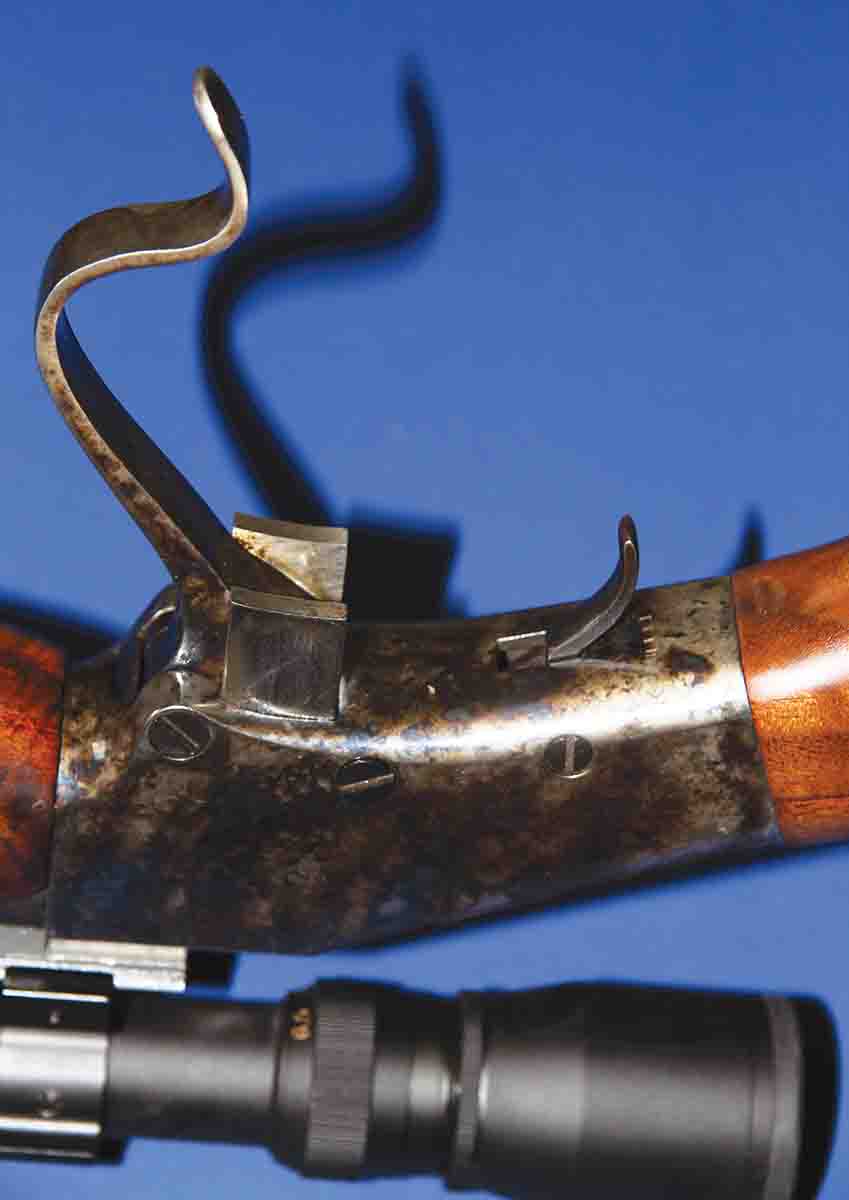 Many Falling Block Works rifles included an S-shaped underlever, mirroring those found on the Winchester 1885 High Wall and giving the two rifles similar appearances. Model "J" actions were advertised to be able to withstand 100,000 psi of chamber pressure – strength in excess of most bolt-action rifles.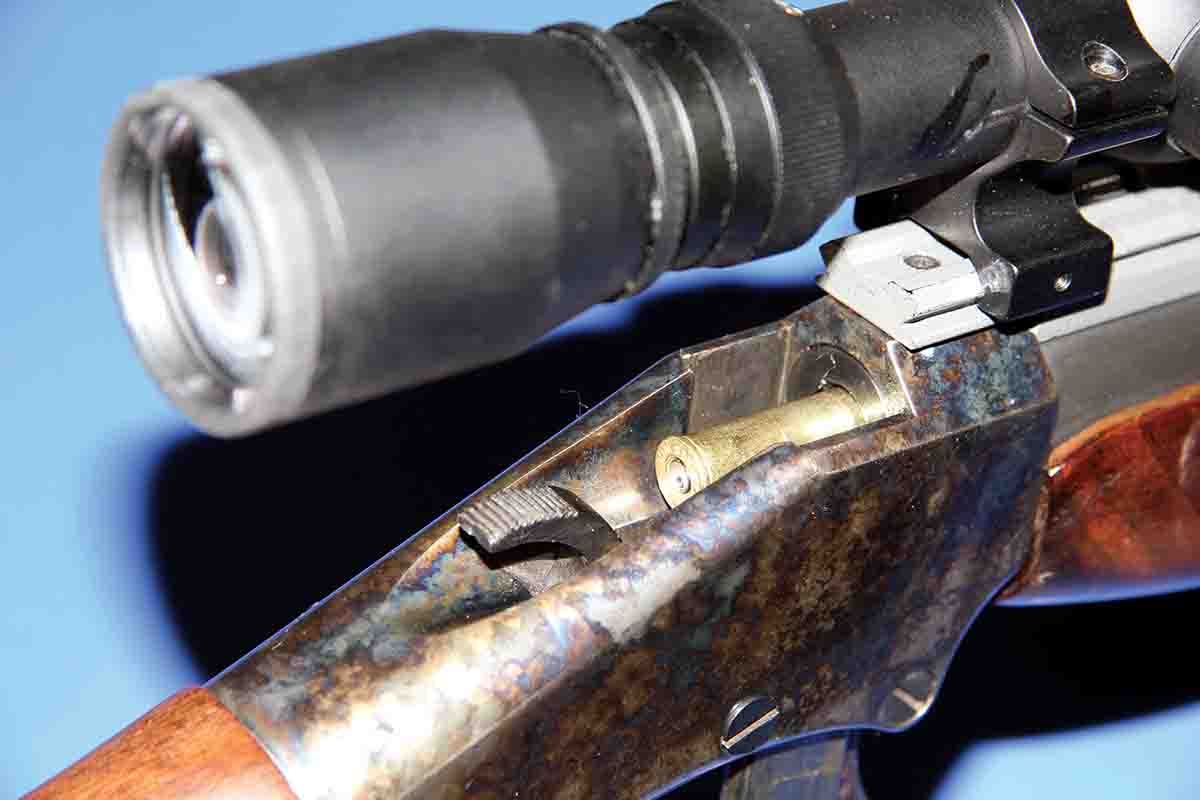 This rifle, part of my father's worn varmint-shooting arsenal, was assembled from a loose action, which Falling Block Works was well-known for. A barrel (unmarked, so the maker remains anyone's guess) was added and chambered in the classic .225 Winchester. A friend created the handsome walnut stock and forearm. The stock includes a raised cheek piece, contrasting grip cap and a quality white line Pachmyr recoil pad. The wide, flat forearm is ideal for laying across a sandbag while shooting burrowing rodents. This is in contrast to the slimmer Schnabel forends commonly seen on completed Falling Block Works rifles. For a modern varmint rifle, it offers obvious old-time esthetic appeal.
The .225 Winchester cartridge itself deserves some discussion, a wholly viable varmint-shooting option that gives the .22-250 Remington a run for its money, but nonetheless has faded into near obscurity. It's interesting to note that past Pet Loads author Ken Waters considered the .225 Winchester the "finest varmint cartridge ever developed." It is a cartridge capable of both superb accuracy and as much useable velocity as any varmint shooter could wish for. The .225 Winchester was released in 1964 as a replacement for the .220 Swift. I think the real problem is the .225 Winchester was always a bit of an oddity. Winchester already had the .220 Swift, a round I have long admired, so I've never really saw the point of introducing something, well, less. The public apparently agreed, as the .225 never quite garnered the Swift's undeniable popularity. Part of the knock, I suppose, is the cartridge's "semi-rimmed" case, despite the fact the cartridge headspaces off the shoulder (making handloading pretty forward).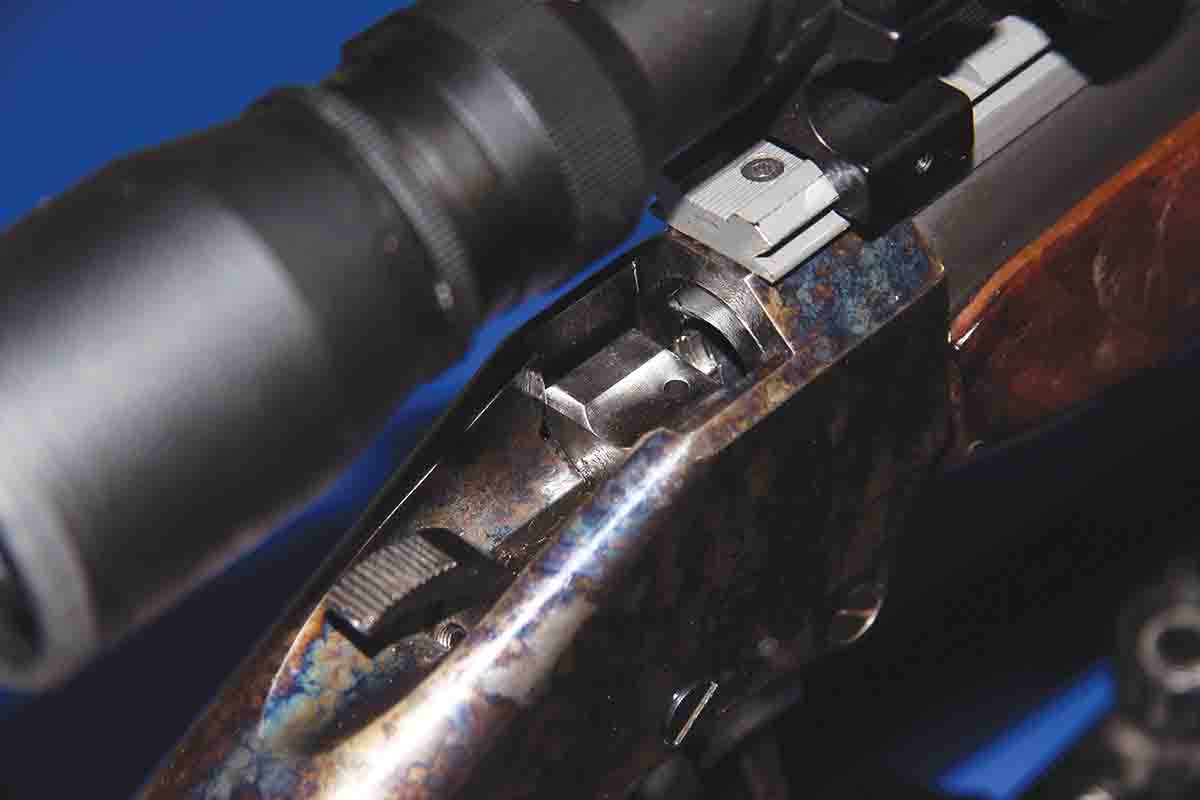 The .225 seems to have borrowed from the ancient .219 Zipper Improved design (an old benchrest champion), which obviously heavily influenced the Winchester version. Though the .225 Winchester shares no previous dimensions of that non-standardized round. The 1965 introduction of Remington's .22-250 pretty much sealed the .225's fate. Winchester dropped .225 rifles in 1972, with only Winchester offering factory ammunition and brass, and only sporadically. During high-demand periods like we are now witnessing, resources are shifted to more popular cartridges like the .223 Remington or .308 Winchester, resulting in even wider gaps in .225 Winchester brass production.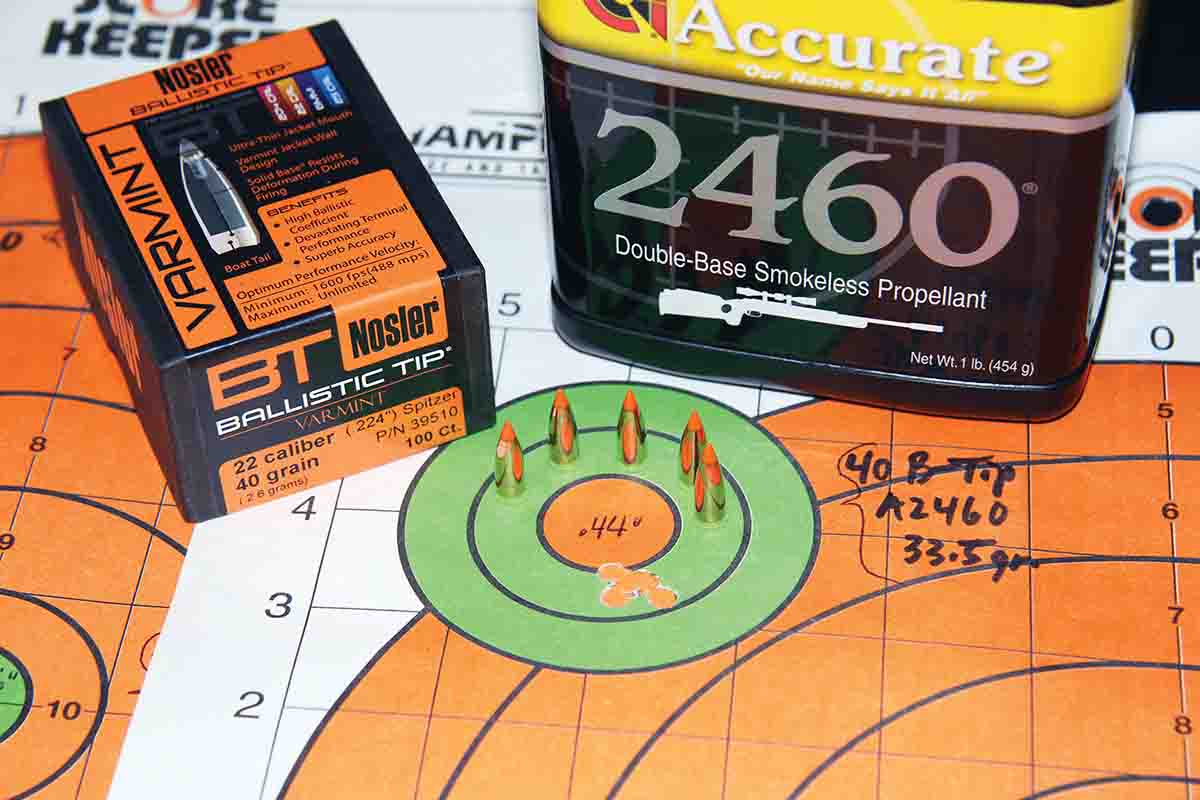 This makes the .225 Winchester a handloader's cartridge, with modern powders allowing shooters to get the most from the round. It is theoretically possible to form .225 Winchester cases from .30-30 brass (RCBS and Redding offer the form dies), but understand it is far from straightforward – the .225 Winchester including a .049-inch-thick rim, while .30-30 Winchester rims run .063 inch thick. Limiting case sizing to necks only helps prolong the life of precious .225 brass. Maximum case length is 1.93 inches, with a recommended trim-to length of 1.92 inches.
Load data for the .225 is abundant, though inexplicably disparate. Lyman's 50th Edition Reloading Handbook, for instance, lists the fastest 40-grain loads at 3,886 feet per second (fps) without revealing what length barrel was used for load development. The Western Powders Handloading Guide Edition 1 pushes 40-grain bullets from 3,900 to slightly more than 4,000 fps (24-inch barrel). Sierra moved the .225 Winchester back to the "Rifle Legacy Reloading" pages in Edition VI of its Rifle & Handgun Reloading Data, with top 40- grain velocities listed as 3,500 fps (22-inch barrel) as well as offering load options using only older IMR powders. The HORNADY HANDBOOK OF CARTRIDGE RELOADING Tenth Edition shows 40-grain loads reaching 3,900 fps and Speer's Handloading Manual Number 15 around 3,800 fps (both with a 24-inch barrel).
The .225 Winchester handles bullets from 40 to 60 grains with a near-standard 1:12 rifling twist, including the test rifle under discussion here. The .225 Winchester sends 40-grain bullets from 3,800 to 3,900 fps, compared to the .22-250's 4,000 to 4,100 fps; a 50-grain bullet at around 3,700 fps to the .22-250's 3,800 fps, and a 55-grain bullet at around 3,600, compared to 3,700 fps. These are maximum loads all, so while mixing and matching bullets and powders for best accuracy, and considering various barrel lengths, velocities of the two cartridges are relatively alike. The .225 Winchester holds an average of 44.3 grains of water to the .22-250 Remington's average 49.9 grains and the .220 Swift's 52.5 grains.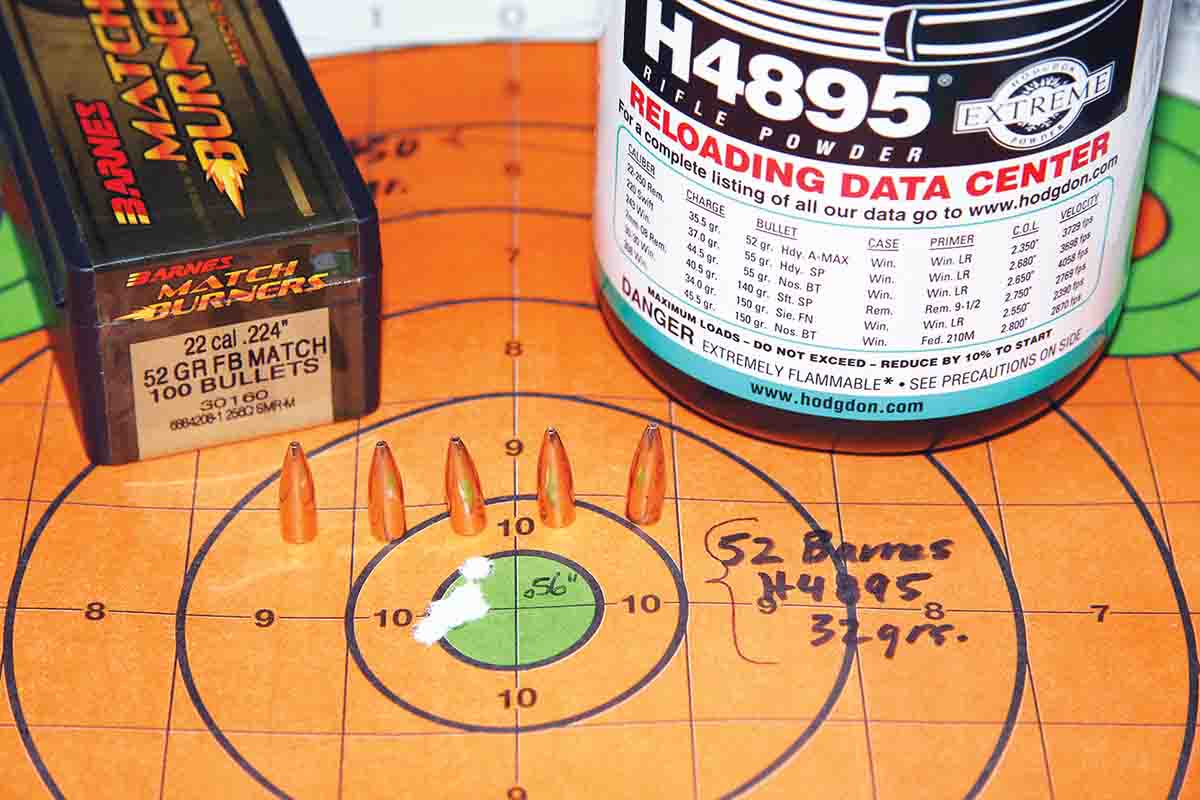 Under the current context, the .225 Winchester's semi-rimmed design makes it a natural fit for a single-shot rifle and especially a falling-block action. With the addition of a Simmons Whitetail Classic 6.5-20x 50mm scope and steel Picatinny one-piece base, this rifle's 11.77-pound weight promises pleasant shooting for extended periods. The falling-block action automatically slows the pace to mitigate warming of the relatively heavy (.67 inch at the muzzle) 26-inch barrel. This is a snazzy exposed-hammer design with a stout locking mechanism and strong extractor to allow pushing loads toward a reasonable maximum. The recoil pad gives it a generous length of pull perfect for tall guys like my father and me.
Though very well made and generally well regarded, Falling Block Works rifles don't command collector prices, though they can be fairly difficult to come by, as production was relatively low. The company offered several models, including the Model H, with a 1.375-inch receiver width, Model L Express Action (1.470 inch), Model J (1.312 inch), Model S (1.270 inch) and Model K with a 1.050-inch receiver width. Based on this information, this would make my father's action a Model H. This also means the rifle includes a cross-pin firing pin retainer instead of the Mann-Niedner firing pin bushings found on other models. The Fix brothers' actions were generally designed as simple as possible, and then polished and blued. This rifle somehow acquired a case-hardened finish. S-shaped underlevers resembling those on Winchester High Walls or vintage Stevens were standard, though other options were offered. This rifle seems to have received one of the latter, a shorter, more streamlined version.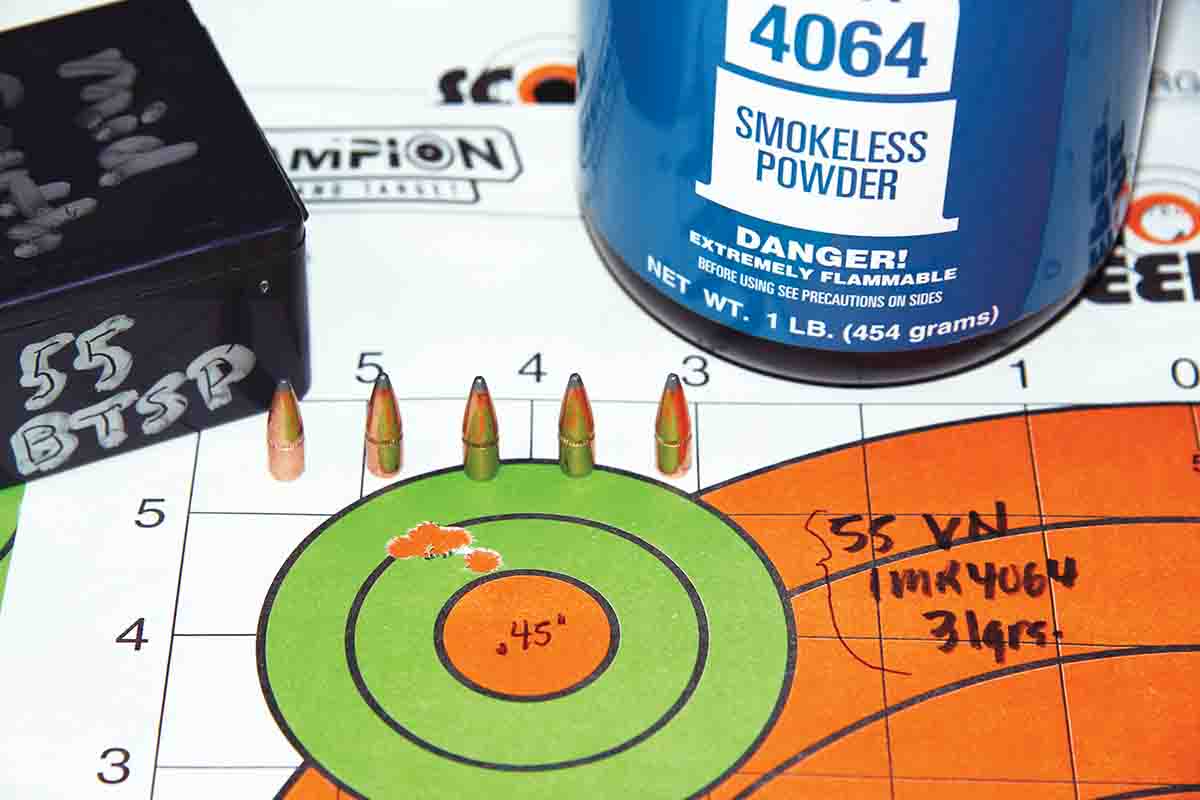 Test loads included a boat-tail softpoint, two hollowpoints, a modern match bullet and several polymer-tipped numbers. Powders were largely proven classics, including IMR-4064, Hodgdon H-414 and Winchester W-760 and IMR-4350. Others included Accurate A-2460, temperature-insensitive H-4895 from Hodgdon's Extreme Series and Vihtavuori N140. The classic bullets of my youth seemed a natural, while I hoped the newer polymer-tipped bullets would breathe new life into the 57-year-old cartridge.
A couple annoyances surfaced during shooting: deep snow, breezy conditions and biting 20-degree temperatures. I also found that the extraction system on the Falling Block Works rifle left a bit to be desired. Opening the extraction lever popped the spent case only a quarter to half way out of the chamber, requiring fishing it out with a pen or knife blade while working around the exposed hammer. A couple published maximum loads had to be coaxed out with a ramrod, a trait I've experienced with other single-shot rifles, despite primers showing no signs of excessive pressure.
My other gripe didn't have anything to do with the rifle, but my father's penchant for topping nice rifles with cheap optics. The old Simmons scope included surprisingly passable glass, and I welcomed the 20x top-end magnification. The problem was the crosshairs were so coarse that they obscured most of the 1-inch bullseye at 100 yards.
It would appear IMR-4064 and Hodgdon H-4895 offer the best all-around dynamics from the .225 Winchester, providing both good accuracy and velocities. Vihtavuori N140 produced the largest group of this test, but with excellent velocity and very low extreme velocity spreads. It deserves more experimentation with different bullets and seating depths. Accurate A-2460 proved to be a real surprise, producing the test's highest velocity and smallest group. This powder makes 4,000 fps possible with a 40-grain bullet from a 26-inch barrel, though work toward maximum loads with extreme caution as pressures mount quickly with this fast-burning powder. Hodgdon H-414, Winchester W-760 and IMR-4350, while assembling some decent groups, relinquished lackluster velocity.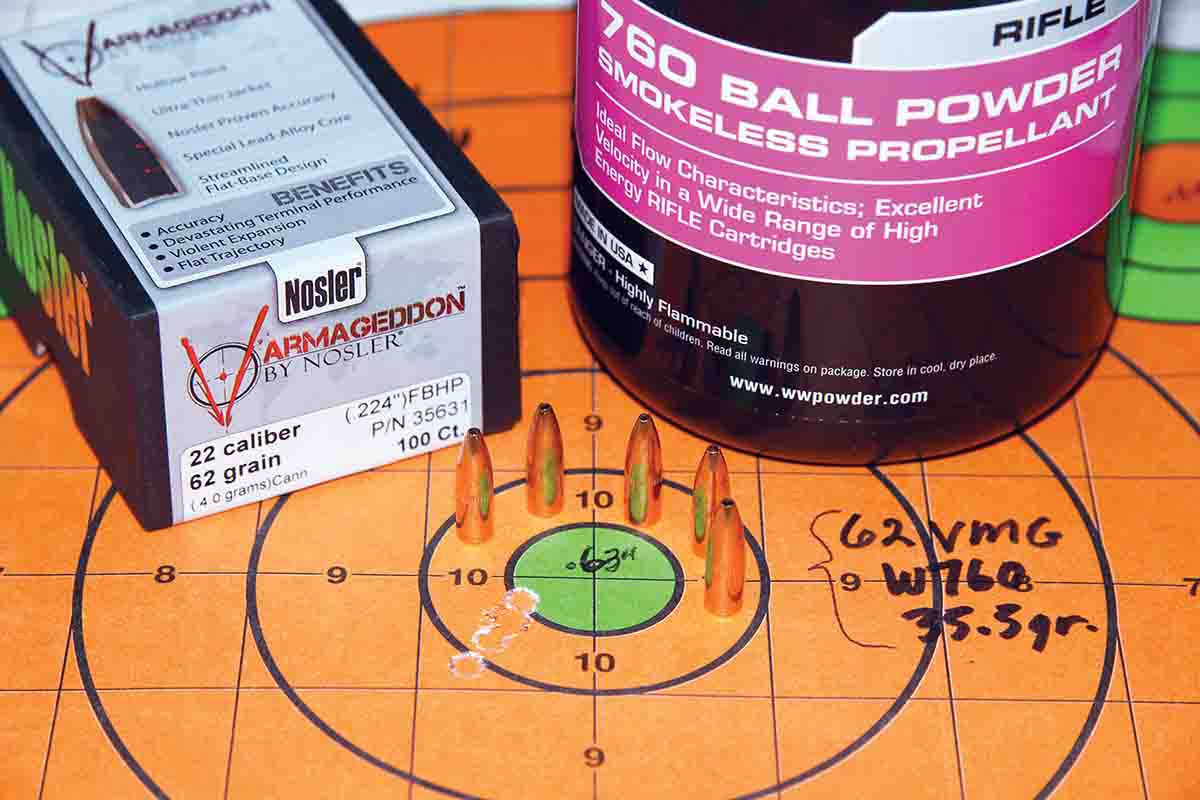 A wide variety of loads were tested from the Falling Block Works rifle, with only those showing good accuracy combined with acceptably low extreme-velocity spreads included in the accompanying load table. Nosler's Ballistic Tip Varmint produced the best 40-grain bullet group and exceptional velocity. The best Ballistic Tip five-shot/100-yard group measured just .44 inch (the overall best with this rifle) at 3,949 fps using 33.5 grains of Accurate A-2460. This should be considered maximum in this particular rifle.
My father's proven load of 32 grains of IMR-4064 under a Speer 50-grain TNT printed only .89 inch for me (3,463 fps) and 34.5 grains of IMR-4350 beneath a Sierra 50-grain BlitzKing provided a .62-inch group at 3,309 fps. Hodgdon's Extreme Series H-4895 proved a great pairing with the Barnes 52-grain Match Burner and produced .57- and .56-inch groups with 31 and 32 grains of powder, pushed to a respectable 3,623 and 3,736 fps. IMR-4064 proved the right stuff when combined with Midsouth Shooters Supply's affordable 55-grain Varmint Nightmare BTSP. That bullet grouped into .45 inch at 3,415 fps with 31 grains of powder. Finally, Nosler's 62-grain Varmageddon hollowpoint produced a respectable .63-inch group with 35.5 grains of Winchester W-760 at 3,001 fps. I would guess this bullet sits at the stabilization limit for this rifle's slow twist rate.
The fairly heavy Falling Block Work's single-shot rifle combined with the old .225 Winchester cartridge proved remarkably pleasant to shoot. Despite the smallest group coming from a 40-grain bullet moving only 51 fps short of 4,000 fps, I would choose a 52-grain match or 55-grain BTSP bullet for this rifle and have all the accuracy needed to pick off distant ground squirrels or prairie dogs way out there.