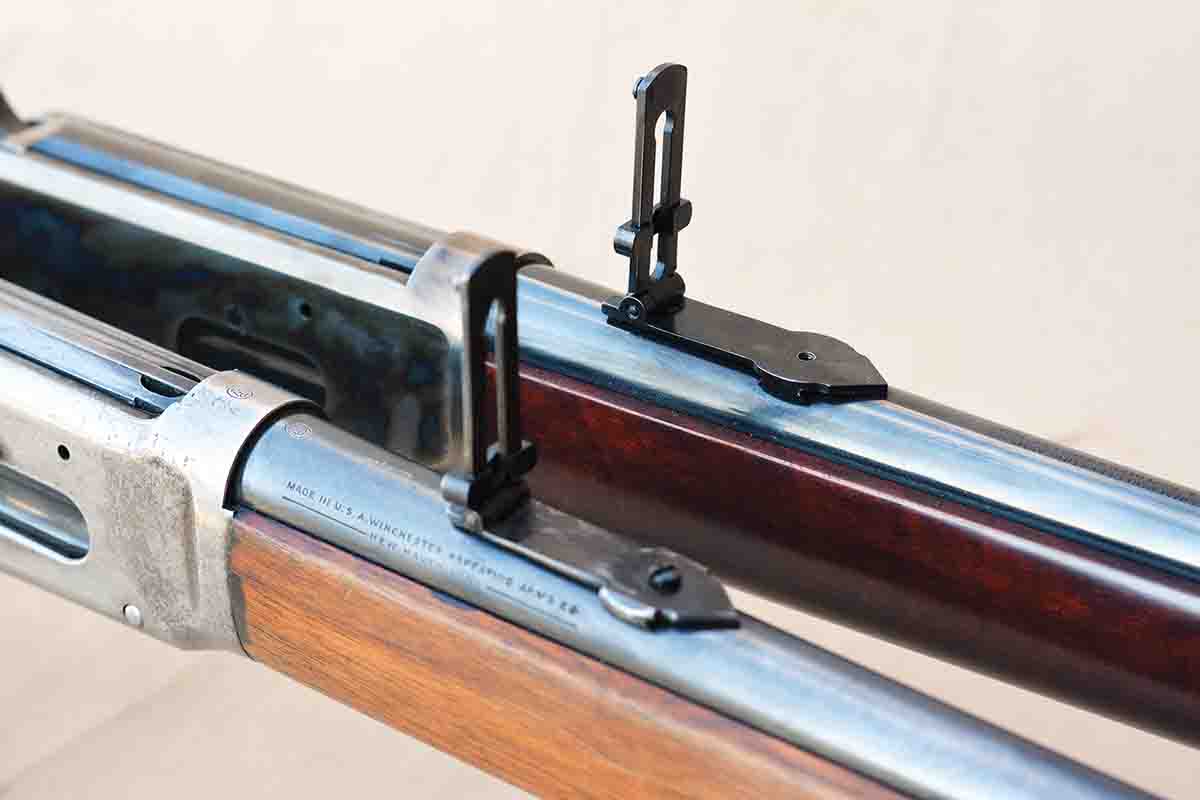 On March 31, 2006, Winchester Repeating Arms Company (USRAC) ceased production of all firearms in its historic plant located in New Haven, Connecticut. After 112 years of more or less continuous U.S. production, the most famous and popular sporting rifle of all-time – the Winchester Model 1894 was over. However, the demand remains strong among collectors and shooters. To help meet that demand, Cimarron Firearms has worked with Italian manufacturer Uberti to recreate this classic rifle, which is available in rifle and carbine configurations and offered in .30-30 Winchester and .38-55 Winchester. The new reproduction is of high quality and the rifles are handsome and accurate.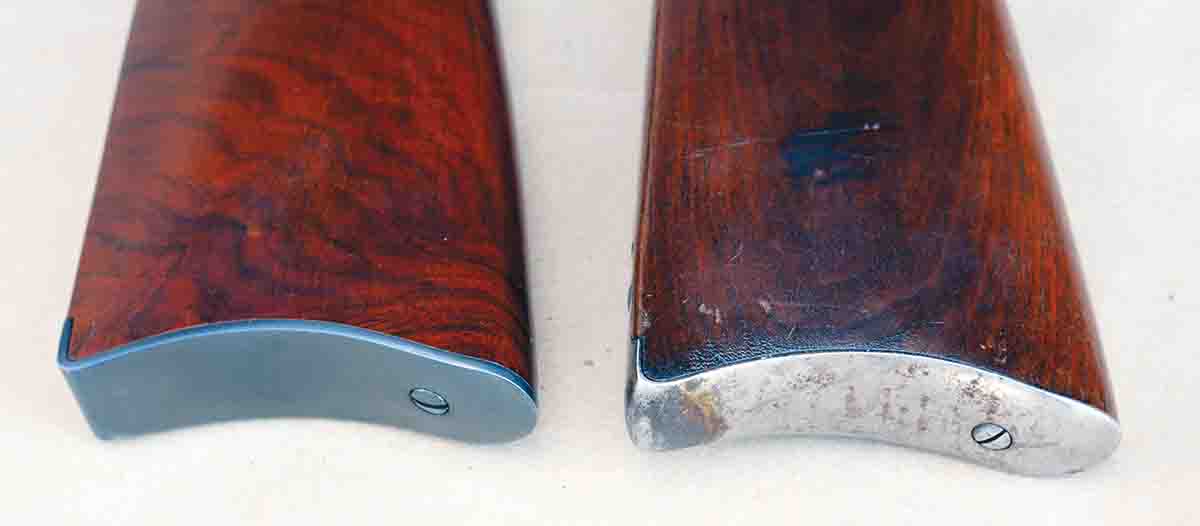 In addition to the Model 1894 being widely popular, it has been the subject of countless campfire stories because it played an important role in the settling of the frontier, but it also accompanied many hunters in taking game ranging from grouse to grizzlies. Even the U.S. Government purchased 1,800 units during World War I that were issued to the United States Signal Corps to prevent labor strikes that would have stopped the production of Sitka spruce lumber used to build essential military planes. Other countries or branches of government adopted the Model 1894 for military use, including the Royal Navy, France and the Canadian Pacific Coast Rangers.

The Model 1894 offers many virtues. First, it was designed by the notable John Browning, with patent rights being negotiated with Winchester (U.S. Patent number 524702). While it was designed specifically for popular period medium-size rifle cartridges, it served to introduce hunters and shooters to smokeless powder rifle cartridges and higher velocities. While first year production rifles were limited to the .32-40 and .38-55 that were naturally stoked with black powder, by 1895, Winchester introduced its famous nickel steel barrels (among other items) that served to increase the action and barrel strength and allowed the new rifle to readily accept smokeless powder cartridges. An 1894 Winchester announcement stated: "We believe that no repeating rifle system ever made will appeal to the eye and understanding of the rifleman as this will, and that use will continue to warrant first impression."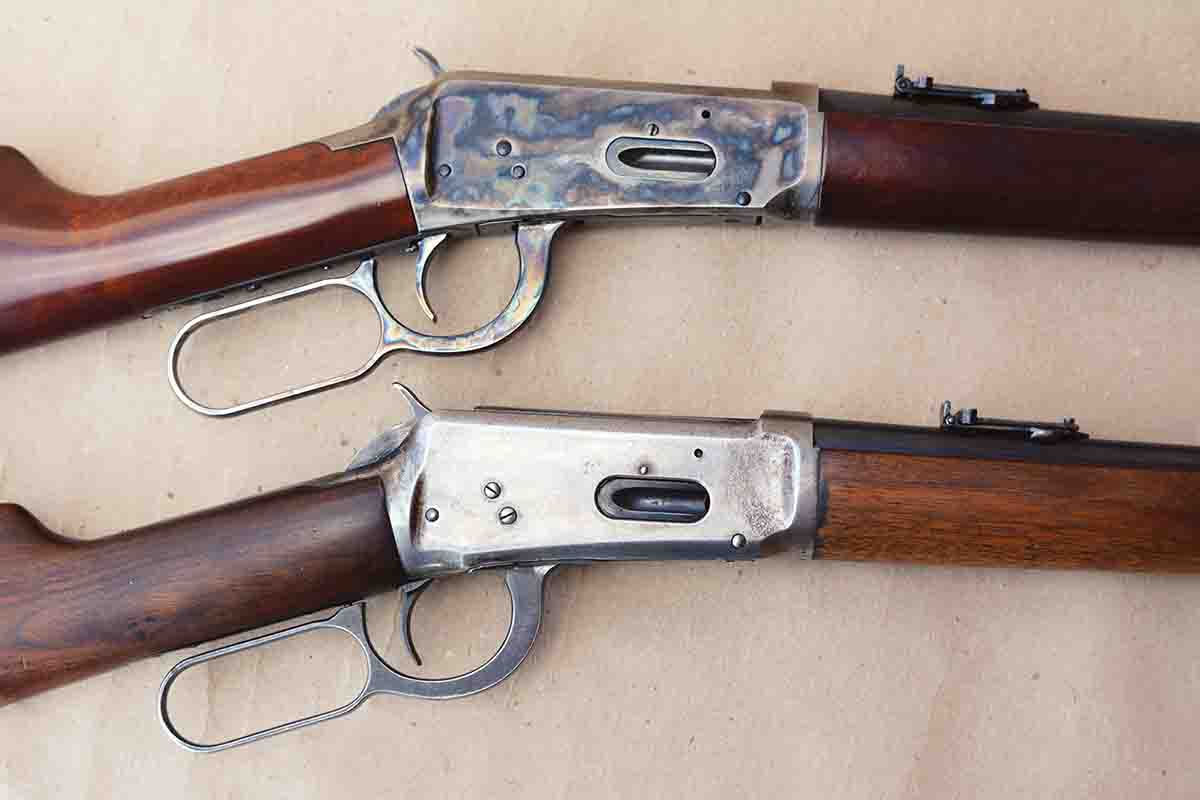 Winchester catalog Number 55, dated August 1895, announced two new smokeless cartridges, including the .25-35 WCF and .30 WCF, which were the first U.S. smokeless sporting cartridges. (Note: The U.S. military had previously been using smokeless loads in the .30-40 Krag and other cartridges, but they are considered military and not sporting rifles.) While both quickly became popular, the .25-35 was known for its low recoil, comparatively high velocity and excellent accuracy, while the .30 WCF (more commonly known as .30-30 Winchester) offered greater versatility and proved more reliable on big game, which resulted in its runaway popularity.
During its 112 years of production, the Model 1894/94 underwent many technical design changes and was chambered for at least 15 cartridges. (By 2009, Japanese-based Miroku began importing a Model 1894 copy, however, it featured significant design changes, including a tang safety, rebounding hammer, etc., and is only available in limited numbers.)
Unlike the previous Browning designed Winchester Models 1886 and 1892 that featured vertical twin rear locking lugs, the Model 1894 action features a single rear locking lug. By comparison, the action was rather loose; however, the western frontier was still very much in full swing and ranchers, cowboys, sheepmen, lawmen, miners, explorers and hunters found it marvelously reliable, even when exposed to dust and dirt, rust and recoil and regular neglect. Its popularity in Alaska became immense, as guns are often exposed continually to moisture, freezing rain, etc., and its reputation for reliability soon became legendary. Due to its lightweight and trim design, accuracy, within respected limits, and the medium length cartridges for which it was chambered, along with their comparatively high velocities, it soon largely supplanted the previous Winchester lever-action rifles.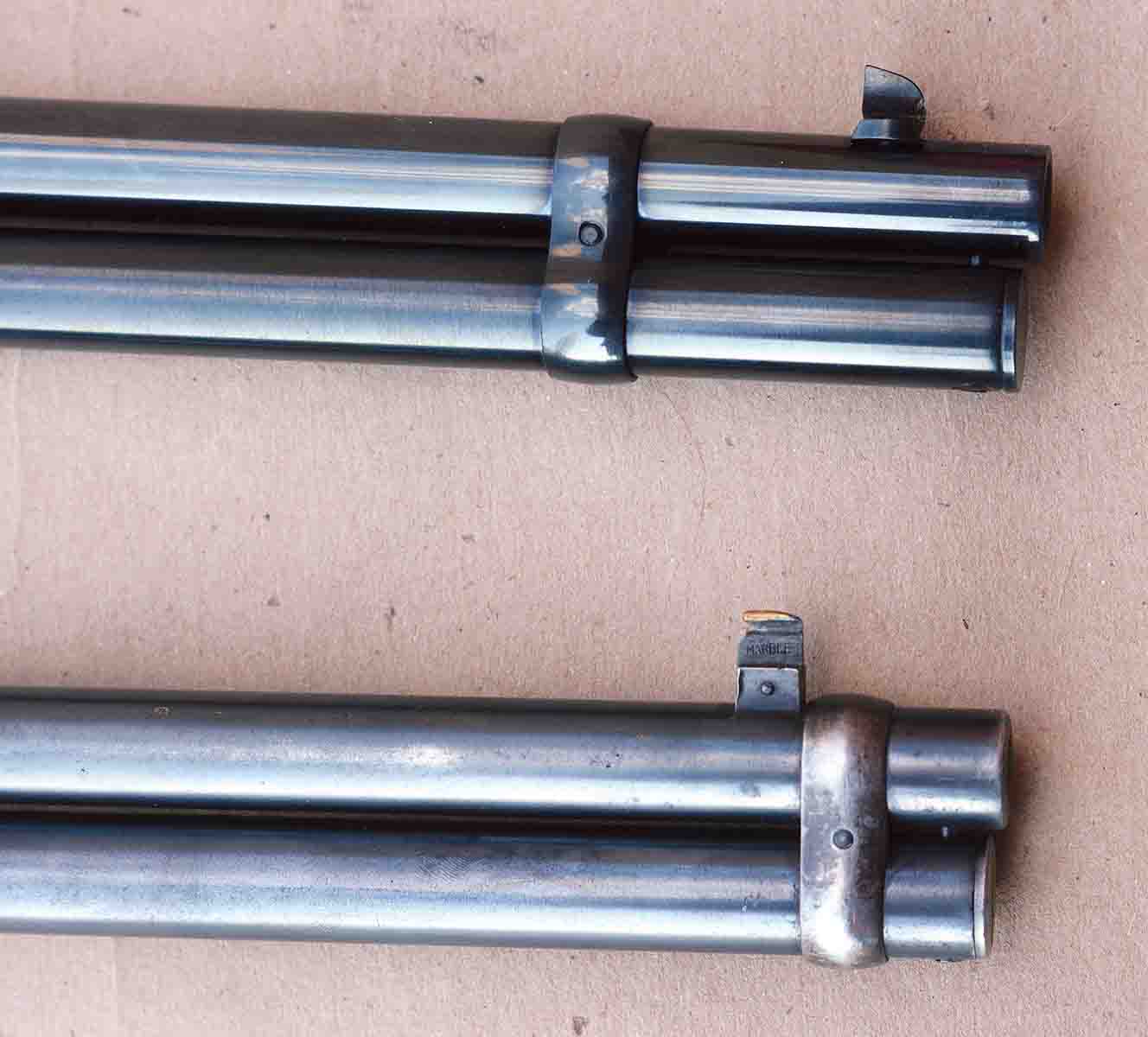 For this review, a Cimarron Model 1894 Carbine chambered in .38-55 Winchester and sporting the widely popular 20-inch barrel was obtained. Uberti has been building leverguns for around 50 years, and this new rifle clearly shows the quality and attention to detail that shooters have come to expect. First, it is based on pre-64 Winchester pattern rifles. In other words, there is no angle ejection, no cross-bolt safety, no sliding tang safety and no rebounding hammer. The action design and profile are more or less identical to originals; however, there are small external changes in regard to shape (or sculpturing) and, naturally, threads are metric. The action works smoothly and features the three traditional hammer positions. Personally, I would like to see a saddle ring installed; however, many carbines, often referred to as "Eastern Carbines," were void of the saddle ring. As indicated, Cimarron also offers a rifle version with a 24.25-inch octagonal barrel, crescent buttplate, etc.
The overall machining of the Uberti 1894 is very good, while internal parts are robust and well made. The buttstock is pre-1935/36 Winchester style with a handsome wraparound steel buttplate. The comb is flat on top, which is similar to the originals. The "long" forearm is patterned the same as Winchester carbines produced from 1894 through 1952. The stock is European walnut, with the sample rifle showing significant grain figure, making it very attractive. The wood-to-metal fit is good, which further contributes to its overall appearance while offering the feel of a quality rifle.
The front sight is a solid black post-style and is dovetailed into the barrel, while the rear sight is patterned after an original Winchester Carbine sliding ladder rear sight with graduations marked from 2 through 9. In the "down" position (U-notch sight picture), it is regulated at around 100 yards (depending on the load).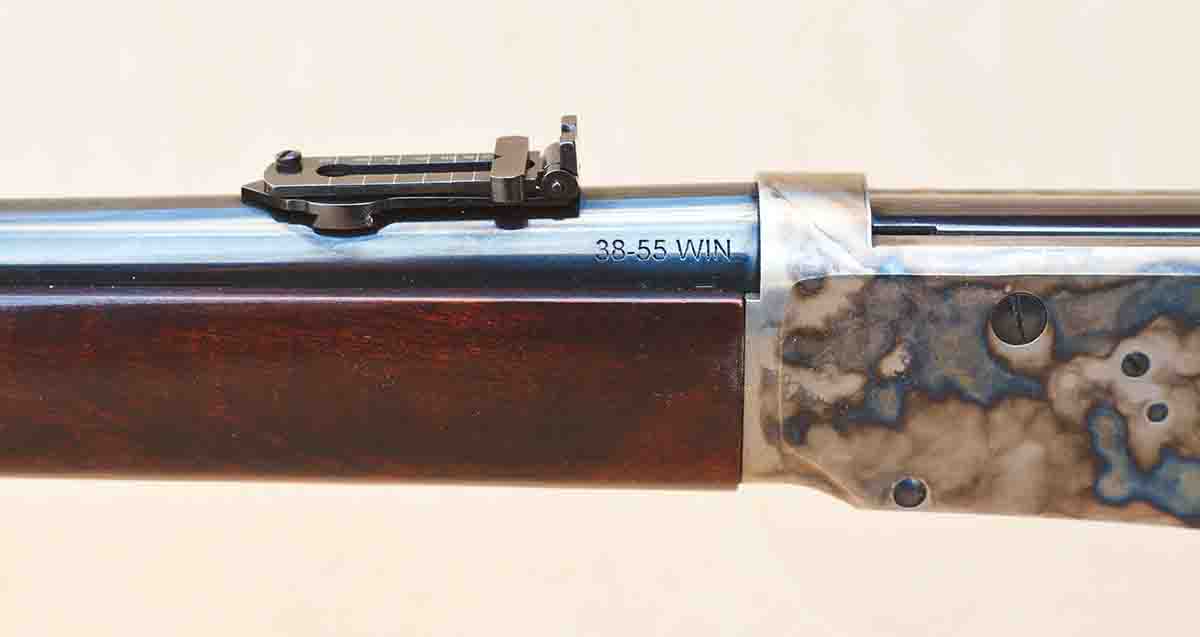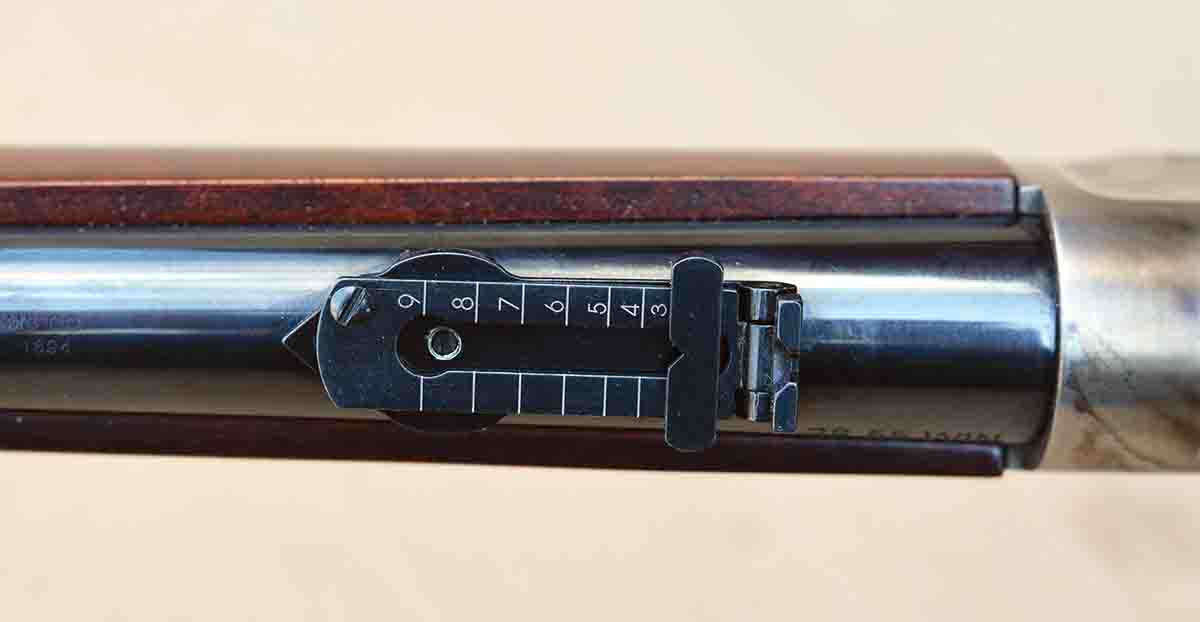 Original Winchester Model 1894s featured a full-blue finish as standard; however, case-colored receivers could be special ordered and added beauty and offered a custom touch. The new Cimarron Uberti features a case colored receiver, which serves to further enhance the beauty of an already attractive rifle.
The only really odd feature is the front sight and front barrel band arrangement. Original Winchester carbines produced from 1894 through 1929 featured a front sight that was behind the front barrel band. The barrel band was positioned around .600 to .630 inch from the muzzle. However, the Uberti front sight is located in front of the front barrel band, and the barrel band is located approximately 2.075 inches from the muzzle. Technically, there is nothing wrong with this arrangement; rather it is just a cosmetic departure from original carbines produced from 1894 through 1929.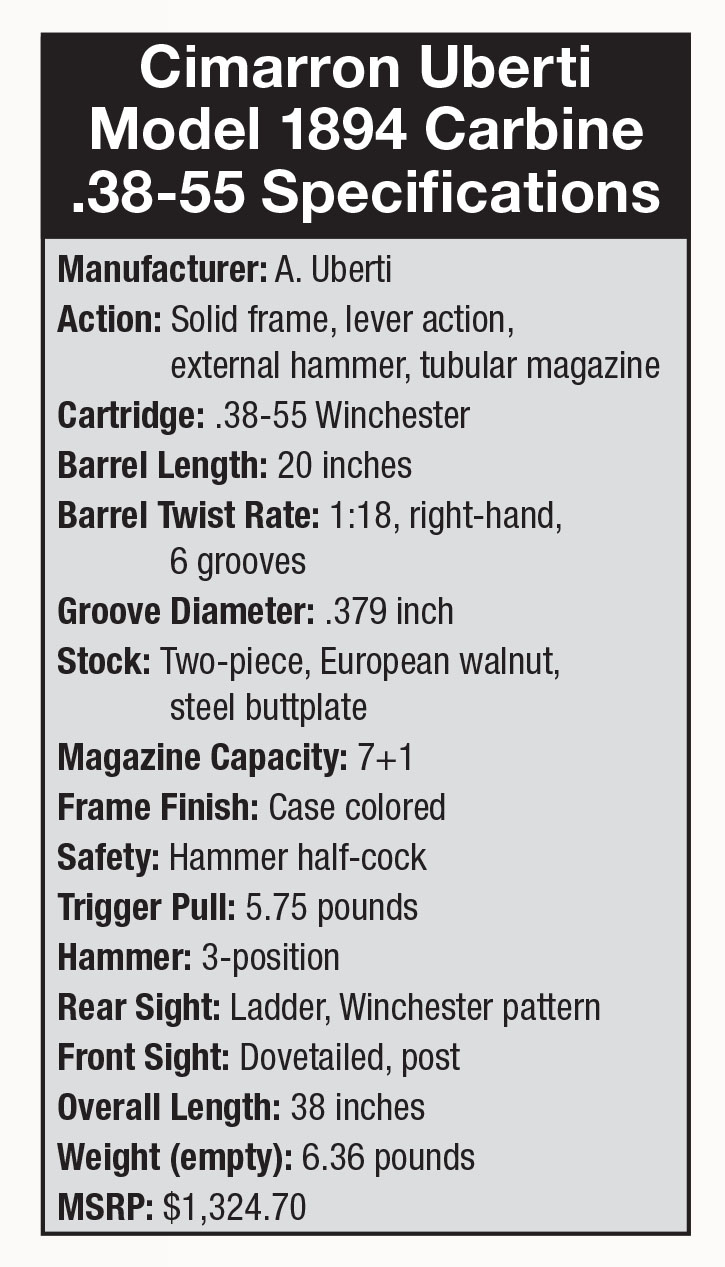 While Cimarron reports strong sales, especially for rifles chambered in .30-30, the .38-55 is a worthy choice and will find special favor with people that enjoy shooting cast bullets or want medium bore cartridge performance on deer, black bear, etc. During the black-powder era, the .38-55 gained an excellent reputation for accuracy in various single-shot rifles but was also a respected hunting cartridge. While modern smokeless loads from Winchester are necessarily loaded conservatively in deference to the many ancient black powder-era rifles still in use, handloaders can substantially increase performance in a modern rifle. As indicated, the .38-55 remains a natural with cast bullets, which can easily be produced by hobbyists and can offer excellent accuracy and perform well on game.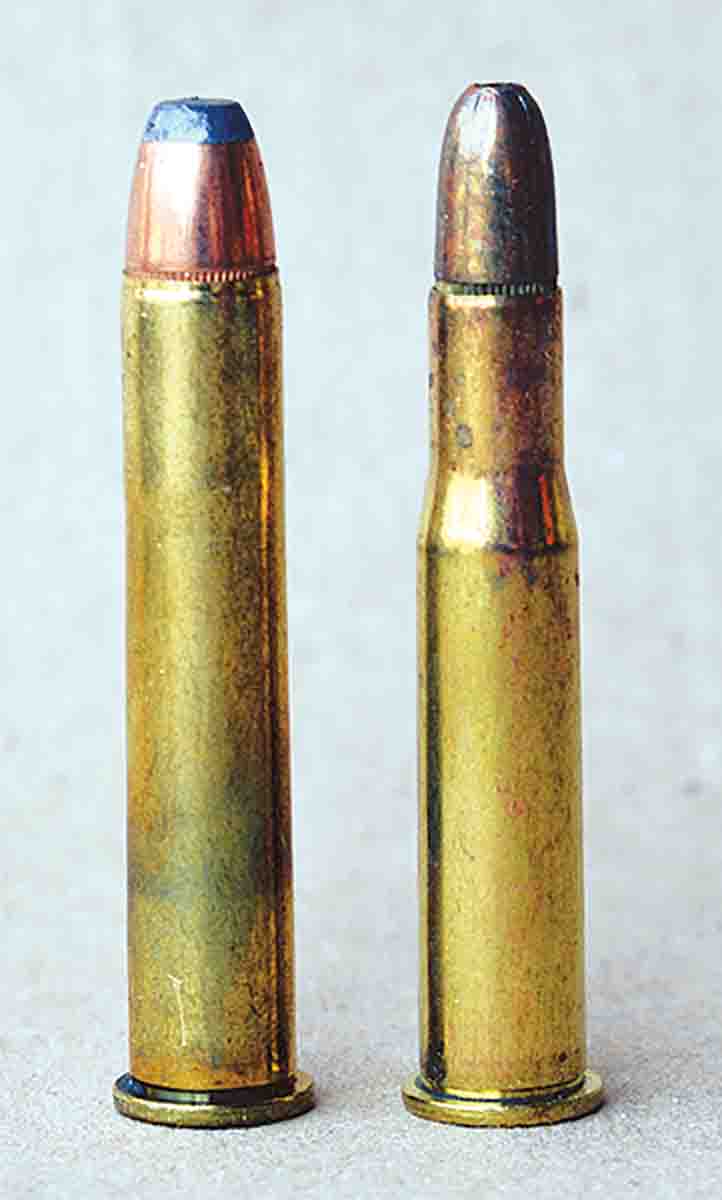 Years ago, I was hunting antelope on the high plains of Colorado using a levergun chambered in .38-55 stoked with cast bullets. I was regularly getting groups hovering around an inch and would only need reasonable stalking skills to make a clean kill. A TV host was attempting to get footage of fellow hunters that were using rifles chambered for modern high-velocity cartridges on antelope; however, it seemed that none were able to make a clean kill. In a last ditch effort, the cameraman followed on hands and knees as I stalked a half mile or more on a good buck while being surrounded by a spectacular high plains lightning storm. At around 200 yards, the old .38-55 made a clean kill and the TV host had his footage. What was most humorous was that previously, everyone was making fun of my cartridge choice, but that evening everyone was handling the rifle, its cartridges and asking many questions about its ballistics, cast bullets and my loads.
Various .38-caliber black-powder cartridges date back to the mid-1870s. However, Marlin introduced the .38-55 in 1884 for Ballard single-shot target rifles and chambered it for its Model 1881 lever-action rifle. It quickly earned a reputation of offering outstanding accuracy. Winchester soon responded by chambering rifles (naturally with the Winchester name attached). The .38-55 is the parent case of the .32-40, .32 Winchester Special, .30-30 Winchester, .25-35 Winchester and others.
It should be noted that there are two case lengths associated with the .38-55 and includes 2.129 inches, which was commonly used in many older rifles, and 2.085 inches, which is currently the listed case length by The Sporting Arms and Ammunition Manufacturer's Institute (SAAMI) and is the length used herein. It is also important to note that the .375 Winchester is a modernized .38-55, however, that case has been significantly strengthened to withstand 52,000 CUP pressures, which is the same as the .308 Winchester and similar to most modern high-pressure bolt-action cartridges! The Model 94 Big Bore rifles chambered for the .375 required substantial strengthening in the receiver and locking lugs to withstand the greater pressure and head thrust. In short, .375 Winchester cartridges should never be used in rifles chambered for .38-55. Industry maximum average pressure for the .38-55 is 30,000 CUP.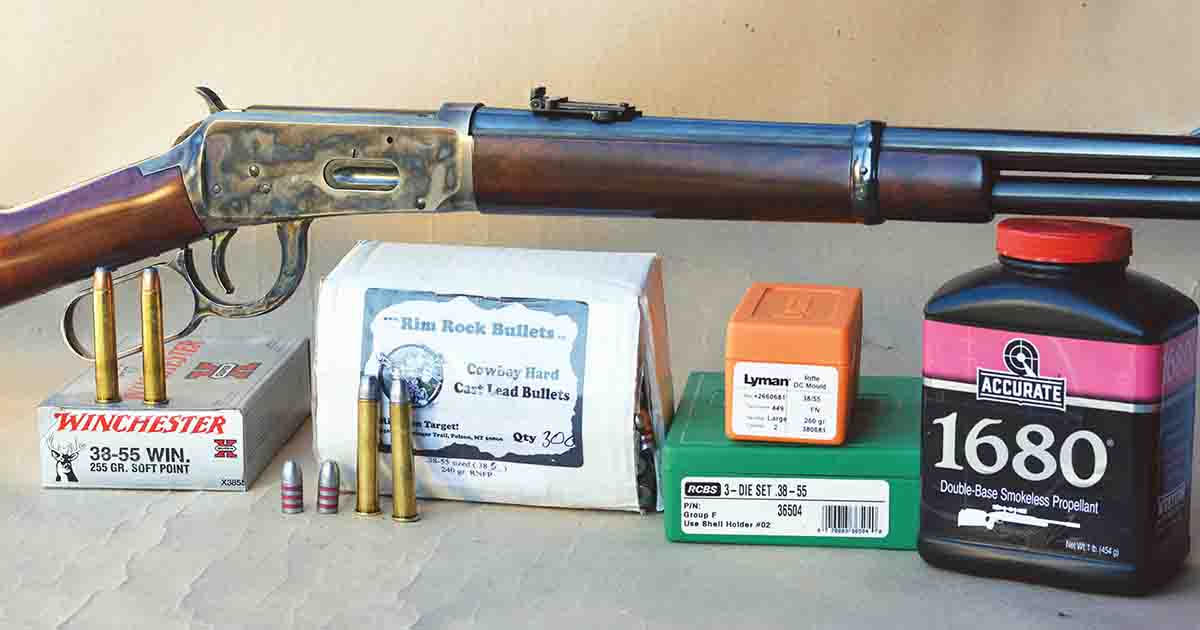 Current Winchester factory loads consist of a 255-grain, jacketed Power-Point bullet listed at 1,320 fps. Interestingly, the stated velocity of early black-powder loads was 1,321 fps using a 255- grain lead bullet. After smokeless powder loads were adopted that more or less duplicated black-powder ammunition performance, hunters requested greater velocities and Winchester responded with special "High Velocity" loads that reached 1,593 fps with the same bullet weight and produced around 30,000 CUP. Next, a "High Power" load was introduced that reached 1,700 fps, but pressures jumped significantly and accuracy suffered.
Back to Winchester's current offering, from the 20-inch barrel it reached 1,160 fps. Due to the many older black-powder-era firearms still in circulation, these loads are well below industry maximum pressure limits. After changing target shape and size several times to achieve a proper sight picture that would correspond with the factory-issued ladder sight, respectable groups were obtainable. Testing was done at 75 yards. Using a bench with sandbag rest, but with my left-hand supporting the carbine forearm (rather than resting it directly on the sandbags), the Winchester factory load proved capable of 2.10-inch groups. (Black Hills Ammunition offers an excellent 255-grain FNL cast bullet load at 1,250 fps, but it was not available for testing.)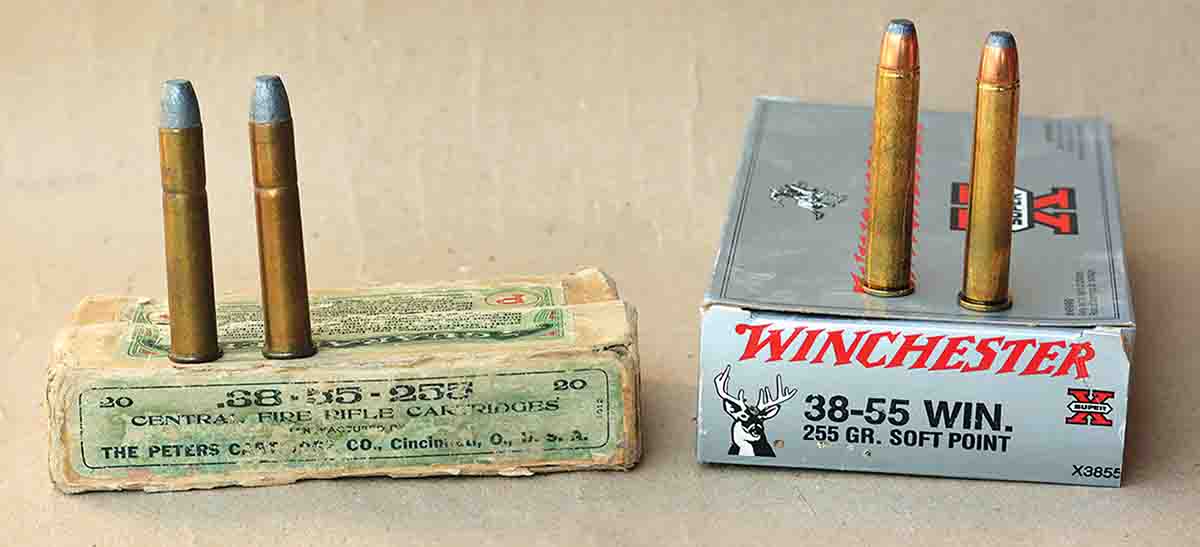 Moving on to handloads, I wanted to develop loads that more or less duplicate current factory load performance. I also wanted to develop data that would improve velocity while limiting pressures to SAAMI specifications of 30,000 CUP. As is often promoted, I will not handload the .38-55 to .375 Winchester pressures, as most guns (even modern versions) are not designed to handle that much pressure, and neither is the case. Starline cases (the shorter, 2.080-inch version) were used. They are available factory direct and are in stock as of this writing.
Using 251-grain cast bullets from Lyman mould number 380681, cast from No. 2 alloy and sized to .380 inch to best correspond with the .379 inch Cimarron Uberti groove diameter, 10.5 grains of Hodgdon Trail Boss powder reached 1,161 fps, which is virtually identical to the above factory Winchester load. This load is very pleasant to shoot, with low recoil and minimal muzzle report, but it also grouped into 1.85 inches at 75 yards. Moving on to 24.0 grains of IMR-4198 powder, velocity was 1,531 fps, while the tightest four-shot group was recorded at 1.60 inches. Bumping the powder charge to 26.0 grains produced 1,656 fps, but accuracy slipped slightly to 2.10 inches.
I am pleased with the overall performance of the new Cimarron Uberti Model 1894, as it fed, fired and functioned flawlessly and offered good accuracy. It is also attractive and a fitting replica of the world's most popular sporting rifle.