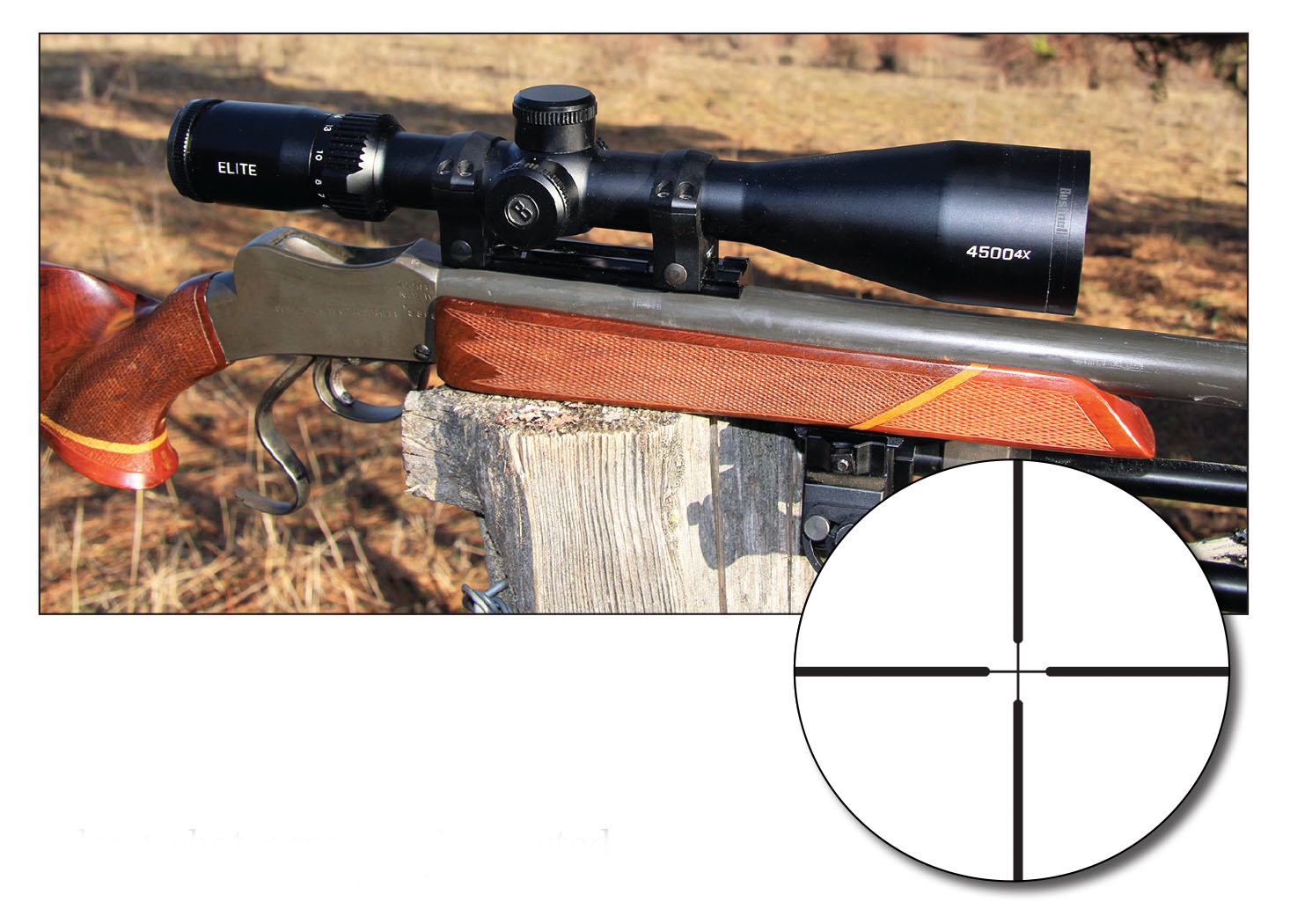 I own a couple Bushnell Elite 6500 4.5-30x 50mm scopes, one each with BDC and Mil-Dot reticles. They have been on two of my most serious varmint rifles for close to 10 years, get used hard in wet, cold and dusty conditions, and have yet to let me down in any way. Bushnell has always been a brand I could count on, so this comes as no surprise. These were $1,000 optics at the time of purchase. Bushnell's Elite series hunting scopes were reintroduced for 2022, offering options for everything from a serious .22 Long Rifle or muzzleloader to a hardcore long-range, big-game rifle. Included in this comeback is the Elite 4500 4x under discussion here. The Elite 4500 4x Multi-Xs include retail prices well below the $1,000 price tags of my treasured Elite 6500 optics, with suggested prices ranging from $299.99 to $334.99. These include 1-4x 24mm, 2.5-10x 40mm and 4-16x 50mm options. The latter is the scope I thoroughly tested recently.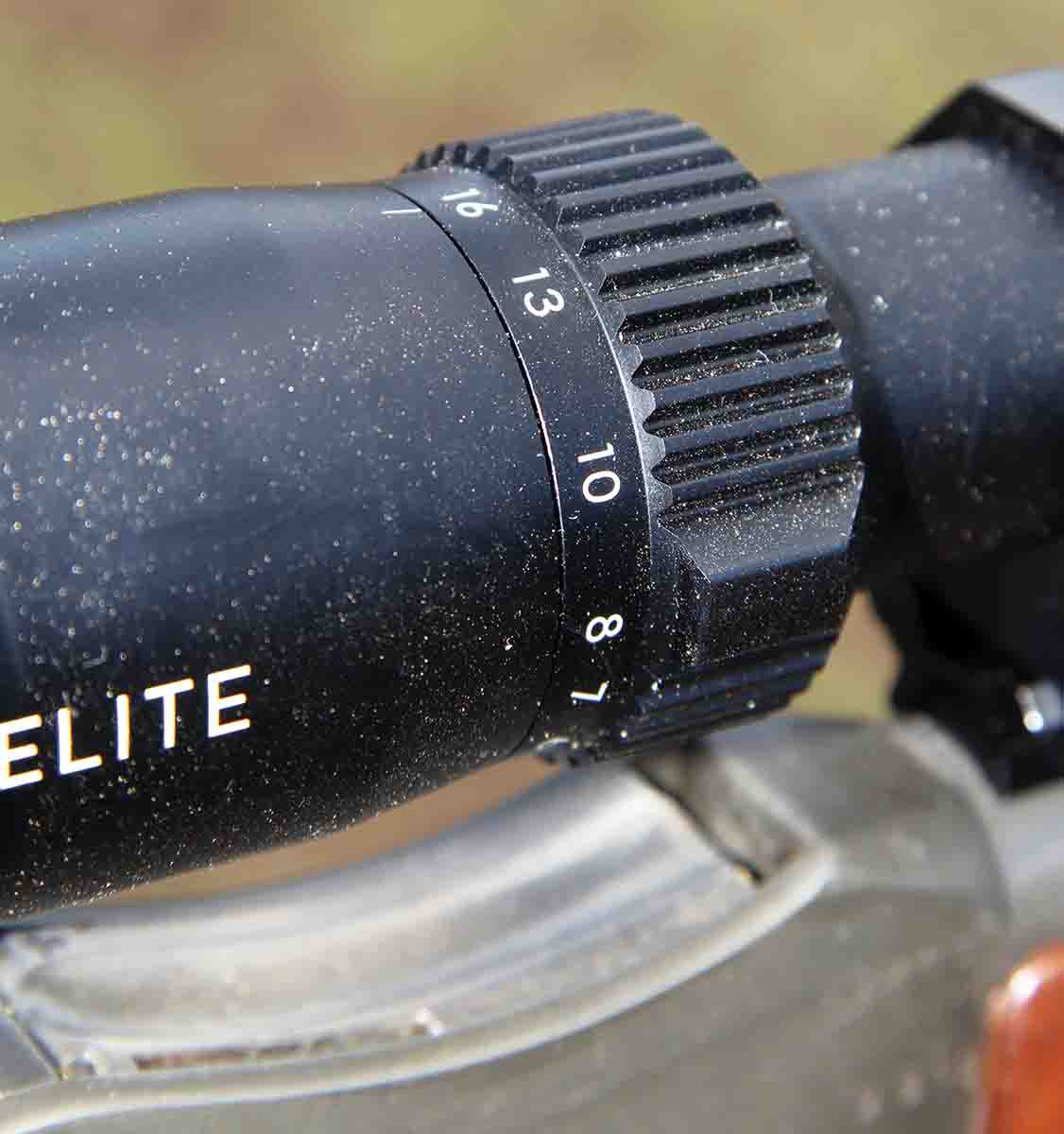 A quick description of the Elite 4500 4x Multi-X lineup includes a second focal plane system with capped, MOA-based (.25 inch per click) elevation and windage turrets combined plus a sharp and simple Multi-X reticle. The reticle includes fine, center crosshairs bracketed with thicker cross-strata. The turrets allow dialing precise ranges, while the thicker, sharp-tipped crosshair brackets could be used for basic holdover and windage corrections after familiarization. The 30mm-tubed 4-16x 50mm version weighs just 20 ounces in a compact 14.1-inch package.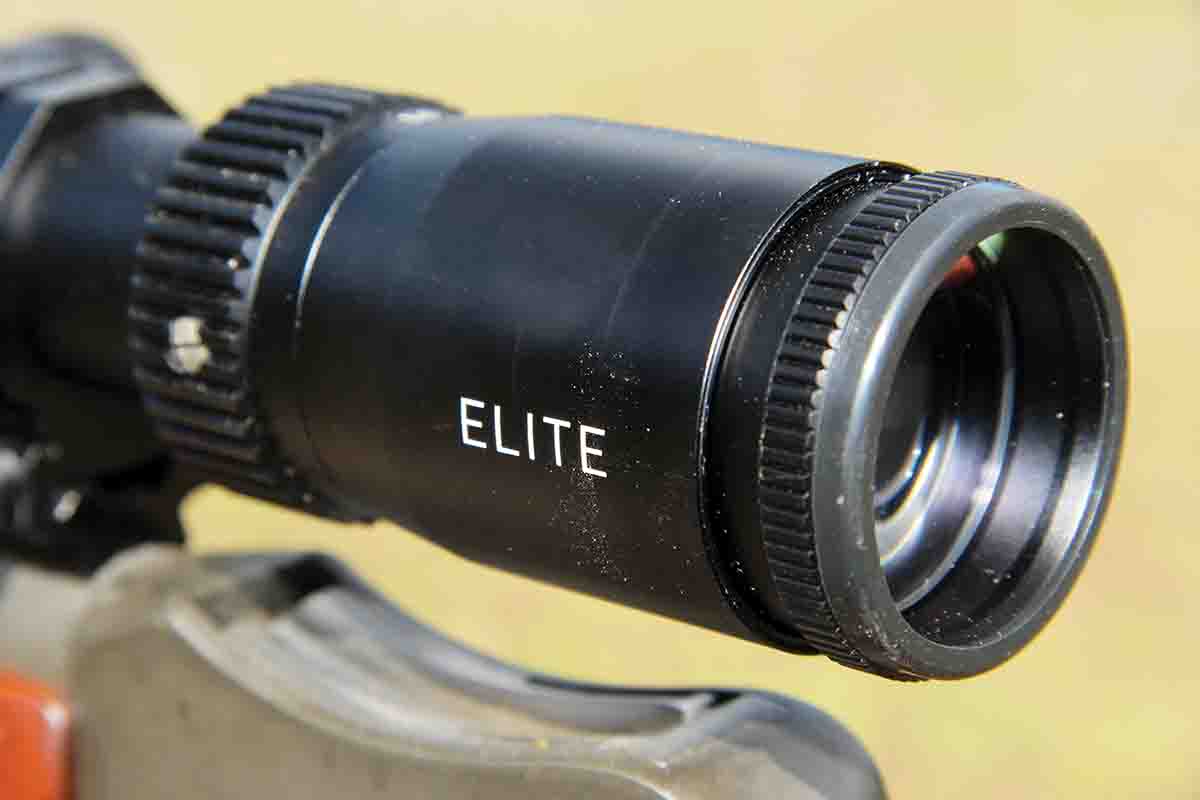 A wide magnification range leaves the hunter ready for close-quarters predators responding to calls or tree stand deer, or to take a long shot across a harvested corn field or mountain canyon. For those shooters welding hard- kicking magnums, the 4-16x 50mm Elite 4500 provides a generous 4.3 inches of eye relief to eliminate any worry of brow cuts. The large ocular lens also makes target acquisition faster. In other words, small cheek-weld variations will not ruin the ability to gain a clear, edge-to-edge view, even at the highest magnification settings. This also provides a field of view from 25 feet on 4x to 6 feet on 16x. The Fast-Focus ocular diopter ring allows dialing a sharp reticle and the smooth side parallax focus brings targets into sharp focus from 10 yards to infinity. This makes the scope ideal for serious rimfire shooting as well. I'm partial to side parallax as opposed to objective-ring systems, especially when handling a rifle offhand. They are simply easier to manipulate.
The elevation and windage adjustment turrets can be dialed to extended ranges and returned to zero after sight-in to make corrections more predictable and precise. Returning the dial to zero is as easy as pulling the turret head upward until it "clicks," spinning it to "0" and clicking it back into place. There is no zero-stop mechanism. Turret movements are positive and include audible/tactile clicks. Turrets are covered by screw caps, with rubber O-rings located on the body to seal out the elements and dust. The caps also ensure sight-in isn't inadvertently upset while pulling a rifle in and out of a scabbard or soft rifle case. The turrets/caps remain low profile to avoid snagging and include smooth edges for easy handling.
The black, hard-anodized, one-piece aircraft-grade aluminum alloy chassis included a 30mm tube to provide 50 MOA of elevation and windage movements, manipulated at 15 MOA per revolution. The scope is magnum rated to withstand serious recoil, or just the hard knocks that come with hunting. Bushnell promises these scopes are tested to shock levels matching more costly scopes such as Bushnell's Forge and Match Pro lines. The optic provides 5.5 inches of mounting latitude to meld with any rifle/mounting hardware system.
Bushnell glass never fails to impress me, the Elite 4500 4x is treated to ultrawide band coatings to improve low-light transmission, while also reducing glare that can diffuse the view. These riflescopes are IPX7 waterproof rated. Translated, this means the scope can remain submerged for 30 minutes in 3 feet of water without leaks, the nitrogen fill eliminating the worry of pesky fogging. Bushnell also adds its proprietary EXO Barrier, making lens surfaces hydrophobic and dust and smudge repellent.
The Multi-X reticle offers confident low-light aiming. The magnification ring is deeply grooved and includes an integrated, low-profile throw knob. All adjustment knobs are knurled for a good grip, even with wet fingers or while wearing gloves. The scope comes with lens caps tethered by a single elastic cord to keep viewing surfaces clean during transport or storage.
I mounted the Elite 4500 4x on a rebarreled BSA Martini rifle chambered in .22 K-Hornet. The large ocular box resulted in some degree of interference while loading and unloading the old single shot, but not overly so. Otherwise, the scope size and magnification range made a good pairing with this repurposed varmint gun while fireforming .22 Hornet loads and subsequent load testing for the K-Hornet. The scope was sighted-in less than three shots, with movements correlating precisely to the 1-inch target correction grid.
After sight-in, and because I had 100 rounds of handloaded .22 Hornet ammunition to fireform, I used the opportunity to conduct a box test at 100 yards. After zeroing the rifle to hit right on at 100 yards on the center of a five-spot target face, I moved the turrets 18 clicks up/down, left/right between four subsequent groups, returning to zero between each group. Each resulting group clustered around the remaining bullseye's, top left and right, and then bottom left and right. The quarter inch movements tracked right on the money.
I like this scope and it has found a permanent home on my new-old K-Hornet. The scope is sleek and uncomplicated, but sufficiently versatile for the ground squirrel shooting this fun little rifle will be used for. The reticle is straight-forward and backed by usable turrets that would make a bunch of hashmark clutter superfluous. It would be quite welcomed on an accurate rimfire or a serious big-game rifle alike.