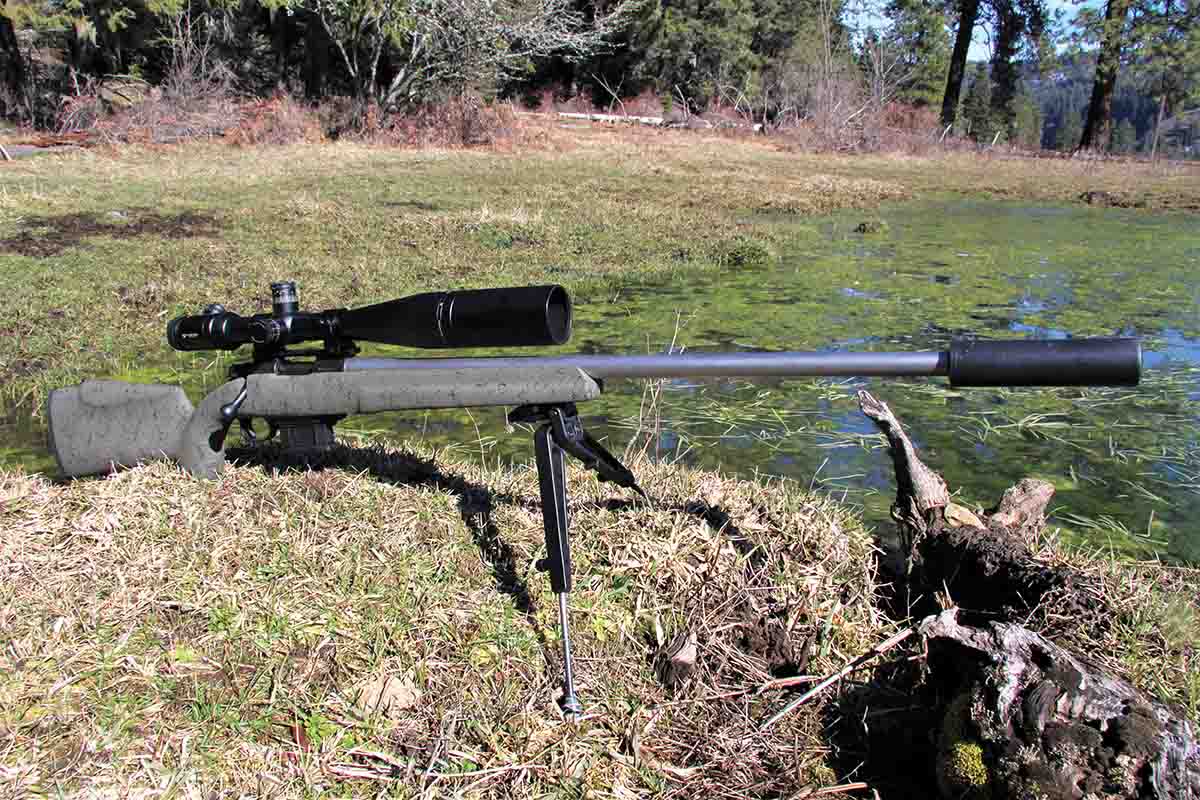 As an obsessive varmint shooter, the vast majority of my rifles fall somewhere between the .17 HMR/.17 Hornet for the smallest ground squirrels shot at reasonable ranges or close to civilization, to the 6mm Creedmoor/Remington to reach way out there on larger targets such as rockchucks or coyotes. In between are the varmint rounds used most, the .204 Ruger and .223 Remington large among them – or at least until recently. Lately, I've come to prefer the somewhat forsaken .221 Remington Fireball.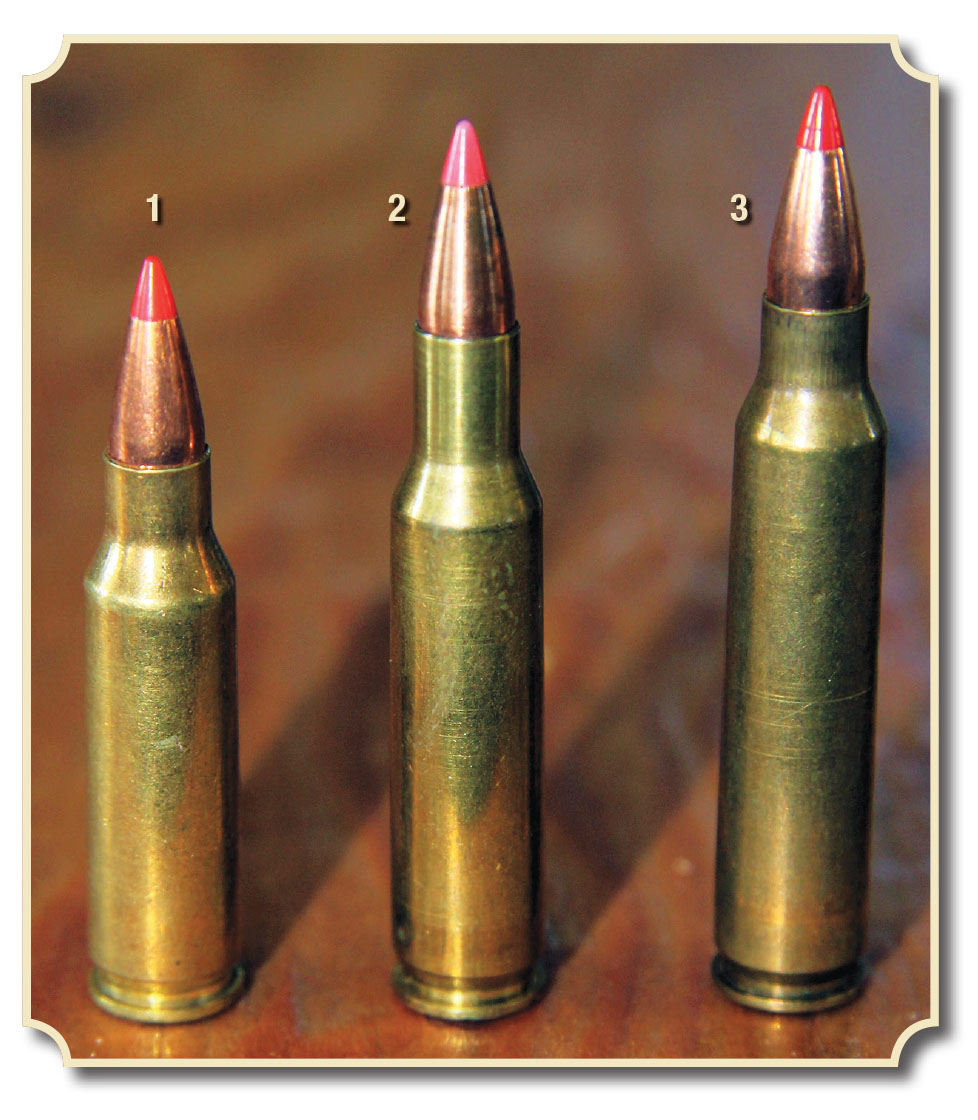 I'm a slow learner, so it took burning tens of thousands of .22-250 Remington-class rounds before coming to the realization that this much horsepower just isn't required to shoot a tiny burrowing furball at 150 to 250 yards. Let's face it, those ranges represent the parameters inside which 85 percent of our small-varmint shooting falls. I soon came to feel the same about the ever-popular .223 Remington. The .221 Remington Fireball seemed, to me at least, to fall into a "Goldilocks Zone" – offering a little more zip than the Hornet-class cartridges, but proving much more pleasant to shoot than anything with more powder than the .204 Ruger. I didn't feel ridiculous potting little eastern Oregon Belding's ground squirrels at 100 to 150 yards with a Fireball, but with a little familiarization and a quality turreted scope, regular hits at 300 to 400 yards are made with frequency.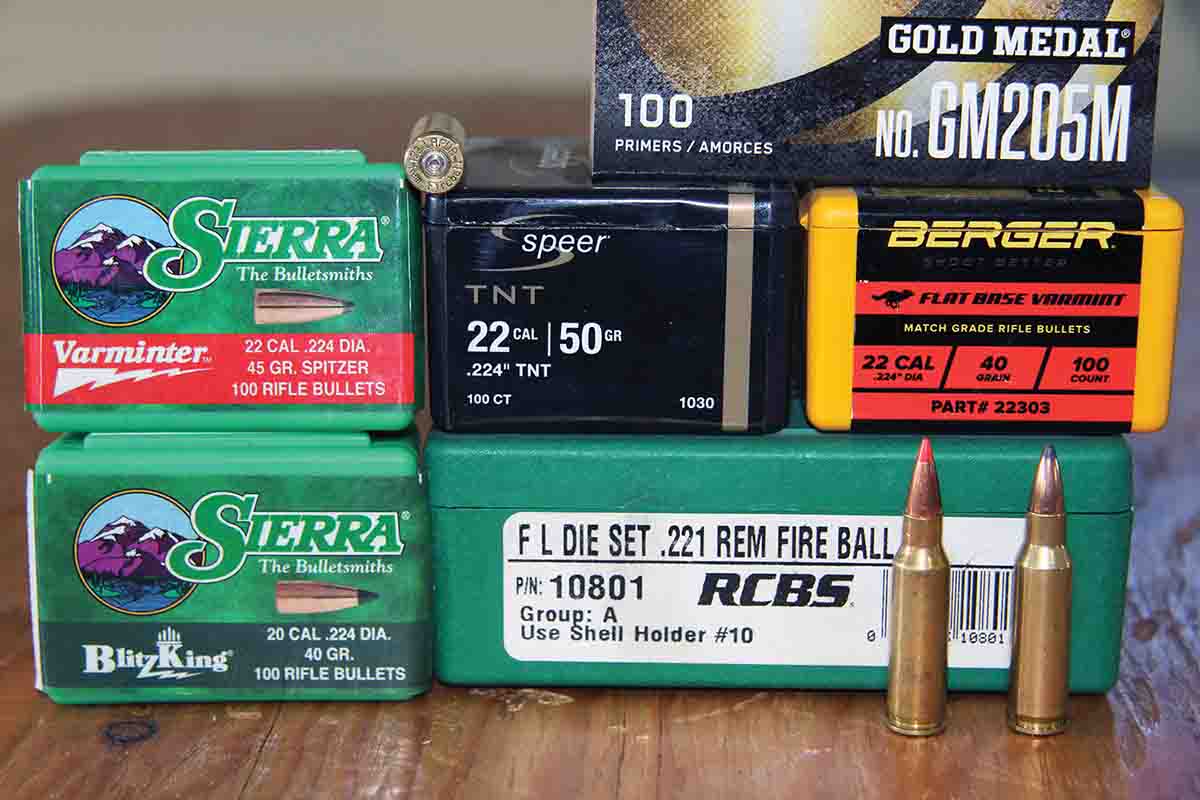 More importantly, the .221 Fireball relinquishes 90 percent of the performance of the .223 Remington while burning only 60 percent of the powder. That translates into more shooting per pound of powder, an important consideration in these times of component shortages. Plus, the latest powders often provide .222 Remington performance from the smaller .221 case.
My Fireball rifle preference followed an initiation through Fireball handguns. I'd been enamored with Remington's XP-100 and the .221 Remington Fireball cartridge it spawned since my teens, when those pistols still appeared new in gun store display cases. Alas, I failed to purchase one of those pistols when they were readily available, managing to spend all the trapline money of my youth on other things. Yet, the desire to own an XP-100 persisted. Unable to find an XP at a price I deemed reasonable, I eventually acquired a vintage hexagonal barrel for my Thompson/Center Contender pistol frame, which shot phenomenally. Shortly after that, I finally scored an XP-100. I've shot scores of varmints with these pistols, from local Columbia ground squirrels to western Wyoming prairie dogs to Texas jackrabbits and coyotes in three states. I was impressed enough that a rifle seemed indicated.
What I eventually found was a Remington Model 788 that began life as a .222 Remington, was reamed to .223 Remington and then cut back and rethreaded to accommodate the .221 Remington Fireball. The 788 was glass bedded into a handsome Boyd's Featherweight Thumbhole Zombie Green stock and shoots excellently. My only misgivings with the 788 are its thin sporter barrel, which heats up quickly in high-volume varmint settings, and ratchet bolt cycling. When I discovered a heavy, stainless steel take-off Remington barrel chambered in .221 Fireball, I snatched it up, envisioning a project rifle.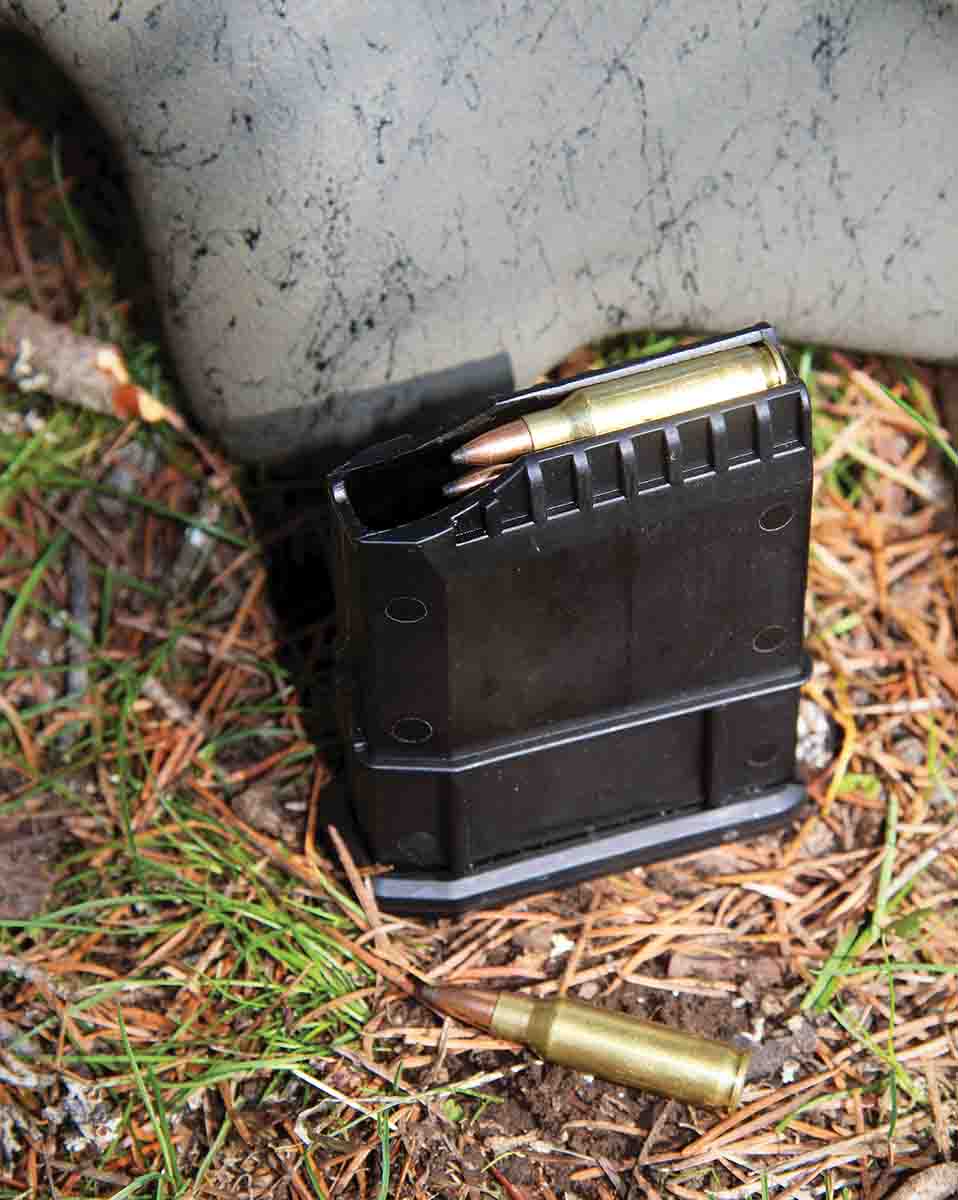 Remington filed for Chapter 11 protection shortly afterward, meaning the ready supply of Model 700 short actions I'd counted on dried up overnight. The heavy barrel languished. I was unable to locate even a "parts" Model 700 to strip for an action.
I met Wayne York, owner of Oregunsmithing in Pendleton, Oregon, while working on another project involving one of his ultra-light rifles chambered in his proprietary .24 York cartridge and built on a Howa 1500 Mini Action, see Rifle No. 320 (January-February 2022). While in his shop and watching him perform his magic, my take-off barrel entered the conversation. York was certain the Remington could be easily fitted to the Howa Mini Action's metric receiver. When I returned home, my barrel headed to Oregon posthaste.
The barrel (.825 inch just behind the muzzle threads, 1:12 twist) was turned down to match the Howa action, the Remington threads cut away and the required metric threads added. This process sacrificed a small length of barrel, so York re-reamed the chamber in order to set the proper headspace. The barrel finished at 23.5 inches long. This also created a new throat, in case any erosion had taken place on the used barrel. York uses a tight chamber, which became evident when I began shooting handloads assembled for the Remington 788. The bolt turned down tightly, without bullet contact in the lands, telling me case shoulders required setting back – an easy task. The muzzle was threaded one-half/28 to accept my compact, .223 Remington/5.56 NATO-dedicated GemTech Trek suppressor. This is pretty routine work for Oregunsmithing as customers regularly arrive with a barrel or an action they want to use to create a rifle.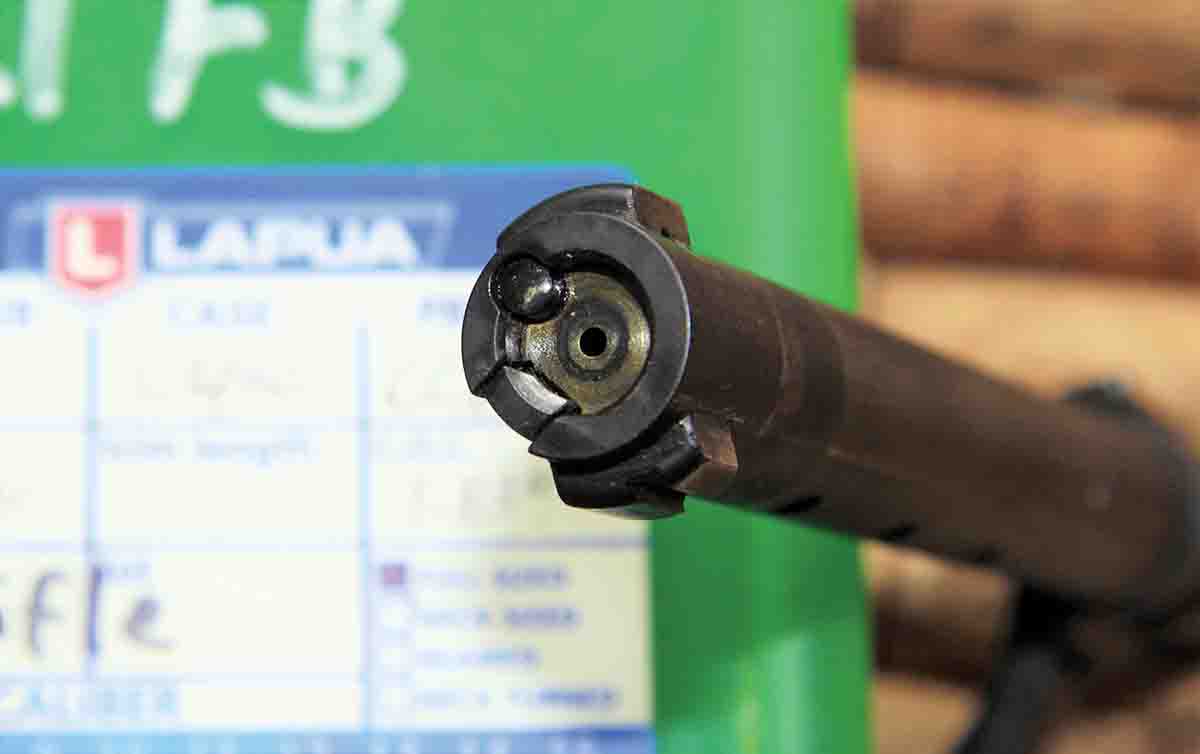 Howa's 1500 actions have become a favorite of York's. He said they are extremely well-made with excellent machining and tight tolerances. York said they also arrive true, with no cleanup work required. The Howa 1500 Mini Action is a true mini action with a ring diameter of around .90 inch and a magazine length measuring about 2.4 inches. In other words, they are ideal for a compact cartridge like the Fireball or York's .24 and .25 York rounds based on the 6.8 Remington SPC case, the 7.62x39mm Soviet or 6.5 Grendel, as examples. The two-lug bolt runs slickly and the Remington-style ejector is dead reliable. The bolt cocks upon opening.
The ribbed, right-side thumb safety is a three-position system, locking the bolt when pulled into the full rearward position, with the trigger blocked but the bolt freed for unloading in the middle position, and the forward position allowing the rifle to be fired. A small ribbed, spring-loaded tab is located opposite the safety to release the bolt for disassembly or cleaning.
The Howa Mini arrives from the factory with a decent two-stage trigger that is adjustable to maybe 4 pounds. Most varmint shooters prefer a lighter pull. York disassembled the factory trigger and completely rebuilt it, replacing the adjustment screws/nuts and stoning key bearing surfaces. The smooth, 1⁄8 inch, two-stage take-up remains, but a crisp break occurs at around 1.75 pounds with no overtravel. It's nothing short of sweet and I'm typically not a two-stage fan.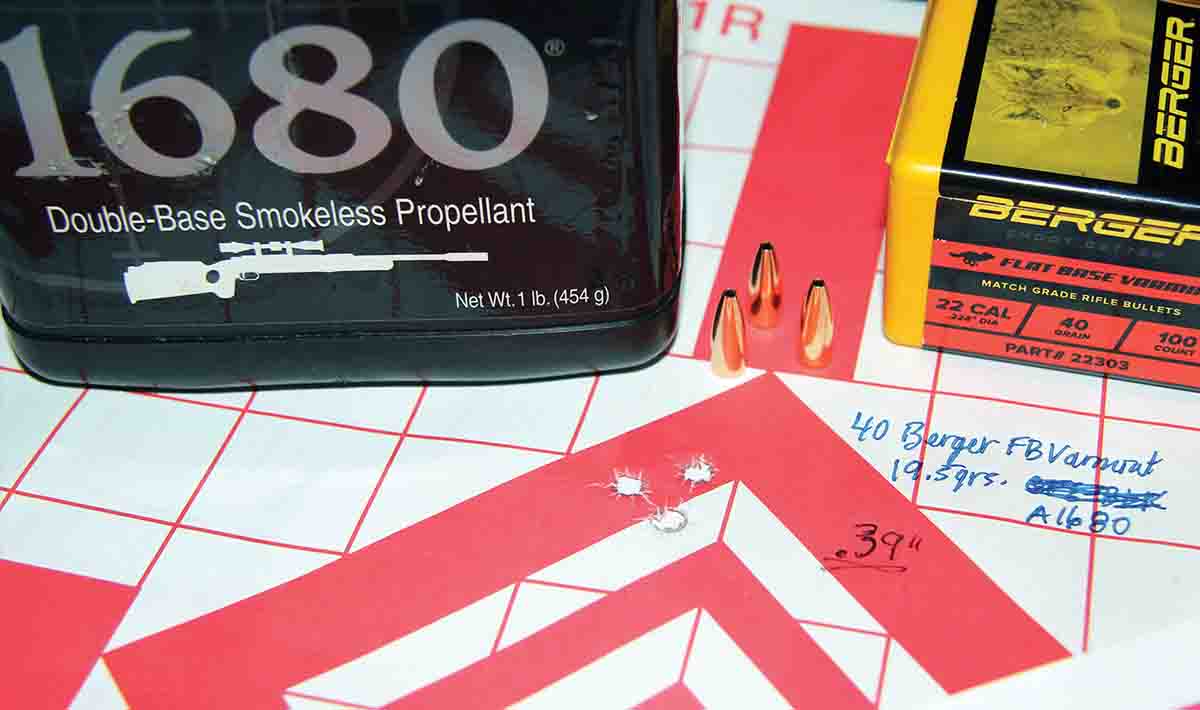 Oregunsmithing manufactures proprietary milled aluminum bottom metal for Howa Mini Actions, creating a top-load magazine and a flush, hinged floorplate. The release lever is located inside the milled-aluminum trigger guard, which is part of the overall bottom metal frame. It's a pretty slick setup that improves the ergonomics and ruggedness of these rifles. That said, as a varmint shooter, I opted to retain the original detachable magazine arrangement. This meant keeping the polymer trigger guard, but also the ability for quick loading/unloading when moving between fields. This was important enough that I was willing to deal with all the plastic.
The 10-round polymer magazine is marked 223/204/222/300 AAC BLK/350 LGND, and is about a half-inch too long for the squatty Fireball cartridge, but otherwise, rounds feed reliably enough. The small magazine-release tab is located at the front of the magazine well. It operates smoothly, but there is some potential for accidently dislodging the magazine if bumped or pushed against a rest edge.
The basis for the entire rifle, and what truly sets it apart, is its Pendleton Composite Stocks Long Range Hunter handle, also built by York. These carbon-reinforced stocks are handlaid in proprietary molds using a customized epoxy blend and weigh just 20 ounces bare. The stock includes a 13.5-inch length of pull with the quarter-inch-thick rubber Oregunsmithing Ultralight buttpad, a flat, nearly 2-inch-wide forearm to sit steady on a bag or rest, an ergonomic, nearly-vertical grip with thin wrist and palm swells, and a prominent cheekpiece and little heel drop. It carries well and fits like a glove behind the Vortex Viper PST 6-24x 50mm scope I mounted in Weaver four-hole rings set on a Warne Picatinny base. It holds twin stainless steel pillars surrounding the torq-head action bolts and steel cross pins embedded behind the recoil lug and in the web area between the box magazine and trigger. The entire stock is treated to a custom, textured chemical coating that eliminates all seams and imperfections and creates a tough shell and nonslip surface. The stock was carefully glass bedded to the action and the barrel is free floated. Standard sling mounts are located front and rear.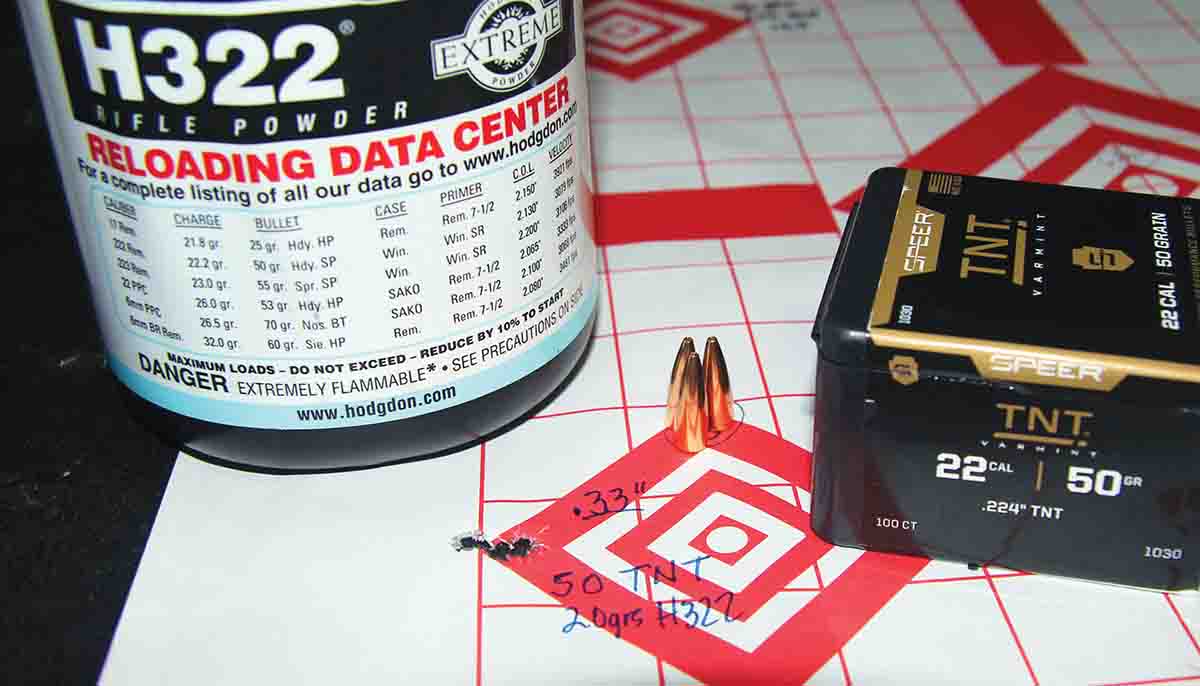 Finished weight with the scope and mounts is 9.46 pounds. The obvious question of accuracy was answered during sight-in, with an established load of a Sierra 45-grain Varminteer Spitzer seated over a maximum load of Alliant Reloder 7 printing a .29-inch group. This quickly became my new favorite rifle.
New varmint rifles naturally inspire extensive load testing. Seeking to determine this rifle's preferences, I put Hornady's 35-grain NTX, Barnes' 36-grain Varmint Grenade, Berger's 40- grain Flat Base Varmint, Sierra's 40-grain BlitzKing and 45-grain Varminteer Spitzer and Speer's 50-grain TNT through the paces.
I tested 13 different powders from Hodgdon, IMR, Vihtavuori, Western Powders/Accurate, Shooters World, Norma and Alliant. Hodgdon's CFE BLK was heavily favored as it produces near .222 Remington velocity combined with excellent accuracy and lower chamber pressures than most Fireball powders. After firing 63 three-shot, 100-yard groups, many sub-half-inch groups surfaced, 63 percent of all groups fired printed less than an inch.
Of the very best of those groups those that interested me most, with exceptions, combined tight cloverleaf groups with .222 Remington-class velocity. As an example, 19.5 grains of Accurate 2200 combined with the Sierra BlitzKing printed an impressive .32-inch group, but at "only" 3,109 feet per second (fps) from the 23½-inch barrel. Conversely, 19.5 grains of A-1680 beneath the Berger 40-grain produce average muzzle velocities of 3,637 fps; 20 grains of CFE BLK combined with the 40-grain BlitzKing clocking at 3,600 fps. Those loads both produced .39-inch groups. These options will become my go-to
rodent loads, as both essentially duplicated test results when fired again (more momentarily), demonstrating consistency, and both are clean-burning options I keep on hand in bulk for other cartridges. The Alliant Reloder 7 plus the 45-grain Sierra load mentioned, while certainly accurate, chronographed at just 3,240 fps and resulted in sticky bolt lifts when temperatures grow warm. That said, the 45-grain Varminter/Reloder 7 and 50-grain TNT/Hodgdon H-322 combos found in the load table are my go-to winter predator-calling loads, as they prove a touch more reliable on tough mountain coyotes.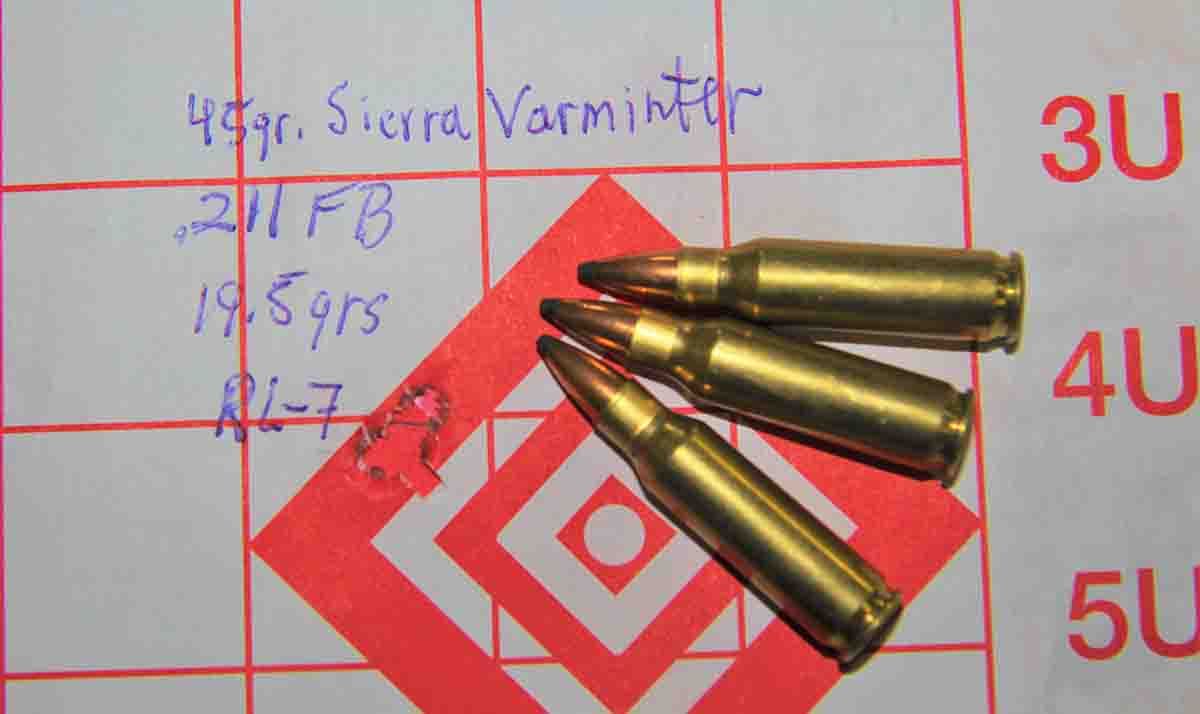 As an interesting aside, when I mention those "go-to" loads duplicating test results upon subsequent testing, it must be mentioned that the results seen in the load table were shot without a suppressor, while follow-up testing were shot with one. Test rounds were shot sans suppressor to help the muzzle-blast-activated LabRadar function more reliably. Follow-up tests with the suppressor installed actually produced slightly tighter groups. I find this interesting, as it is commonly related that adding a suppressor alters harmonics, requiring tweaking established loads. With a sufficiently heavy varmint barrel I've not found this to be the case, especially with this rifle.
The nature of modern publishing deadlines meant it was early March when I wrote this. Snow was quickly melting; grass greening and wild turkeys were gobbling in the mornings. It won't be long before the first Columbia ground squirrels of spring appear and this rifle will certainly see a lot of action. I feel a touch of guilt regarding my original Fireball rifle – the Remington 788 – as it has been a reliable and accurate shooter and will now play second fiddle. Despite the 788's thinner barrel and my new Oregunsmithing rifle with a larger scope, the carbon-filled PCS stock means the newby hits the scales a pound lighter. So not only does the heavier stainless barrel promise slower warming, but the rifle also promises to be easier toting while hiking local clearcuts seeking squirrels sunning atop stumps and logs. There is no doubt about it, my Oregunsmithing .211 Remington Fireball is destined to become my favorite ground squirrel rifle.