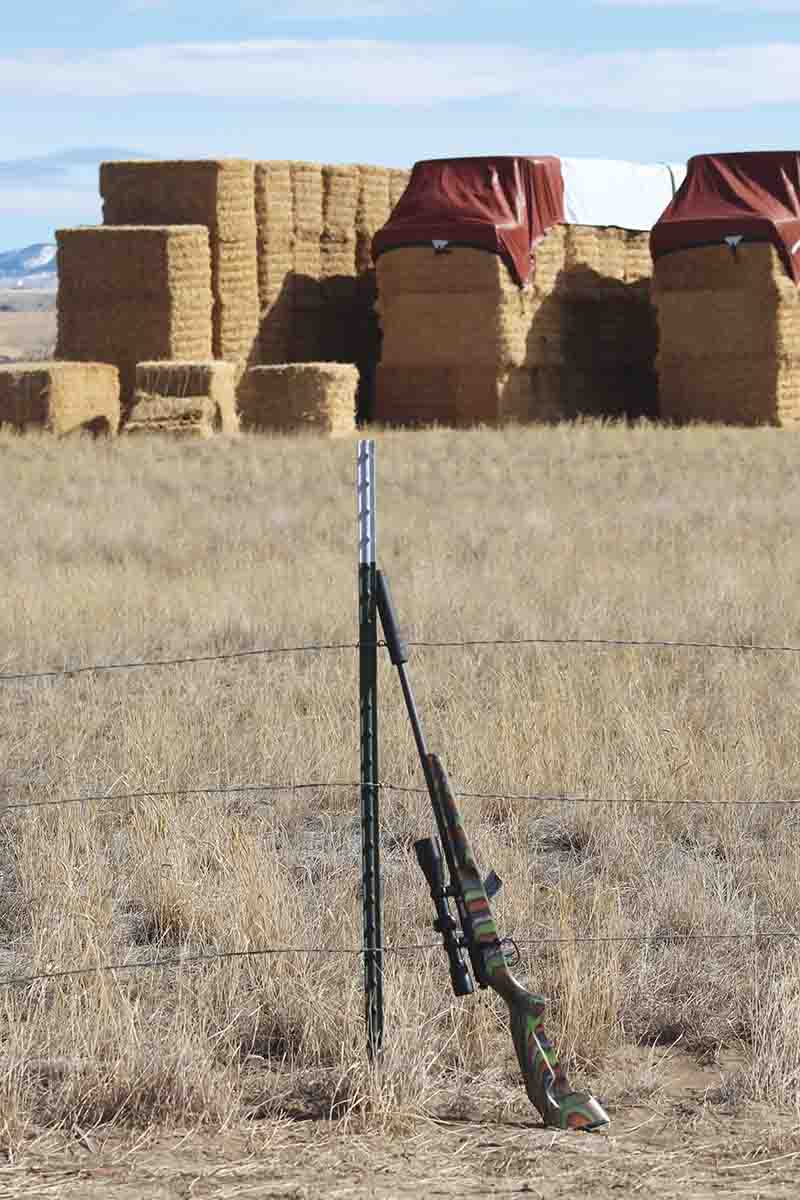 Many hunters and non-hunters think of Montana as pretty much wilderness, teeming with elk and grizzly bears, but some of the state has filled in considerably over the last few decades, nowhere more so than in and around Bozeman, where I was born and raised. Back then, its population was 12,000; today its "metropolitan statistical area" that holds almost 10 times as many people, with more moving in every day.
Many newcomers are from more crowded parts of the country, but not all. Two old friends of mine who recently moved to the sprawling Bozeman suburbs were wheat farmers from the sparsely populated northeastern corner of the state, which has not become a trendy retreat, partly because it doesn't have any ski hills or sushi bars.
When Crockett and Rose (not their real names, per Crockett's request) sold the farm and retired, they decided on Bozeman partly because their two daughters live in the area. (Their two sons still live near the farm.) They moved to a subdivision several miles out of town, off a local highway that when I grew up, was partly "paved" with gravel, in places barely wide enough to allow ranch pickups to slide by each other. Now it's wide asphalt with quite a few traffic lights to control rush-hour workers eager to return to their suburban homesteads.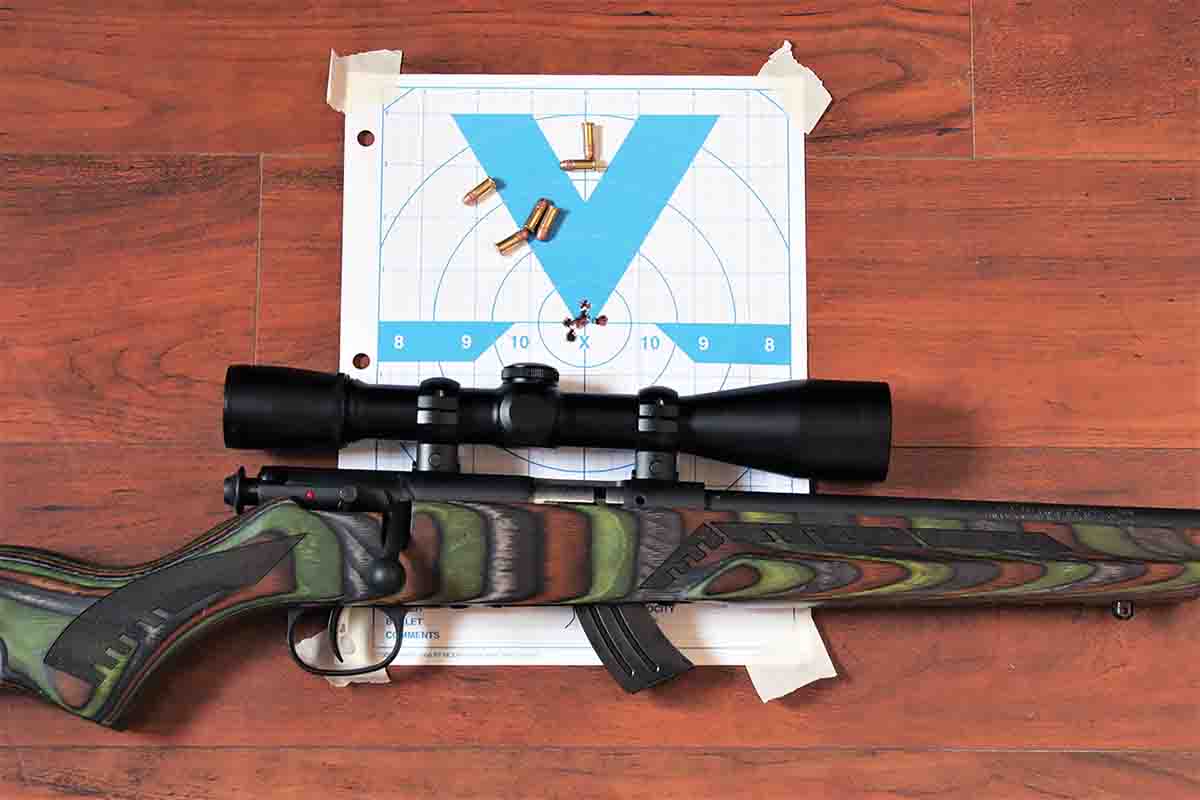 In March 2021, Crockett called me with a "hunting" question. He grew up on a ranch in a Montana county the size of Connecticut with a population of around 1,000 (which remains about the same today), hunting everything from varmints to big game. However, he is not what most Rifle readers would consider a rifle loony.
He said their subdivision was infested with Richardson's ground squirrels, locally called "gophers." Adults weigh about a pound and look like miniature prairie dogs – and also live in colonies of burrows, gobbling almost any sort of semi-tender vegetation.
Rural Montanans with a gopher problem usually solve it with rimfire rifles, the standard technique on ranches and farms. However, this is not so easily done in a subdivision – and gophers emerging from their winter rest were already laying waste to some of the new landscaping, including Rose's young flowerbeds.
There are two basic types of Montana subdivisions. One has houses on small plots, almost as close together as in towns. The plots in the other type are large enough for properties to be called "ranchettes," partly because the owners sometimes have a horse or two.
Crockett and Rose lived in a ranchette subdivision. He said there was no covenant against shooting, but suspected some neighbors would be bothered by the crack of a .22. He wanted a
gopher rifle with a "silencer" – but of course knew zip about buying suppressors, including their considerable cost. After I filled him in, he said that wouldn't work, but wondered if there was another way, so I volunteered to do some hands-on research.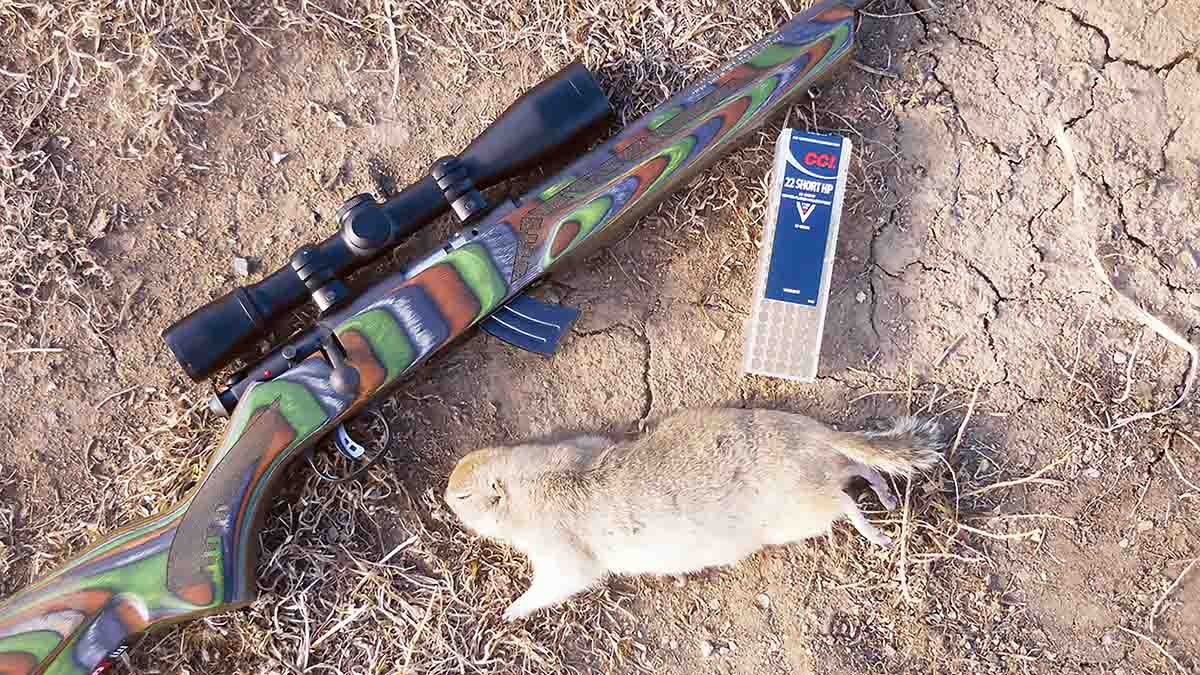 This conversation took place several months into the latest round of very high demand of firearms and ammunition, induced by both COVID-19 and the 2020 presidential election. Of course Crockett was blissfully unaware of the shortages as well.
Luckily, an article by Patrick Meitin had recently appeared in one of Rifle's special editions, which mentioned what might be called a semi-suppressor for rimfires, called the Boom Tube, manufactured by Little Crow Gunworks in Minnesota. Little Crow's owner/operator is Dale Hegstrom, perhaps best known for his World's Finest Trimmer (WFT), had already cooperated on some of my projects.
The Boom Tube is one of Dale's more recent developments, a simple, threaded aluminum tube about seven inches long. It does not have the interior baffling of a real "silencer," so no paperwork or tax stamp is needed to buy one. The listed price on littlecrowgunworks.com is $49.95, in line with what Crockett considered reasonable. I ordered three, thinking Eileen and I could each use one for our gopher expeditions to local ranches, where we sometimes shoot near a ranch house.
While a Boom Tube doesn't reduce the report of high-velocity .22 Long Rifle hollowpoints much, due to their supersonic crack, it works pretty well with milder, subsonic ammunition. Luckily, I had stocked up on .22 ammunition after the "Great Obama Rimfire Shortage" of 2012 and probably had some that would work.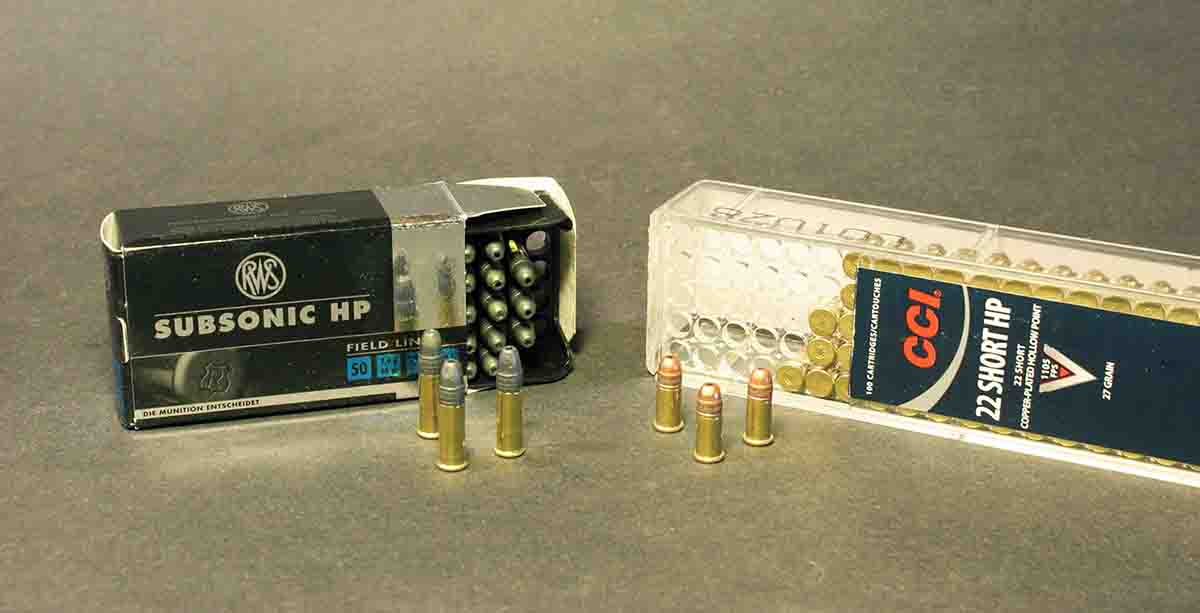 Since time was of the essence if we were to save Rose's flowers, the next step was obviously an inexpensive .22 rimfire rifle with a muzzle already threaded for the Boom Tube's half-inch-28 threads. I first tried my primary gun shop, Capital Sports, a half hour drive away in the "big city" of Helena, but Capital's rifle racks were sparsely populated. Helena's other gun stores were similarly under-stocked, with rimfire rifles particularly scarce, probably partly due to emerging gophers.
Then, in one of those "duh" moments, I remembered Rocky Mountain Supply, the farm and ranch store in our small town. Along with barbed wire, livestock medication and irrigating boots, it sells firearms and ammunition, all priced to fit the budget of farmers and ranchers.
Its glass rifle case can only hold a couple dozen firearms, and like Capital's racks was less than half-full – but one rifle was a Savage Mark II Minimalist .22 bolt action, with a laminated green/brown stock featuring a "minimal" buttstock, 10-round detachable magazine and threaded muzzle. I had a Boom Tube in my jacket pocket, and after asking a young clerk to unlock the glass case, I also asked if I could see if the tube fit the threads. He said sure – and it did.
One of the unmounted scopes in my collection was a made-in-Japan Weaver K6 purchased used from Capital Sports, also fitting the "affordable" requirement of my experiment. While not adjustable for parallax, that wouldn't matter at subdivision distances.
The two kinds of ammunition in my stash that might work included a single 50-round box of RWS subsonic .22 Long Rifle hollowpoints and a 500-round brick of CCI .22 Short hollowpoints. (The CCI Shorts had appeared at Rocky Mountain Supply during the Obama shortage, when stores ordered any kind of rimfire ammunition they could get.) While hollowpoint Shorts are not a hot seller these days, I had used them some as a kid. At closer ranges they did fine on tree squirrels up to twice the size of gophers, so it would definitely work.
I started shooting at 25 yards, both at a target and over a chronograph. The RWS load with a 40-grain hollowpoint is listed at 1,033 feet per second (fps), but the .22 Short's 27-grain hollowpoint is listed at 1,105 fps, right on the edge of subsonic, depending on elevation. At sea level, at the "standard atmospheric" temperature of 59 degrees Fahrenheit, the speed of sound is 1,116 fps, but according to engineeringtoolbox.com, at the subdivision's elevation of around 5,000 feet above sea level, in average March temperatures of 40 degrees it would also be around 1,100 fps.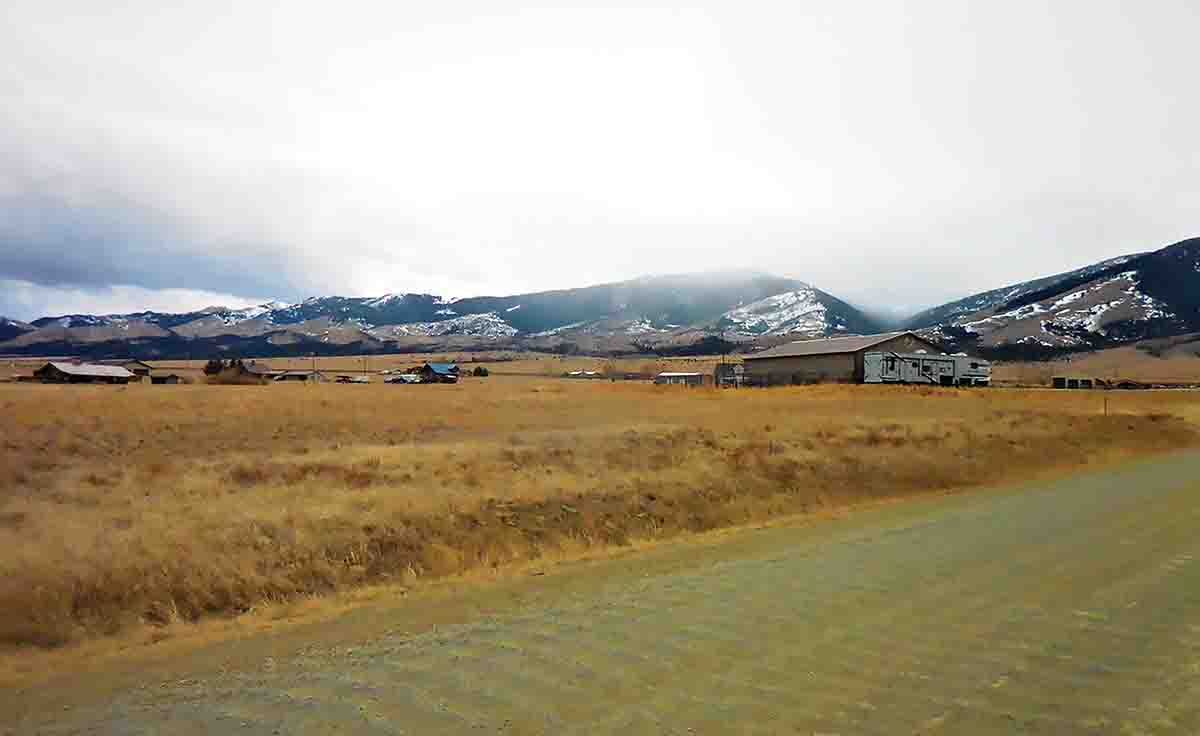 The CCI Shorts could be slightly supersonic or slightly subsonic, depending on the velocity from the Minimalist's 17.75-inch barrel. My local shooting range's elevation is similar to the subdivision, and on a 40-degree afternoon the Shorts averaged enough under 1,100 to make the "report" very quiet – especially when compared to the CCI Mini-Mag Long Rifle hollowpoints I also shot for a noise comparison.
The Shorts also grouped somewhat tighter than the RWS ammunition, which could be considered unusual, considering the "freebore" in the Long Rifle chamber. This meant Crockett was lucky, since the supply of CCI Shorts would definitely last through gopher season, while the remaining RWS rounds might not. I also discovered the Savage's 10-round magazine fed Shorts perfectly and they sometimes don't from stacked magazines.
After adjusting the K6 so the .22 Shorts landed dead-on at 25 yards; at 50 yards they landed in basically the same place. In fact, the last group, shot with three rounds each at 25 and 50 on the same target, measured a little over 0.6 inch, well under minute-of-gopher. I phoned Crockett that evening and the next day he made the hour drive to pick up the rifle. Soon afterward, he reported it really dropped gophers.
After the targets started retreating into their burrows for winter, he returned the rifle. He'd used about half of one of the plastic, 100-round boxes of CCI .22 Shorts, and only missed two or three gophers, because the Savage "sometimes shot a little high." I asked at what range, and he shrugged and said, "About average." I did not bother to inform him that rifles generally shoot higher when aiming "downhill" – as he normally did when shooting gophers from his house's windows.
In a way, Crockett's rifle knowledge resembles my father Jack's, who also grew up on a homestead in eastern Montana. He was a very good rifle shot, due to shooting not only gophers, but edible small game with his Winchester pump .22, but his technical knowledge of rifles was pretty slim. Throughout his life, he only used .22 Longs in rimfires, because they were basically the same physical size as Long Rifles but cost less. (If you've never seen a .22 Long cartridge, they basically use .22 Short bullets in a Long Rifle case – and don't beat Short velocities by much.) He always thought I was nuts for often buying Long Rifles with my paper route money, especially 500-round bricks. He grew up during the Great Depression, and even as a securely employed adult still purchased .22 ammunition one or two 50-round boxes at a time.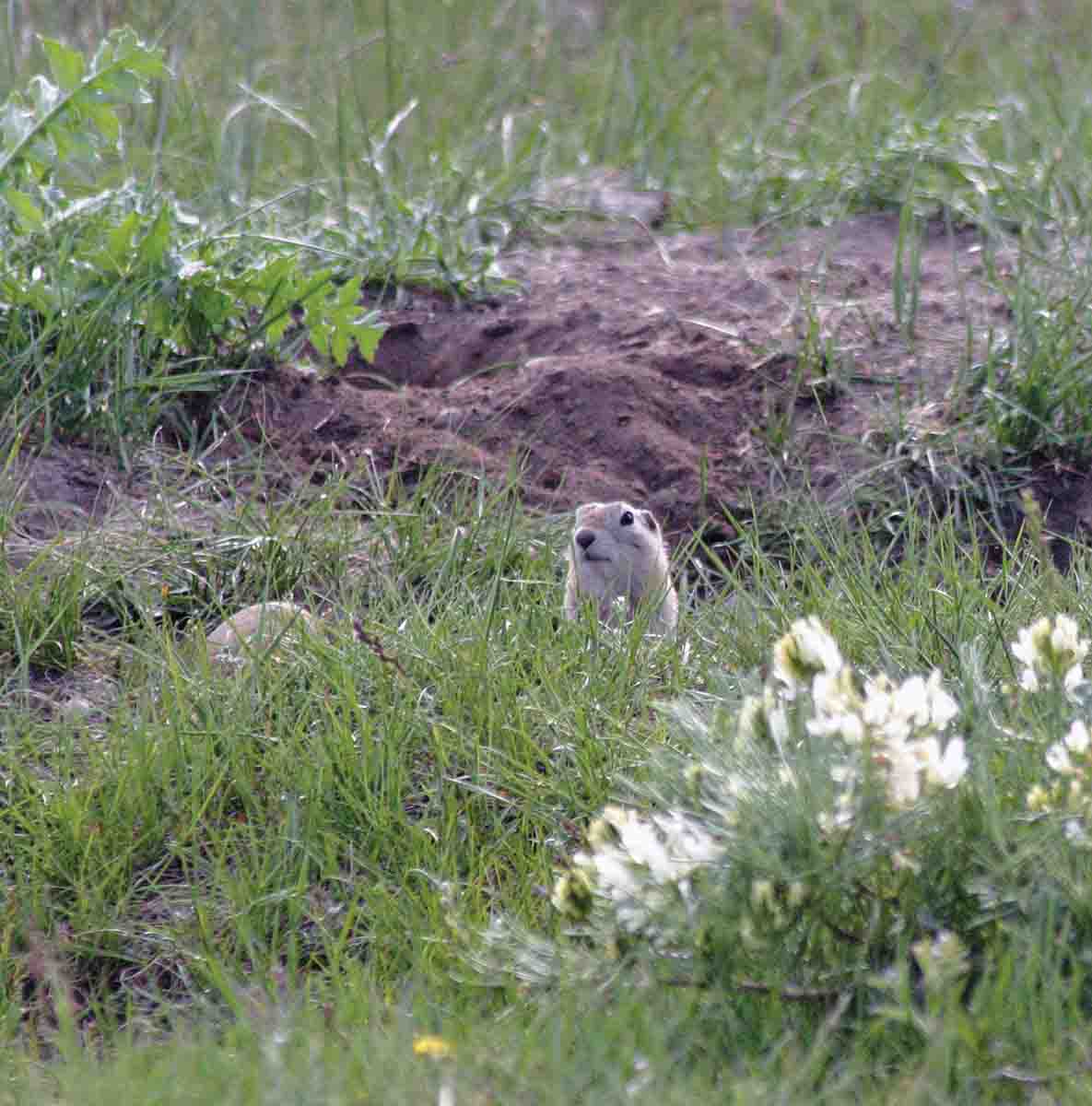 When Crockett returned the Savage, I gave him one of the other two Boom Tubes. As supplies of firearms and ammunition increased slowly over the winter, he found some .22 Shorts at Capital Sports, and somewhere else he picked up another bolt-action .22. I asked what brand, and he couldn't remember because he left the rifle with his younger son so he could teach some local kids to shoot.
After getting the Minimalist back, I realized that due to needing to get it to Crockett as soon as possible, it had not been checked out as much as my other rifle acquisitions. Of course, it has a Savage AccuTrigger, which broke so well I didn't bother adjusting it, but the actual pull had never been measured. My Timney spring trigger-gauge indicated it averaged just about 2 pounds, a little lighter than the adjustment range of 2.5-6 pounds listed by Savage.
The inside of the barrel also hadn't been checked with my Gradient Lens Hawkeye borescope, and it turned out to be quite smooth. This was the first new Savage rifle purchased in a while, and though some internet posts suggested its recent barrels had much smoother bores, I hadn't personally encountered one since buying the borescope around 20 years ago. Back then, most had obvious reamer marks, though they still shot well, but this one only showed faint hints – probably why it only showed faint traces of bullet fouling.
I also never got a chance to "field-test" the rifle before Crockett picked it up. Since this was written in mid-March of 2022, and gophers had emerged from their winter dens, right on time, one of our rancher friends really likes us to shoot as many as possible during March, before they start reproducing. Their gestation period is only about three weeks, and by the time hayfields and pastures really green up in May, many new but fast-growing gophers join their parents at the supper table. He says shooting one gopher in March equals shooting 10 in May.
Per usual, March in Montana had a hard time making up its mind about whether it was winter or spring. During the first few days the temperature varied from nearly 20 below zero to the low 60s, with several snowstorms and a lot of gusty wind. The ideal gopher-shooting day is relatively calm and sunny, because they become more cautious after wind gust misses, and use sunshine as a defense against raptors while feeding by watching for approaching shadows.
The afternoon of March 10 started out cold, cloudy and breezy after a light snowfall the day before, but by midafternoon, the post-snow breeze had almost died, the clouds had disappeared except over the nearby mountains, and the temperature rose into the low 30s. We drove out to the ranch and started on the big hayfield behind the house. Eileen got the first gopher with her Anschutz 54 and a CCI Mini-Mag, and I got one with the Savage rifle a few minutes later, which dropped to a chest shot at about 50 yards. The entrance hole was almost invisible in the winter fur, but the exit indicated the little bullet mushroomed very well.