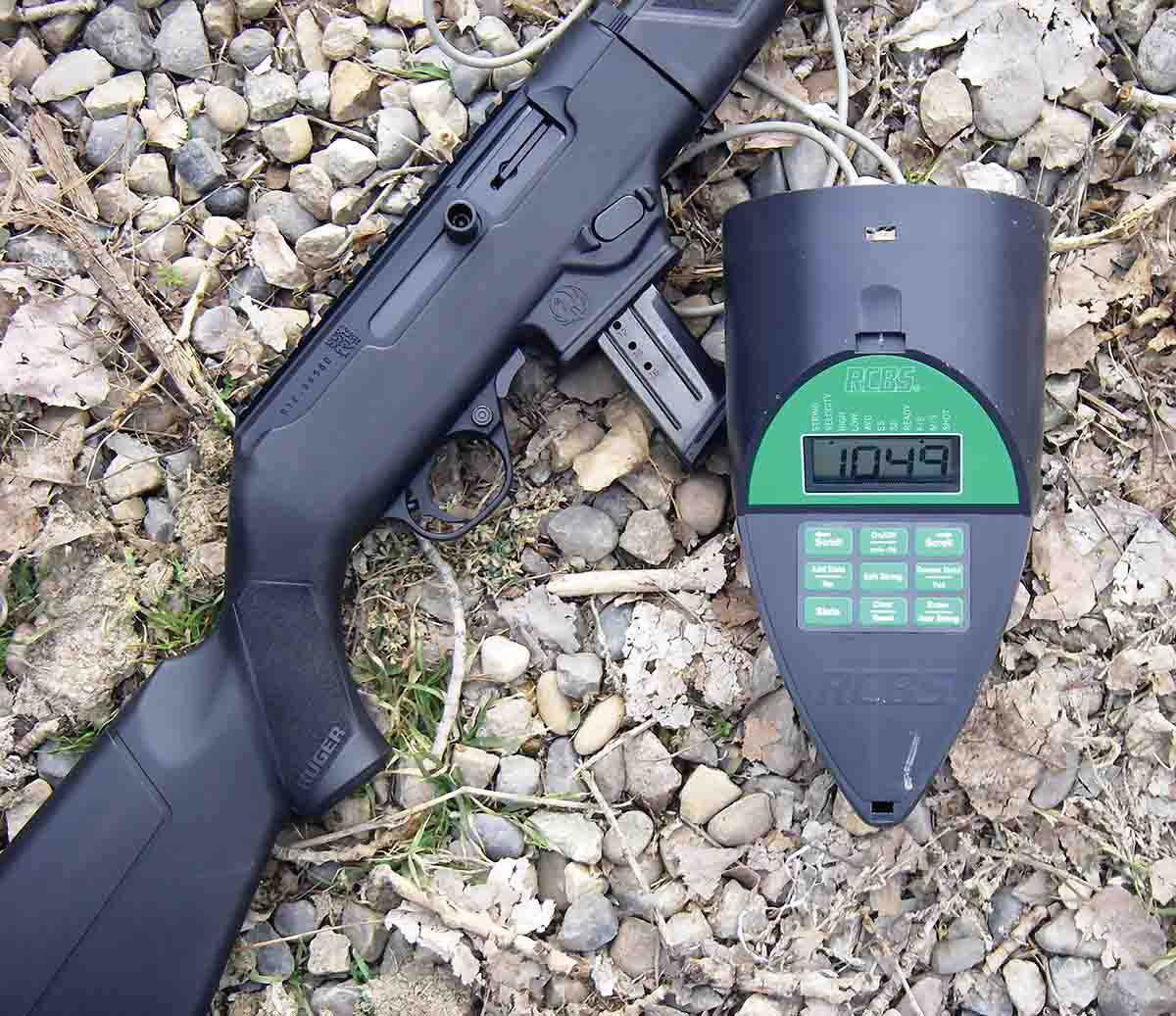 Ruger has introduced a top-notch, semiautomatic-loading carbine chambered in 9mm Luger and .40 Smith & Wesson (S&W), which for good reason has become very popular. The PC Carbine boasts of many trending features that make it appealing, but most importantly, it offers reliability and carries an attractive price tag.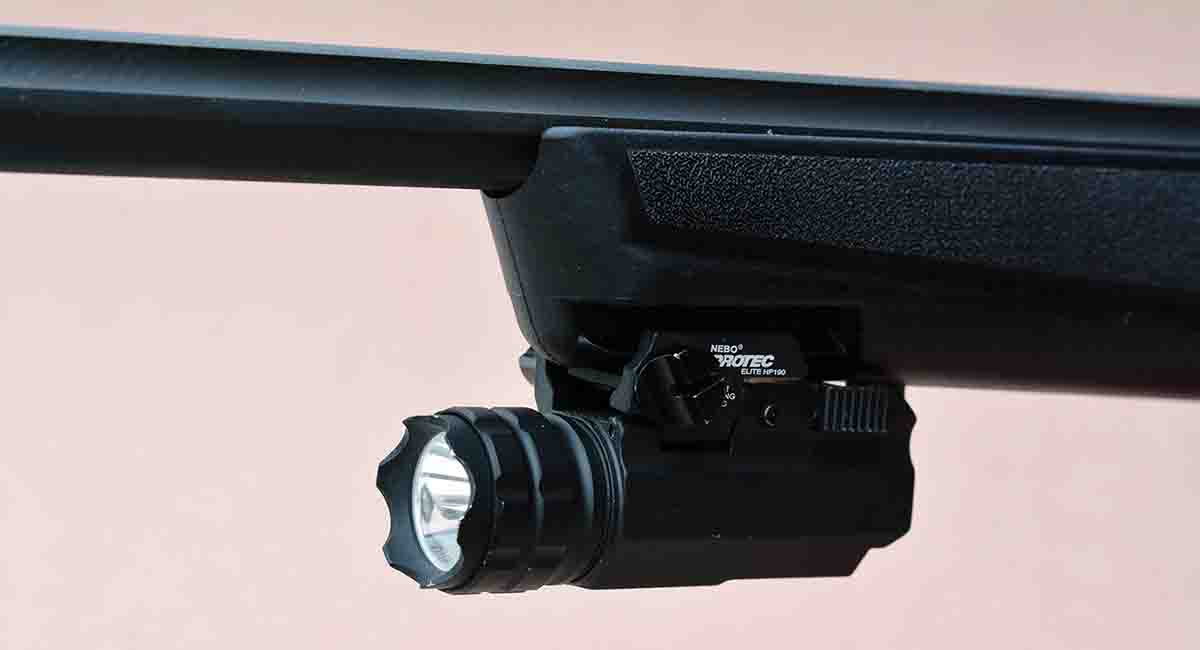 Many readers will remember the auto-loading Ruger Deerstalker Carbine chambered in .44 Magnum that founder Bill Ruger introduced around 1959. It was designed primarily as a potent, fast-handling carbine for hunting big game at comparatively short range (brush and timber) and enjoyed some popularity. However, the PC Carbine is designed in a day and age when our country has changed. Average citizens in every U.S. town and city are expressing growing concerns over their personal safety. This has resulted in self-defense being the primary reason that guns are purchased today. While Ruger's PC Carbine serves well in that capacity, it is also very fun to shoot and can be considered a sporting rifle.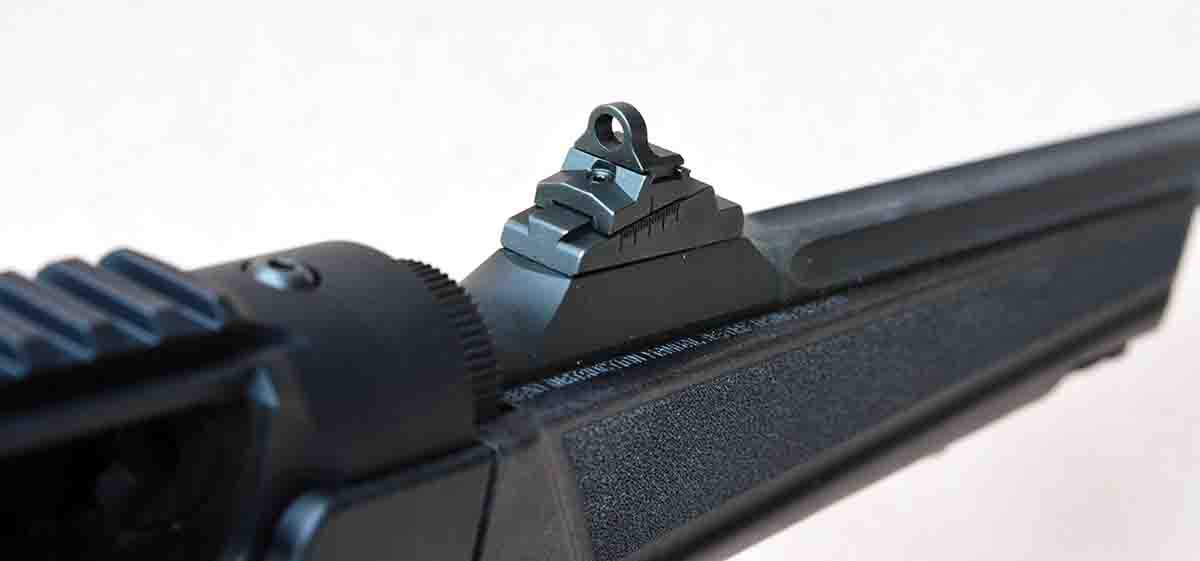 I have long emphasized the virtues of handy, lightweight lever-action carbines for personal defense (not to be confused with concealed carry). When chambered in popular sixgun cartridges such as the .357 Magnum, .44 Magnum or .45 Colt, they offer notable ballistic superiority over sixguns of the same caliber and are far more effective than their "paper" ballistics indicate. But more important, most shooters will shoot them much more accurately than their pet sixguns. This is especially true if distances are increased from a few yards to 25 yards and beyond. The Ruger PC Carbine offers many of the same virtues. However, since neither the 9mm nor the .40 S&W cartridges offer as much powder capacity or gas volume as magnum revolver cartridges, they cannot match their power. Nonetheless, they do offer a notable velocity increase when compared with the same cartridge fired from a pistol (which I will discuss in detail momentarily). The PC Carbine is accurate, fast-handling, easy to make hits with, offers very low recoil and accommodates high-capacity magazines.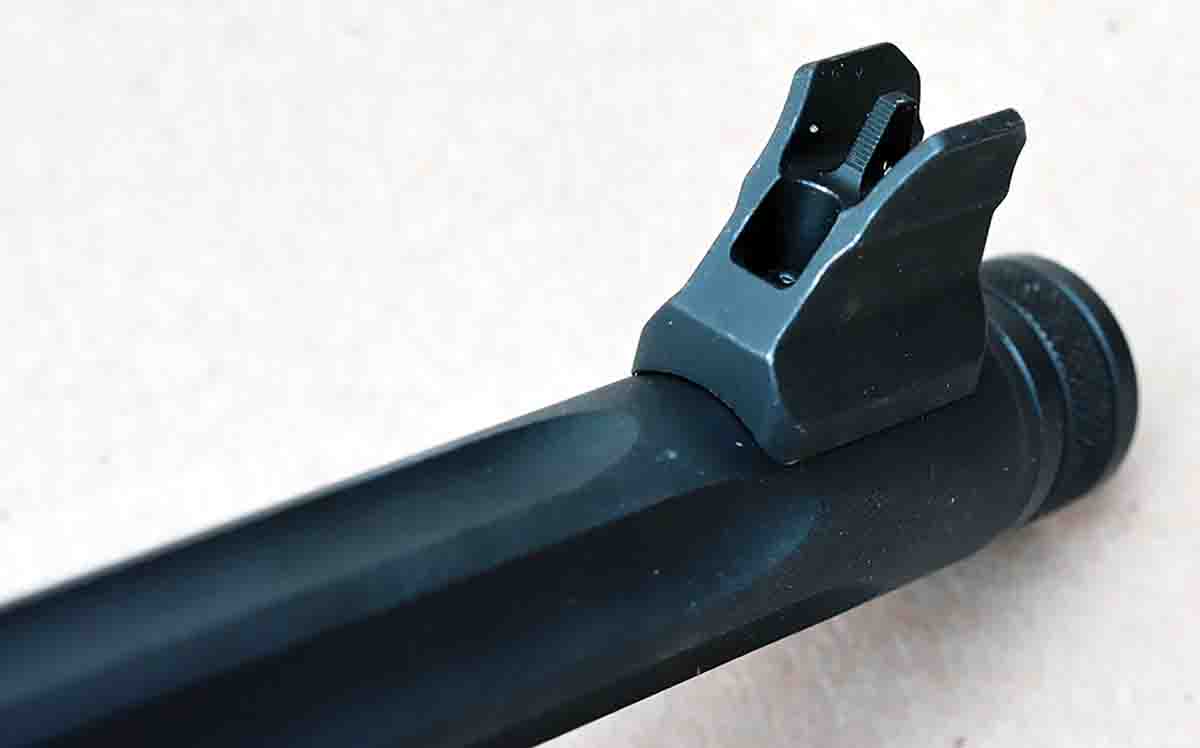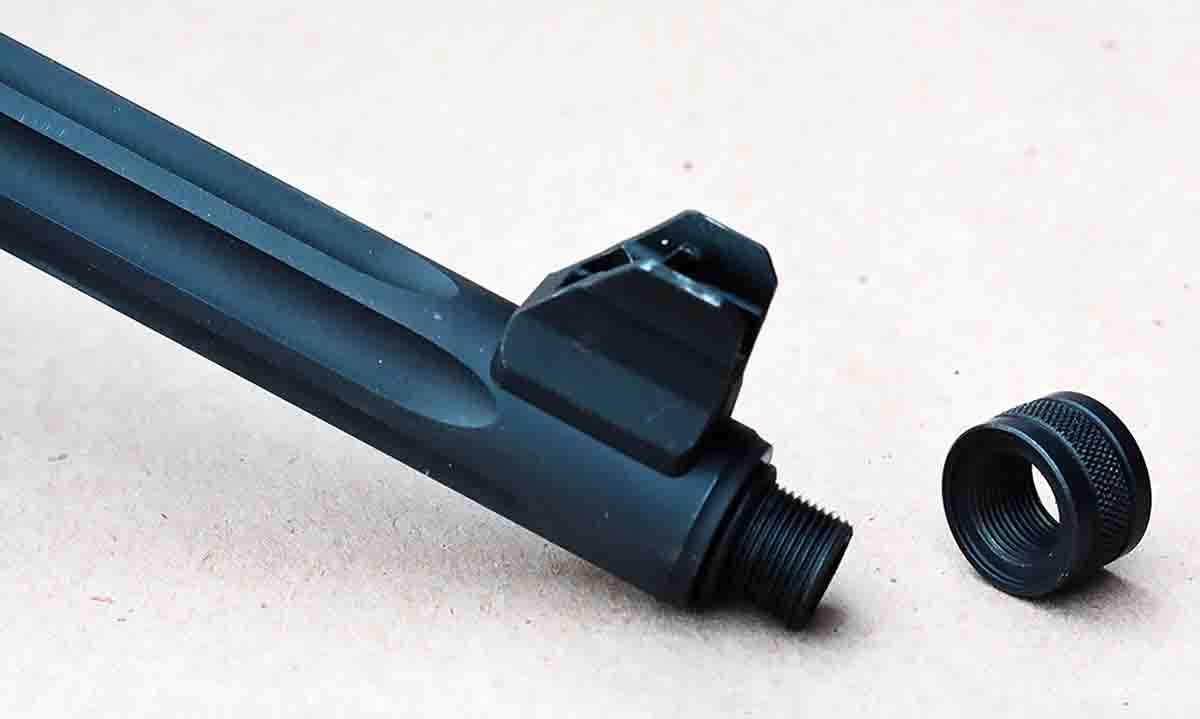 The sample test gun is chambered in 9mm Luger and weighs 6.8 pounds (empty), while overall length is a compact 34.37 inches. It features a 16.12-inch fluted-barrel that is threaded (half-inch-28) to accommodate various accessories. The front sight features a blade with protective side wings that are similar to many combat rifles. The rear sight is a fully-adjustable aperture (or ghost ring) that is mounted directly to the barrel. Both are constructed of steel and are robust. The bottom front of the forearm features an integral rail to accommodate accessories such as a laser or light, while the top of the receiver features an integral Picatinny rail-style mount that readily accepts a scope mount, reflex sight, etc. The push button-style safety is mounted in the front of the trigger guard and is positive and easy to operate. The magazine release is reversible and can be installed for either right- or left-hand operation and is easy to use. The charging handle can likewise be installed for ambidextrous operation, which makes it especially appealing for either right- or left-hand shooters.
The receiver is CNC-machined from an aircraft grade 7075-T6 aluminum billet and is hard-coat anodized for wear reduction and increased durability. Ruger refers to the bolt as a "dead-blow action" that serves to shorten bolt travel and reduces recoil and muzzle rise. The bolt is machined from heat-treated, chrome-moly steel for outstanding strength and durability.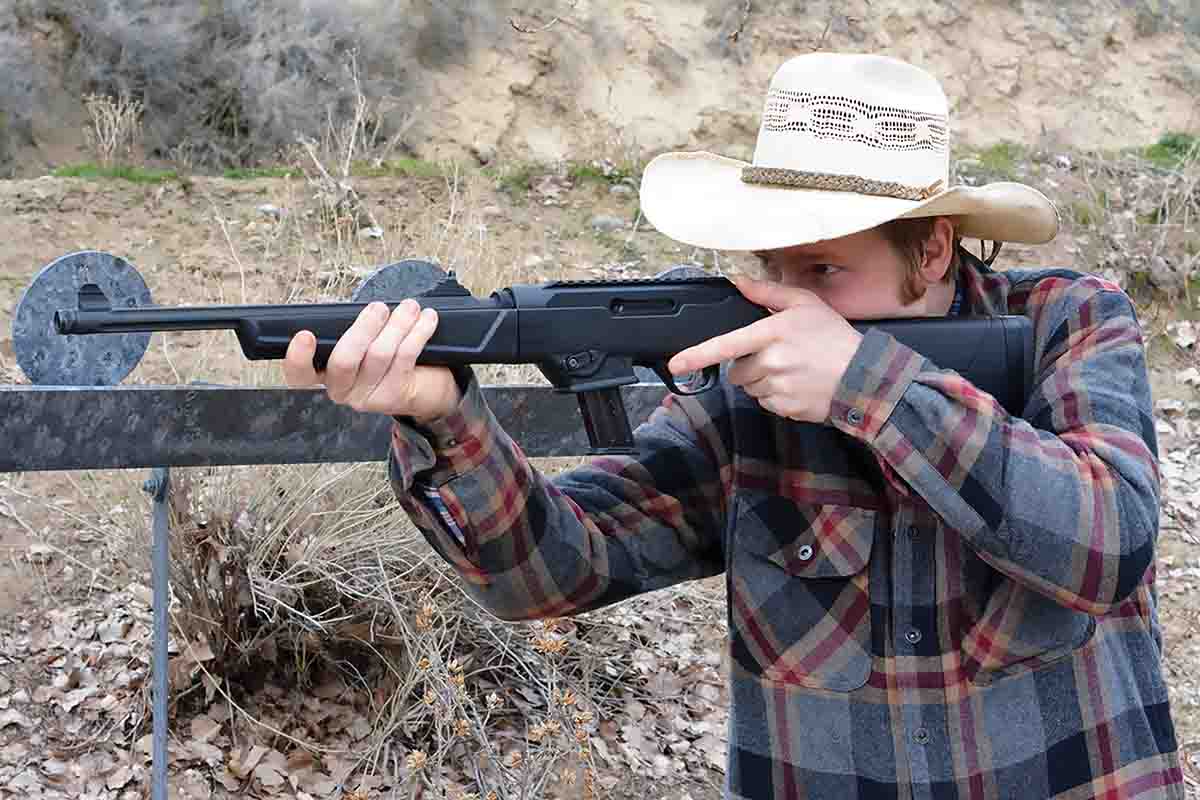 The flat black stock is constructed of synthetic material and includes glass-filled nylon, resulting in unusual strength and stiffness. It is textured on the forearm and in the pistol grip area to help provide traction. It also features a soft recoil pad along with three half-inch spacers for length of pull adjustment between 12.62 and 14.12 inches to achieve a custom fit. The PC Carbine comes standard with Ruger steel magazines designed for the Ruger SR series and Security-9 pistols. The magazine provided has a 17-round capacity. However, the PC Carbine comes standard with an extra magazine well that can be interchanged to accommodate magazines from the popular Glock 17 and 19 9mm pistols (or Glock 22 and 23 if chambered in .40 S&W). This is certain to increase its appeal to dedicated Glock owners who want interchangeable magazines with their pistol of choice. The capacity of either the Ruger or Glock magazines makes the PC Carbine formidable, as well as its fast reloading capability.
An especially interesting feature of the PC Carbine is its take-down design that only takes a split second to accomplish. This allows it to be stored in a small space, but instantly reassembled and ready for action. To take it down, make certain it is unloaded, then turn the rifle upside down and push the recessed lever forward and turn the forearm in a clockwise direction and pull the barrel/forearm out and away from the receiver. As indicated, this can be accomplished, or reversed in a split second. Furthermore, the takedown is solid and locks tightly and should not interfere with accuracy or longevity. Incidentally, when in the take-down mode the buttstock and receiver measure approximately 20.25-inches long, while the barrel and forearm measure just under 16.5-inches.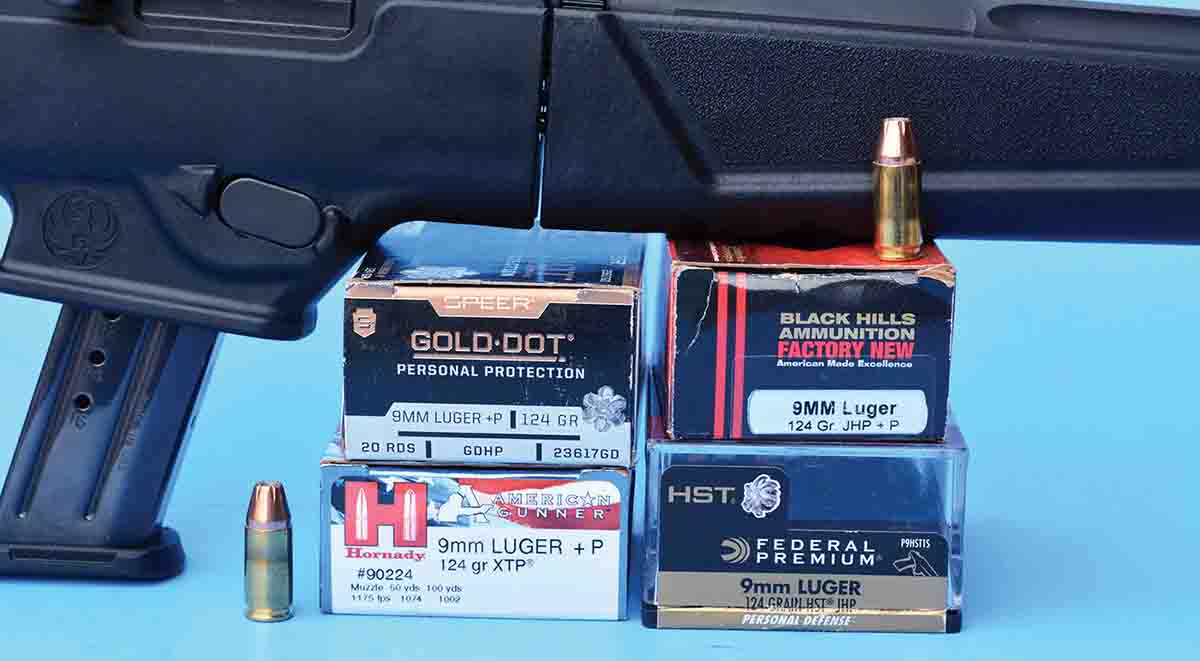 Over the years, I have fired many different manufacturer's carbines chambered in 9mm Luger. It is common to encounter trigger pulls that are stiff, heavy, gritty or generally unacceptable. The PC Carbine trigger pull by comparison is great! It breaks reasonably clean at 4.5 pounds. While there is some minor creep and a little after-travel, the gun can still be fired accurately and the reset is not excessive. A good trigger plays an important role in allowing the shooter to fire the gun with speed and accuracy and the Ruger trigger certainly serves well in this role. Incidentally, the trigger design is very similar to Ruger's famous 10/22 carbine.
Normally, I would take time to break-in a barrel before testing, but in this instance, a couple of magazines were fired (34 rounds to be exact) and accuracy testing began. Initially 50-yard groups were fired using the factory-issued aperture ghost ring-style sights. But I soon ran out of my favorite targets that correspond best with aperture sights, so a Leupold 2.5-8x 36mm VX-3i scope was installed using QRW rings/mounts.
I was pleasantly surprised by the accuracy of the PC Carbine. Four factory loads from Black Hills Ammunition, Federal Cartridge, Hornady Manufacturing and Speer were tried. Each featured 124-grain jacketed expanding bullets loaded at +P pressure: however, the exception was Federal Premium HST which is a standard pressure load.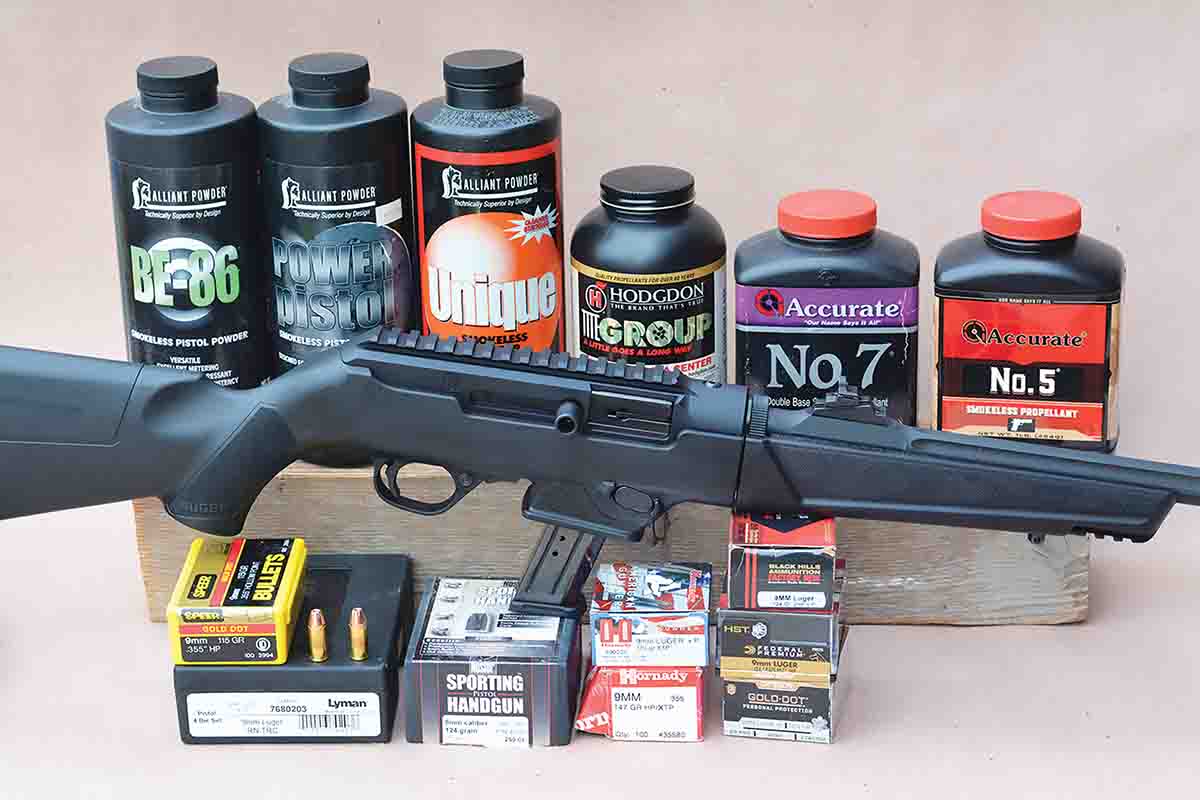 The Black Hills 124-grain JHP load is listed with a muzzle velocity of 1,200 feet per second (fps) from pistols, however, from the 16.12-inch barrel of the PC Carbine, velocities averaged 1,529 fps, which was the highest of all factory loads. The Black Hills load also produced top accuracy with the average of three groups, four shots each, measuring 1.189 inches (rounded to 1.20 inch in the table). The Hornady American Gunner XTP load is listed at 1,175 fps, but actually clocked 1,368 fps. Average group size was 1.35 inches. The Speer Gold Dot Personal Protection loads are listed at 1,150 fps from a handgun, but recorded 1,405 fps, while groups averaged 1.70 inches.
During testing, it was noted that while chronographing factory loads and handloads, the last shot fired from the magazine, with the bolt being held open, was always (without exception) the highest velocity recorded for that particular load. This last round in the magazine was often on the outer fringes of the group, or in some instances, was something of a flier that caused the group to open up. After this discovery, some loads were retested for accuracy without including the last cartridge in the magazine as part of the group. Indications are that the gun has even greater accuracy potential than has been established here. However, Idaho spring winds began gusting at 40 to 50 mph and deadlines being what they are, that testing will have to wait for another day.
Ruger does not specify if the PC Carbine is suitable for +P loads, however, I would be shocked if it was not. It is strong and robust and handled the above +P factory loads with ease. Nonetheless, I elected to develop only standard pressure 9mm handloads. New Starline cases were selected, with Lyman dies used to prepare cases and load ammunition. Cases were primed with CCI 500 primers. After bullets were seated to the correct overall length, as a separate step, cases were taper crimped to measure .373 inch at the mouth.
Some powders were selected based on velocity potential, while others were selected due to their clean burning nature, low extreme spreads and known accuracy potential. As it turned out, there was very little difference in practical accuracy. For example, using the Speer 115-grain Gold Dot HP bullet, 5 grains of Hodgdon Titegroup (known for outstanding accuracy) reached 1,411 fps and grouped into 1.60 inches. Using the same bullet, 6.4 grains of Alliant Unique powder (for greater velocity) reached 1,496 fps and average groups measured 1.65 inches, or in practical terms, their accuracy was identical.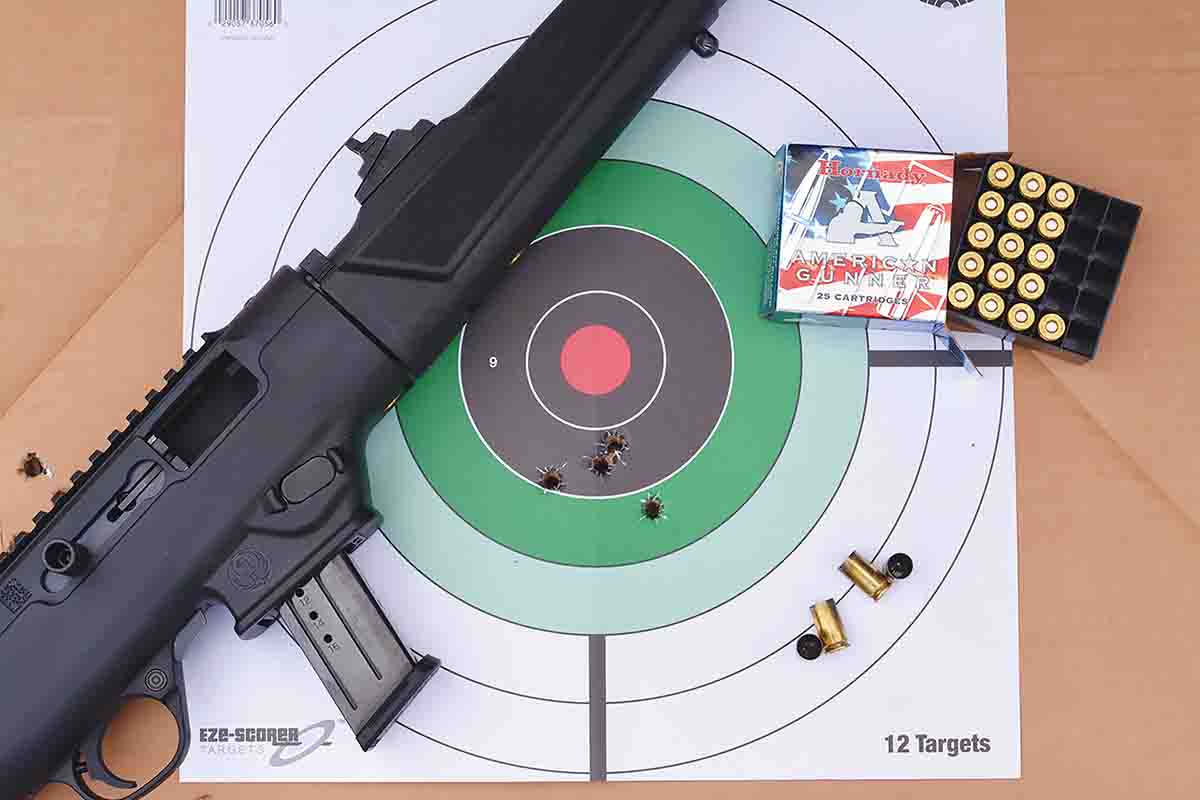 Using the Nosler 124-grain Sporting Handgun JHP bullet, 6.5 grains of Alliant Power Pistol reached 1,471 fps and groups averaged 1.20 inches, which was the best accuracy of all handloads. This load also virtually duplicated the accuracy of the above mentioned Black Hills Ammunition factory load.
As these words were written, our nation has been on an especially rocky road, which has resulted in a huge demand for ammunition, bullets and components. Not only is it very difficult to come up with popular defense-style 9mm Luger ammunition, component bullets are likewise very hard to find. When either is obtained, most shooters will use them rather sparingly. A good option is to purchase cast bullets, which are readily available from several sources. For this feature, the Rim Rock (rimrockbullets.com) 147-grain cast FP was selected. While some shooters may consider it a plinker-style bullet only, it boasts of a flatpoint (or
meplat) that creates a reliable wound channel with shock effect. Since it rarely expands, it provides reliable penetration that exceeds most expanding bullets. Regardless, cast bullets allow inexpensive practice. Using 4.8 grains of Accurate No. 5 powder produced subsonic velocity of 1,040 fps and accuracy was respectable.
Some shooters have criticized the chambering options of the PC Carbine (both 9mm Luger and .40 S&W) for their lack of power. However, it was not designed as a powerhouse; rather, it was intended primarily as a short, fast-handling, and low-recoiling carbine to be used at modest distances. It generally gains at least 175 to 200 fps over the same loads fired in 9mm handguns, but in some instances, it can be as much as 325 fps. Regardless, it is certainly more powerful than 9mm pistols that are commonly touted as being effective defensive guns. As indicated, the Black Hills 124-grain JHP +P load, and select handloads containing the same weight bullet reached around 1,500 fps. This is ballistically identical to .357 Magnum revolver loads that contain 125-grain JHP bullets at about the same speed when fired from most sixguns. This load has earned a high reputation for defense and law enforcement purposes and the 9mm PC Carbine should prove equally effective.
In spite of the above comments, it would be great for Ruger to consider offering the PC Carbine in .45 ACP, as that cartridge is widely popular and is expected to sell well. For those that do want a bit more power and velocity, the 10mm Auto would be a desirable addition to the product line.
During testing, there were no failures of any sort with the PC Carbine. It proved reliable with a variety of ammunition and bullet profiles, and was even fired with some foreign ammunition that was of rather poor quality, but likewise functioned reliably. With high-quality ammunition, accuracy was good enough to make reliable hits on ground squirrels offhand at 50 yards and even beyond. It is a great little carbine that is designed for today's shooters and is available at a reasonable price.