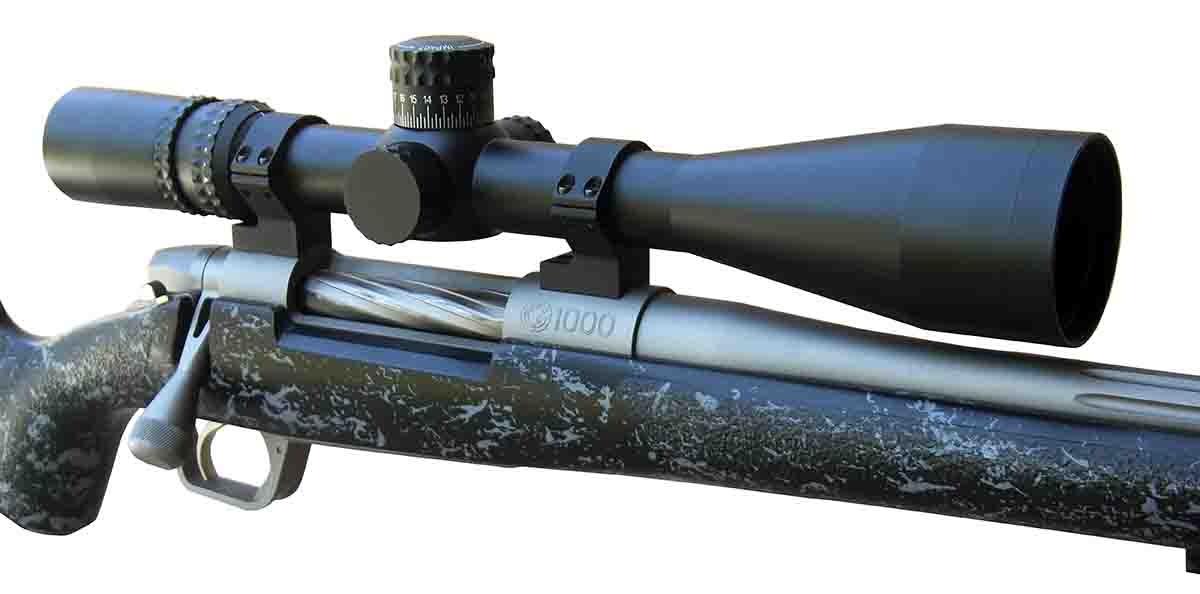 When I first began shooting high-power hunting rifles during the 1960s and '70s, the most common scope configuration among U.S. big-game hunters typically consisted of a one-inch tube with either 2.5x or 4x magnification, while other hunters opted for a 3-9x variable, which was generally considered the ultimate in versatility. That has all changed with today's scope technology.
When selecting a scope, items to consider include how the rifle will be used, the distance that game will be taken, desired rifle balance, overall rifle/scope weight with the inclusion of accessories such as bases and rings, scope level, sling, bipod, muzzle brake and recoil pad. As odd as this may sound, some hunters view adding weight to a rifle (perhaps with a comparatively heavy scope) desirable, as the extra weight serves to reduce recoil from a potent, long-range cartridge. Still others select light scopes and mounts in an effort to keep weight as low as possible. The former are often long-range shooters that hunt from a vehicle, ATV, stand or blind, or shoot across a "bean field" and rarely carry the rifle long distances. The latter are hunters that hike long distances or traverse remote mountainous terrain for days on end.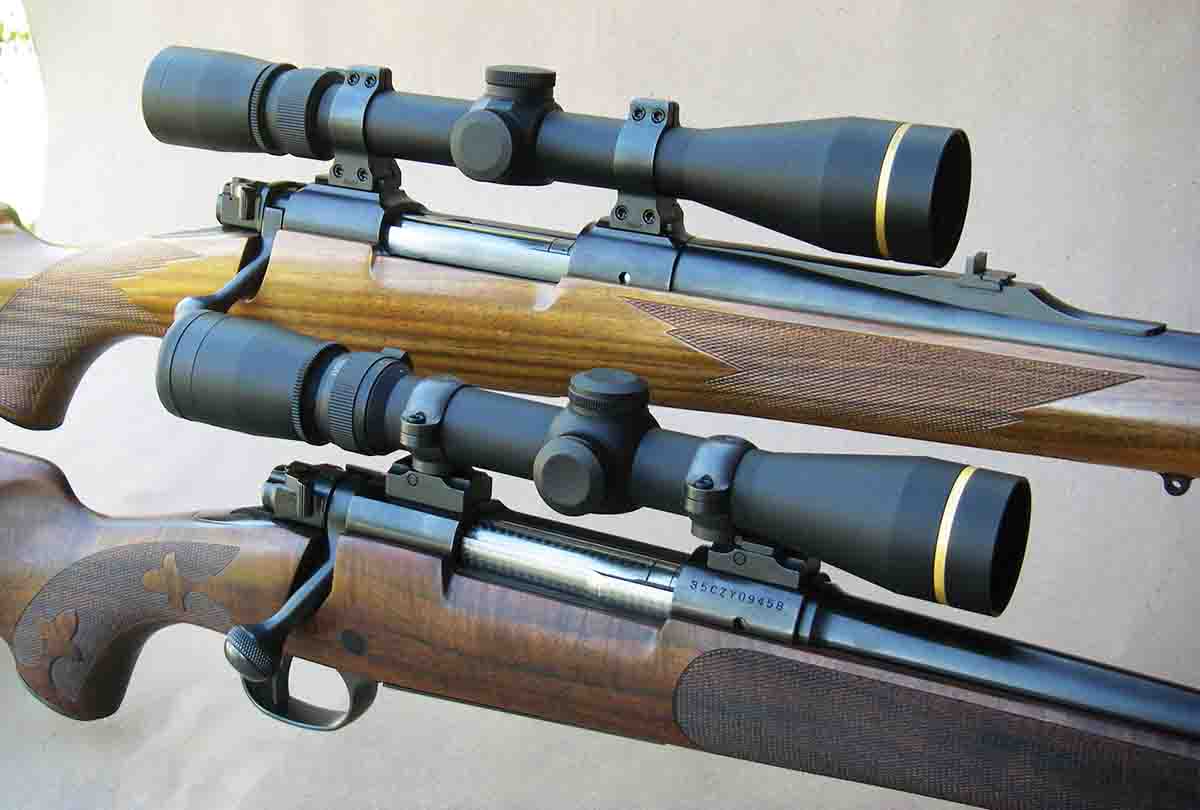 The dimensions of the scope tube, objective lens, eyepiece and overall length often dictate the height that it must be mounted. Large scopes generally require higher rings to clear the rifle's barrel and bolt handle. When installed on rifles with traditional stock dimensions typically found on Winchester Model 70, Remington 700 and Ruger M77 rifles that were designed to accommodate both sights and scopes, a high-mounted scope often results in a poor cheek weld that requires the shooter to unnaturally lift his head up to achieve proper eye alignment, which can increase felt recoil. If the scope does not have parallax adjustment, it can be difficult for the shooter to position his eye to look through the scope exactly the same way from shot to shot, which makes parallax issues more difficult to control and can hinder repeatable accuracy. This explains why scopes with one-inch main tubes mounted in low- or medium-height rings remain widely popular on traditionally stocked rifles.
On the other hand, many modern rifle manufacturers such as Nosler and Gunwerks offer classically styled stocks with a negative comb to accommodate higher mounting positions associated with 30mm main tubes and sizable objectives.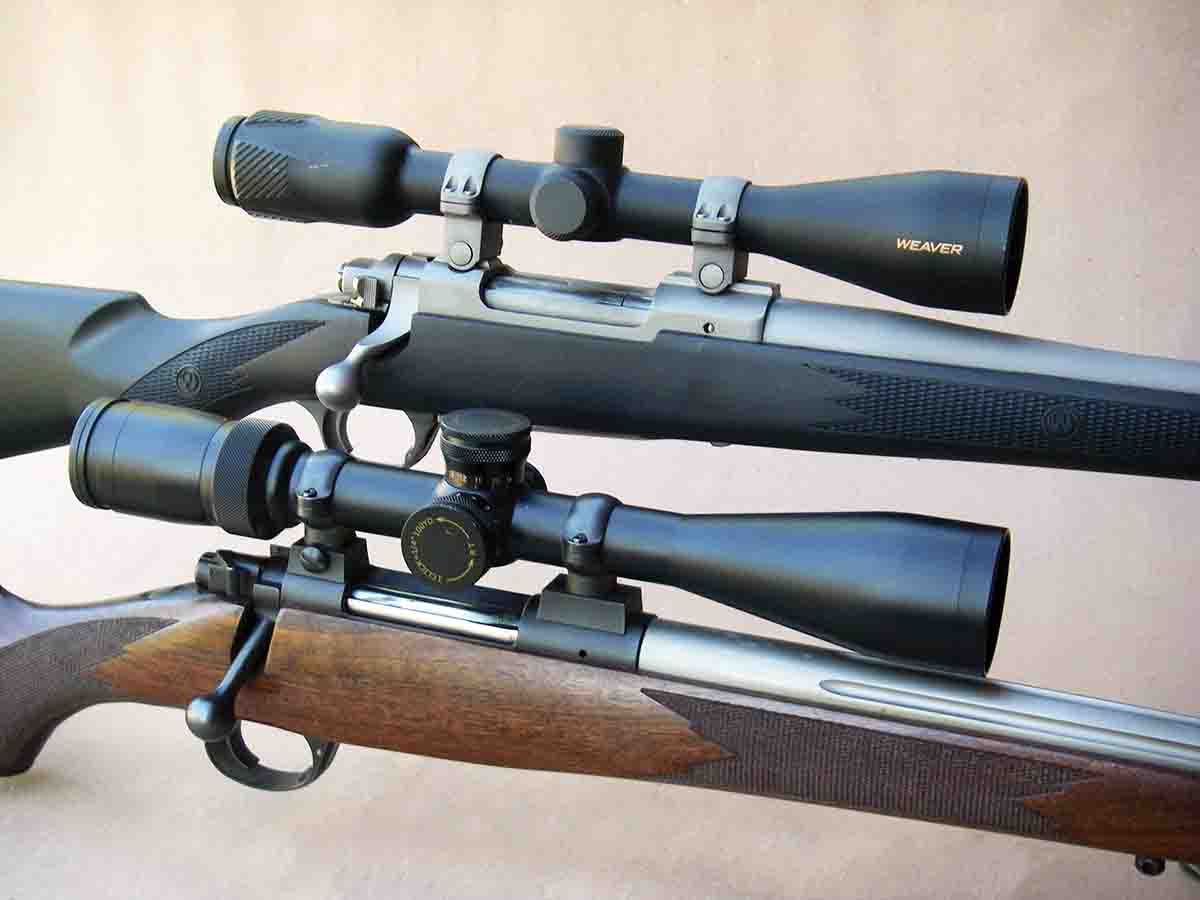 Heavy-recoiling, dangerous-game rifles should be matched with scopes that offer very generous eye relief to help prevent the eyepiece from hitting the shooter during recoil, which actually occurs rather often.
A popular trend includes rifles, cartridges and loads specifically for long-range field work, with most companies offering scopes dedicated to that purpose. Such scopes often serve for both "tactical" and "long-range hunting" applications. They commonly feature 30mm main tubes that offer notably greater adjustment than one-inch tubes and usually feature first focal planes, wherein the reticle calibration remains constant at all magnifications. Many long-range scopes also feature turrets for dialing and with zero stops, which are best when customized to precisely correspond with the ballistics of a given caliber, bullet and velocity.
After laser ranging the exact distance to a given target and compensating for estimated wind drift, these scopes can be "dialed" for a dead-on hold. The rotating turret certainly has its place in many long-range shooting applications including military, formal target work and when hunting circumstances offer plenty of time to read the wind and laser measure the distance before taking the shot. However, this methodology usually works best when the shooter is "locked" in position and is ready to make the shot while a spotter assists with reading the wind that is usually constantly changing, and measuring distance, which can change as game browses or wanders. In spite of "dialing" being a science with variables, hunters that respect limitations can make it work very well; however, it is not for all circumstances, or every hunter.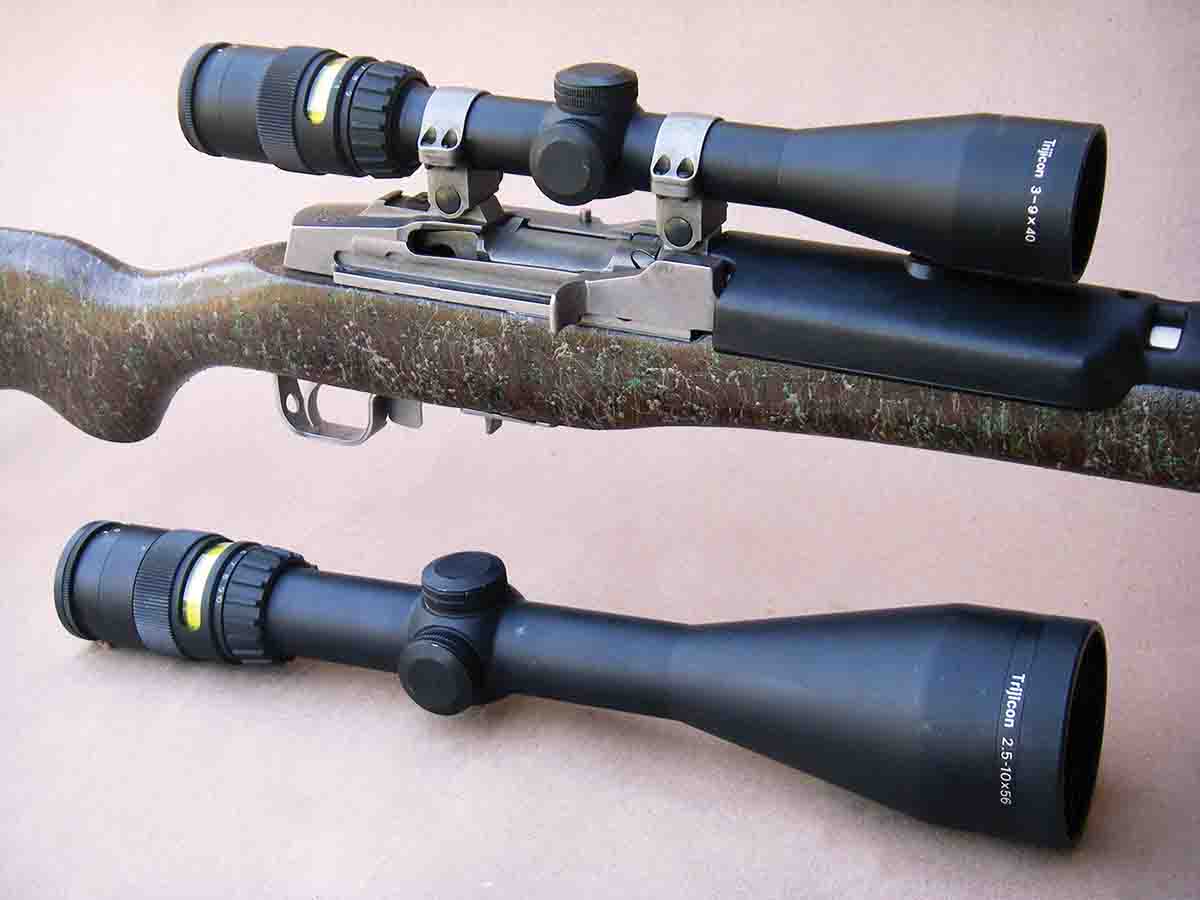 As an option, consider using a customized hold-over drop table along with a long-range reticle. A couple of advantages include faster target acquisition (as bullet drop compensation and wind drift is instantly corrected by the shooter's hold) and there is little chance that the scope can be dialed or adjusted incorrectly, which can happen even with the highest quality scopes. Without external knobs or dials, the scope can also be more compact. There are countless reticle options that accommodate the hold-over method. If something really special is desired, some companies, such as Leupold, offer many alternatives through their custom shops.
Parallax occurs when the reticle does not lie precisely in the image plane. If the shooter's eye is not perfectly aligned from shot to shot, bullet placement, or repeatable accuracy, will suffer. Regarding riflescopes that do not have parallax adjustments, most companies set parallax at around 150 yards. The vast majority of whitetail deer hunters shoot their deer within 200 yards, so that parallax adjustment is not especially important. Nevertheless, care should still be taken to closely center the eye in relation to the scope.
Hunters who shoot at extended ranges should employ every practical accuracy advantage possible, such as scopes with adjustable parallax. For decades, that adjustment was primarily located on the objective lens housing (adjustable objective) and such scopes remain popular. However, when the rifle is shouldered the adjustment ring is not easily visible, and neither is it convenient to accurately adjust. When side parallax adjustments (side focus) began appearing, they quickly became popular due to their visibility and easy operation from any shooting position.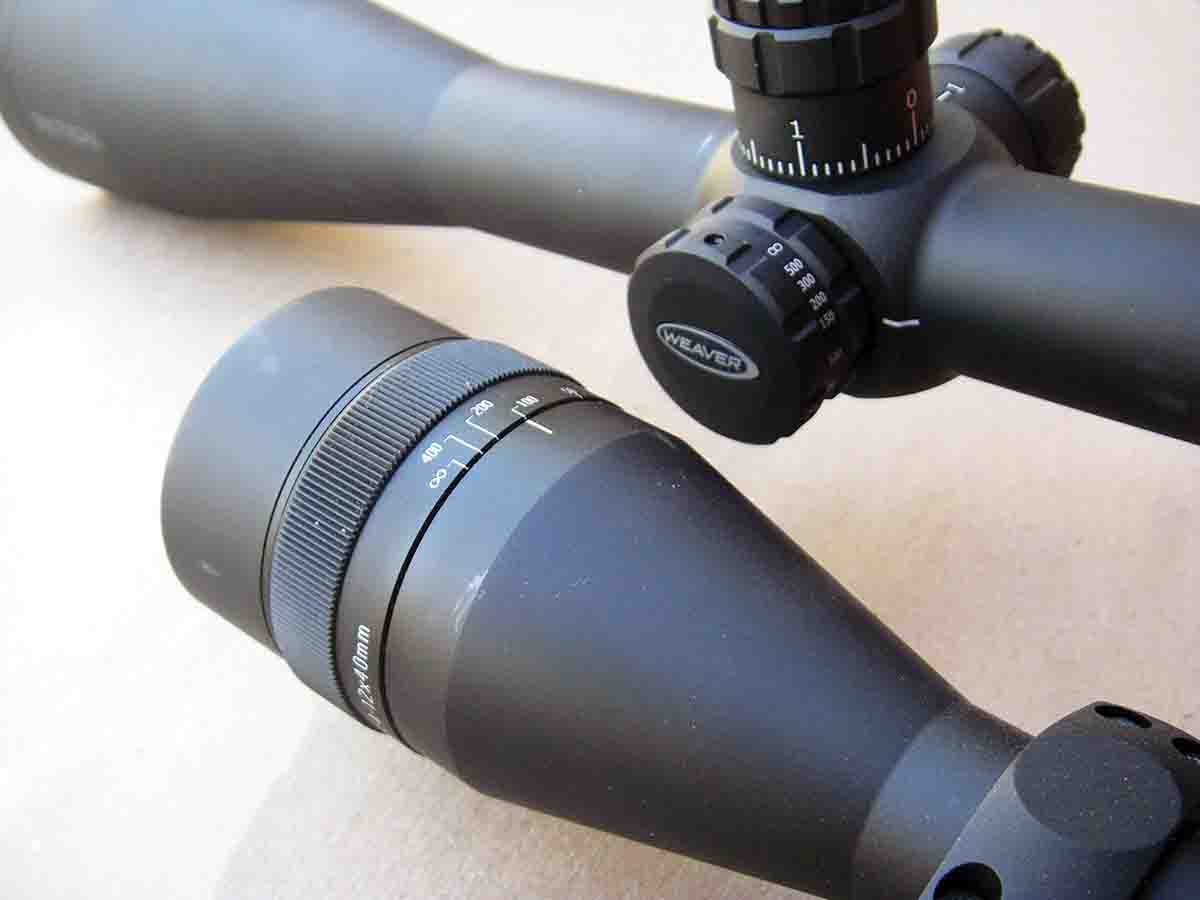 Illuminated reticles are offered by many manufacturers and are great for placing shots in really poor light. However, even slight illumination is adequate to properly see the crosshairs. On the other hand, versions that do not adjust low enough, or are excessively bright, can hinder precise aiming. I am especially pleased with Swarovski and Leupold illuminated scopes.
Trijicon offers a unique fiber optic system that serves to illuminate a tritium lamp reticle and is essentially self adjusting to light conditions, and it operates without batteries. By simply turning a ring on the eyepiece, the brightness can be dimmed or completely overridden. I have taken feral hogs in very low light using Trijicon scopes and have been impressed with their optical performance and illumination system.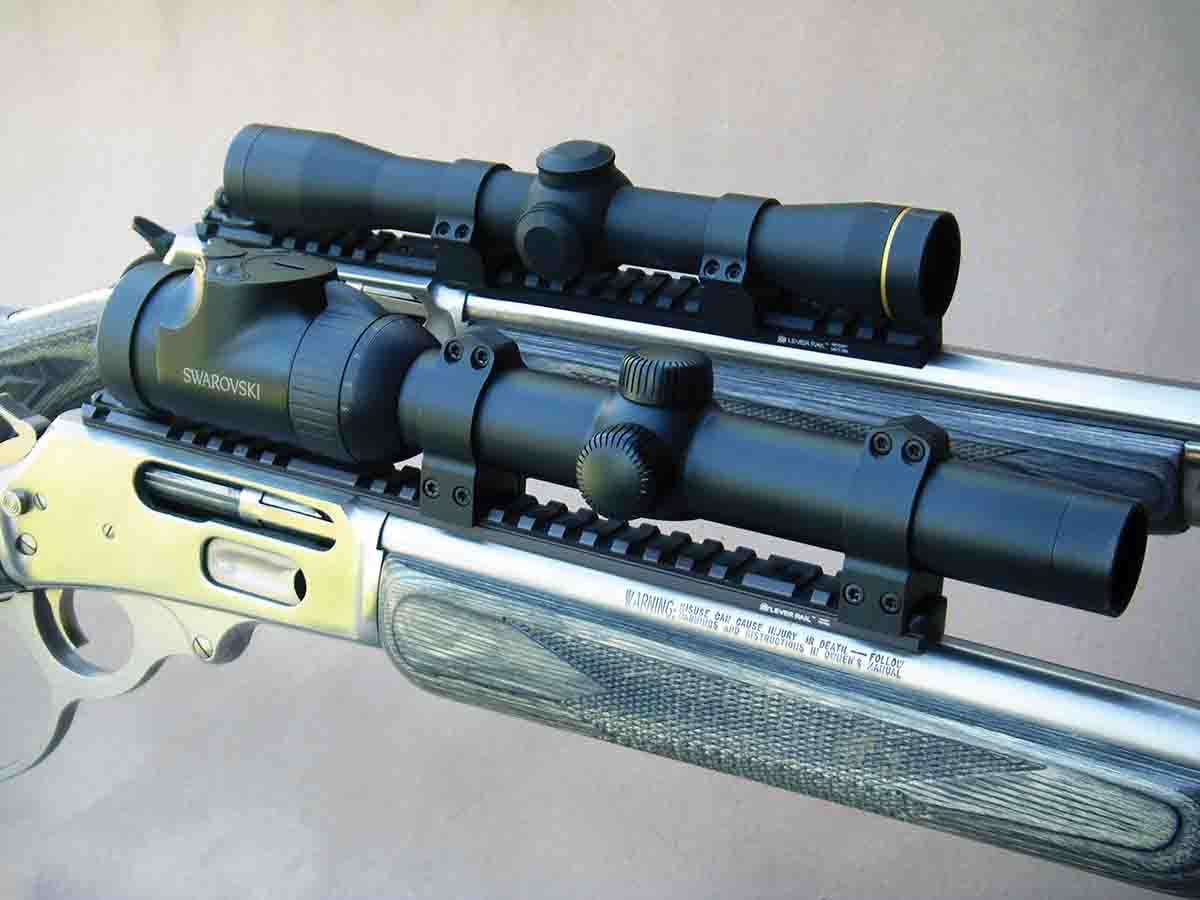 First focal plane (FFP) and second focal plane (SFP) reticles each offer certain advantages. The reticle calibration of FFP scopes will remain constant even when the scope is set on different magnification settings (so milliradians always read exactly the same at any power). In other words, the reticle size never changes in relation to the target, which is why FFP scopes are practical for shooters that dial. Regarding SFP scopes, the reticle is only calibrated at one specific magnification setting, which makes it less than perfect for dialing. Such scopes offer a finer reticle-to-target relationship and can be used very effectively for long-distance shooting with the aid of a rangefinder.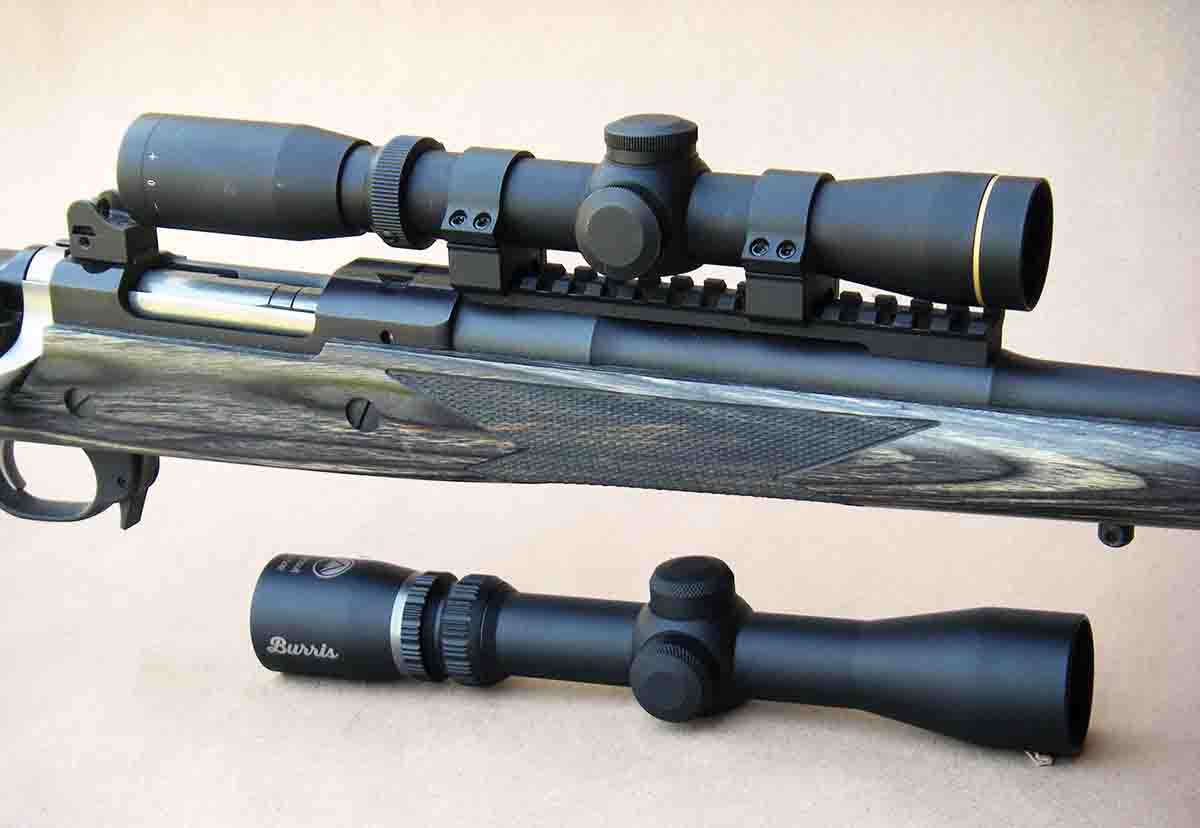 While high resolution and clarity are features of a quality scope, brightness can be deceiving and cannot be assessed by looking out the local dealer's window. Manufacturers engineer optics to optimize and coordinate the colors as seen by the human eye under all light conditions. In witnessing this technology in labs, it is truly remarkable and appreciated by this shooter! A practical evaluation of optics includes studying distant objects through multiple scopes, side by side, especially as the sun sets and darkness settles, which will bring greater light (pun intended) to this subject. Suffice to say, there are good deals in optic quality; there are no bargains, however. Quality has a cost and is usually reflected in the purchase price.
A Few Favorites and Why
The previously mentioned 3-9x variable scopes with one-inch main tubes still remain a widely popular choice among U.S. hunters who pursue deer, elk, black bear, antelope, etc., under a variety of conditions. They offer unusual versatility with lower magnification for close, offhand shots in brush and timber but still provide enough magnification to make shots at several hundred yards. They are typically compact and lightweight, and most modern versions have the desirable click adjustments. Virtually all scope companies recognize the high demand and stiff competition associated with 3-9x models, and they offer some outstanding versions that typically carry a street price of between $150 and $300, which corresponds nicely with the cost of many popular big-game hunting rifles.
A few notable examples include the Leupold VX-2, which is currently in the process of being replaced with the VX-Freedom. After initial testing, it is expected to be equal to, or perhaps better than, the VX-2. Weaver Classic V-Series scopes have been especially reliable and are moderately priced. Other worthy scopes include the Burris Fullfield II, Redfield Revolution and Nikon Monarch.
For the hunter wanting a top-of-line, one-inch main tube scope with similar power ranges plus more features, options and better optics, the Leupold VX-3i in 2.5-8x and 3.5-10x is outstanding and has been a favorite of many big-game hunters around the world. The Weaver Grand Slam series (2-8x36mm and 3-12x 42mm) is likewise outstanding with Micro- Trac click adjustments, side parallax correction, a fast-focus eyepiece and high resolution, multi-coated lenses. I have several of these scopes that have been on many different rifles and used extensively in developing data for LoadData.com – they have never failed. Swarovski Z3 series scopes offer outstanding optics and are a great choice when daylight is running low.
With the steadily increasing popularity of scout-style rifles among big-game hunters, there have been some great optics developed featuring intermediate eye relief. I have been especially pleased with Leupold's VX-2 Scout 1.5-4x 28mm that will soon be upgraded as the VX-Scout. For simplicity and rugged reliability, the 2.5x Scout is an excellent choice. Burris offers a Scout 2-7x 32mm scope with greater magnification, which takes a bit of getting used to as the eye relief is notably greater than most other Scout-style scopes; however, there are circumstances when 7x magnification is useful.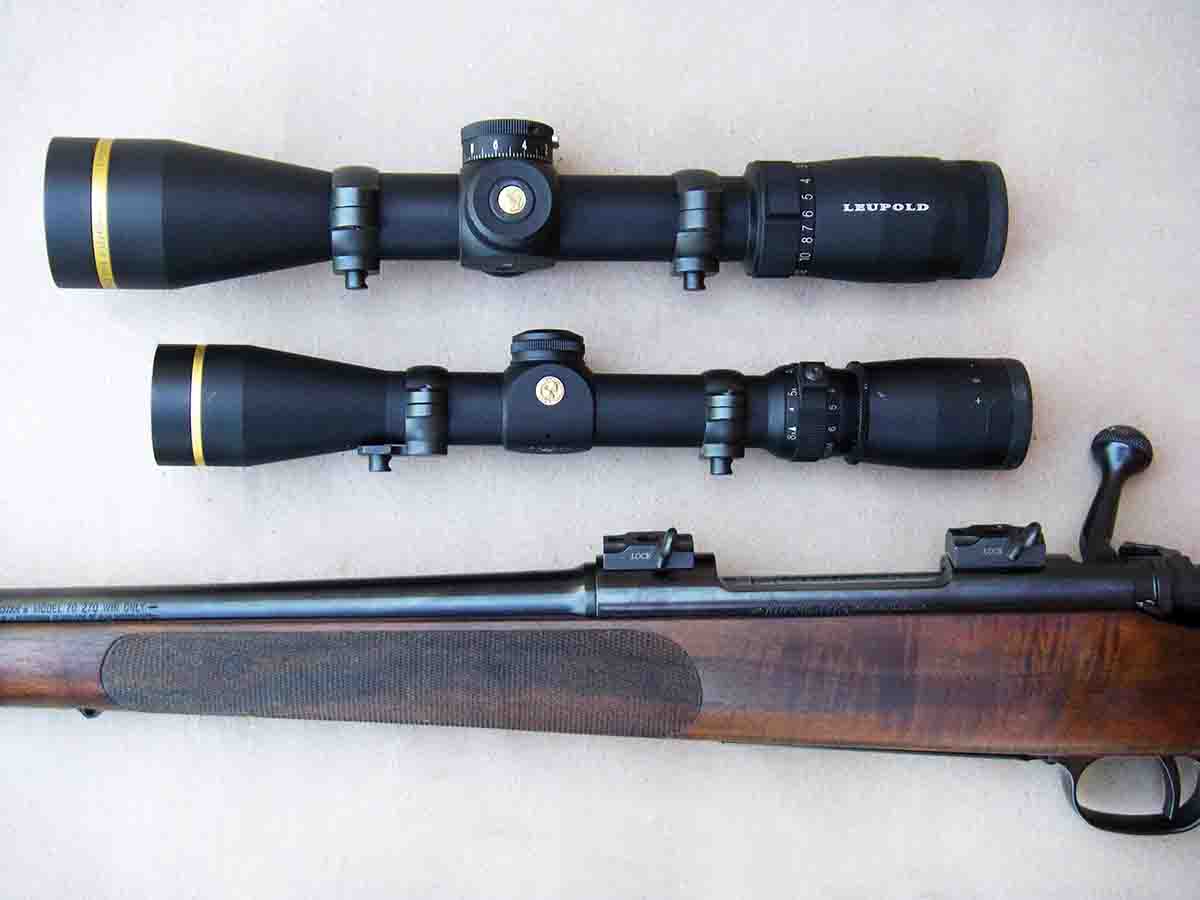 Dangerous-game rifles, as well as brush and timber or still-hunting rifles, are normally outfitted with lightweight, fixed low-power or, better, variable-power scopes that typically range around 1-4x 20mm to 1.5-5x 20mm (with one-inch tubes) or 1-5x 24mm or 1-6x 24mm with 30mm main tubes. Advantages include a lighter weight to retain the rifle's natural balance and keep the overall weight in check, and low mounting. Of significant importance, when set on low magnification, the rifle can be shouldered and the crosshairs instantly aligned on target. Most versions can also be focused at just a few feet. These last two features are significant, as dangerous game such as Cape buffalo, elephant, lions and Alaskan brown bears are often hunted in very close quarters or "bumped into" unexpectedly at just a few feet. Using a scope with high magnification in such situations is counterproductive and can be dangerous. When set on 5x or 6x, variable scopes offer amazing versatility to take shots at longer distances, even several hundred yards. My old friend, the late Bill Jordan, one of the world's greatest all around shots, used 1-4x 20mm scopes on many of his big-game rifles. During the early 1980s he put me onto this scope type, and I have been hooked on them ever since.
The Leupold VX-3 1.5-5x 20mm (one-inch main tube) has been quite popular for many years and has become something of a standard. It is reliable, handles continuous heavy recoil with ease, offers good optical clarity and is lightweight. As of late I have been especially impressed with the Leupold VX-5HD 1-5x 24mm featuring a 30mm main tube, fast-focus eyepiece, reticle illumination, wide field of view, excellent optics and long eye relief. On the down side, however, these features come at the cost of increased weight. Another excellent 30mm scope is Weaver's 1-5x 24mm Super Slam Dangerous Game scope that features a fast-focus eyepiece, high resolution fully coated optics and click adjustments, and it is built to withstand continuous heavy recoil. I have taken a number of bears using the Swarovski Z6i 1-6x 24mm scope that features a 30mm main tube, an illuminated reticle, wide field of view, long eye relief and bright optics with high resolution; it performs amazingly well in dark timber.
As indicated, there are many excellent scopes designed specifically for long-range shooting. To allow for adequate adjustment, enhanced light transmission and resolution and increased magnification, most feature 30mm main tubes and typically a magnification range starting at around 4-16x. However, the most popular versions usually adjust up to 20x. Regarding scopes with turrets for "dialing," Weaver, Leupold, Nightforce, Nikon and Bushnell each offer click-value adjustments in minutes of angle and milliradians. While this subject deserves much more commentary, click values should be selected according to how the scope will be used. If a custom reticle is ordered, be certain that it corresponds with the scope's click values. Incidentally, zero stops are finding their way onto many scope models and are highly recommended.
To become popular in the long-range arena, scopes must provide high resolution, exceptional light transmission, dialing accuracy and high durability along with all of the newest features. Leupold and Nightforce remain dominant leaders; however, credible competition has appeared from Weaver, Bushnell, Nikon, Vortex and Sightron, with Weaver receiving high marks in overall performance and competitive pricing.
Burris offers an interesting scope known as the Eliminator III, a dedicated long-range hunting scope with many innovative features that include a built-in laser rangefinder with automatic trajectory compensation. It is available with a remote cable switch that can be mounted directly to the rifle for quick activation. While the Eliminator III is proving popular among so-called "bean field" shooters, it is heavy and not ideal for hunters that traverse mountains and prefer lightweight rifles.
To add versatility to my rifles, quick detachable mounts are almost always selected and are set up to use multiple scopes on one rifle. In this manner, I can have an excellent brush or timber outfit, or in just seconds switch over to a long-range hunting scope. Sometimes I even match different loads to each scope, which can then be changed without having to re-zero. This setup also allows a second scope to serve as a backup in the event that the primary scope becomes damaged or disabled.
With advancing technology and precision quality, today's optics are indeed remarkable.