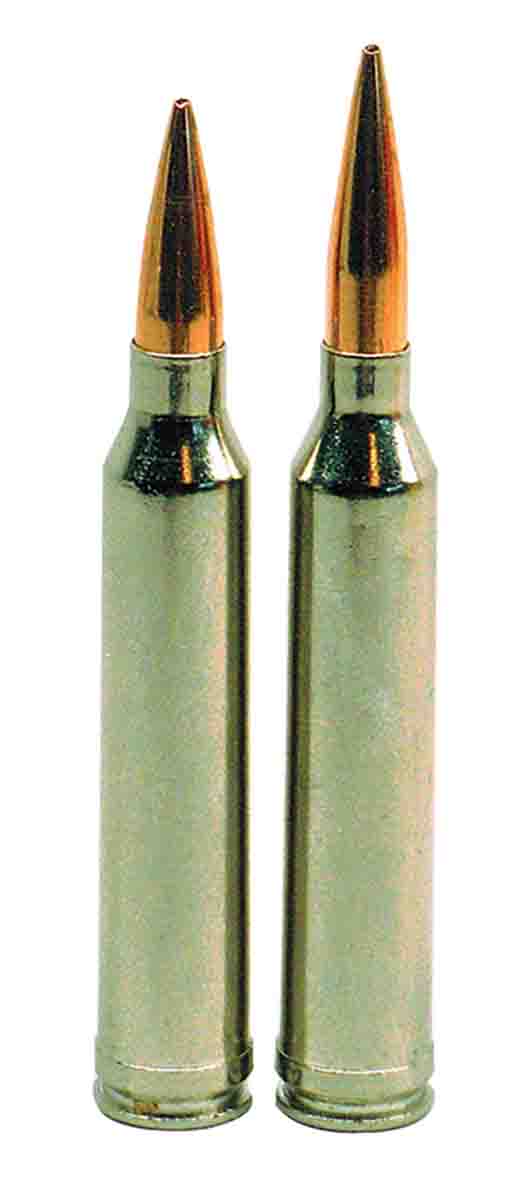 Rifles for pronghorn (aka, antelope) and the cartridges they are chambered for are generally thought of as long-range outfits, mostly due to the anticipation of a long shot at a trophy buck on the western prairie. It follows, too, that folks often associate designated antelope rifles with long-range scopes, most being variables that run up to 14x or higher, although heat mirage usually prevents the effective use of scopes over 12x or so, and a standard 3-9x is more practical for most hunting situations.
Judging from correspondence regarding pronghorn hunting from folks who generally live on the east side of the Mississippi River, most seemed to have settled on the question of what rifle to use (mostly bolt actions), but are undecided about the cartridge and bullets. Interestingly, former Wolfe staffer the late Bob Hagel made the choice easy many years ago in a feature, "Rough Country Antelope," published in the 1971 Gun Digest, 25th Edition by recommending the .270 Winchester, apparently using out-of-the-box 130-grain softpoint factory ammunition or equivalent handloads.
In a discussion of other cartridge options, Hagel listed a lineup of the most popular at the time, from the .240 Weatherby up to the .300 Weatherby, and most every magnum and non-magnum in between. Since Hagel seemed to single out the .270 Winchester as nearly "ideal," and my 7x57mm Mauser pushed a 130-grain bullet to similar velocities, they appeared to me at least to be peas in a pod. Unfortunately, I failed to draw a tag for 12 years running in my home state of Oregon but never overlooked the opportunity to prowl the high deserts and sheep mountains, the latter as Hagel described in Gun Digest, in anticipation of drawing a tag.
During those dry years without a pronghorn tag, while hunting coyotes and small game in the Oregon deserts, it appeared Hagel was on to something when he described antelope hunting in the sheep mountains of Idaho. It's possible to get under or around their 8x eyesight with stealth and a little common sense by using the rugged terrain as cover. As a result of Hagel's article, my first antelope, taken near the Canadian border in Montana, where the prairies are broken by broad, deep arroyos and rolling hills, was shot at about 15 feet with a Winchester Model 71 .348 WCF with a Hawk 180-grain roundnose bullet.
At the other extreme, two pronghorn, both in New Mexico, were taken with a 7mm Winchester Short Magnum (WSM) and .300 Winchester Magnum pushing 125- and 130-grain bullets, respectively, at close to 3,400 fps. The 7mm WSM was a fortunate choice, mostly because I misjudged the range at roughly 350 yards and it was paced at 420. I estimated the shot with the .300 Winchester Magnum at about 350 yards, and another hunter with a laser rangefinder verified it after the shot at 376.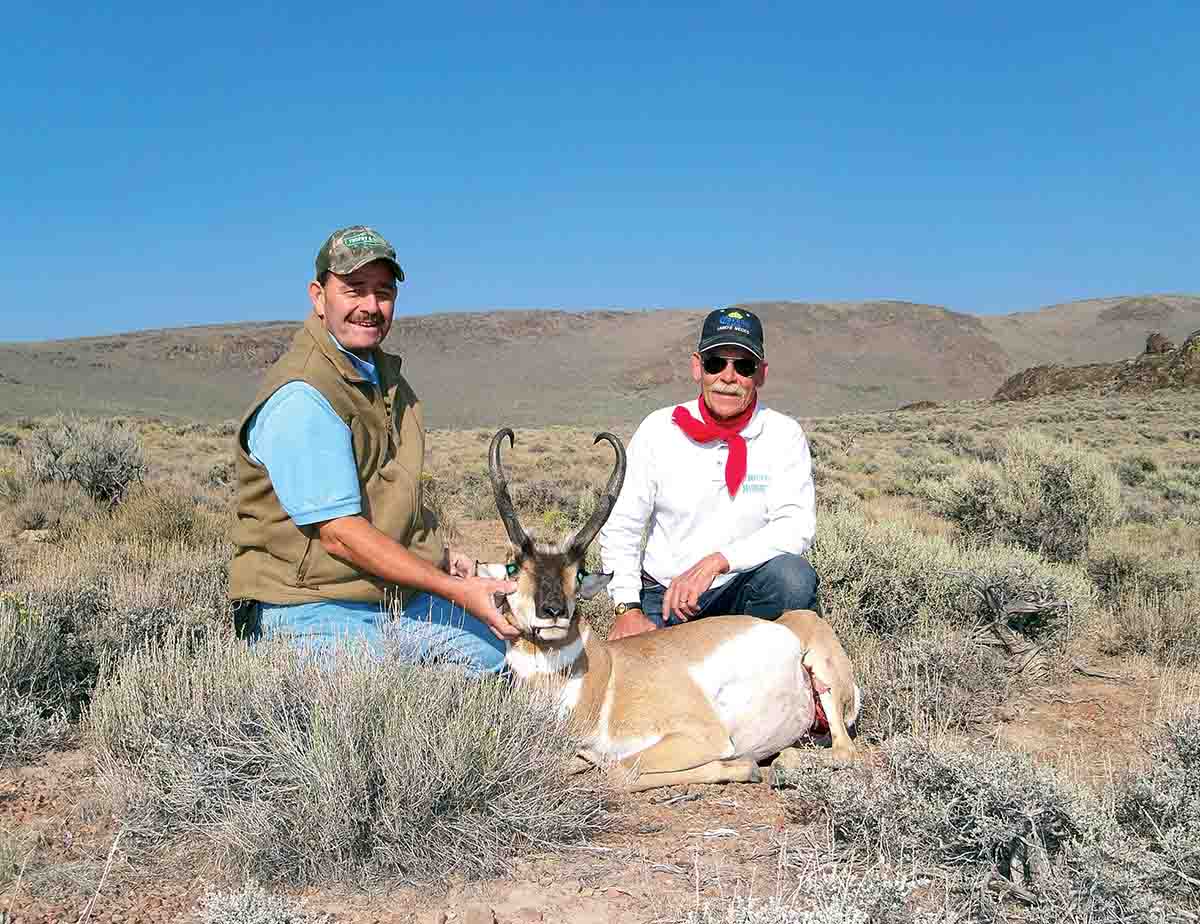 Other than those two relatively long shots, the best bucks that scored in the mid-80s and upper 70s (Boone and Crockett) with horn lengths of 14 to 19 inches were taken well inside 100 yards in relatively open country – two with a 7x57mm Mauser using 140-grain bullets at roughly 2,800 fps and a third with a Barnes 125-grain XTP at 3,400 fps from the 7mm WSM mentioned above. Another respectable buck literally ran into a 150-grain Silvertip at about 50 yards fired from a Winchester Model 94 .30 WCF as it broke from heavy cover in the New Mexico prairie.
If someone asked about the so-called "ideal" pronghorn cartridge 20 years ago, the answer was either the .264 Winchester Magnum or 7mm Remington Magnum with 130- and 140-grain bullets, respectively. Eventually, it appears, the .264 was discredited as being little more than the .270 Winchester and fell into disuse, but Hagel's advice still holds. A big buck antelope hardly weighs 140 pounds, so it is not a matter of power so much as providing a relatively flat trajectory, say out to 400 yards or so, that takes most of the guesswork out of the shot, whether a rangefinder is available or not.
As a rule, ignoring the open-sighted Winchesters mentioned above, it's best to sight in the rifle, magnum or non-magnum, at 200 yards. Then note the bullet drop at 300 yards. The drop at 400 yards is roughly three times the 300-yard drop. It makes sense to verify the trajectory at 300 and 400 yards, if possible, by shooting. Even experienced shooters/hunters have trouble hitting a 14-inch target at 400 yards with the first shot, even with the aid of a rangefinder, so it is best to have some experience to rely on, rather than guesswork.

Several years ago, while contemplating pronghorn rifles and cartridges, I decided to forget about factory options and start with a clean slate, as if the .264, 7mm and .300 magnums, etc., did not exist, which pretty much dated back to the mid-1950s. Roughly 10 or 11 years ago, I came across a supply of Western .30 Newton brass that had the same head diameter as a belt on then-current magnums but carried that increased case body diameter with a slight taper to the shoulder. When necked to 6.5 or 7mm, it resembled a beltless .264 and 7mm magnum on a 2.5-inch case, albeit the Newton case had a slight increase in powder capacity over the belted counterpart. Sometime later, Nosler came out with beltless .26 and .28 magnums and Hornady introduced the .375 Ruger that was essentially a reincarnated 1917 Newton case.
Since the Nosler case had already been necked to .264 and 7mm and .30 calibers, it was eliminated from consideration. The Newton/Ruger case had on average about 6 grains more powder capacity than the 2.6-inch .300 Winchester Magnum case, but it too had become the basic case for a number of wildcats and the Hornady PRC.

Since there was effectively an unlimited supply of .300 Winchester Magnum brass available, it was decided to pursue development of 6.5-300 and 7mm-300 magnums with Weatherby-type .5-inch freebore measuring .265 and .285 inch in diameter in 26-inch barrels for a Remington Model 700 long action (3.6 inches) and a Ruger M77 .30-06 length (3.34 inches) action, respectively. The tentative goal was approximately 3,400 fps with 130-grain 6.5mm and 140- grain 7mm bullets.
Research revealed both wildcats mirrored the .264 and 7mm Super Mashburns that date back to the 1950s and were based on the .300 H&H Magnum shortened to 2.6 inches with long necks. My versions used the same neck lengths on the .264 Winchester and 7mm Remington Magnums. Dies for the 7mm-300 Winchester Magnum were/are offered by Redding, and the 6.5 version required full-length sizing the .300 Winchester Magnum case in Redding 7mm-300 dies first, then neck sizing in a .264 Winchester Magnum full-length die without moving the shoulder.
In the middle of this process slower canister powders from Norma, Hodgdon, ATK and recently Western started hitting the market. The jury is still out, but some propellants appear tailor-made for the 6.5-300 and 7mm-300 Winchester Magnum cases that hold about 10 grains less powder than the Nosler case and 10 grains more than the .264 Winchester and 7mm Remington Magnums. The exact powder capacity depends on bullet seating depth and case brand.

In final form, both rifles feature cut-rifled barrels from Dan Pedersen (Classic Barrel & Gun Works, 339 Grove Ave., Prescott AZ 86301, cutrifle.com) and are outfitted with Swarovski variable scopes. Load development is still in process, but the 6.5-300 Winchester matches the .26 Nolser with 82.0 grains of RL-33 using .5 grain less powder under a Berger 130-grain VLD with Winchester Large Rifle Magnum primers for 3,388 fps. Belt expansion is .0005 inch on necked down .300 Winchester Magnum nickel-plated brass. Tests with US 869 and at least a half-dozen other candidate powders are yet to come.
The 7mm-300 Winchester Magnum is essentially a hopped-up 7mm Weatherby Magnum and/or 7mm Dakota with 76 grains of IMR-7828 under a Berger 140-grain VLD Hunting bullet at 3,401 fps. Again, acceptable belt expansion is .0005 inch with Winchester nickel-plated brass.
The Remington stainless Model 700 action is mated to a Bell & Carlson synthetic stock. Pedersen bead blasted the barrel and action for a subdued non-glare finish. The Ruger was originally fitted with a synthetic stock that was replaced with a nice piece of walnut. Both stocks feature .5-inch thick Pachmayr Decelerators. The 6.5-300 barrel is free floated while the 7mm-300 uses about 4 to 5 pounds of pressure at the forend pressure point. Preliminary tests with handloads indicate both rifles can place three shots in .5 inch or less at 100 yards when fired off a Ransom Rifle Rest mounted on a Stukeys Sturdy Shooting Bench.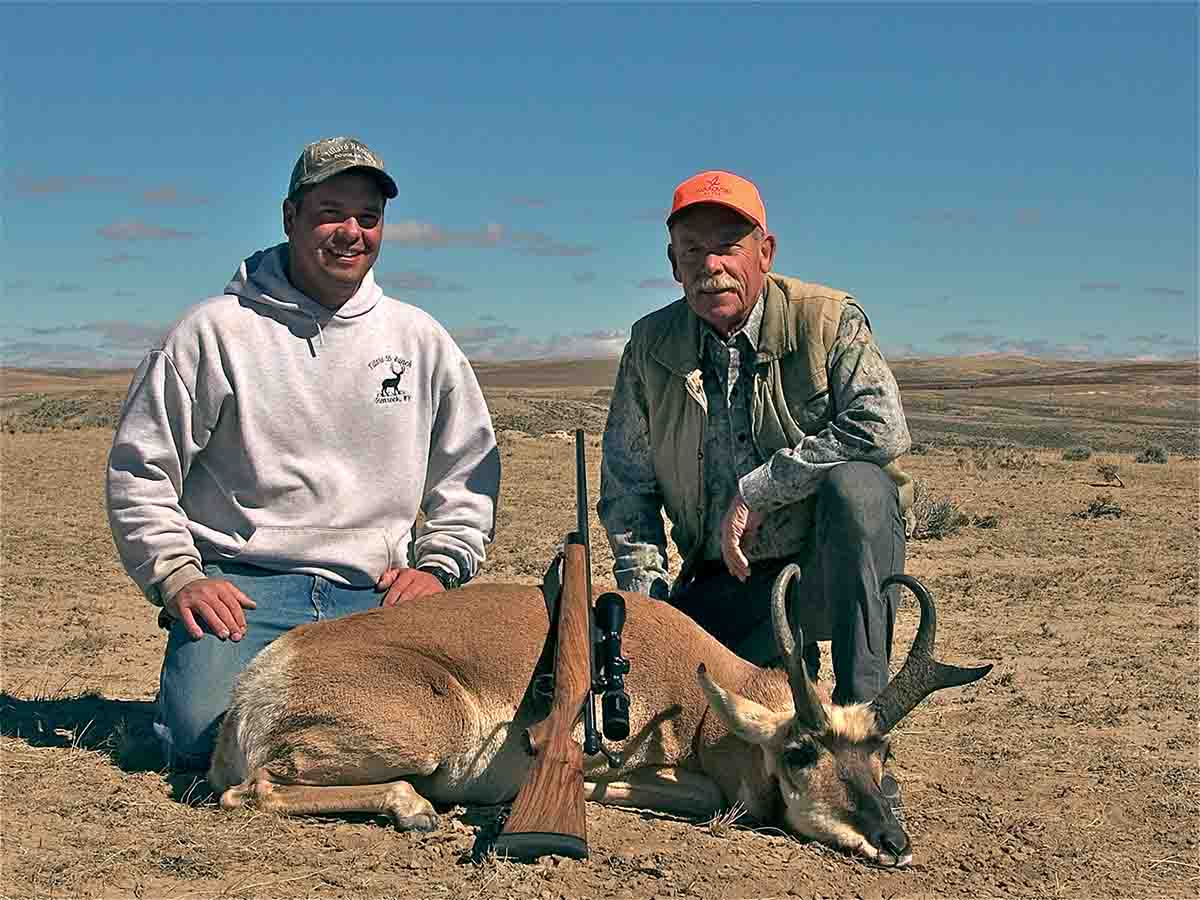 The Ruger trigger was upgraded a bit a few years ago by the late Bill Atkinson, and the Remington trigger was replaced with a Timney. Test rounds were made in groups of three, so the barrels on both rifles were cleaned after each set of six shots for the first 18 rounds, then cleaned after three, three-shot groups. Both rifles were cleaned prior to firing the other rifle, allowing barrels ample time to cool.
The nearby table lists downrange velocity and energy – and trajectory based on a 200-yard zero – out to 500 yards for Berger 130- and 140-grain VLD Hunting bullets with the suggested G7 ballistic coefficients (BC) of .262 and .281. Berger lists a G1 BC but recommends the G7 numbers for practical application in the field. An average BC of .27 was then used with the trajectory tables in Speer Reloading Manual #14 to calculate trajectories. Either way, sectional densities of 130-grain 6.5mm and 7mm 140-grain VLDs are similar, as are the BCs, which need to be verified by actual shooting results.
Looking at the numbers in the table, it is reasonable to suggest the 6.5 and 7mm cartridges based on the .300 Winchester Magnum case run out of energy as big-game cartridges at some distance past 400 yards but short of 500. Trajectory might be more useful with a 250- to 300-yard zero, but that increases the risk of a high wounding shot at shorter distances, which experience proves is always a possibility.
From the start, the 6.5-300 was intended for use on coyotes, pronghorn and possibly deer, the latter depending on terrain and cover. The 7mm is more suitable for anything from coyotes to elk with bullet weights ranging from 130 to 175 grains. The biggest problem, as I see it, is that a lot of the newer streamlined boat-tail bullet designs in 6.5 and 7mm caliber do not expand well, if at all, when impact velocity is less than 1,800 fps in wet newsprint, which is the best reason for limiting shots on big game to 400 yards or less with either caliber. That is also the reason I have been saving newspapers for expansion and weight retention tests.