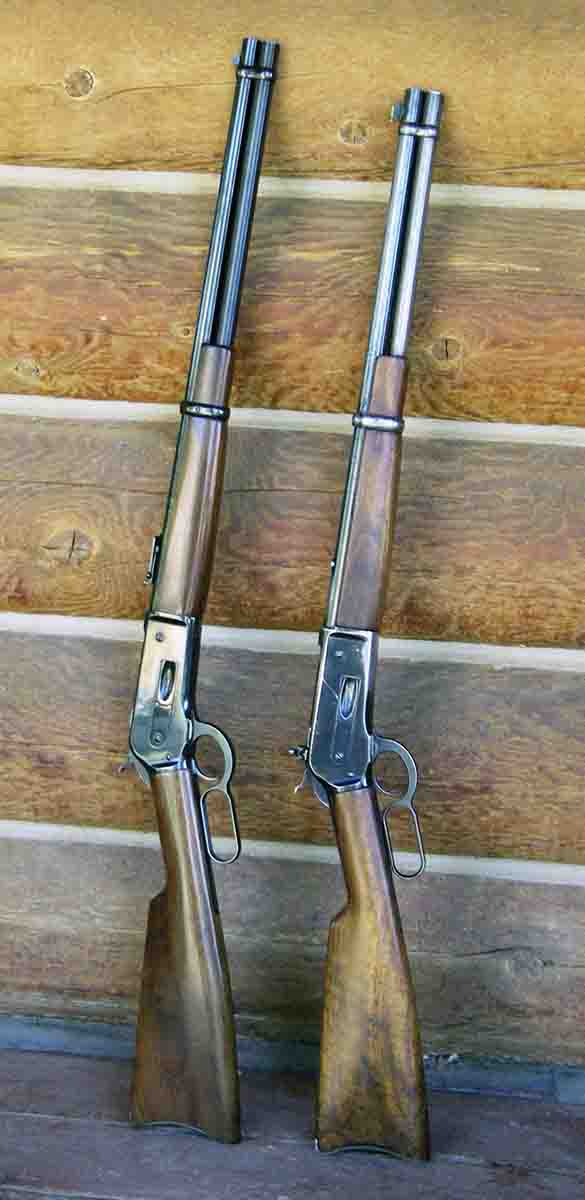 In 1978 Browning Arms Company began importing a series of Winchester pattern lever-action rifles and carbines that were produced in Japan by Miroku. Each model variation was based on the designs of John M. Browning, who originally sold his patents to Winchester Repeating Arms Company, with all becoming highly popular rifles. The modern Browning versions are of particularly high quality, at least in regard to machining and steel quality, resulting in outstanding reliability, strength and accuracy. They have been chambered in both modern and traditional cartridges.
Most model variants were produced with blue steel and featured relatively plain French walnut stocks that served to keep costs in check. They were also intended to appeal to hunters and shooters. Most models were also offered in high-grade limited editions with engraved French gray (satin) receivers, gold highlights featuring appropriate game animals and checkered select grade French walnut stocks.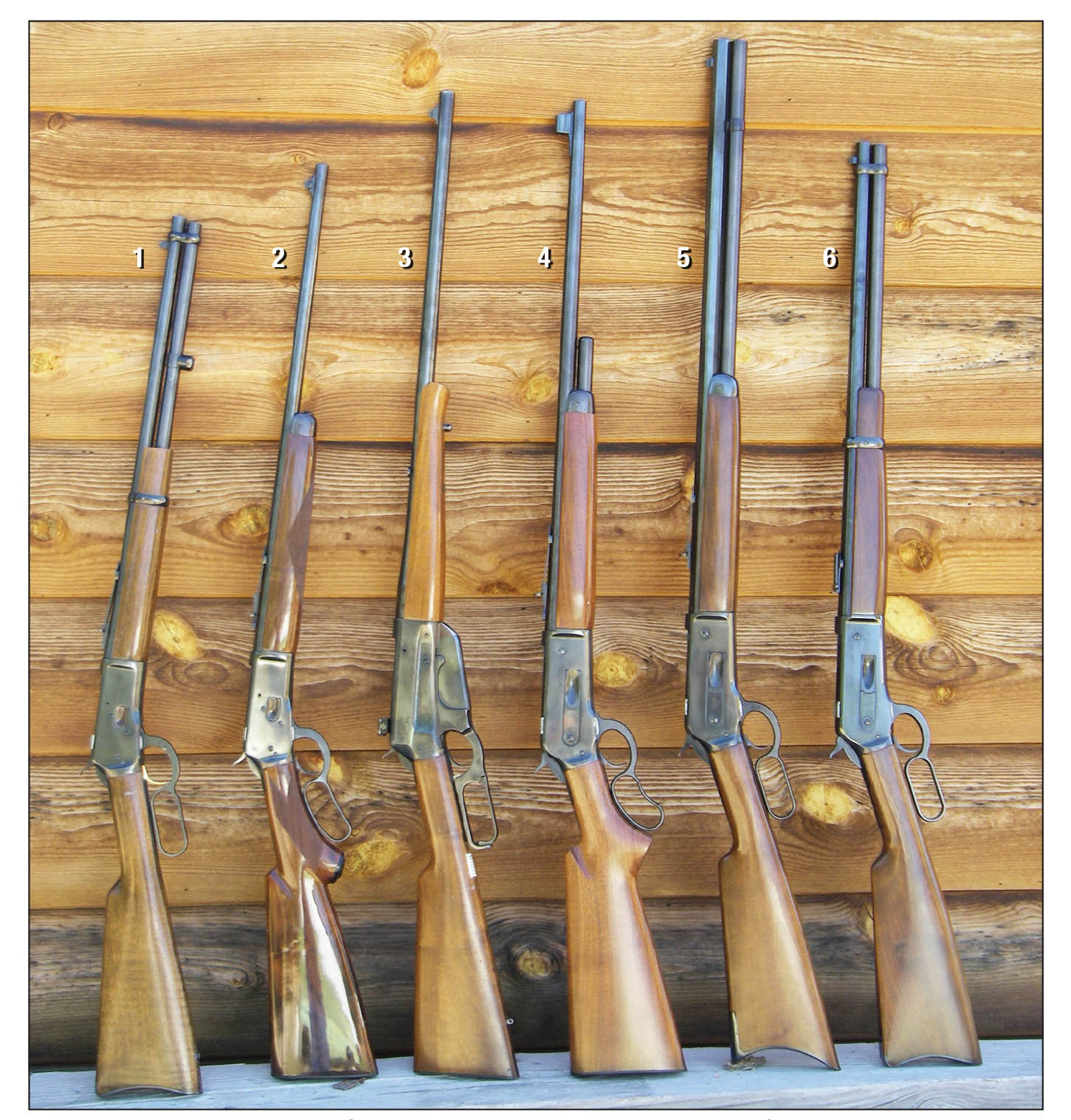 In spite of being patterned after original Winchester rifles and carbines, the Browning rifles were built on metric tooling. As a result, screws, barrel threads and other parts are not generally interchangeable. Other minor design changes included coil mainsprings, etc. Nonetheless, they displayed top-notch machining, tight tolerances and were thoroughly tested by the factory for function and reliability.
Browning barrels were forged from heat-treated steel billets and were meticulously straightened for top-notch accuracy. Their internal surfaces usually exhibited a mirror-like finish that had the potential to produce excellent results with both cast and jacketed bullets.
Unlike subsequent Miroku guns sold under the Winchester trademark, Browning reproductions are void of the rebounding hammer known to occasionally cause misfires and inhibit smooth function when being cycled at the shoulder; nor do they have the undesirable tang safety. Instead, they function exactly as Mr. Browning intended.
The first in this reproduction series was the Model B-92 Centennial carbine .44 Magnum that appeared in 1978. It was lightly engraved to celebrate 100 years of the Browning Arms Company. The unadorned standard model appeared in 1979. They were instantly popular and retained all of the handsome lines of vintage Winchester Model 1892 carbines, including a steel buttplate, a 20-inch round barrel, and only weighed around 5.5 pounds. I purchased one of the first ones produced and have owned or fired several in the years since. Initially, my only real criticism was that the barrel bands were aluminum rather than steel.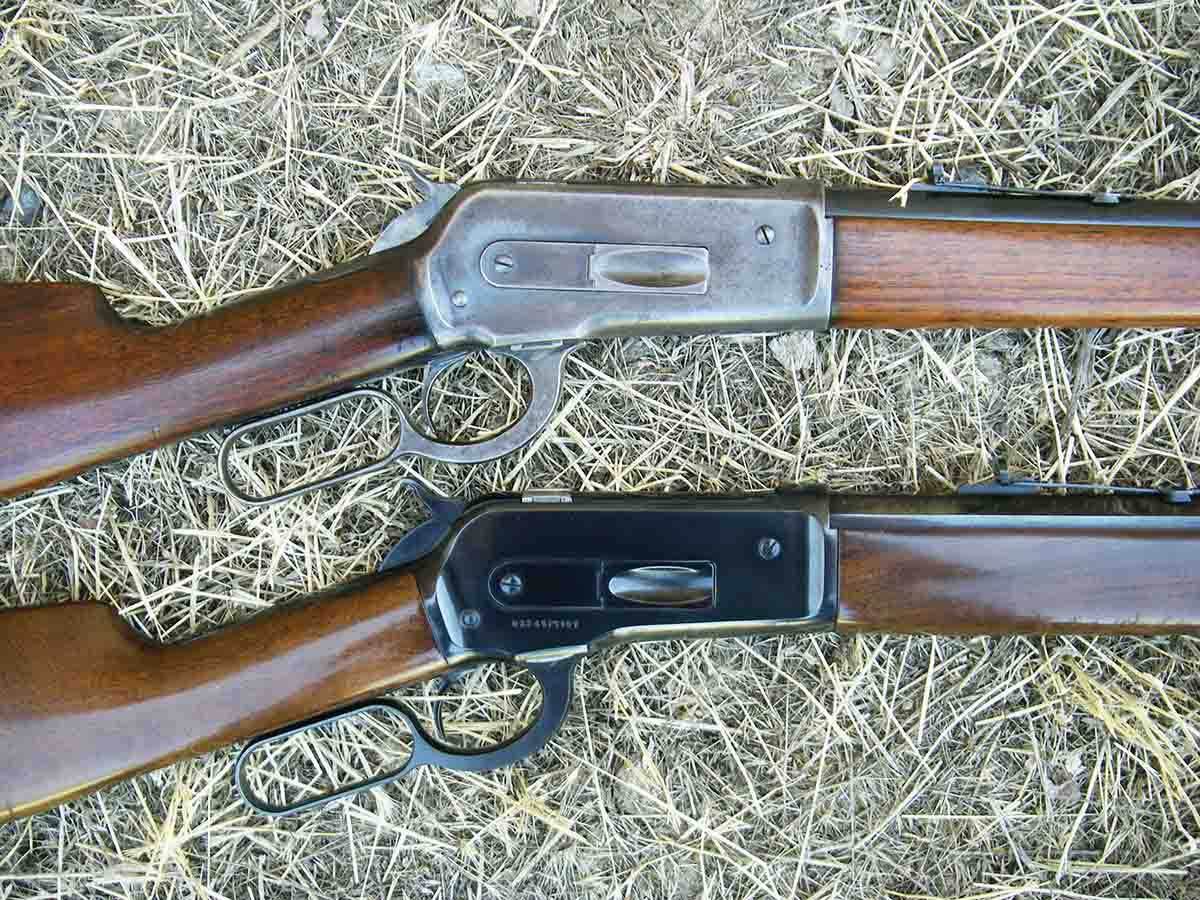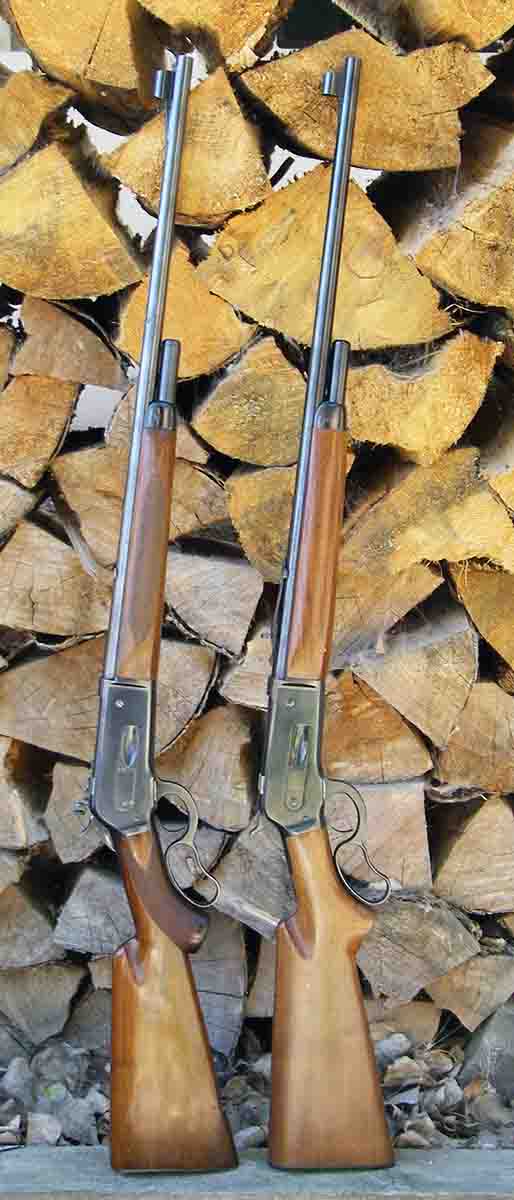 The B-92 was designed specifically for SAAMI specification .44 Magnum ammunition with a maximum overall cartridge length of 1.610 inches; however, they will likewise feed .44 Special cartridges that have an industry specified overall length of 1.615 inches. When using Keith-style cast bullets, or bullets with a similar nose length that are so popular in revolvers, due to their longer overall length, usually around 1.700 inch in the .44 Magnum, they will not feed unless they are loaded in the shorter .44 Special case, which actually works fairly well. The rifling was rather shallow and features 12 lands and grooves, and the 1:38 rifling twist rate was relatively slow. As a result, they were generally most accurate with 200- to 240-grain, .430-inch jacketed bullets; however, with correct bullet choice and load development cast bullets can produce acceptable accuracy.
When the B-92 was introduced, the factory claimed that a group measuring 3 inches or less at 100 yards was the company's accuracy standard. In my experience, when a load is working properly with either cast or jacketed bullets, groups of around 2 inches at 50 yards is top accuracy.
Beginning in 1982, the B-92 carbine was offered in .357 Magnum, which also became instantly popular and is especially hard to find today. I have also owned several .357s, and they each proved accurate with both jacketed and cast bullets and are less finicky than the .44 Magnum versions. I attribute this to the smaller caliber and resultant stiffer barrel, and the faster 1:18.75 rifling twist with six lands and grooves. These carbines have produced 100-yard groups of less than 2 inches with select loads. The B-92 was discontinued in 1987 and remains highly desirable today.

The next Browning reproduction was the Model 1895 produced in 1984 and chambered in .30-40 Krag (.30 U.S. or .30 Army) and .30-06. These were in "rifle" configuration with handy 24-inch barrels. (Note: Original Winchester rifles usually had barrels of 24 to 28 inches, with the latter being very common.) The buttplate was made of steel and was not especially attractive. However, it could be fitted with a rubber recoil pad or a slip-on leather pad; both approaches are more practical (comfortable) than the original Winchester-style crescent.
I purchased an early version in .30-40 Krag. After installing a Williams receiver-mounted aperture sight and working the trigger down to 3.5 pounds, handloads were developed with spitzer bullets to improve ballistic performance and accuracy. This rifle is capable of MOA accuracy with select loads and offers smooth, reliable feeding. In addition to being a fine saddle rifle, it has accounted for several trophy mule deer, elk, black bear and other game. When the .30-06 became available, I purchased one and it demonstrated a slight accuracy edge over the .30-40 Krag. It is noteworthy that the Model 1895 has earned a certain following among modern hunters and guides, and it has been converted to more potent large-game rounds including the .338-06 A-Square, .338 Scovill, .35 Whelen, 9.3x62, .411 Hawk, .405 Winchester and others.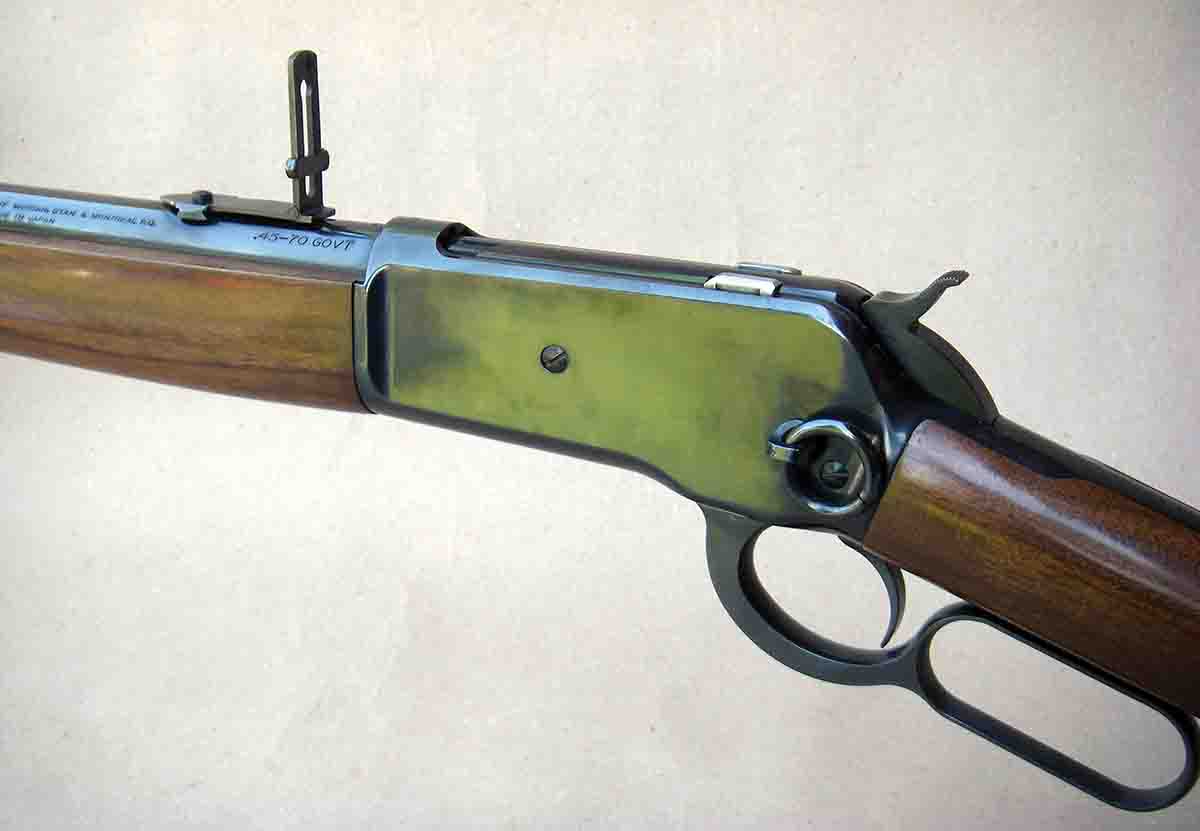 The Browning Model 1886 .45-70 rifle with a 26-inch octagonal barrel and steel crescent buttplate first appeared, appropriately, in 1986 while the saddle ring carbine with a 22-inch round barrel, carbine buttplate and ladder rear sight appeared in 1992-93. These rifles are handsome and with Browning's barrel quality have proven to offer outstanding accuracy. With good sights installed, along with an improved trigger pull, these rifles produce nearly MOA accuracy with both cast and jacketed bullets. Furthermore, their robust twin locking lug design is strong, and being constructed of modern steels, they can easily digest modern "+P style" .45-70 levergun loads generally listed at 43,500 CUP pressure.
The Model 71 .348 Winchester was manufactured during 1986 and 1987 in rifle configuration with a 24-inch barrel, and in carbine with a 20-inch barrel. Winchester Ammunition offered a special run of factory loads then almost immediately announced the discontinuation of the .348 cartridge. This significantly slowed Model 71 sales. In time, Winchester realized its mistake and has continued to offer .348 ammunition and component brass.
I have compared the accuracy of several Browning 71s to high-condition, vintage Winchester 71s, and it is a bit painful to admit, but without exception the Browning rifles and carbines have proven more accurate. Expect groups with most reasonable handloads to stay inside 2 inches at 100 yards while select loads can hover close to one inch.
The Browning Model 53 .32-20 Winchester and Model 65 .218 Bee appeared in 1990 and 1989, respectively. They were based on the Model 92 action but featured a curved pistol grip, half-length "button" magazine, 22- and 24-inch barrels, respectively, and select grade checkered walnut stocks. Their original Winchester counterparts were largely the brainchild of Townsend Whelen and were intended to modernize and improve the accuracy of the Model 92. The Browning versions are accurate and are excellent "traditional" varmint and small-game rifles.
Through handloading, the .32-20 can push 100- to 120-grain cast bullets at a leisurely 900 to 1,100 fps, which destroys little meat on edible table fare while offering clover leaf-style groups at 50 yards. Switching to "+P style" handloads can push a Speer 100-grain Gold Dot HP or Hornady XTP bullet to around 2,000 fps, which helps extend its effective range and makes it suitable for coyotes and game up to 75 and even 100 pounds. The .218 Bee is a fun 200-yard varmint cartridge that can push 35-, 40- and 45-grain bullets to over 3,000 fps, 2,900 fps and 2,800 fps, respectively. It uses powder efficiently, offers a comparatively low muzzle report and puts a bit of hunting challenge back into varmint shooting.
Demand for original Winchesters has always been high, but many of them have worn or pitted bores and/or excess headspace so are generally not great shooters. High-condition rifles with great bores are sought after by collectors, command premium prices and are often considered "investments," which usually eliminates them as shooters or field guns. Browning reproductions are almost always better shooters and are available for a fraction of the cost.