Being fond of carbines in general and levergun variants especially, I was intrigued when handed a Chiappa Model 1892 takedown .44 Remington Magnum with a 161⁄2-inch barrel and a weight of five pounds. It was an attractive levergun with perfectly smooth functioning.
By comparison with rifles in Winchester's catalogs back at the turn of the nineteenth century, this Chiappa would be more properly classed as a short rifle. Winchester's carbines had lightweight, round barrels, bands securing the forearm and magazine to the barrel, front sights brazed on the barrel, no forearm tip and their own special, slightly curved buttplate.
Chiappa's .44 Magnum only borrowed that latter item from vintage Winchester carbines. Its barrel is fully octagonal, .75 inch across its flats. There is a steel forearm cap and buttplate. All metal parts, aside from the front sights, have what are referred to as a "stainless hard chrome" finish. The red, fiber-optic front sight is dovetailed to the barrel. The rear sight is a barrel-mounted peep fully adjustable for windage. Both are products of Skinner Sights (www.skinnersights.com).
Andy Larsson, owner of Skinner Sights, dreamed up this little levergun and kit. At a 2016 gun show in Kalispell, Montana, Larsson brought by one of his Bush Pilot Carbine Survival Kits. It consists of a folding, heavy-duty, nylon storage bag with pockets for the Chiappa carbine when taken down and several well thought out accessories one might need if stuck away from civilization.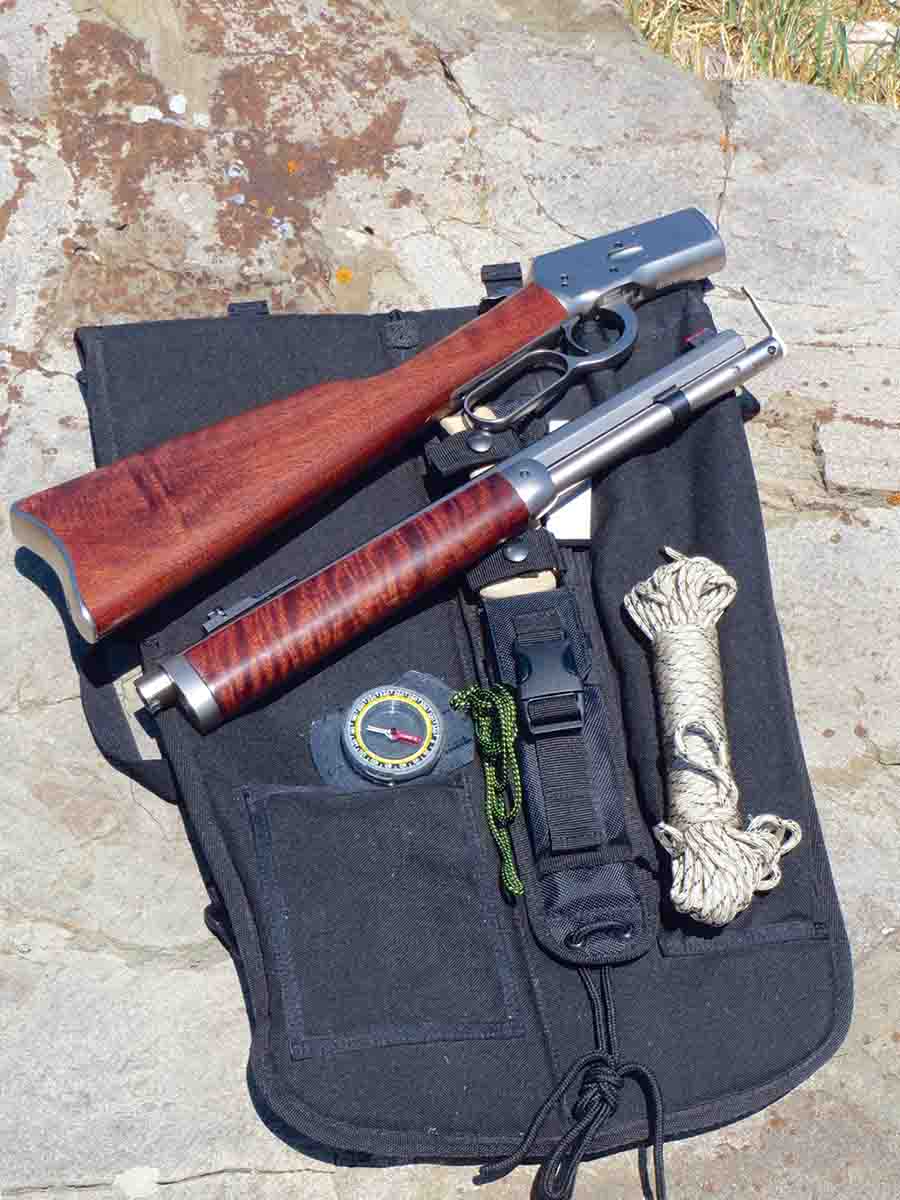 Aside from the carbine, this kit includes the following items: second in importance to the rifle is a hefty Ontario knife with an overall length of 12 inches and a blade 7 inches long and 3⁄16 inch wide at the hilt. It is sturdily made so it can cut, and it also might be used for light chopping. Its sheath can be detached from the storage bag and worn on a belt if needed. Also stored in the nylon bag are two emergency fire-starting kits, a compass, a two-man tube-tent and 50 feet of mil-spec paracord.
Made in Italy by Chiappa Firearms, the Model 1892 takedown has a nicely figured European walnut buttstock and forearm with oil finish. Rifling is six grooves with a right-hand, 1:20 twist. Length of pull is 13 inches. Since most any bush pilot's mishap is going to be in wilderness country, the .44 Magnum cartridge is logical. It has enough power for hunting any game at close range and/or self-defense from predators if necessary. Magazine capacity is eight rounds of .44 Remington Magnum or nine rounds of .44 Special.
Chiappa's takedown feature functions as did Winchester leverguns starting with its Model 1886 – an "interrupted thread" arrangement. The barrel and receiver threads have smooth sections at 90 degrees to each other. When the barrel is rotated, the smooth areas line up and the barrel slides free of the receiver. The process: open a lever at the muzzle end of the magazine tube, then rotate the tube counterclockwise until it is free of the receiver. At that point, the entire barrel, magazine tube and forearm will rotate and come free. The process takes less than a minute, and reassembly is likewise quick.
Also well thought out is the rear peep sight. Its base attaches to the top barrel flat with two screws. Dovetailed into the sight base is a well-machined insert holding the actual aperture. It is secured by an Allen screw. The insert has an index mark, and the base itself has a windage scale so that precise changes can be made. If elevation is not correct, other inserts with higher or lower peeps can be purchased from Skinner Sights. The peep also has an insert with a small aperture for more precise aiming. Removing it leaves a ghost ring for faster target acquisition. The Chiappa '92 .44 Magnum hit precisely to point of aim at 25 yards for elevation right from its box.
Rummaging through my ammunition stash turned up a box each of Black Hills .44 Magnum and .44 Special loads with 240-grain lead SWCs. From the 16½-inch barrel, the .44 Magnums clocked 1,219 fps and the .44 Specials were 952 fps.
Yvonne had been asking for some sort of survival kit when Andy Larsson showed me the Bush Pilot Kit. So I bought it for her as a 38th wedding anniversary present. Neither of us are pilots, but we do travel about Montana in winter, and Yvonne still enjoys getting out with her horses. At only 22 inches long and 6½ pounds, the kit can easily be packed on a saddle. Combining quality sights with a fine, little levergun and suitable accessories into a convenient package was a good idea.