Bill Ruger designed the Ruger .22 Standard Pistol in the 1940s, founded Sturm, Ruger & Co. in 1949 and began production in a humble "red barn" located in Southport, Connecticut. The .22 Standard was built with pioneering manufacturing methods and sold for $37.50. Industry "experts" expressed considerable skepticism, but Ruger's success was inevitable.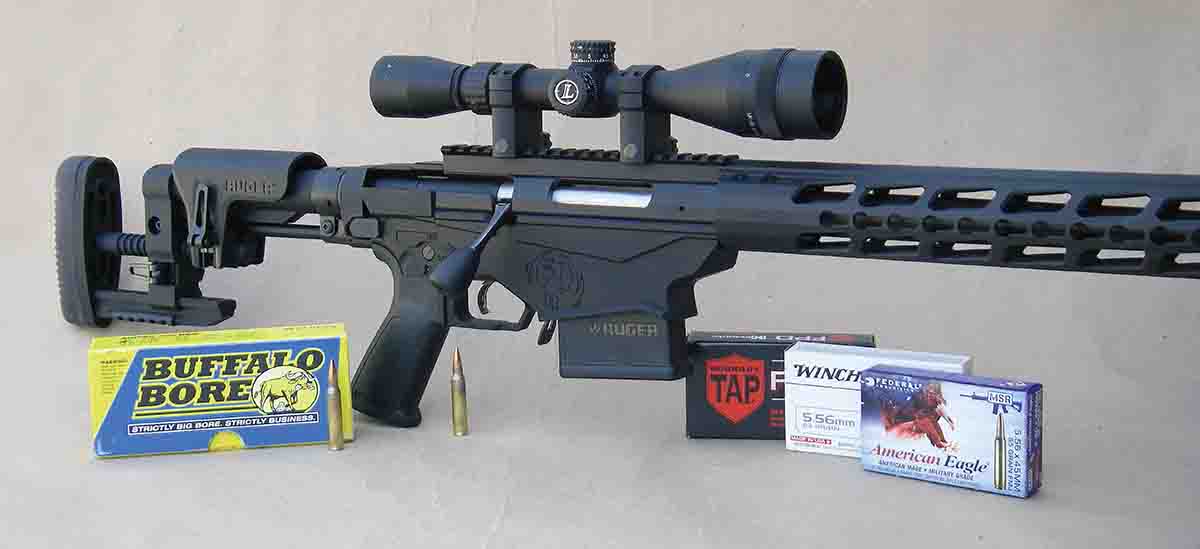 Over the next few decades, Ruger introduced new-model firearms at the rate of about one design every 18 months. This included single- and double-action revolvers, autoloading pistols, bolt-action, single-shot and autoloading rifles and shotguns. Ruger has produced around 30 million guns to date.
It has been 15 years since Mr. Ruger died, but the company continues to offer new, innovative manufacturing processes and products that are not only in step with modern trends, but are also pacesetting. One example includes the Precision Rifle designed with long-range target shooting in mind, but it works for other applications from varmint shooting to law enforcement.
The Precision Rifle is a rather unique, modular bolt-action design. It shares the same basic configuration as modern AR-15 rifles with in-line recoil path, flattop "upper" assembly, pistol grip, detachable magazine, fully free-floating barrel, adjustable stock, etc.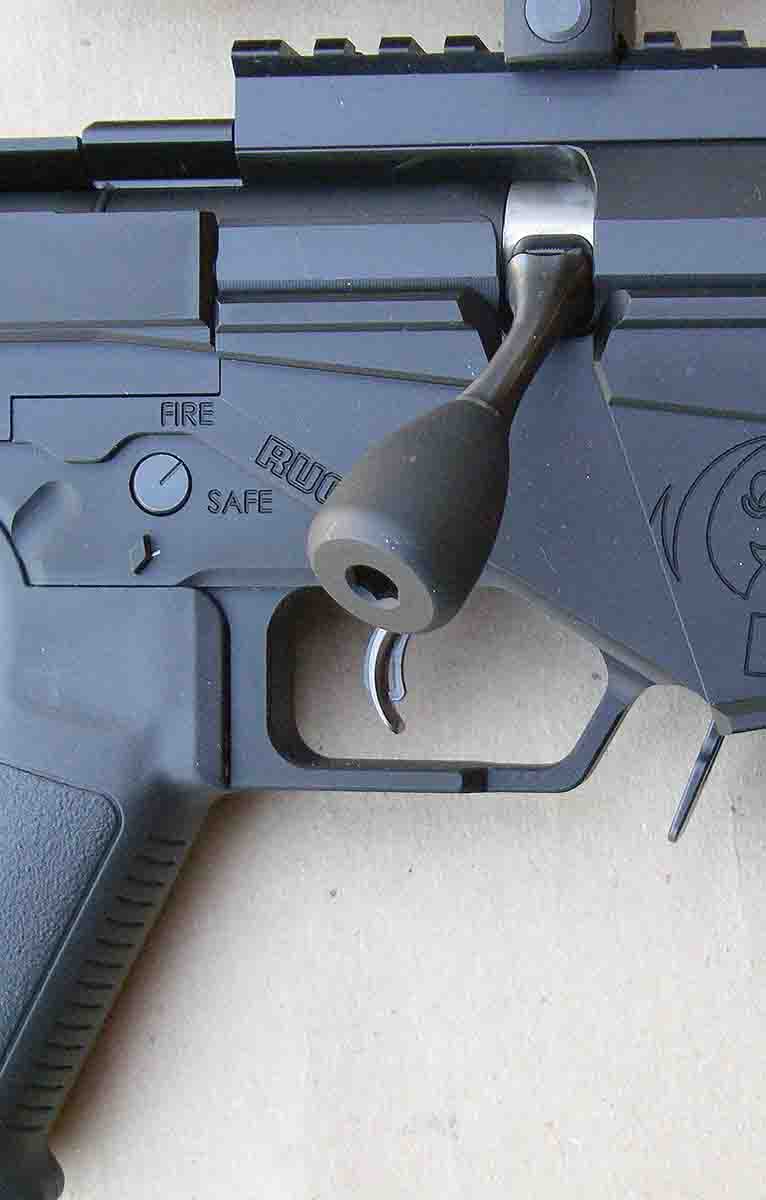 The Precision Rifle bolt assembly shares some internal design features with the Ruger American bolt action, such as three forward locking lugs for a 70-degree bolt lift and dual cocking cams. The one-piece bolt body is CNC machined from prehardened 4140 chrome-moly steel for strength. The bolt face is countersunk and fitted with a rotating extractor and plunger ejector. The bolt body is full diameter, measuring .850 inch for increased rigidity and smooth operation. The bolt body is patented, being contoured to accommodate multiple magazine designs (in select calibers). The bolt knob is large and threaded onto the swept bolt handle, which is comparatively long and offers good leverage. This combination allows easy operation from a variety of shooting positions, including prone. The bolt features a hollow aluminum shroud that can be opened up by twisting and removing the cap to quickly access a bolt disassembly tool for striker channel cleaning.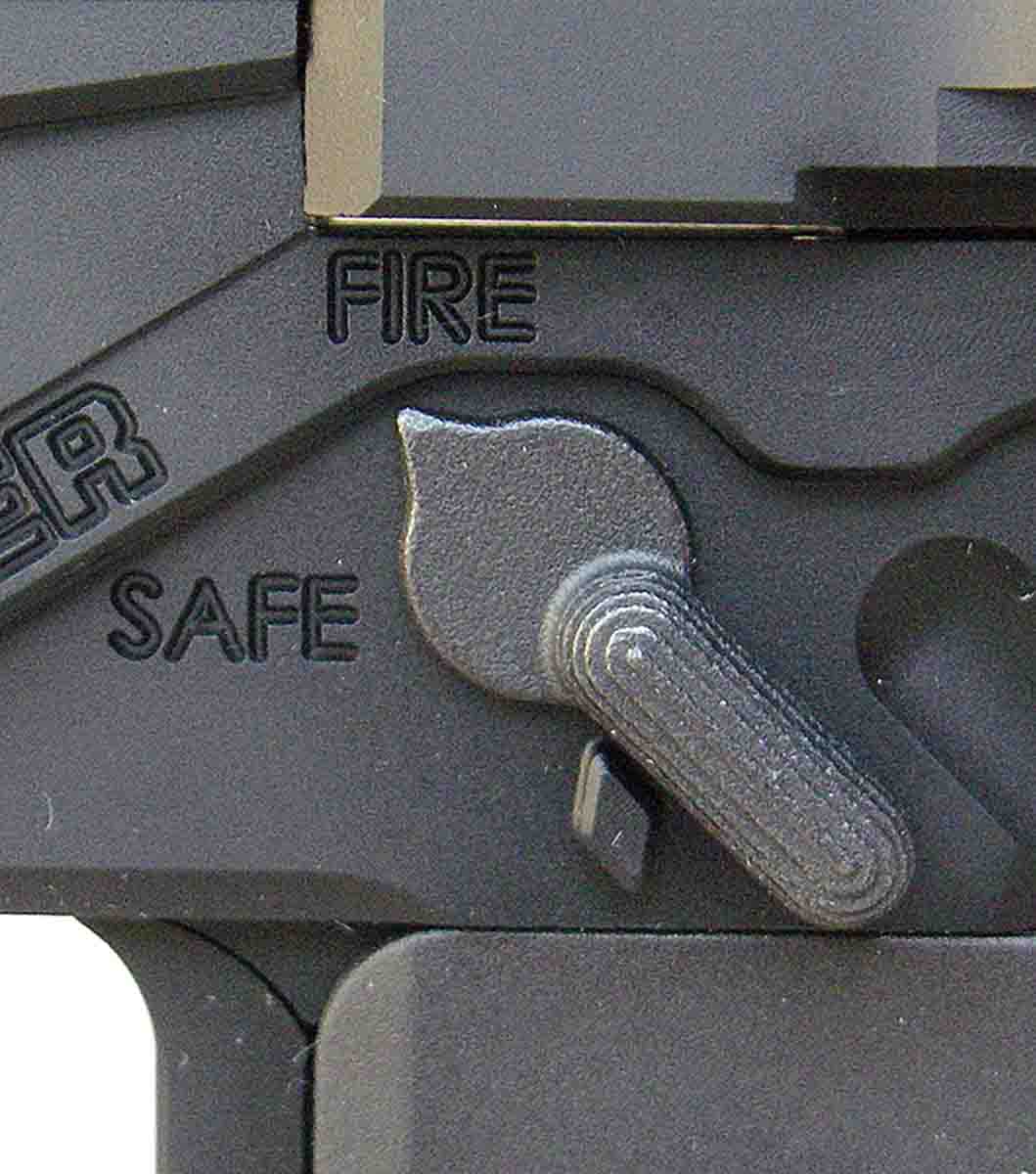 The upper receiver is also CNC machined from prehardened 4140 chrome-moly steel, while the lower magazine well "halves," encompassing the trigger assembly and safety like a clamshell, are machined from 7075-T6 aluminum and are type III hard-coat anodized for enhanced durability.
The barrel can be removed or replaced using standard AR-style wrenches and headspace gauges. The handguard and grip assembly are AR compatible. The stock is attached to an AR-style buffer tube and will accept any mil-spec AR stock. The handguard (or fore-arm) is a Samson 15-inch Keymod Evolution that is well vented for rapid barrel cooling, comes with a second rail to accept accessories, such as a bipod, and allows the barrel to free-float.
The 5.56 NATO sample rifle used here will only accept Ruger magazines designed for the Precision Rifle. Rifles chambered for .308 Winchester and the 6.5 and 6mm Creedmoors (and discontinued .243 Winchester) feature a patented Multi-Magazine Interface that allows the use of multiple AR-10 magazines and select M14-style magazines. The lower receiver of the 5.56 is the same size as those used for .308 and 6.5 Creedmoor, so Ruger elected to build a 10-shot plastic magazine to compensate for the rather large magazine well.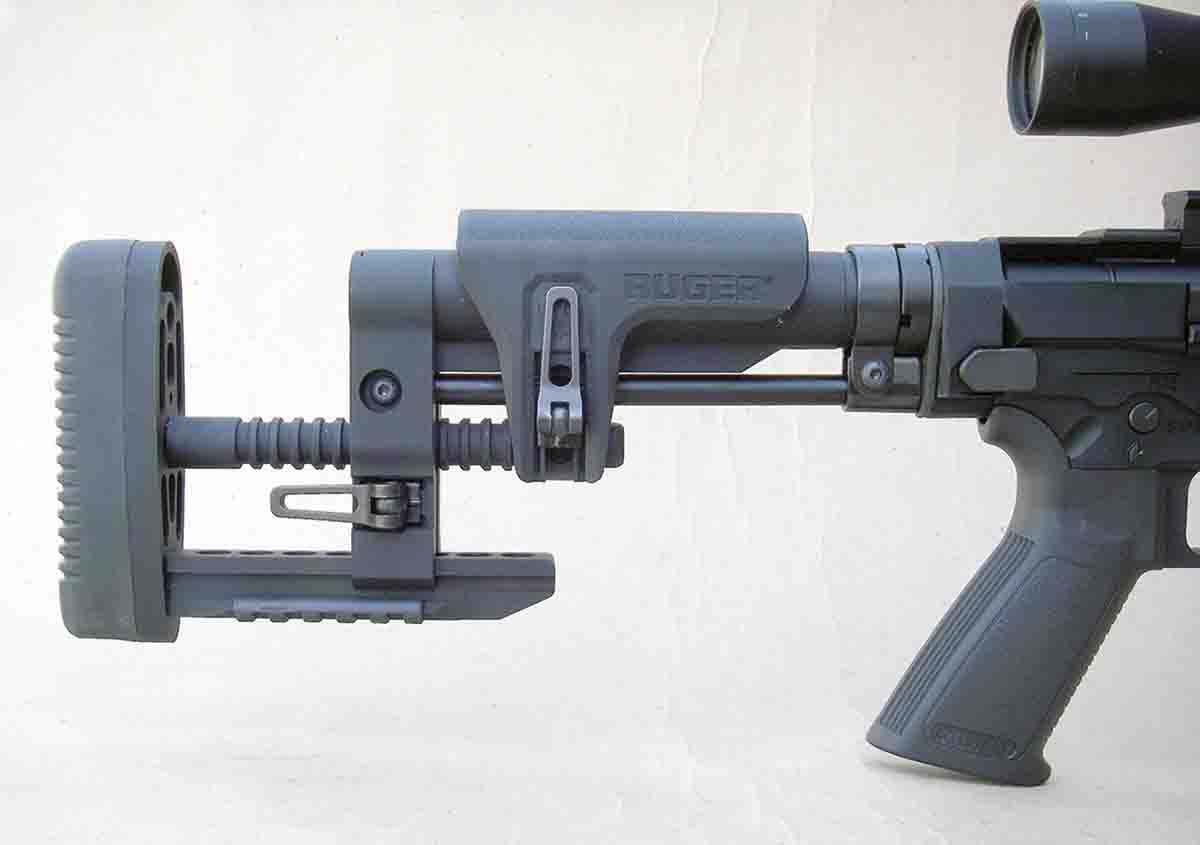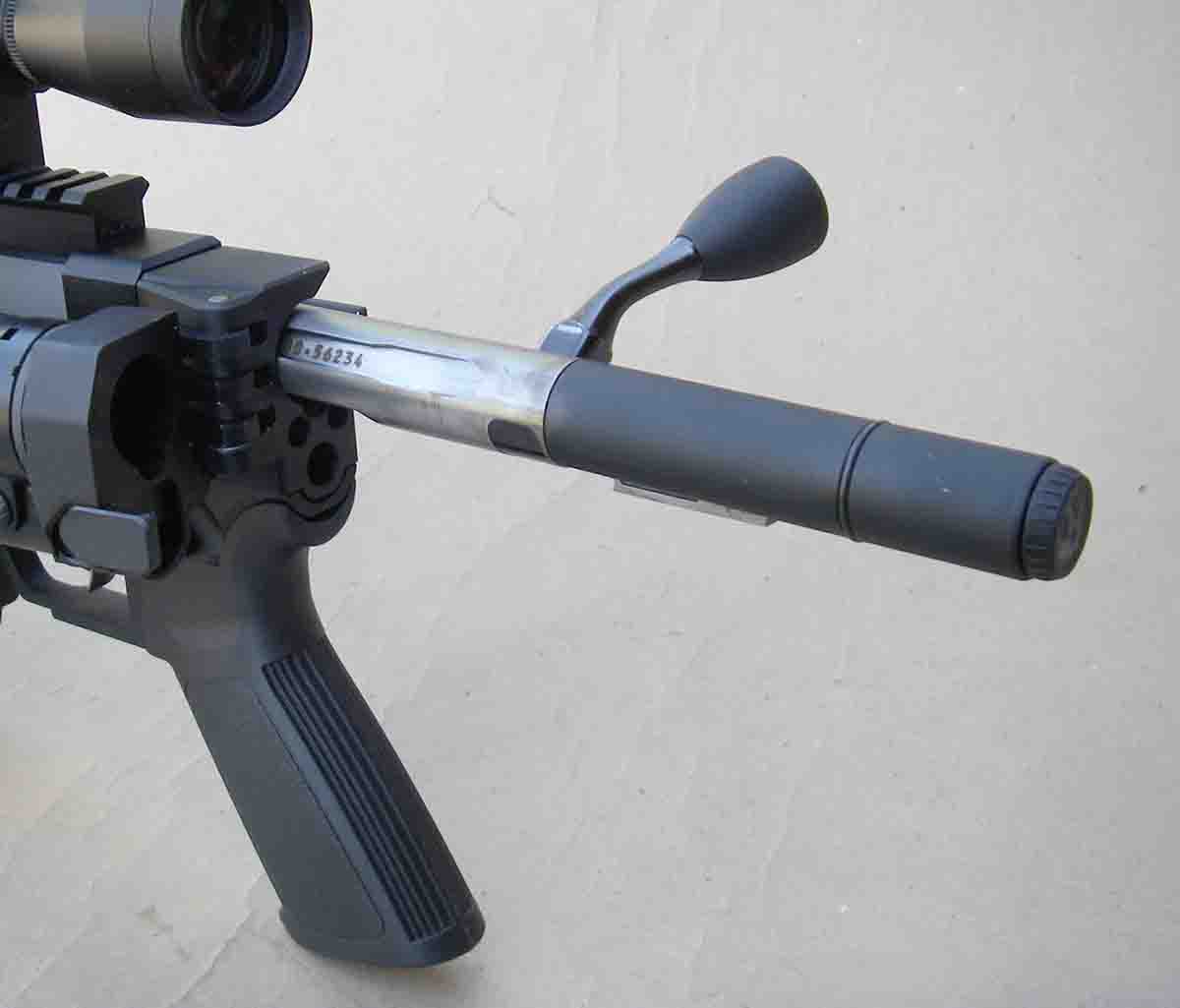 The two-position safety's engagement control is operated from the left side, in AR position and style; however, there is a convenient position indicator on the right side. It is a positive system engineered as part of the trigger unit and assembly. The trigger features a "trigger release," or center pivot, that has become common with modern rifle designs and is adjustable from 2.25 to 5 pounds. The trigger of the sample rifle broke crisply at 2.25 pounds right out of the box.
During the middle 1980s, Ruger began manufacturing hammer- forged barrels so as not to be at the mercy of outside barrel suppliers. Although there has been something of a learning curve, Ruger barrels are generally good and have been especially good in recent years. The Precision Rifle is fitted with a cold-hammer-forged barrel that is constructed of 4140 chrome-moly steel with 5R rifling. The 5R rifling features land "edges" that are slightly rounded and is reported to distort bullets to a lesser degree for improved accuracy. It also uniquely places the lands more or less opposite of the grooves to reportedly reduce powder and copper fouling. Ruger has taken steps to assure the chamber is cut concentrically to the bore, groove and bore dimensions are at industry minimal tolerances and headspace is likewise at minimum specifications.
When the Ruger Precision rifle was first announced, my initial thought was: Why use a folding stock that has traditionally been wobbly, which is absolutely contrary to precision shooting? Upon examining a preproduction rifle, I quickly realized that this was not a traditional folding stock. Rather, it is extremely rigid and locks up rock-solid with only very slight side movement. It is fully adjustable for length of pull from 12 to 15.50 inches, and the comb height is adjustable, all of which allows shooters to get properly "locked in" with the rifle, scope, target and particular shooting position. It also features a soft one-inch-thick recoil pad. The folding stock allows rearward removal of the bolt assembly and results in a handy overall rifle length of just 31.6 inches when folded.
My first hands-on experience with a Ruger Precision Rifle 6.5 Creedmoor was a couple of years ago at Hornady Manufacturing's long-range testing facility; it was one of the rifles used when developing the ELD-X bullet. I had the opportunity to shoot that rifle, along with several others, at 500 to 1,200 yards. With Dave Emary as my spotter and reading the wind with a Kestrel gauge, it didn't take long to get locked onto a small steel target at 1,200 yards and begin pounding it with reasonable regularity. I did not have the chance to measure group size, but it was clear that the rifle and load were easily producing sub-MOA accuracy in spite of crosswinds in excess of 8 mph. There were several other custom and semi-custom test rifles that demonstrated similar accuracy, but most of them cost several times more than the Ruger Precision Rifle.

A Ruger Precision Rifle 6.5 Creedmoor was ordered along with a 5.56 NATO version. The latter arrived first and was chosen for this review. The barrel features a 1:7 twist to stabilize .22-caliber bullets up to 80 grains. Several factory loads containing 55- to 60-grain bullets produced respectable 100-yard accuracy. However, bullets weighing 69 through 80 grains and designed specifically for extreme long-range work (at least with this cartridge) were the primary focus.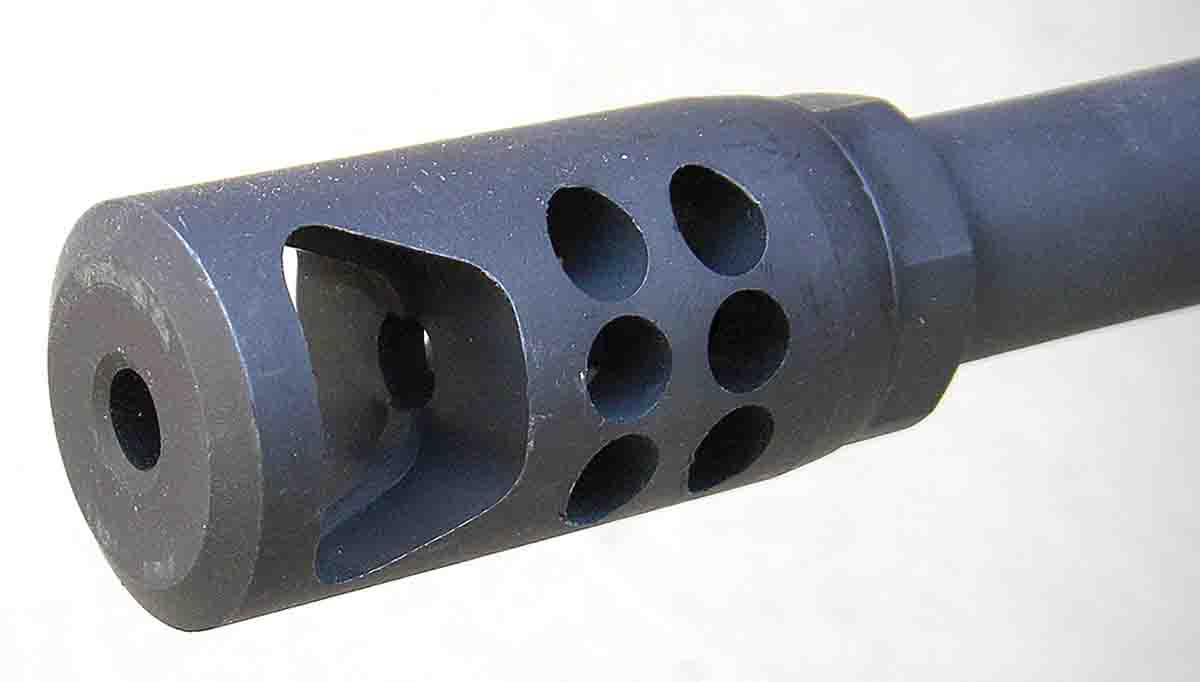 The Precision Rifle barrel is marked "5.56 NATO TARGET CHAMBER." I called Ruger to verify what that entailed; however, before giving the company's response, it should be mentioned that the .223 Remington and 5.56 NATO are not fully interchangeable. Externally, the two cartridges are identical, but 5.56 pressures are measured one millimeter forward of the case mouth (in the freebore area of the chamber, if you will), while .223 pressures are traditionally measured on the case body. The .223 also was designed for a shorter chamber throat, with the leade being cut at 3 degrees. The 5.56 requires a longer throat with the leade being cut at 1.5 degrees. As a result, a rifle with a 5.56 chamber can safely fire both cartridges, while firing 5.56 loads in a rifle with a .223 chamber can result in high pressures, stuck cases, blown primers or possibly worse. Ruger representatives indicate that the Precision Rifle's Target Chamber leade is cut "at slightly less than 1.5 degrees . . . with longer free-bore than the .223 . . . but with the tighter chamber tolerances of the .223."
A Leupold Mark AR MOD 1 4-12x 40mm AO (mil-dot reticle) scope was installed on the test rifle, as it is designed specifically for AR-15 pattern rifles. In spite of this scope's features being less than ideal for the outer range limits of the rifle's accuracy and the cartridge's potential with new, low- drag, long-range bullets, it was nonetheless adequate for accuracy testing at 100, 300 and 500 yards.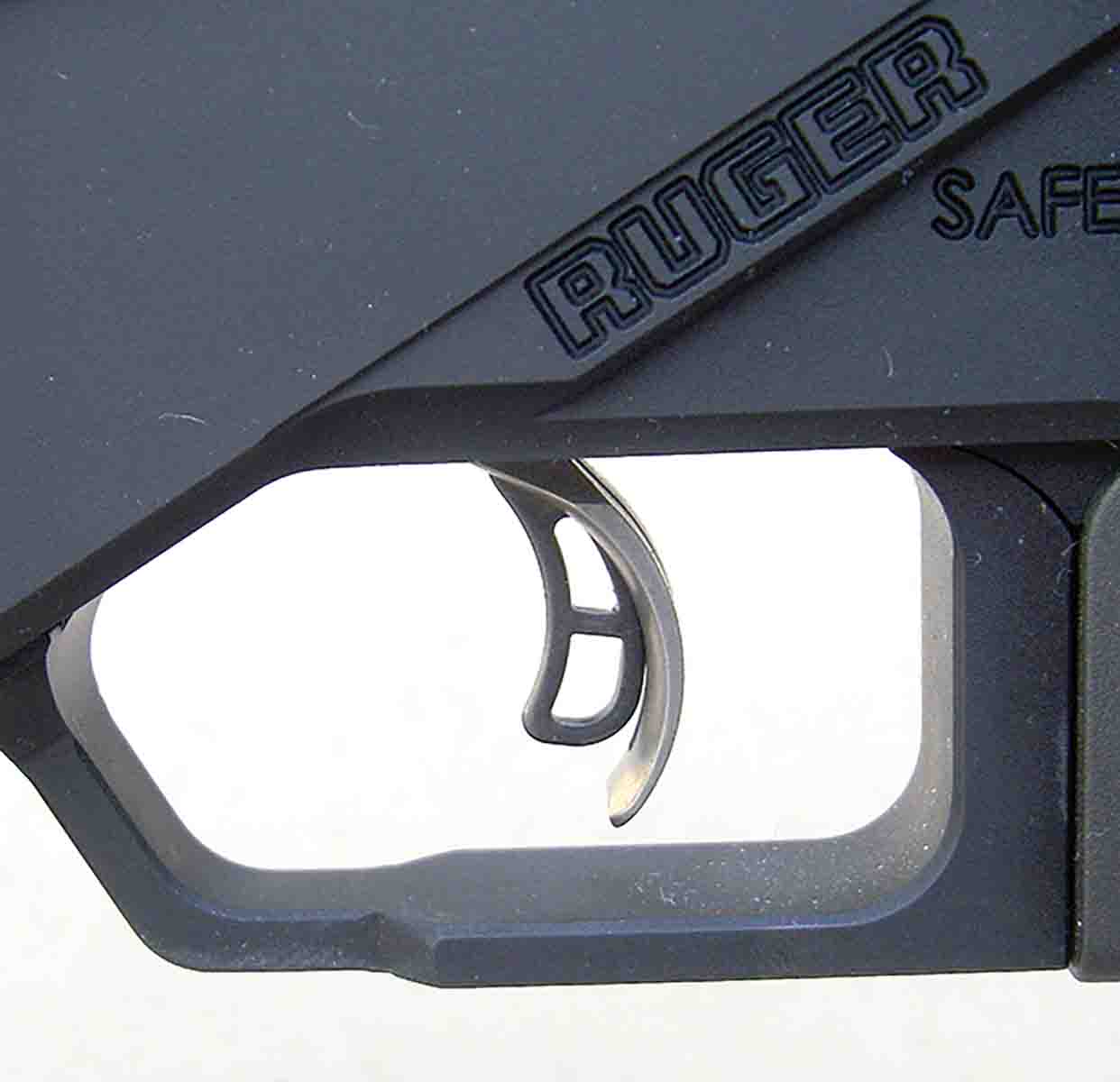 A variety of factory loads were tried at 100 yards, with most of those results listed in the accompanying table. Respectable accuracy was obtained with select 55- to 60-grain loads, though some 55-grain "varmint" bullets did not reach the 100-yard target. This was probably due to the fast 1:7 twist barrel that is not intended for lightweight, frangible varmint- style bullets.
The most interesting factory loads contained 69- through 77- grain bullets that are designed to extend the effective range of the cartridge by offering low-drag coefficients, flatter trajectories and improved wind-bucking qualities. Examples included the Hornady 73-grain ELD Match at an advertised 2,790 fps and the 75-grain HPBT at an advertised 2,910 fps, both from a 24-inch test barrel; Black Hills 75-grain Match HP at 2,750 fps; Buffalo Bore Sierra 69-grain bullets at 2,900 fps; and the company's 77-grain Sierra load at 2,800 fps. With changing wind gusts and other variables at the time of 500- and 800-yard shooting, it was difficult to determine exact – or even average – accuracy of the above loads, but each produced at least one five-shot group that went inside 2.3 inches (around .65 MOA) at 300 yards. I believe that on a calm day and with select match ammunition, the Precision Rifle is capable of holding between .60 to .80 MOA at 500 yards, perhaps even less.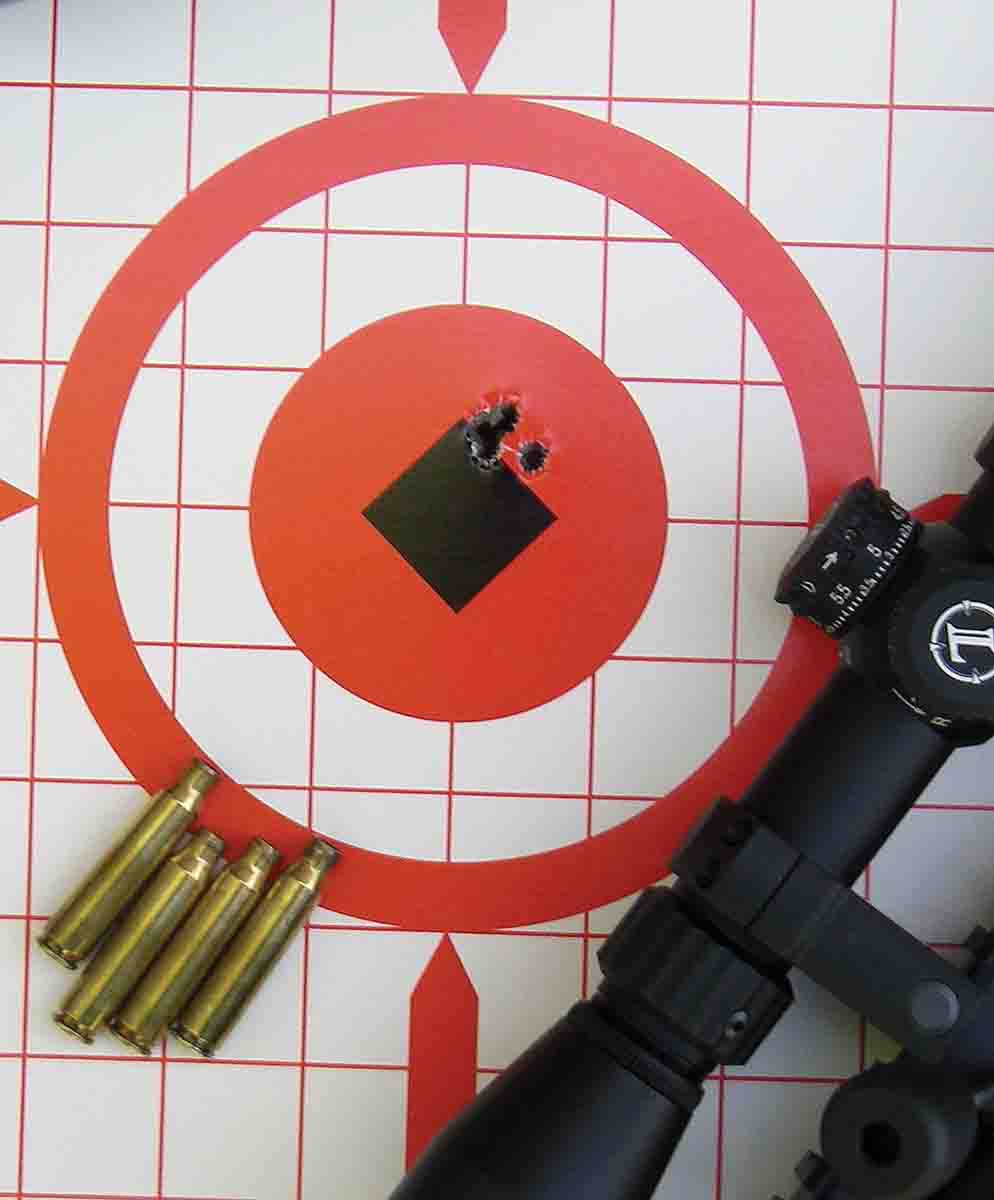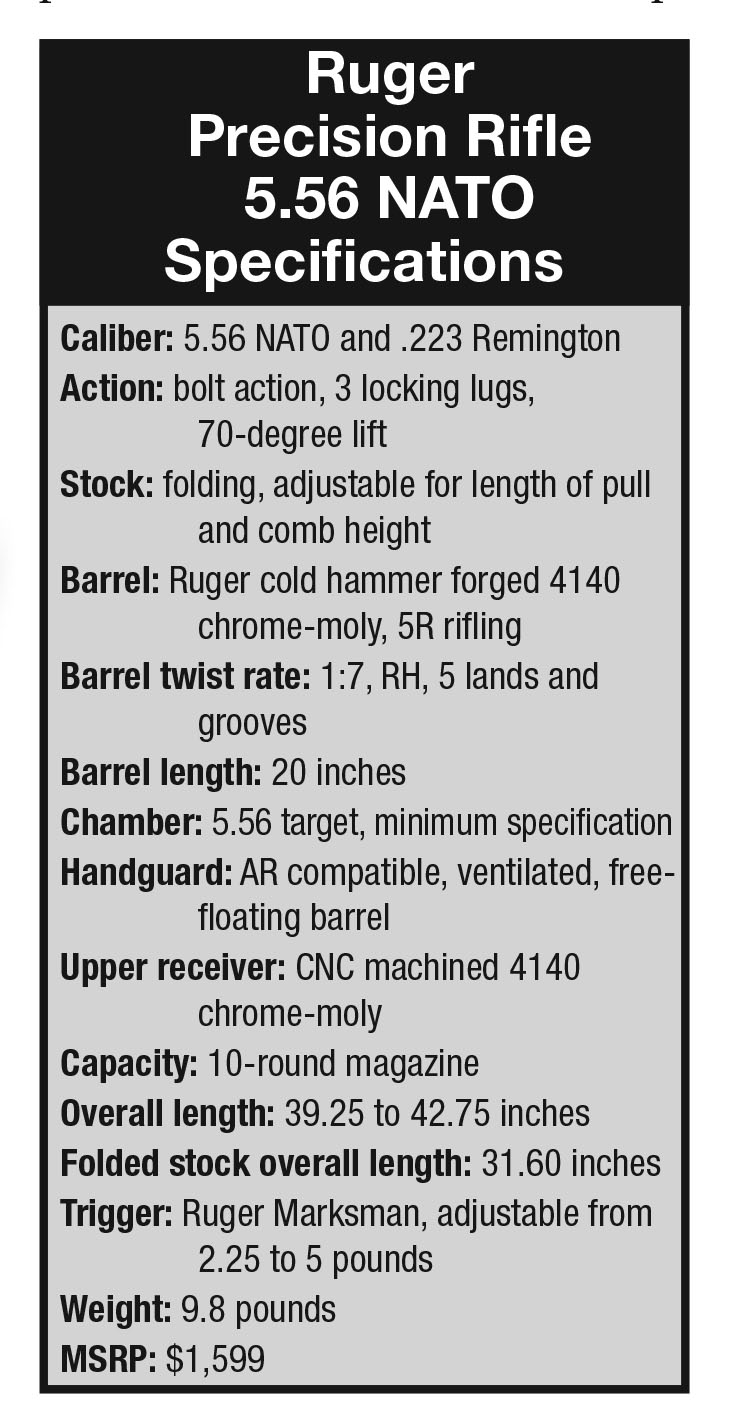 Several handloads were tried, including the Hornady 73-grain ELD Match bullet over 24.0 grains of Norma 203B powder for 2,460 fps, and the 80-grain ELD Match bullet shot at just over 2,400 fps using 23.8 grains of Hodgdon Varget powder. Loads were assembled in NoslerCustom cases and ignited with CCI BR-4 Bench Rest primers. Several five-shot groups at 100 yards hovered around .5 inch.
The Precision Rifle functioned flawlessly throughout shooting sessions and consistently produced a high level of accuracy. For shooters who have only used more traditional "sporting" rifles with conventional stock profiles, the new Ruger will take some getting used to. Once that learning curve is over and the stock is properly adjusted for the shooter, it becomes possible to hit small targets at long range. With its in- line recoil path and substantial 9.8-pound weight, recoil was minimal.
With an escalating interest in long-range shooting during the last few years, Ruger has developed a rifle that is available at the reasonable cost of about $1,250.