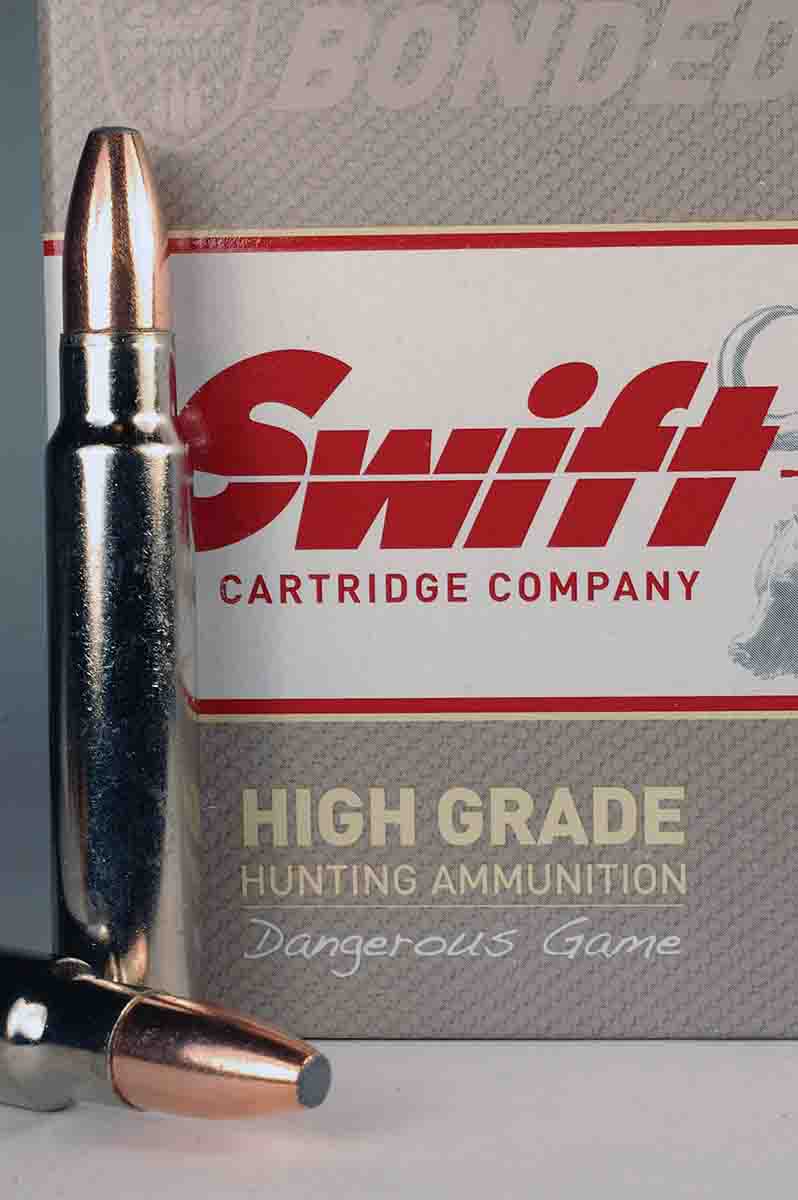 New rifle ammunition options abound this year. Target shooting has grown in interest, and there are lots of choices for "ringing" steel with slender bullets that look fast and accurate just sitting motionless. Still, the majority of rifle cartridges are shot by small- and big-game hunters who are mostly concerned with accuracy and how bullets perform when they hit game. What follows is a survey of several new loads.
Target Ammunition
"Streamlined" is the word for target bullets. Hornady's Match ammunition is loaded with new Extremely Low Drag (ELD) Match bullets to help overcome air resistance in flight and are loaded in cartridges from the .223 Remington to .338 Lapua. SIG Sauer Elite Performance ammunition is loaded with Sierra MatchKing bullets in the .223 Remington and .300 Winchester Magnum.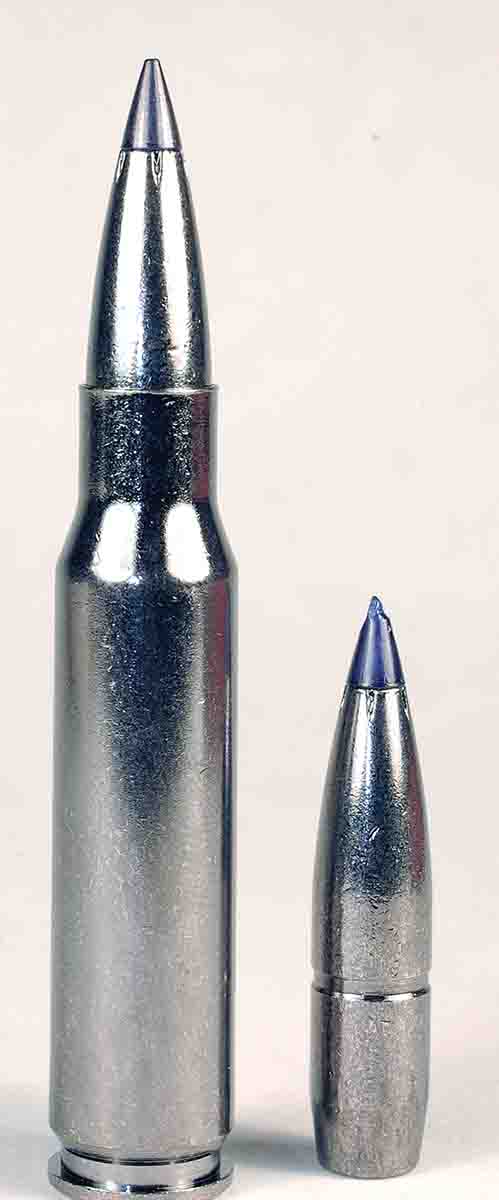 Hornady's ELD Match bullet's forte is its Heat Shield Tip. Hornady spent a lot of time studying the aerodynamic performance of various bullets shot at various distances using Doppler radar and discovered bullets had abnormally low ballistic coefficients at distances over 400 yards. The company decided the culprit was polymer tips melting and deforming in flight from air friction. The faster a bullet was fired and the farther it flew, tip deformation increased, lowering its ability to overcome air resistance. The Heat Shield Tip is made of a polymer that resists softening and distortion in flight.
ELD Match bullets have a relatively high ballistic coefficient (BC), thanks to their drawn out ogive and boat-tail. The .22-caliber 73-grain ELD Match bullet has a G1 BC of .398 when its velocity is 2,500 fps or faster at distances out to 300 yards. Its BC decreases to .382 at longer ranges when much of its flight occurs after a substantial decrease in velocity.
ELD Match .223 Remington cartridges loaded with 73-grain ELD Match bullets shot five-shot groups a touch over an inch at 100 yards from my much-fired Savage Predator Hunter rifle with a 1:9 rifling twist. Extreme velocity spread was 39 fps for five shots. At 300 yards, groups measured just over 2 inches.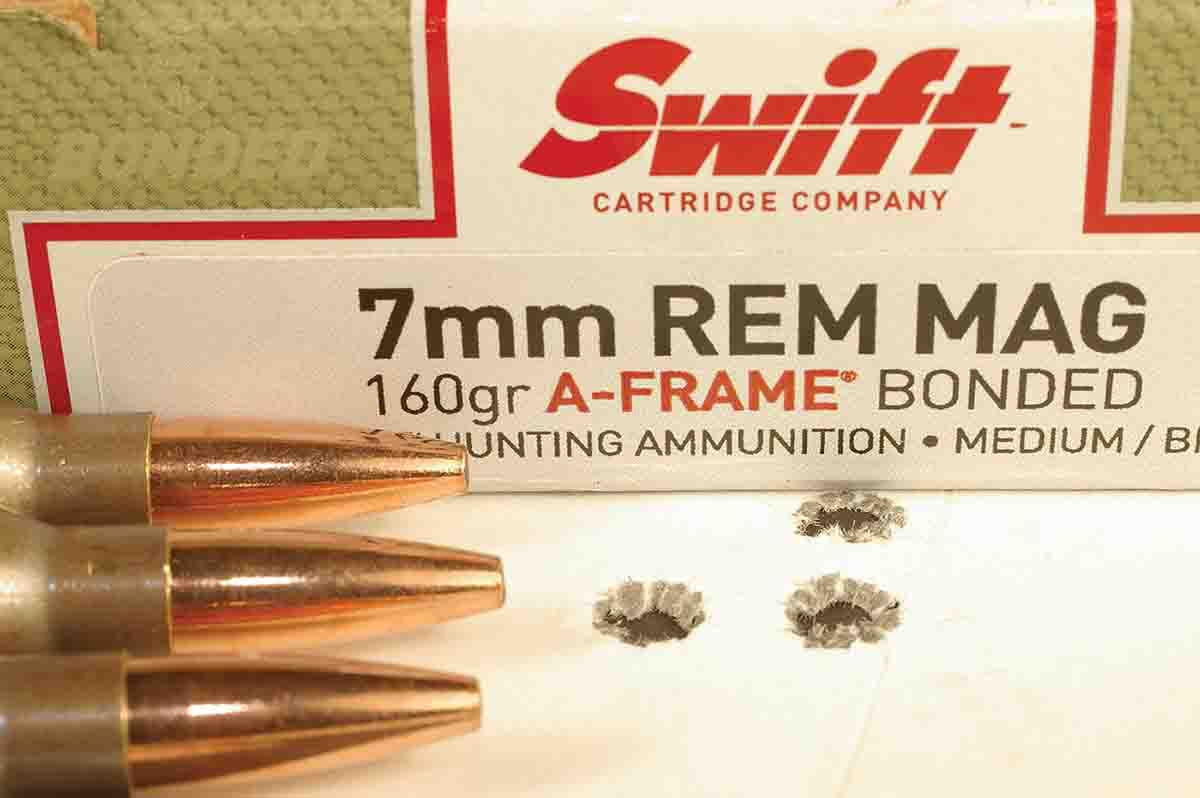 SIG Sauer started manufacturing handgun ammunition a couple of years ago – loaded with V-Crown bullets made by Sierra Bullets. SIG has continued with Sierra bullets in its new Elite Performance .223 Remington loads using 77-grain MatchKings and 190-grain MatchKings in its .300 Winchester Magnum loads. SIG refers to these bullets as Open Tip Match (OTM).
OTM 77- and 190-grain bullets shot well. The Savage .223 grouped 77-grain OTM bullets well under an inch at 100 yards and under 3 inches at 300 yards. Velocity was uniform with an extreme velocity spread of 16 fps for five shots. My .300 Winchester Magnum is a hunting rifle with a light contour barrel. There must have been some wavering on the trigger from the accumulated recoil of shooting 30-some magnum cartridges from a rifle that weighs slightly more than 8 pounds. Still, with the barrel cooled for only a couple of minutes between shooting groups, three, five-shot groups printed a touch under and over an inch at 100 yards. Extreme velocity spread was 43 fps for five shots.
Small-Game Ammunition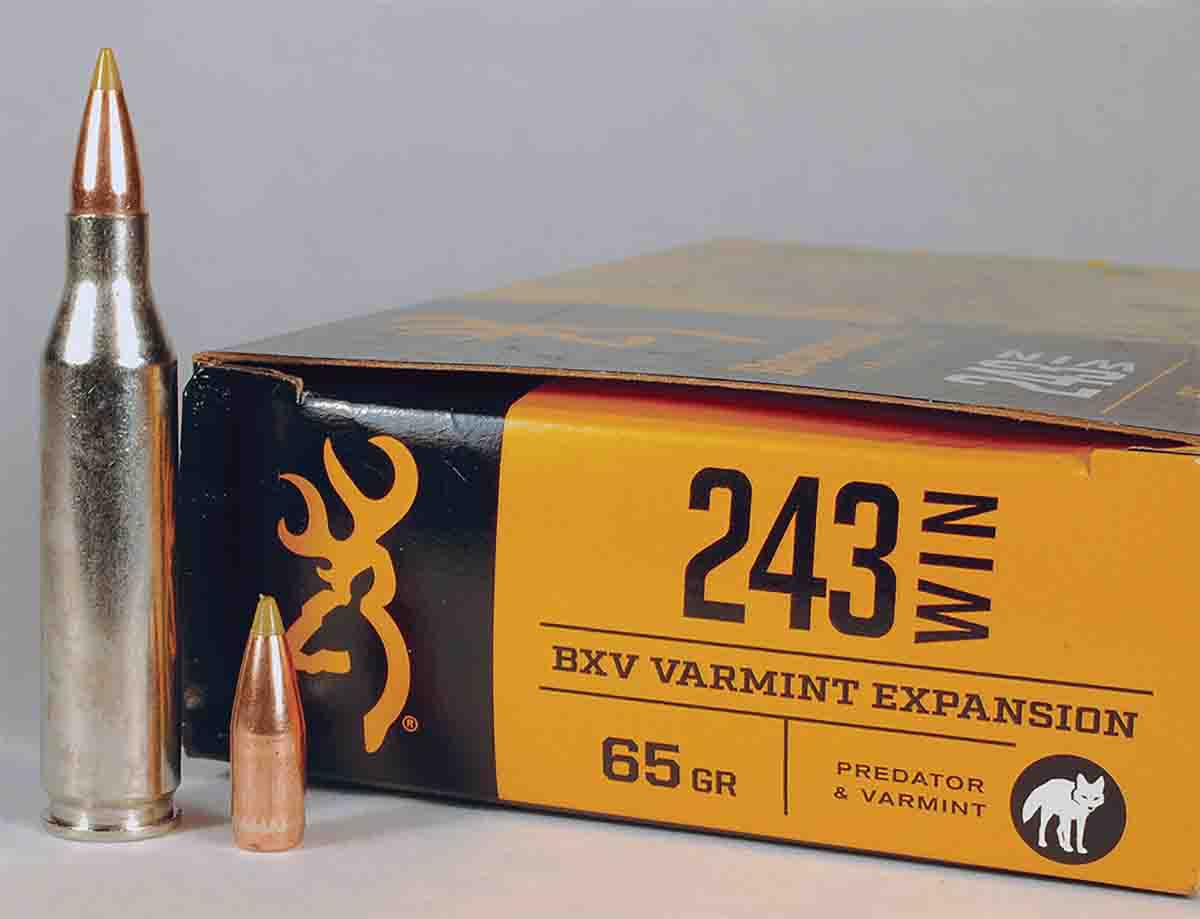 Browning Ammunition's BXV Predator and Varmint ammunition is loaded with polymer-tipped Varmint Expansion bullets designed to totally expand upon impact. A coyote is pictured on BXV boxes, so before hunting coyotes last winter, I sighted in a .22-250 Remington with 50-grain BXV bullets 1.5 inches above point of aim at 100 yards. The bullets dropped only that much below point of aim at 300 yards, which is pretty flat-shooting. When a coyote came to my call, it stopped far out in a field. The coyote stared straight in my direction, providing no time to take a reading with a rangefinder or twist the elevation dial on the scope to compensate for distance. Plus, the coyote would have spooked at those movements. I steadied the rifle across a ski pole, aimed right on and fired. The coyote fell over; the bullet had poked a neat hole in the coyote and fragmented inside it, which was perfect for prime fur.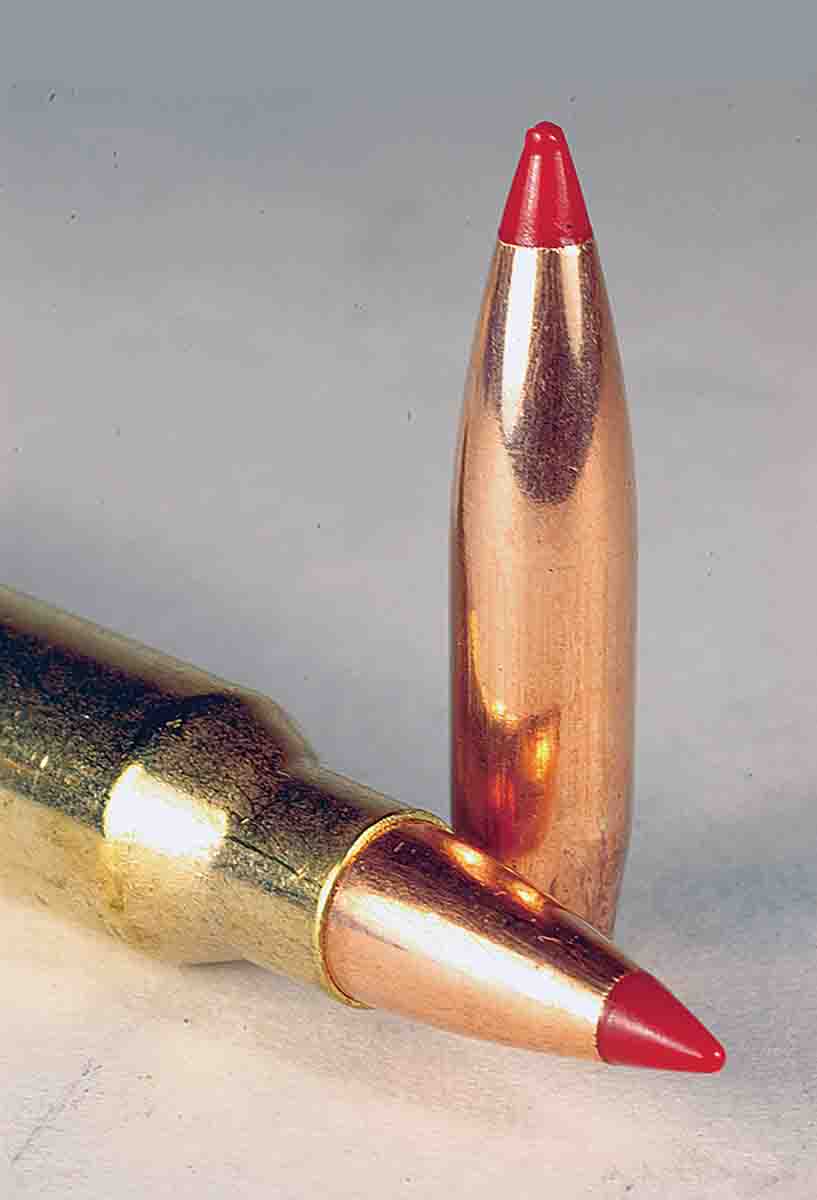 From the same .22-250 Remington rifle, five 50-grain BXV bullets grouped well under an inch at 100 yards. The .22-250 shot five of the Browning bullets into a 3.45-inch group at 300 yards on a windy afternoon. On a calm morning, five bullets grouped 1.81 inches at that distance. The rifle's 22-inch barrel shot the bullets at an average of 3,489 fps – quite a bit slower than the 3,800 fps Browning states. Extreme velocity spread was 93 fps for 10 shots, which is usual with lighter bullets fired from this rifle.
The 65-grain BXV is a lightweight bullet for the .243 Winchester. Even with a slight boat-tail and pointed polymer tip, the bullet has a relatively low BC of .28, but there is no arguing accuracy with its groups measuring under an inch at 100 yards and 2.5 inches at 300 yards. Additional Browning BXV cartridges include the .22 Hornet containing 35-grain bullets at 3,100 fps and .223 Remington loads with 50-grain bullets at 3,400 fps.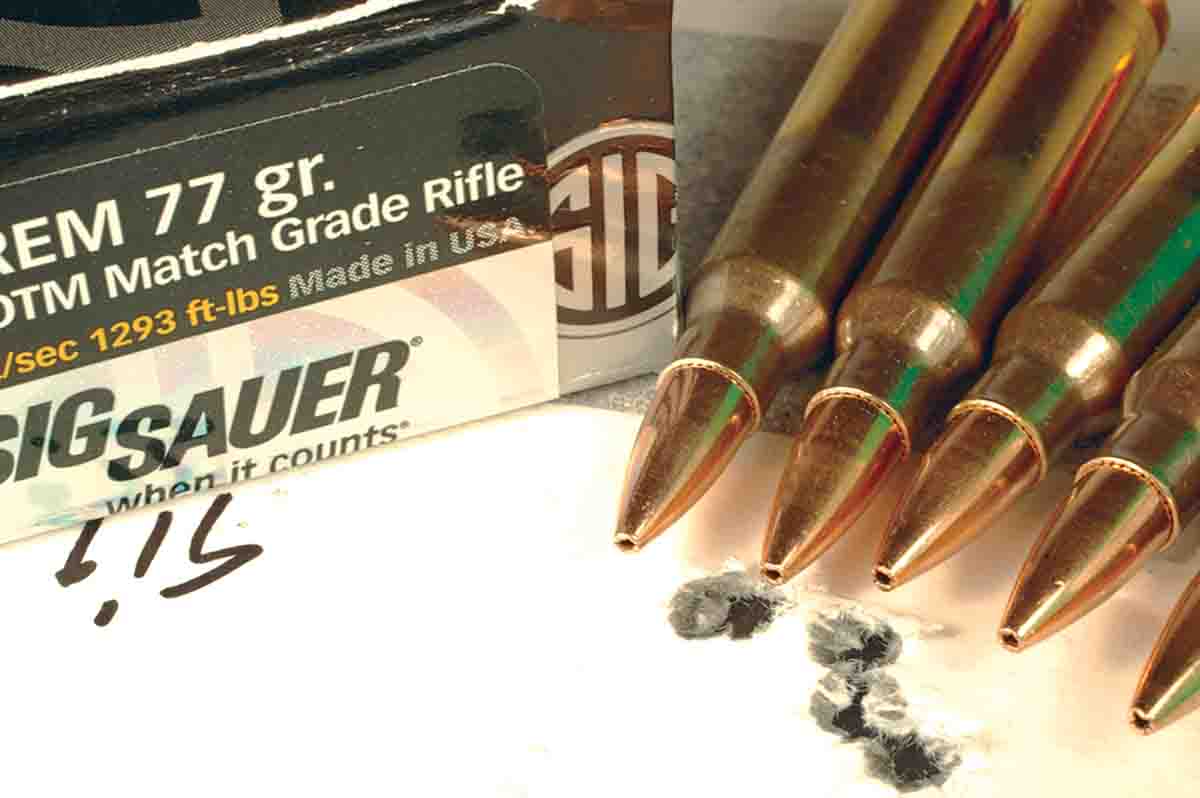 Hornady promotes nine cartridges – from .223 Remington to .450 Bushmaster – in its BLACK ammunition line as being optimal for all types of guns to provide "superior performance for a variety of applications." My youngest son lives in remote Alaska where, depending on your outlook, there is everything or nothing. He says AR .223 rifles are very popular for fox, wolf and caribou hunting. The last two animals are a stretch for the .223 Remington. Bullets with some weight and expansion, like Hornady's BLACK 5.56 NATO loaded with 75-grain InterLocks, should help.
Big-Game Ammunition
Depending on the cartridge, Swift's High Grade ammunition is loaded with Scirocco II, A-Frame or Break-Away Solid bullets. Big-game cartridges are loaded with Scirocco II bullets in cartridges from .223 Remington to .338 Lapua Magnum; A-Frame bullets are loaded in cartridges from the .270 Winchester to the Lapua. Dangerous game cartridges, from 9.3x62 to .505 Jeffery, are loaded with A-Frames or Break-Away Solids. All cartridges have a water-tight seal between the bullet and case neck.
Shot from a Remington Model 700 7mm Remington Magnum, Swift 160-grain A-Frames shot a tight group of .63 inch at 100 yards. Swift 300-grain A-Frames shot from a Mossberg Patriot .375 Ruger were not far behind in accuracy and provided a 1.28-inch average for two, three-shot groups. The astonishing part was that I kept my composure on the trigger to shoot those groups with the big bullets generating nearly 50 foot-pounds of recoil from the 8-pound Mossberg rifle.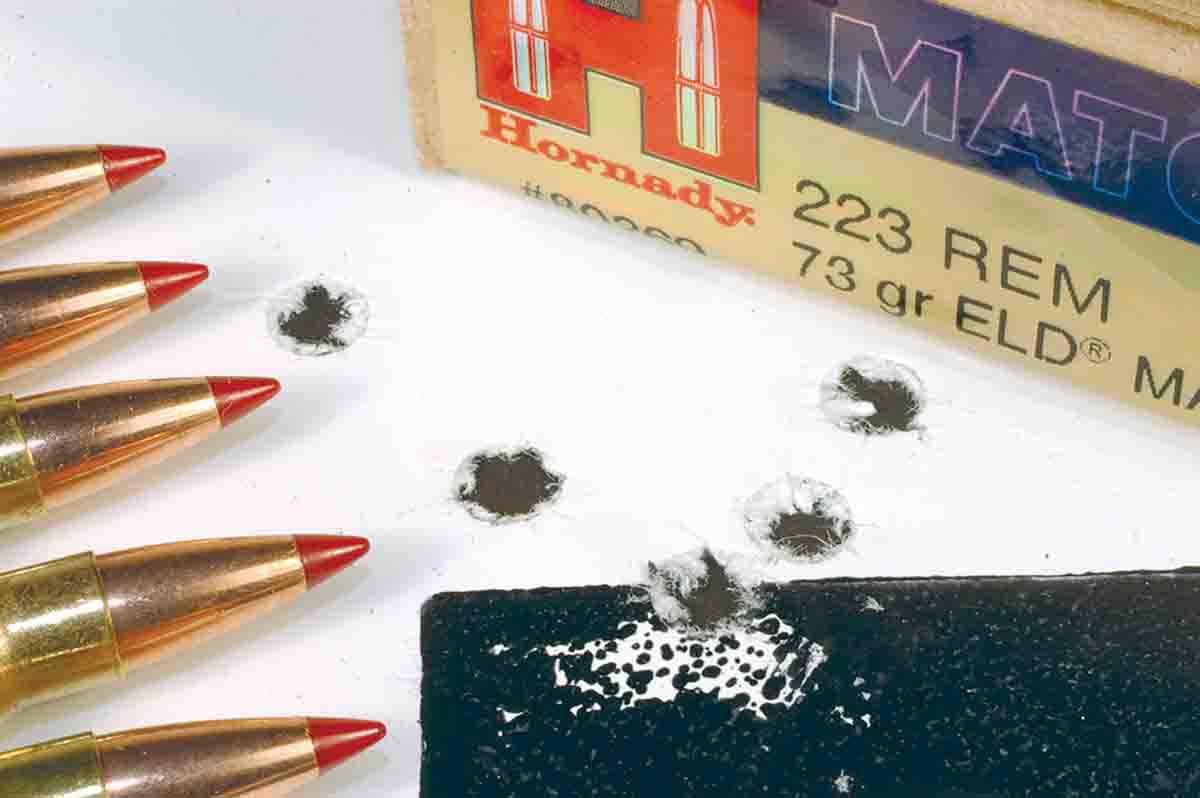 Hornady's Precision Hunter cartridges are loaded with Extremely Low Drag-eXpanding (ELD-X) bullets said to provide controlled expansion at all practical hunting distances. The bullets weigh near the heavy end for their caliber, creating a high BC and providing some allowance to keep the bullets intact when they shed weight during expansion. Out to 400 yards, the thin jacket on the bullet nose peels back and stops at the InterLock ring around the thick shank. If shooting at game past 400 yards, the bullet's Heat Shield tip pushes into the hollow point to start expansion at low velocity.
ELD-X bullets are loaded in 13 cartridges from the 6.5 Creedmoor with 143-grain bullets to the .30-378 Weatherby Magnum loaded with 220-grain bullets. Hornady cites a muzzle velocity of 2,770 fps for 150-grain ELD-X bullets in Precision Hunter 7mm-08 Remington cartridges fired from a 24-inch barrel. Those loads had an average velocity of 2,631 fps as chronographed 10 feet in front of the 22-inch barrel of a New Ultra Light Arms Model 20 rifle. With the bullets hitting 2 inches above aim at 100 yards, they dropped only about 9 inches at 300 yards.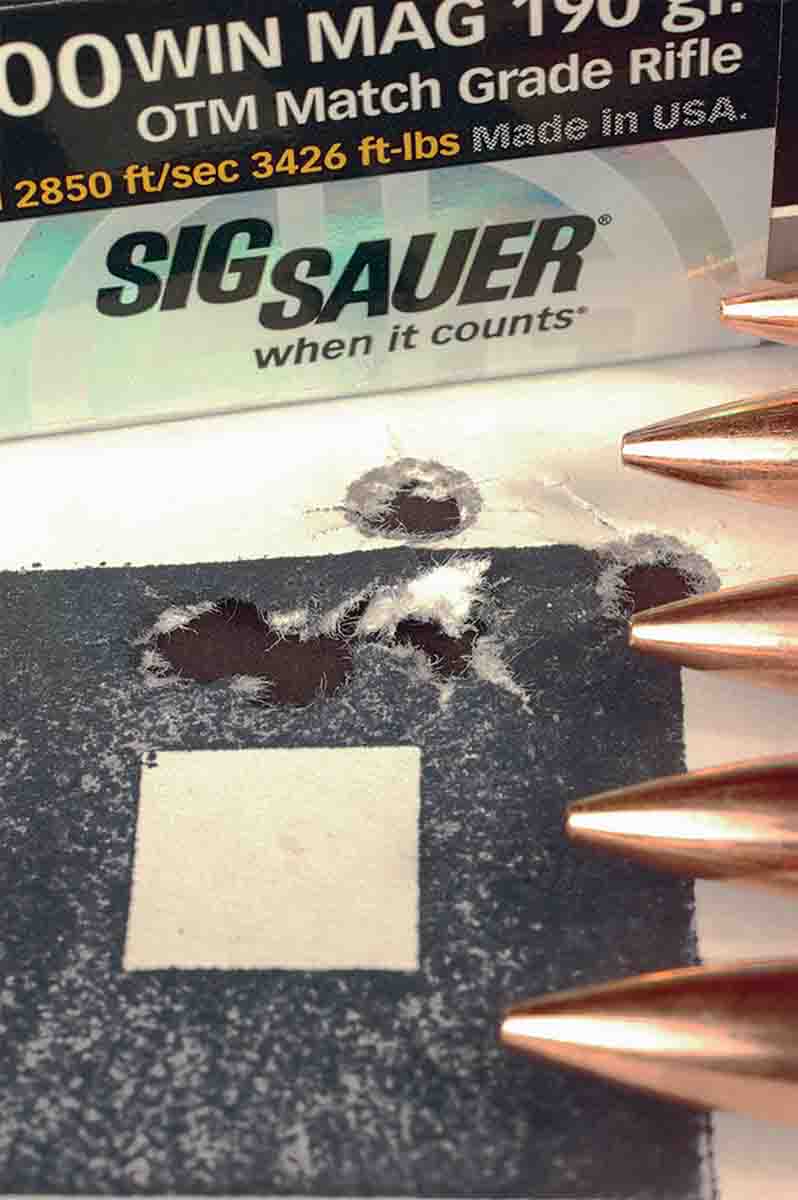 I killed a cow elk last fall with a 162-grain ELD-X bullet fired from a 7mm Remington Magnum Precision Hunter cartridge. The bullet hit the elk behind the diaphragm, tore up part of the liver and plowed out the far side. Even with that poor bullet placement, the elk died quickly enough. Those bullets had an average velocity of 2,988 fps from the 26-inch barrel of a Browning X-Bolt. That is 48 fps faster than the velocity listed on the box. Bullets from the same box of cartridges clocked 2,781 fps when fired from the 24-inch barrel of a Remington Model 700. Extreme velocity spread was 16 fps from the loads shot from the Remington with groups under 3 inches at 300 yards.
The Trophy Bonded Tip is one of the finest big-game bullets made. Federal has given the bullet's solid copper shank and bonded front lead core a more slender shape with a Slipstream polymer tip and AccuChannel grooves around the bullet to minimize drag and christened it the Edge TLR. The Slipstream polymer tip reportedly withstands heat from air resistance in flight and pushes back into the hollow tip on impact to allow bullet expansion out to 900 yards. Edge TLR 175-grain bullets are loaded in Federal Premium ammunition in the .308 Winchester and .30-06, and 200-grain bullets are loaded in the .300 Winchester Magnum and .300 WSM. Shot from a Mossberg .308, Edge TLR bullets averaged .98 inch for two, three-shot groups at 100 yards.
SIG's entry into hunting ammunition features HT bullets loaded in the .300 Blackout and .308 Winchester. Elite Precision Blackout cartridges contain 120-grain HT bullets with a muzzle velocity of 2,250 fps, and the .308 is loaded with 150-grain HT bullets with a muzzle velocity of 2,900 fps. Average velocity was 2,748 fps measured 10 feet in front of the 20-inch barrel of a Mossberg MVP .308 rifle.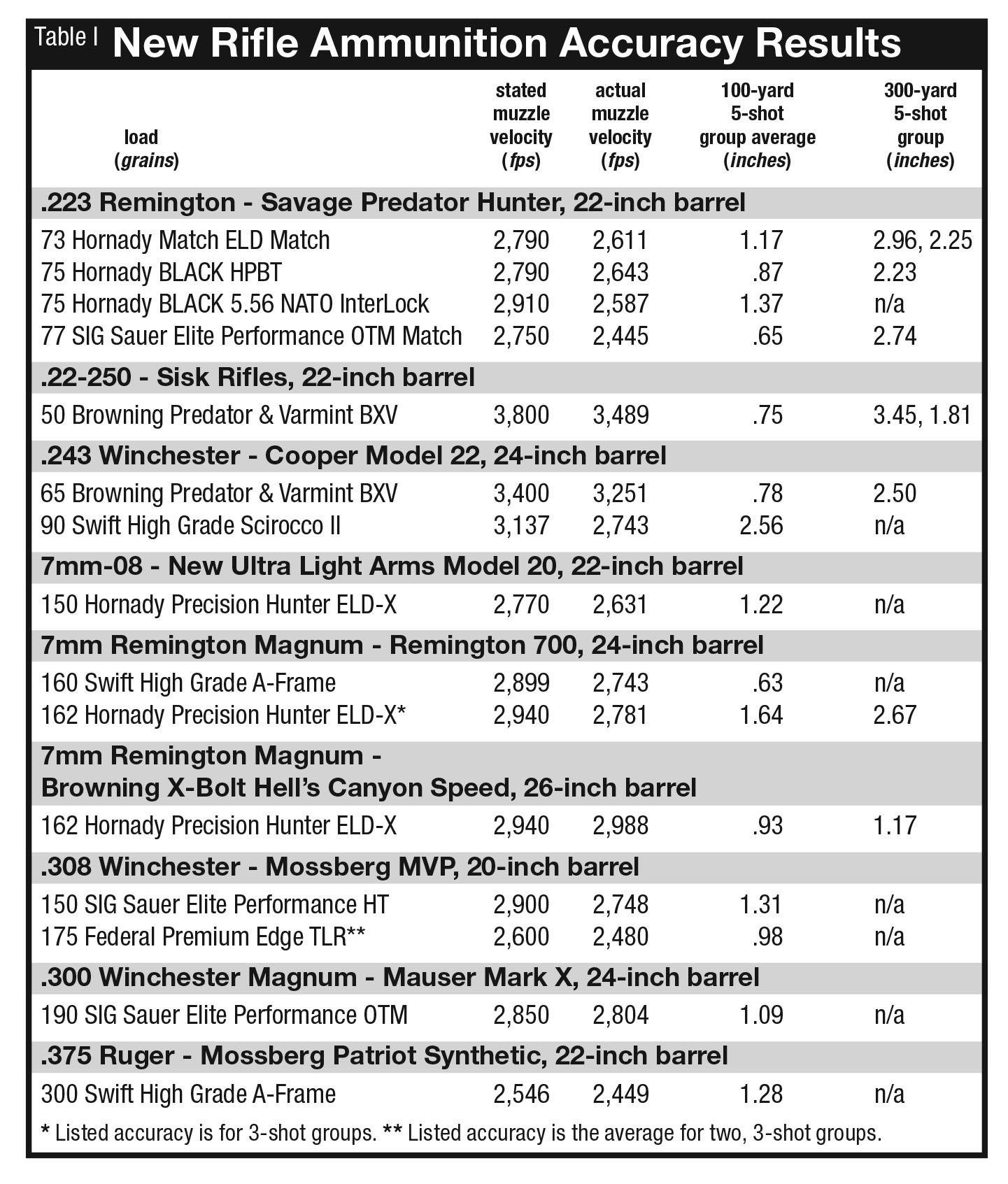 The Mossberg has a skinny barrel and has provided fair accuracy over the years while shooting a variety of .308 factory loads and handloads. The rifle shot most accurately at 100 yards with SIG HT bullets. The first five-shot group measured an inch, right after firing 10 cartridges to dial in the rifle's scope. Five more rounds were then shot, and the group spread some to 1.62 inches.
The .308 HT bullets are made of copper with a hollow point. The bullet has a boat-tail, and three grooves are cut around the shank that act as relief grooves for jacket metal displaced by the rifling lands.
Hornady's 110-Grain FTX Bullet for the .25-35 WCF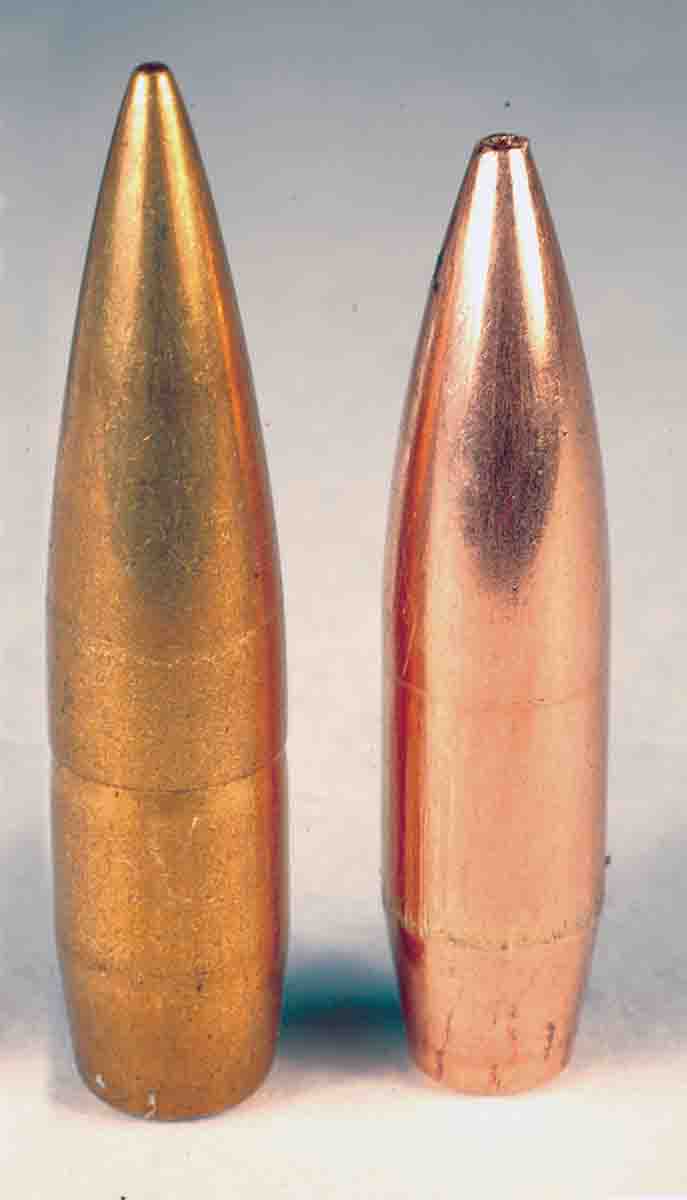 The number of .25-35 Winchester rifles still in use is amazing. It seems once a month someone says they have a family heirloom Winchester Model 1894 .25-35. To keep those rifles shooting, Hornady's new LEVERevolution .25-35 ammunition is loaded with 110-grain FTX bullets with a stated muzzle velocity of 2,425 fps. FTX bullets and unprimed cases are also available. My Model 1894 .25-35 was made in 1908, and with 27.0 grains of Power Pro 2000-MR powder, it shot FTX bullets 2,235 fps and grouped three in 1.02 inches at 50 yards.
Federal Premium Hunter
Match .22 LR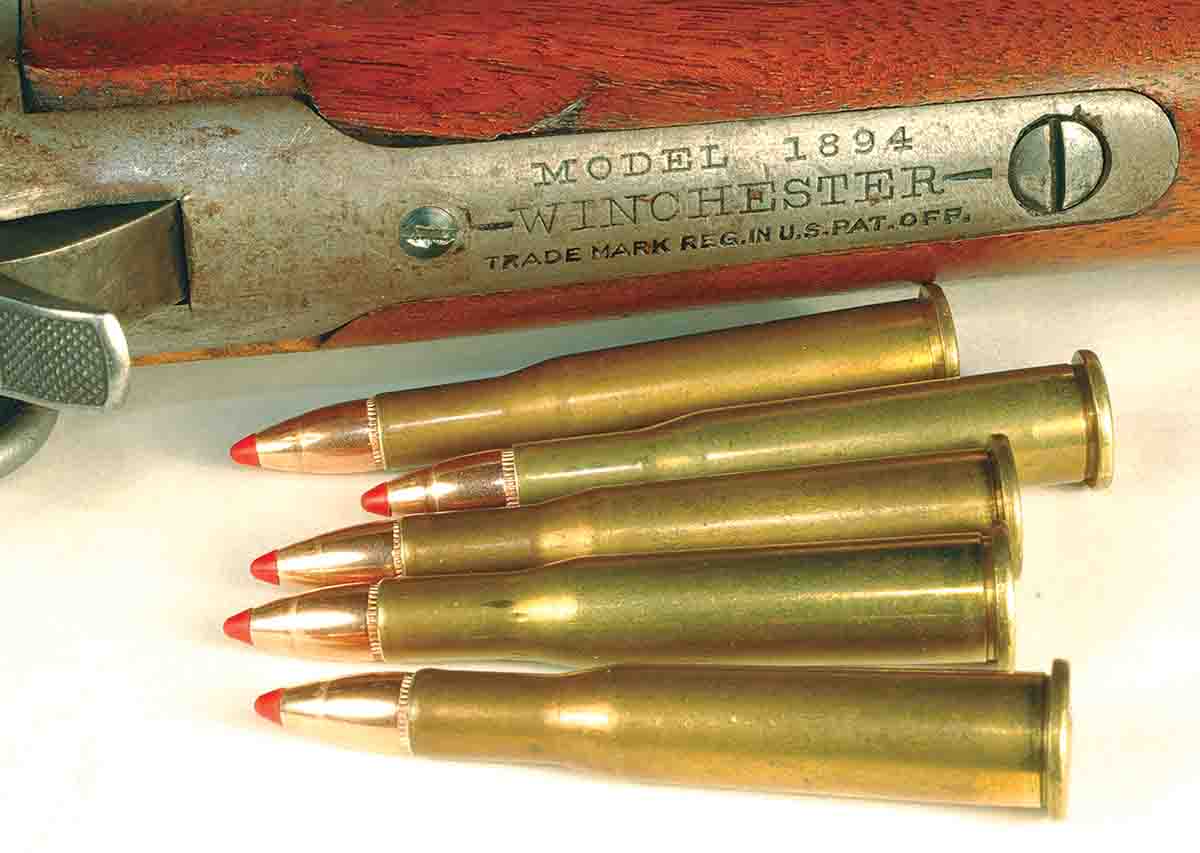 A roundup of ammunition would be incomplete without including a .22 LR load. Federal's Hunter Match .22 LR features a 40-grain, lead hollowpoint at a stated muzzle velocity of 1,200 fps. Velocity was close, at 1,170 fps, when chronographed 10 feet in front of a 19-inch Volquartsen barrel on a Ruger 10/22. Average velocity was 957 fps from the 5.5-inch barrel on a Ruger MK III pistol. The 10/22 shot four out of five groups under .5 inch at 50 yards. The remaining shells were going to be shot at gophers this summer; however, with that good accuracy, they'll be saved for targets at the turkey shoot this fall.