Mention the name Nosler, and most shooters and hunters think of the Partition bullet. Developed by company founder John Nosler and first offered in 1948, it was a giant leap forward in premium hunting-bullet design intended specifically for taking big game. Perhaps the Ballistic Tip will come to mind, a bullet known for top-notch accuracy and favoritism among many deer hunters; it has proven to be devastating when placed in the heart or lungs of deer-sized game.

Other shooters might think of the company's proven Ballistic Tip Varmint bullets, Custom Competition match bullets or the E-Tip with its plastic tip, expanding solid copper construction and reliable penetration. Other Nosler bullets include the electrochemically bonded AccuBond and the large-caliber Solid that has earned a reputation for penetration on heavy, dangerous game. All of these, along with additional Nosler bullets, are offered in NoslerCustom ammunition, which is anything but ordinary.
The NoslerCustom brand was introduced in 2004 and initially included fully prepared brass cases for handloaders; they were sized to SAAMI specifications, trimmed, weight sorted, case mouths were chamfered, deburred, flash holes were deburred, then brass was carefully packaged to help prevent damage during shipment. With these nearly perfect cases, handloaders just had to select their load, and with reasonable effort, select components and assemble ammunition tailored specifically to their rifle or needs.
Nosler's next step that same year was to offer true "custom" factory-loaded ammunition made with the same high level of case preparation, as well as in the assembly process from primer and powder to bullet. All loads were initially handloaded and were often labeled as being "custom loaded" for the individual who ordered a particular load. The re-sponse from shooters and hunters wanting high-performance ammunition was overwhelming. I had the opportunity to test various loads in several rifles that proved very accurate. I even used a Nosler Model 48 .300 WSM to take a beautiful Alaskan Dall sheep at a measured 507 yards. With the tight groups that were obtained at home prior to the hunt, I had complete confidence to make the shot under tough field conditions.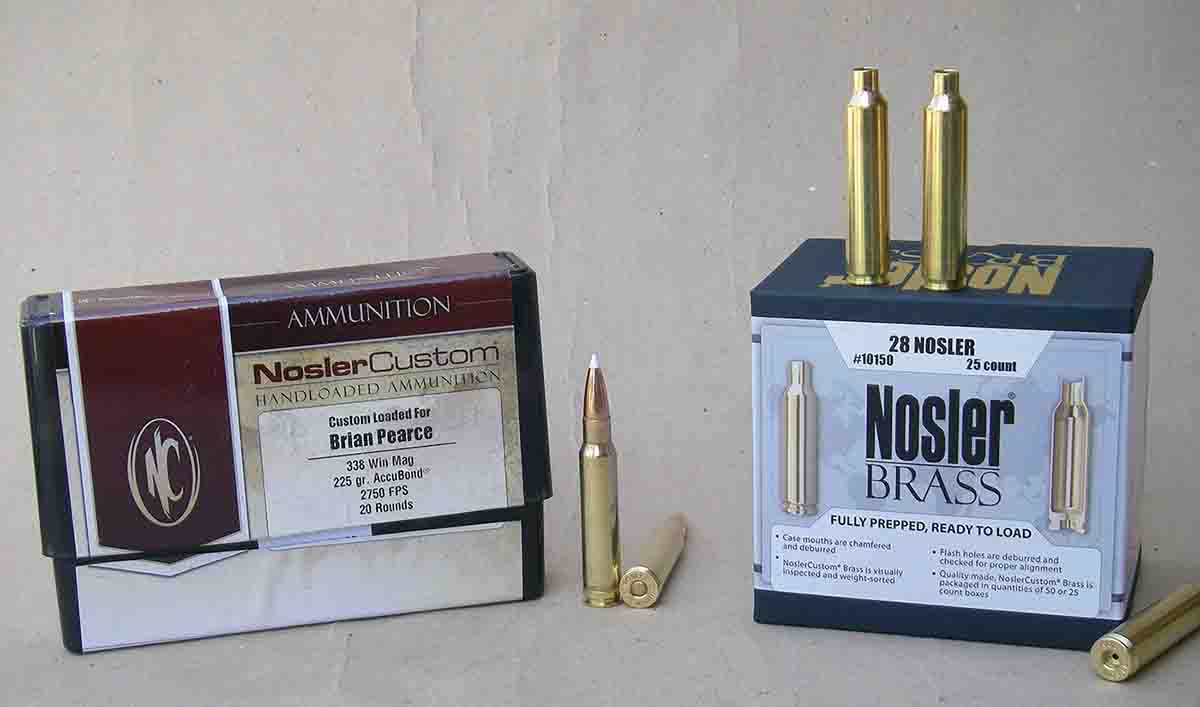 Nosler soon recognized that it needed to expand its ammunition line to help satisfy demand. Other than product lines that are specified as being "handloaded," ammunition is mostly manufactured using automated machinery that keeps costs within check. Nonetheless, the same detail to case preparation remains, while components are carefully selected for a best-quality product.
Ammunition product lines include Varmageddon, Trophy Grade, Trophy Grade Long Range, Safari, Match Grade, Defense, Nosler-Custom Handloaded, NoslerCustom Handloaded Match, Ballistic Tip, SSA and Noveske. With such a varied selection of bullets and cartridges, there is literally a load for practically every rifleman.
In addition to offering ammunition for all popular centerfire rifle cartridges, Nosler offers loads for select, hard-to-get calibers, such as .17 Remington, .222 Remington Magnum, .220 Swift, 6.5 Remington Magnum, .264 Winchester Magnum, 8mm Remington Magnum, .338-06 A-Square, .350 Remington Magnum, .35 Whelen and several European and big-bore British cartridges up to .505 Gibbs.
After the introduction of the Nosler Model 48 rifle in 2005, along with an established ammunition plant, Nosler was poised to begin designing modern cartridges and producing rifles and ammunition. The .26 Nosler was introduced in 2014 and was followed by the .28, .30 and, most recently, the .33 Nosler. All are based loosely on the beltless .404 Jeffery case, which offers magnum capacity and performance; however, the Nosler case is strengthened and modernized with a 35-degree shoulder, and it is designed to work in standard .30-06 length actions. These are high-performance, efficient cartridges that often outperform competing cartridges that offer a larger powder capacity. For instance, the .28 Nosler is advertised as "The world's most powerful 7mm commercial cartridge," which I have found to be a true statement. In spite of cartridges such as the 7mm Remington Ultra Mag offering greater powder capacity, the .28 easily churns up higher velocities while using less powder. It is noteworthy that Nosler introduced the popular .280 Ackley Improved to SAAMI as a standardized industry cartridge. Its most recent addition is the .22 Nosler that is intended to maximize .22-caliber cartridge performance in AR-15 rifles.
Over the past 13 years, I have fired, tested and hunted with dozens of different Nosler factory loads in many calibers. Without exception, I have been impressed with the ammunition's quality and performance – and rather than hope that it shoots well in a given rifle, I have come to expect it. Several accurate bolt-action production rifles have recorded three- and four-shot groups that measure inside .75 inch, .5 inch and even occasionally group around .25 inch at 100 yards.
I recently changed scopes on two rifles, including a Ruger Gunsite Scout Rifle with a 16½-inch barrel and a 1980's vintage Browning BLR 81 with a 20-inch barrel, both chambered in .308 Winchester. Although both rifles are accurate, neither would be my first choice as a one-ragged-hole rifle, and neither would I expect that from them due to their configuration. Both were outfitted with rather low power scopes, the Ruger with a Leupold Scout VX-2 1.5-4x 28mm and the Browning with a Leupold VX-II 1-4x 20mm.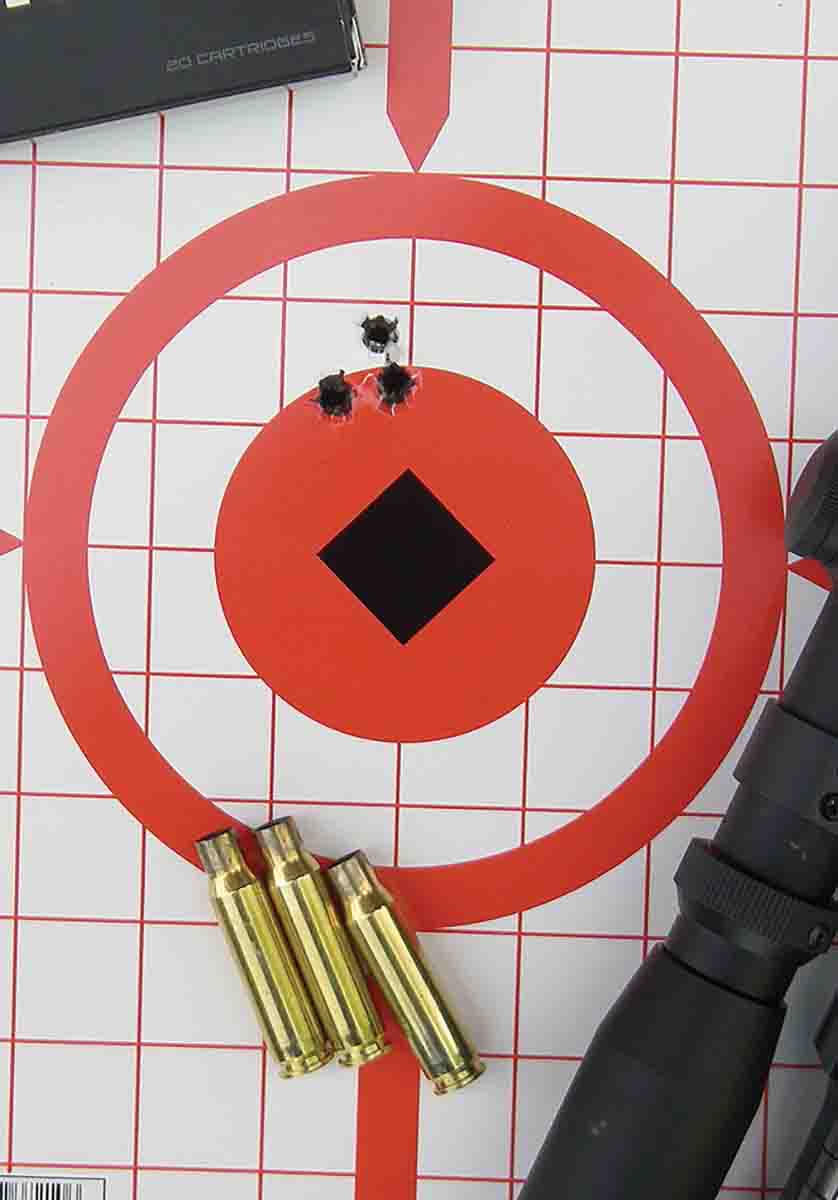 My son Porter, who works with me in various aspects of developing loads for LoadData.com, proceeded to our shooting bench and commenced sighting in both rifles. He likes long-range shooting and gravitates toward higher magnification scopes and heavy-barreled rifles that are set up specifically for long-range accuracy. Frankly, he did not expect much from the comparatively low power scopes and rifle combinations.
He soon returned with the Scout Rifle, along with a 100-yard target containing a four-shot group that had all shots touching; it measured .547 inch center to center. I had worked with this rifle previously when developing several handloads and was able to duplicate that level of accuracy but could not exceed it. In referencing my records, the most accurate factory load tested yielded an .80-inch group, while most of the nine factory loads tested grouped into 1 to 1½ inches. Additional groups were fired, which proved that the first group was not a fluke. Even with a rather hot barrel, I managed to place three shots into just .597 inch.
Porter then took the Browning BLR 81 to the bench, and I coached him with accuracy testing methods for leverguns from a sandbag rest, which are different from bolt rifles. He adjusted the scope as needed and soon had bullets landing where desired. Then he proceeded to place four shots into a group that measured .502 inch center to center, which is the best group this rifle has ever fired. If I hadn't seen it, I might not have believed it, as this is remarkable accuracy from a factory-built, sporter-weight levergun. The load used in both rifles was Nosler- Custom Ballistic Tips containing 165-grain bullets. I should not have been surprised, as I have come to expect this kind of accuracy from Nosler ammunition.