In Rifle No. 303 (March 2019), it was explained that the .17 Winchester Super Mag cartridge – shortly after its introduction about seven years ago – appeared to be quickly falling by the wayside in spite of being the highest-velocity rimfire cartridge ever introduced to the shooting public. There were several factors in play, including severely limited rifle options. In fact, upon the cartridge's introduction, there were just two.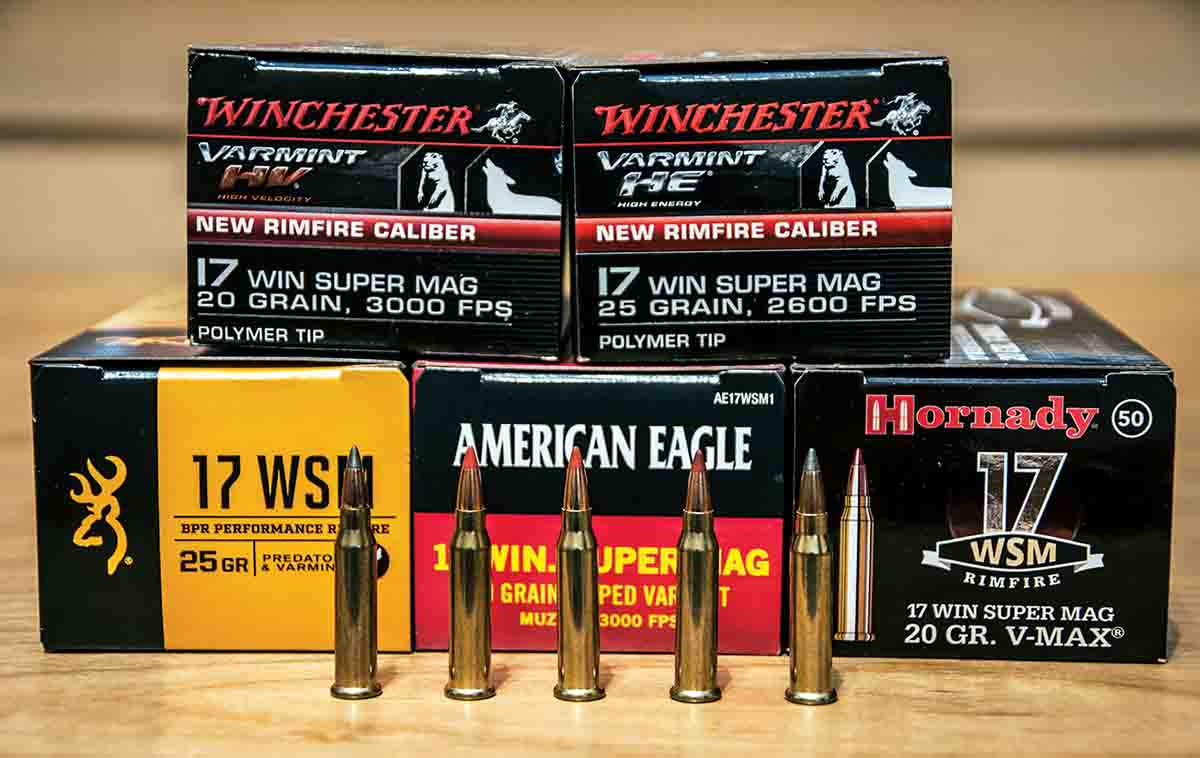 One of those was the Winchester Model 1885 Low Wall Hunter Rimfire single shot that, at the time, sold for more than $1,000. On top of that, Winchester Ammunition, for some strange reason, appeared to put little effort into marketing the new cartridge. Only today's marketing and management teams could know why this was the case.
This odd product launch might seem to have been unusual, but it's a growing trend. In fact, several firearms and ammunition companies now refer to this approach as a "soft introduction," or "soft launch." A more recent example is Nosler's unveiling of its .24 and .20 Nosler cartridges. Why a company that sells rifles, ammunition and handloading components would use this tactic – which is quite contrary to the more modern "smack the shooting public in the face" promotion – remains a mystery.
Nonetheless, the .17 Winchester Super Mag (WSM), close on a decade later, is now gaining ground in popularity. There are additional bolt-action and autoloader rifles available, and according to my count there are at least six different loads currently offered. Before discussing them, however, and perhaps a bit redundantly, it might be worth explaining where the .17 WSM came from, on the premise that some newsstand buyers may have missed this information in the previous issue, or in reviews that have been published in the past in other Wolfe titles.
Briefly then: The .17 WSM cartridge case was used for .27-caliber industrial impact tools. As such, it's quite a bit larger, and its brass is thicker than "traditional" rimfire cartridges, so it takes a stout blow to its rim to ignite the priming compound and powder charge. For a rough size comparison, I measured external dimensions of Hornady .17 WSM and .22 Winchester Magnum Rimfire (WMR) loaded rounds using a dial caliper. This method is not intended to be exact, particularly when it comes to rim thickness, but it provides a bit of insight.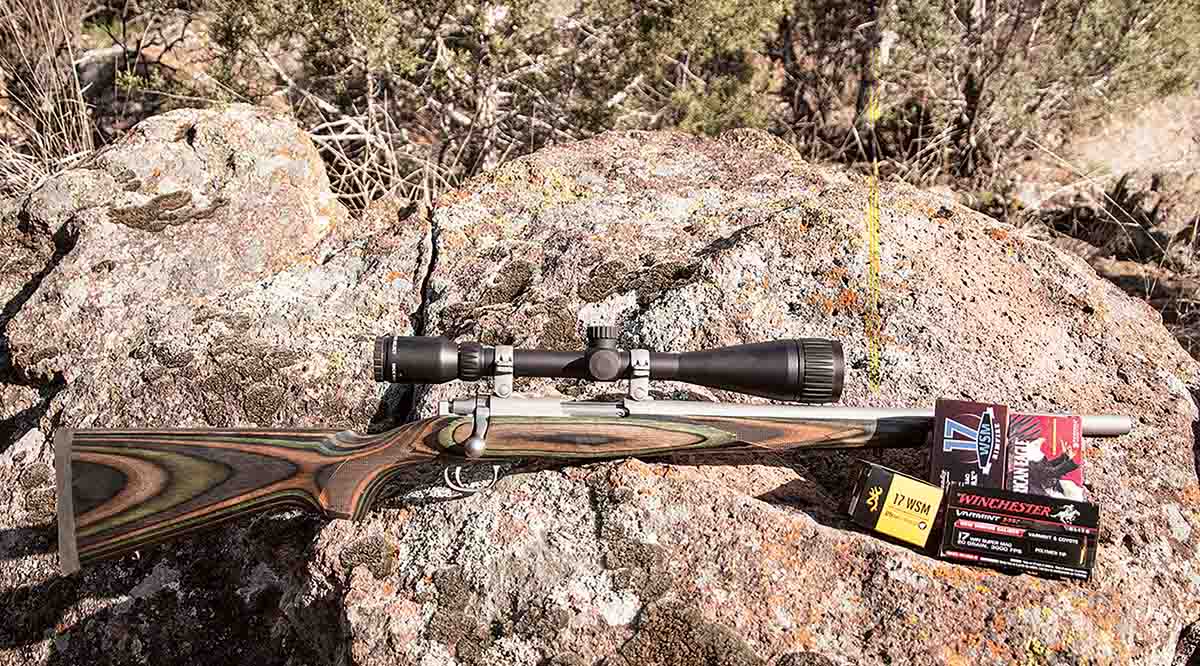 The .17's dimensions included a rim thickness of .070 inch and a case diameter just below the rim of .265 inch. In the same order, the .22 WMR's dimensions were .045 inch and .238 inch. Case length for the .17 WSM was roughly .300 inch longer. A fired WSM's case mouth measured .012 inch in thickness, but there were no fired .22 WMR cases on hand for comparison. Here it should also be noted that the thick rim of the .17 WSM requires a stout blow in order to ignite the priming compound. Both rifles tested early on produced several misfires. The short-barrel Ruger showed that the same problem still exists, though it appears to be less common. When testing the early rifles, three or four cartridges out of 50 or so failed to fire. While shooting the new batch of ammunition, close to 300 cartridges were fired. Of those, four were misfires, their rims having been smashed no differently than all the others.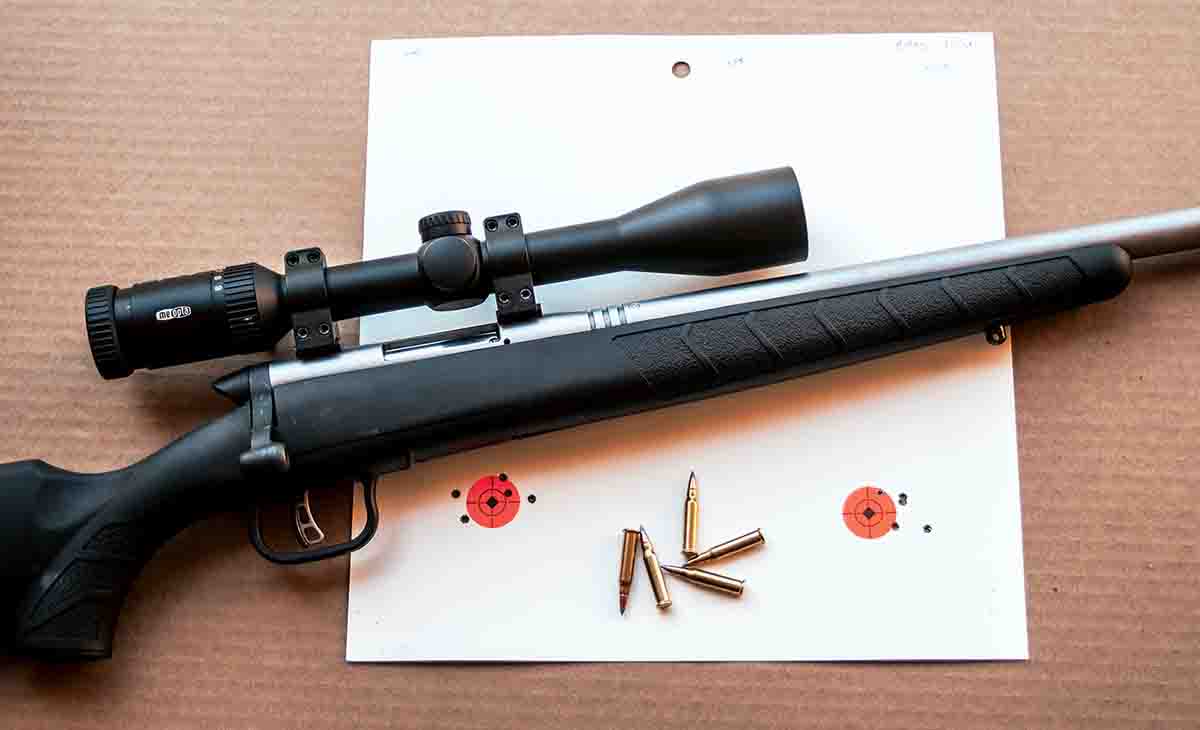 Though case dimensions provide a clue as to why the .17 WSM is so much faster than other rimfire cartridges, the true difference can be found by a little research on the Sporting Arms and Ammunition Manufacturers' Institute (SAAMI) website, where Maximum Average Pressure (MAP, or standard operating pressure for rimfire cartridges) can be found. For instance, the .22 Short has a MAP of 21,000 psi, and the .22 Long Rifle and .17 Mach 2 have a MAP of 24,000 psi. The .22 Winchester Rimfire's MAP is 20,000 psi; the .17 HMR operates at 26,000 psi, and the .22 WMR, based on the same case, has a MAP of 24,000 psi. Due to its oversized thick case, the .17 WSM has a standard operating pressure of 33,000 pounds per square inch, quite a bit higher than any previous small-caliber rimfire cartridge.
The six loads available include Winchester Varmint High Velocity, 20-grain Polymer Tip; Winchester High Energy, 25-grain Polymer Tip; Hornady Varmint Express Rimfire, 20-grain V-MAX; Browning Performance Rimfire Varmint Expansion, 25-grain tipped and Federal's American Eagle, 20-grain Tipped Varmint. Winchester also lists a VarmintX Lead Free Polymer Tip Rapid Expansion load containing a 15-grain bullet with a stated muzzle velocity of 3,300 feet per second (fps) that was not tested due to lack of availability.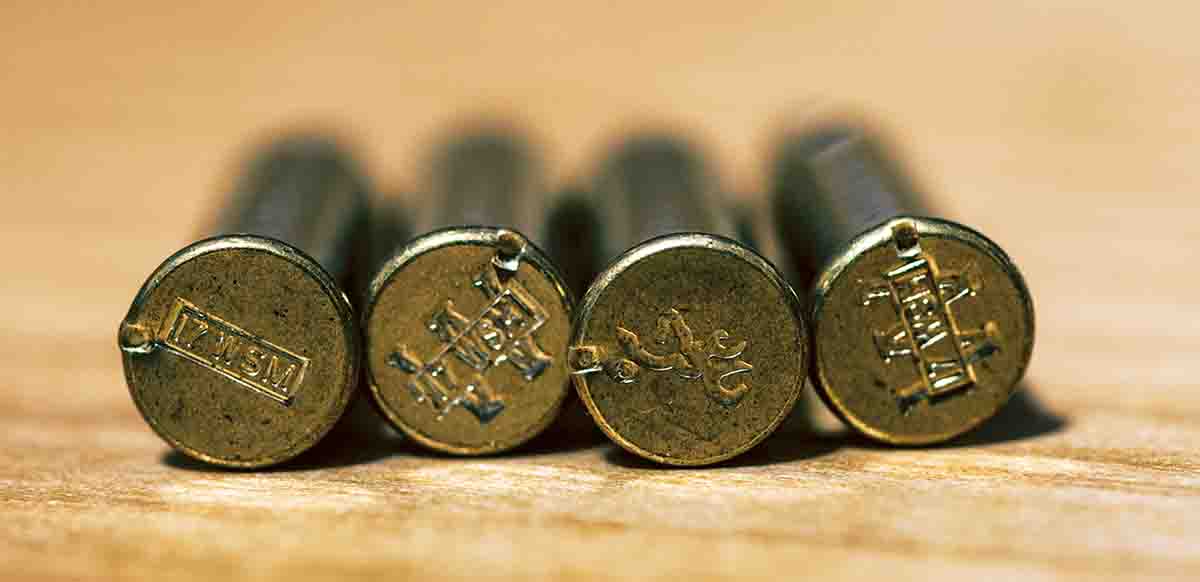 When Hornady and Winchester were the only companies that sold .17 WSM ammunition, three loads were used to test a Ruger rifle with a 24-inch barrel in 2016, and the two Winchester loads were used in a Savage B.Mag the year before. Both rifles shot well after their triggers were replaced or adjusted, respectively. At the time, it was also learned that the tiny .17-caliber bullets in all three loads were made by Hornady. It remains unclear if that is true today, nor is it highly relevant.
The rifle used most recently is a newer Ruger 77/17 that is slightly different than the version tested in 2016. The first rifle featured a nice walnut stock and a matte-finished stainless barrel of 24 inches. The newer rifle has a laminated stock and a curt, 18.5-inch stainless barrel with a muzzle diameter of .745 inch. Obviously, this new version is a bit more field-handy than the long-barrel rifle, particularly if a small-game hunter intends to carry it over hill and dale. The rifle's weight with a Burris Signature Select 6-24x 44mm scope with fine crosshairs and an adjustable objective is a tick under 8 pounds.
Even though some of this information was reported in Rifle No. 303, it seems appropriate to go on a bit more: Perhaps most significant is the fact that Ruger changed the striker spring on its .17 WSM rifles when introducing this new variant, allowing a lighter pull weight. Unlike the long-barrel version tested first, which had a heavy factory trigger pull of more than 6 pounds, trigger weight on the laminated-stock version tested here gave an average pull weight of 4 pounds, 9 ounces. For comparison, I happen to own a blued and walnut-stocked 77/22 .22 Hornet (the same basic rifle), and its factory trigger pull is 5 pounds, 6 ounces. Interestingly enough, the .17's trigger has as bit of after-travel while the Hornet's over-travel is almost imperceptible.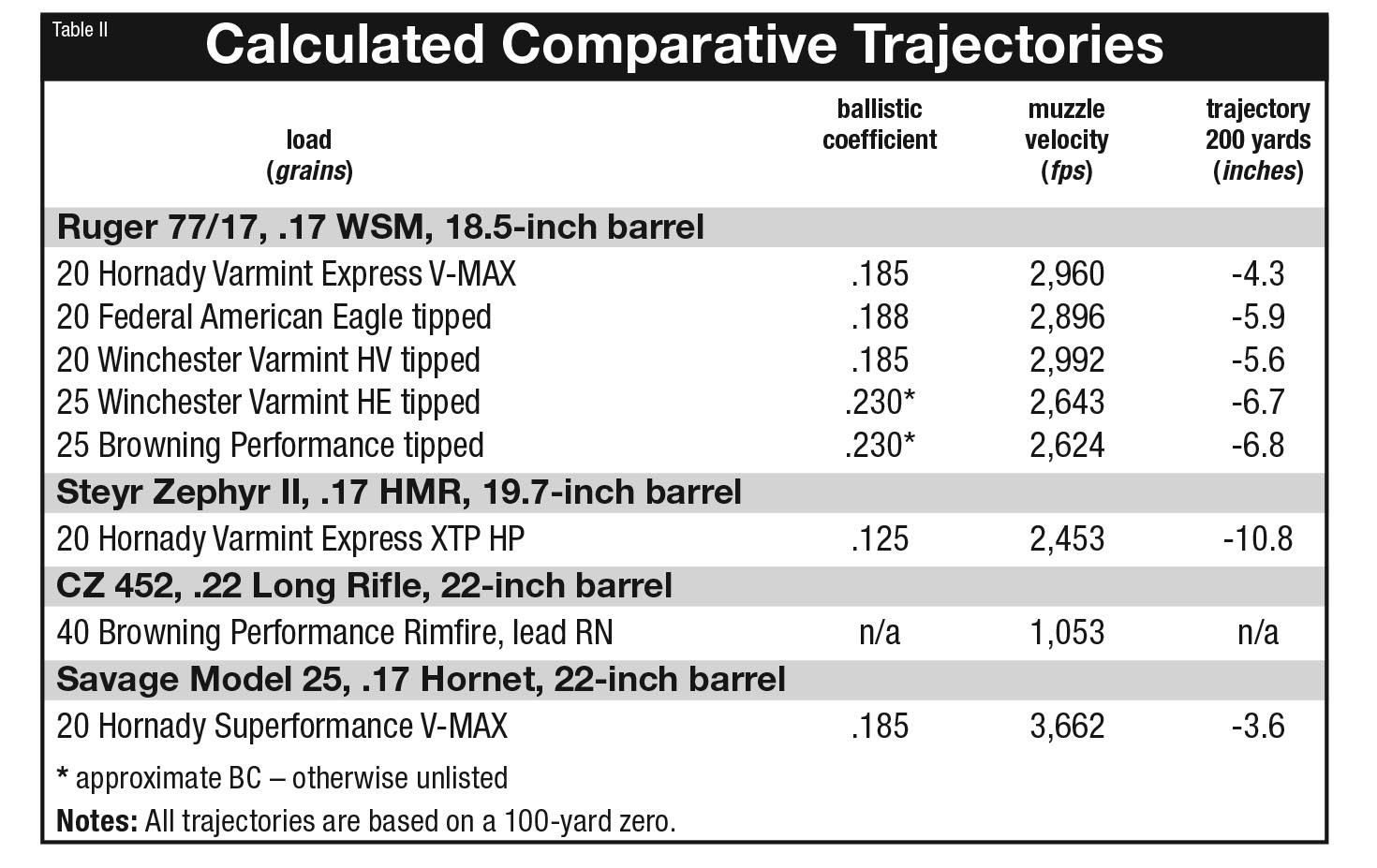 Without going too deep into whether or not a rifleman should be able to handle a heavy trigger pull, when small varmints are shot at some distance, a smooth, moderate-to-light trigger pull is appreciated. And in my opinion based on nearly 40 years of target shooting and hunting, trigger after-travel is more of an issue than is a heavy trigger pull. While most excessively heavy triggers can be replaced or adjusted, not all factory triggers can be adjusted for over-travel. As such, both the 77/17 .17 Hornet and 77/22 .22 WMR that have been on hand for some years are fitted with after-market examples. As a result, I shoot them better.
It seems that my testing of new rimfire rifles always takes place during late winter or early spring, and at an elevation of 5,300 feet or so, gusty winds are ever-present and unpredictable in direction. Nonetheless, the new short-barrel Ruger provided good accuracy at 100 yards, as can be seen in a nearby table.
Also included is a calculated trajectory table that features the .17 WSM loads shot from the new Ruger, along with other rimfire loads I've shot over the past few years. Thrown in simply for comparison is the .17 Hornet. In a few situations where ballistic coefficient (BC) was not listed by the manufacturer, I used my best judgment based on the bullets' likely manufacturer – or ignored BC all together, as with the Browning .22 Long Rifle load. In the case of the Winchester VarmintX Lead Free 15-grain load, it too has been left out since there's no use in wasting space on a load that hasn't been tested.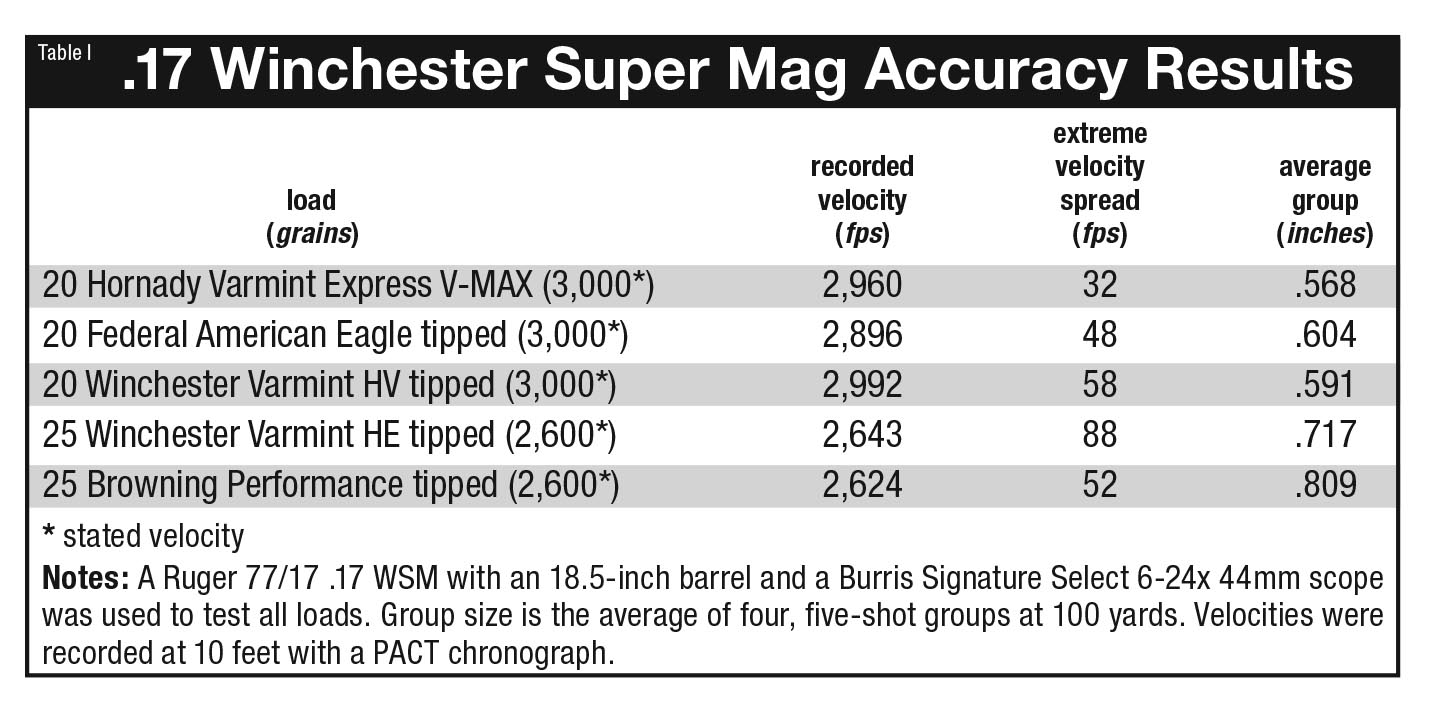 None of this, however, is intended to pit one cartridge against another. Rimfire fans should rejoice when a cartridge such as .17 Winchester Super Mag is introduced because it usually means new rifles will show up sooner or later. The newer short-barreled 77/17 .17 WSM is a prime example – and quite a nice rifle.