The history of the Winchester Model 1873 lever-action rifle, produced from 1873 through 1919, is generally well known. In short, it was based on the Volcanic design but featured King's improved patent associated with the first rifle to bear the Winchester name, the Model 1866 (aka Yellowboy). Additionally, it featured an iron frame (changed to steel around 1882) that was stronger to house the more powerful .44 WCF (.44-40) centerfire cartridge. It served admirably in many significant roles in history and was primarily known as "The gun that won the West." It was rugged, reliable and accurate, and it stood up well to the harsh frontier conditions. It became a favorite repeating rifle. Pristine examples command premium prices and are best left in the hands of collectors and as museum pieces. For shooters, modern replicas are a practical alternative because they are stronger, suitable for smokeless powder, have perfect bores and can be purchased for a fraction of the cost of an original.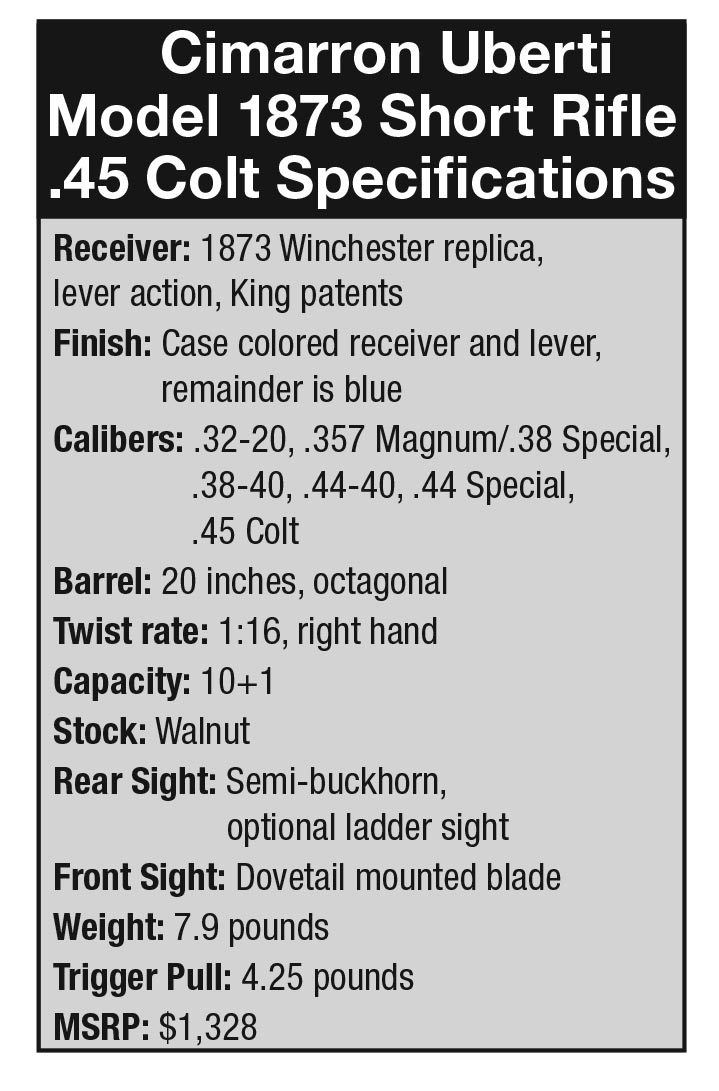 Aldo Uberti has been producing lever-action rifles since 1966, with its Model 1873 Winchester replica first appearing around 1974, imported by the late Val Forgett, Jr. under the Navy Arms trademark. I purchased my first one soon thereafter for the grand sum of $175. In the years since, I have owned dozens of Uberti 1873s in several calibers. Only two of those produced disappointing accuracy; all others proved very accurate and reliable. In the decades since, their popularity has grown steadily. They are respected among shooters who appreciate a quality levergun, and most purchasers own more than one.
Uberti offers the Model 1873 in many barrel lengths and configurations, including Trapper Carbine, Carbine (saddle ring), Short Rifle, Sporting Rifle, Sporting Deluxe (curved pistol grip and checkering) and Long Range. Barrels include 16-, 18-, 19-, 20-, 24.25- and 30-inch lengths and include round, octagonal and half-round/half-octagonal versions. Caliber options include .32-20 Winchester, .357 Magnum/.38 Special, .38-40 Winchester, .44-40 Winchester, .44 Special, .44 Magnum and .45 Colt. Other options include a competition version with a short-stroked action, and special orders can be placed for highly figured walnut, period-style engraving, special finishes, etc. With a long list of caliber options and configurations, proven quality and accuracy, in spite of competition the Uberti Model 1873 remains widely popular.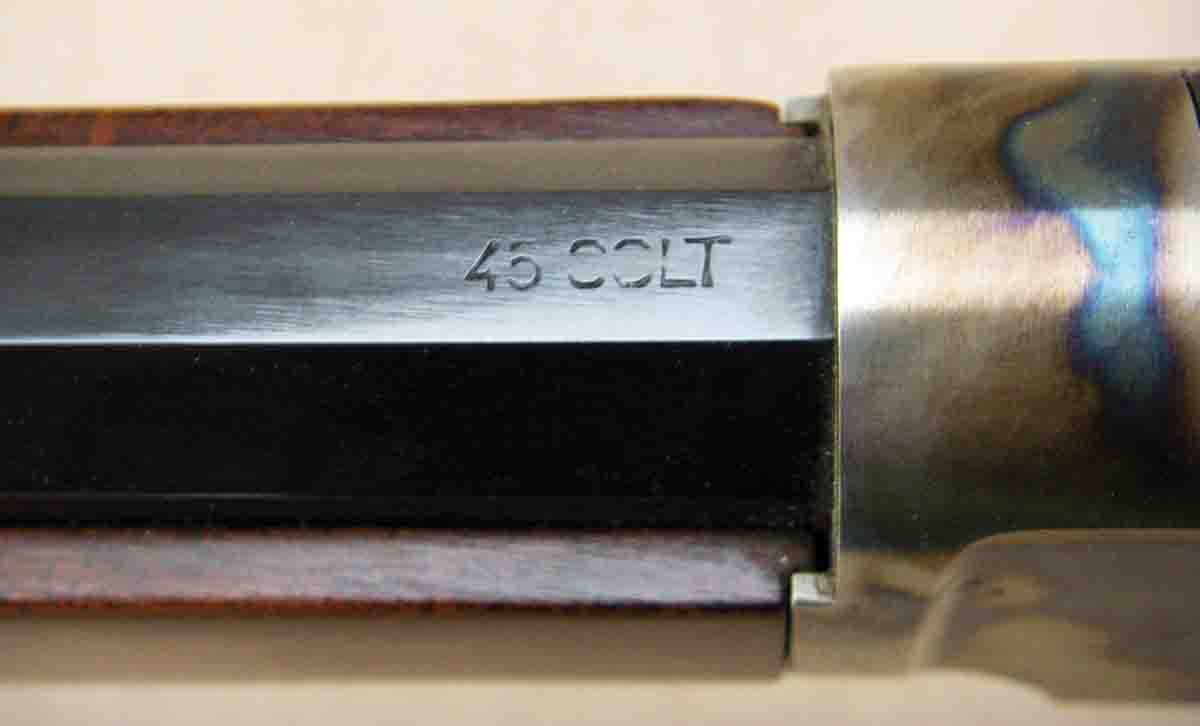 A Cimarron Firearms Model 1873 Short Rifle .45 Colt was selected for this review. It features a rifle-style forearm and hardware, a steel crescent buttplate and straight lever, 20-inch octagonal barrel and a case colored receiver, hammer and lever. I am fond of the more traditional Uberti Sporting Rifles with 24.25-inch barrels; however, the Short Rifle is equally handsome, accurate and is notably handier and lighter, which is appreciated when used in the field.
In Model 1873 tradition, the Uberti action features a toggle link design that includes a brass "carrier block" that picks up (and more or less cradles) a cartridge from the magazine tube and lifts it up for direct alignment with the chamber. Upon closing the action, the cartridge is pushed directly into the chamber. The system works positively and smoothly, with the sample rifle feeding and functioning flawlessly throughout many shooting sessions. This system works so well that the rifle could be held upside down and cycled with 100 percent positive feeding.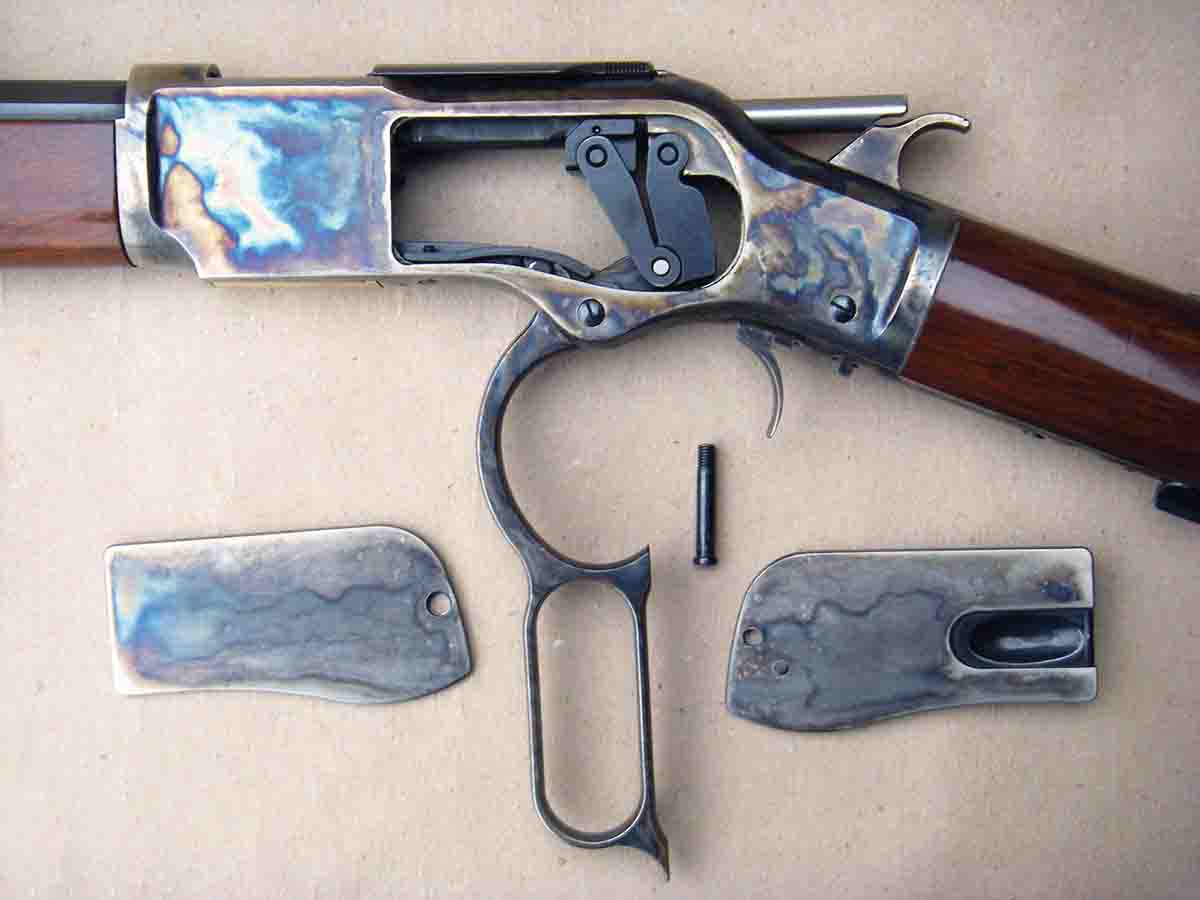 While the 1873 is designed to feed .45 Colt ammunition with traditional roundnose/flatpoint bullet profiles, it also fed (with only an occasional slight catch) the Rim Rock 225-grain DEWC bullet. This is mentioned because Winchester Model 1873s were popular among period showmen and women who made their living as exhibition shooters. They often fired guns from rather awkward positions, including upside down and sideways, and the carrier block served to facilitate reliable feeding. A variety of ammunition was often used and included traditional bullet types, blanks and various shotshells that were known to hang up in some other lever-action designs. With that said, it is critical to use ammunition that is within Sporting Arms and Ammunition Manufacturers' Institute (SAAMI) overall length specifications for correct function.
Most original Winchester Model 1873 rifles were constructed of either iron or mild steels and were primarily intended for black-powder ammunition. When smokeless ammunition was introduced, Winchester soon began offering "High Velocity" loads designed primarily for the Winchester Model 1892 and Marlin Model 1894 rifles, both of which had stronger locking mechanisms and significantly improved steels. Due to the many early Model 1873s in use with comparatively weak iron and steel construction, it was specified to not use the special High Velocity loads in them.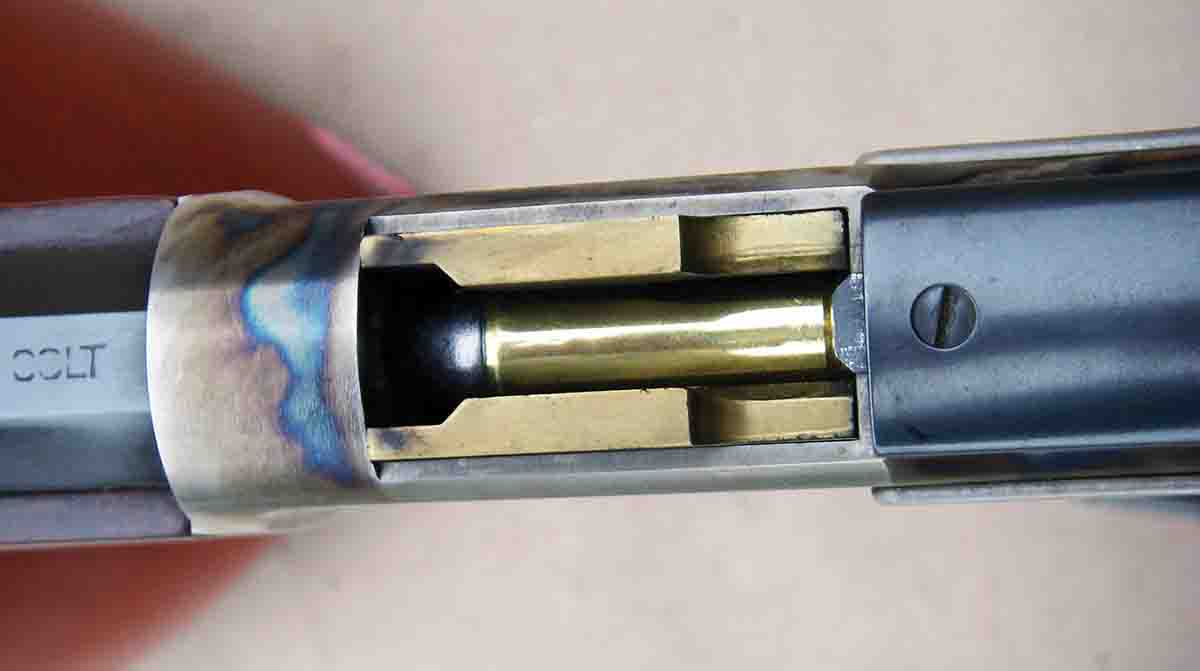 The above has given the Model 1873 a reputation for being weak. However, when constructed of modern steels, they are considerably stronger than original rifles. For example, since Uberti introduced its modern version in the early 1970s, it has always been offered in .357 Magnum, which at that time had a SAAMI maximum average pressure of 46,000 CUP (currently updated to 35,000 psi). And due to demand, a couple of years ago Uberti also introduced the Model 1873 in .44 Magnum, which generates considerably greater case head thrust. To safely handle this cartridge, Uberti upgraded the steel on the receiver and bolt, and a special heat-treating process performed at the Beretta factory further increases strength. This is mentioned to prevent shooters from assembling .45 Colt handloads that approach .44 Magnum pressures and similar case head thrust and using them in their Uberti 1873. If +P-style .45 Colt loads are desired, I suggest limiting pressures to around 20,000 psi, which yield similar case head thrust as the .357 Magnum. For the record, all .45 Colt handloads in the accompanying table are within the SAAMI pressure guidelines of 14,000 psi.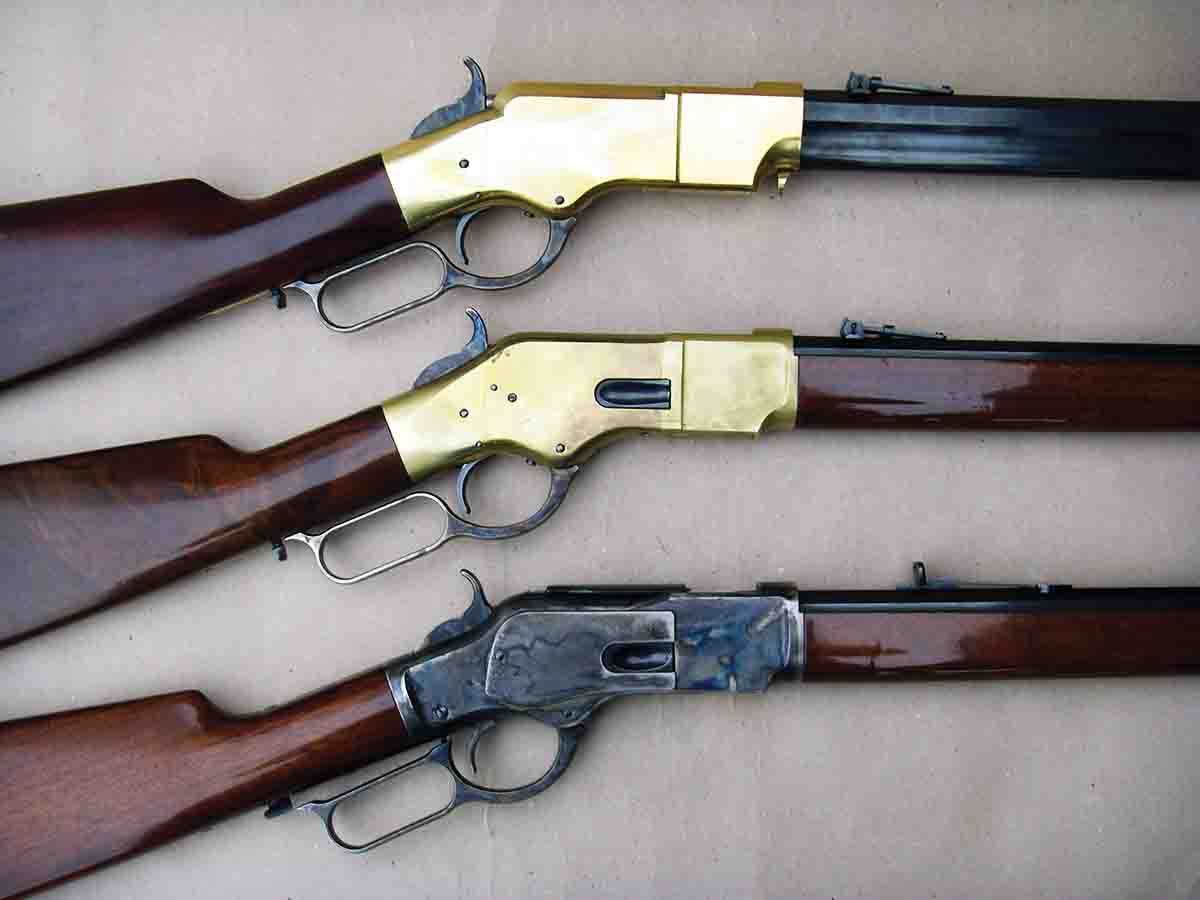 In addition to in-line feeding, virtues of the Model 1873 design include simplicity, easily removed side plates for cleaning and a dust cover that serves to keep the action clean and clear of foreign objects. Furthermore, the lever pivots off of a single screw, permitting rapid cycling from the shoulder.
On the western frontier, these were very desirable features. My grandfather carried an original 1873 .44-40 during the 1880s on the Arizona frontier while running cattle and sheep right in the middle of the Tewksbury-Graham Feud (aka Pleasant Valley War). He praised the Winchester for its extreme reliability and indicated that it was a rifle that was "scarce" and "very hard to obtain . . . due to great demand."
The Uberti 1873 follows similar stock dimensions as the original, which has greater drop than comparatively modern lever-action designs offered by Marlin and Winchester, including the Models 1886, 1892, 1894, 1895, etc. Some riflemen instantly notice the reduced cheek weld when sights are brought into alignment with the eye, but that was the preferred stocking method in 1873. I simply adapt by dropping my right elbow down slightly while keeping my head more or less stationary when bringing the rifle up to my shoulder. With minimal practice, the sights will align properly on target.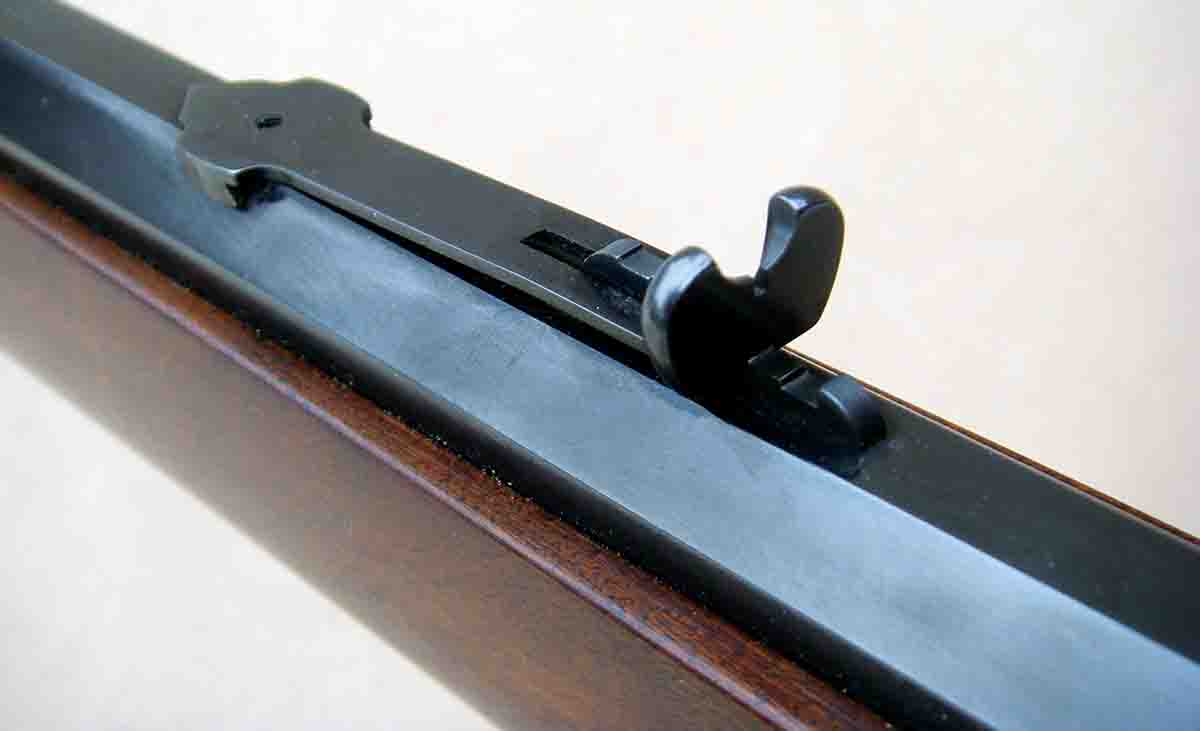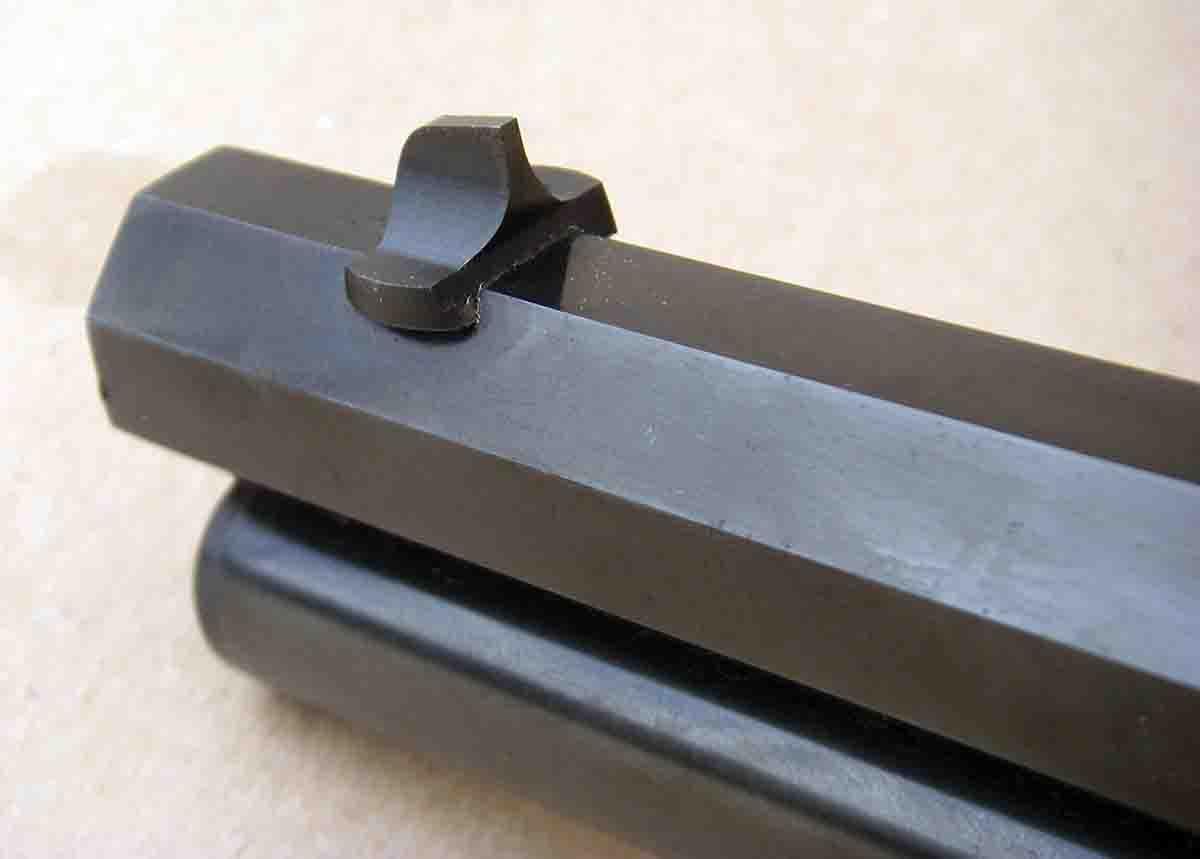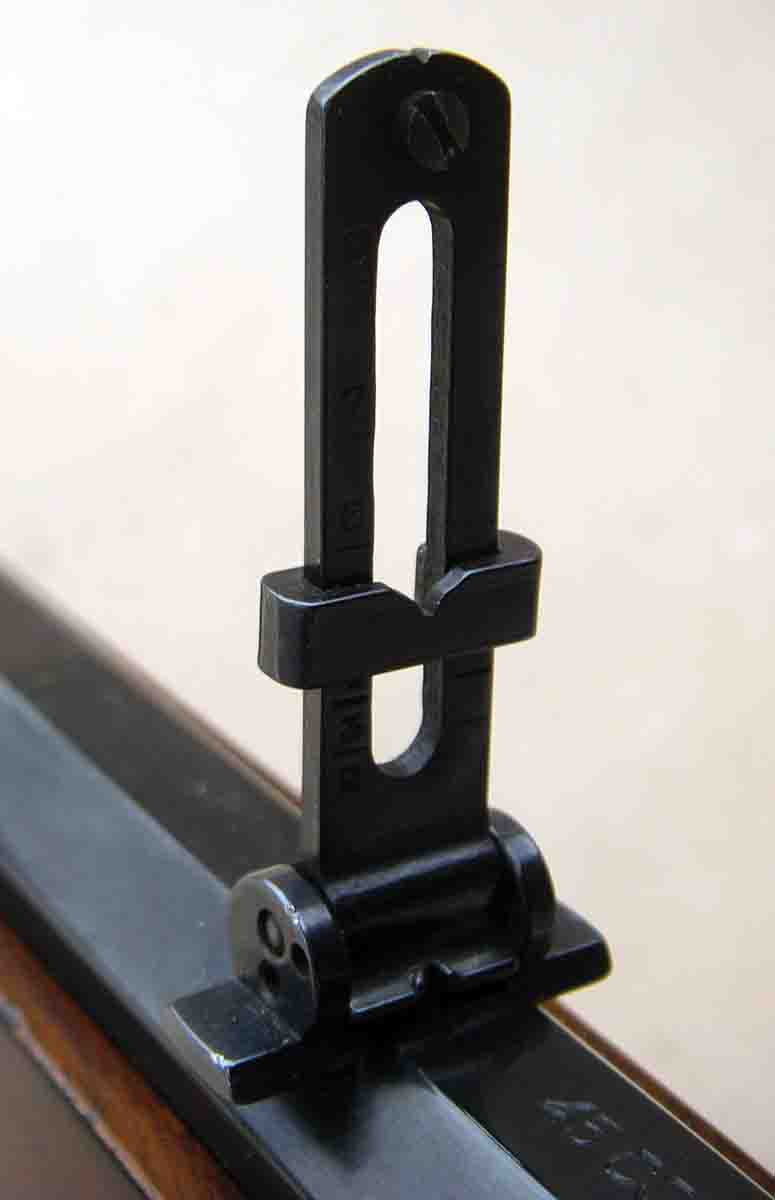 Overall machining of the Uberti 1873 is excellent and notably bet-ter than most guns within this price range. The octagonal barrel is uniform and beautifully polished, with the bore being very close to perfectly centered. Wood-to-metal fit is good to excellent. Thankfully, the action is of traditional design with three hammer positions including half-cock for safety.
The barrel features six lands and grooves with a .4425-inch bore and .4505-inch groove diameter and a 1:16 right-hand twist. The button rifling is beautifully finished, which serves to help minimize barrel leading.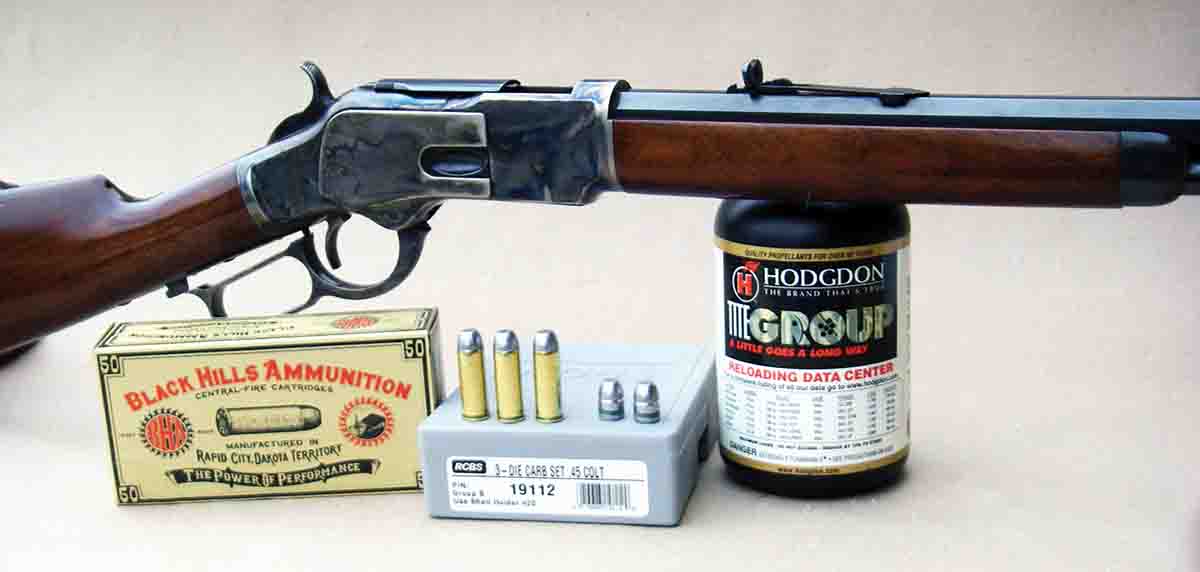 Several factory loads produced groups that hovered around 1.5 to 2.5 inches at 50 yards. The most accurate lead-bullet load was Black Hills Ammunition's 250-grain Cowboy RNFP that typically placed four shots into around 2 inches at 50 yards, and one group measured 1.35 inches. The Speer 250-grain Gold Dot HP load placed four shots into 1.25 inches. Hornady's 225-grain LEVERevolution FTX load required cartridges to be fed into the chamber in single-shot mode due to an overall cartridge length that measured 1.651 inches – .051 inch longer than SAAMI standards. Groups hovered between one to 1.5 inches.
With handloads containing both jacketed and cast bullets, accuracy and performance were further enhanced. For example, using 260-grain cast bullets from Lyman mould No. 454190 (sized to .452 inch), appropriate charges of Alliant Red Dot, Power Pistol, Winchester AutoComp and Ramshot True Blue produced groups under 1.25 inches. Switching to 250-grain jacketed bullets from Hornady, Speer and Nosler, groups ranged from .85 inch to 1.35 inches. With a good aperture sight and corresponding front sight installed, I expect select loads to produce one- to 2-inch groups at 100 yards.
The Uberti 1873 is impressive. In addition to closely following the original design, it offers accuracy, quality, reliability and is especially fun to shoot.