The name Sharps elicits visions of big-bore, single-shot rifles in the hands of rough-cut western frontiersmen. No firearm in American history has received so much attention with so few made. In fact, it surprises many shooters today to learn that only about 6,000 Sharps Model 1874 Sporting Rifles were produced between 1871 and 1880. Add to that those labeled as Carbines, Mid-Range, Long Range, Schuetzen, Business, Military and Creedmoor, and the total is about doubled.
As might be obvious by the versions named above, the company tried to please everyone in need of a single-shot rifle. Four bore sizes were cataloged at one time or another: .40, .44, .45 and .50. Then they were chambered for many different cartridges collectively ranging in length from 111⁄16 to 27⁄8 inches. Some .40s and .44s were bottlenecked or straight in shape, but all .45s and .50s featured straight cases.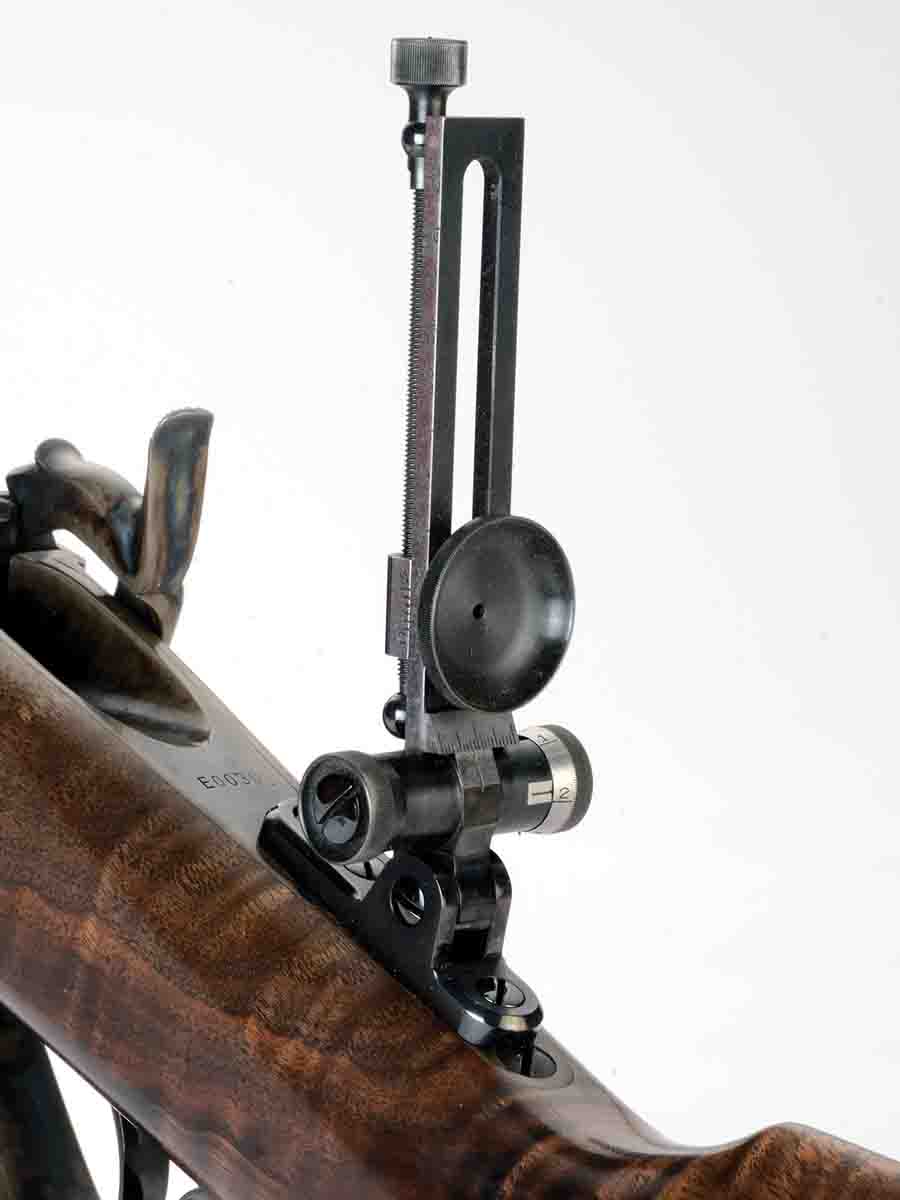 Starting in 1871, a shooting competition began in which the participants were far from rough-cut frontiersmen. They were the bowler-hatted, three-piece- suited crowd of the northeast. This sport consisted of flinging bullets from single-shot rifles at targets placed 800, 900 and 1,000 yards. The initial matches were held on New York's Long Island at a range named Creedmoor, and that name caught and stuck to long-range rifle events, even to this day. Americans and the British started challenging one another, with the former favoring cartridge rifles and the latter muzzleloaders. That international rivalry made the new shooting sport headline worthy.
A then-new organization, The National Rifle Association, formulated rules for Creedmoor competition. One was that rifles could not exceed 10 pounds in weight, and another was that rifles must have single triggers as opposed to the popular double-set types. And those triggers had to be no lighter than 3 pounds.
In those first years, most if not all Creedmoor competitors in America used either Remington No. 1 "rolling blocks" or Sharps Model 1874s. Both companies called their special long-range target models Creedmoor. Most had lightweight, full-octagonal or half-octagonal/half-round barrels of 32 or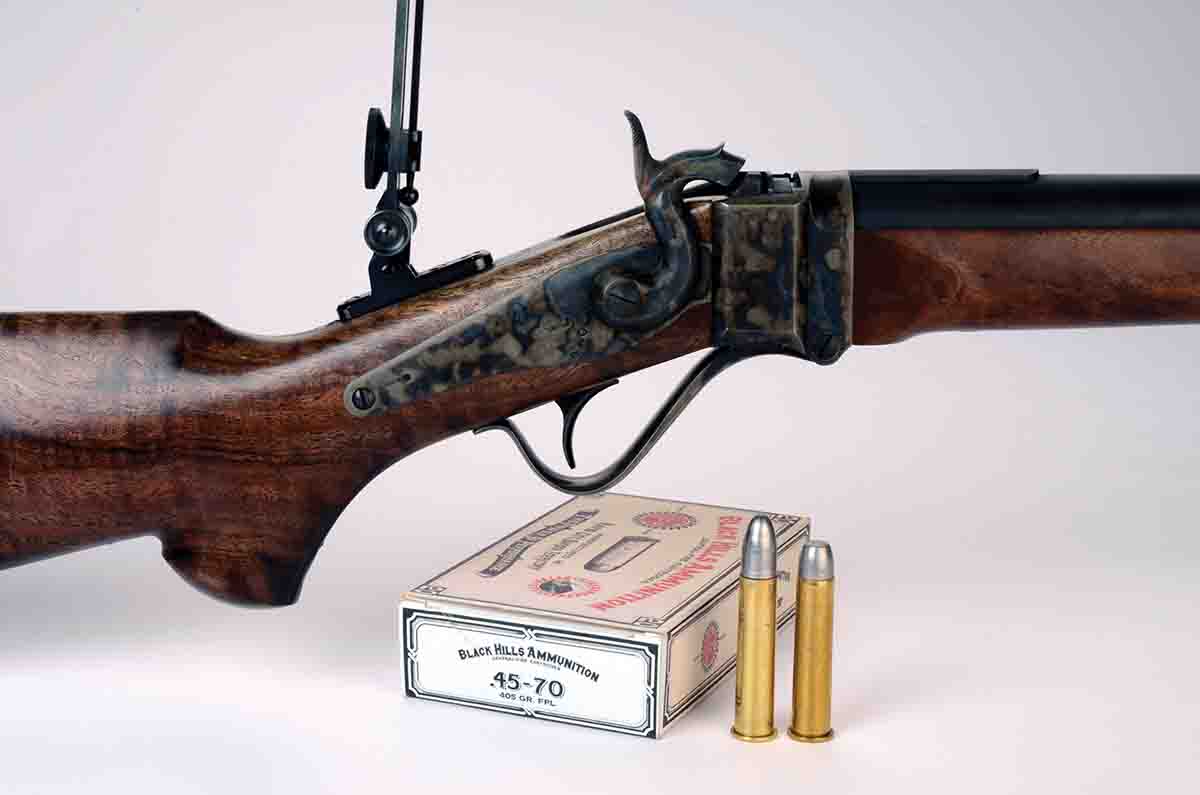 34 inches. Most Remingtons and early Creedmoor Sharps were .44 caliber. However, about 1876 the Sharps Rifle Company introduced .45s with case lengths of 2.400 inches and 2.600 inches specifically for target shooting. Rifles for those new rounds were labeled Long Range and came in four versions: No. 1, No. 2, No. 3 and No. 4, with prices in the same order being $125, $100, $75 and $65. The differences in the rifles were cosmetic in regard to wood quality and finish, checkering and straight grips stocks instead of pistol-grip style for the lower two grades. At the same time, a run-of-the-mill Sharps Model 1874 Sporting Rifle sold for about $35.
As with all shooting sports, avid competitors immediately started looking for an edge. Any factor regarding rifles, sights, ammunition and shooting position was closely examined. Gaining even a single point could mean the difference between winning and losing an event.
With that thought in mind, a small group of Creedmoor riflemen led by New York gunsmith C. E. Overbaugh began advising the Sharps Rifle Company as to changes needed to enhance the Model 1874's performance. Prime among the complaints voiced by Creedmoor shooters was that Sharps barrels had to be too light in order to meet the 10-pound rule. A Sharps Model 1874 action is big and likewise heavy. Overbaugh began trimming actions down and altering the '74's substantial lockplate and hammer. All this was an effort to accommodate heavier barrels.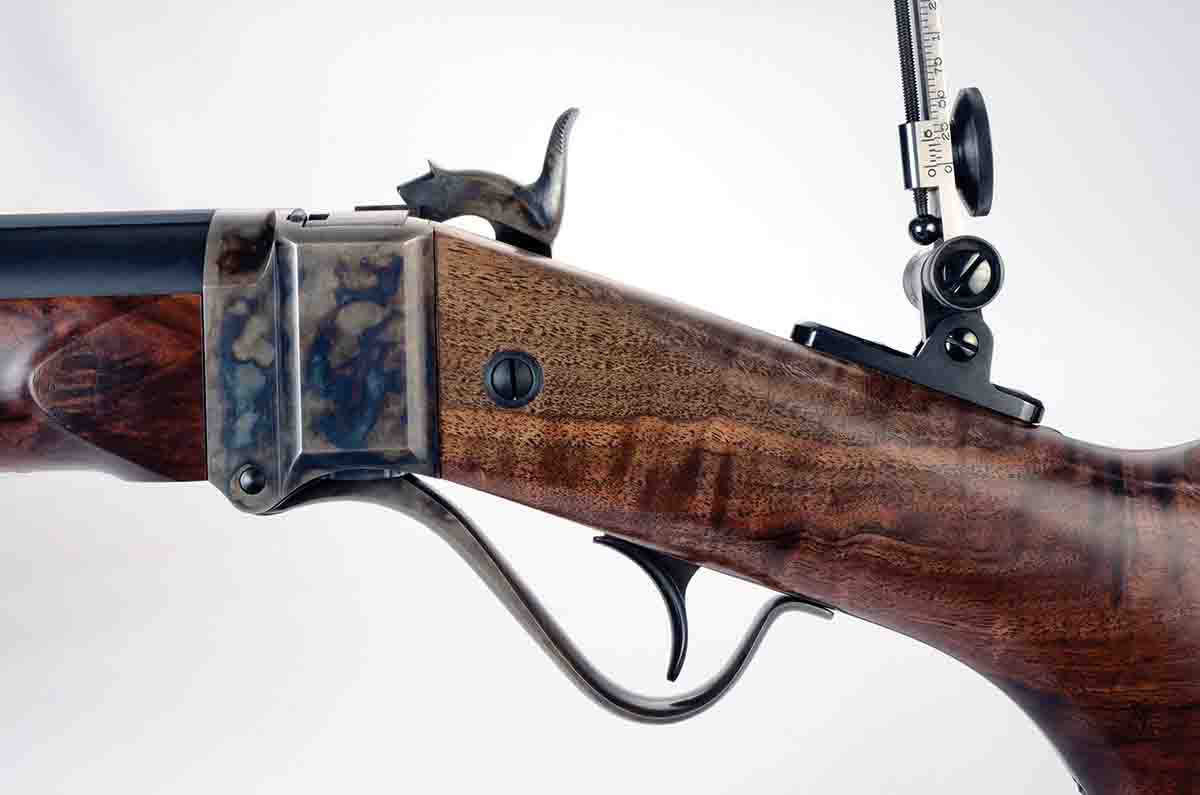 Sharps Rifle Company's hierarchy decided an entirely new rifle would better satisfy Creedmoor demands. It was named Model 1877 and was truly a new rifle, albeit functioning exactly as its predecessor; the breechblock is lowered by pulling the trigger guard down, exposing the chamber for loading. With a cartridge chambered, the breechblock is raised in reverse order, but the hammer must be manually cocked before shooting.
An interesting fact is that despite the rivalry between American and British long-range riflemen, the Sharps Rifle Company turned to England for help in building its new target rifle. Barrel blanks were imported but rifled at the Sharps plant. Also bought from England were very trim lockplates and locks. Some shooters even called Model 1877s the "English Sharps."
Model 1877s came in two variations, the No. 1 for $125 and the No. 2 for $100. Both versions had 32- or 34-inch round barrels. Target sights were supplied for front and rear. The fronts had a spirit level and interchangeable inserts. Tall Vernier-style rear sights were attached at the action's tang. No. 1 Model 1877s included a black buffalo horn cap at the end of the forearm while No. 2s simply had a schnabel. Both versions had checkering on the forearm and buttstock. Still trying to avoid the weight problem, buttplates were hard rubber instead of steel. Finish was blue for the barrel and color case hardening for the lockplate, lever, hammer and action. Wood finish was oil or varnish. Only two chambering options were offered: .45 with 2.40-inch case or .45 with 2.60-inch case. If the total production of Sharps Model 1874s seems paltry, consider this: Only 46 Model 1877 No. 1s were produced, and 52 No. 2s.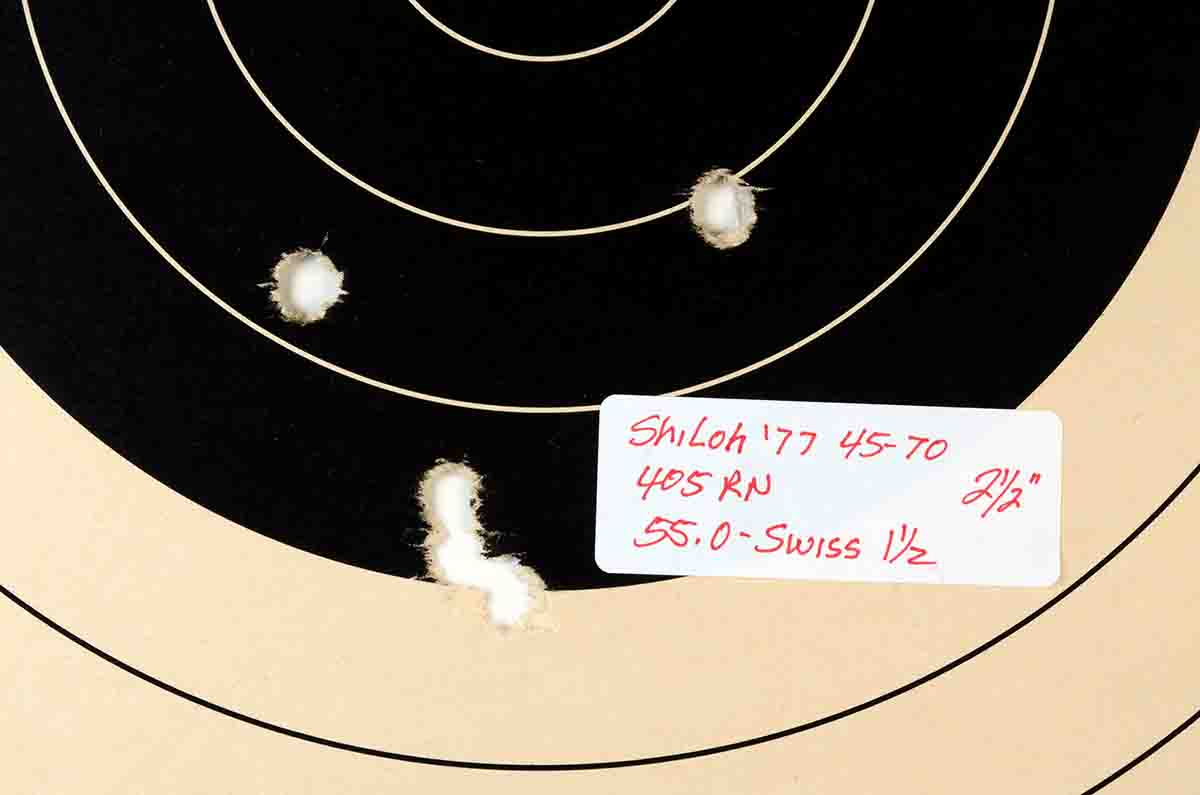 (As the Sharps Rifle Company was failing circa 1880, another 75 Model 1877s were assembled from parts and given their own serial number range of D1 through D75. These were built as hunting rifles chambered for the .40-70 Straight and .45-70. All were sold to Denver dealer J.P. Lower. Original Model 1877s are so rare that as avid as I have been about Sharps rifles for nearly 40 years, I've only had the opportunity to hold an original one time.)
Now let's go back to Long Island, New York, but almost 100 years later. In 1976, Wolfgang Droege formed a company named Shiloh at Farmingdale, and its purpose was to build new Sharps rifles. In the beginning they were percussion-style Model 1863s. Metallic-cartridge-firing Model 1874s quickly followed. As with most small rifle manufacturers, Shiloh's start was rocky. By 1983 however, the firm was prosperous enough to move to Big Timber, Montana, where it still resides as Shiloh Rifle Manufacturing.
In its New York years Shiloh jobbed out much of its rifles' parts such as small screws, barrels and stocks. Investment casting of receivers and small parts was done by other outfits. Things changed in Montana. Not to get into a full history of the company, Shiloh now has state-of-the-art CNC machinery, expert stock-fitters, and it produces match quality barrels for all its rifles. A Montana family, Robert, Phyllis, Kirk and Lucinda Bryan, bought Shiloh in 1991. Besides modernizing their rifle manufacturing, they built the Boulder River Foundry next door to the rifle plant so all investment casting is done right in Big Timber.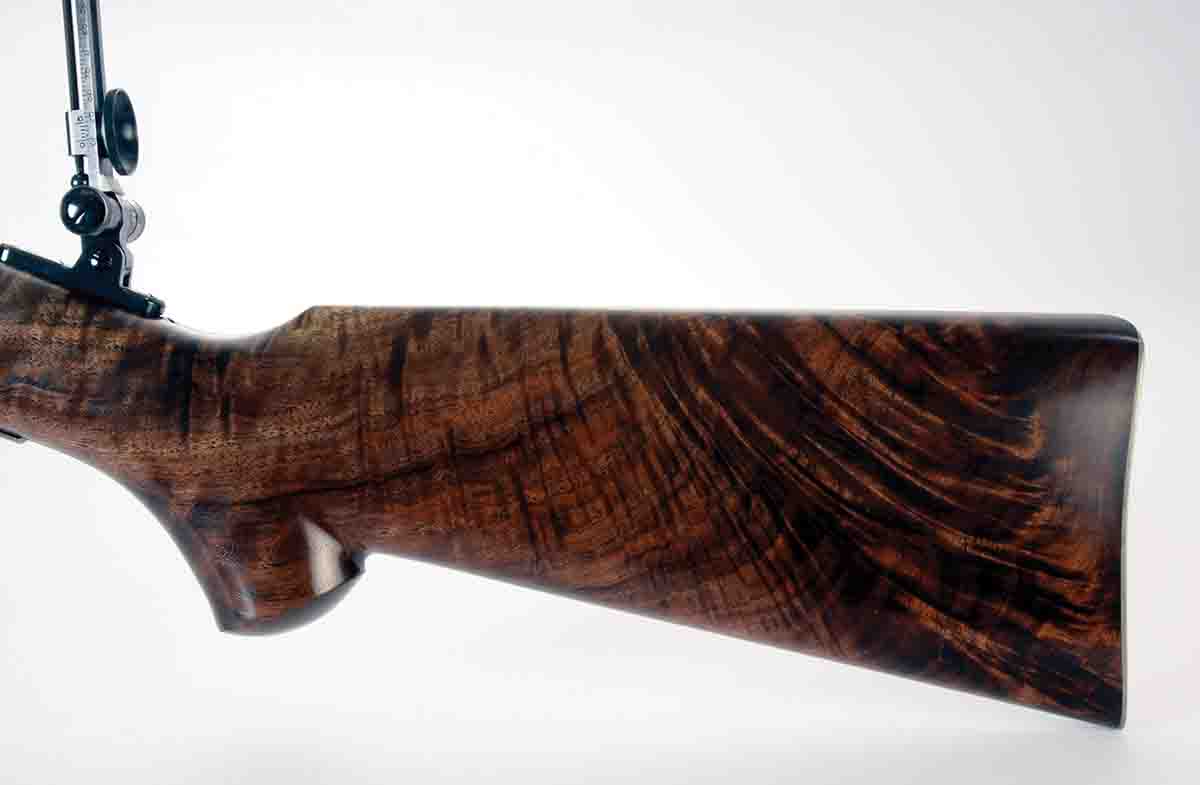 Late in 2018, there came from Shiloh another connection (of sorts) to the Creedmoor range on Long Island. It was the first of the company's new Model 1877 Sharps. Because Shiloh has been consistently back-ordered on Model 1874s anywhere from one to five years, development of the new rifle was slow. The only interchangeable parts between '74s and '77s are some screws, buttplates, barrels and breechblocks.
In its 2019 catalog, the new rifle is billed as the Shiloh English Rifle. Also, it comes in No. 1 and No. 2 grades, the primary difference being the first has a pistol-grip stock and the second a straight grip. However, Shiloh has not tried to lock buyers into strict '77 parameters. Nontraditional options include half-round/half-octagonal and full-octagonal barrels along with regular round barrels. These new '77s can have barrels from 26 to 34 inches in 2-inch increments. Also, double-set triggers are available.
Traditional options include the "Rigby Flat" atop barrels, side panels on forearms and ebony inlays in the forearm schnabel and pistol grip. American black walnut is standard, but options include semi-fancy, fancy and presentation grade. Semi-buckhorn rear and blade front sights can be chosen for those shooters who will hunt more than target shoot. Shiloh stocks Montana Vintage Arms match front and rear sights for target competitors. Checkering is also a popular option. Receiver finish options include standard color case hardening or "pack hardening," as was used on original Sharps rifles.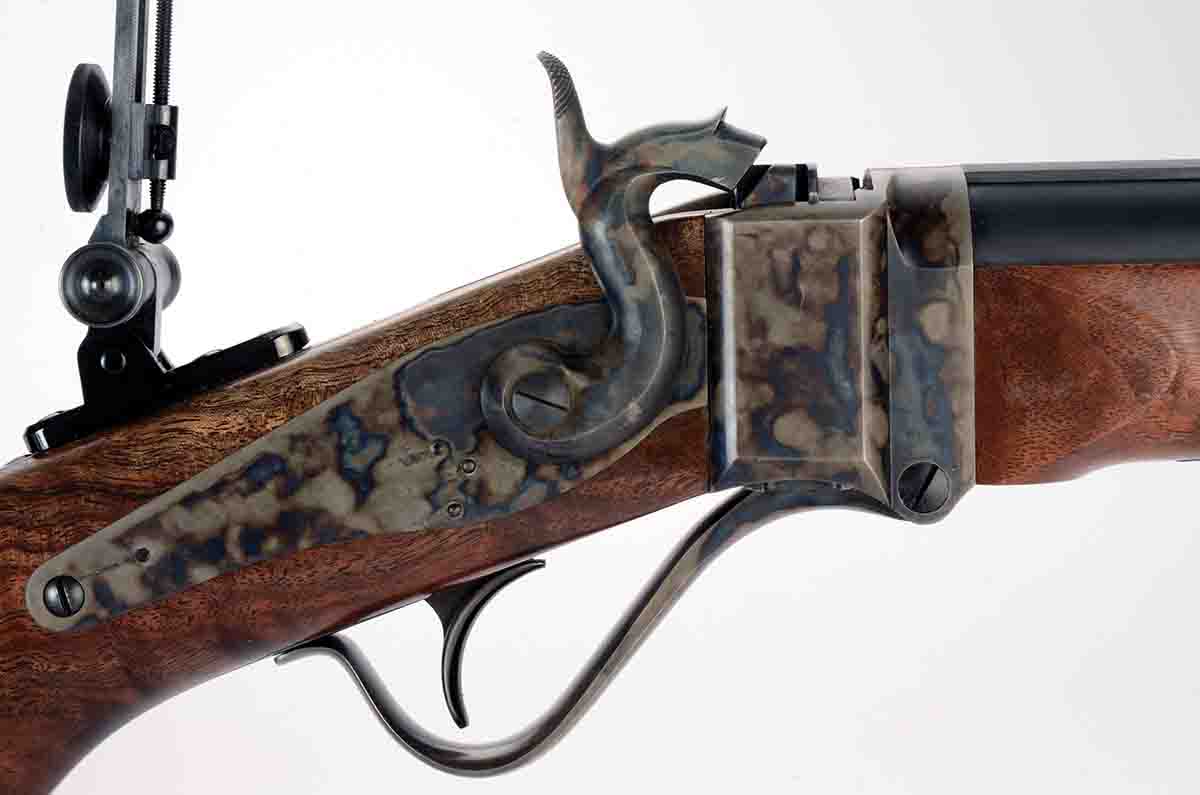 As noted, original Model 1877s were available chambered only for .45 2.40-inch and .45 2.60-inch cases. Besides those, two new Model 1877s can be had for eight more cartridges ranging from .38-55 through a variety of .40s in both straight and bottleneck shapes, and of course the .45-70.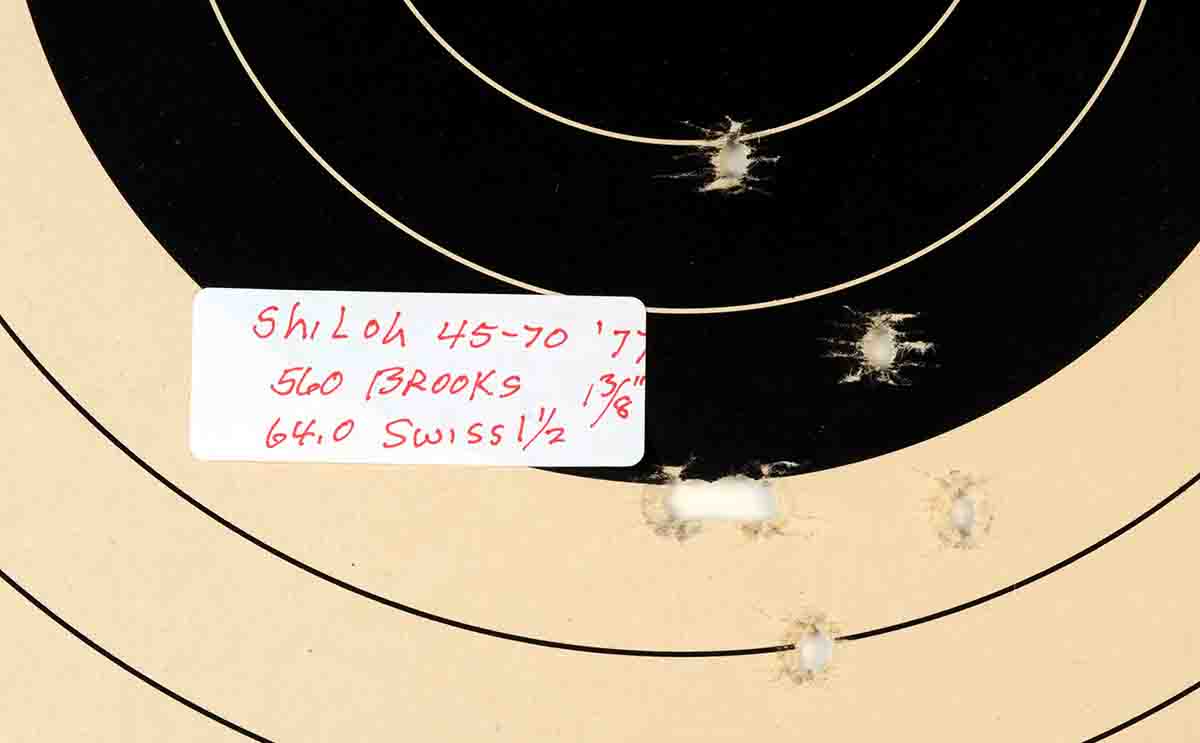 When production of the new rifle was announced, friend Kirk Stovall of Bozeman, Montana, was one of the first to put his name on the list. It took a while, but within days of Montana's 2018 general hunting season, Kirk's brand-new Model 1877 No. 1 was ready, and it's a beauty. Kirk stuck to tradition by getting the 32-inch full round barrel, "Rigby Flat" atop the barrel and raised panels in the stock forearm. His wood choice was fancy American Black Walnut. The barrel was matte blue, and the entire action was color case hardened by the pack method. With due consideration, he chose .45-70. Although Kirk is one of the most avid and successful hunters I've ever known, instead of putting open sights on such an exquisite rifle he had Shiloh mount competition-grade sights. At front is Shiloh's No. 111 that accommodates a variety of inserts. At the rear is a No. 101 mid-range Soule-style sight with both windage and elevation adjustments in minutes of angle. The No. 101 is produced by Montana Vintage Arms in Belgrade, Montana.
Kirk claims to possibly be the first hunter to take big game with Shiloh's new '77. With one shot each he dropped a Montana mule deer buck and a pronghorn buck. The former was shot at 209 yards and the latter at 210 yards. As might be expected, the 405-grain .45-70 bullets exited both animals. The deer was laying down when shot, stood up for a few seconds and then
collapsed. The antelope dropped in its tracks. His load was 25 grains of Accurate 5744 under a 405-grain bullet from Lyman mould No. 457193. Velocity was about 1,300 fps.
Due to a very long winter with far more snow than usual, I was not able to shoot Kirk's new '77 until immediately prior to writing this. In fact, we had a narrow window in the weather during which we could get to my "shooting shack." Traveling to my 200- and 300-yard targets wasn't feasible, so shooting was done at 100 yards. Two days after shooting some groups on paper, it started snowing again.
My friend isn't a black-powder handloader, so our group shooting was with his smokeless load, Black Hills .45-70 Cowboy factory loads and three of my black-powder handloads. Two of my contributions were meant for BPCR Silhouette competition, but the third was developed to duplicate the ballistics of the U.S. government's .45-55 reduced recoil carbine load. It used the same 2.10-inch case of the standard .45-70 with the same bullet, but the powder charge was reduced to 55 grains of black powder.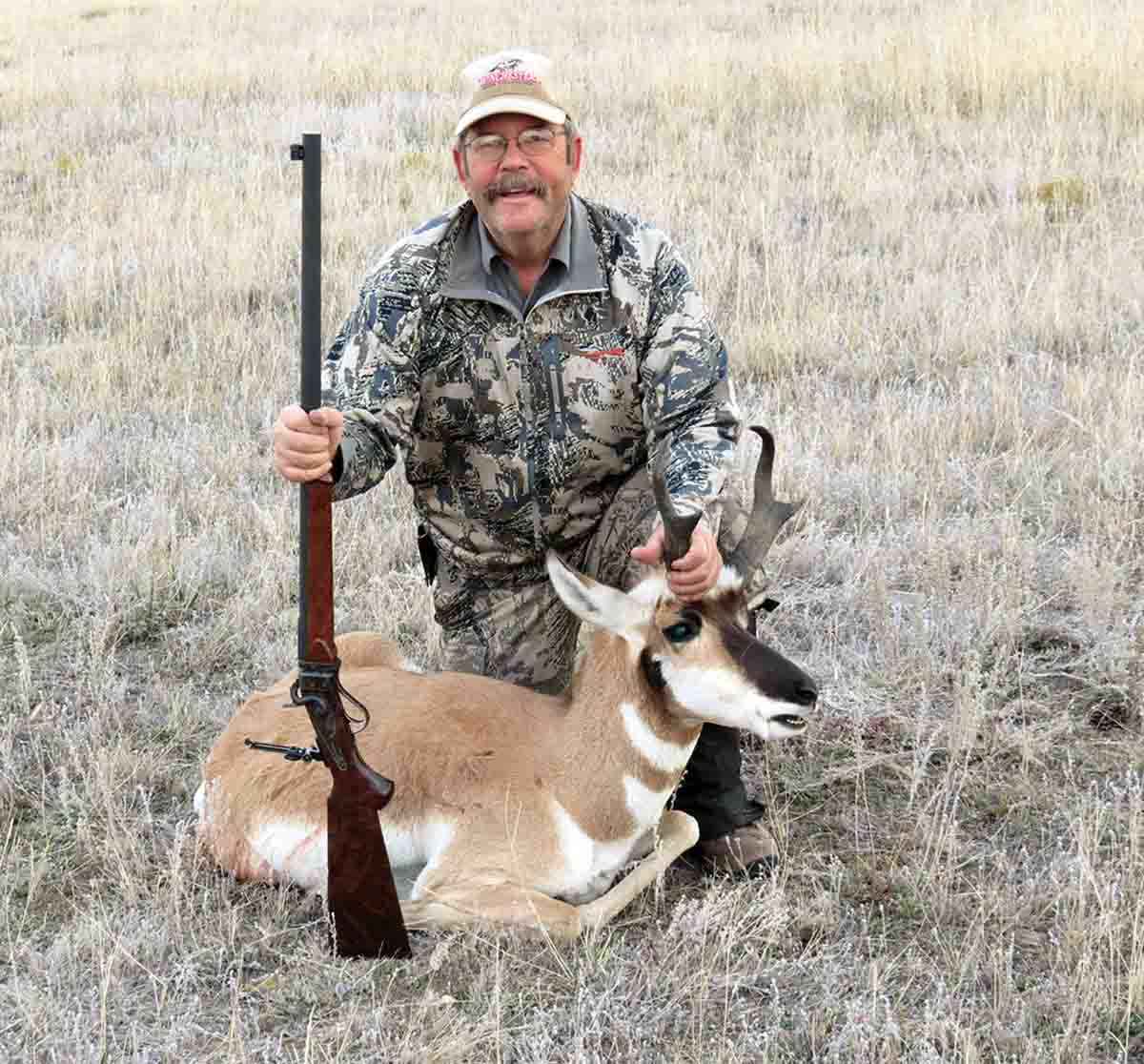 The accompanying table lists each load tried; however, it pleased me greatly that the black-powder propelled bullets clustered significantly tighter than those pushed by smokeless powders. My standard procedure for testing black- powder handloads is to start with a clean barrel, fire a fouling shot and then five for group. We swabbed the barrel with a wet patch followed by a dry one before firing the next group. Not only does this method reveal a rifle's capabilities, it also shows where that first shot from a clean barrel goes. That's important for a rifle to be used on game.
The best five-shot group Kirk fired was 1.75 inches and mine was 1.63 inches. Those came using my competition handloads with 560-grain bullets. The lighter black-powder load grouped 2.50 inches, and all smokeless powder groups ran from 2.50 to 3.50 inches. Interestingly and pleasingly, the first shot fired was 2 inches above group center. With some load development, I'm sure a black-powder combination could be found that would put five shots in a ragged hole at 100 yards. I've seen it done with other Shilohs.
Kirk's Model 1877 was serial No. 30. While I was writing this, another friend dropped by the house with his brand-new Shiloh '77. It was number 80. I expect just about everyone who treasures their Model 1874 Shiloh will find the new one very attractive.