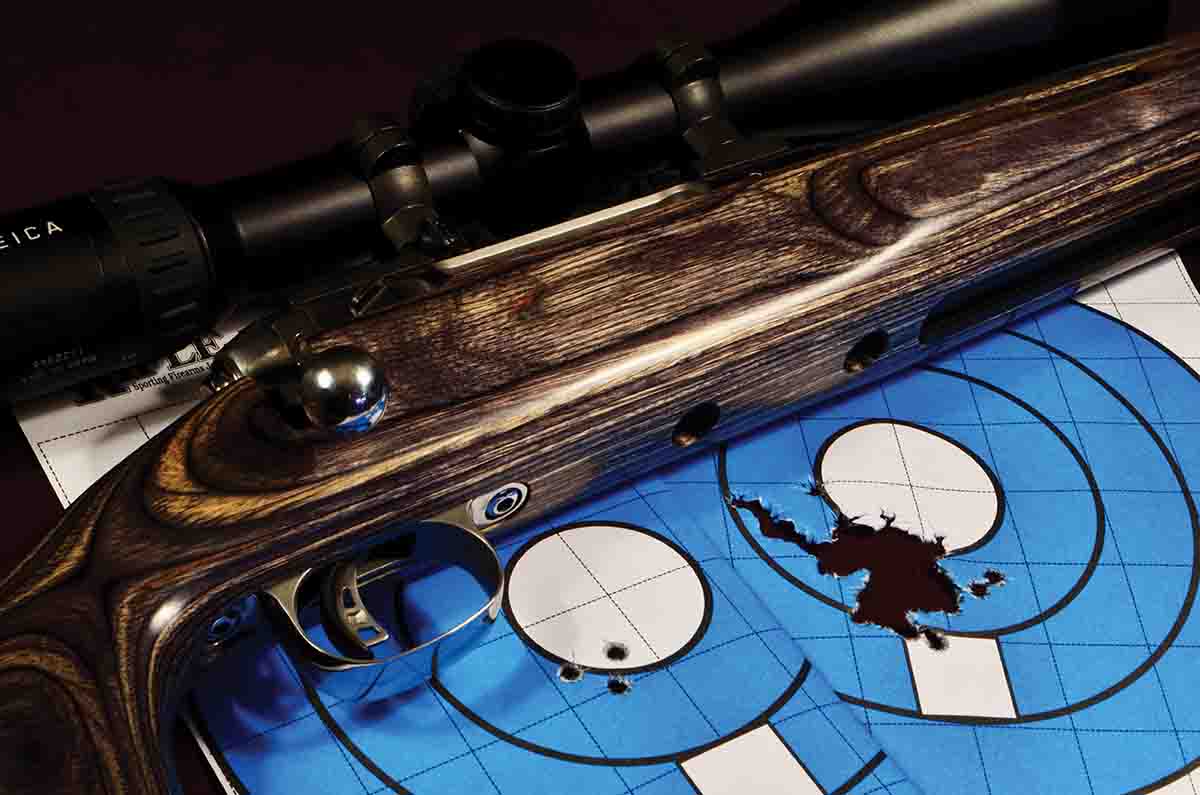 The modern standard for rifle accuracy is a three-shot group fired at 100 yards. There are exceptions, benchrest rifles being the obvious one, but for the average hunting rifle or even a casual target rifle, this is how most people measure accuracy.
The old standard – 120 years ago – was 10 shots at 200 yards, and that was considered a minimum. The gilt-edge target shooters of the 1890s demanded a rifle that was accurate shot after shot after shot, ad infinitum. There was a good reason for this: A serious shooting match might take all day and require 100 shots for score. Matches of 200 shots were not unheard of, and there were three-day events requiring 100 shots a day.
Aside from their undoubted shooting ability, one has to admire those old-time shooters for their endurance. Although there were "rest" matches in those days, the legendary Schützen competitions were shot offhand – shooters standing up "on their hind legs, like a man," with no support for the rifle except their arms. This is undoubtedly the most difficult shooting position; it is also the most tiring. In a match that lasted 10 or 12 hours, with the competitor stepping up to the line to fire one shot every four or five minutes and with (possibly) thousands of dollars riding on each shot, it was a grueling affair, indeed. Imagine doing that for three days straight under a hot July sun!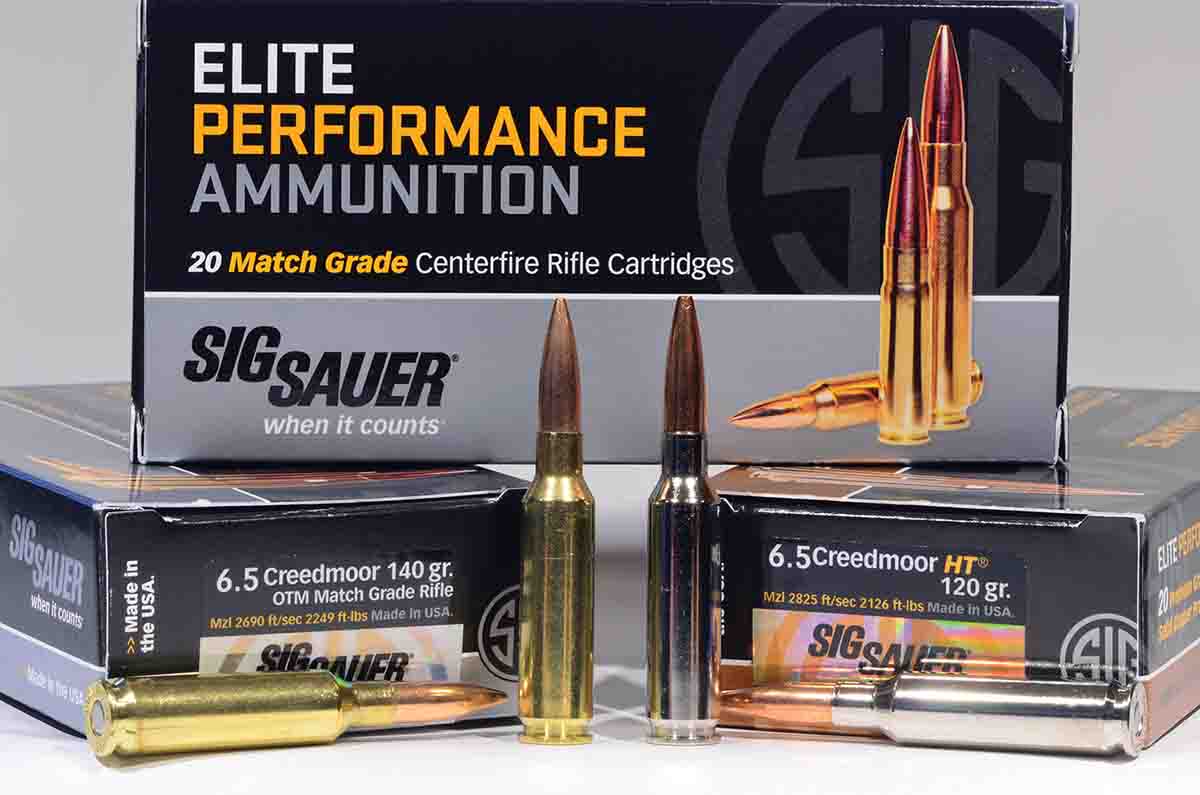 For these men, a three-shot group was meaningless, and five was little better. One of the most famous of those competitors was Harry M. Pope, who was not only a top-notch competitive shooter but also one of the finest barrel and gunmakers in the country. With a degree from MIT, Pope had a trained engineer's obsessive curiosity about what rifles would do, and why.
For reasons unknown to posterity (or, at least, to me), Pope liked to test rifles by firing a 130-round group. Why 130 shots instead of 100 or 125, only Pope knew. One assumes it allowed for the total possible number of shots in a day of competition, including sighting shots, adjusting sights, checking windage and so on.
The debate over what constitutes accuracy, how it might be measured and what size group is definitive, has been raging back and forth for the intervening 120 years but, generally speaking, both the number of shots and the distances used have been shrinking. In the early 1950s, Jack O'Connor wrote that the 10-shot group was a worthless measure for a hunting rifle and argued in favor of just five shots; later, five-shot groups were supplanted by three shots.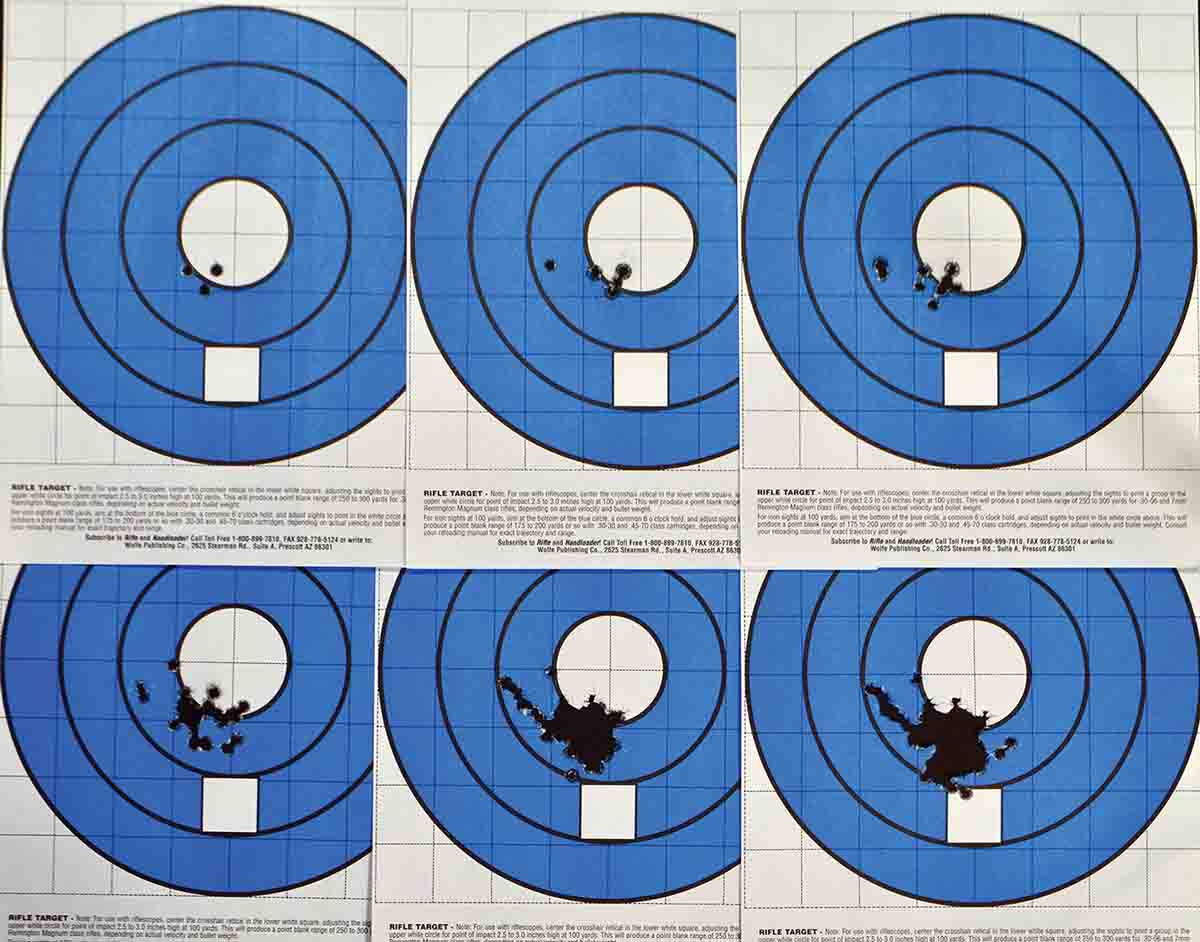 One huge advantage of the three-shot group is that you get a lot more freakishly small groups – the kind that can be cut out of the target and carried around to show everyone – than you ever will with five shots. When increased to 10 shots, fluke groups are virtually unknown.
Reading about Pope and his 130-shot groups made me wonder exactly what would happen when such a group is shot. If using an accurate rifle, wouldn't the center of the target be shot out? In which case, how would you know you shot 130 rounds instead of 90 or 230? There was only one way to find out.
Please consider what follows to be in the nature of a report on an experiment, not a definitive test that really proves anything about anything. I took two rifles of proven accuracy, fitted them with two top-quality scopes, arranged for an ample supply of ammunition of established quality and set out to see what would happen.
The rifles were both chambered for the 6.5 Creedmoor, and SIG supplied 200 rounds each of its 140-grain match and 120-grain hunting ammunition. I enlisted the help of Burt Reynolds, who manages Top Gun Sportsman's Club in Lonedell, Missouri, to shoot one of the rifles while I shot the other.
The test rifles included an E.R. Shaw (Now Shaw Custom Rifles) Mk. VII VS benchrest rifle with a Leica ER 5 3-15x 56mm scope, and a Ruger Hawkeye FTW Hunter with a Swarovski X5i 3.5-18x 50mm P scope. Burt had first pick and chose the Ruger with the hunting ammunition. I got the Shaw with the match ammunition.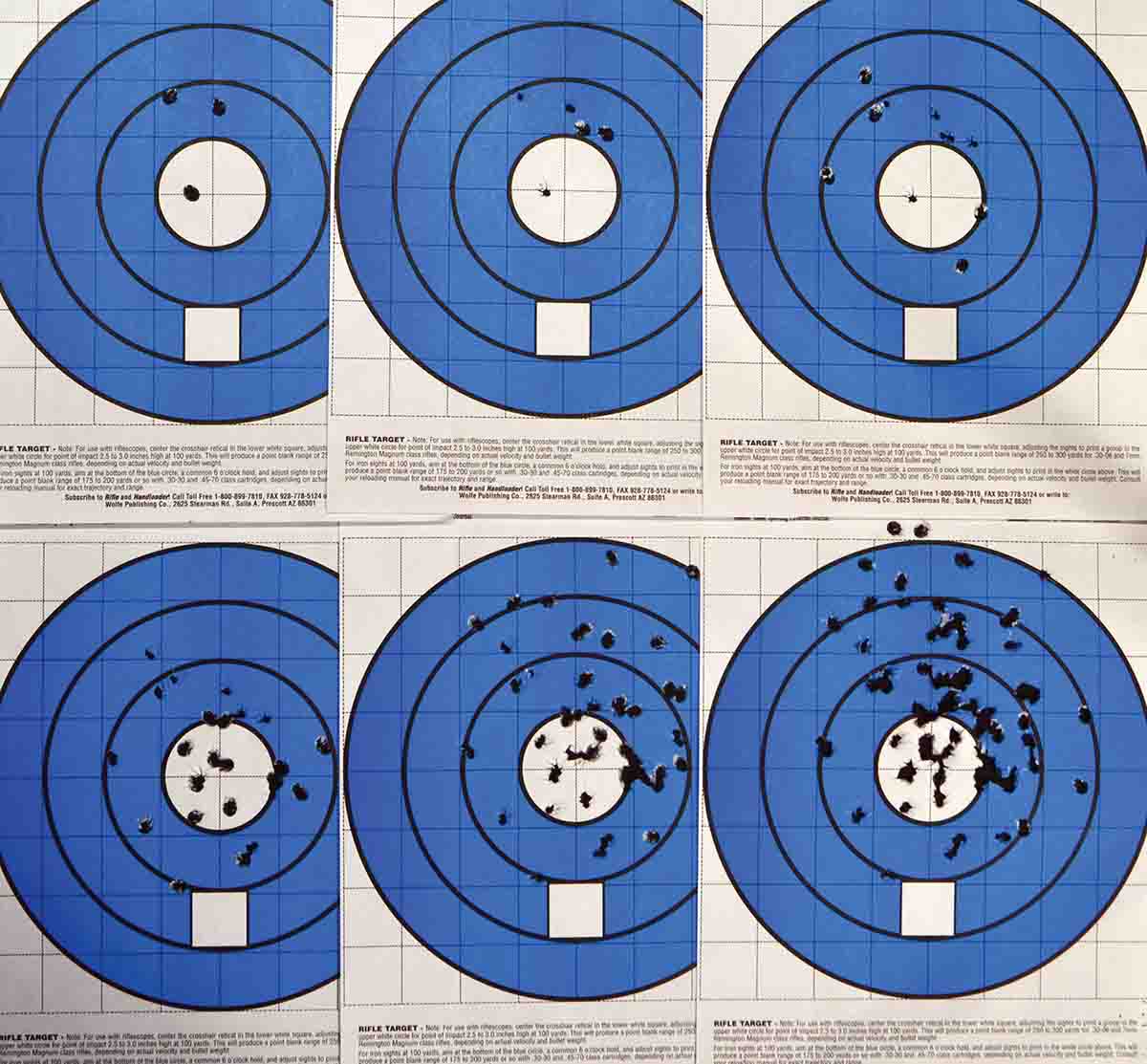 In order to see how groups expanded, we intended to divide the shooting into seven phases: three, five, 10, 25, 50, 100 and 130 shots. Each rifle had its own set of targets, with seven in a stack. After firing three shots, we removed the top target, fired two more into the second target to get a five-shot group, removed it, and fired five into the target underneath for the 10-shot group. This was to proceed all the way to 130 shots. We expected to complete the whole exercise in three to four hours.
On the day of the test, we took the two rifles out – both squeaky clean from a thorough scrubbing with Wipe-Out – and sighted them in. This left the barrels cool but nicely fouled. They were not cleaned from then until the end, and since we were shooting in January in Missouri, there was no problem with overheating.
A critic of this set-up could find many holes: What about the first shot from a cold, clean barrel? Why 100 yards instead of 200? What about wind?
All of these are fair questions. All I can say is, you can't allow for everything. And, when you think about it, the same can be said of big-game hunting and long-range target shooting. Wind, mirage and fatigue are all factors, all the time. You just do the best you can and hope to learn something useful.
This was neither a competition between the two rifles, nor their ammunition. Nor was it a competition between Burt and myself. Burt demonstrates repeatedly that he's a better shot with most rifles and pistols (I can shade him with a shotgun), but we felt that for the test to be valid, all 130 shots had to be fired by the same person. Hence, he got the Ruger and I got the Shaw.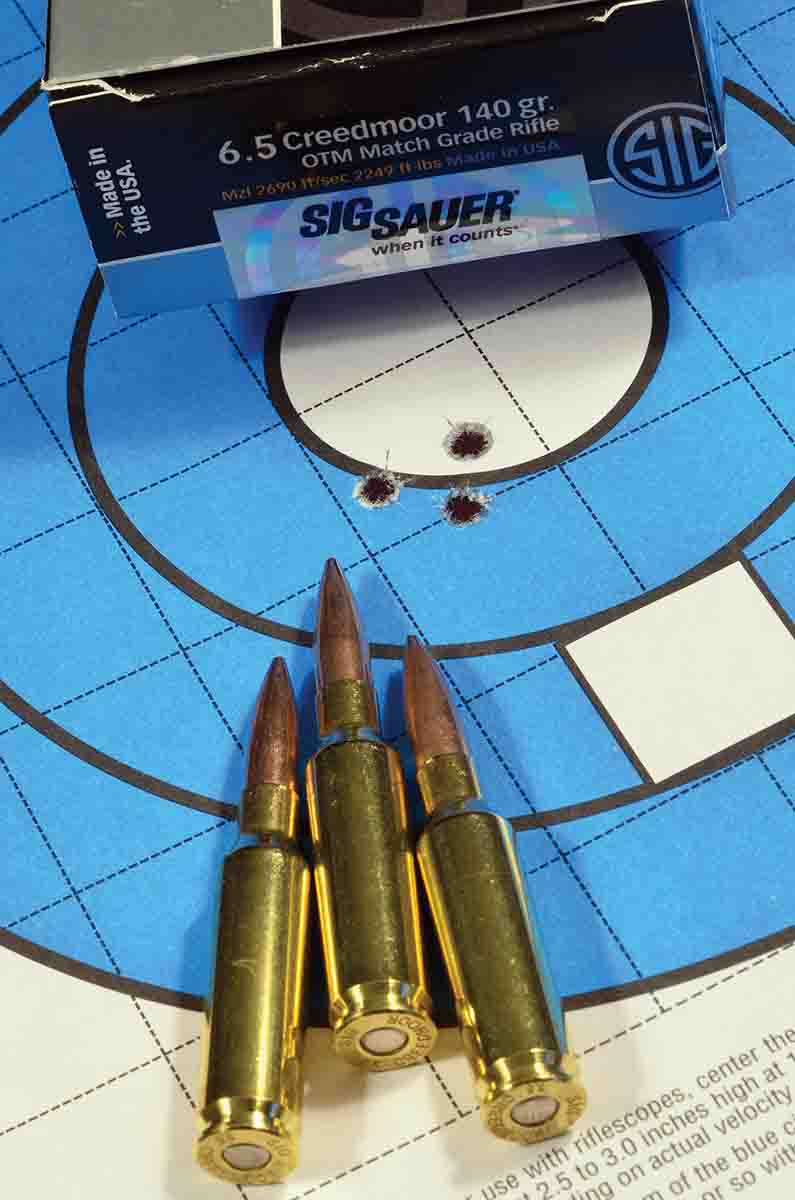 To keep the barrels cool, we alternated shooting our groups, punctuated by target removal; when we got into the real marathon sessions from 25 shots to 130, we fired in five-shot relays.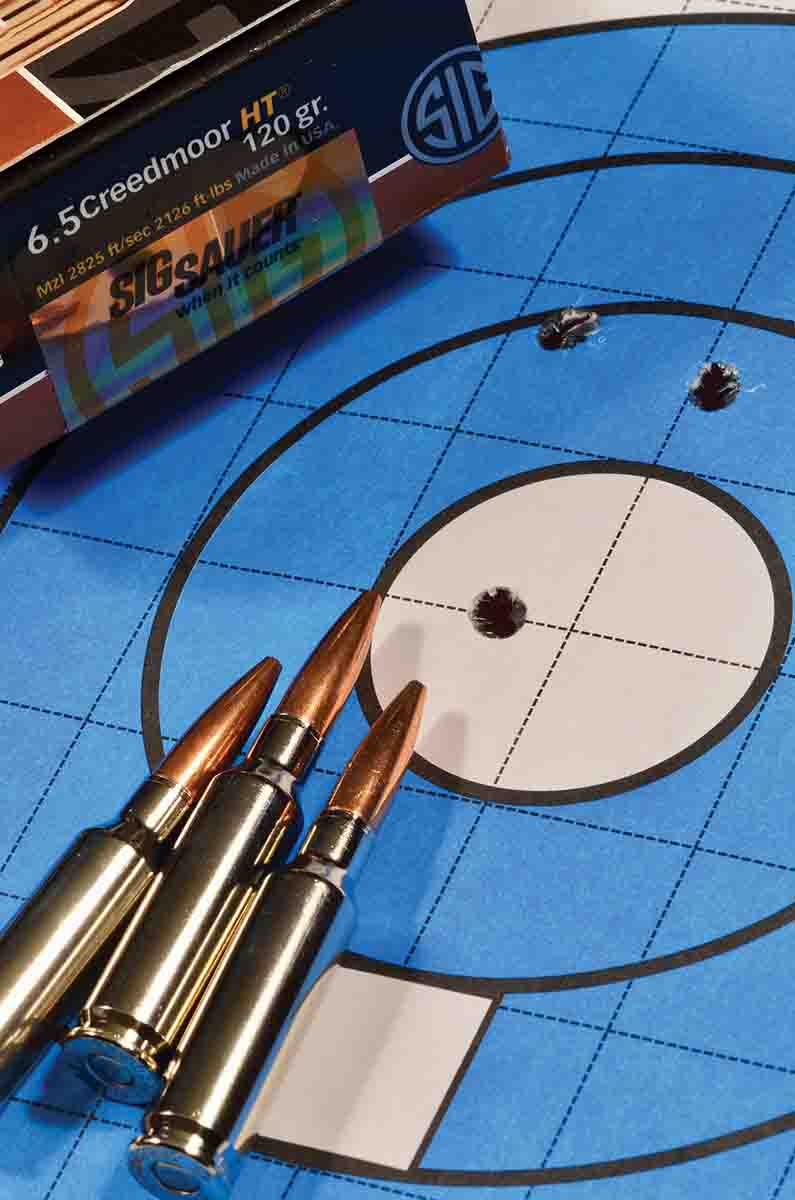 All of the above was the plan, but plans go awry. My expectation was that we would probably get two very respectable three-shot groups; at five shots, they would almost certainly expand a little, and by 10 shots we'd have groups that were larger still. In the case of the Shaw and the match ammunition, that is more or less what happened.
The Ruger and the hunting ammunition, however, disliked each other from the very first sighting-in shots, never mind the first group. Its three-shot group measured 1.75 inches, at five shots it was the same, but by 10 it was up to 3.75 inches. From there, things went from bad to worse as Burt's target began to resemble a shotgun patterning board. At 25 shots, the group measured 4.0 inches and at 50, 5.9 inches.
We checked everything we could think of that might be the cause, and finally settled on the simple explanation that the rifle just didn't like the ammunition. Very, very broadly speaking, the test results with the Ruger were what we expected, except that all the groups from three shots on up were far larger than we foresaw. In fact, in modern terms they did not qualify as even "hunting accuracy."
Meanwhile, the Shaw's groups with the SIG match ammunition grew very gradually larger through 25 shots, then 50 and on up to 75. Its three-shot group was .5 inch, five was 1.3 (.5 with a flyer), and 10 was 1.4 inches (.7 with two flyers.) At 25 shots, the group had enlarged to 1.9 inches and at 50, 2.2 inches. By 75 shots, the center of the target was one ragged hole and the group had enlarged to 2.55 inches. From there on, most shots "disappeared" into the hole, with the odd flyer nibbling at its edges.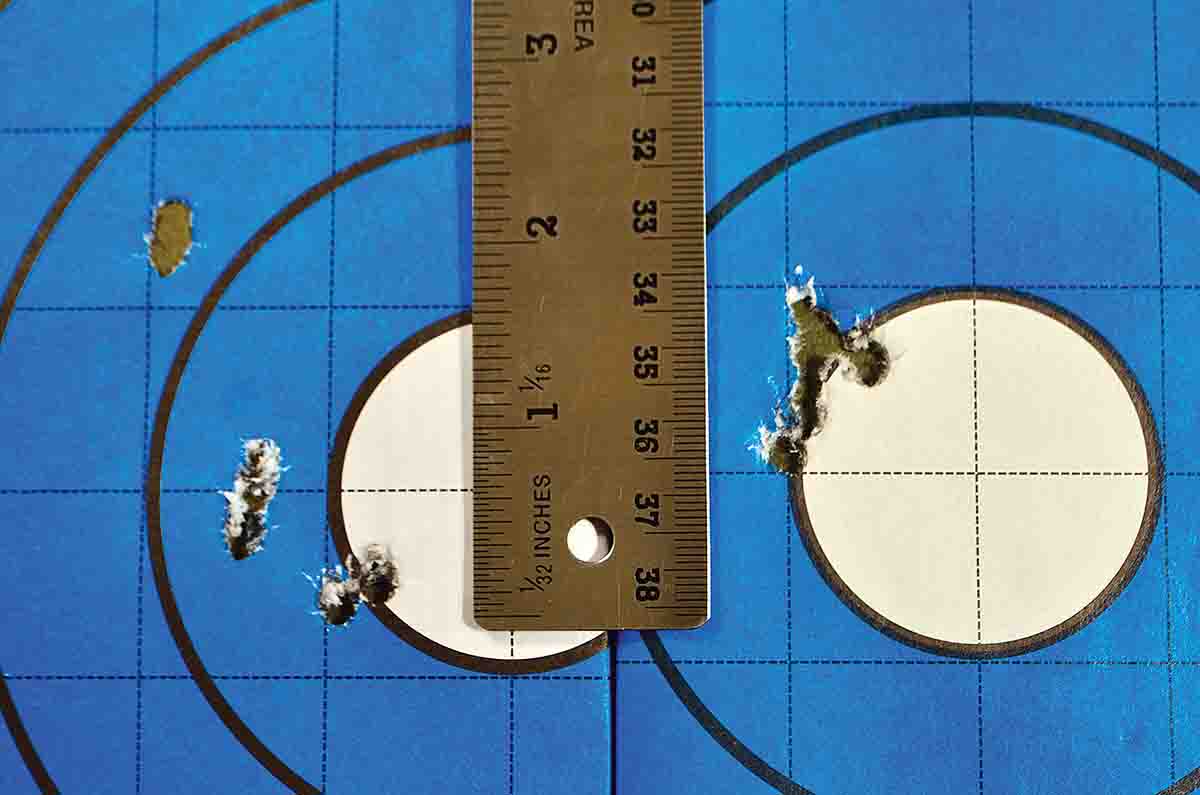 After 75 shots each, I asked Burt if he honestly thought we would learn anything from continuing on to our planned 130 shots; we called it a day. His final 75-shot group measured 6.0 inches.
A test with one rifle and one type of ammunition doesn't prove anything. The Shaw lived up to expectations and so did the SIG match ammunition. Since the Ruger Hawkeye FTW Hunter thrives on both Hornady and Norma 6.5 Creedmoor match or hunting ammunition, the only explanation was that this was just a pairing that didn't work – a blind date where the participants took an instant dislike to each other.
A couple of days later, we took both rifles out again with both types of SIG ammunition and switched them around. The Ruger delivered excellent results with the match ammunition. Starting at three shots and progressing as before up to 25, its groups measured .775, 1.3, 1.3 and 2.35 inches.
The Shaw disliked the hunting ammunition less than the Ruger had. Its groups out to 10 rounds were half to three-quarters the size provided with the Ruger: three shots, 1.5 inches; five shots, 2.0 inches; 10 shots, 2.0 inches; 25 shots, 3.0 inches.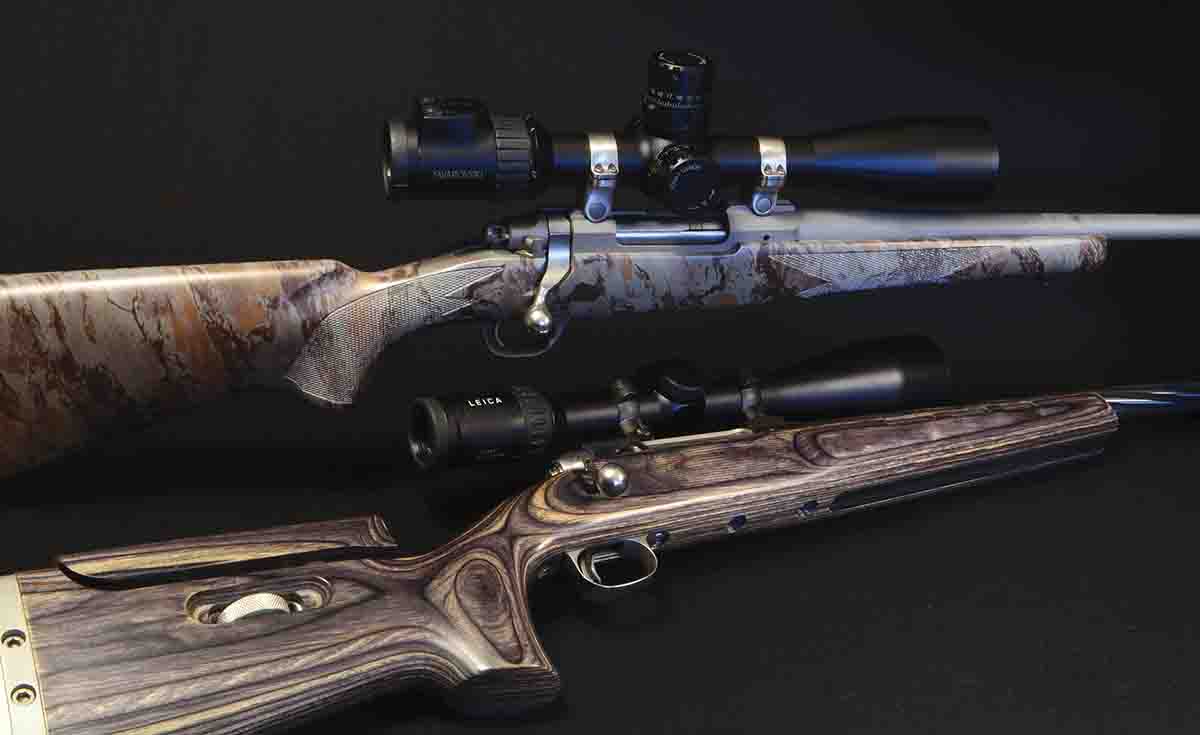 Burt finally gave some of the remaining hunting ammunition to a friend with an AR. He fired two five-shot groups, and both measured about 1.5 inches. Not great, but still better than our results. Shortly after this, I told custom gunmaker Lee Shaver about the problem, and his instant reaction was, "Harmonics." Like a bolt from the blue, I remembered the Ruger was fitted with a muzzle brake. There was not a lot of ammunition left, and terrible weather at the range didn't help, but I took the Ruger back out with the hunting ammunition, put targets up at 35 yards and fired one five-shot group with the muzzle brake, and one without. With the brake, the group measured a ragged 2.26 inches; without the brake it was .775 inch. Therein lies our problem. I have encountered such difficulties with muzzle brakes before, mostly involving changing point of impact with and without, but never an accuracy difference as dramatic as this. Unfortunately, there was not enough ammunition left to repeat the whole 75-shot test.
Anyone who has done much testing of factory ammunition has seen that some rifles like one brand or type, and absolutely hate another. That's why you should figure out what brand and bullet type a rifle likes well before climbing into your treestand. And if the rifle doesn't group well with a particular brand, try removing the muzzle brake to see how it does then.
In the end, each rifle/ammunition combination had what could be called a "maximum spread." In the case of the Shaw with the match ammunition, that spread was about 2.5 inches. Very likely, a person could shoot all day, day after day, and never have a bullet stray outside that. Imagine shooting through a straight pipe 100 yards long. What diameter would be needed to contain all your shots? Possibly, Harry Pope concluded that he needed 130 shots to determine that "pipe diameter" for a rifle. The Ruger with the hunting ammunition (and with the brake) would have needed a 6-inch diameter pipe, the Shaw with match ammunition, 2.5 inches.
In all four combinations of rifle and ammunition, the three-shot group was the smallest, with each succeeding group getting larger and larger. There were a couple of anomalies, but that was the general finding. This would be important information not only for a man entering a 100-shot Schützen match, but also for hunting prairie dogs.
It seems to me that shooting a 75- or 100-round group shows your rifle's accuracy – the range of accuracy that can be depended on regardless of circumstances. It may not be as ego-building as a tiny, freak, three-shot group, but it's vastly more valuable.