Before World War I, the average American big-game hunter predominantly used leverguns. During that war, millions of young Americans got their first exposure to bolt actions. In time those rifles became the norm in the woods. During World War II, millions more young men were exposed to M1 Garands and M1 .30 Carbines. Afterward, semiautomatic sporting rifles appeared on the commercial market, albeit they never rivaled bolt-action sporters in numbers. Young Americans sent to Southeast Asia were initially issued M14s but eventually handed them in for M16s and M16A1s. At that time back in the States, AR-type rifles weren't well accepted by varmint hunters or big-game hunters. For varmints, ARs were not considered accurate enough, and for big game, they weren't powerful enough.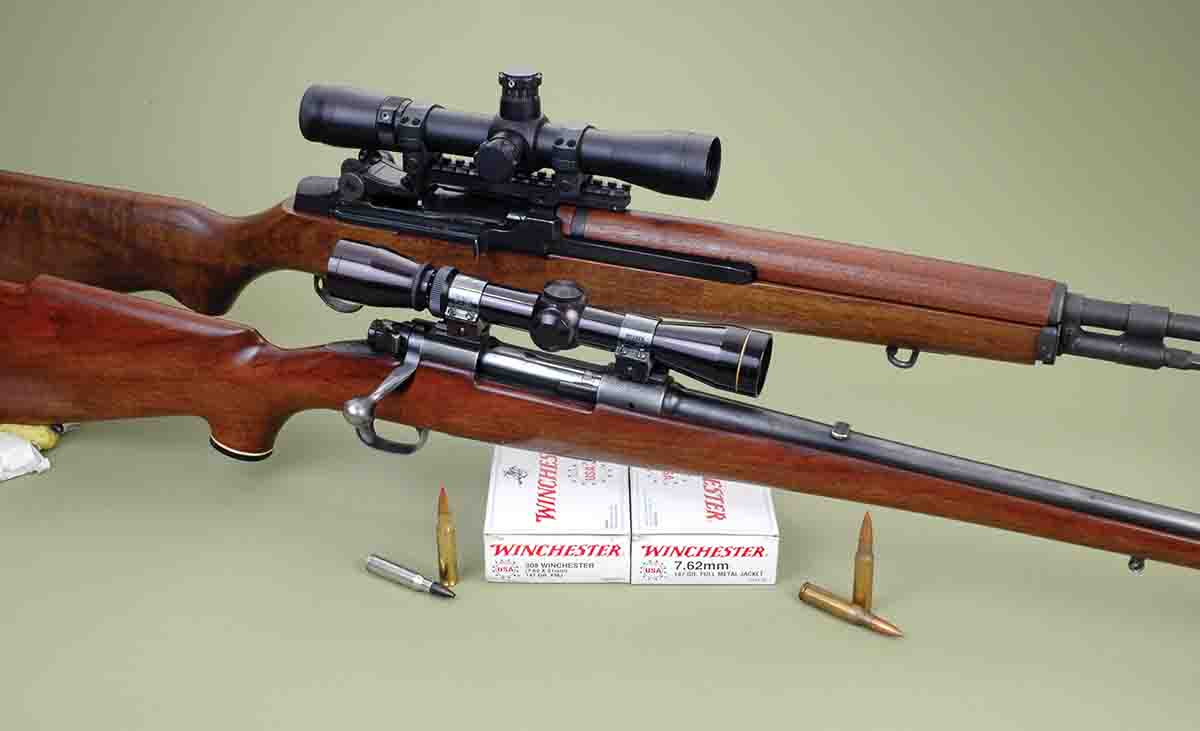 Now, AR-type rifles have been in American military service for over 50 years with the current permutation called M4 Carbine. More young Americans have been exposed to them during the "War on Terror." In the civilian sector, AR-type rifles have become amazingly popular, along with several other forms of "black rifles." In fact such rifles are so common now as to have gained their own informal nickname of "modern sporting rifles." Are they really?
At this point I bet some readers are getting the fight on, thinking I'm part of the antiblack rifle/anti-large-capacity magazine crowd. That's not true. In fact, Yvonne and I each have a "black rifle," although mine actually has a green buttstock and forearm. We also have a couple of Ruger Mini-30s with five-, 10- and 20-round magazines.
Thinking back on my own time as a hunter, I used single shots, bolt actions and leverguns but never a semiautomatic for big game. Why? Probably I was prejudiced because of my early hunting experiences in southern West Virginia. Truthfully it seemed that part of every deer hunter's equipment was a semiautomatic. When out in the West Virginia woods during deer season back in those days, if I heard one shot it was usually quickly followed by four others. One time I counted 15 fast shots and figured they had to be from an M1 .30 Carbine. In those days, hunters with semi-autos often had a "spray and pray" sort of mentality. Thinking back to a gun club-sponsored "Sighting-In Day" in 1967, I remember one older gentleman chiding me by saying, "Why did you buy a bolt action? You won't be able to make a fast second shot." He had a Remington Model 742, and I had a Winchester Model 70. Both were .30-06s. My reply was, "Why plan for a second shot? I'm going to make the first one count."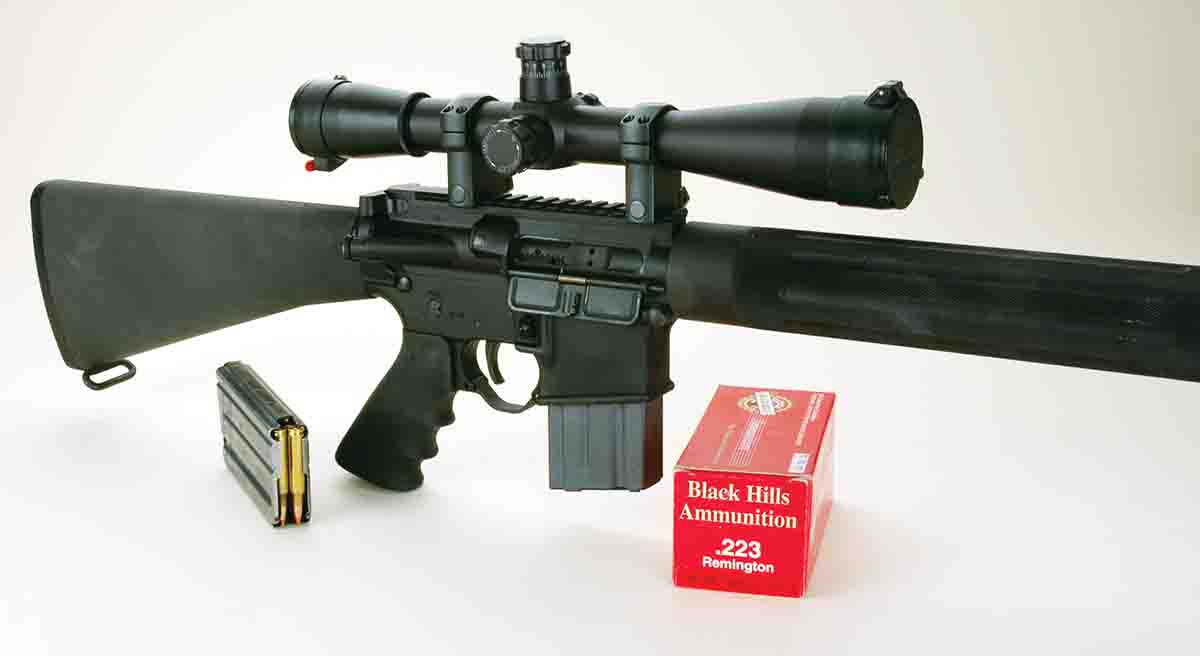 This is also the truth: Never in West Virginia did I get a shot at a deer. My first deer was killed in Montana with one shot from a Winchester Model 54 .257 Roberts. During my one trip to Africa in the 1980s I shot eight animals with one shot each, earning from my professional hunter, "You're a good shooter." All my big-game kills have not gone so cleanly, but it wasn't for a lack of trying. Never did I think, Well, I have several more shots in the magazine in case this first one misses.
In hindsight, I must admit to a rather haughty attitude when it came to semi-auto rifles for hunting big game. My feeling was, Real riflemen don't need them. As is always the case, things change and I admit that semi-autos now, whether "black" or wood stocked, can make excellent "modern sporting rifles." If I could point to a single rifle that changed my attitude, it would be a Rock River Varmint AR.
That company's literature indicated it was capable of half-MOA groups at 100 yards. I took that as a personal challenge. A rifle was ordered, and a 3-9x Leupold scope was mounted on it. Good thing I wasn't betting with Rock River; indeed that AR was capable of half-MOA groups – not with every load tried but with some.
In the process I also discovered that a very accurate AR like that one made a great varminter. When ground squirrel shooting in a target-rich location, if my first shot was a miss, its location was immediately apparent, a mental correction was made, and another round followed quickly. Usually that one was a hit.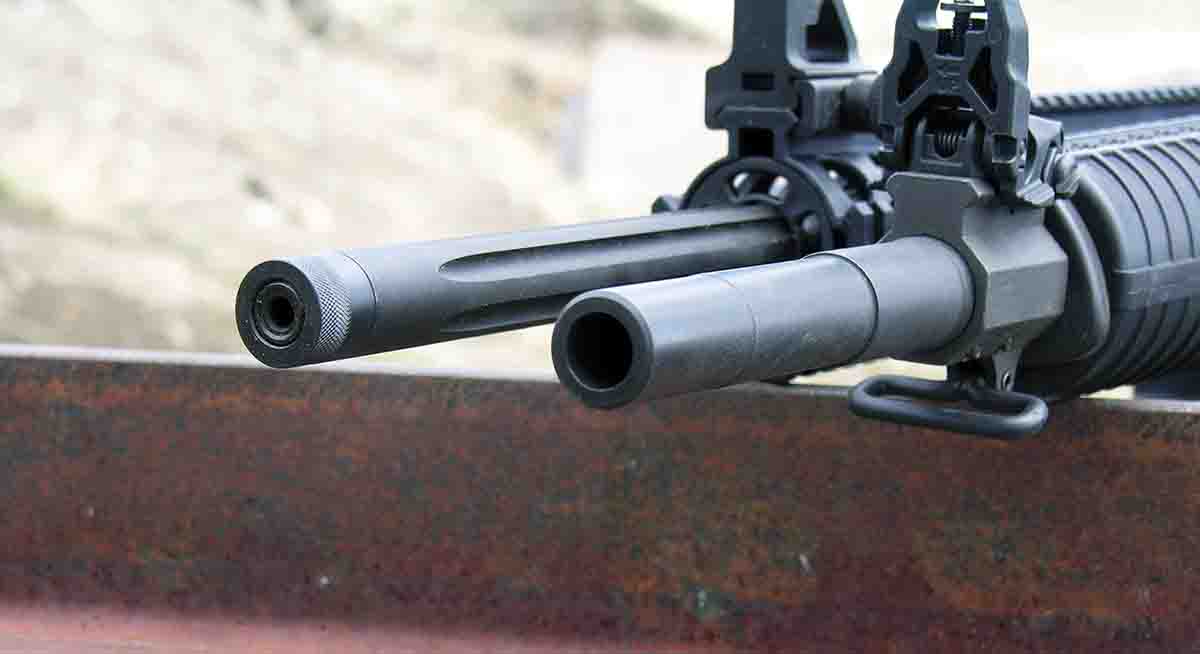 That Rock River AR Varminter was, of course, chambered in 5.56mm/.223 Remington. Back then I still felt that most semi-autos, especially AR types, didn't make good big-game rifles because they were chambered for less-than-adequate cartridges. Nowadays that idea is totally unfounded. While writing this column I took a half-hour break and perused the websites of several AR manufacturers. Without going into great detail, collectively I found AR-type rifles chambered in .243 Winchester, 6.5mm Creedmoor, .260 Remington, 6.8mm SPC and SPC II, .300 Blackout, .308 Winchester (7.62mm NAT0 or 7.62x51mm), 7.62x39mm, .338 Federal, .450 Bushmaster, .450 SOCOM, and finally .50 Beowulf. Then I checked for Springfield Armory's M1A; the company offers all versions in 7.62x51mm and one version in 6.5 Creedmoor.
A few years back, an editor of another magazine asked me to give an Armalite AR10 and Springfield Armory M1A a side-by-side comparison. Both were 7.62x51mm (7.62mm NATO). Both could easily serve as big-game rifles in power and in precision accuracy. Later the M1A had a scope mounted on it, and I was truly surprised at how well it grouped with optics. The scoped rifle weight went up to about 11.5 pounds, which would have made it a bit heavy for carrying on foot all day, but it would have been perfectly suitable for still hunting.
"Modern sporting rifles" are neither pretty nor graceful, but to deny their worth in the varmint fields or deer/elk woods is wrong.