My father's Model 700 ADL was far more than the sum of its parts, but this was learned the hard way. The .222 Remington was quite a nice rifle. It was perfectly practical for a preteen to discover the ins and outs of shooting a centerfire rifle at empty Aspen soda cans, paper plates, distant rocks in the East Mojave and, occasionally, a five-pound, black-tailed jackrabbit. Over time, the .222 provided foundational handloading knowledge and was ideal for spending three hours, or three-day weekends, away from chores, homework or any of the doldrums a grade school kid suffers through.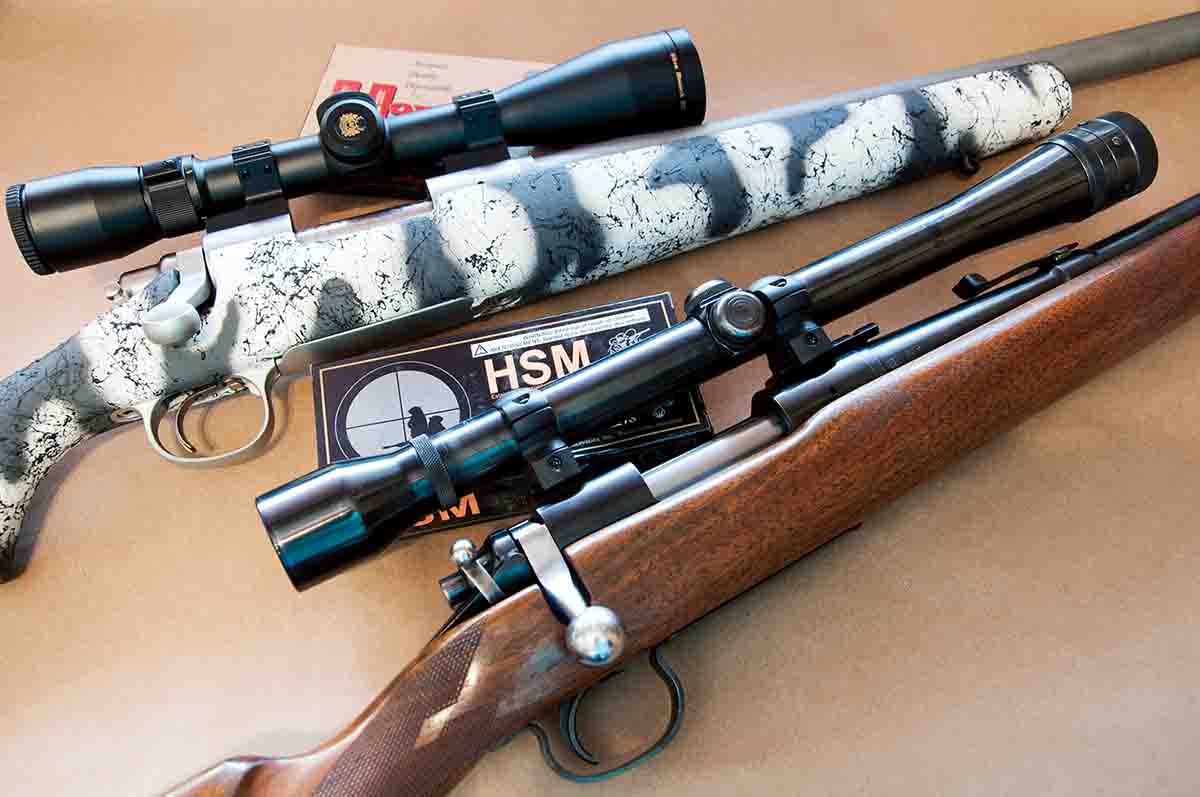 Unfortunately, all of this remained more or less unrecognized until some years later when its receiver was used to build another quite different rifle chambered for an equally different cartridge, and its steel was covered in green Teflon (a burgeoning trend at the time) and bedded in an H-S Precision camouflage fiberglass varmint stock. The "new" .243 Winchester varmint rifle was a tack driver put together by Rich Reiley at High Tech Customs in Colorado Springs, Colorado, though gone was the sentimental connection to a patient man who taught his son what he knew about shooting and hunting.
Gone, too, was the nice narrow (though press-checkered) walnut stock. The rifle's original scope was of little consequence because I never acquired interest in its make or model. The "new" rifle was accordingly fitted with an oversized "prairie-dog scope." After a while, it seemed a bit out of place considering the nearest prairie dogs were a two-day drive away, and the .243 was far more rifle than necessary for shooting ground squirrels out to maybe 200 yards. For that, the long-gone .222 would have been more than enough.
As a result, the better part of roughly 15 years has included searching for the .222's replacement – preferably a Model 700 in similar condition to the one I grew up shooting in the late '70s. The problem has been rifle rarity (at least locally) and unmanageable asking prices. The search was broadened to include an early Sako .222 (which would cost even more) and perhaps even a good-condition Remington Model 722, which in my point of view were also overpriced.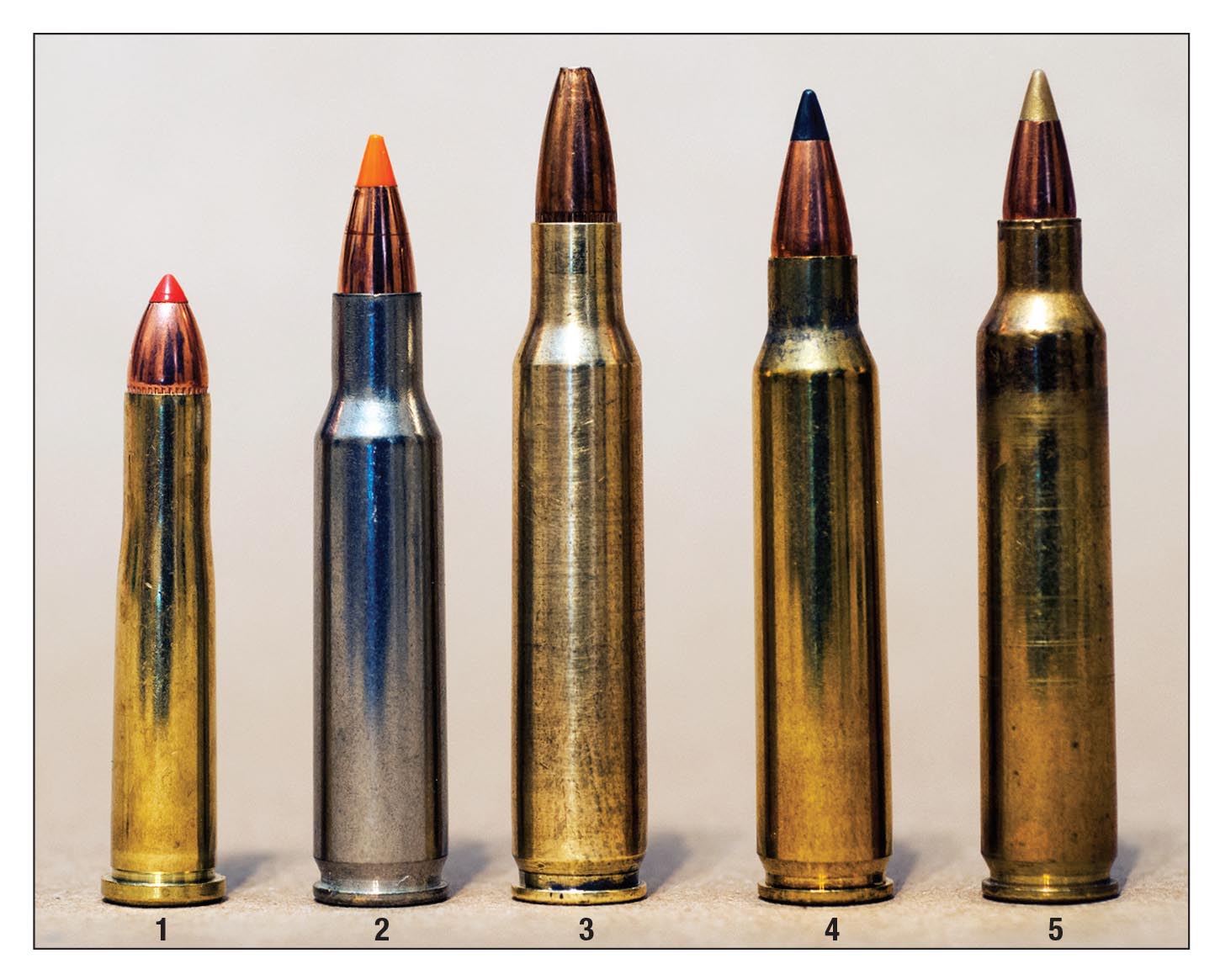 That search ended at the tail of 2018 with a reasonably priced 1956 Model 722, the rifle that preceded the Model 700, and it has been suggested many times that it preempted the company's ultimate demise following World War II. The history surrounding the Model 722/721 (and the 725) has been written and rewritten, sometimes with repeated untruths, so a condensed version here seems appropriate.
In the early 1930s, DuPont was considering shutting down the Remington plant in Illion, New York, due to lack of profit, but one bright DuPont engineer, George Read, pushed back the corporate bean counters. DuPont further righted Remington's bow by eventually instigating mechanical modernization. At this point the company had to pay for itself, and it was believed a new sporting rifle would direct Remington onward. Merle Walker, an engineer from Iowa, was hired in 1942. Roughly two years later, with his modest staff, the Model 721/722 (standard and short actions, respectively) inched toward reality.
According to Stuart Otteson in "Remington's 721-722: The Story Of A Success" in Gun Digest (1982), ". . . The actual 721-722 'team' consisted of only three other men . . . the paper studies [assuming blueprints, financial calculations, or both] done in 1942 pretty well established what was desired . . . at low enough cost to make some money for Remington." By 1948 Model 721 and 722 rifles were being shipped and sold. A short time later the Model 725, a higher grade version of the 721, went into production.
In 1949, Colonel Whelen's Handbook and Catalog (assuming again that Whelen had a hand in writing the text, and he and partner Clement A. Parker intended on selling the new rifles) waxed on in regard to the new models: "These Remington rifles are of entirely new and most modern design . . . The Model 722 likewise is available only in the .300 Savage caliber, and later in the year 1948 is expected to be produced for the .257 Remington-Roberts cartridge. It is probable that in the year 1949 both rifles will be available in a new series of very modern calibers and cartridges."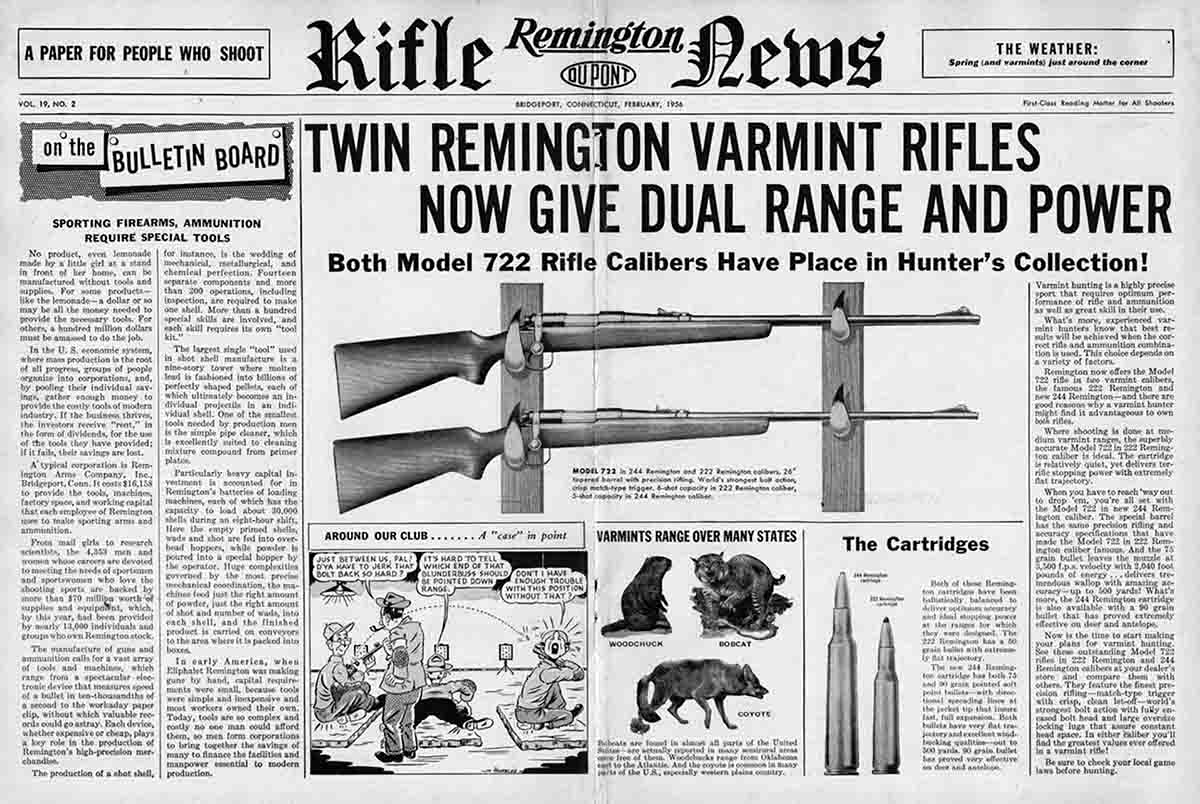 Otteson clarified that the Model 721 barreled action required approximately 60 machining operations while Remington's previous bolt action, the Model 720, required more than 250. No doubt this reduced manufacturing led to more efficient production and/or a higher profit margin per rifle.
Unlike many firearms companies today that think a website and/or social media is sufficient when marketing a new product, ignoring readers of technical periodicals like Rifle, the readers of which are highly knowledgeable enthusiasts, Remington apparently spared little expense in promoting the new bolt rifle. In my research files, for example, are several scanned Rifle News advertorials that apparently appeared in various magazines and likely as flyers in establishments where guns were sold. Nearly all of them promoted the 721/722 in one way or another, though a few of them are not dated. Throughout this clever promotional campaign, Remington used "headlines" like this from January 1952: "Varmint Hunters Acclaim Model 722 Rifle In New 222 Remington Caliber." In a different ad from the same year, a subtitle indicates the "Model 722 rifle in 222 Remington caliber [is preferred] for long-range varmint shooting."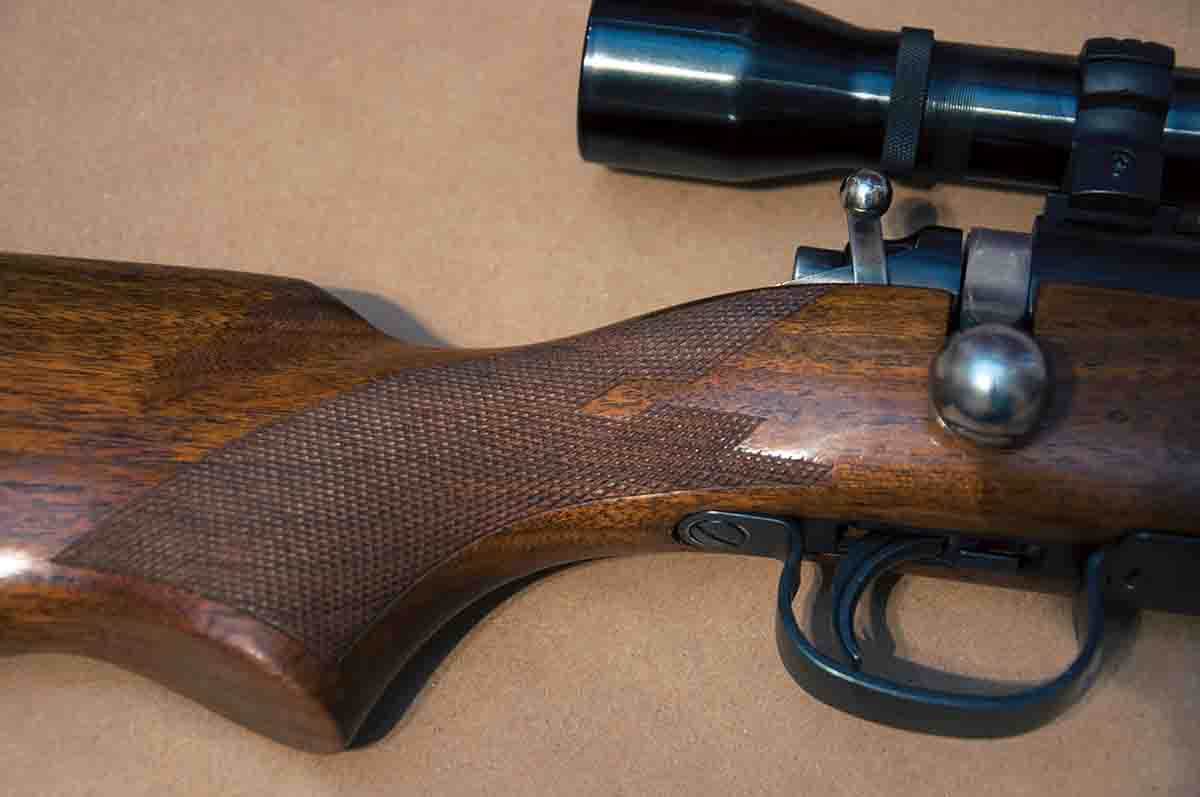 Both the long-action 721 and short 722 were introduced in 1948 as noted, and research indicates total production of the two reached beyond 117,000. Both rifles were designed and shaped in what would now be called a "classic" profile and were built using a new patented trigger, and a breech design that Remington later used as the basis of its "Three Rings of Steel" promotional campaign.
In 1949, Whelen/Parker simply identified it thusly: "When the bolt is closed the forward head of the bolt abuts firmly against the rear end of the barrel, and the outer circumference of the front end of the bolt fits closely in a completely supporting recess in the receiver ring." They also suggest that "the case cannot give way anywhere . . ."
Remington's bolt-action design is fine, but a couple statements above leave a thinking man wondering if this was marketing regurgitation or oversight on Whelen's behalf. For example, I've seen enough brass cases come apart in various rifles (usually locking the bolt down) to wonder exactly what Whelen/Parker meant by "case cannot give way." A locked-up bolt due to a case coming apart is usually caused by imprudent powder charges in handloads, or brass that has been overworked or otherwise neglected – but if the brass is held so perfectly as to not come apart because it "cannot," why then would Remington drill a gas-relief port on the side of the receiver of the 721/722?
Furthermore, suggesting the "head of the bolt abuts firmly against the rear end of the barrel" is also misleading. Friend Greg Bardsley, who puts together custom rifles for a living, said that even when sticking to the closest tolerances, the gap between the barrel and the nose of the bolt runs from .005 inch to .007 inch. On factory-produced rifles he's seen as much as .020 inch.
Perhaps hairs are being split here, but misinformation spreads like a colony of ground squirrels. If it is repeated enough, it becomes "truth."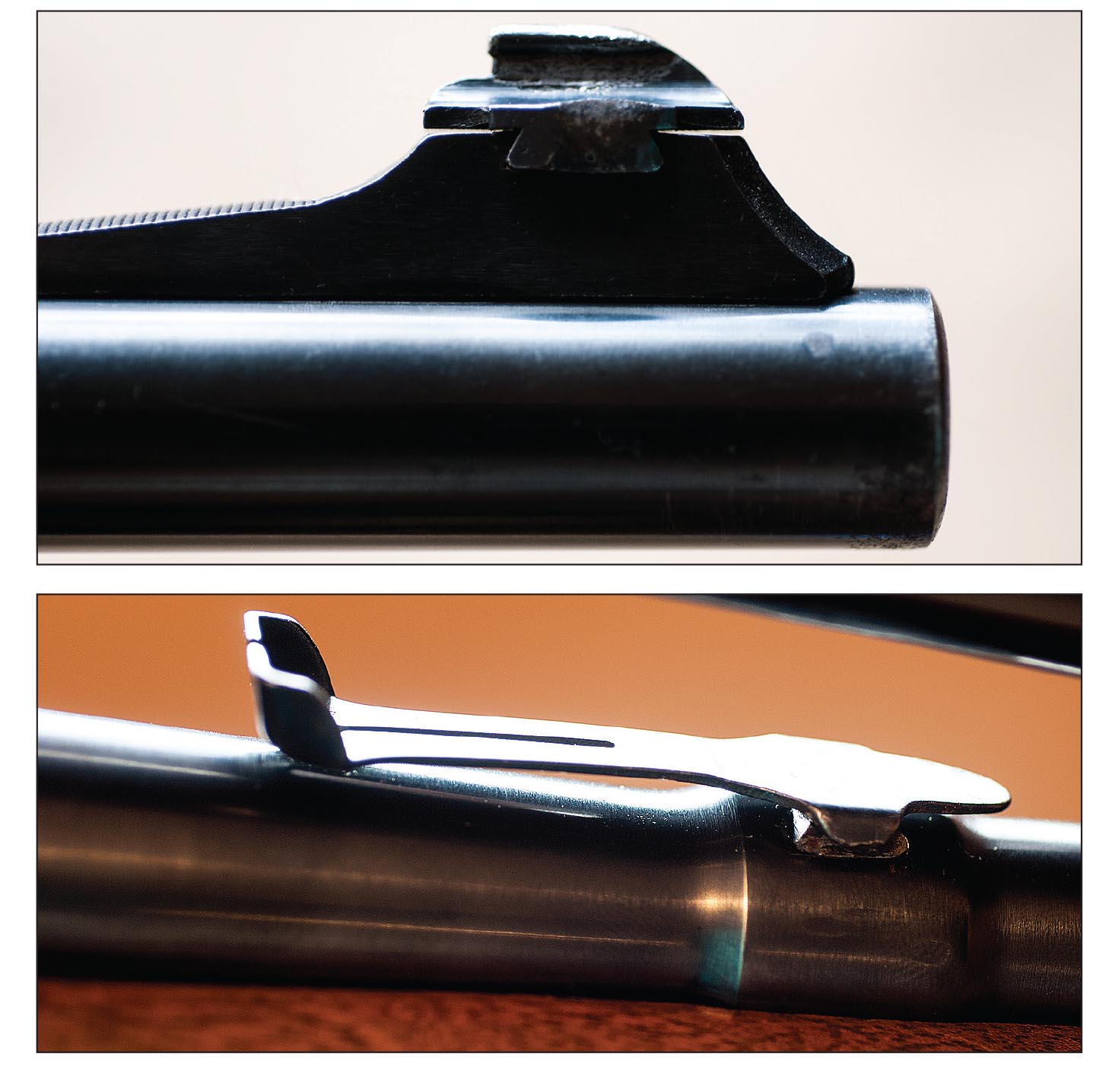 One of Walker's early contributions to Remington was the use of button rifling, and the process was used on 721/722 rifles. Barrel lengths included 24 inches for most calibers, though several were offered with 26-inch barrels, including rifles in .222 Remington. Sights consisted of a front bead and what Remington referred to as a "sporting rear (adjustable V-notch)," and all but a few of the earliest rifles were drilled and tapped for scope use. All rifles featured walnut stocks, some fancier than others. "Deluxe Grade" rifles could be ordered. A number of cartridges were introduced throughout production, ranging from the .375 Holland and Holland and .458 Winchester Magnum to the .222 Remington.
Here's another bit of information some Remington enthusiasts may not have heard: According to Otteson's report, the 1950 .222 was not "developed part and parcel" for the 722 and, "According to Walker . . . that wasn't the case."
Nonetheless, the old 722 with its fairly nice walnut and hand checkered grip, 26-inch barrel and traditional Weaver K-10 scope with parallax adjustment is a link to the past . . . to jackrabbits, soda cans and hours and days spent in the desert with a rifle that was more than the sum of its parts.