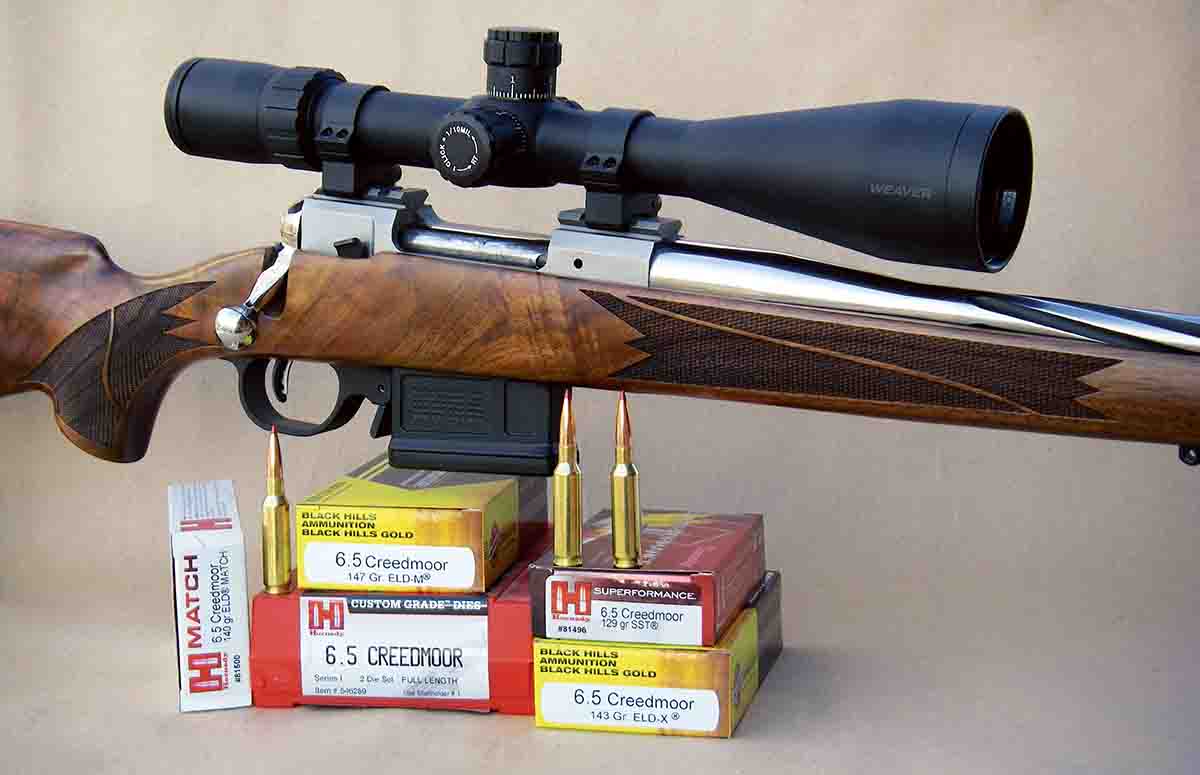 The first five rounds fired from the new Shaw Custom Rifles Mk. X grouped inside an inch. The scope was then adjusted to shift point of impact closer to center, and another group was fired that measured around .60 inch while the third group was around .40 inch. But it was the fourth group that really had my attention – five shots inside .250 inch, and there had been no barrel break-in.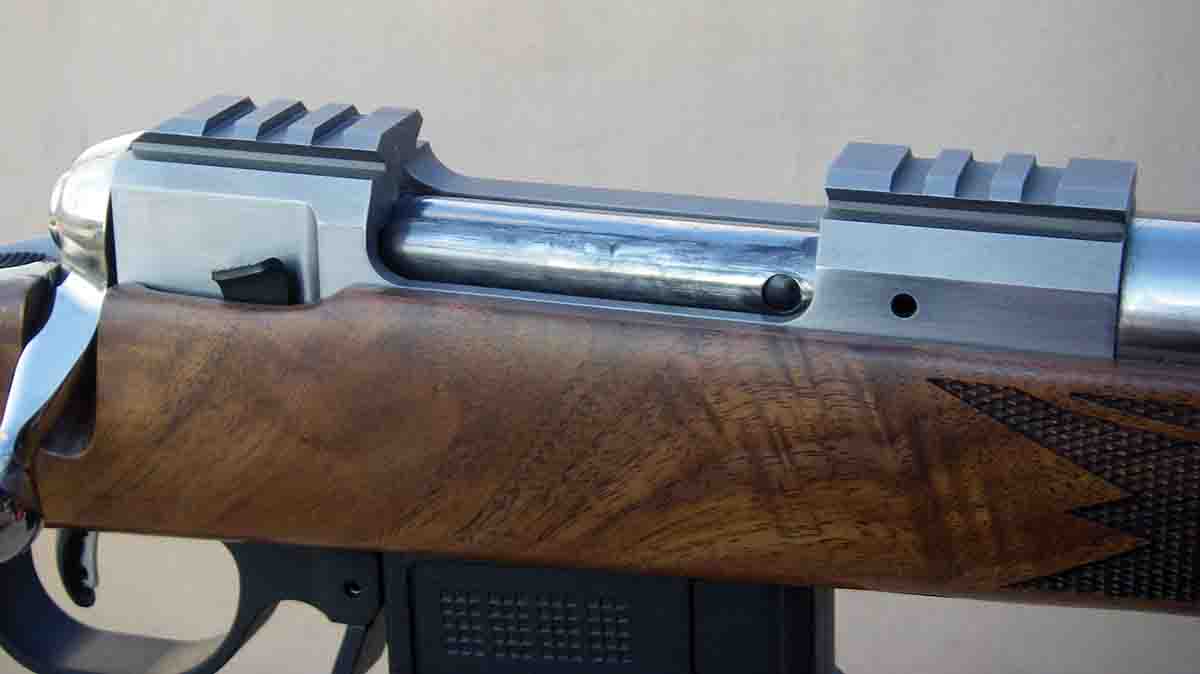 I passed the rifle to other attendees and watched as they also shot groups of similar size. The ammunition consisted of Hornady factory 6.5 Creedmoor loads with 140-grain ELD Match bullets at around 2,710 fps. It really hasn't been that long ago that out-of-the-box production rifles in this price range never shot that well.
The above event was held in Pittsburgh, Pennsylvania, and was hosted by Shaw Custom Rifles (formerly E.R. Shaw). In addition to the Mk. X, the company provided a variety of rifles for us to try that included a bolt-action Mk. VII, AR-10 and AR-15 pattern autoloading ERS-10 and ERS-15s, and others. I turned to a company representative and requested that he forward the above 6.5 Creedmoor for further testing at home. The Mk. X was certainly interesting because of its accuracy, but it was also the only wood-stocked rifle at the event, and it featured attractive, highly figured walnut – something that is often missing with modern rifles! The action is proprietary.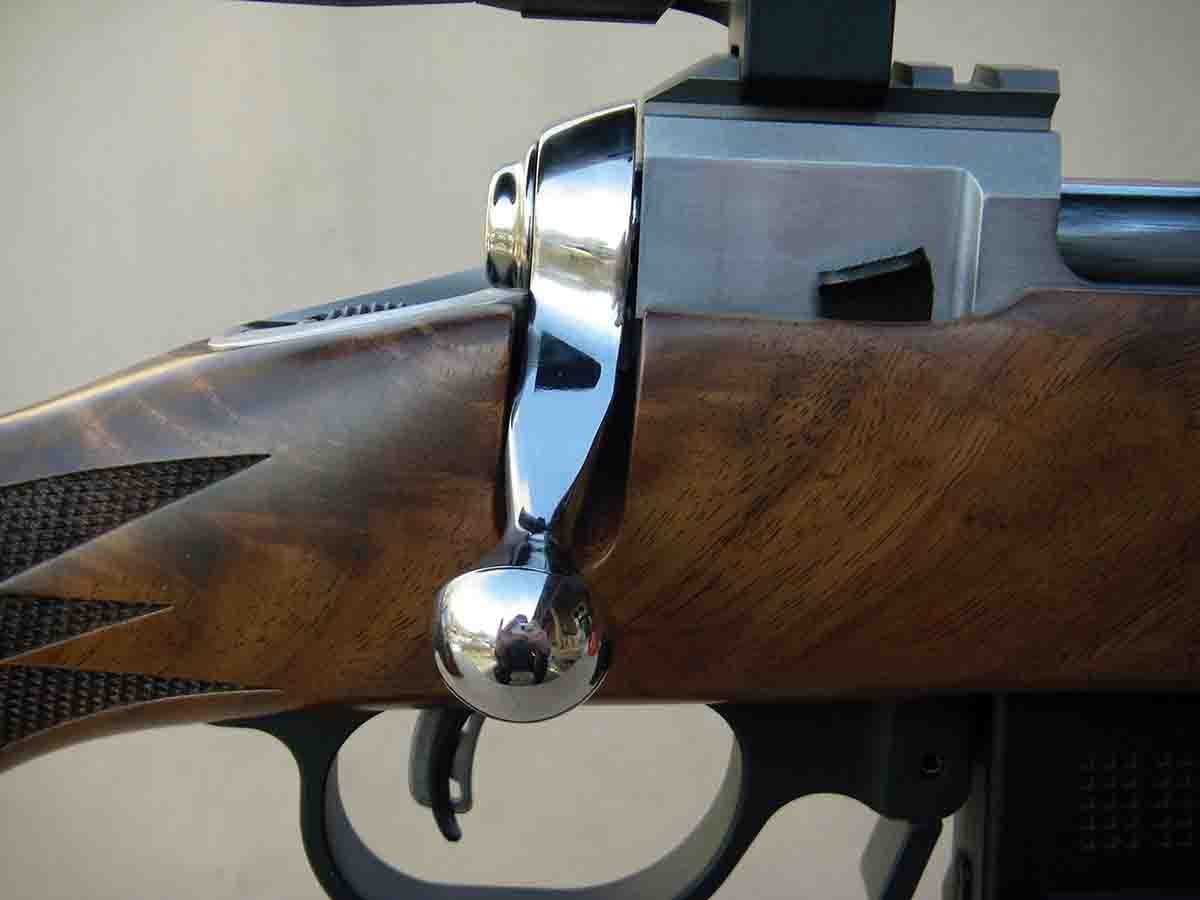 Shaw has been building barrels for nearly 70 years. During the 1950s it began producing shotgun barrels but soon added rifled barrels. In the decades since, it has supplied OEM rifle and shotgun barrels to many different gun manufacturers. Today the company has further expanded to produce handgun barrels for high-end Model 1911 manufacturers, AR-15, AR-10 and many other barrel types. Odds are, anyone reading this has fired a gun fitted with a Shaw barrel but probably didn't know it. While a company's manufacturing capacity and size are often confidential, Shaw is a large business with multiple facilities offering the capacity to reliably supply high-volume OEM customers. In spite of the company's size, it still happily accepts common rifles from individuals for re-barreling and caliber conversions, all of which is performed at a reasonable price.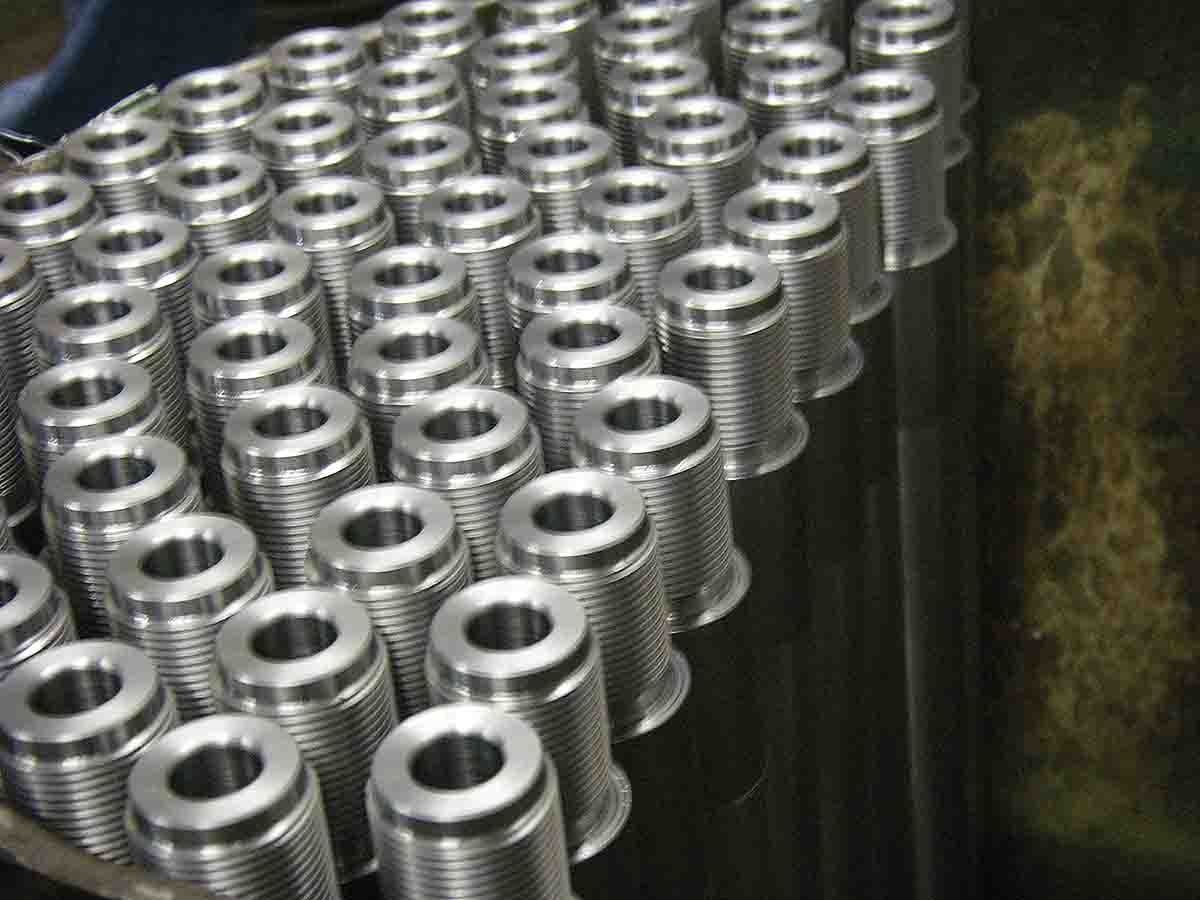 The company is still owned and operated by family members, including Bud Behling and Carl Behling, Jr. The manufacturing process has been steadily updated using a combination of traditional machining and modern CNC tooling, which helps to increase efficiency and flexibility while keeping costs in check.
The majority of Shaw rifle barrels are buttoned rifled, a process that can result in a good product at a competitive price. The barrel's outside diameter is machined first, and then it's gun drilled in preparation for rifling. A carbide button is pulled through the steel billet to displace metal and create lands and grooves, which requires considerable force and friction to
accomplish. If properly executed, the surface is smooth, effectively eliminating the need for finish lapping, which is normally necessary and costly when producing a cut-rifled barrel. However, button-rifled barrels still require a stress-relieving process. Another advantage of button-rifled barrels is that twist rate is relatively easy and inexpensive to change to accommodate custom orders. Additional measures are taken to assure the bore is concentric with the outside of the barrel.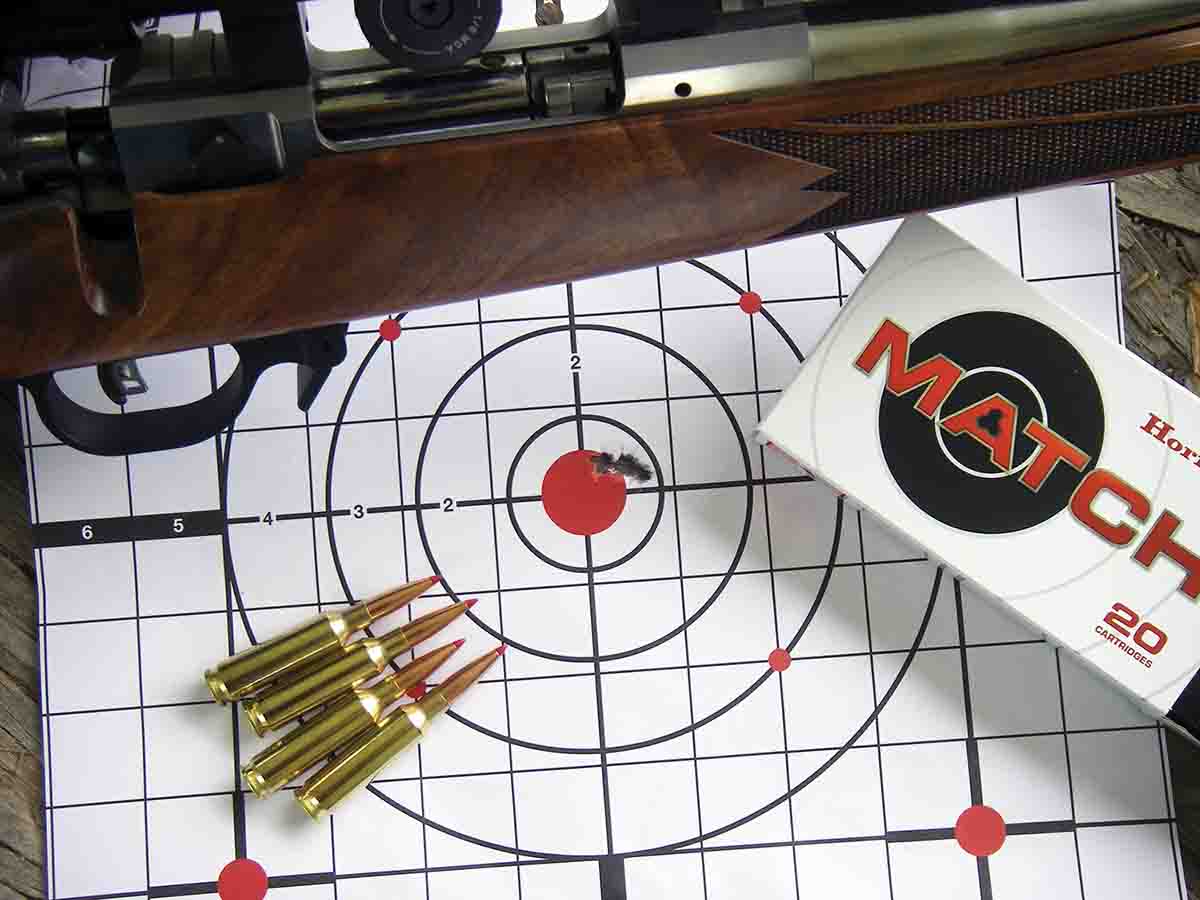 With Shaw's comprehensive barrel-making and machining capacity, it was a natural evolution for the barrel maker to begin building complete rifles. The first guns were the Mk. VIIs that appeared in 2012 (now known as the "Mk. VII Gen II"). These rifles are built on Savage Model 110/10 long and short action lengths in right- and left-handed options. Each action is carefully trued up, hand lapped and blueprinted prior to installing a Shaw barrel. Actions are glass and pillar bedded. These rifles can be custom ordered for caliber, barrel length and stock, plus a long list of options that results in thousands of possible combinations. Prices start at $900 and go up depending on options.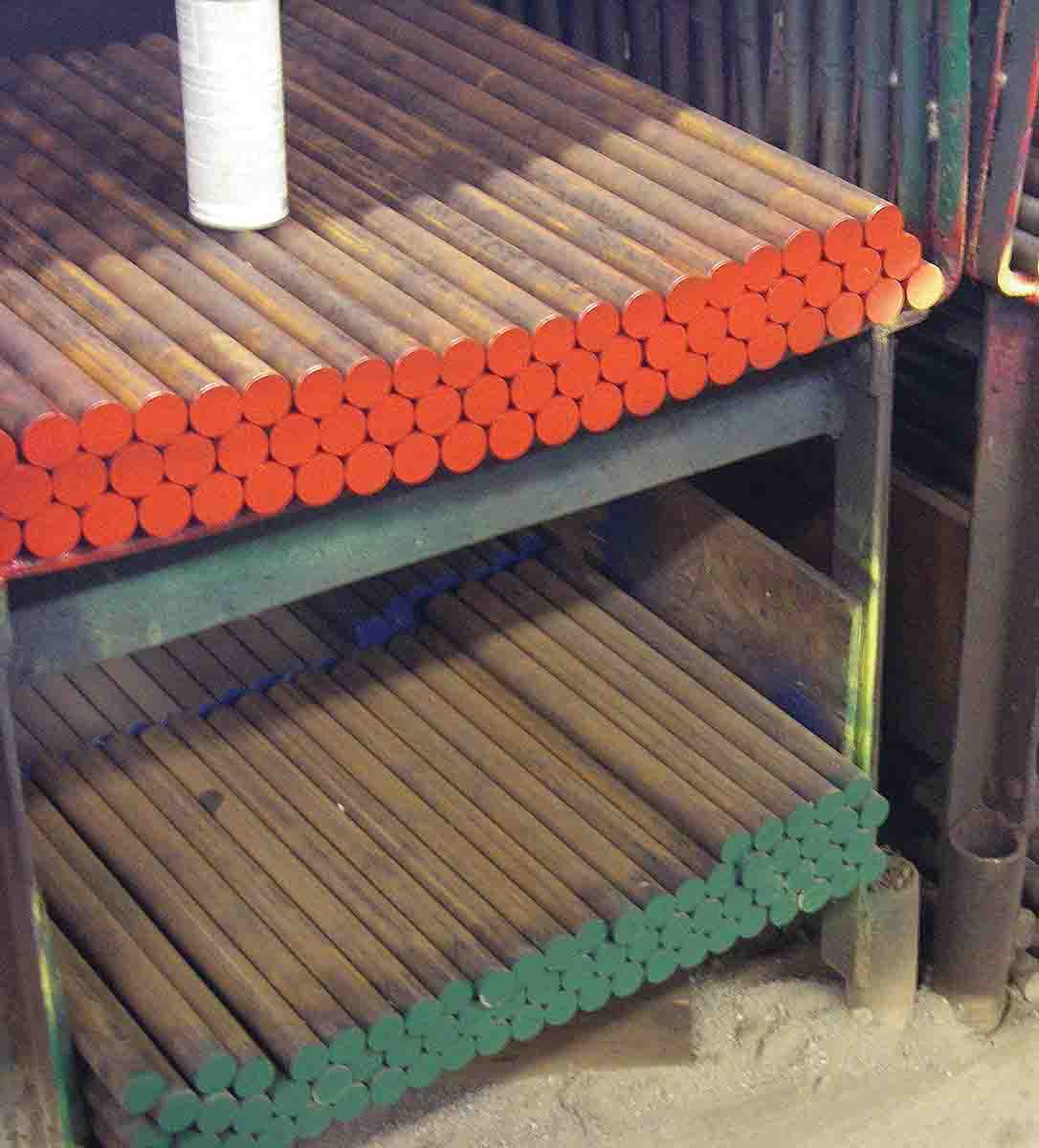 Shaw's most recent turnbolt rifle is the Mk. X Custom Rifle that features a proprietary action patterned after the Savage Model 110 but with some distinct improvements and design changes. It is fully CNC machined and held to very minimal run-out tolerances that effectively eliminate the need for blue printing, truing, etc. Like the Mk. VII Gen II, it can be purchased in standard factory offerings but can also be ordered with a custom barrel contour and length, stainless steel or blued chrome-moly, long or short action, left- or right-hand orientation and several stock options. It is available in more than 80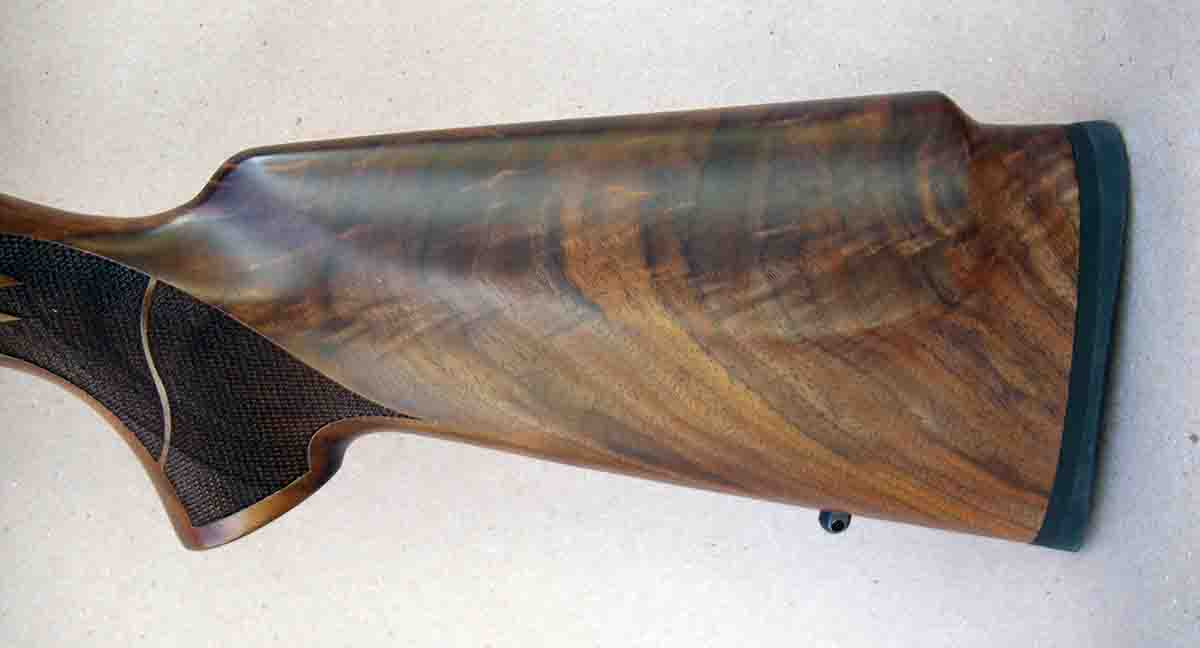 cartridges that start with the .17 Remington and end with the .458 Lott. Many popular wildcats are also available. There are literally thousands of possible combinations that can be special ordered to create a custom rifle. Prices begin at $1,400 and go up according to options. Build time is about four to five months.
One distinct advantage that a factory-built custom rifle offers over a "gunsmith-built" rifle is retained value. For example, it is generally difficult to recuperate a high percentage of the costs associated with building a custom rifle, even from a reputable gunsmith or builder. However, a factory-built rifle will retain a much higher percentage of its original purchase price. This is what makes custom rifles from Shaw and several other manufacturers attractive.
Shared features of the Mk. X rifle and the Savage Model 110 include standard forward twin locking lugs (contained in the bolt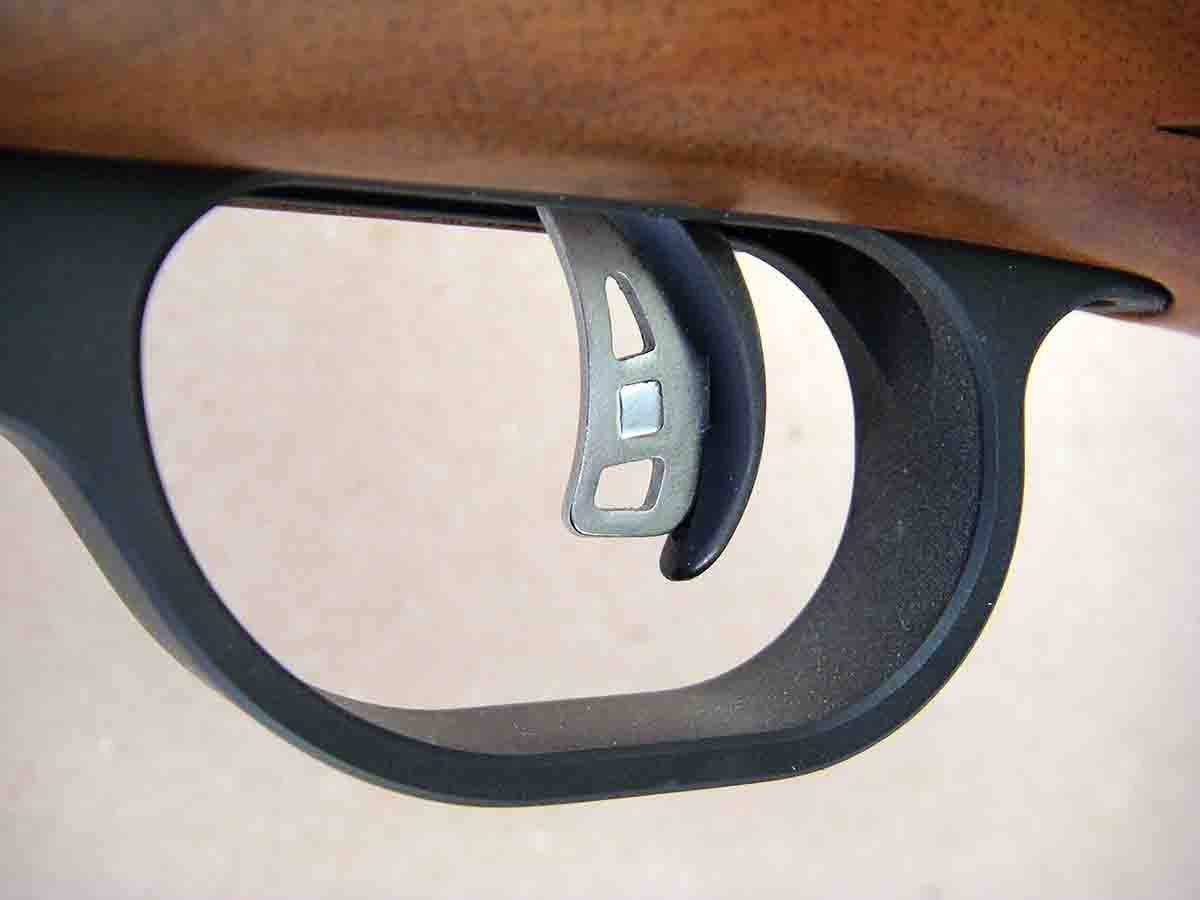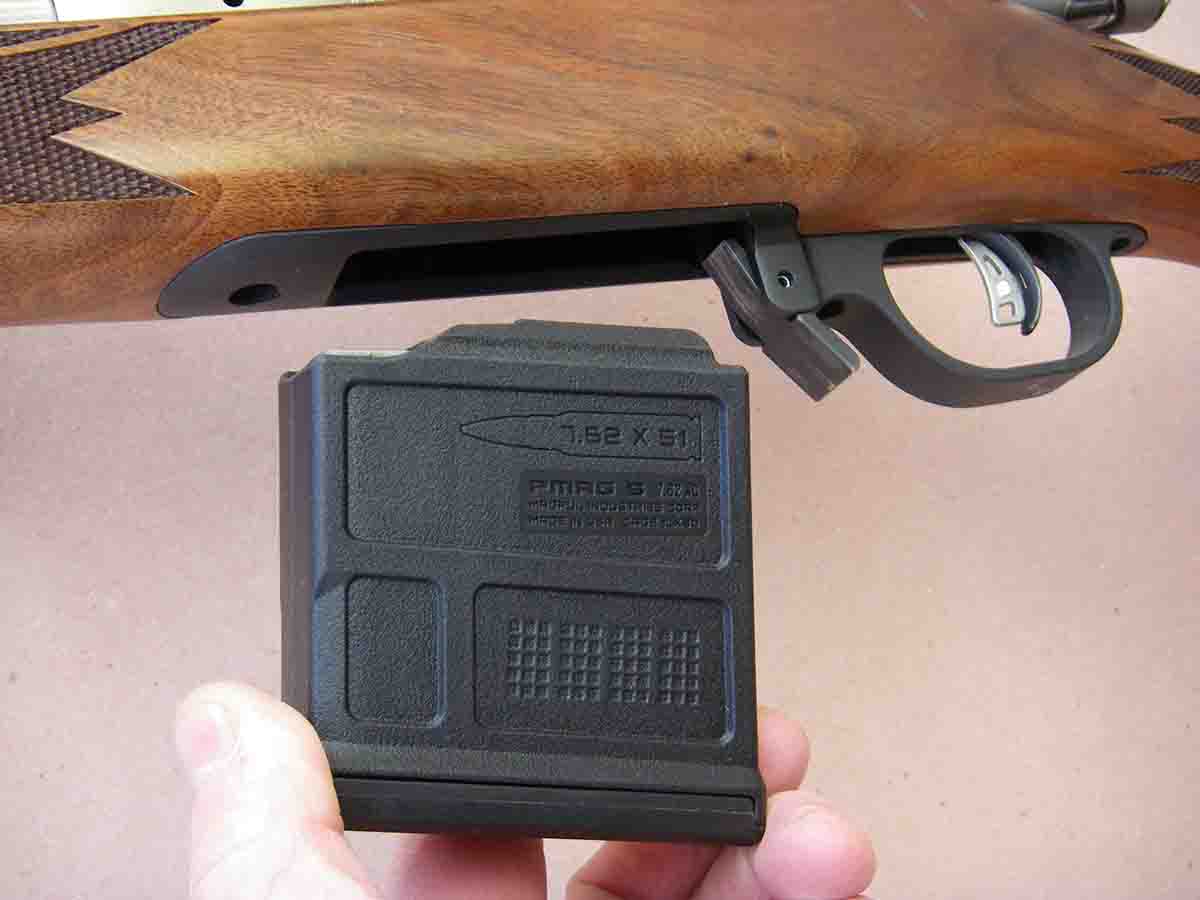 head) staked to the bolt body and a 90-degree bolt lift with a generously long bolt handle for easy operation. The bolt face is countersunk and fitted with a Savage rotating extractor. Rather than a bolt-mounted plunger ejector, the Mk. X bolt is slotted to accommodate a floating receiver-mounted blade ejector. Nonetheless, the action remains a push-feed system. The three-position safety is tang mounted and identical to the Savage. A hand-honed Savage AccuTrigger is standard while a Timney trigger is available as an option.
The receiver is machined from bar stock, resulting in a round-bottom action; however, each of the two opposing "sides" have been machined flat. This results in a distinguished appearance while shaving weight. The top of the receiver features integral

cross-slot bases. Many excellent quick-detachable rings are available for the cross-slot design. Also available is an Accuracy International-pattern detacable magazine. A generously sized recoil lug measuring .230-inch thick and .380-inch deep is also machined as part of the receiver. The barrel is threaded directly into the receiver ring and is void of the barrel lock nut found on the Savage design. The gas relief system receives high marks for providing shooter protection. Two guard screws secure the action to the stock, and a third screw located at the back of the trigger guard serves to fully support the one-piece bottom plate assembly. The box magazine is detachable.

The stock features aluminum pillar bedding, and the recoil lug is fully glass bedded. The bedding extends about 2 inches up the barrel channel for a "partial" barrel bedding system, which is becoming a popular option on comparatively light-barreled sporting rifles. This serves to reduce barrel vibration and increases accuracy. The remainder of the barrel is free floating.
The 24-inch barrel is polished stainless steel while the spiral fluting features a contrasting flat black, proprietary coating of highly temperature-resistant material. While the spiral fluting increases cooling rate and reduces weight, it is also cosmetically distinguishing. For the past couple of months, this rifle has rested on the gun rack in my front room. Various visitors have noticed the rather unique barrel. Even those that are only casually interested in firearms have made comments such as, "That gun is striking!"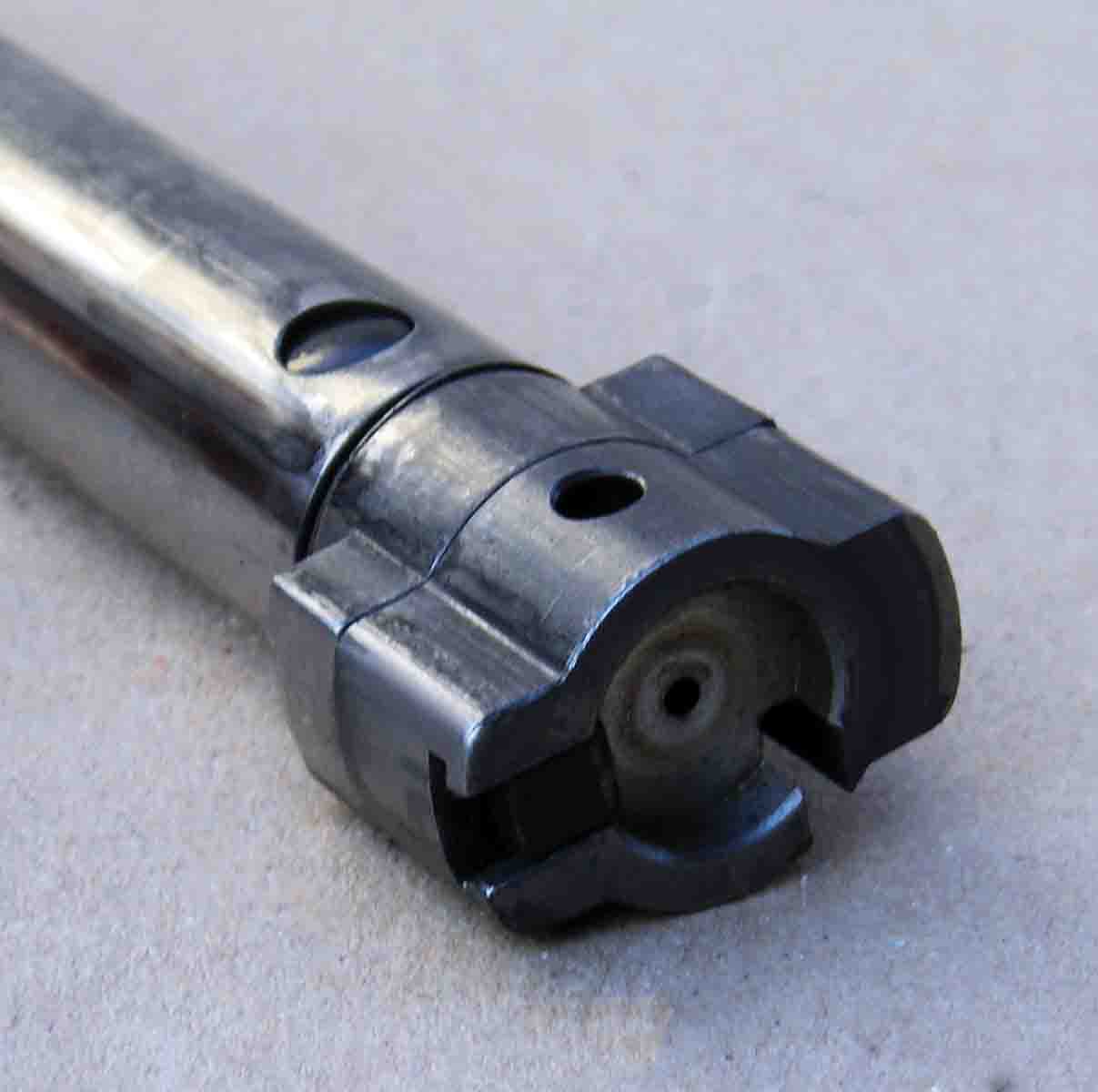 Part of this rifle's beauty is the nicely figured select grade walnut stock, which is appealing to traditionalists like me. Naturally, there are other stock materials available.
As indicated, the barrel is free floating with the exception of the first 2 inches or so forward of the recoil lug. The stock features machine-cut checkering on the forearm and pistol grip and a right-hand palm swell. The butt is fitted with a black Pachmayr Decelerator pad. There is also a cheekpiece with a fairly high comb to accommodate a variety of scope sizes and shooting positions.
When the Shaw Mk. X was received, a new Weaver 4-20x 50mm Tactical scope with a 30mm main tube was installed using Leu-pold QRW rings. The Weaver Tactical scope is built with an aircraft-grade, one-piece main tube and features hard-coated, scratch-resistant optics, plus it is waterproof and fogproof. It also offers a wide field of view, side focus, .1 Mil click values with a 55-MOA adjustment range, 3.94 to 3.98 inches of eye relief and a first focal plane reticle. It performed well throughout testing and has a street price around $800.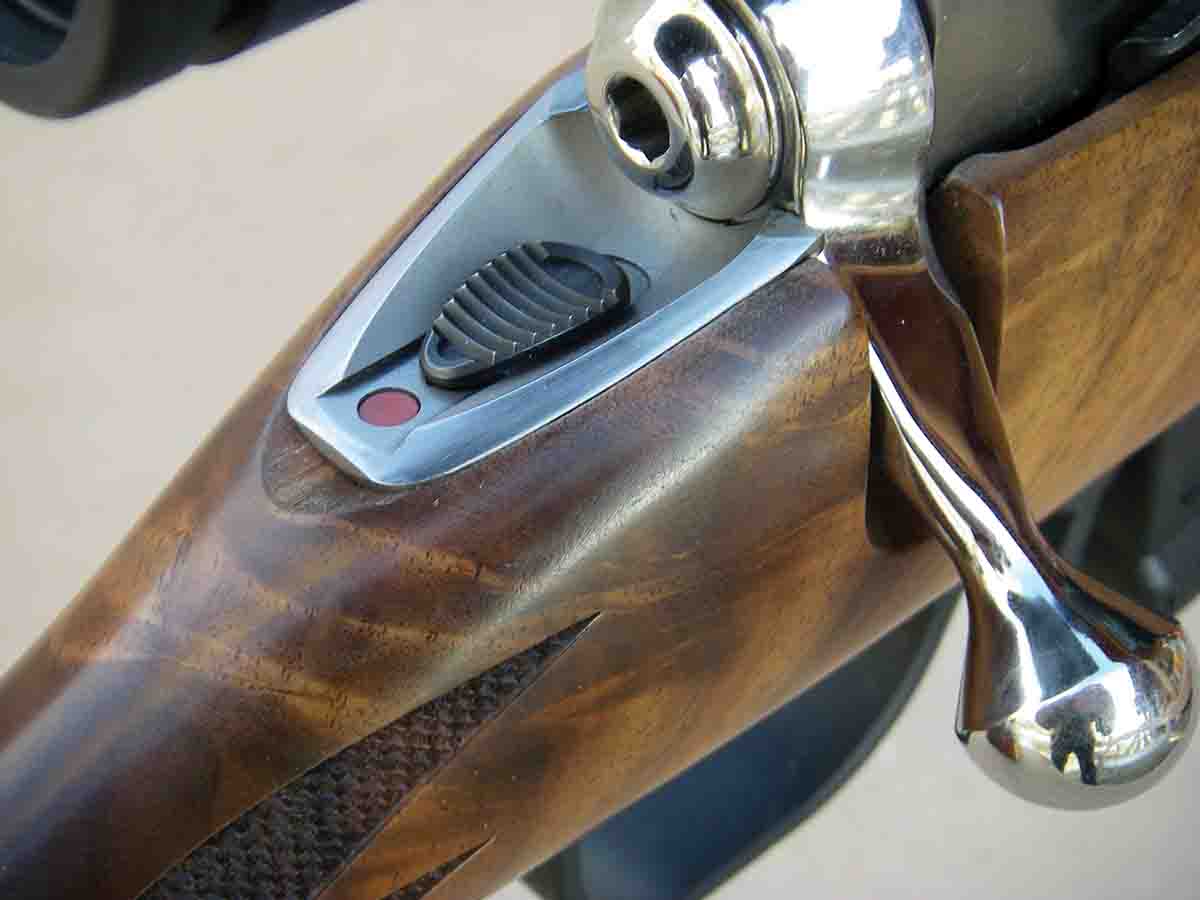 The first shots out of the Mk. X failed to produce groups as tight as those in Pittsburgh. So, the guard screws were checked, and one was rather loose. The barrel had never been cleaned, and with probably 200 rounds or more fired through it, it was past due for a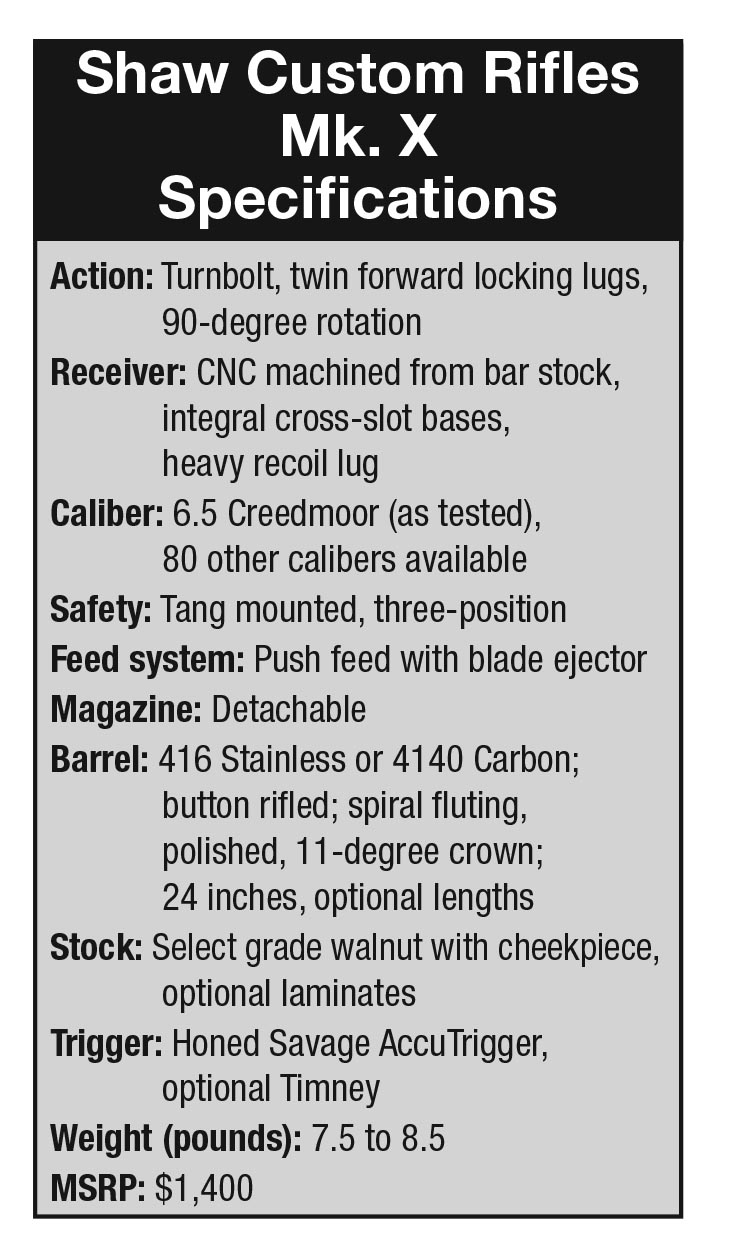 cleaning. Using Bore Tech Industries Copper Remover, the barrel was thoroughly cleaned, then fouled with a couple of shots, and accuracy testing continued. Groups immediately tightened to around .5 inch. Additional shooting with factory loads from Hornady and Black Hills resulted in four-shot groups that were all under .400 inch. The Hornady 140-grain ELD Match load stacked four shots into .22 inch.
The above results were more or less duplicated with handloads. While most loads were not "tailored" to match this rifle's chamber (or in other words, with the bullets seated out accordingly), it is expected that accuracy would improve if time was taken to do so. Nonetheless, all handloads stayed within .70 inch, and the Hornady 129-grain SST and 140-grain ELD Match all grouped under .5 inch. The 140-grain ELD Match bullet was initially seated to 2.800 inches and pushed to 2,743 fps using 42.9 grains of Hodgdon Hybrid 100V powder ignited with a Federal GM210M primer. Groups measured around .30 inch. However, the same load was tried with bullets seated to 2.822 inches and resulted in an initial group that measured .25 inch. With additional experimenting in regard to bullet seating depth, improvement in accuracy is expected.
A good deer load includes the Hornady 129-grain SST bullet pushed to around 2,900 fps using either 43.5 grains of Alliant Reloder 17 powder or 47.1 grains of Hodgdon SUPERFORMANCE.
In addition to a handsome walnut stock, spiral-fluted barrel and other distinguishing features, the Shaw Mk. X rifle provides accuracy at an attractive price. For more information, visit shawcustombarrels.com.