When this edition of Rifle magazine arrives in mailboxes and at newsstands, the days will be growing longer and warmer, which means that it is time to hunt varmints. There is a large selection of excellent cartridges that begins with several rimfires and ends with high-velocity centerfires that include .20, .22, .24 and .25 caliber, plus others.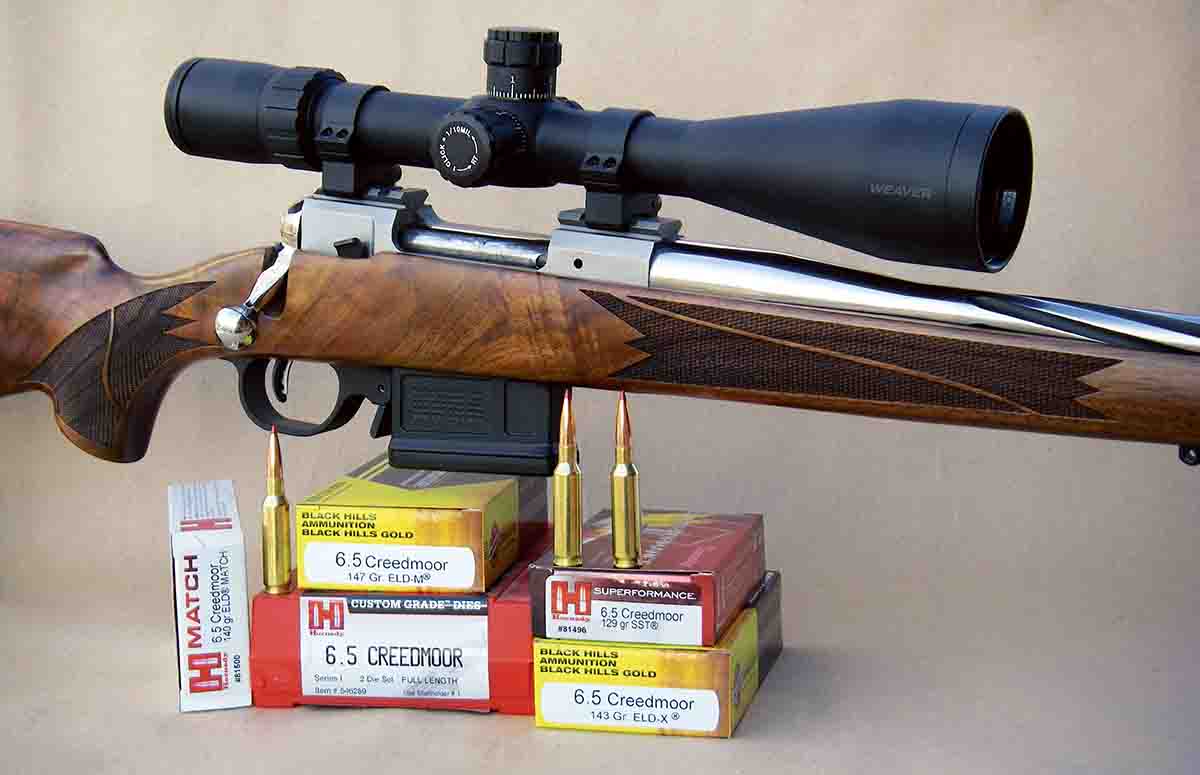 Under some circumstances the rimfires are short on performance while the larger-caliber centerfires can warm barrels rapidly, sometimes producing more recoil and muzzle report than desired and are generally more costly to shoot. A cartridge that does a beautiful job of bridging the above "gap" is the .17 Hornet. It is mild mannered and offers modest muzzle report and low recoil, but it is also accurate, shoots flat and is an honest 300-yard varmint round.
Like many varmint cartridges, the .17 Hornet started life as a wildcat several decades ago when noted gunsmith P.O. Ackley necked down the .22 Hornet case. Like most wildcats, there are variations with small technical differences. Hornady Manufacturing legitimized and standardized the .17 Hornet in 2012 by introducing it to the Sporting Arms and Ammunition Manufacturers' Institute (SAAMI) and began offering factory loads. As indicated, the .17 Hornet is based on the .22 Hornet case but is shortened from 1.403 inches to 1.350 inches with the shoulder blown out to 25 degrees and necked to accept .172-inch bullets. Naturally it shares a similar overall cartridge length, which allows it to be chambered in any rifle that can otherwise house the .22 Hornet. Savage, Ruger, CZ and other manufacturers currently offer rifles.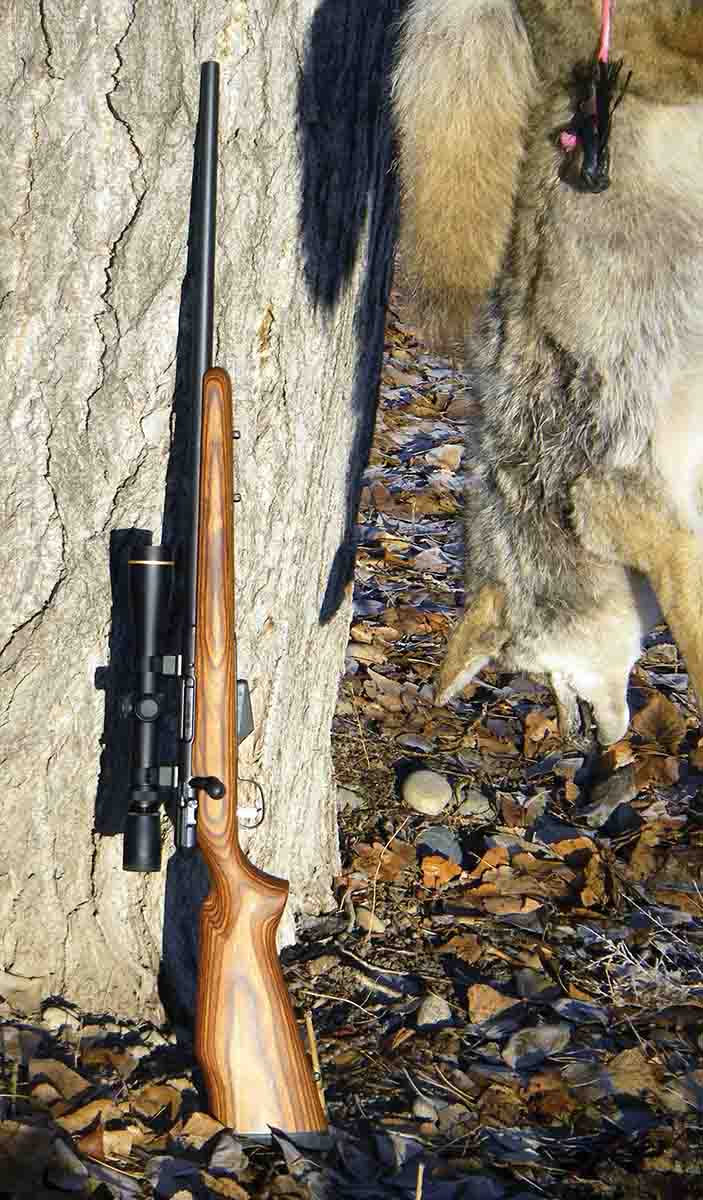 Hornady factory loads are advertised to push a 20-grain V-MAX bullet at 3,650 fps, which actually provides a slightly flatter trajectory at practical distances than the familiar .223 Remington loaded with 55-grain bullets and a muzzle velocity of 3,240 fps. With a 200-yard zero, the above .17 load will drop 6.4 inches at 300 yards, or 20.7 inches at 400 yards. Other loads include a 25-grain HP at 3,375 fps, which is a good choice for larger varmints such as foxes and coyote, and a 15.5 grain NTX bullet (non-toxic) reaches an impressive 3,860 fps and is suitable when shooting in regions that are zoned accordingly.
Generally speaking, the .17 Hornet can be used to make reliable hits on ground squirrels, prairie dogs and other pests at 300 yards, but with a dash of luck and minimal wind, its range can be extended to around 350 yards. This is a significant ballistic advantage over the .17 rimfires.
Of the three factory loads mentioned, I have used the 20-grain V-MAX the most, which is probably the best all-around option. For example, it offers the flattest trajectory at all distances, and the V-MAX bullet design delivers that explosive effect that is so desirable on flea-bitten, disease-carrying vermin.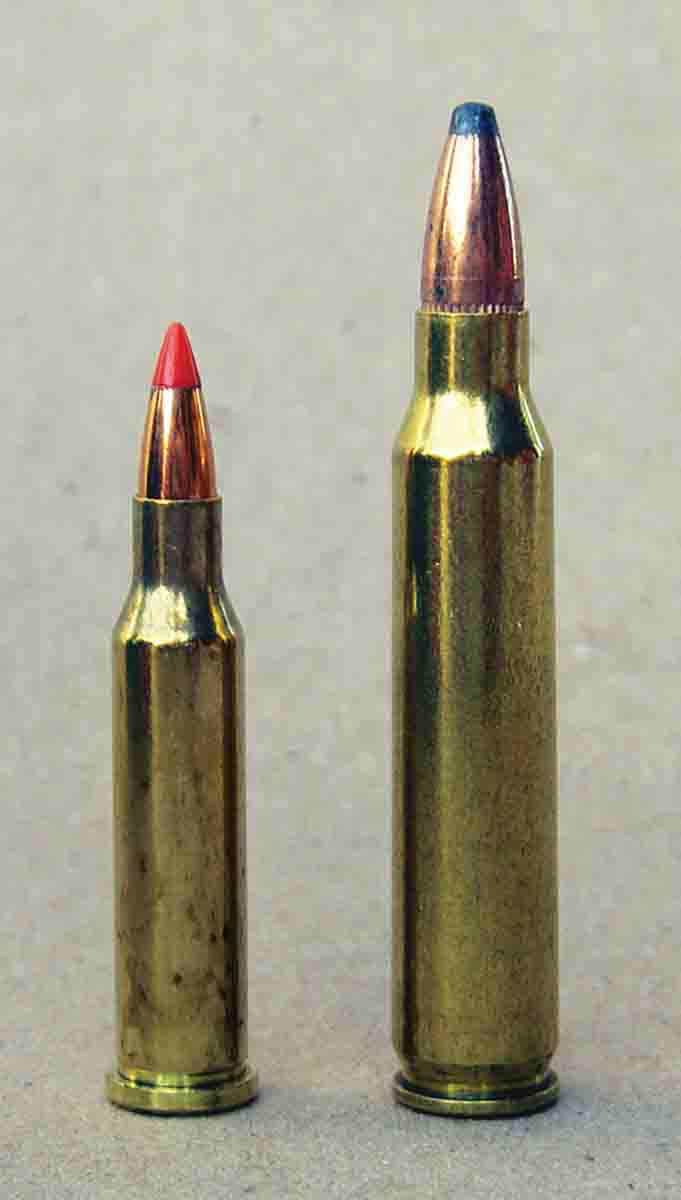 Low muzzle report and almost nonexistent recoil add further merit to the .17 Hornet. For example, when shooting rockchucks and pests in rural farm areas where houses are nearby, the muzzle report is hardly noticeable by area residents. When shooting in a prairie dog town, varmints seem to stay "up," or out of their holes, longer. The light recoil allows the shooter to see bullet "hits" through the scope, which adds fun to the hunt and eliminates the need for a spotter.
Most of my shooting and handloading with the .17 Hornet has been limited to two rifles, a Ruger and a Savage, each of which has proven accurate. For example, the Savage Model 25 Lightweight Varminter with a 24-inch barrel has produced many groups under .5 inch using 20-grain V-MAX factory loads while the Ruger 77/17 delivered almost identical results. Switching to the 15.5-grain NTX bullet, accuracy decreased as groups hovered around one-inch, which is actually typical of nontoxic ammunition but is still accurate enough for effective varmint shooting.
When developing handload data, I was able to fully duplicate the velocity and accuracy of factory loads using Hornady 20- and 25-grain V-MAX bullets. For example, the 20-grain V-MAX reached 3,660 fps when paired with 12.0 grains of Accurate 1680 powder, which is virtually identical performance to factory loads, and groups stayed within .5 inch. Increasing the charge to 12.5 grains, velocity jumped to 3,818 fps. Switching to the 25-grain V-MAX bullet, 11.2 grains of Hodgdon H-4198 powder reached 3,324 fps, which closely approximates factory load performance with the same bullet weight. If coyotes are on the menu, this is the preferred load.
With powder charge weights that hover around 10.0 grains, a high-volume varmint shooter will get around 700 rounds per pound of powder. The tiny bullets can also be purchased at very minimal cost, all of which result in economical loads.
Accuracy, low muzzle report, almost nonexistent recoil, economy and 300-yard varminting all describe the .17 Hornet.
Leupold RX-2800 TBR/W Digital Rangefinder
Rangefinders have played a huge role in helping hunters and target shooters to place shots more precisely at extended distances. Technology has steadily advanced during the past couple of decades as devices have become much smaller and lighter, with many additional features. Most importantly, they "read" quickly at much greater distances and under a variety of light conditions.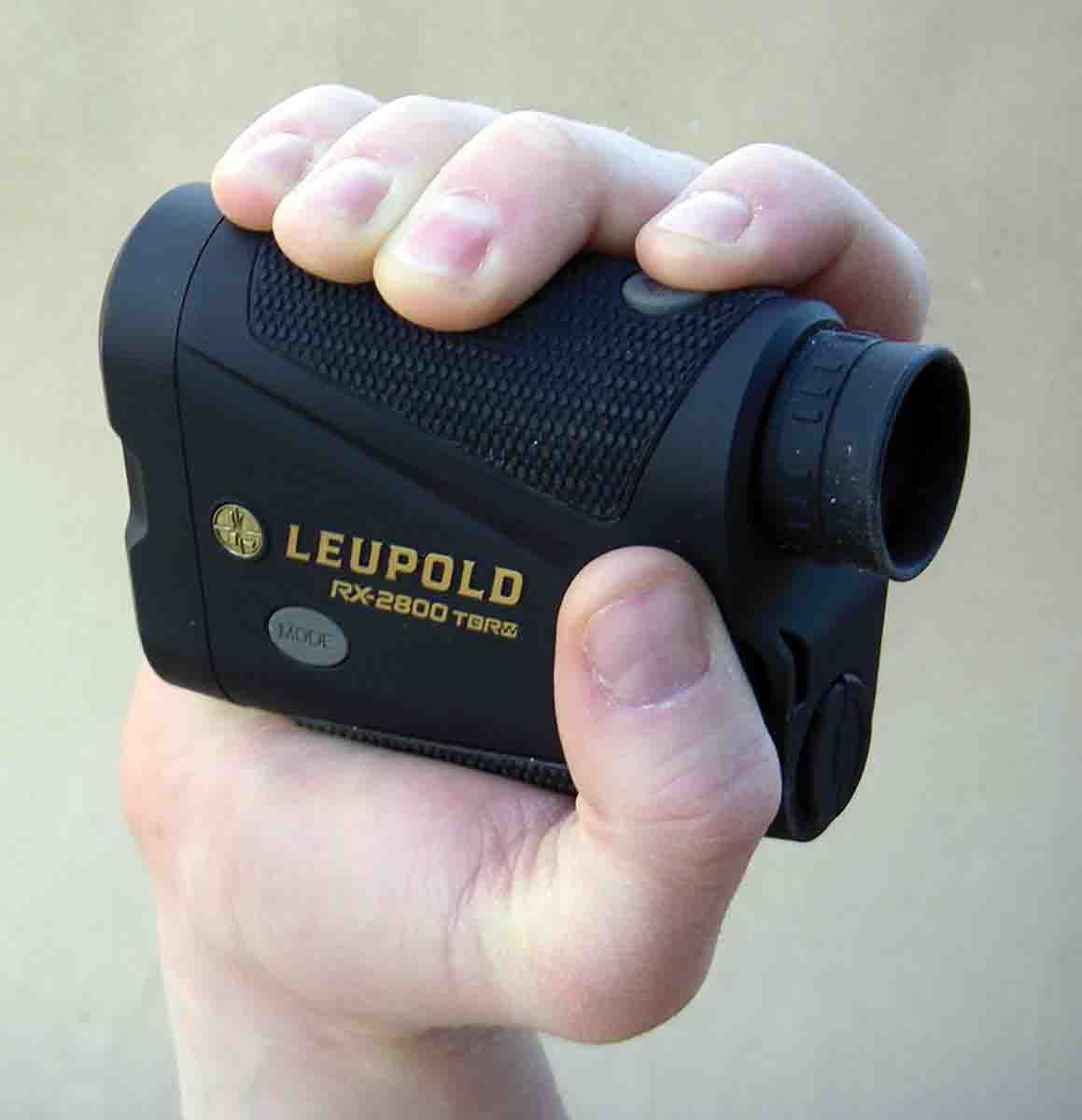 One of the newer models is Leupold's RX-2800 TBR/W digital Rangefinder that fits in the palm of the hand and only weighs 7.9 ounces. Leupold claims the RX-2800 is "capable of measuring the distance of a deer-sized animal from 7 yards to 1,100 yards, trees from 7 yards to 1,300 yards and a reflective target from 7 yards to 2,800 yards." I have spent considerable time ranging various targets (including coyotes and deer) and can say that the above statement is indeed accurate. However, do not expect to get really good readings at extreme distances while simply holding the unit in your hand; rather, a rest of some form will be a great aid. Readings are remarkably quick, and by holding down the power button, the Scan mode can be activated, which automatically updates distances of moving (or multiple) targets.
Additional notable features of the RX-2800 TBR/W include a bright display, 318-foot field of view at 1,000 yards, 7x magnification, an inclinometer, the option to choose readings in yards or meters, Last Target mode and True Ballistic Range/Wind (TBR/W) or Line of Sight Distance(LOS).
The Leupold RX-2800 TBR/W is an outstanding product that will prove valuable to any rifleman that shoots in the field. And, its street price is about $500.