If you want to experience complete and total bewilderment, there is nothing quite like walking into a well-stocked gun shop and trying to decide what kind of .22 Long Rifle ammunition to buy. Even worse, try browsing online. Americans have never had such a wide variety of .22 ammunition to choose from, but that can be a mixed blessing. Confusion is not conducive to good shooting.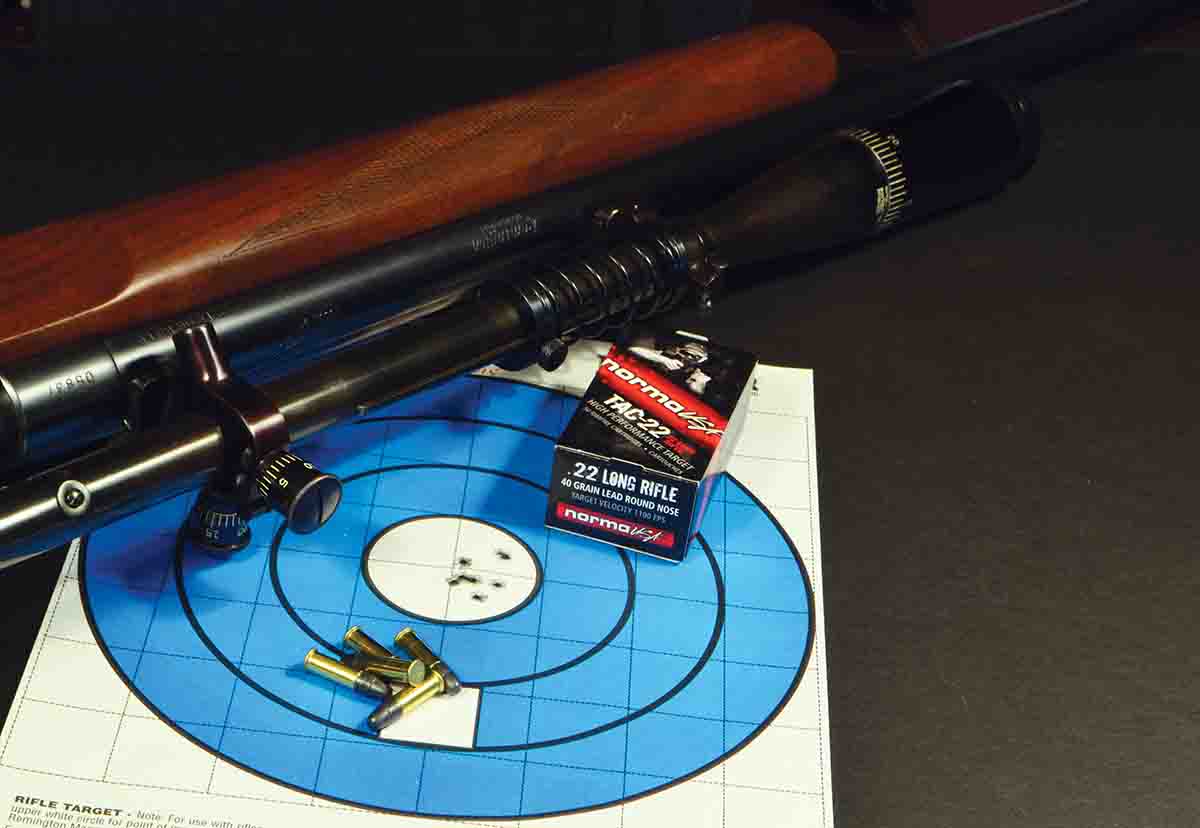 Simple as the .22 rimfire may seem, it's the most sophisticated and highly developed of any ammunition for any firearm, as well as being the most widely used. There are more rounds of .22 fired in a year than any other cartridge, and this gives manufacturers ample incentive to improve their products constantly, as well as to introduce new variations.
Since the "Great .22 Long Rifle Shortage" of a few years ago, foreign manufacturers have made a concerted effort to crack the American market, and now there are too many imported brands to even list here, much less attempt to evaluate. They range from absolutely top-notch specialized target rounds to oddball loads of bullet weight and type and inexpensive bulk packs designed to be expended downrange in sustained bursts.
Two companies that are really making a push are Aguila of Mexico and Norma of Sweden. Norma needs no introduction to big-game hunters, centerfire target shooters or handloaders. Although Norma has made competition rimfire ammunition for years, it was known mostly in Europe. Now, Norma is importing two different types, both competition rounds: Match-22 and Tac-22.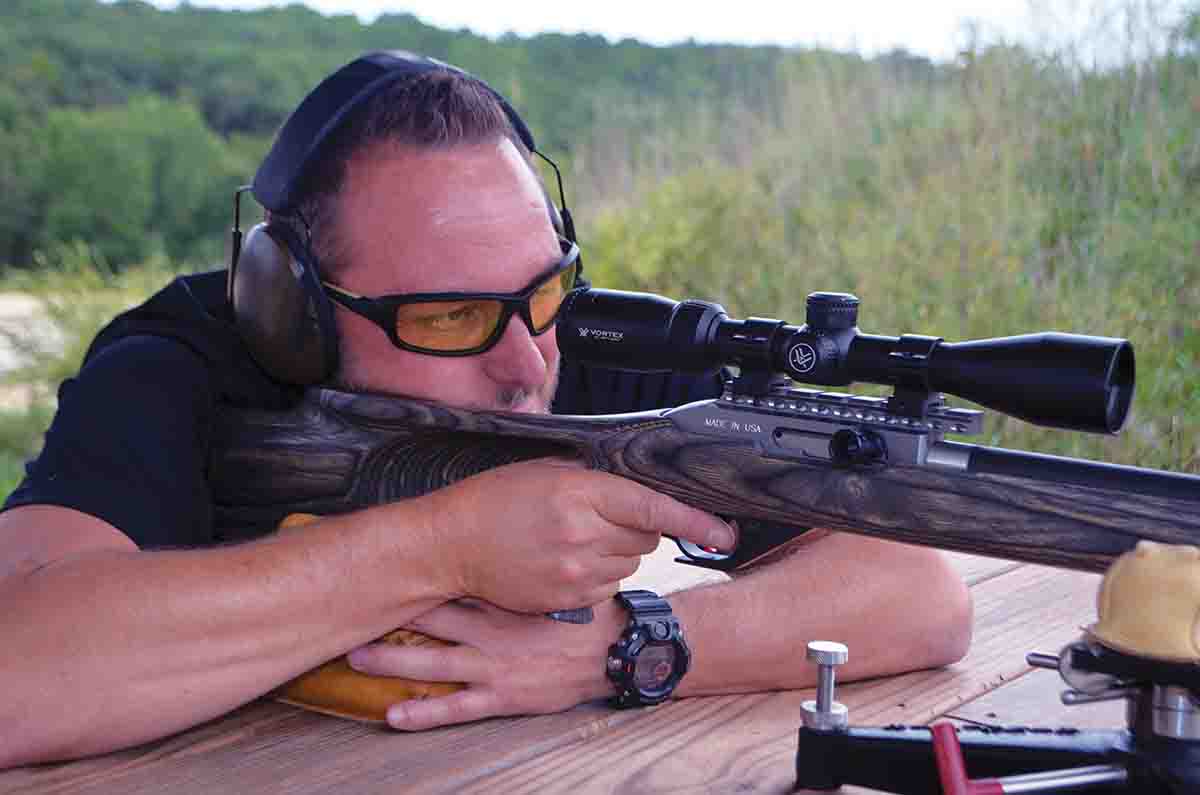 Mexico's Aguila is one of the world's largest and most modern manufacturers of rimfire ammunition. From its plant in Cuernavaca, south of Mexico City, the company also ships one of the most extensive – and innovative and imaginative – lines of .22 rimfire of any maker in the world. The plant was originally established by Remington in 1961, and it has grown steadily ever since. Among the products it offers are high-velocity .22 Short, ultra-velocity .22 Long Rifle using a light bullet, and even two loads (Colibrí and Super Colibrí) that fire a 20-grain bullet at 420 and 590 fps, respectively.
Colibrí is Spanish for "hummingbird," and the word became famous to a certain generation of Cartridges of the World readers as the name given to a European pocket pistol. The 2.7mm Kolibri is the smallest centerfire cartridge in the world, firing a 3-grain bullet at 650 fps for a muzzle energy of 3 ft-lbs. "The 2.7 Kolibri could not be considered a humane caliber for hunting anything," Frank Barnes wrote in the cartridge notes, "But it might do to dispatch a trapped mouse or eliminate an overly aggressive cockroach."
Aguila's Colibrí ammunition has a little more muscle than that, with muzzle energy of 8 ft-lbs. "Perfect for hunting at close range," states Aguila's catalog and, "perfect for young shooters thanks to its lack of recoil." No kidding. If Aguila set out to provide something for everyone, the company has come awfully close.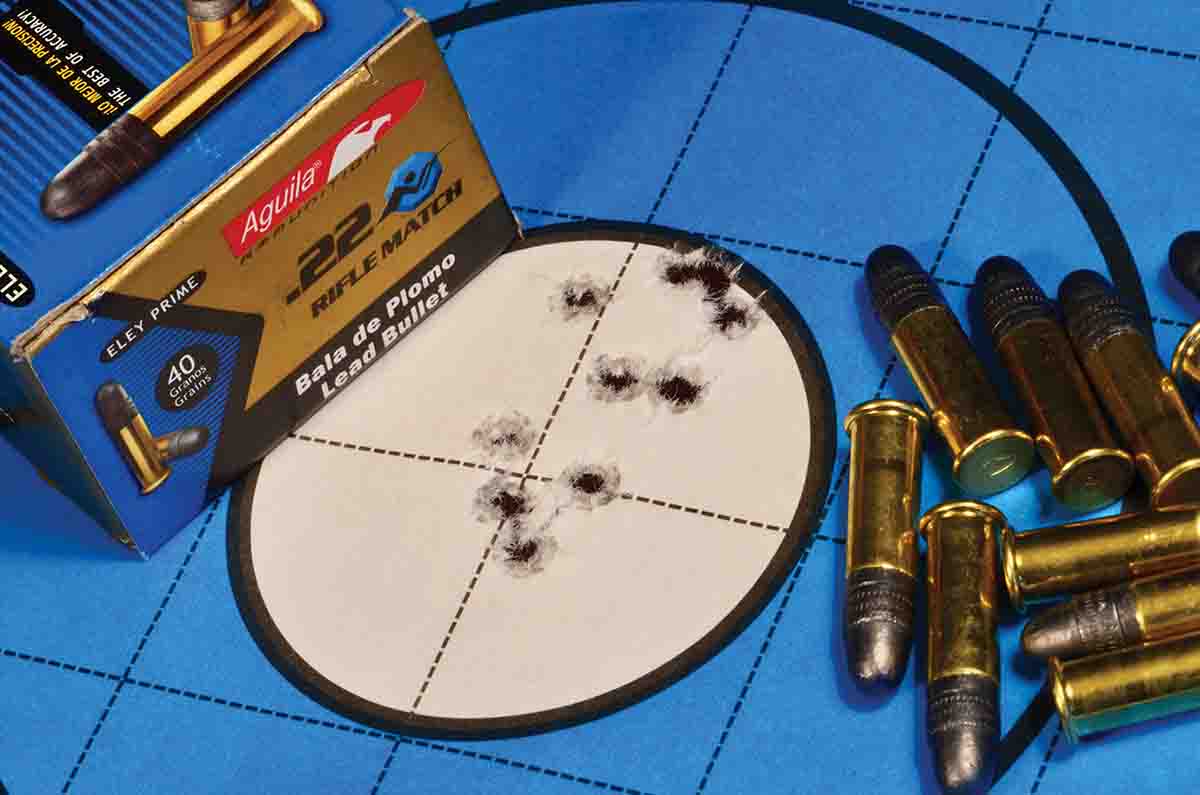 The subject here, however, is Aguila's match ammunition, and the manufacturer has been very aggressive in the U.S. market, sponsoring shooters and events, and contributing prizes. Two of its competition loads are .22 Rifle Match and .22 Target.
For decades, Eley has been the name to beat in .22 rimfire competition. The English company has become the byword for accuracy. Now it not only makes and sells ammunition, it licenses its advanced manufacturing processes to its competitors. Aguila proclaims on every box that its ammunition is "Eley Primed."
Any .22 shooter who cares about accuracy and spends any time comparing loads will tell you that .22 match rifles and pistols are as finicky as any when it comes to favoring a particular load. Unfortunately, while a centerfire shooter can tailor handloads to a particular rifle, rimfire shooters can only try one type after another, hoping to find one that works.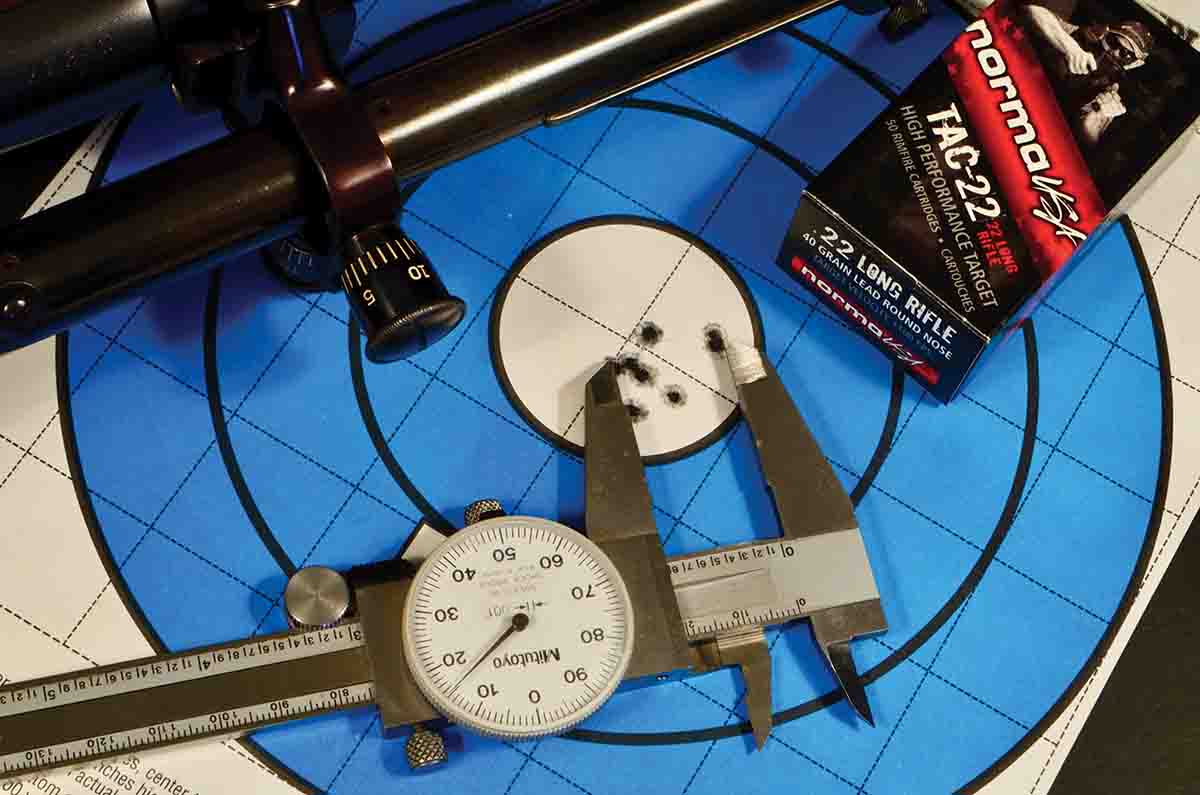 About 15 years ago, I dipped into some relatively serious bull's- eye handgun shooting using a couple of High Standard and Browning pistols. I found they particularly liked Federal Gold Medal. When that became unavailable, the pistols expressed a fondness for Lapua match. The only fly in that ointment was that Lapua match was both hard to come by and hideously expensive when it could be found. Still, if you like racking up Xs, you pay the price.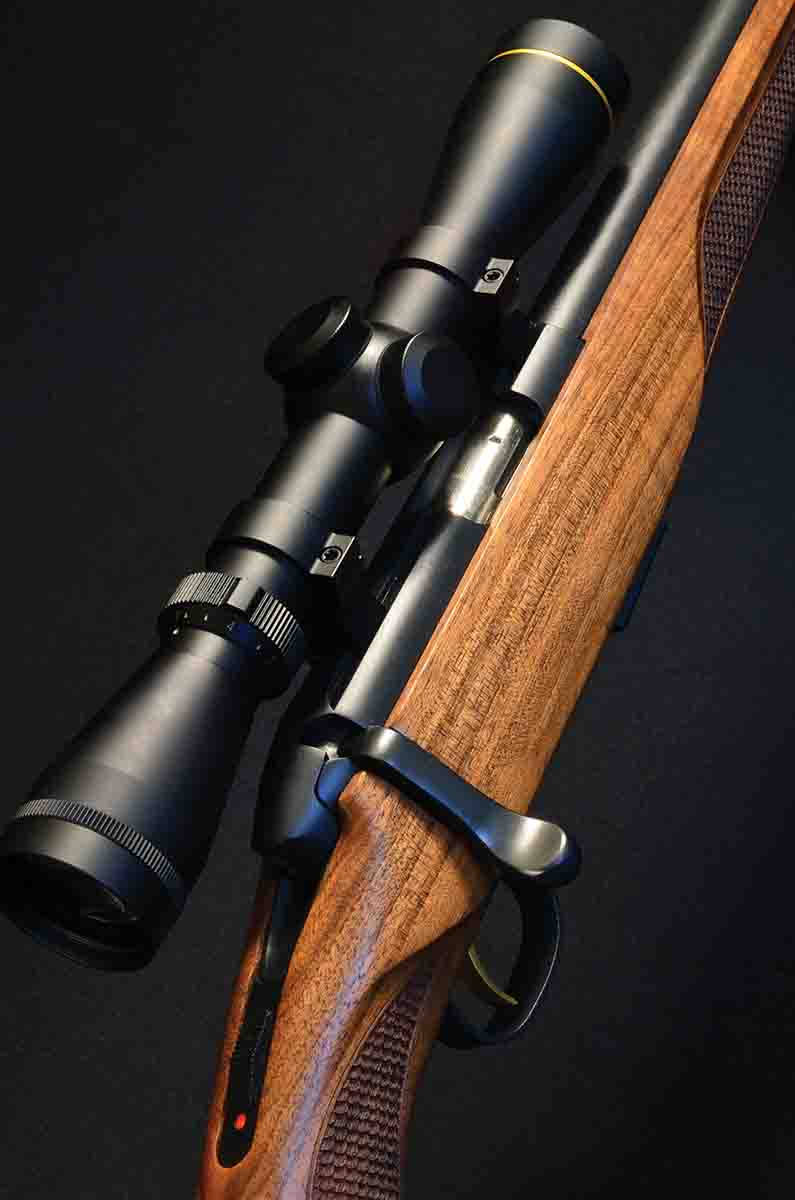 Because every .22 target rifle is an individual, it's impossible to conduct a test that will tell anyone that a particular brand or type of ammunition will work for them. However, I decided to get sample ammunition from both Aguila and Norma, and then test-fire them in three rifles of proven accuracy. This was expanded by having a second shooter do the same course of fire, with the same rifles, and then average them out.
The rifles chosen included a Steyr Zephyr II with a Leupold VX-2 2-7x 33mm scope, a custom Magnum Research MagnumLite Rimfire (MLR) 1722 with a Vortex Crossfire II 3-9x 40mm scope and a venerable Remington Model 37 Rangemaster target rifle with a Lyman 20x Super Targetspot scope. The second shooter (and owner of the MLR-1722) was Burt Reynolds, who manages the Top Gun Sportsman's Club in Lonedell, Missouri. Burt normally out-shoots me with anything that goes bang, and this time was no exception. An interesting point, though, was that if I shot well with a particular combination, so did he, and if I shot poorly, so did he. This indicates to me that our test was valid.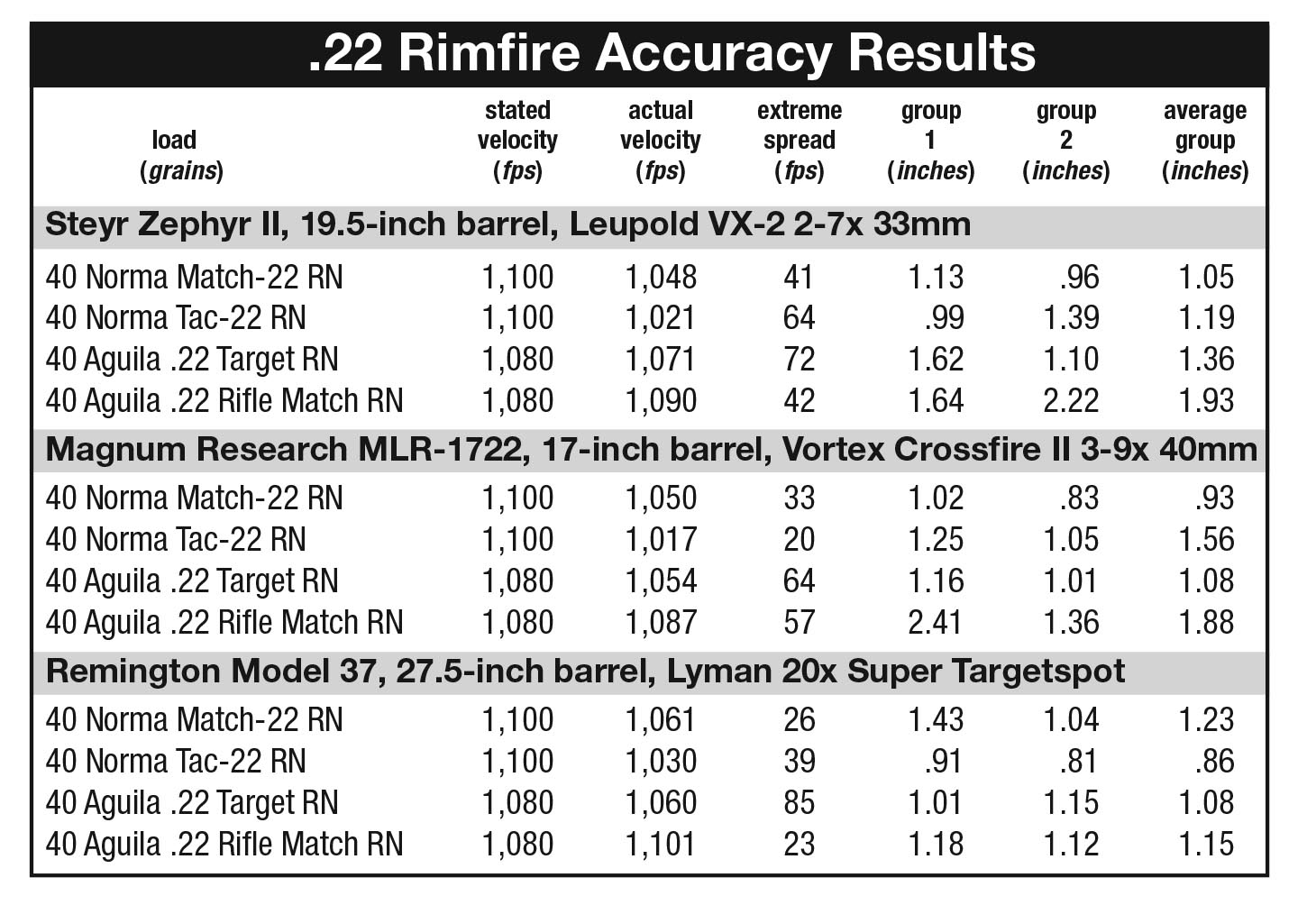 The accompanying table shows all the results, including chronographing each load from each rifle and comparing the result with the rated velocity. We then shot one 10-shot group each at 50 yards with each load from each rifle.
Not surprisingly, the Remington Model 37 turned in the best average results three times out of four, but the Magnum Research MLR-1722 was rarely far behind, and it had the best showing of the three rifles with the Norma Match-22. The Model 37 delivered the single best group we fired (Burt, using Norma Tac-22); ten shots went into a group .81 inch.
The two Norma products were neck and neck. As can be seen in the table, their averages for two shooters and three different rifles were very close. Out of a total of 24 groups fired, five measured less than an inch. All five were shot with Norma ammunition (three with Tac-22, two with Match-22).
The results can be measured, re-measured and analyzed in any number of ways, and none of them will indicate that this load or that one will definitely do the best in your particular rifle. The only way to determine that is to buy some and try it. However, there were some interesting points.
For one thing, we found no discernible relationship between extreme spread (ES), standard deviation (SD) and accuracy. The Aguila Rifle Match had the second lowest extreme velocity spread and standard deviation of all the combinations (23 and 8, in the Model 37), yet its average accuracy was only so-so in that rifle. Also in the Model 37, the Aguila Target had the greatest ES and SD (85 and 32) yet its average accuracy in that rifle (1.08 inches) was still fourth-best out of 12.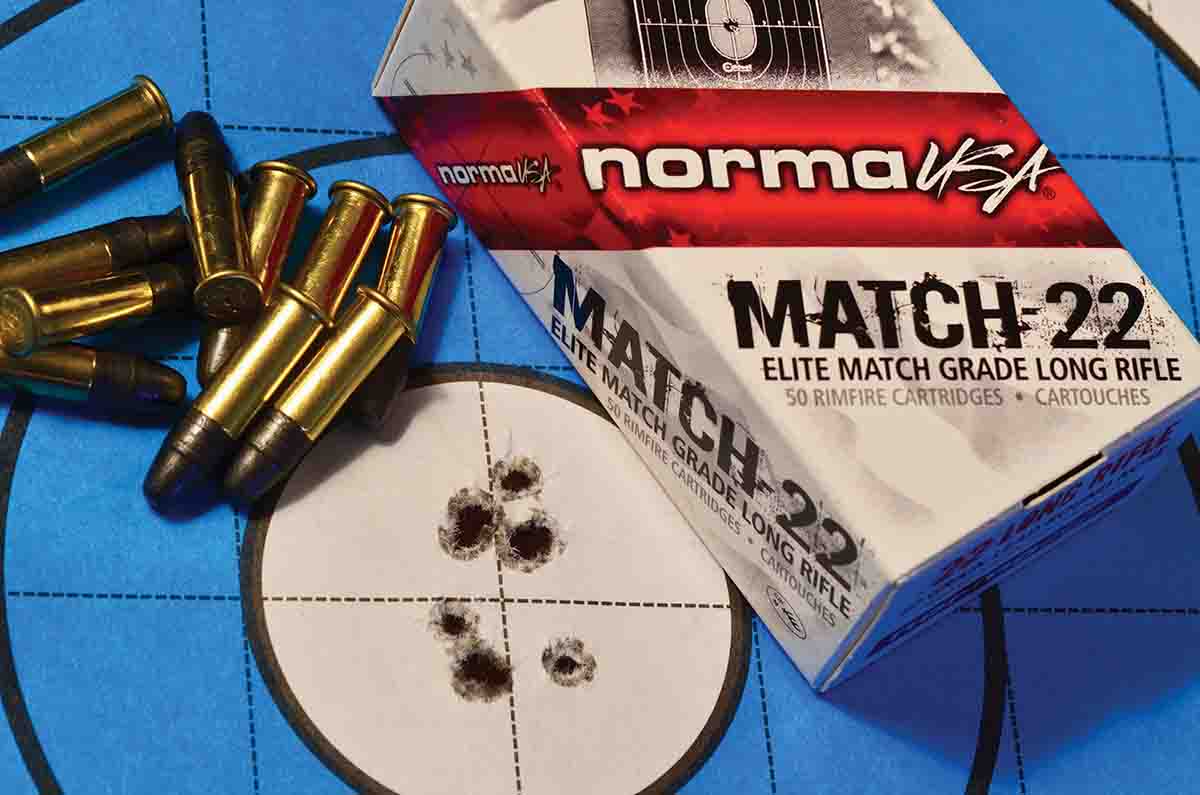 Nor was there a firm relationship between rated velocity and actual velocity in any given rifle. Norma Tac-22 had the lowest velocity of any (1,017 fps in the MLR-1722) compared to its rated velocity of 1,100 fps; accuracy was in the middle of the pack. The highest velocity of any load was provided by the aforementioned Aguila Rifle Match in the Remington Model 37 (1,101 fps versus a rating of 1,080 fps), but its accuracy was midrange as well.
Looking at the actual groups, it immediately becomes obvious that most times the cause of a poor showing was one flyer, or perhaps two. This was true of the worst of the bunch, a group measuring 2.41 inches, shot by myself with the Magnum Research MLR-1722 using Aguila Rifle Match. Without the flyer, the group drops to 1.5 inches. Burt's worst group, using the same ammunition in the Steyr Zephyr II, would have been exactly one inch except for a flyer that stretched it to an unbelievable 2.22 inches.
Remove those two flyers from a total of 60 shots in six 10-shot groups, and the average for Aguila Rifle Match would look quite different – 1.30 inches instead of 1.65.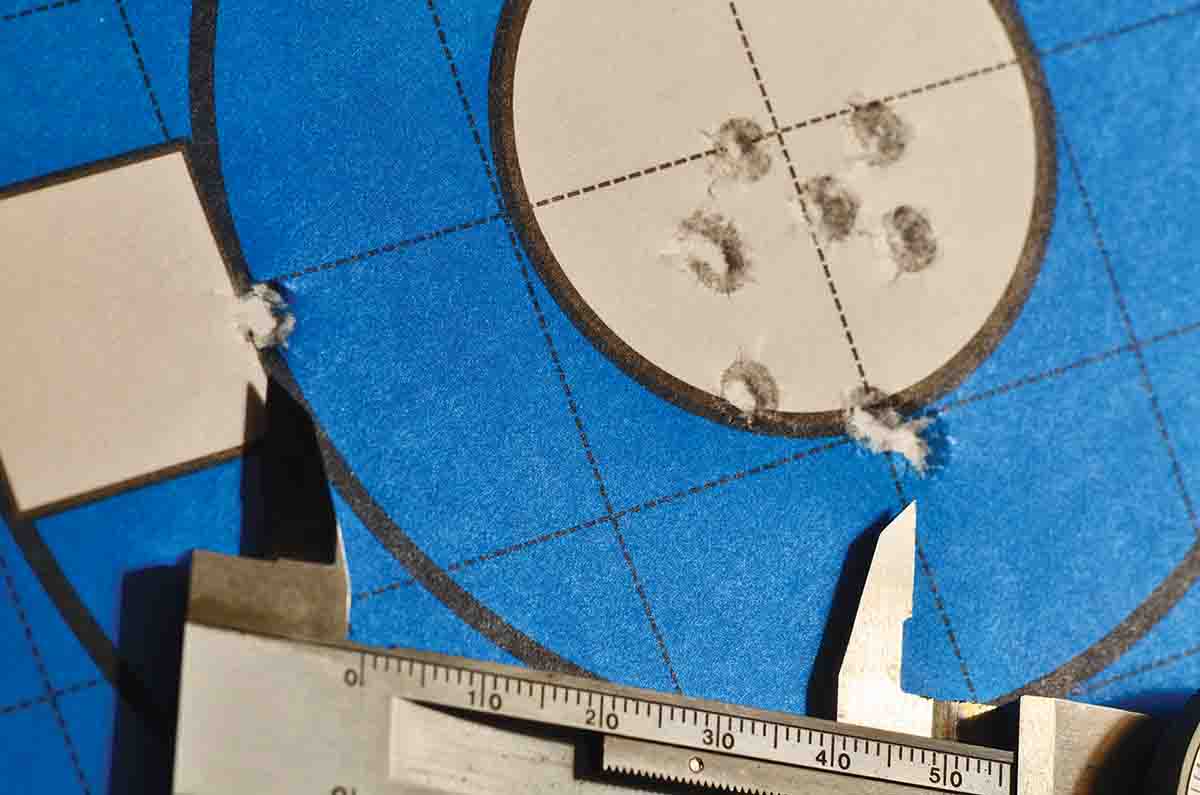 Occasionally, we saw 10-shot groups that consisted of two distinct five-shot clusters. None of them, however, could be categorized as two five-shot groups. For example, shots one, three, seven, eight and 10 might form one cluster, and the remaining five shots the other. Why? Who knows?
Not being a competition smallbore shooter, I do not have a real feel for what constitutes Olympic-level accuracy from any ammunition, or in any rifle. Obviously, accuracy is the result of a combination of rifle and ammunition together with the wild cards of weather and shooting ability. We attempted to eliminate the latter two as factors by shooting on a very calm day using standard benchrest equipment.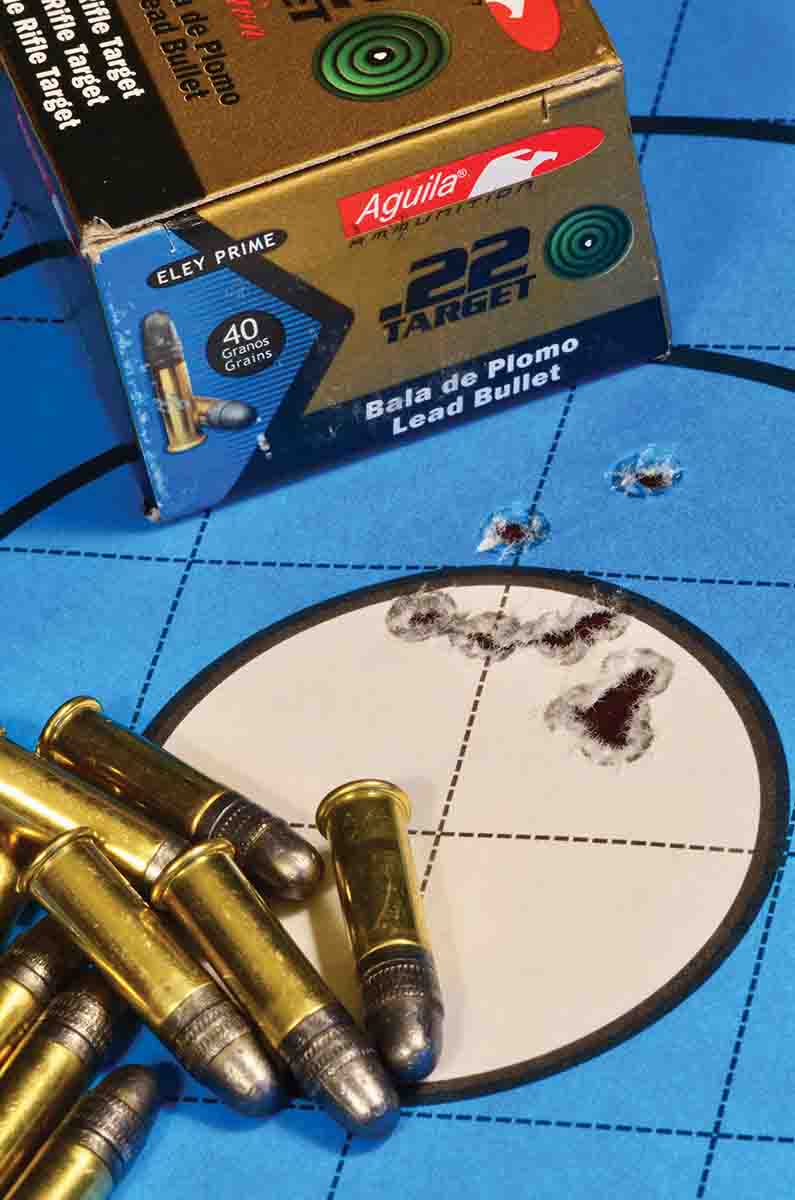 My conclusions from all this? First, .22 rifles are unique, they are finicky about what they like and don't like, and their preferences are unpredictable. Second, if you want to see how a rifle will perform with a given brand of ammunition, shoot at least 10-shot groups, and 20-shot groups would be preferable. Even less so than with centerfire ammunition, three shots tell you very little about the performance of a rifle/ammunition combination.
Finally, looking back on almost 60 years of shooting .22 Long Rifle ammunition in a variety of rifles, it's astonishing to me just how great the choices are today. Equally astonishing is how good it is – even ammunition that sells in bulk packs at big-box stores. Not only is it vastly better than it used to be but, taking inflation into account, it is also less than half the price I paid when I was 15. Can't beat that.